"Old Bricks - history at your feet"
England page 3 - letter A - Accrington to Adams
---
Accrington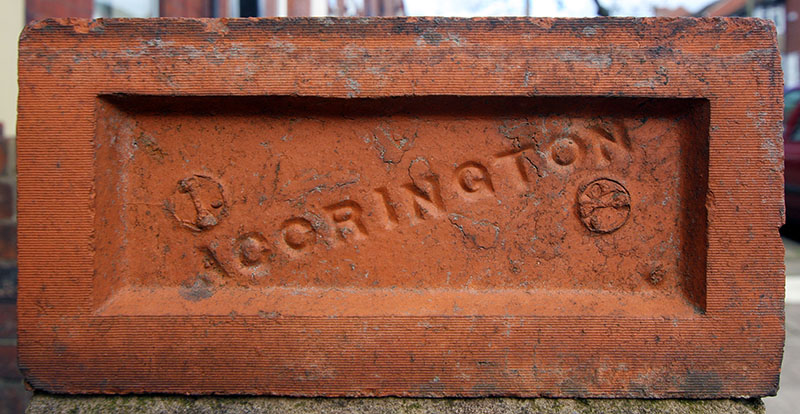 A product of one of the Accrington brickworks, but which one is open to debate. Photo by David Kitching.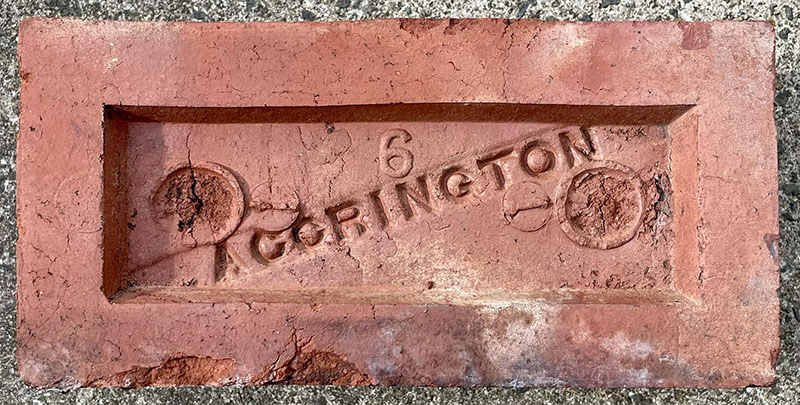 Photo by Phil Burgoyne.
---
Accrington (reversed): see J L Parkinson
---
Accrington Brick & Tile Co Ltd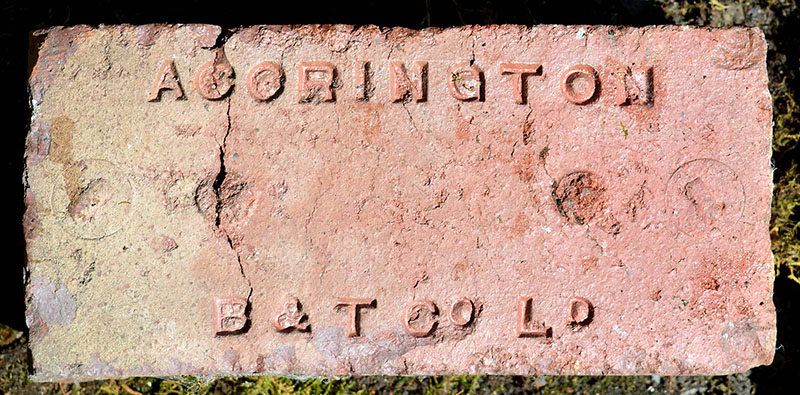 Photos by courtesy of the Frank Lawson collection.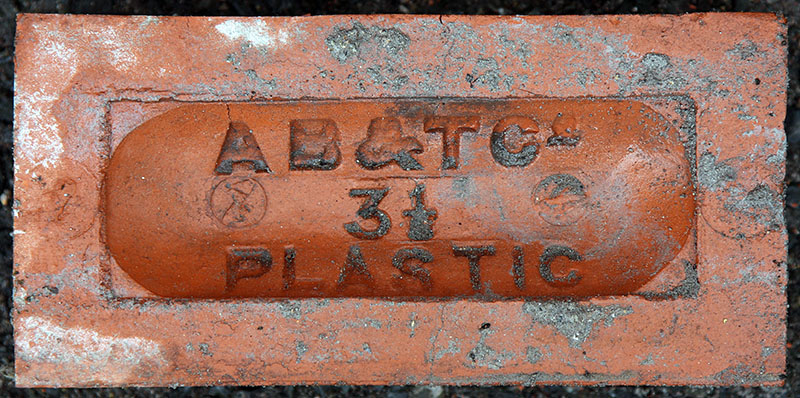 Photo by David Kitching.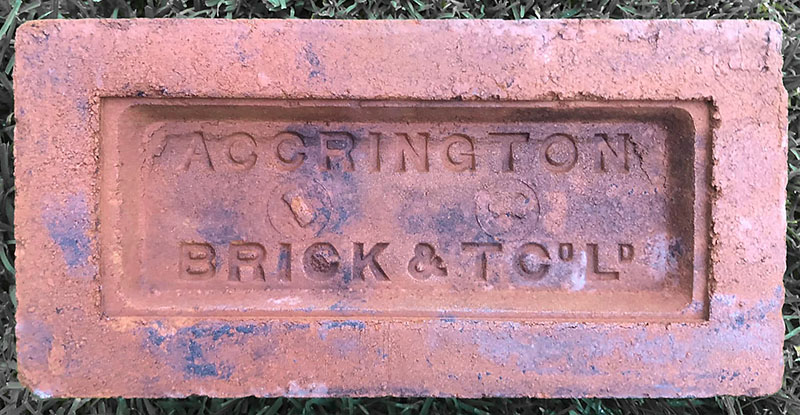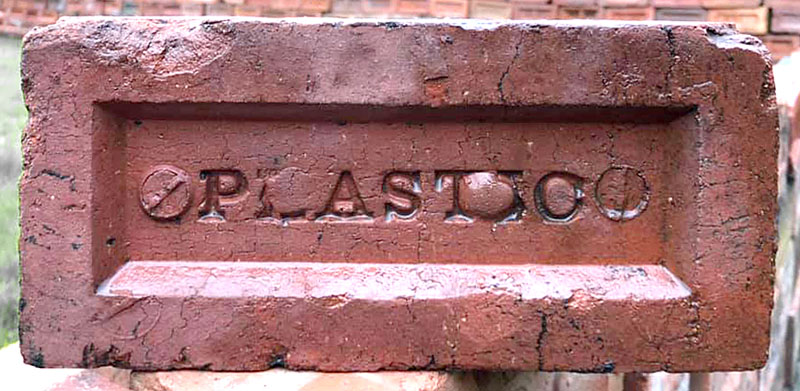 Photos by Jason Stott.
---
Accrington Nori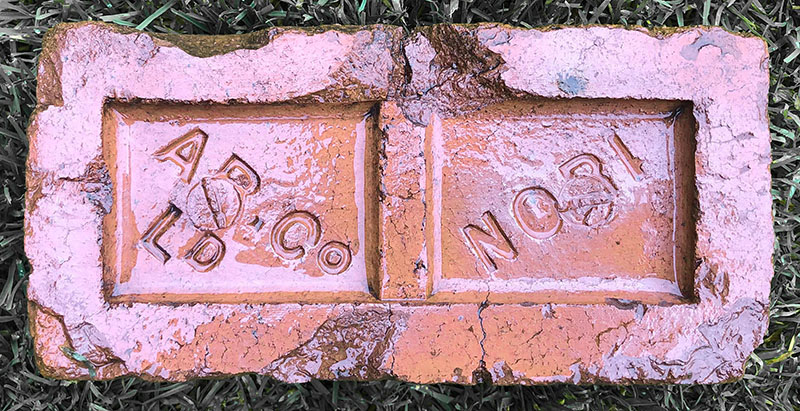 Photo by Jason Stott.
A notoriously hard brick made by one of the biggest brick makers in North West England. Their name has always attracted much speculation. Tony Mugridge has been in touch regarding the origins of NORI:
There are two places in the British Isles where you get a particular bed of clay containing alumina (refractory ore), lower red marl and iron ore all in the same measure. They are Broseley in Shropshire and Accrington in the Darwen Valley in Lancashire. Both areas are renowned for their very high quality and extremely durable bricks. At one stage or another on the Broseley clay beds there were around 45 brickworks. One of these was the works of Capt. John Anstice: confusingly named The Madeley Wood Tile Works. Set up in 1851 this works produced bricks, roofing & floor tiles, also chimney pots and land drain pipes. It closed in 1956.
The brand for this company was IRON, as they also owned several ironworks and blast furnaces. In fact Capt. Anstice was the last Ironmaster in the Ironbridge Gorge, Shropshire and could trace his lineage back to before the time of the building of that world celebrated Iron Bridge.
When the Accrington Brick and Tile Company began mass production, they also branded their bricks IRON. Capt Anstice got to hear of it and threatened them with court action for breach of his brand copyright. So in an excellent euphoria of marketing, Accrington spelled the name backwards on their bricks and advertised that their brick was "Iron whichever way you put it." Hence today the Accrington NORI is well known and the IRON BROSELEY is forgotten.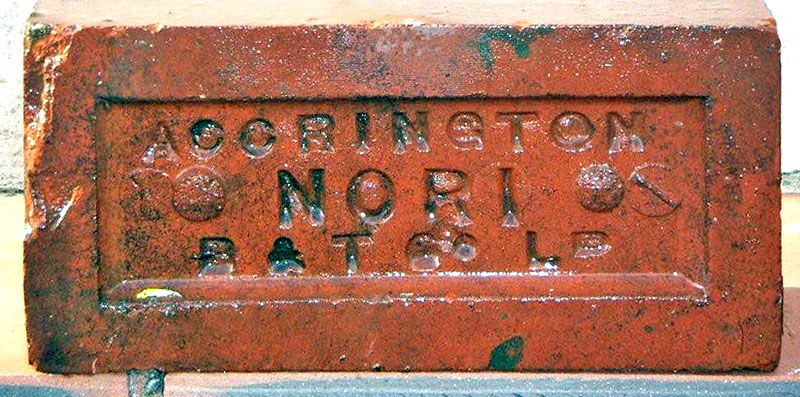 This one was found in the Longport area of Stoke on Trent by Ken Perkins.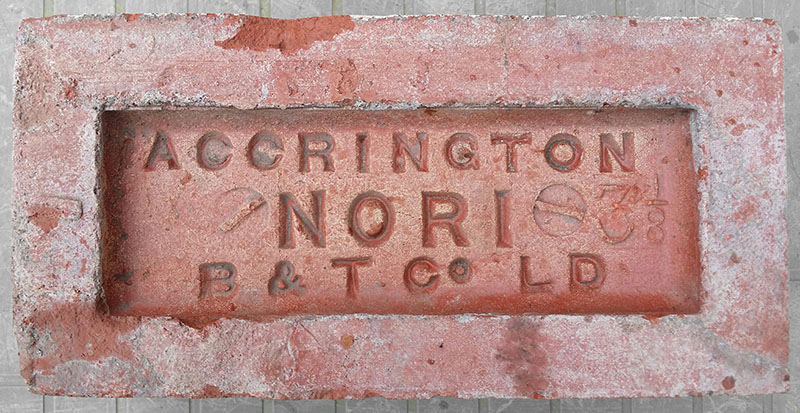 Note the 3⅛. Photo by Nigel Furniss.
photos by Simon Patterson.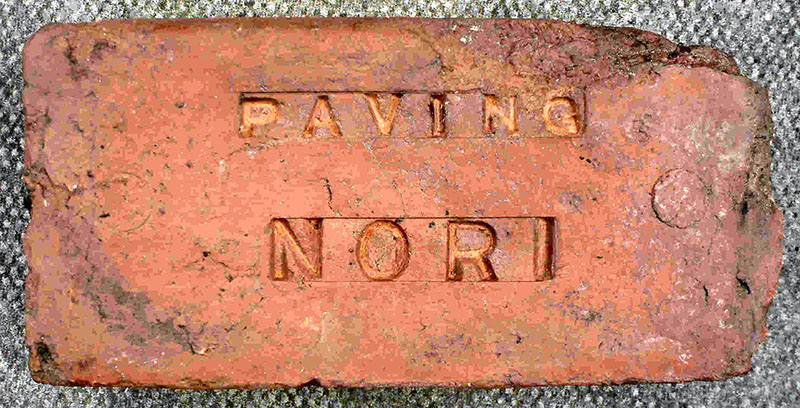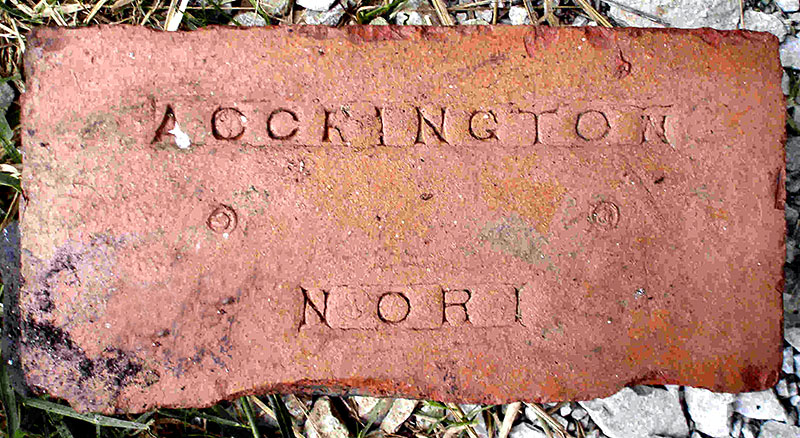 Photos by courtesy of the Frank Lawson collection.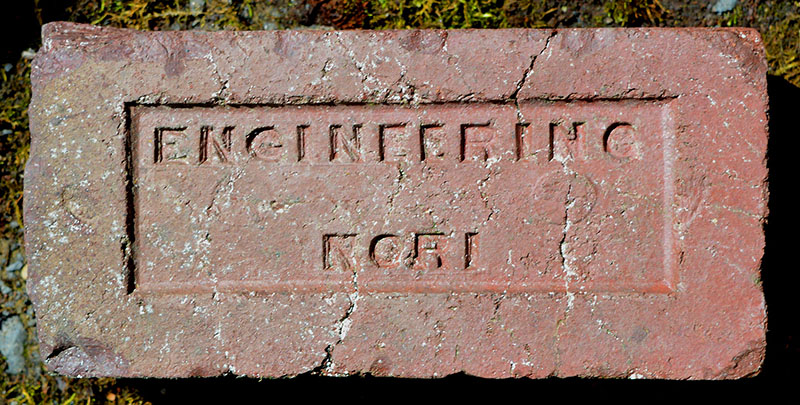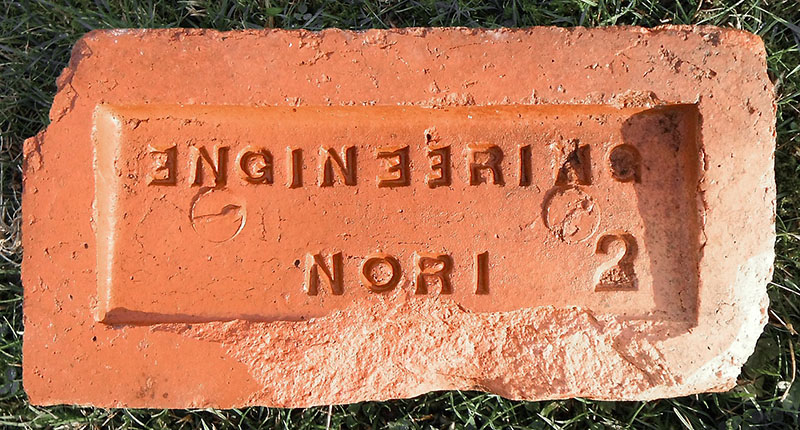 Photo by Ian Suddaby.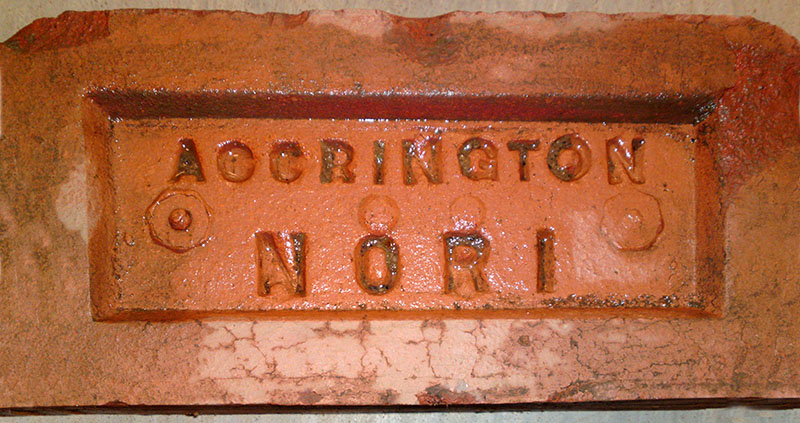 Photo by Maurice Stokes, found at Clay Mills pumping station, Burton on Trent




Photo taken near Skipton in the Yorkshire Dales by Clive Midgley.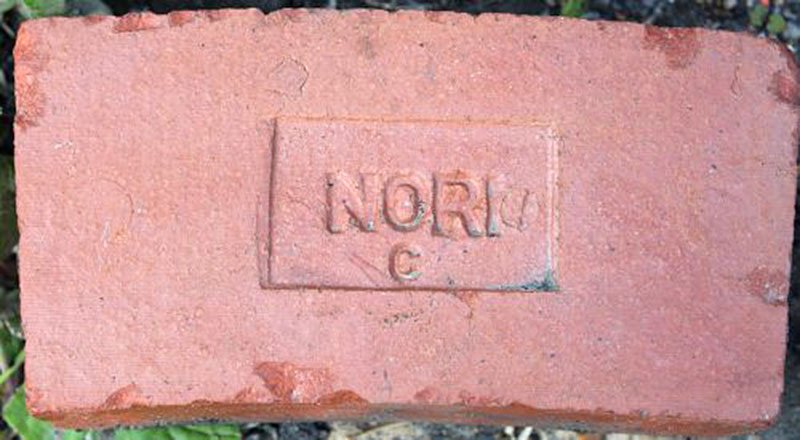 Found on the site of the old Westwood oil works in West Calder by Allan Steel.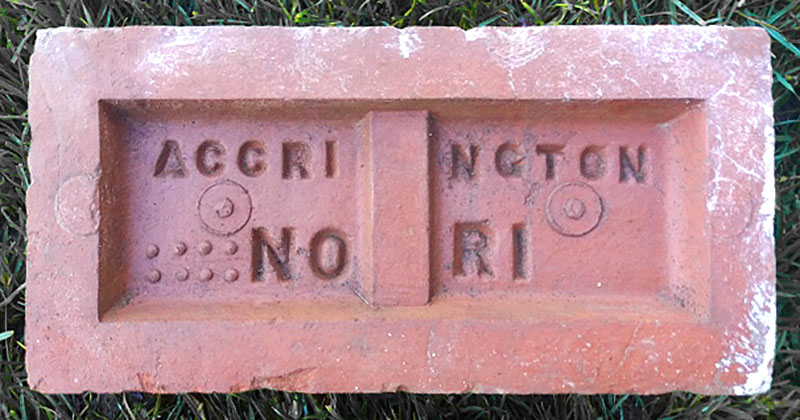 Photo by Mark Cranston, the meaning of the eight dots is unclear.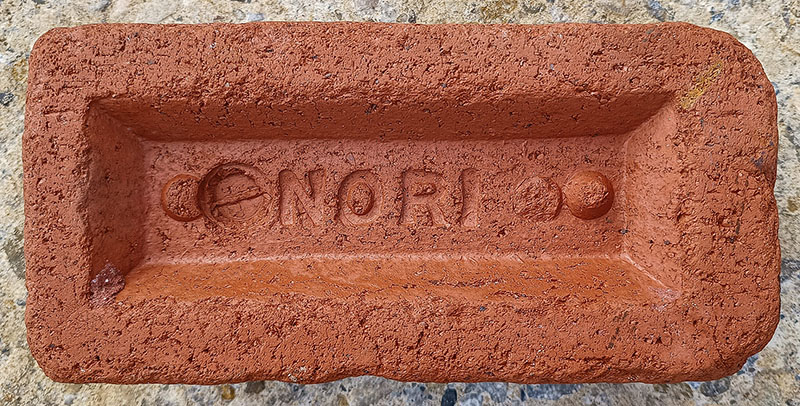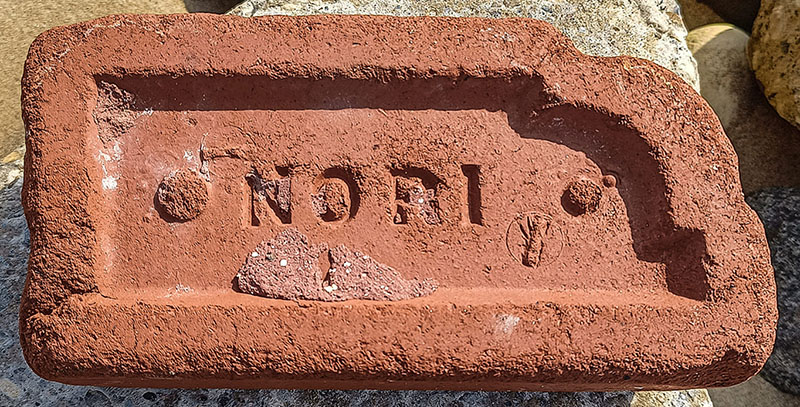 Photos by Chris Tilney.
Tapered Nori D . Photo by Richard Comish.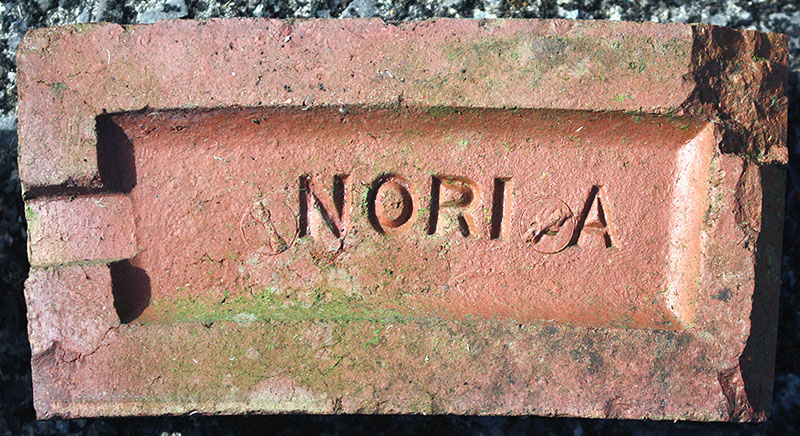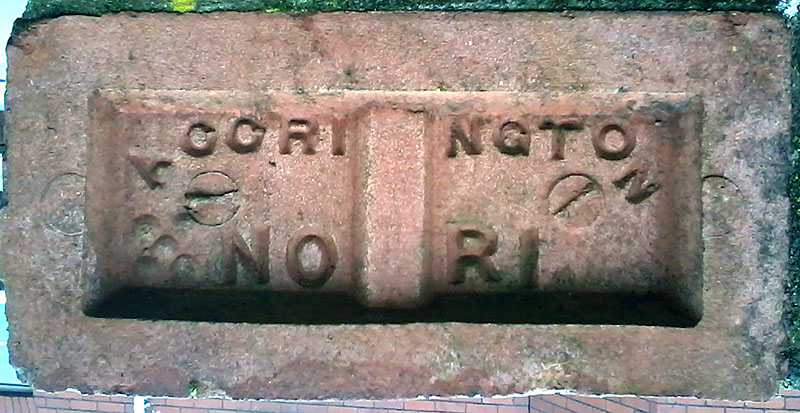 Photo by Phil Jenkins.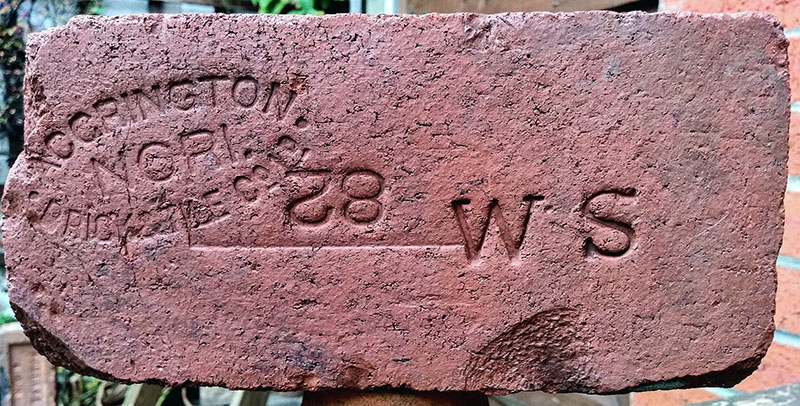 Photo by Tony Gray.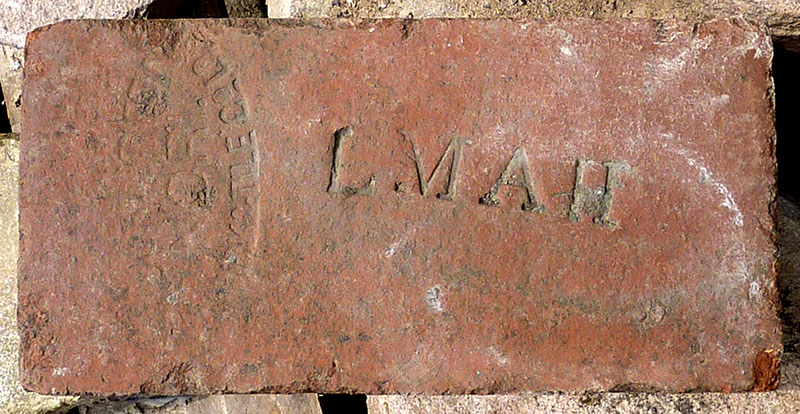 Photo by Martyn Fretwell.


Modern brick from the Accrington works. Photos by Don Boldison.

Photo by Frank Lawson.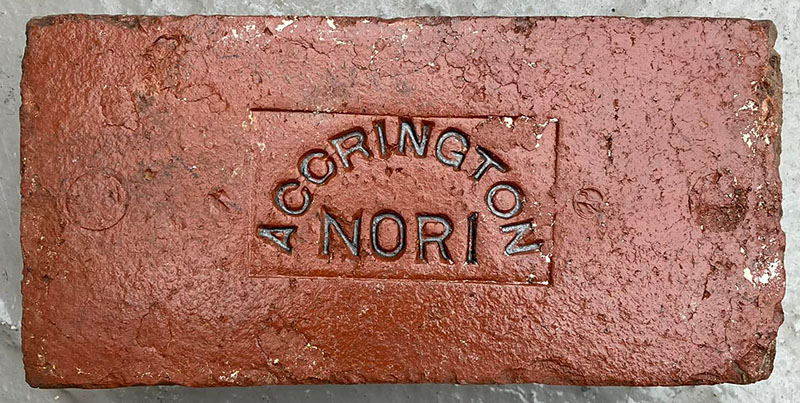 Photo by Neville Akers.
---
Accrington Redac - see also Huncoat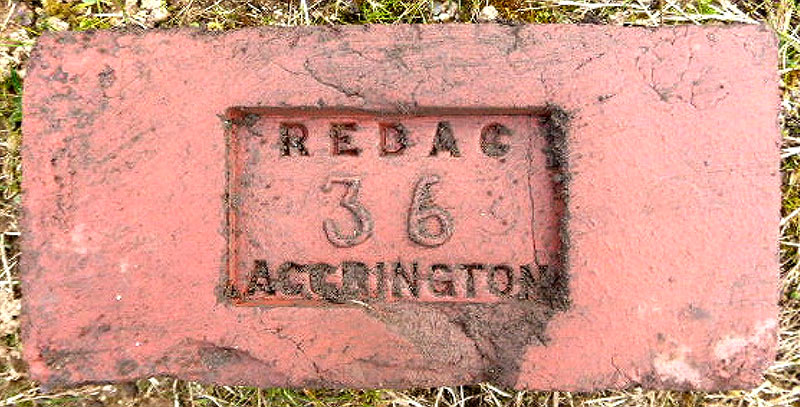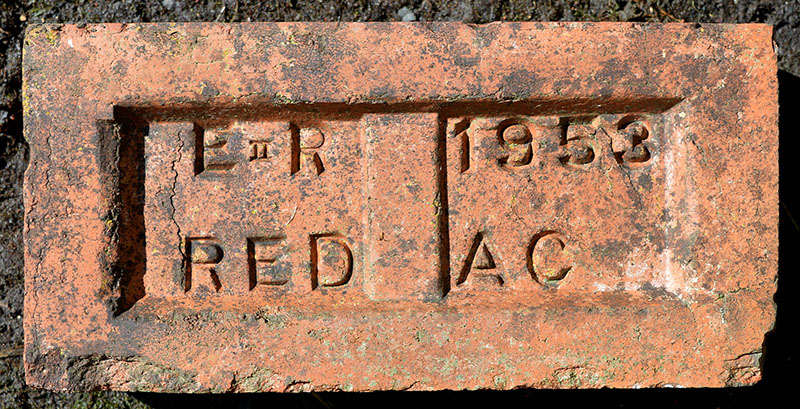 Photos by Frank Lawson.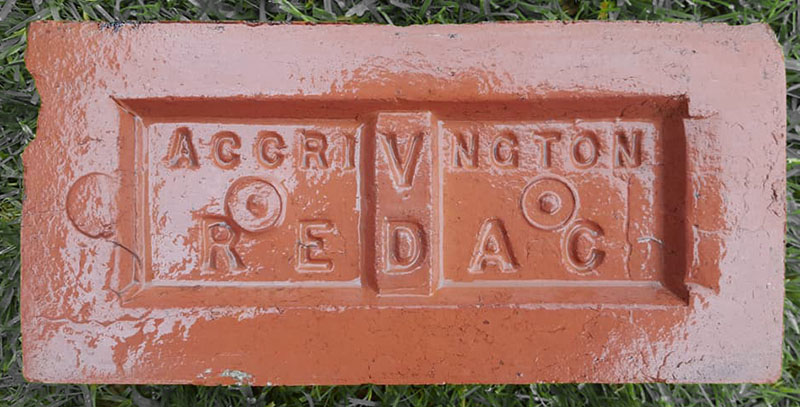 Accrington Redac brick endorsed with a V - for Victory? Found in Barrow in Furness by Richard Comish.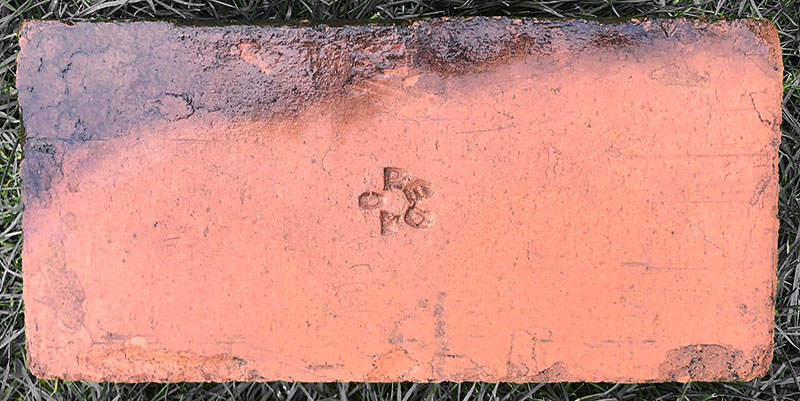 Photo by Jason Stott.
---
Ackers Whitley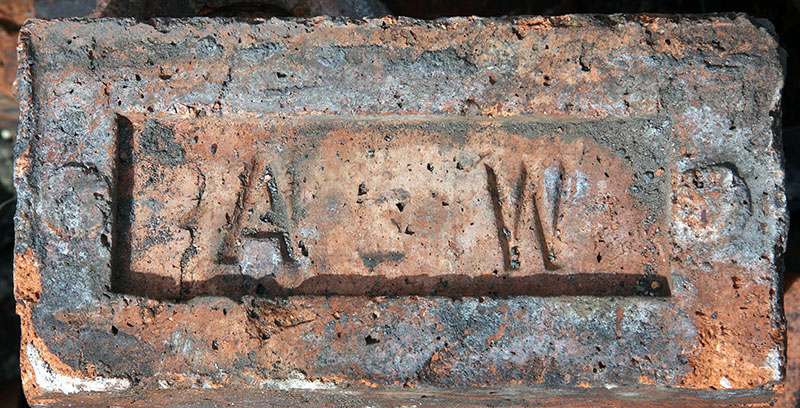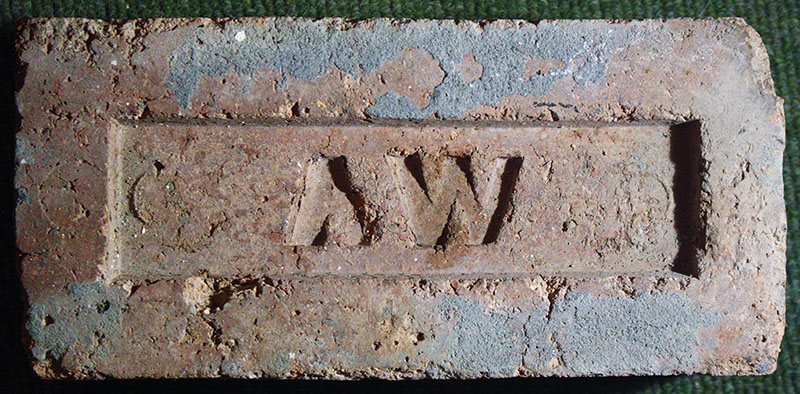 Ackers Whitley were the proprietors of the Bickershaw Collieries near Leigh. Photos and information by David Kitching. See also N. C. B. Ackers Whitley.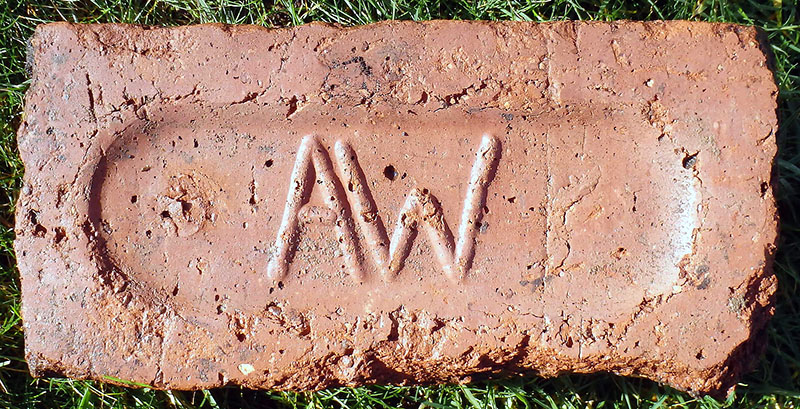 Photo by Frank Lawson.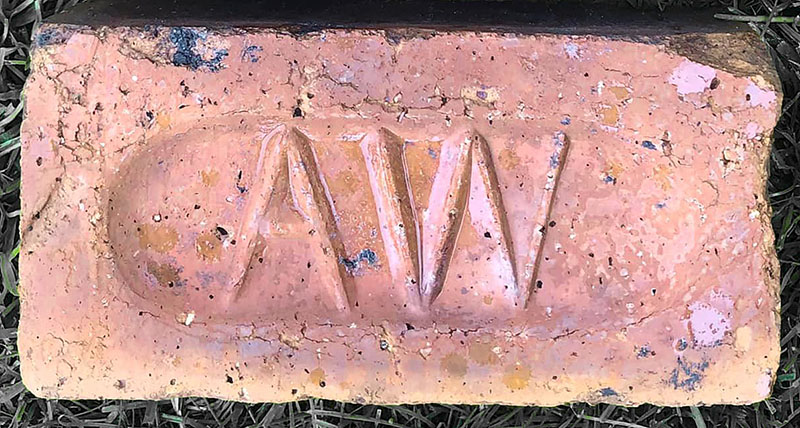 Photo by Jason Stott.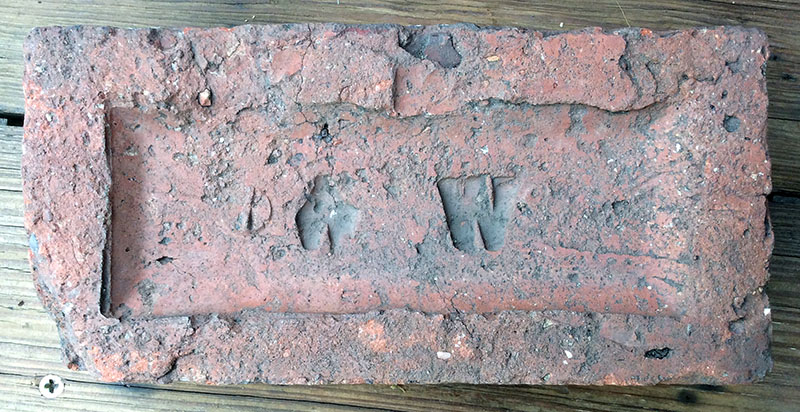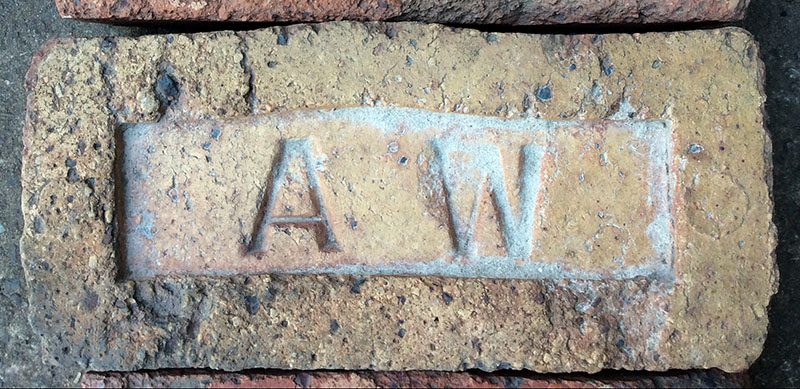 Photos by Frank Hilton.
---
Ackton Hall Colliery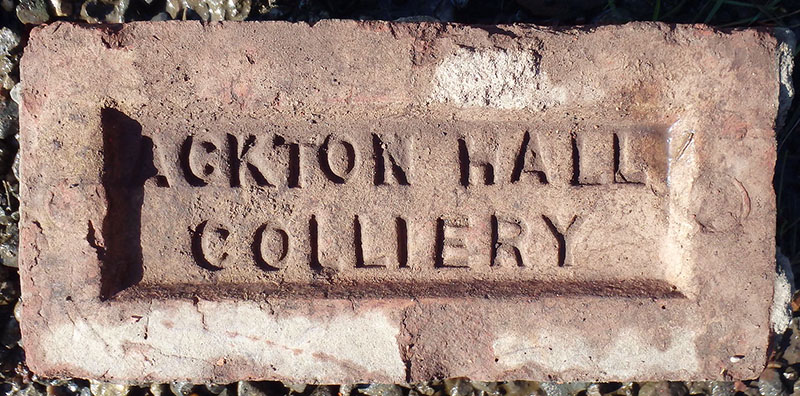 The brickworks was located at South Featherstone, Castleford. It was a good example of a colliery brickworks. The Bradford textile magnate Samuel Cunliffe Lister owned the Ackton Hall Estate between 1873 and his death in 1906. On September 7th 1893 the Ackton Hall colliery was the site of a notorious industrial dispute during which the South Staffs Regiment under a Captain Barker opened fire, and two men were killed. Thanks to Derek Barker for the information. The colliery closed in 1984. Photo by Frank Lawson.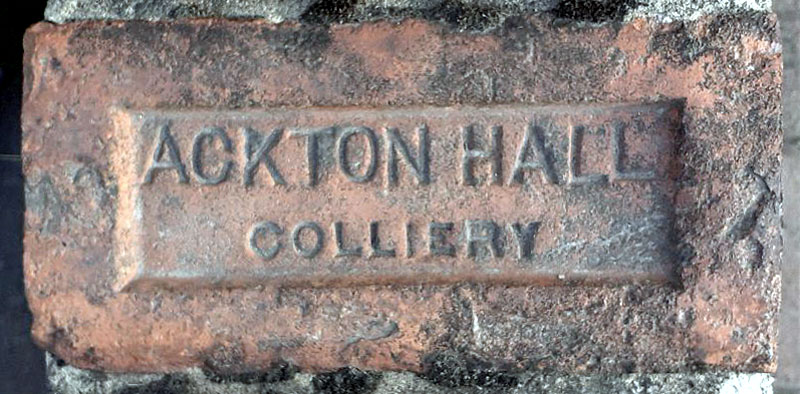 Photo by Chris Worrell.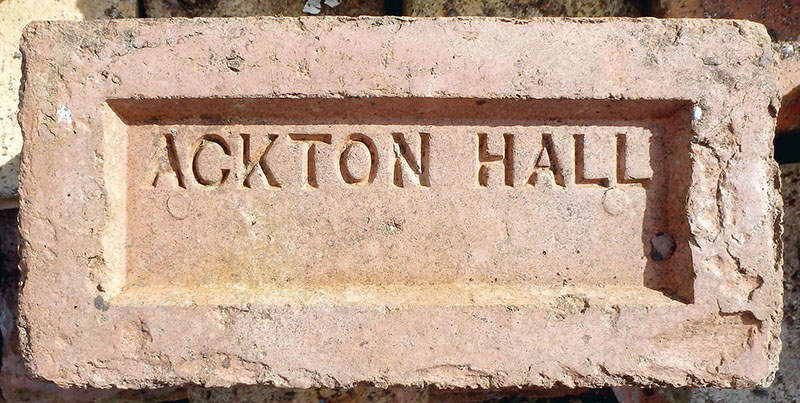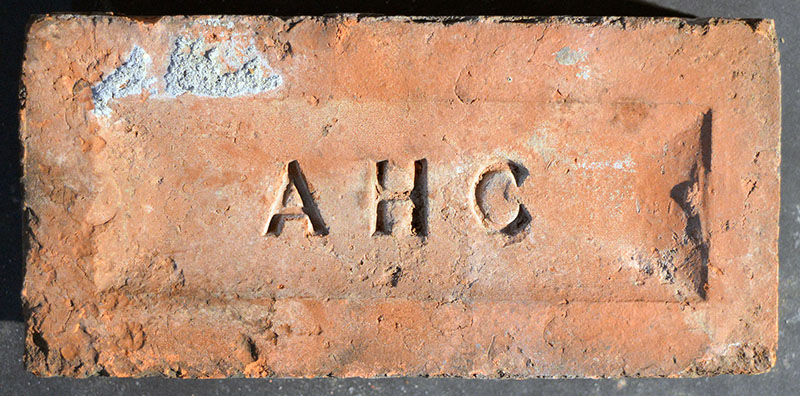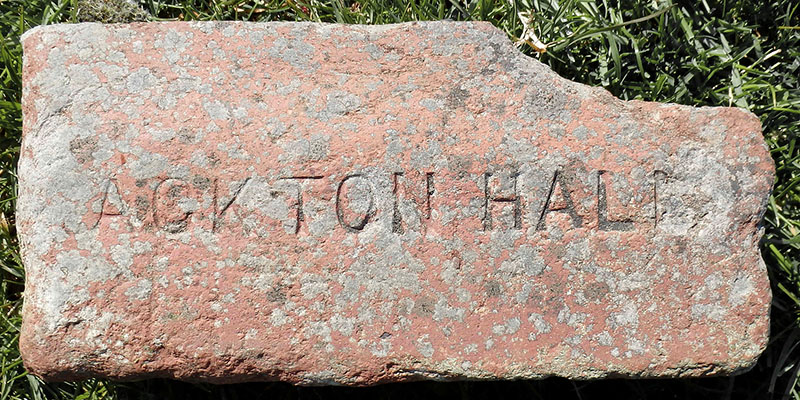 Photos by Frank Lawson.
---
Acomb Moor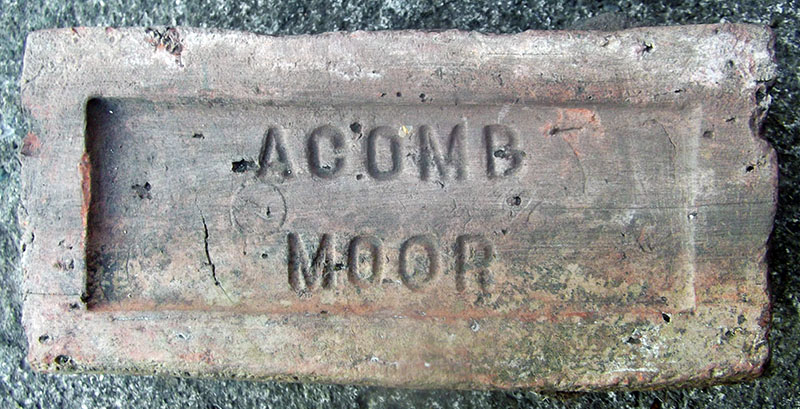 Acomb Brick Yard was on Gale Lane, south-east of the then village of Acomb (now in the western suburbs of York). In 1902 Chas Hepper is listed as brickmaker at Gale Lane, Acomb. Info by John Nottingham, photo by Don Boldison.
---
Acres Wood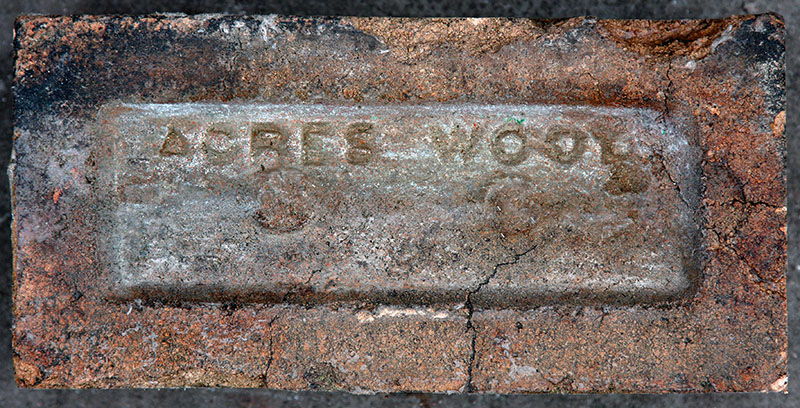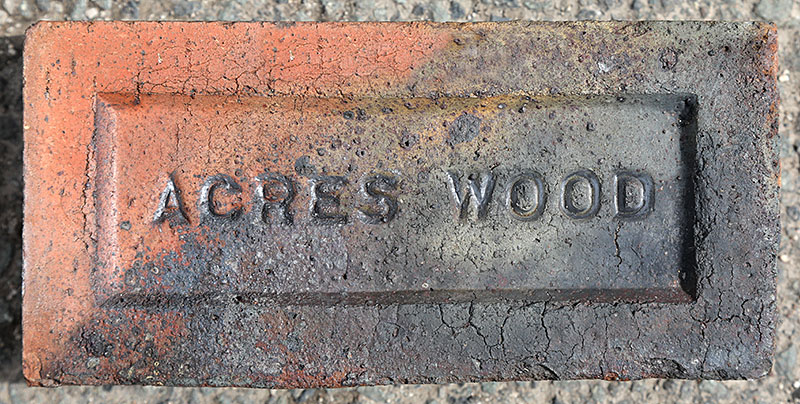 Acres Wood Brickworks, Bradeley, nr. Burslem. This works was later owned by Wilkinson Brothers. Photos by David Kitching.
---
Adamantine : see Davison, Buckley, North Wales
---
Adamantine Clinker



This brickworks was on the northern edge of the village of Little Bytham in Lincolnshire and was established in 1850. In production into the early 20th century they produced high-fired paving bricks called Adamantine Clinkers, so called for their hardness for paving stables etc. The Company advertised that they had won Gold and Silver medals for their bricks, supplying His Majesty the King and other members of the Royal Family. By 1876 the business had passed to Towers and Williamson.The site has long gone and now has houses built upon it. Info & Photo by Martyn Fretwell taken at the Museum of Lincolnshire Life, Lincoln. Refer to the entry for Williamson Cliff for additional info.

Links to old OS map and Google map provided by Peter Neumann.
---
C. Adams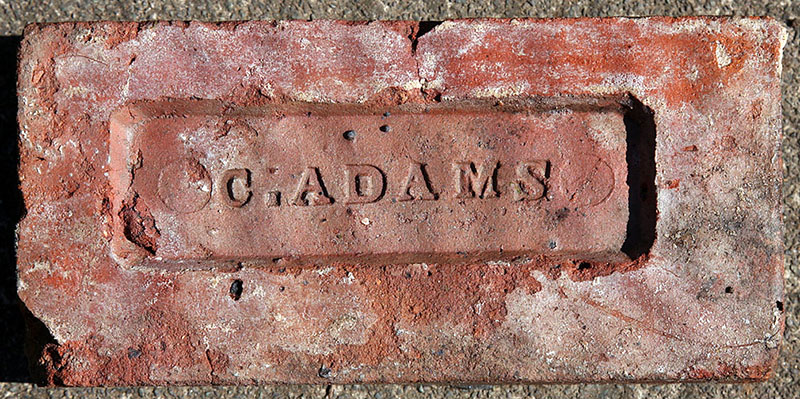 Charles Adams is listed at Eastwood Brick Works, Hanley in 1875-76 but not earlier. In 1879 it was the Eastwood Mill Company and by 1889-90 it is listed as Eastwood Mill Co., Eastwood; proprietor, Charles Adams. Not recorded in 1896. Photo and information by David Kitching.
---
Adams, Castle Donnington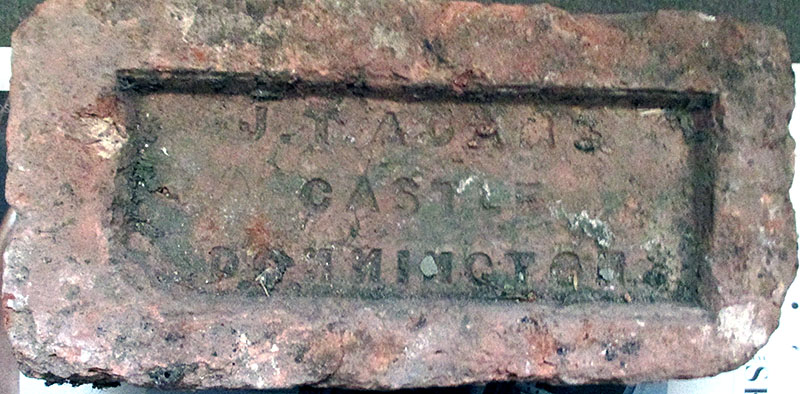 Photo by Mike Shaw.
---
Adams Pict Firebrick Co Ltd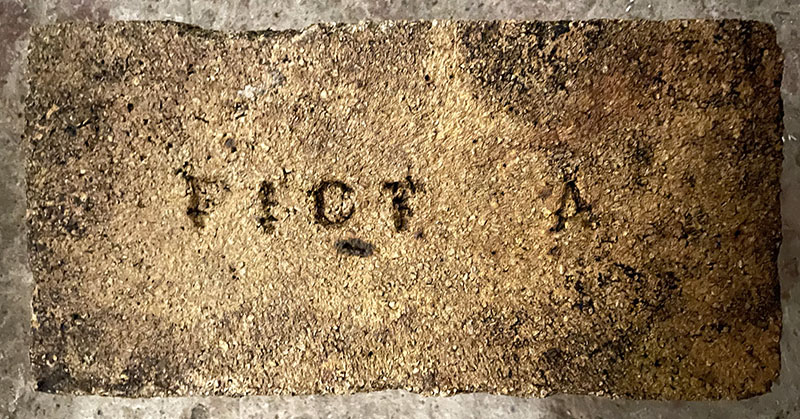 The Adams Pict Firebrick Co Ltd originated from the Swalwell works of W C Gibson & Co Ltd and was a subsidiary company of Adamsez Ltd, the Scotswood sanitary ware manufacturer. Bauxitic fireclay for the bricks was extraxcted at the Mayfield Mine in northern Ayrshire. The Swalwell works to the west of Gateshead was still manufacturing firebricks in 1974. Photo by John Harle.


I N S O an insulating brick, photo by Mark Cranston. Arthur Brickman adds: Produced at the Adams-Pict Firebrick Works at Swalwell, (the site of the earlier Ramsay works on the River Derwent, a tributary of the Tyne and some three miles west of Gateshead), these (INSO) insulating bricks were produced from a mixture of clay, sawdust and diatomite, (a soft, siliceous, sedimentary rock, easily crumbled to form a fine powder), and intended to form a secondary, heat retaining layer behind the actual firebrick.
---
Adams Tunstall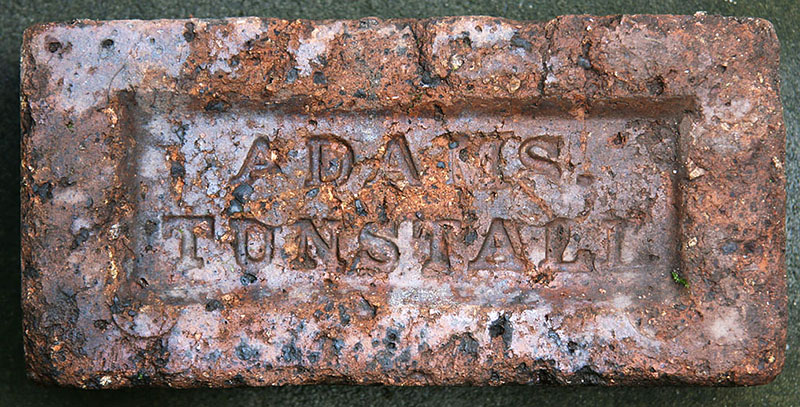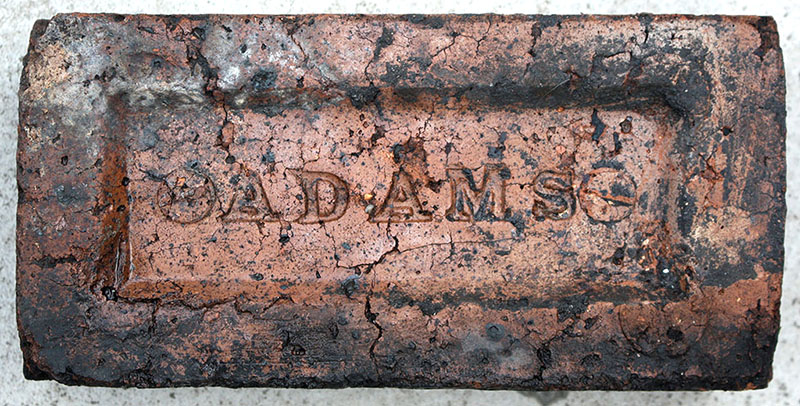 Thomas Adams & Co., are listed in an 1869 trade directory as having a brickworks at Newfield, Tunstall. The company has disappeared by the time that the 1896 Kelly's directory was published. Photos and information by David Kitching.
---
Adams Willenhall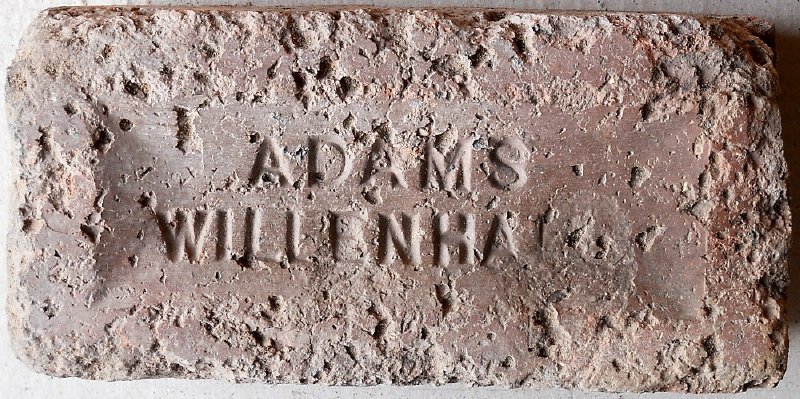 Kellys 1892 lists Adams John, Stringer's lane, Willenhall. By 1896 this had changed to "Adams John (exors of), Stringers ln, Willenhall, Wolverhampton" so not working very long. Nothing in 1888 records but in 1900 is "Mason R, Stringers lane, Willenhall" so possibly a continuation or reopening of works. No record in 1904. Info and photo by Ray Martin.
---