"Old Bricks - history at your feet"
England page 3 - letter A
---
Accrington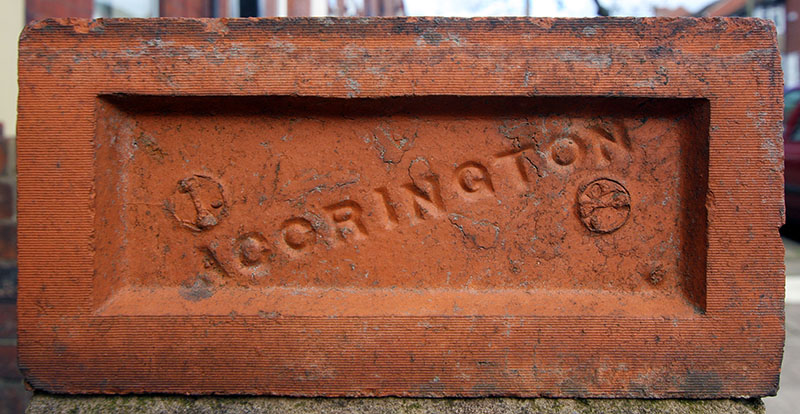 A product of one of the Accrington brickworks, but which one is open to debate. Photo by David Kitching.
---
Accrington (reversed): see J L Parkinson
---
Accrington Brick & Tile Co Ltd
Photo by courtesy of the Frank Lawson collection.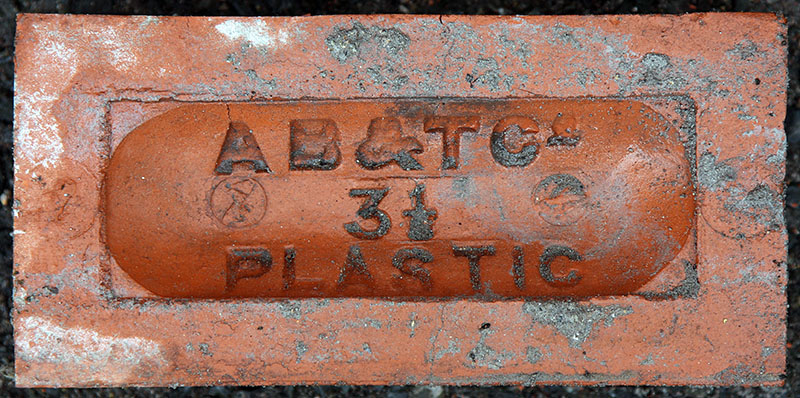 Photo by David Kitching.
---
Accrington Nori
A notoriously hard brick made by one of the biggest brick makers in North West England. Their name has always attracted much speculation. Tony Mugridge has been in touch regarding the origins of NORI:
There are two places in the British Isles where you get a particular bed of clay containing alumina (refractory ore), lower red marl and iron ore all in the same measure. They are Broseley in Shropshire and Accrington in the Darwen Valley in Lancashire. Both areas are renowned for their very high quality and extremely durable bricks. At one stage or another on the Broseley clay beds there were around 45 brickworks. One of these was the works of Capt. John Anstice: confusingly named The Madeley Wood Tile Works. Set up in 1851 this works produced bricks, roofing & floor tiles, also chimney pots and land drain pipes. It closed in 1956.
The brand for this company was IRON, as they also owned several ironworks and blast furnaces. In fact Capt. Anstice was the last Ironmaster in the Ironbridge Gorge, Shropshire and could trace his lineage back to before the time of the building of that world celebrated Iron Bridge.
When the Accrington Brick and Tile Company began mass production, they also branded their bricks IRON. Capt Anstice got to hear of it and threatened them with court action for breach of his brand copyright. So in an excellent euphoria of marketing, Accrington spelled the name backwards on their bricks and advertised that their brick was "Iron whichever way you put it." Hence today the Accrington NORI is well known and the IRON BROSELEY is forgotten.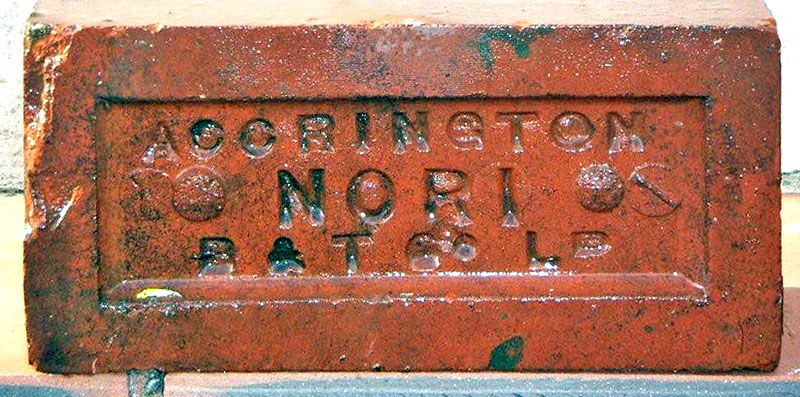 This one was found in the Longport area of Stoke on Trent by Ken Perkins.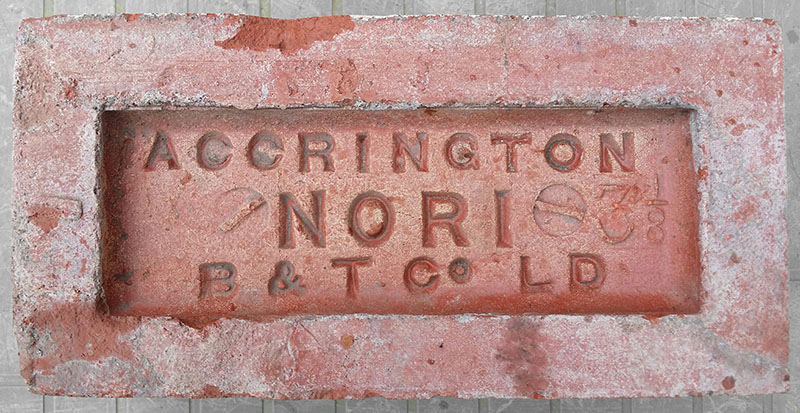 Note the 3⅛. Photo by Nigel Furniss.
photos by Simon Patterson.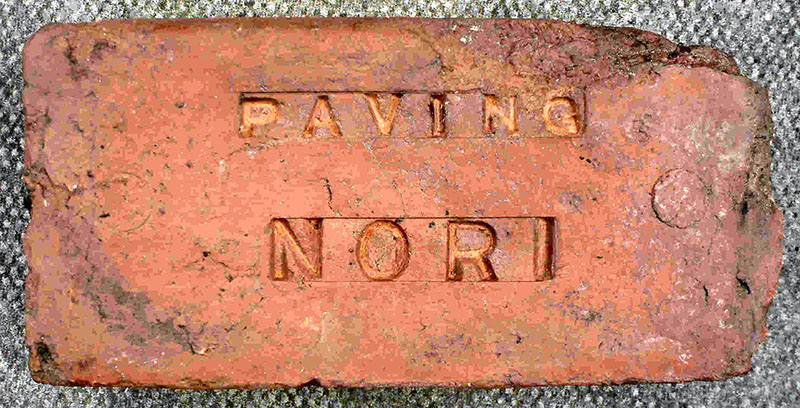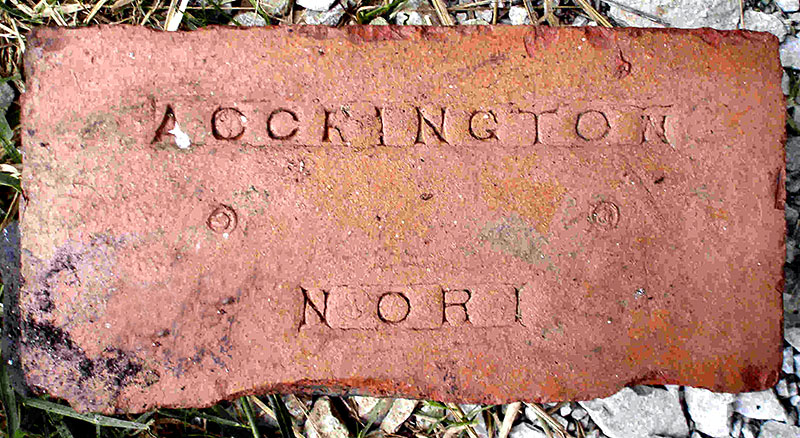 Photos by courtesy of the Frank Lawson collection.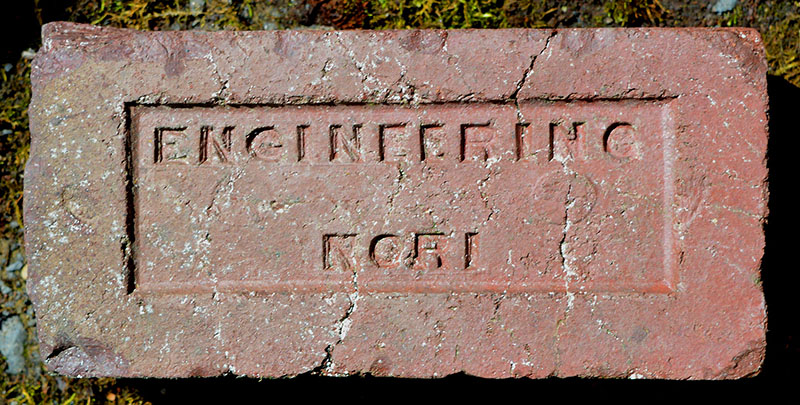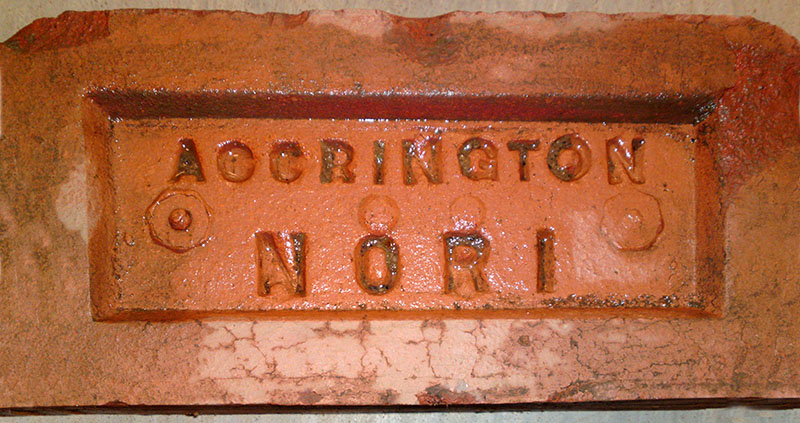 Photo by Maurice Stokes, found at Clay Mills pumping station, Burton on Trent




Photo taken near Skipton in the Yorkshire Dales by Clive Midgley.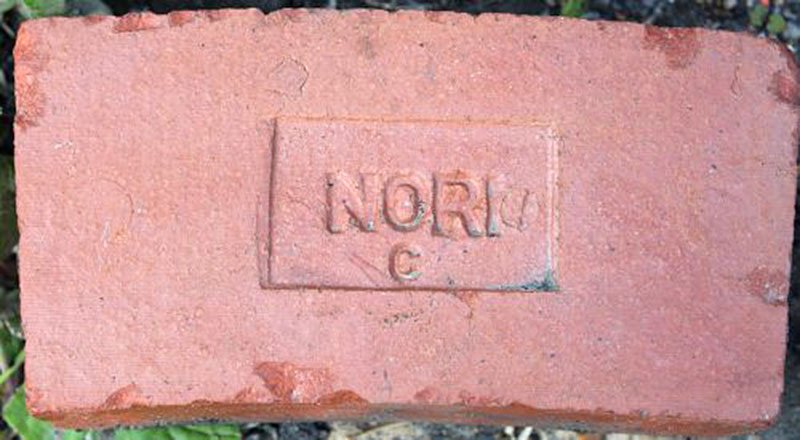 Found on the site of the old Westwood oil works in West Calder by Allan Steel.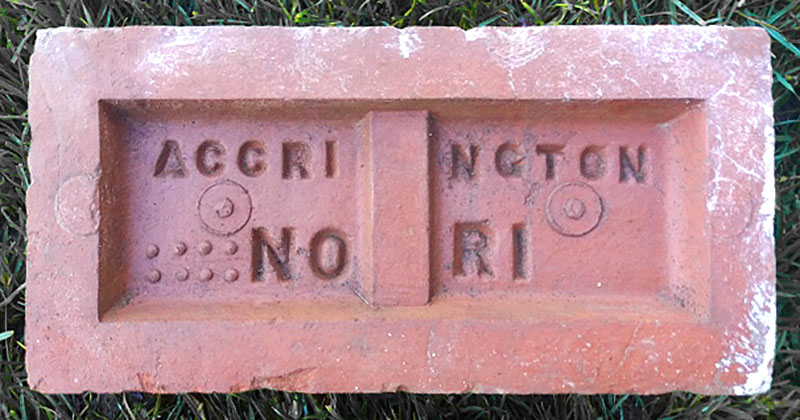 Photo by Mark Cranston, the meaning of the eight dots is unclear.

Tapered Nori D . Photo by Richard Comish.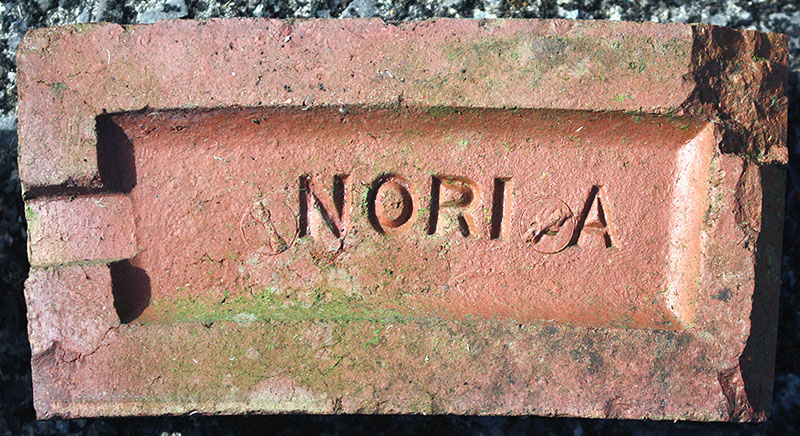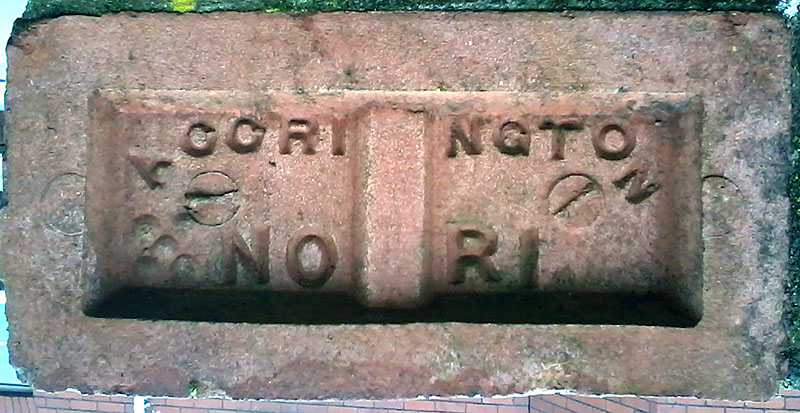 Photo by Phil Jenkins.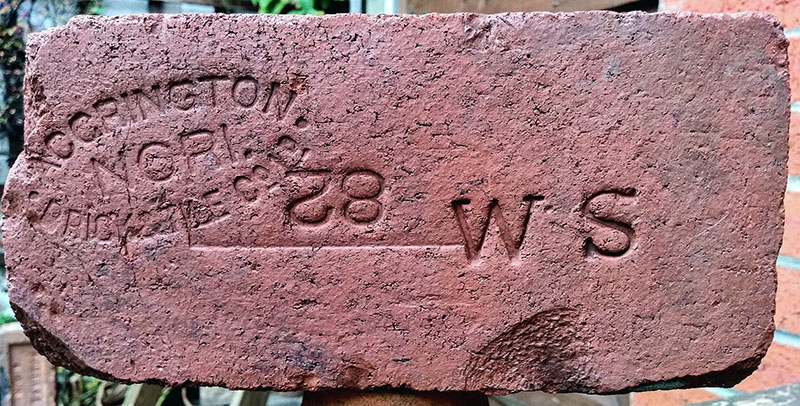 Photo by Tony Gray.


Modern brick from the Accrington works. Photos by Don Boldison.

Photo by Frank Lawson.
---
Accrington Redac
Photo by Simon Patterson, taken in Retford station.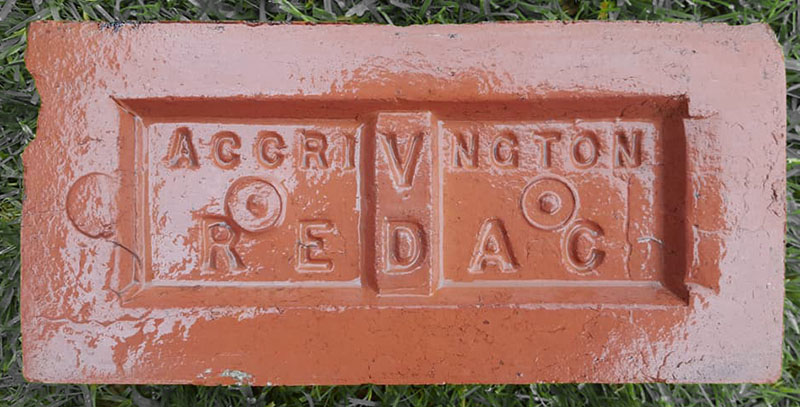 Accrington Redac brick endorsed with a V - for Victory? Found in Barrow in Furness by Richard Comish.

---
Ackers Whitley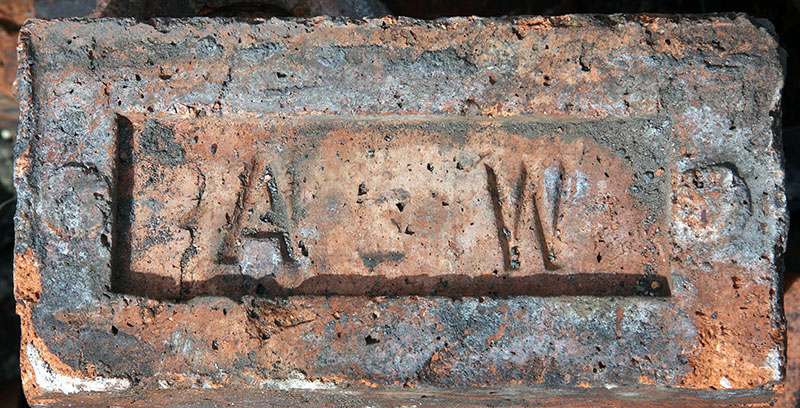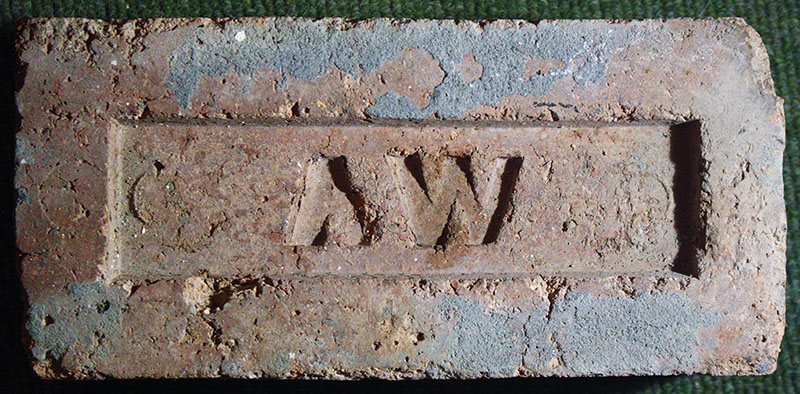 Ackers Whitley were the proprietors of the Bickershaw Collieries near Leigh. Photos and information by David Kitching. See also N. C. B. Ackers Whitley.
---
Ackton Hall Colliery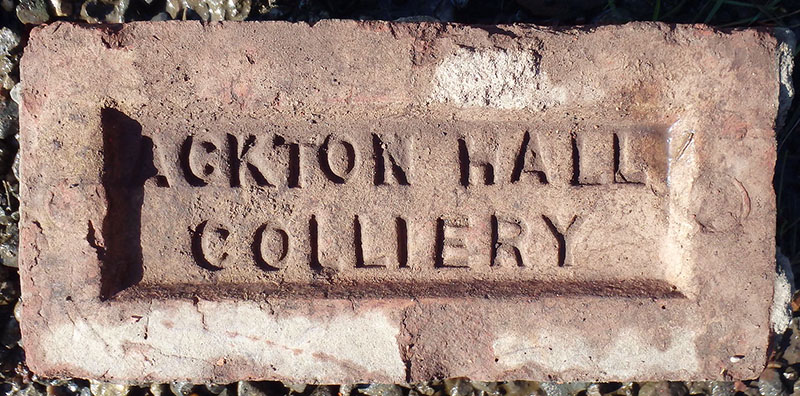 The brickworks was located at South Featherstone, Castleford. It was a good example of a colliery brickworks. The Bradford textile magnate Samuel Cunliffe Lister owned the Ackton Hall Estate between 1873 and his death in 1906. On September 7th 1893 the Ackton Hall colliery was the site of a notorious industrial dispute during which the South Staffs Regiment under a Captain Barker opened fire, and two men were killed. Thanks to Derek Barker for the information. The colliery closed in 1984. Photo by Frank Lawson.
---
Acomb Moor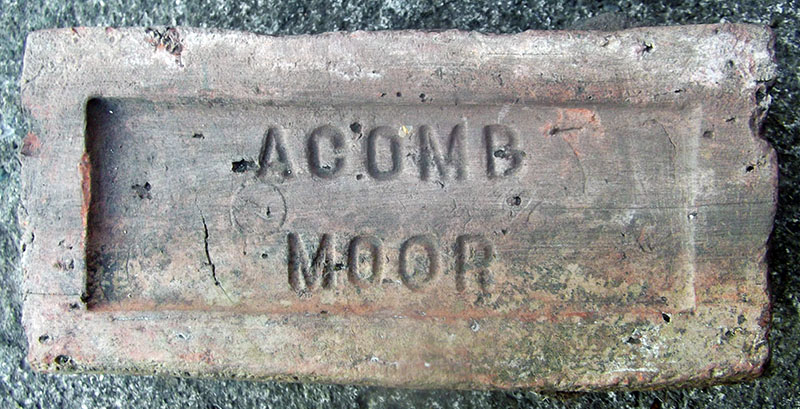 Acomb Brick Yard was on Gale Lane, south-east of the then village of Acomb (now in the western suburbs of York). In 1902 Chas Hepper is listed as brickmaker at Gale Lane, Acomb. Info by John Nottingham, photo by Don Boldison.
---
Acres Wood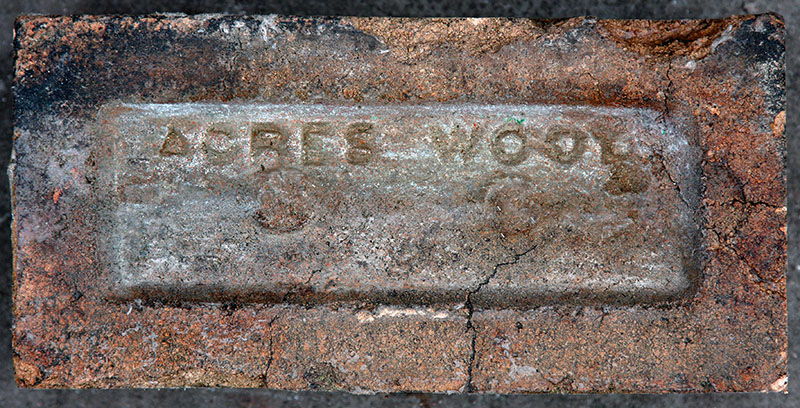 Acres Wood Brickworks, Bradeley, nr. Burslem. This works was later owned by Wilkinson Brothers. Photo by David Kitching.
---
Adamantine Clinker



This brickworks was on the northern edge of the village of Little Bytham in Lincolnshire and was established in 1850. In production into the early 20th century they produced high-fired paving bricks called Adamantine Clinkers, so called for their hardness for paving stables etc. The Company advertised that they had won Gold and Silver medals for their bricks, supplying His Majesty the King and other members of the Royal Family. The site has long gone and now has houses built upon it. Info & Photo by Martyn Fretwell taken at the Museum of Lincolnshire Life, Lincoln. Refer to the entry for Williamson Cliff for additional info.

Links to old OS map and Google map provided by Peter Neumann.
---
C. Adams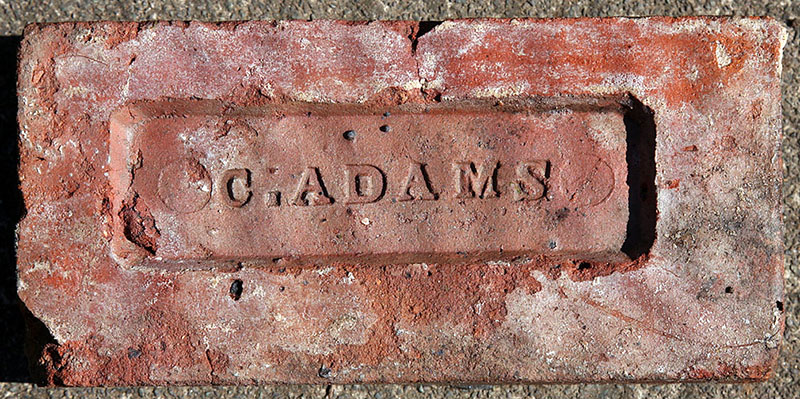 Charles Adams is listed at Eastwood Brick Works, Hanley in 1875-76 but not earlier. In 1879 it was the Eastwood Mill Company and by 1889-90 it is listed as Eastwood Mill Co., Eastwood; proprietor, Charles Adams. Not recorded in 1896. Photo and information by David Kitching.
---
Adams, Castle Donnington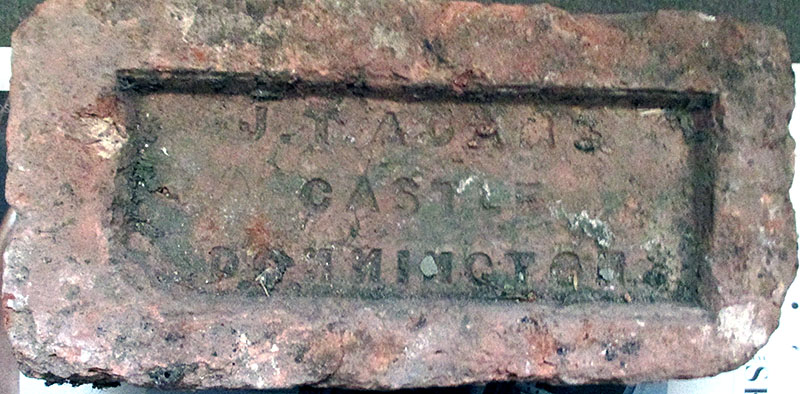 Photo by Mike Shaw.

---
Adams Tunstall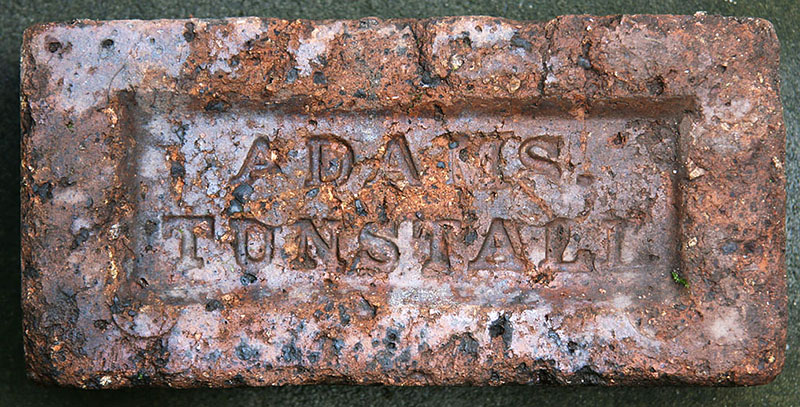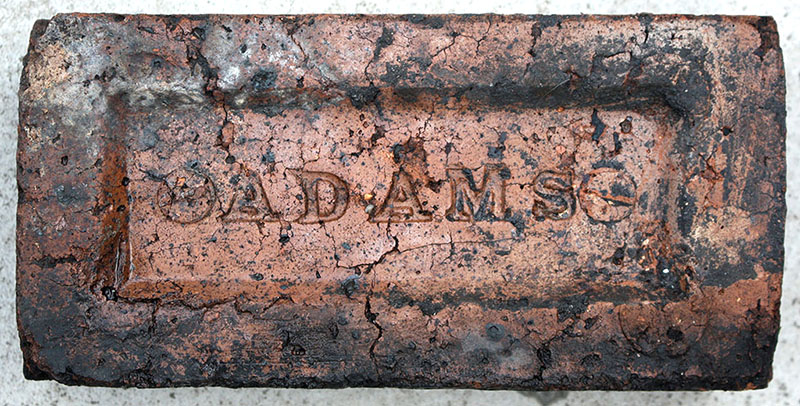 Thomas Adams & Co., are listed in an 1869 trade directory as having a brickworks at Newfield, Tunstall. The company has disappeared by the time that the 1896 Kelly's directory was published. Photos and information by David Kitching.
---
Adams Willenhall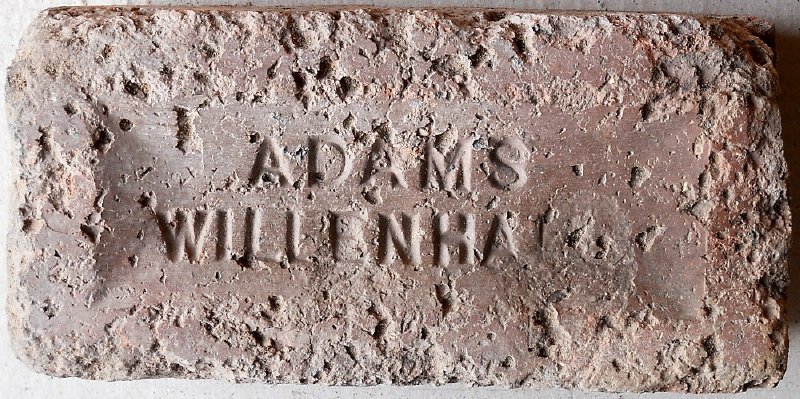 Kellys 1892 lists Adams John, Stringer's lane, Willenhall. By 1896 this had changed to "Adams John (exors of), Stringers ln, Willenhall, Wolverhampton" so not working very long. Nothing in 1888 records but in 1900 is "Mason R, Stringers lane, Willenhall" so possibly a continuation or reopening of works. No record in 1904. Info and photo by Ray Martin.

---
Adderley Park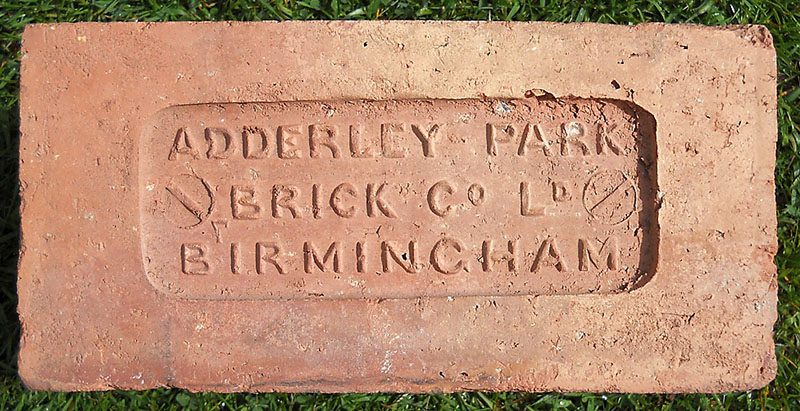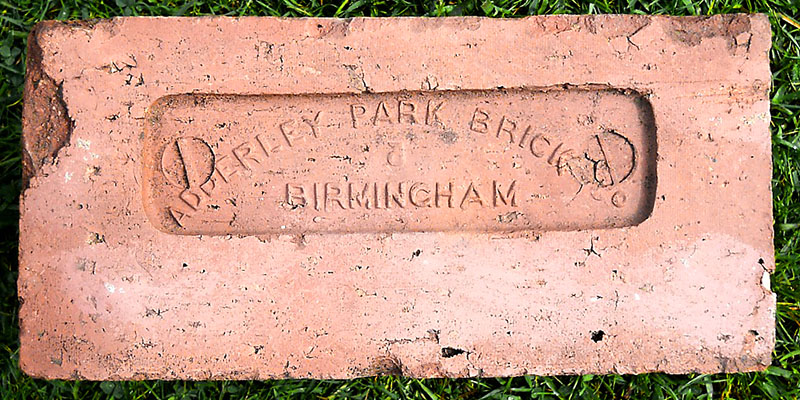 Photos by Ray Martin.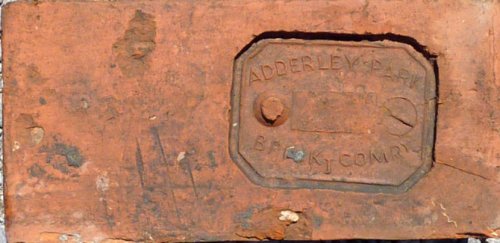 Found at North Shropshire Recycling yard by Martyn Fretwell. Martyn adds:- The Adderley Park Brick Co. Ltd. is recorded in Kelly's Directory on Bordesley Green Road, Saltley, Birmingham from the 1878 edition through to the last available edition in 1940. I have found a reference to a George Burke being the manager of this works between 1880 & 1891 & owners of this brickworks have included Albert Cotton, Henry France, J.J. Edwards, Robert Elson, John Moffat & George Petford all between 1864 & 1933, reference from the Trade Associations of Birmingham Brickmasters. More can be read about George Burke and this brickworks on Stuart Mugridge's web site :- http://2yearsatmargaretstreet.wordpress.com/tag/adderley-park-brickworks/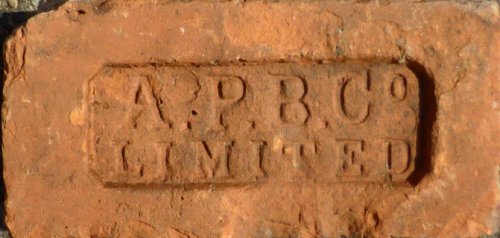 Photo by Martyn Fretwell from the Chris Thornburn Collection.

Thought to be from the late 1930s or early 1940s. "CLA-WOOD" was a trade mark for their fixing and partition bricks. Photo by Andy Tunstall.
---
Walter Ainley, Storth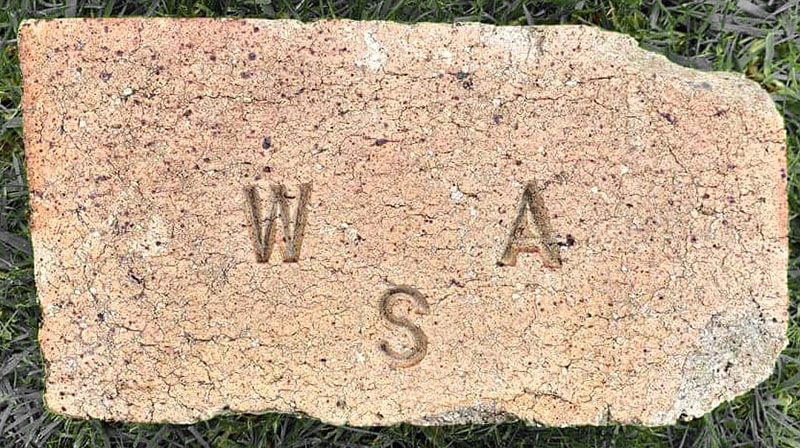 Ainley's works was opposite that of David Sharratt on the other side of Huddersfield Road in Elland. The 1896 List of Mines shows him owning Storth Mine which produced Coal and Fireclay. Sharratts also had a Storth Mine, just to confuse matters. The 1901 Directory of Clayworkers lists Ainley, Walter, Huddersfield Road, Elland. Photo by Jason Stott.
---
Airedale, Shipley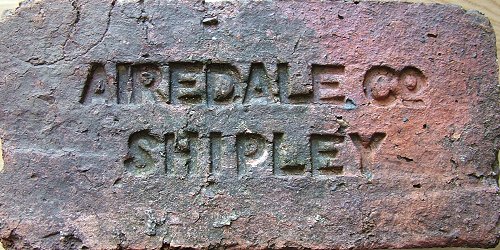 This Shipley is in West Yorkshire near to Bradford. The area is known for seams of coal, brick making shale and fireclay. The brick itself was found at nearby Frizinghall Railway Station. The most likely brick maker was George Stelling Hogg who between 1865 & 1875 traded as the Airedale Brick and Tube Co. The address of the works is simply stated to have been 'Keighley Road, Shipley' but I have never seen a map showing its exact location. The company employed 51 men and 17 boys; it owned a coal mine and made a combination of bricks, sanitary tubes, glazed closet pans and chimneys. There were 3 or 4 other brick works in the immediate area but no others used 'Airedale' in their company names. Thanks to Derek Barker for the photo and information.
---
Airey, Beech Lanes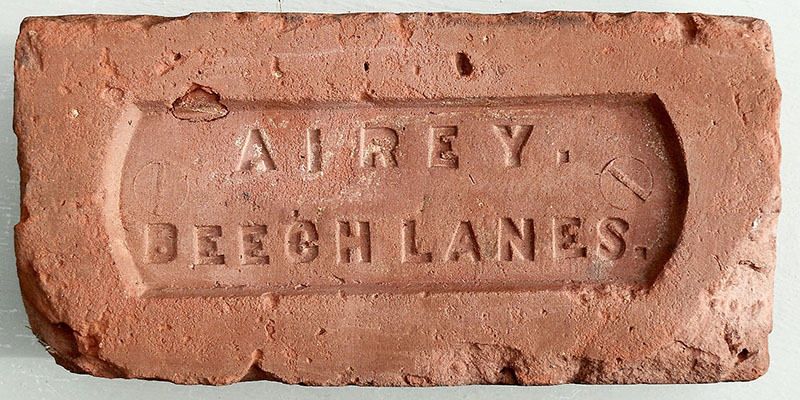 Edward Airey is on the 1881 census classed as a Master Builder and Brickmaker, and lived in Birch Road, Beech Lanes, Warley, West Midlands. Photo by courtesy of the Harold Hands collection.
---
Albion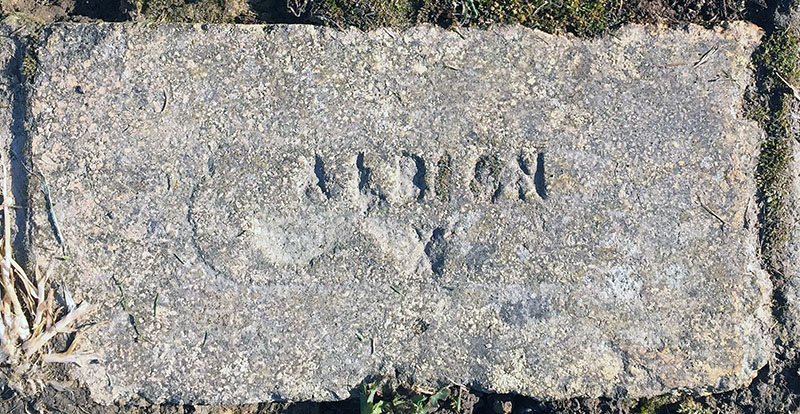 Albion Clay Co Ltd, Woodville, Burton-on-Trent. The company first appears in trade directories at the Albion Works in 1891. Production of firebrick seems to have ended after 1899 and by 1912 the business seems to have been involved in production of glazed pipes and conduit along with the sale of fireclays. The business was acquired by the Hepworth Iron Company in 1960. Photo by Chris Smart.
---
J G Alcock & Co.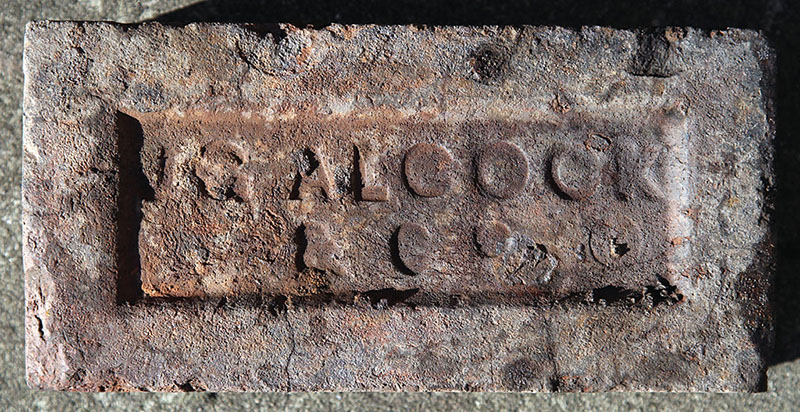 Joseph George Alcock appears in the 1871 census as a brick and tile manufacturer at the age of 23. By 1881 he was a tile manufacturer at Trentham and had moved to London by 1891. The trade directories show J & J Alcock trading at Sutherland Street in 1869-70, Alcock and Emery at New Basin, Fenton, in 1875, and Alcock and Forshaw at High Street, Fenton in 1879. This brick is from the period before he went into partnership and was made at a works in the Sutherland Street area. Photo and info by David Kitching.

---
Aldham, Suffolk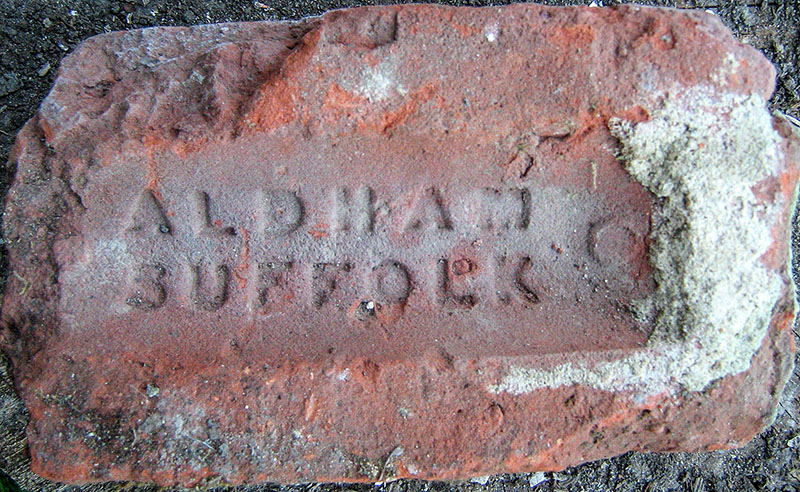 Photo by courtesy of the Richard Symonds collection.

---
Aldridge Brick & Tile - see Utopia entry.
---
Alfrax - see Carborundum Co Ltd
---
Alfreton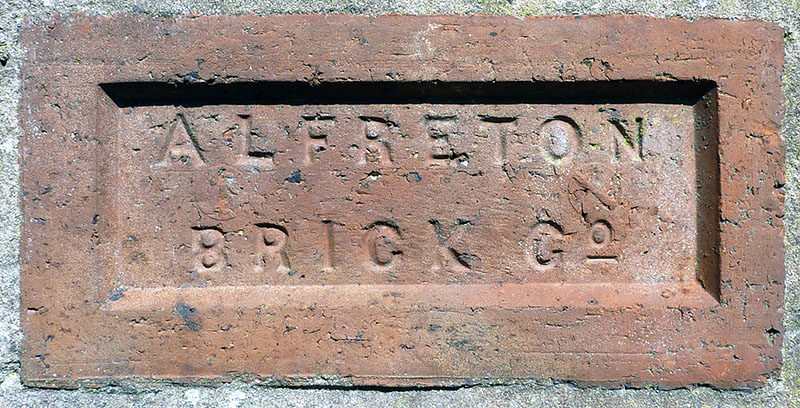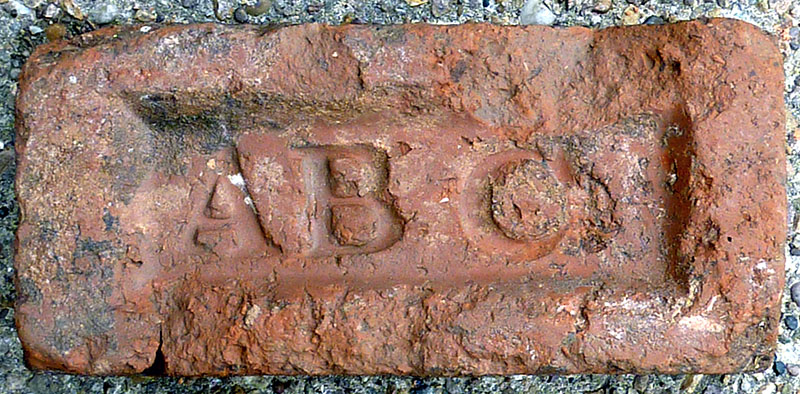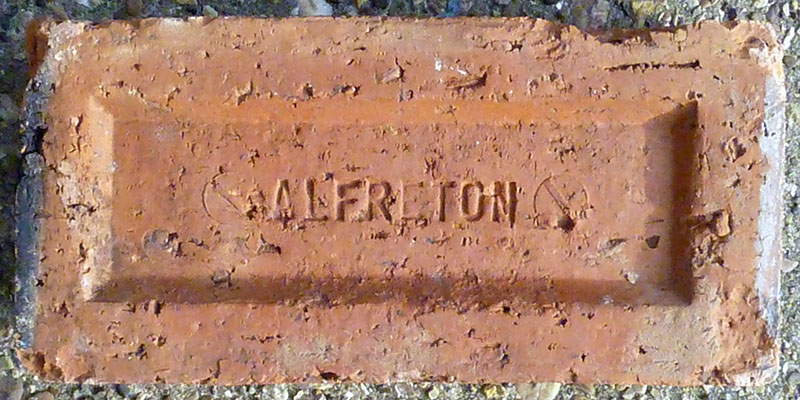 Spotted in Derbyshire by Martyn Fretwell who writes: The Alfreton Brick Company were in operation in 1880 and from 1916 to 1928 they became the Alfreton Brick and Tile Co. Ltd. The brickworks was on land which is now partly industrial and part Alfreton Town's football ground.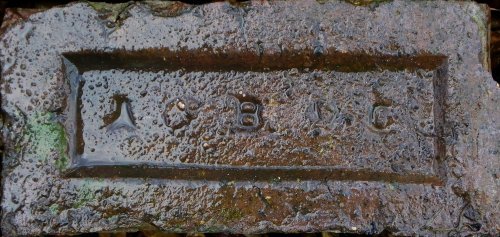 Another possible Alfreton brick. Found at Ashford-In-The-Water by Malcolm Adlington.

---
Alite: see Harper & Moores, Stourbridge
---
Allen
Glazed brick manufacturers established by Henry Victor Allen when he took over the Halifax Glazed Brickworks in the Walterclough Valley. He converted the works to manufacture refractory bricks. Their Sefrac refractory bricks were world famous. First listed in trade directories in 1904, the works site lies at the foot of a deep valley near Hipperholme, working until circa 2008. At one time the bricks were carried by narrow-gauge railway up the valley to the sidings at Hipperholme station.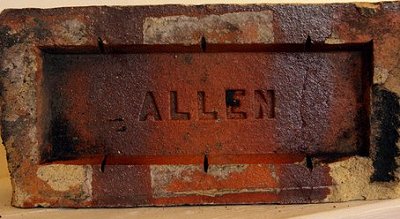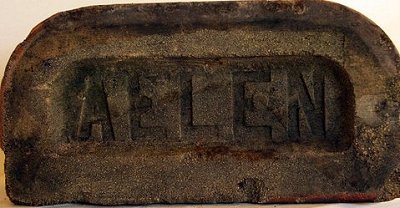 Photos by Darrell Prest.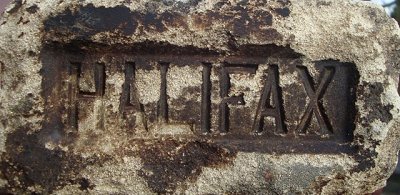 Simon Patterson sent this photo of the rear of an Allen brick.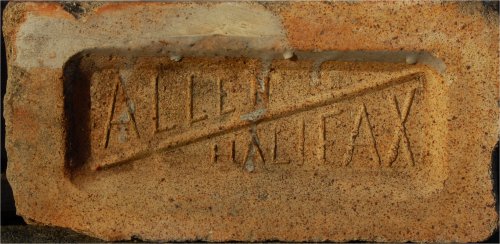 Image PRBCO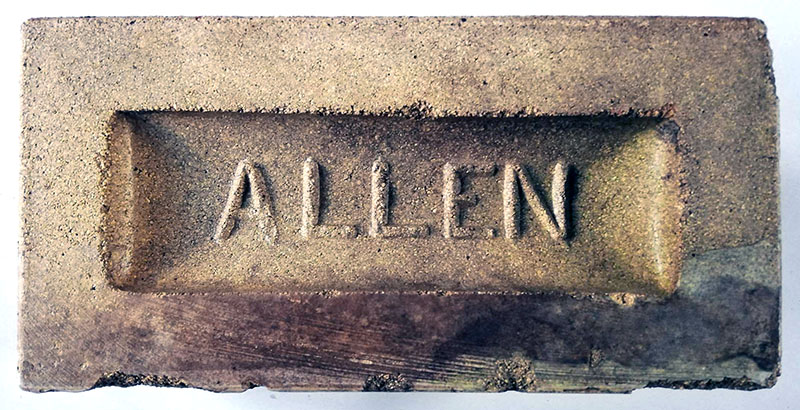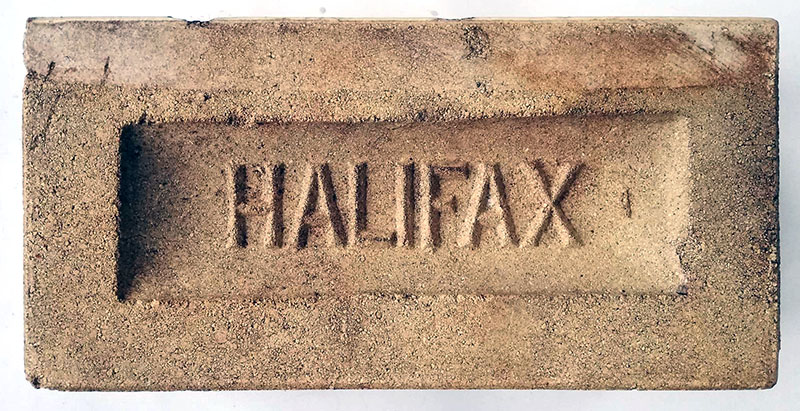 Photos by Chris Tilney.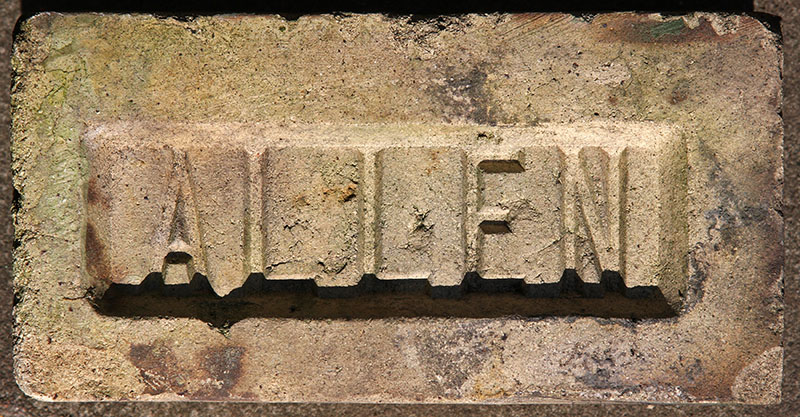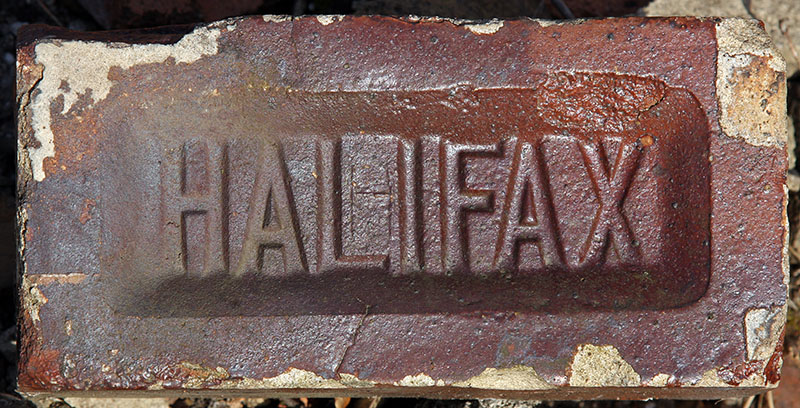 Front and back of an Allen brick. Photos by David Kitching.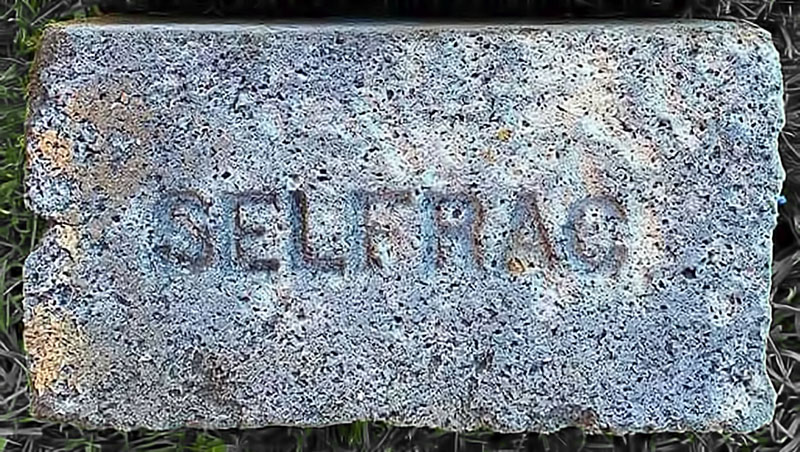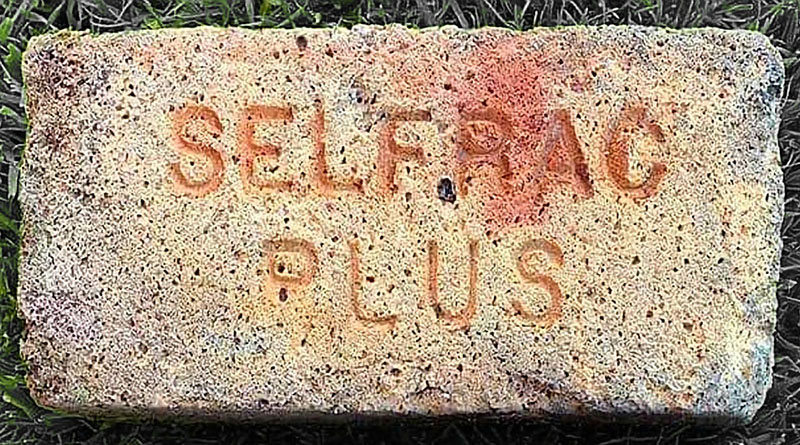 Photos by Jason Stott.
---
Allen, Ballingdon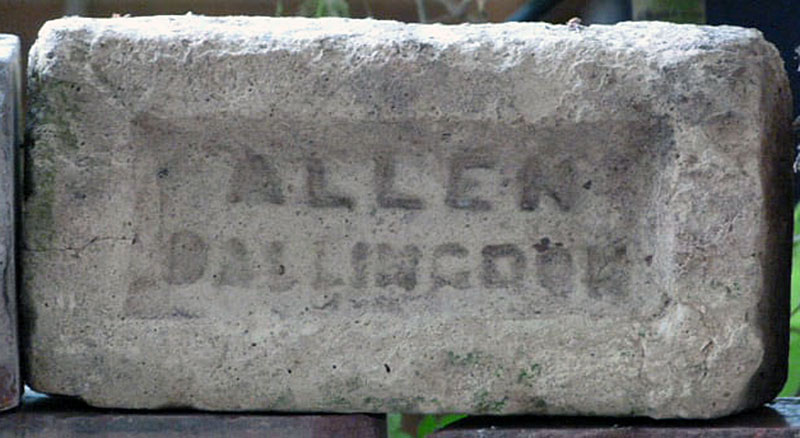 Robert Alfred Allen and Sons, Ballingdon, Sudbury, 1886 - 1909. The business was dissolved by Robert Basil Allen on the 22 April 1909. It was latterly trading as Allen & Boggis. Info by Jon Allen, a descendant of the owners. Thanks to Christopher Dixon for the photo.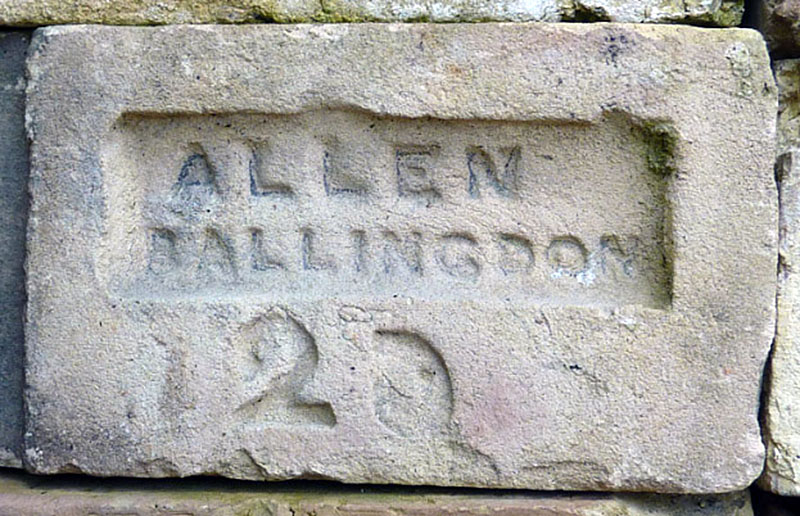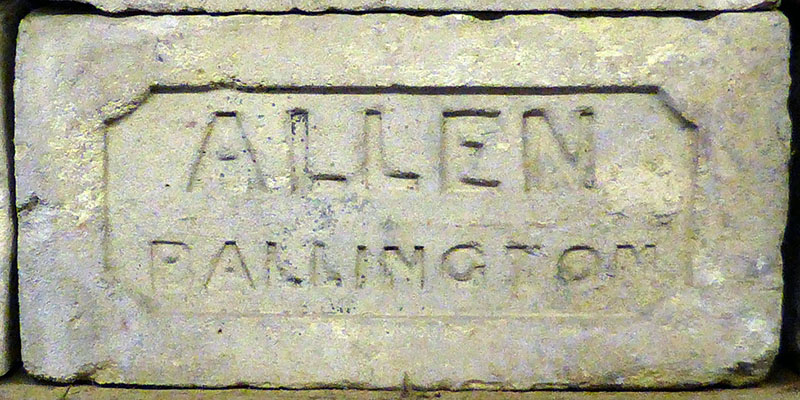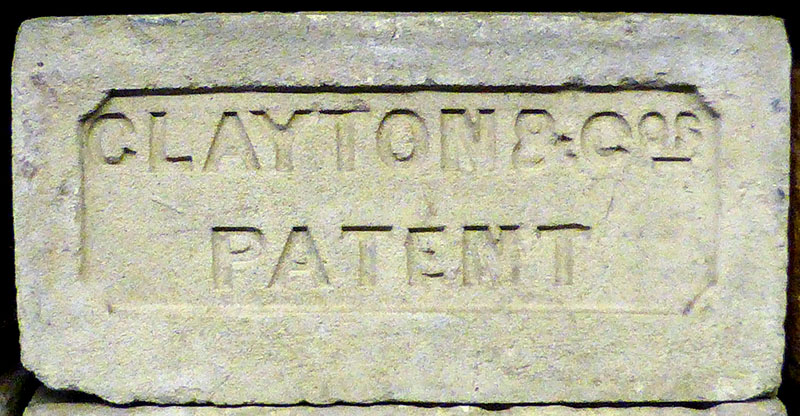 Photo by Martyn Fretwell.
---
Allen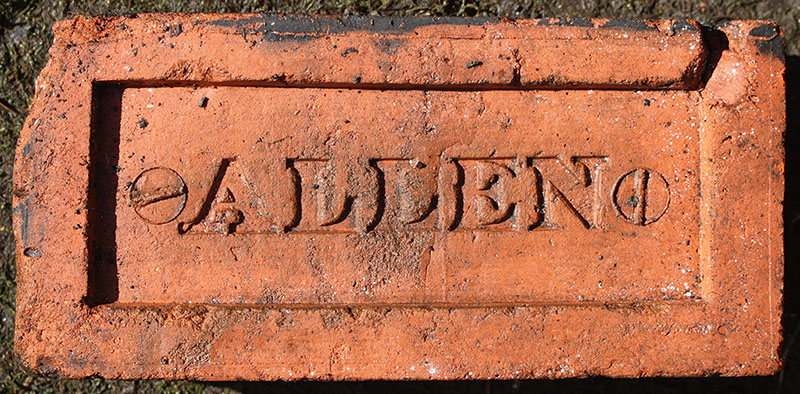 John Allen, Newton Heath, Manchester. Slater's Manchester Directory, 1869. Photo by David Kitching.
---
Allenite: see Coalmoor
---
Allhusen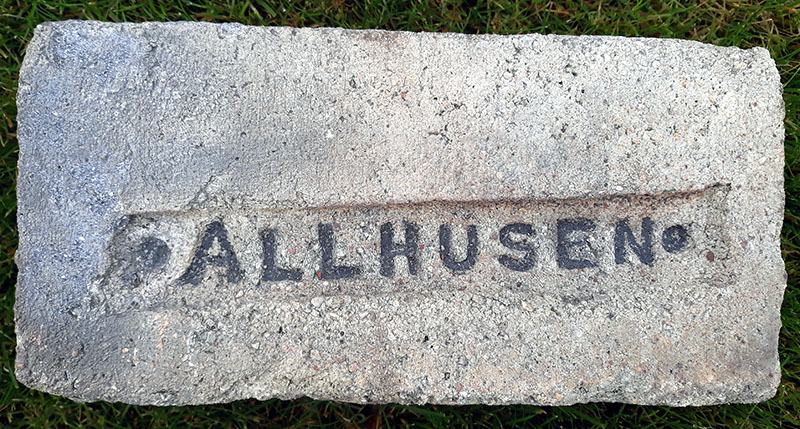 Photo by Mark Cranston. This will be Christian Allhusen, the Danish-English chemical manufacturer who lived at Elswick Hall. Arthur Brickman adds: a manufacturer based on the South Shore at Gateshead, who as far as I've been able to ascertain, is only listed in local directories around the mid 1850's. The brickworks was at Park Lane, Gateshead.
---
Allied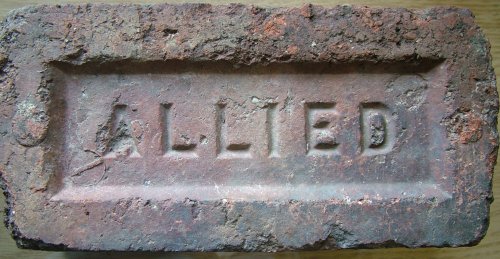 Derek Barker writes: I can't identify the origin of this brick with certainty. There was a company called Allied Brick & Tile of Beeston, Leeds. Mike Green adds: Allied took on Jabez Woolley's Elland Road site in Leeds when Woolley went to Bramley. Allied Bricks like the ALLIED one you portray can be seen making up the shelter and small garden on Chorley Lane, Leeds, plus I've found bricks in a post war style for them in Leeds. They had moved to Whitehall Road where Fireclay was heavily mined, but were lost to the trade by the mid fifties.
---
Allied Brick & Tile, Harrogate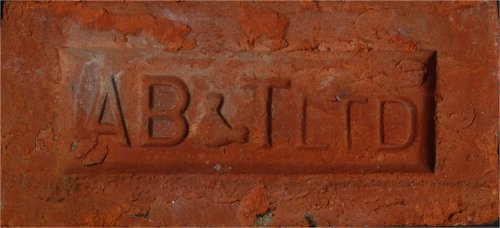 Found on Penny Pot Lane, Harrogate and made by Allied Brick & Tile probably at their Grange Works, Ripon Road site. This operated until the late 1960's. Image PRBCO.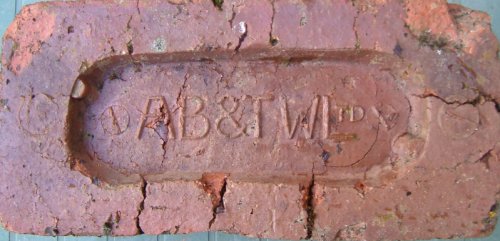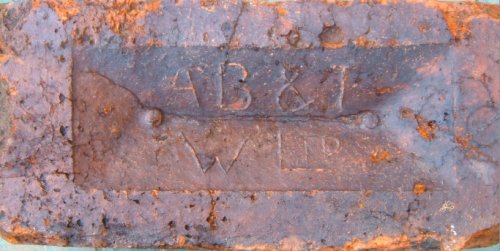 Both found at the Napton brickworks site, Warwickshire by Nigel Furniss.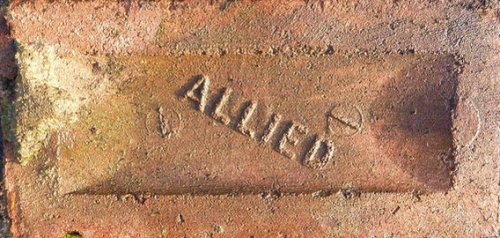 Photo by courtesy of the Frank Lawson collection.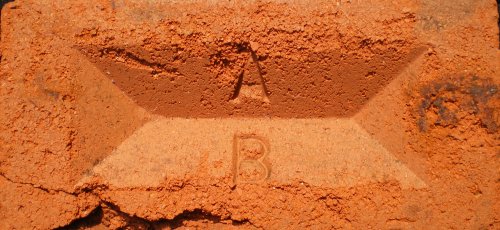 Found in Harrogate by David Gamble. Quite possibly made locally.
---
Allison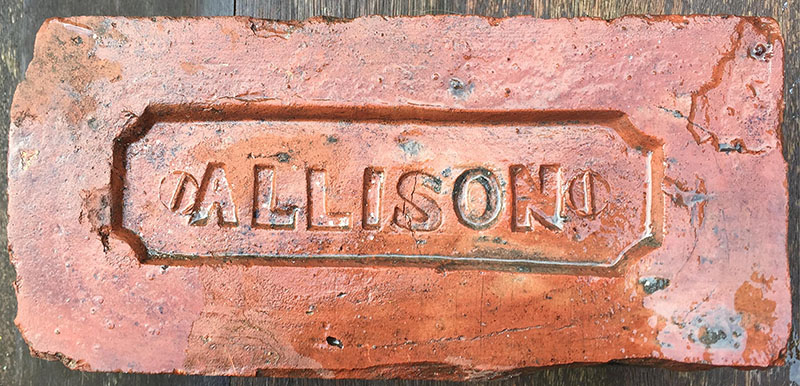 The 1890 edition of Kelly's Directory for the area has E H & J Allison, Durham Road, Sunderland. Photo by Steven Tait who found this brick in Sunderland.
---
Alltones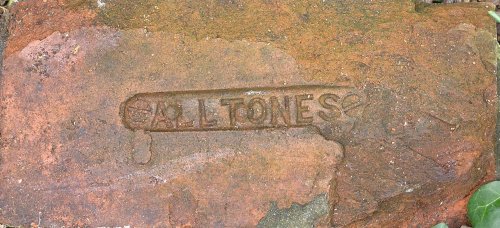 Spotted on the beach at Crosby, Merseyside.
---
Alma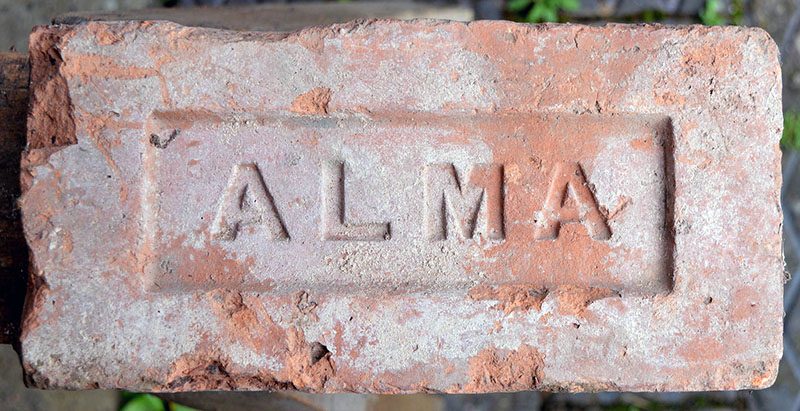 Alma Colliery at North Wingfield, Derbyshire was sunk & owned by Thomas Houldsworth around 1854. It is listed under the ownership of Mrs M Turner in 'Derbyshire's Mining Industry, 1896 - a list of coal mines. A report in the Derbyshire Times states that in February 1922 the management of Alma Colliery reluctantly closed the pit with the loss of 172 jobs due to the heavy expenditure of running costs. Info Frank Lawson / Phillip Rothery, photo by Frank Lawson.
---
George Almond, Burnham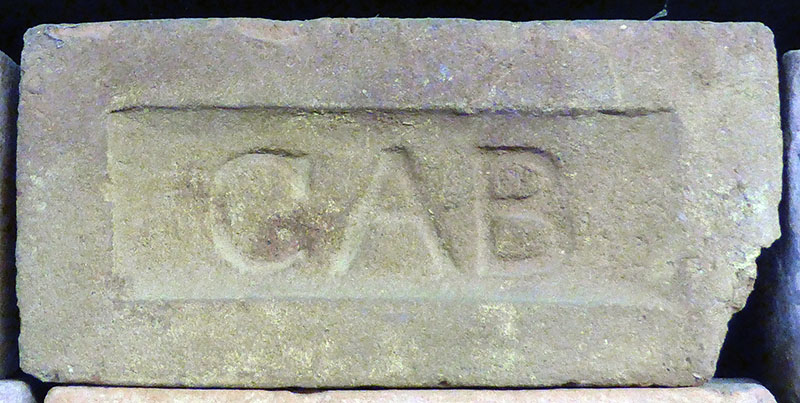 George Almond is listed as brickmaker at Burnham, Bucks. in Kellys 1899 & 1903 editions. Photo & Info by Martyn Fretwell.

---
Alosil: see Pickford, Holland & Co.
---
Altham Colliery Co (1924) Limited, Accrington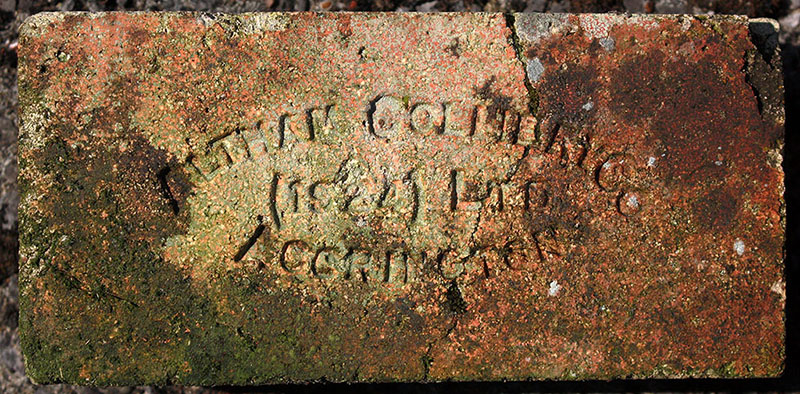 Photo by David Kitching
---
Altham works, Accrington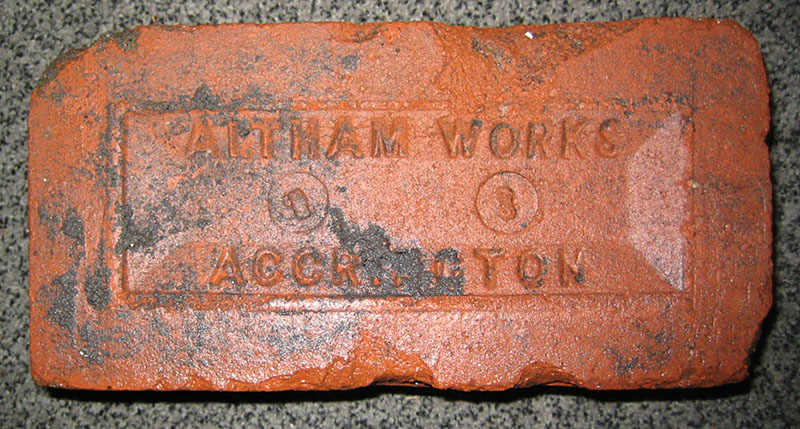 Thanks to Brian Hartley for the photo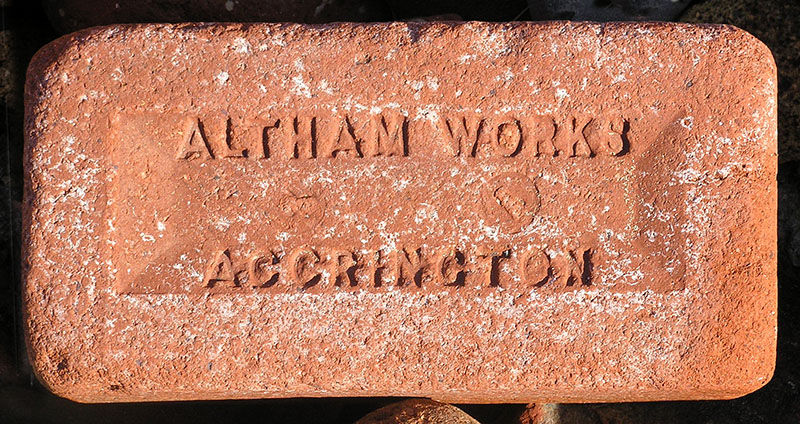 Spotted on the beach at Crosby, Merseyside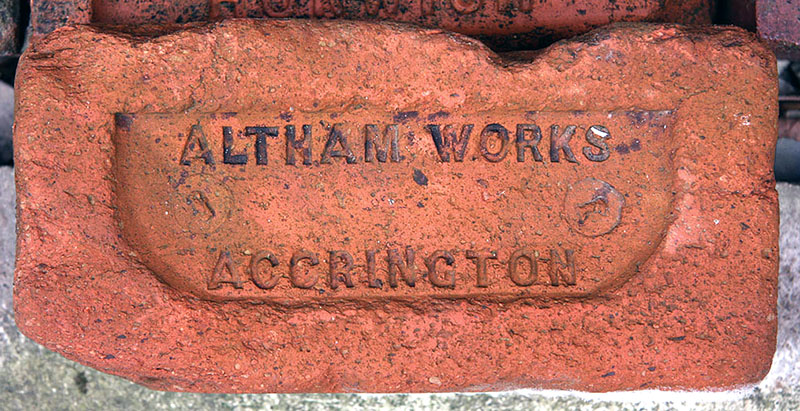 Photo by David Kitching.
---
Altofts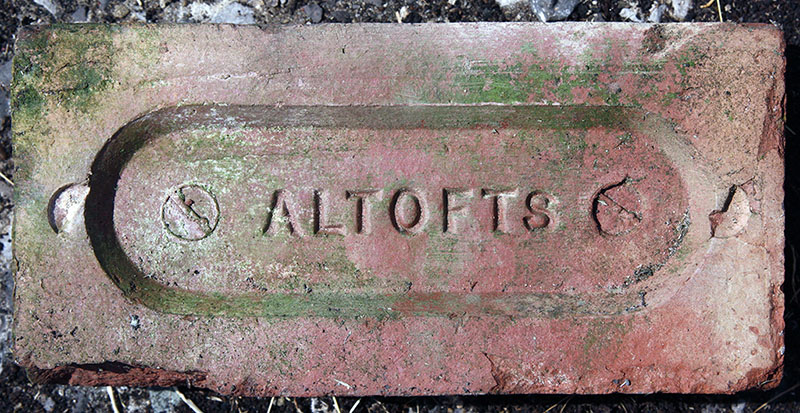 Altofts Brickworks, Altofts, Normanton, W.Yorks.
---
Henry Alty Ltd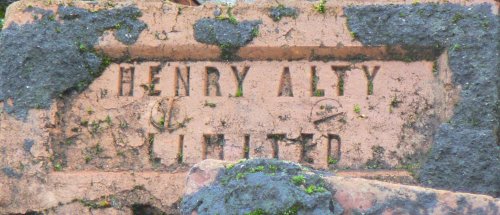 The brickworks at Hesketh Bank in West Lancashire was built shortly after the completion of the railway link between Preston and Southport in 1878. Established initially by the Ainsdale and Skelmersdale Brick Company, the brickworks had been taken over within a few years by Henry Alty. The works was served with private railway sidings and a quay on the navigable River Douglas, and expanded to become one of the largest brickworks in the area. Production declined during the 1960s, and the works had closed by 1970. This example was found amongst demolition rubble on the site of Penwortham Mill, near Preston. Photo and information by Ian Miller.

---
Alvechurch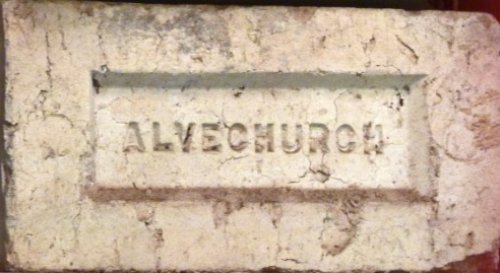 Possibly made by W.H. Wynn, Alvechurch. The lettering look similar. Photo by Martyn Fretwell.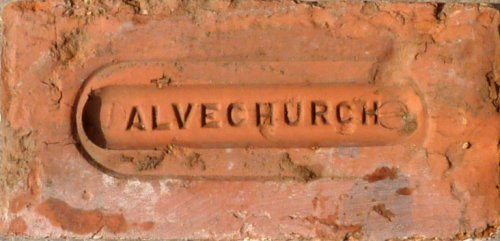 Photographed at Cawarden Reclamation Yard by Martyn Fretwell.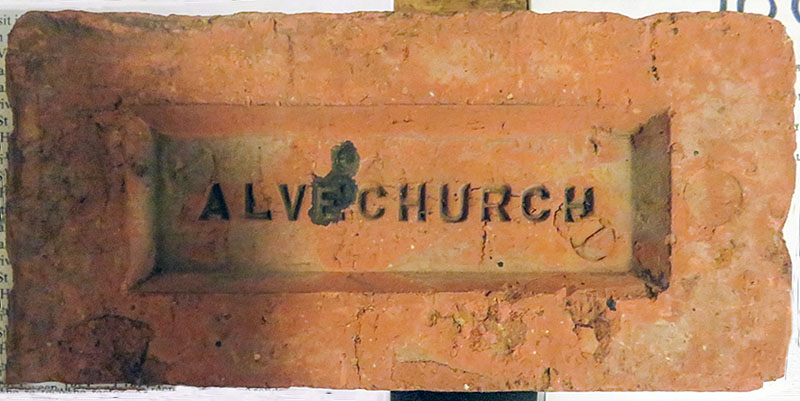 Photo by Mike Chapman.
---
Ambergate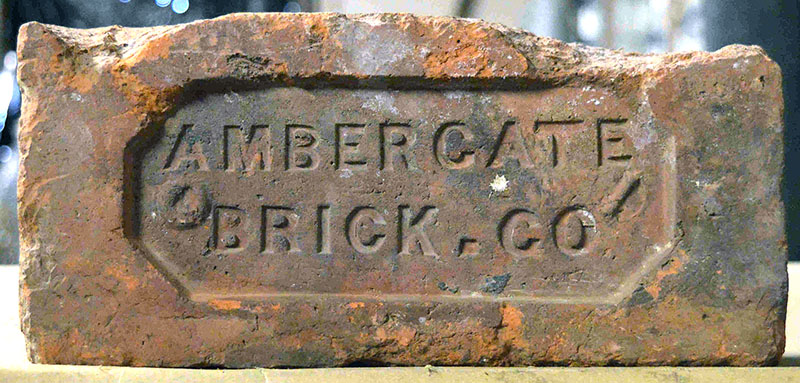 This site was located behind the present day Excavator Public House, Buckland Hollow. There are traffic permits for bricks being carried from this works on the Cromford Canal in the 1820s. The next reference to the Ambergate Brick Company is in Kelly's trade directory for 1876 with W.B. Chamberlain as manager & the works at Heage. Info by Martyn Fretwell, photo by Frank Lawson.
---
Ambrose, Copford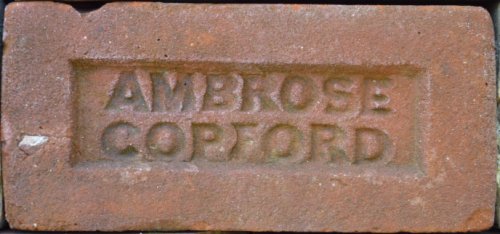 John Ambrose is listed in Kelly's 1874 edition at Copford, Colchester. John Ambrose was a farmer who established a brickworks in 1838 on his land next to the Great Eastern Railway Line just off London Road in Copford. In 1851 John employed 65 workers on his 480 acre farm & brickworks. By 1876 the works had expanded to two brickfields & five claymills. Photo & Info by Martyn Fretwell.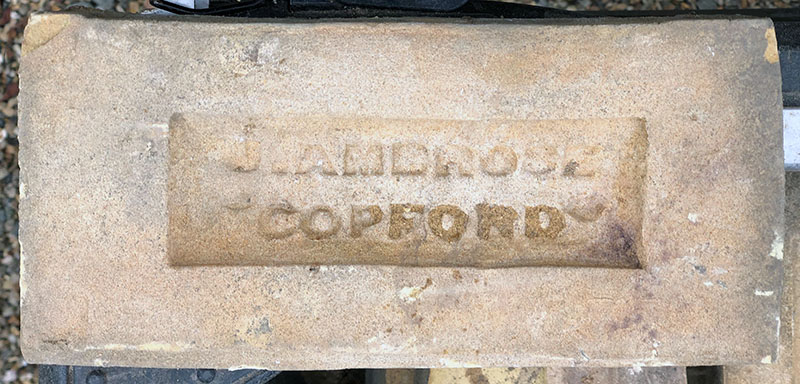 Photo by Nichola Whitehouse.
---
Anderson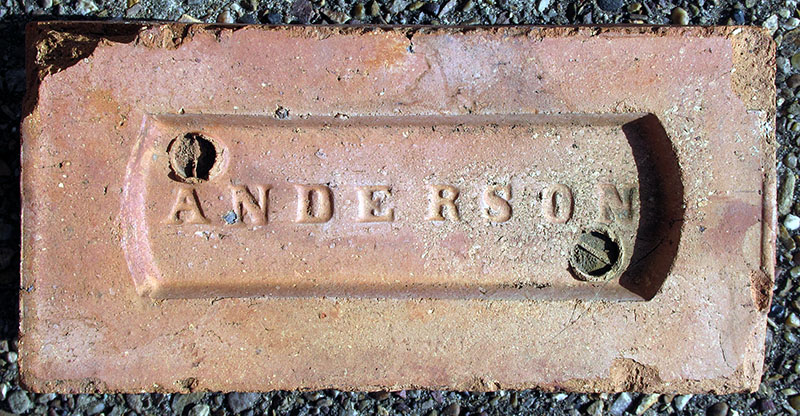 Found in a Potteries reclamation yard. This may be from one of the Andersons who owned brick and tile works in the area in the mid 1870s I am leaning towards David Henry Anderson, Primrose Grove Works, Port Vale, who is only listed in a trade directory for 1875-76. Photo by Martyn Fretwell.
---
Anderson, Cottingwood
The Anderson family ran a brick and tile works at West Cottingwood, Morpeth for much of the 19th century and into the early years of the 20th century. In 1841 George Anderson was listed as a tile manufacturer and continued as a brick,tile and drain pipe maker, employing 16 men & 2 boys in 1861, until succeeded by his son John William Bootyman Anderson by 1871 when he was employing 7 men and 2 boys. John's son James had taken over by 1901 as farmer and brick manufacturer. The brick business seems to have closed before 1911. Photos by David Plumpton.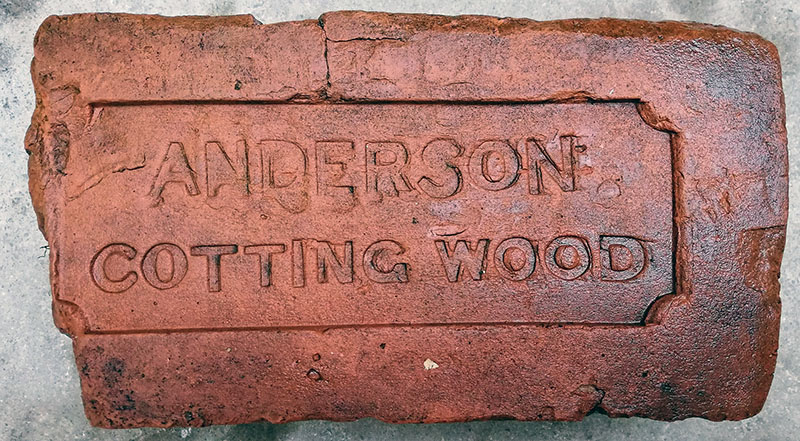 Photo by Chris Tilney.
---
Annesley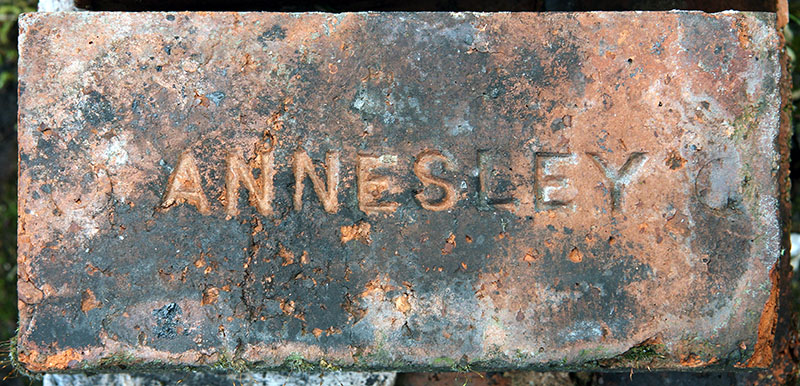 Photo by David Kitching.
Annesley Colliery was first sunk in 1865 and it closed in 1999. When it closed it was the oldest working colliery in Nottinghamshire. Photo by Martyn Fretwell.

---
Ansley-Hall - see also N C B Ansley Hall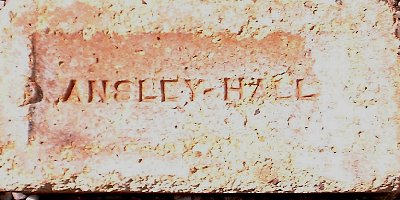 Ansley Hall was the name of a colliery near Atherstone in Warwickshire. The brick was found during demolition of part of Llandudno station. As Atherstone was on the main line of the London & North Western Railway, who also extended Llandudno station, this is the likely reason why it was found so far from home.
---
Anstone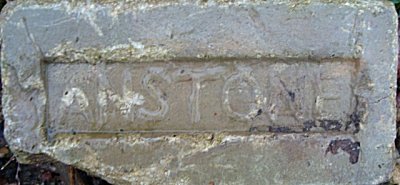 Simon Patterson writes: This is made from reconstituted limestone and was made by the Steetley Company at their Anston quarry in South Yorkshire. They are still being made by Forticrete but it has not had the frog with the name on it for many years.
Steetley PLC (Steetley) originated in a company formed in the 1880s to operate a quarry at Steetley near Worksop in Nottinghamshire. In 1885 the quarry traded as The Steetley Lime and Building Stone Company supplying mainly hard-burnt lime. The company expanded to become an international operation with several works across the UK and around the world producing limestone based products including chemicals and refractory bricks. It became part of the Redland Group in 1992. Info by Frank Lawson.
---
Anvil


Photo by David Kitching, part of the collection at Wheal Martyn China Clay Museum.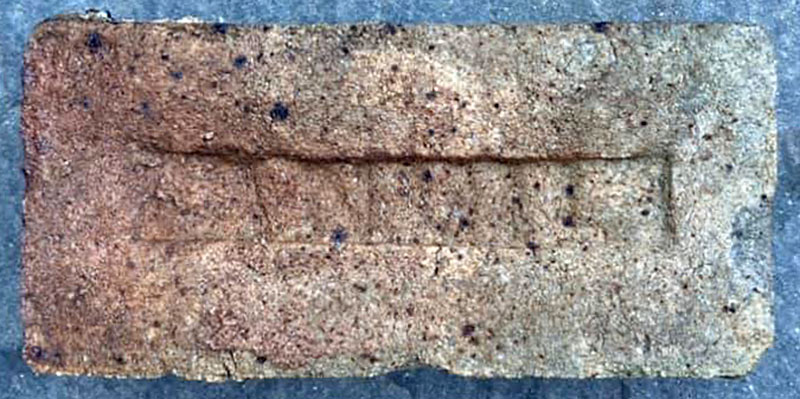 Found on the site of the Westlake brickworks near Chilsworthy in Cornwall. Photo by Ian Williams.
---
Apedale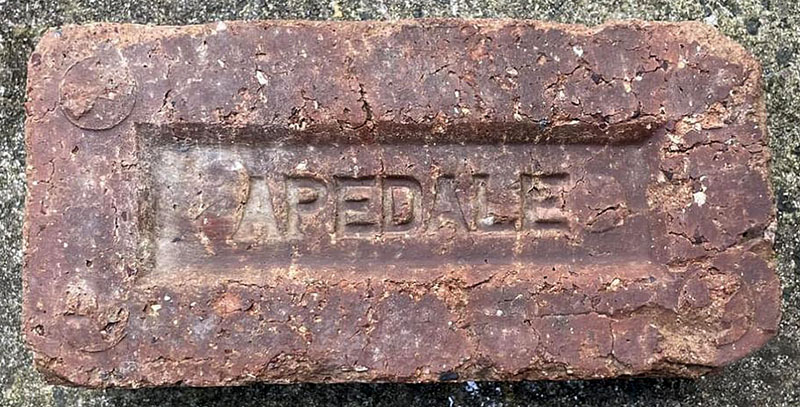 The Apedale brickyard and the Apedale iron works were built close together. In the Apedale valley there were good stocks of coal, iron and marl. This brick was found in the woods where the brickyard boundary wall can still be seen in the woods. Photo and info by Ken Perkins.
Ken's bricks can be seen on display at the Apedale heritage centre, Newcastle under Lyme, Staffordshire in the brick and tile exhibition. There are several hundred on display.
---
Appleby



Photographed at Statfold Barn farm near Tamworth

---
Arlesey Brick Co.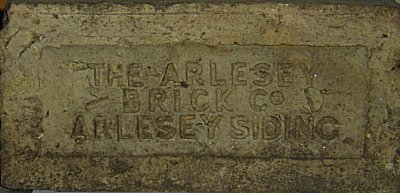 Arlesey in Bedfordshire once had six brickworks, none of which remain today. photo kindly supplied by Richard Pike.
---
Arley Brick Co., Haigh, near Wigan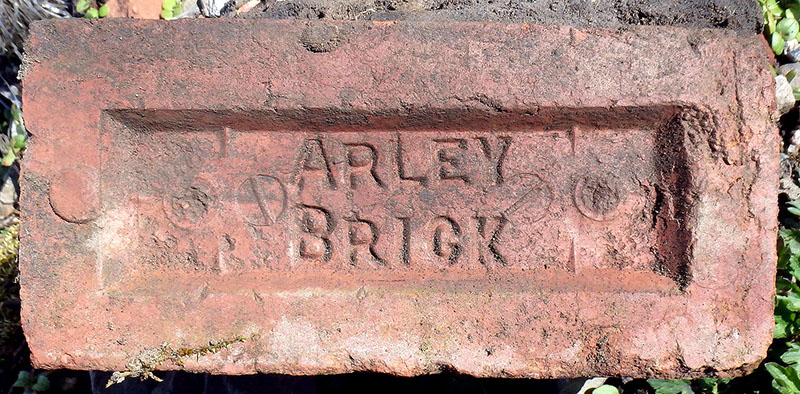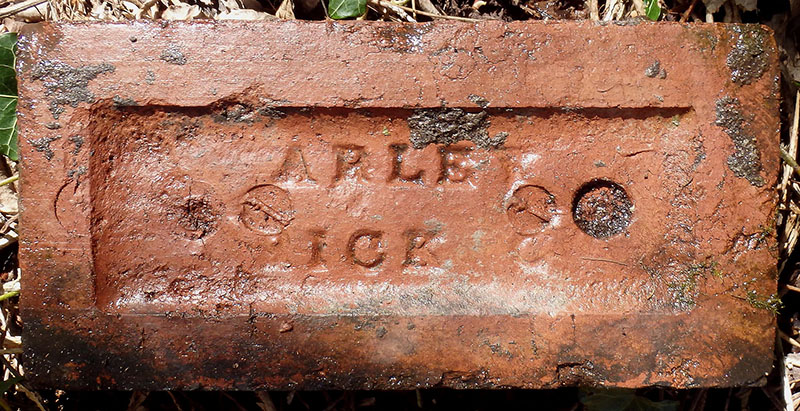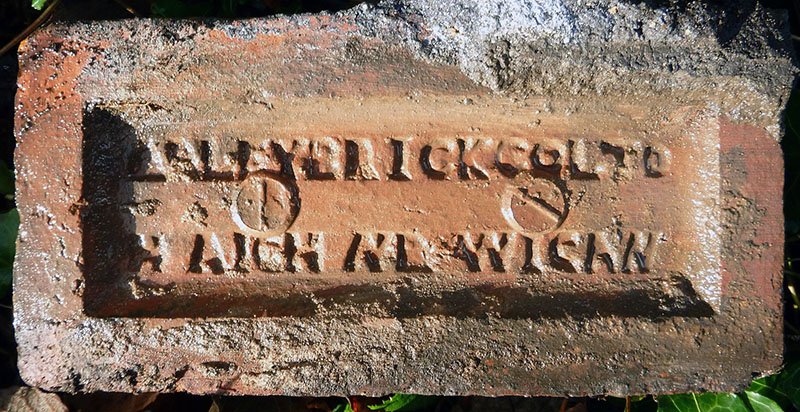 Photos by courtesy of the Frank Lawson collection.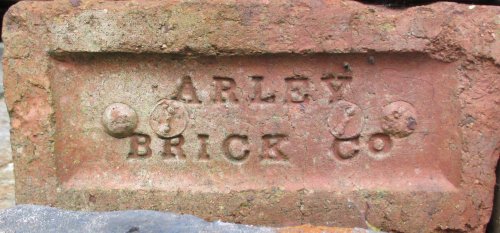 Photo by Mike Shaw and by courtesy of the Nick Southwick collection.
---
Armeson, Dartmouth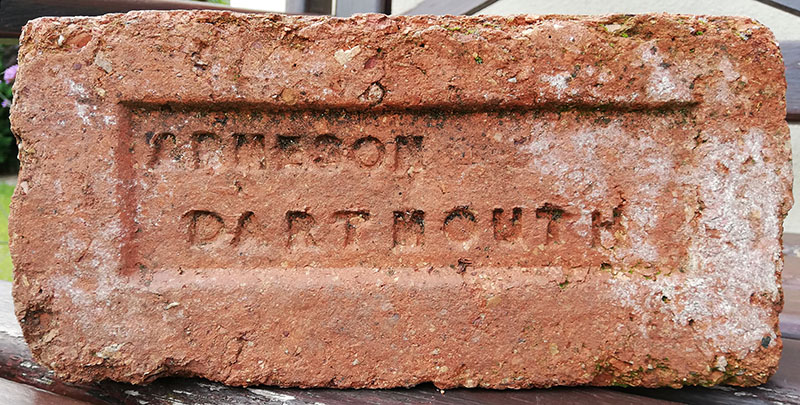 The first brick houses in Kingswear were built in the 1870s by Armeson with bricks from his Dartmouth brick works. These were Mount Agra (now The Mount), Agra Villas on Brixham Road, and the present Post Office and houses on the South side of The Square. Photo by Andrew Florey.
---
Armitage, Leeds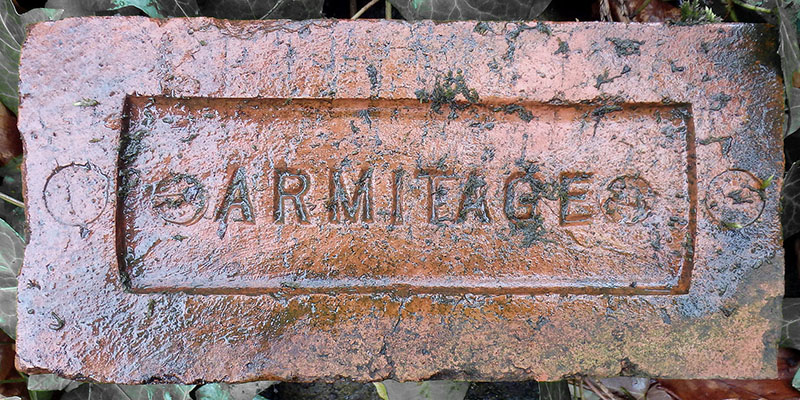 George Armitage & Sons Ltd., Robin Hood, Lofthouse, Wakefield. The history of the company has been traced back to 1824 when stonemason John Armitage joined fellow masons to work a quarry at Robin Hood. In 1864 one of his sons established the firm of George Armitage and Sons, also at Robin Hood, and expanded into brick making by exploiting the blue shale or marl which was found along with the sandstone. The Company expanded to open several brickmaking sites around the Leeds and Wakefield area including Woodlesford, Lofthouse, Morley & Swillington. In 1988 the brickmaking business was sold to Marshalls of Halifax and from them it passed to the Hanson Group.
Bricks impressed with the Armitage name may of come from any of their works.
Photo by Frank Lawson.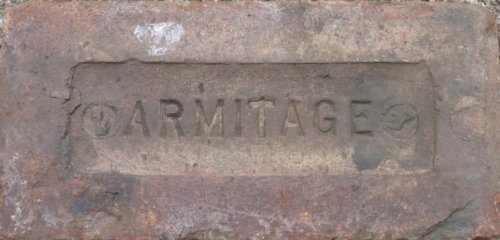 Thanks to Colin Butler and Martyn Fretwell for the contribution.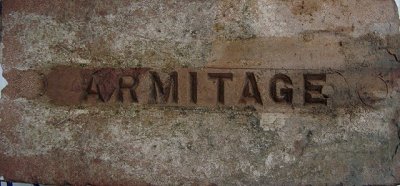 Probably made at Armitage Brickworks, Woodkirk, Leeds. Photos by Simon Patterson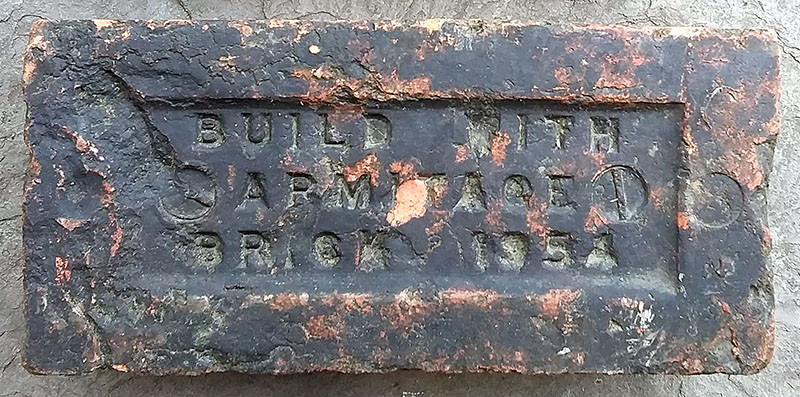 A delightful Armitage brick from 1954, photo by Steve Kind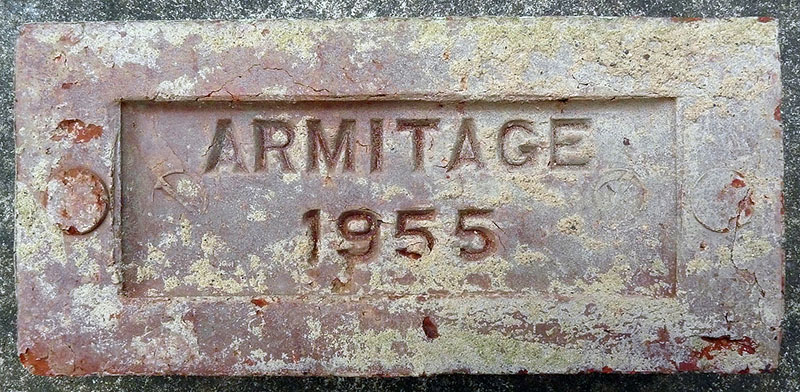 Photo by Darren Haywood.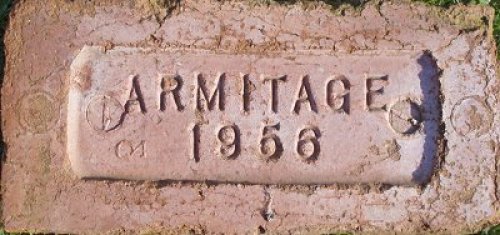 Photo by courtesy of the Frank Lawson collection.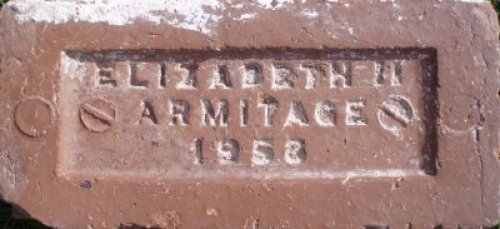 A Coronation commemorative brick. Photo by courtesy of the Frank Lawson collection.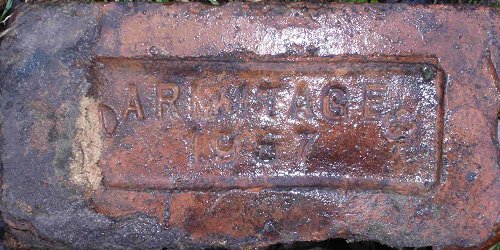 Photo by courtesy of the Frank Lawson collection.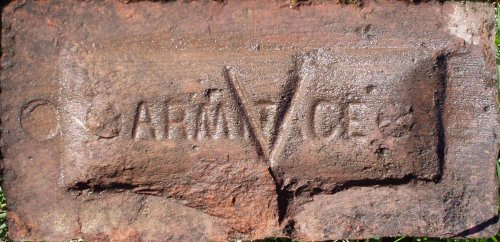 Photo by courtesy of the Frank Lawson collection. Frank thinks the V may be the wartime 'V for Victory'.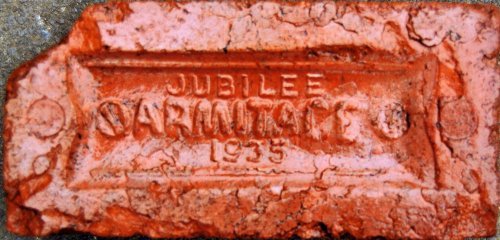 Found near Rodley, Leeds with a further example seen at Birkenshaw, this Armitage brick commemorates the Silver Jubilee of George V. Image PRBCO.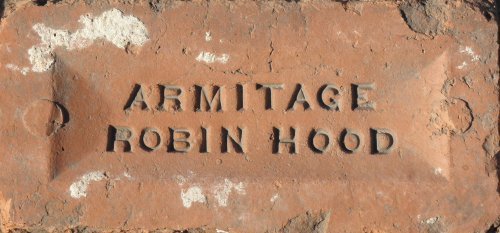 Photo taken at York Handmade Bricks.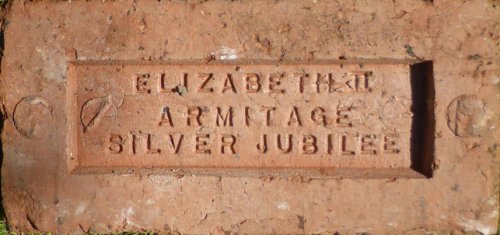 Photos by Martyn Fretwell from the David Penney Collection.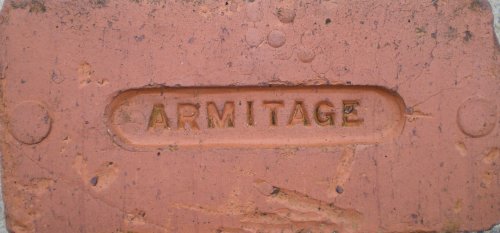 Photo by David Gamble.

Aerial view of works Company history

---
John Armitage (Sheffield)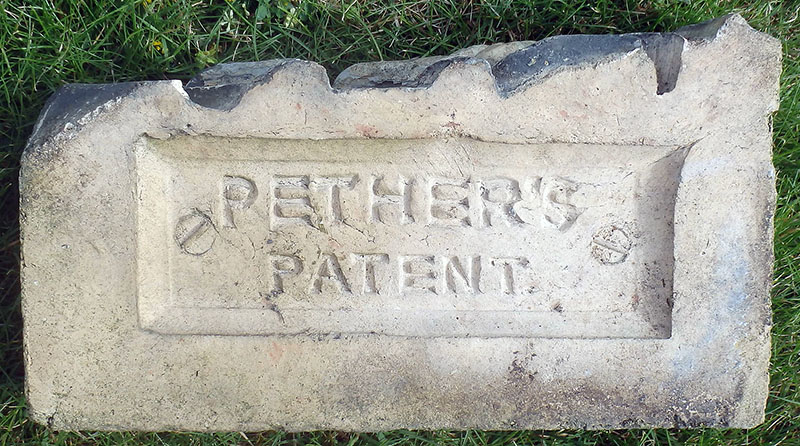 photos courtesy of Graham Hague (Sheffield) collection. This is the back of a decorative Armitage brick.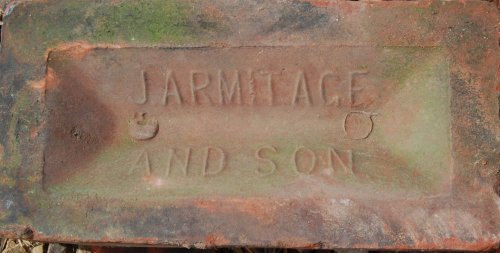 J Armitage is listed as early as 1857 at Hunshelf Bank, Penistone & Sheffield. Deepcar is listed as a yard by 1861, continuing over the years as an expanding enterprise including lime kilns at Wicker in Sheffield, finally listed as John Armitage & Son in 1901. By 1904 the concern is listed as Armitage Works Company at Deepcar and can be found as late as 1936 in Kelly West Riding, but not in Clay Products Directory 1961/1962. Image PRBCO.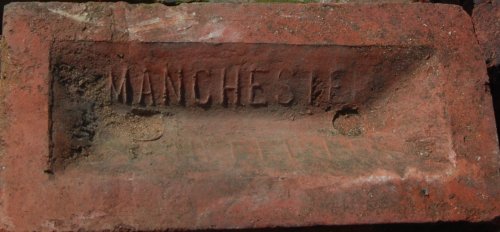 The reverse of the J ARMITAGE & SON brick is marked MANCHESTER/SHEFFIELD, possibly as a result of being connected on the railway line linking these two cities at Deepcar. It is possible Armitage had concerns in Manchester.Image PRBCO.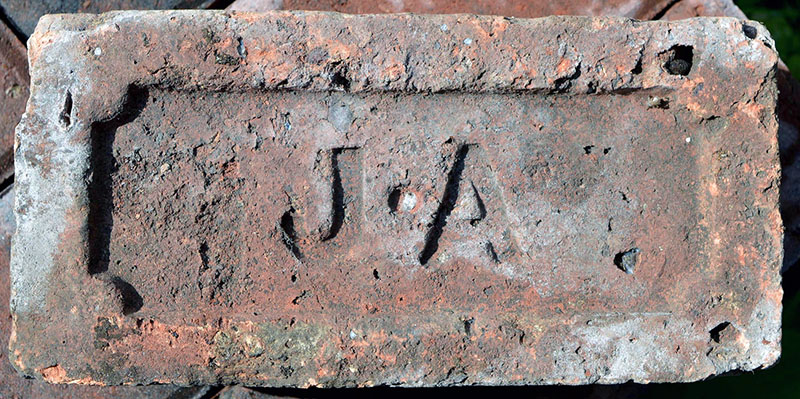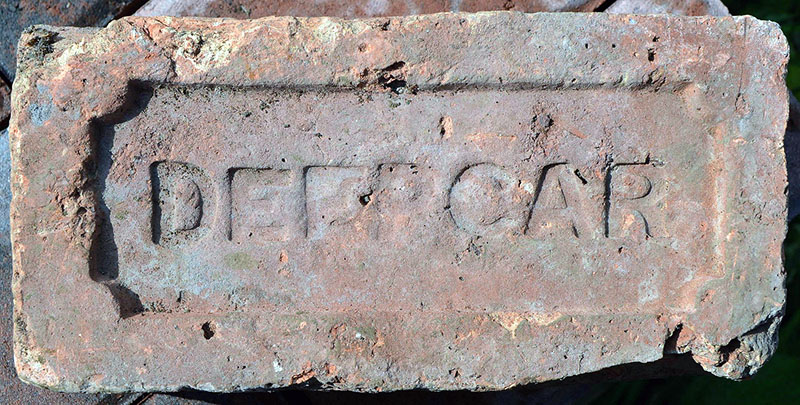 Reverse of the JA brick.
Photos by Frank Lawson.
---
Arnott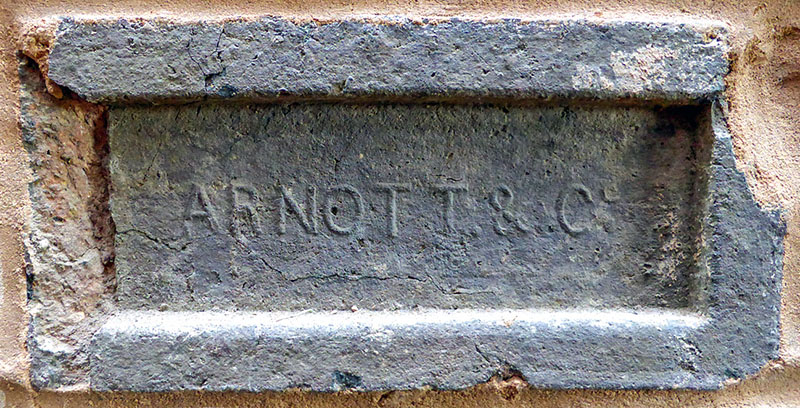 No Info - Photo by Martyn Fretwell courtesy of the John Baylis Collection.

---
Arscott Colliery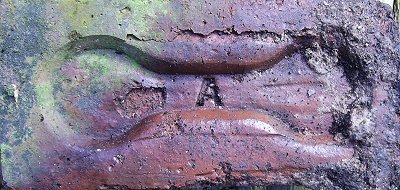 Michael Shaw supplied this photo of a brick found on the site of Arscott Colliery brickworks. The colliery was near Hanwood in Shropshire.

---
Ashbourn Grange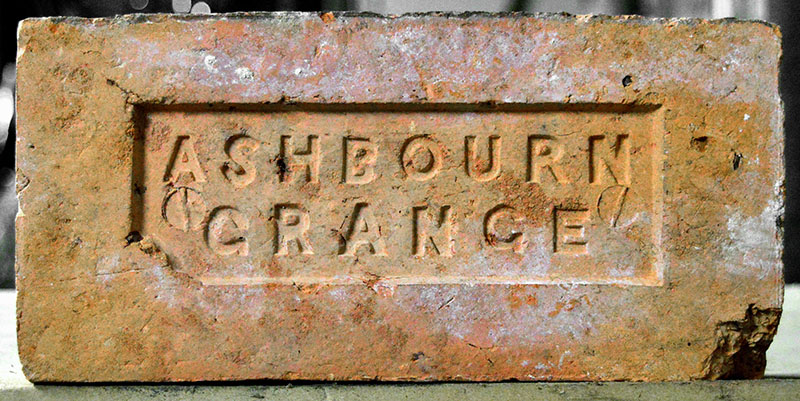 possibly the same works as Ashbourn Green. Photographed at Derby Silk Mill Museum by Martyn Fretwell.
---
Ashbourn Green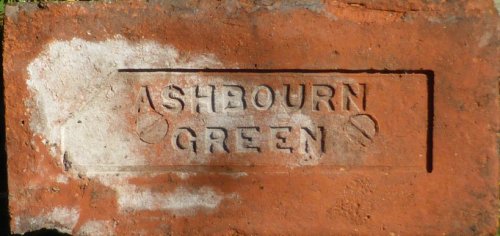 I have found 3 entries for brickmakers at Ashbourne Green, Offcote, Ashbourne, Derbys. 1st - W.N. Archer, Kelly's 1887 edition. 2nd - W. Mason, Kelly's 1895 edition & 3rd - Ashbourne Brick, Tile & Pipe Works, Kelly's 1899 to 1904 editions with William Hart as secretary. Info & photographed at Derby Silk Mill Museum by Martyn Fretwell.

---
Ashburnham Estate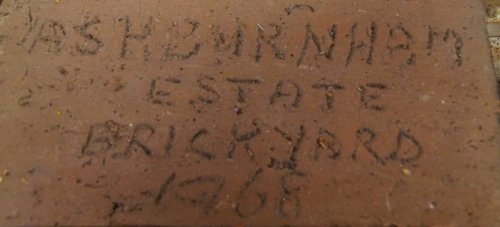 Final firing 1968. Photo by Richard Symonds, taken at Amberley Chalkpits Museum.

---
Ashby Woulds: see Donington Sanitary Pipe and Fire Brick Company Limited
---
Ashdown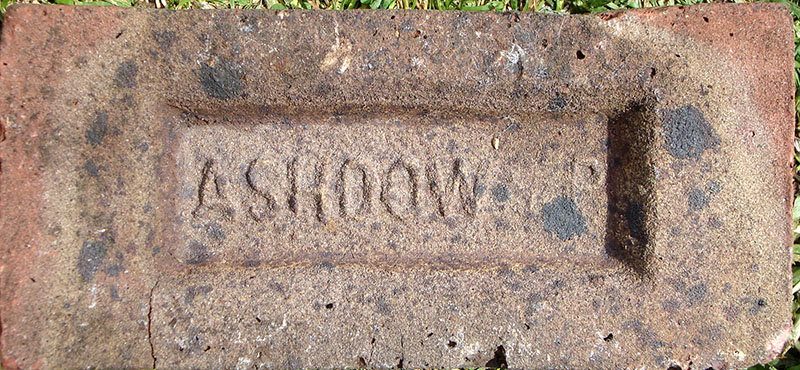 A new brick made by Ibstock at Bexhill, E. Sussex, found at Pevensey Bay by Simon Patterson.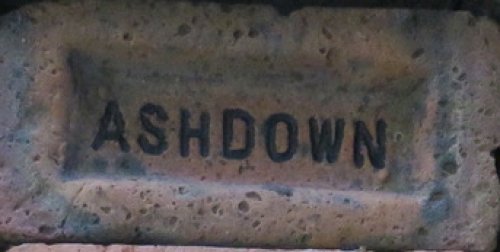 Found around the Hayling Island / Langstone Harbour shoreline in Hampshire by Tony Russell.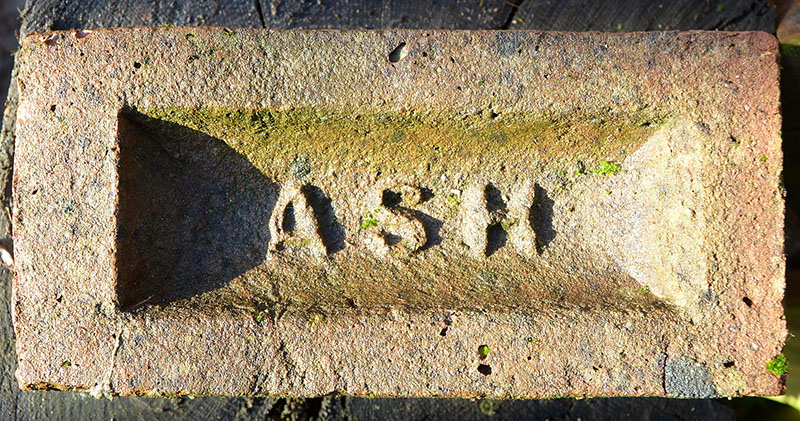 Photo by Frank Lawson.
---
Ashington Coal Company Limited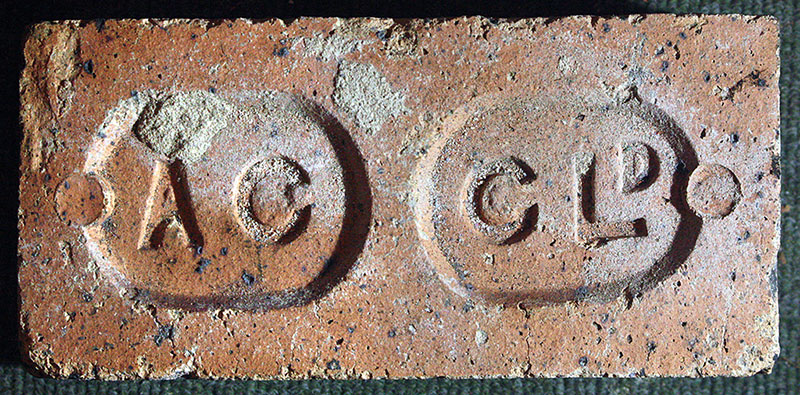 A hundred years ago, Ashington in Northumberland was a one industry town. The primary industry was coal mining and the main employer was the Ashington Coal Company. If you worked for them, then you probably lived in a company house built and owned by the ACCL with bricks made in the ACCL brickworks.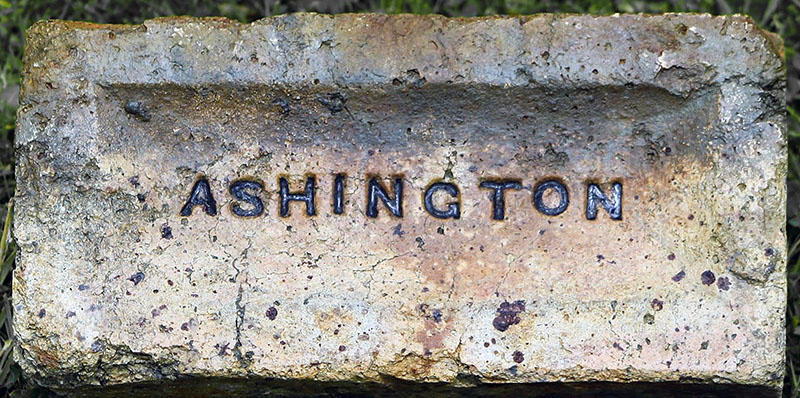 Photos by Chris Tilney.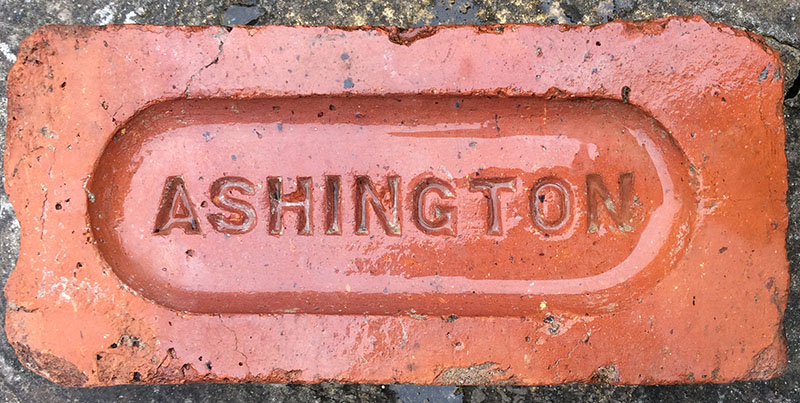 Photo by Andrew Stewart.
---
Ashley's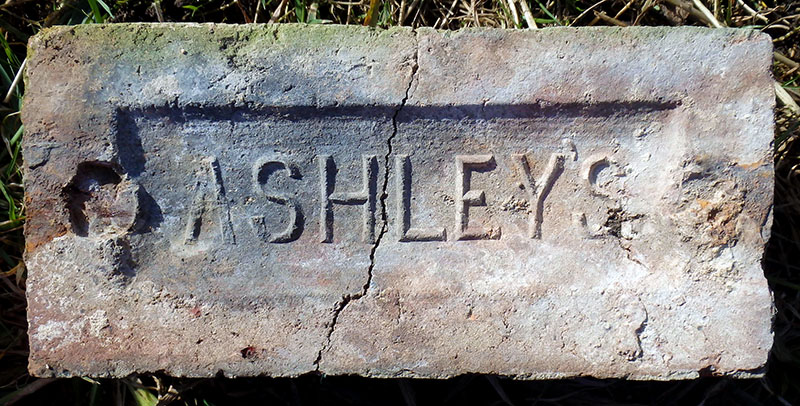 Joseph & Mark Ashley, Holderness Road, Hull. Alphabetical Directory of Trades and Professions for Hull - Bulmer's Gazetteer (1892): Ashley Joseph, brickmaker, Ashley's vls, Chalk ln Ashley Mark, brick manufacturer, Holderness rd (and Barton); h Ashley's vls, Chalk lane. Photo and info by Frank Lawson.
---
Ashton & Green



Photo by Martyn Fretwell.

In the Brick, Tile & Sanitary Pipe Makers section of Slaters 1880 edition, there is the entry for Ashton & Green (merchants), 75 & 77 Victoria Street, Bristol. In 1887 the company was advertising as Ashton & Green, Limited: Slate, Tile, Brick, Cement, Marble, and Iron Manufacturers and Merchants. Head office, Bury Street, London EC.; Branches: Holborn Viaduct, EC,; & Temple Gate, Bristol. The business seems to have slowly declined through the 1880s and in 1891 the shareholders passed a resolution that the business be wound up. What is for sure is that they did not make bricks and these will have been made on contract and a few stamped with their name on the edge. The lower brick was one of around 100 small bricks, of around 6 inches in length, found in use as garden edging in Odiham, Hampshire. This was the only one to be stamped. Photo by Richard Alderton.
---
Ashton Vale Iron Co.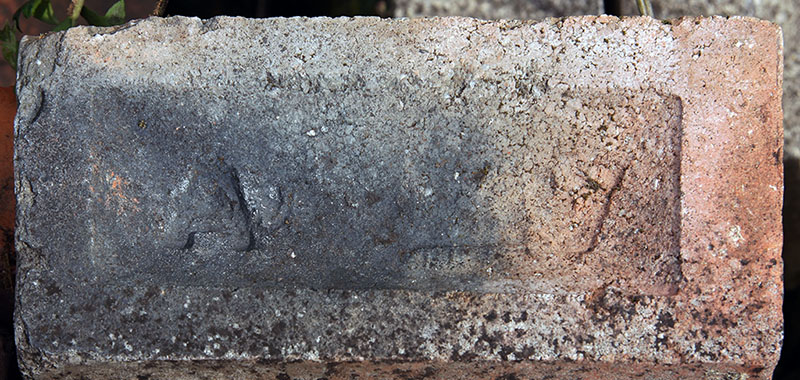 A product of the Ashton Vale Iron Company Ltd, South Liberty Brick & Tile Works, Bedminster, Bristol. Photo and info by David Kitching.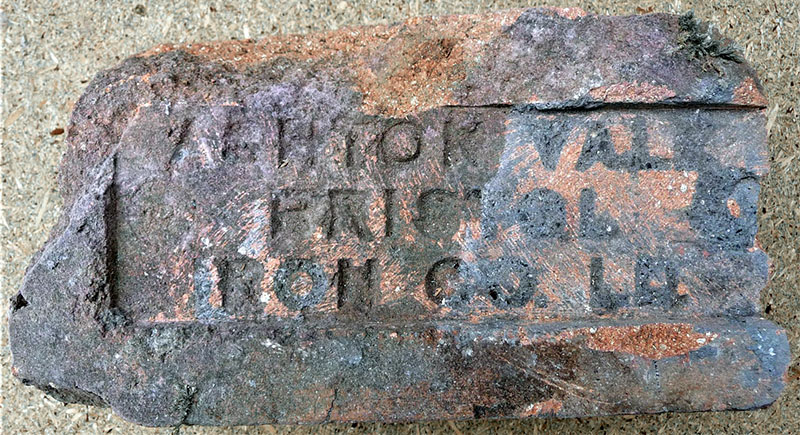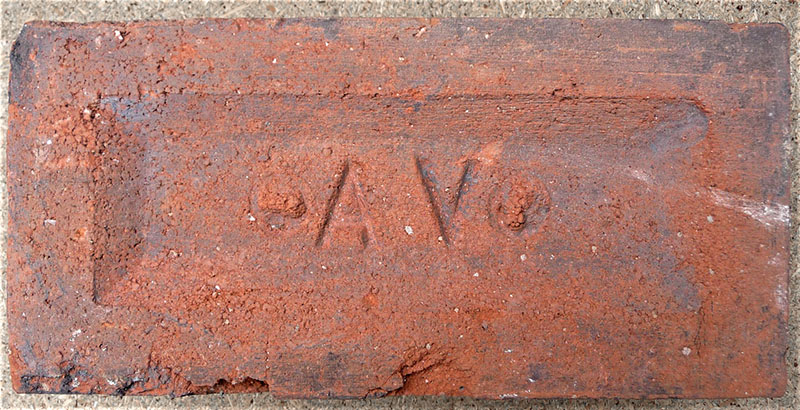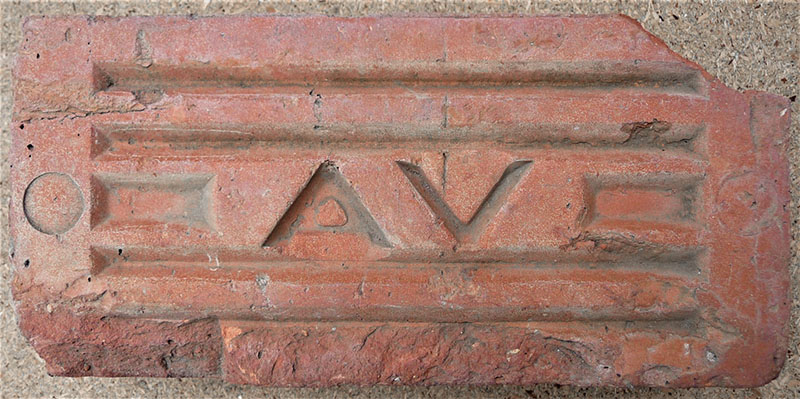 Photos by Eric Taylor.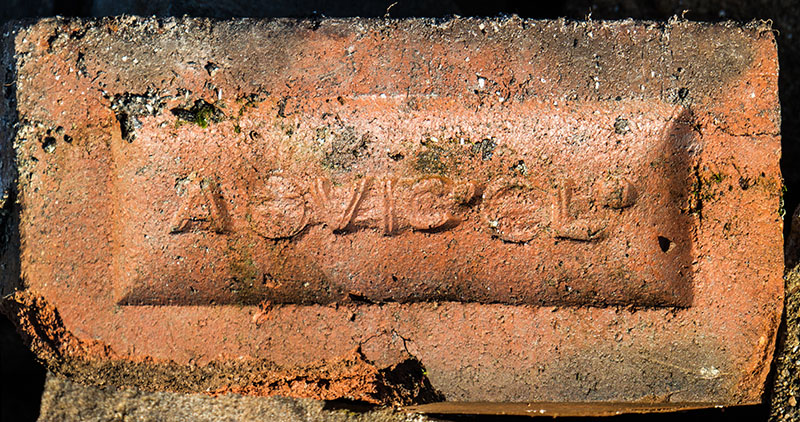 Found near Newport by Phil Jenkins.
---
Ashworth, Sparth, Rochdale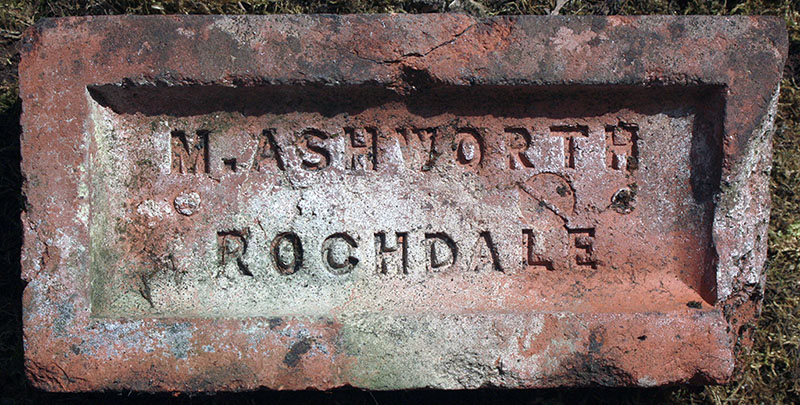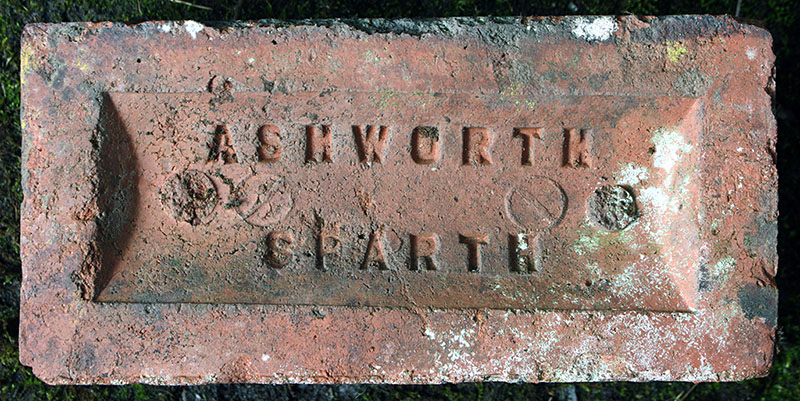 Martin Ashworth, Sparth Brickworks, Rochdale. Photos by David Kitching.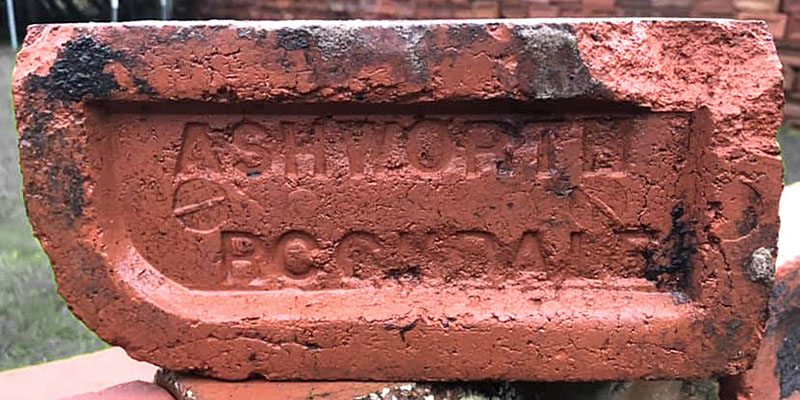 Photo by Jason Stott.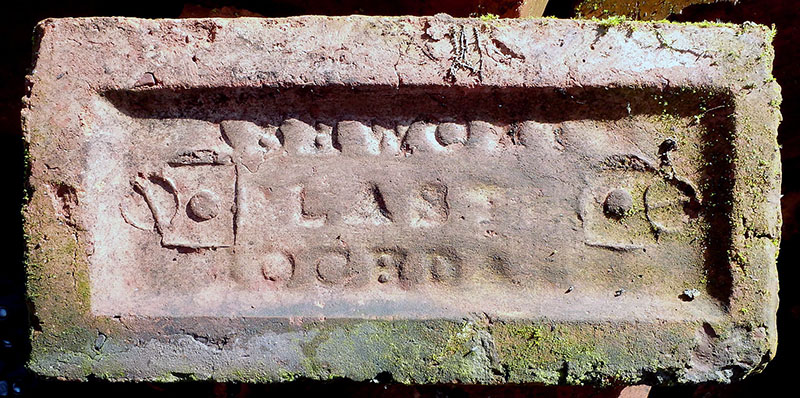 Ashworth Plastic, Rochdale.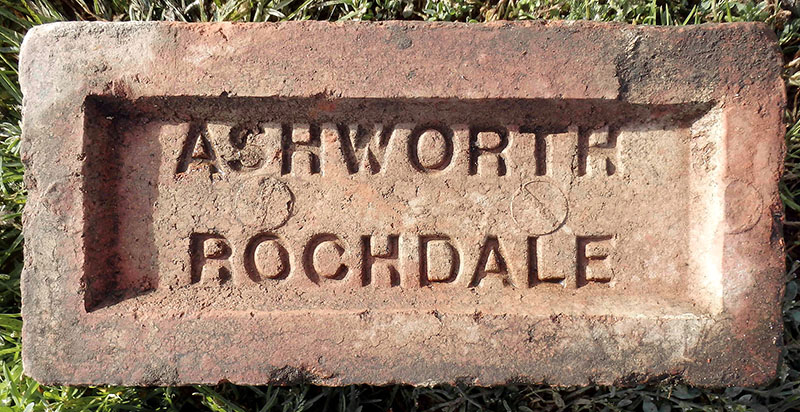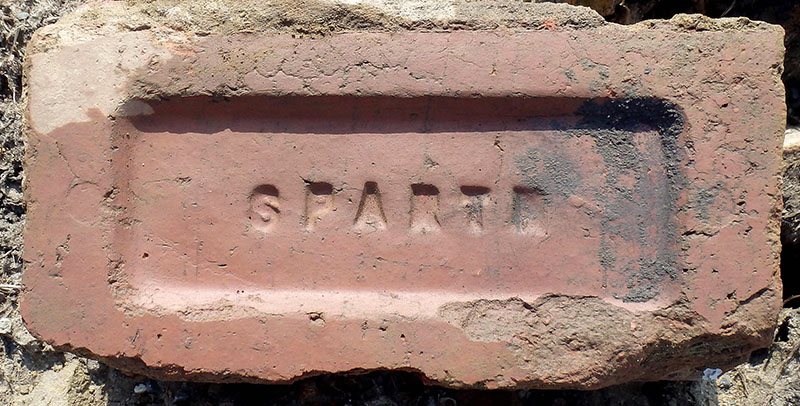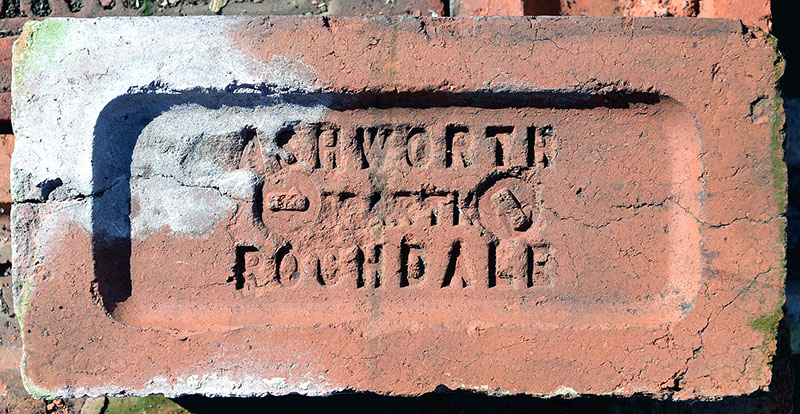 Photos by Frank Lawson.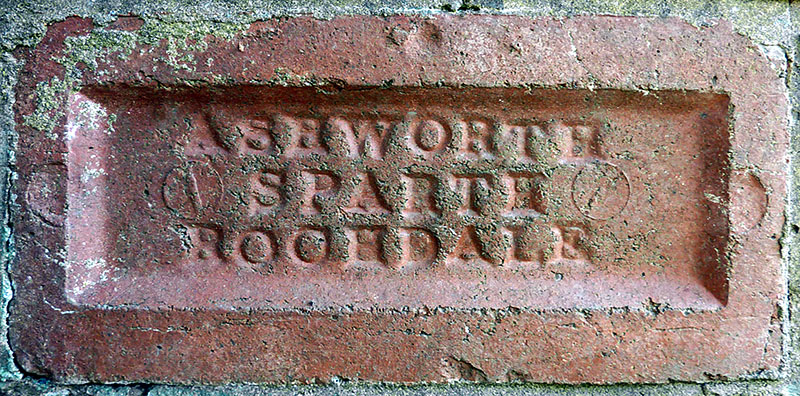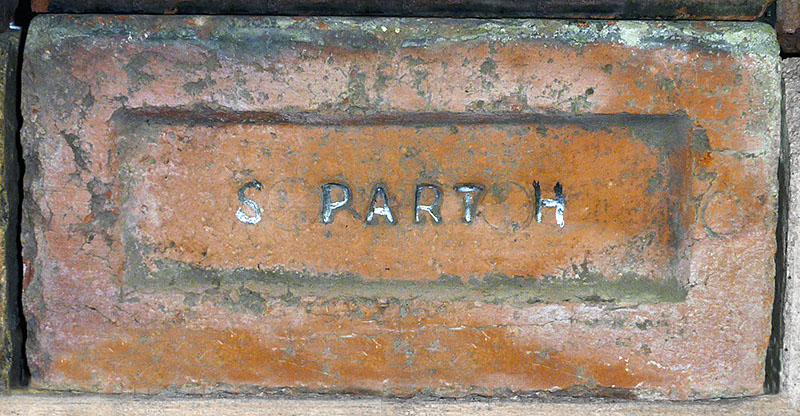 Photos by Martyn Fretwell.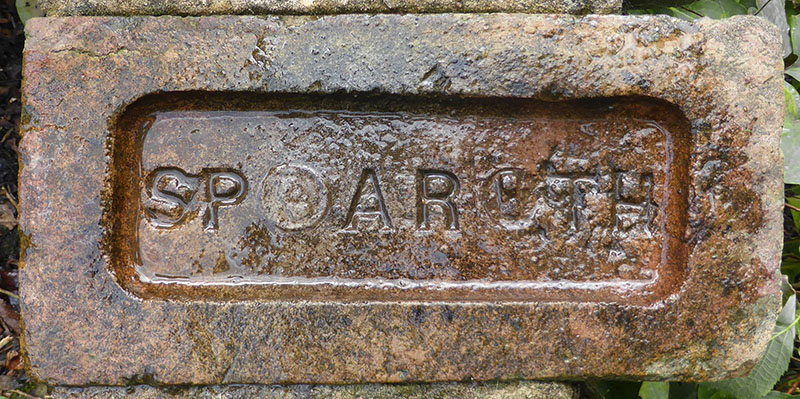 The London Gazette records the Sparth Brickworks Ltd, Rochdale as going into liquidation in 1920, with the works later re-opening as Ashworth Sparth. Info & Photo by Martyn Fretwell courtesy of the David Penney Collection.
---
Martin Ashworth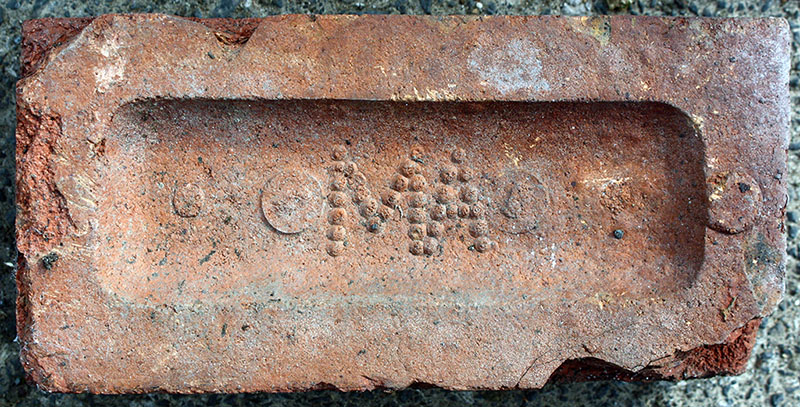 Martin Ashworth, 102 Starkey Street, Heywood, Lancs. Barrett's Directory 1880. Photo by David Kitching.
---
Askam Brick Co.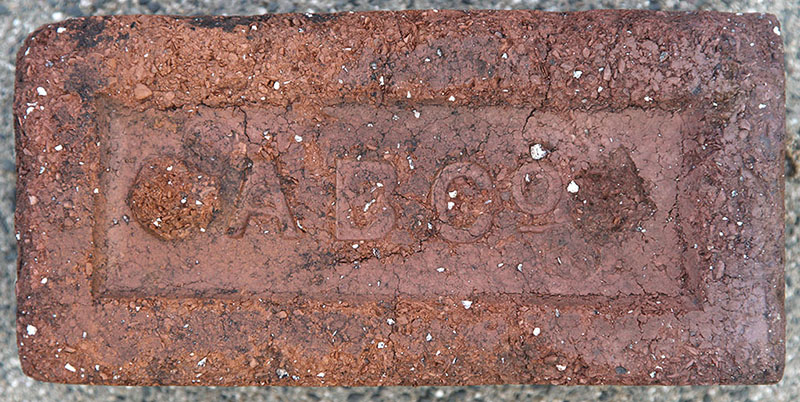 A group of local businessmen, H.Mellor, G.S.Heath, R.F.Matthews and John Field formed the Askam Brick Company Ltd. in about 1899/1900. The Works was constructed during 1900 with plant and machinery installed and railway connections made and brick production commenced on the 1st December 1900. During the year 1901 to 1902 Furness Brick & Tile Co. Ltd. acquired the assets of Askam Brick Company.
Found on a beach near Ulverston. Photos and info by David Kitching.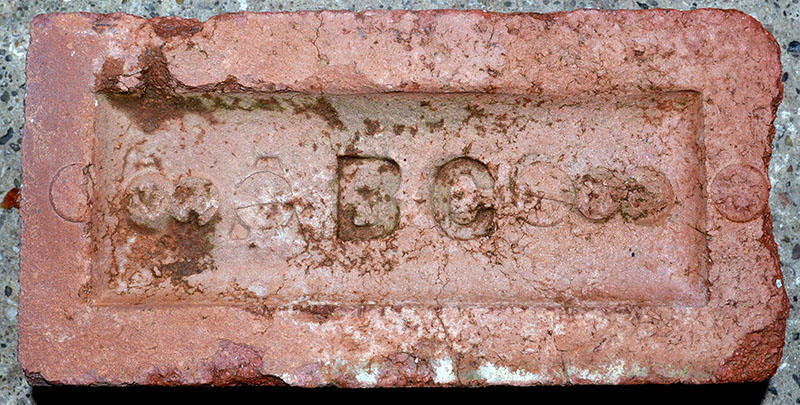 Photo by Richard Cornish who points out that there are the remains of the A and O pressed out by the screw marks on this brick. It is likely that the brick in the photo above is similar although the missing letters are not obvious on that example. This may have been a temporary measure after the takeover by the Furness Brick & Tile Company.
---
Askern

Askern Brick & Tile Co., listed in Kelly 1936 with advert 'Makers of the facing bricks for
H.M. the King's house'. Askern lies on A19, 10km north of Doncaster. Image PRBCO.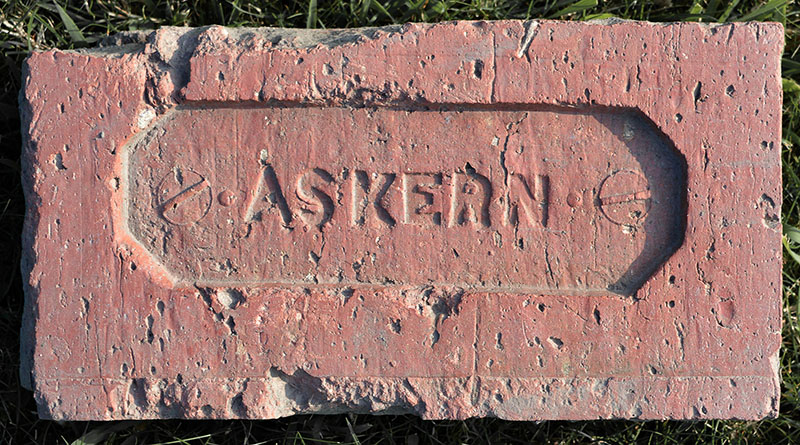 Associated with Askern Colliery, Doncaster. Found at Kirk Sandal, Doncaster. Photo by courtesy of the Frank Lawson collection.

---
Astley & Tyldesley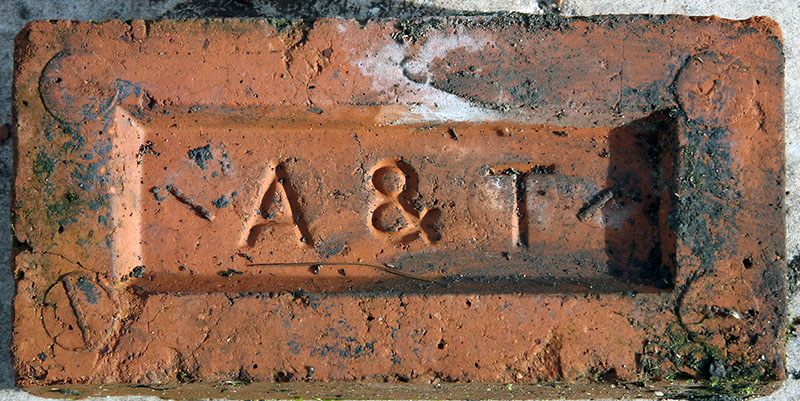 Astley and Tyldesley Collieries worked Gin Pit, Nook Pit and St George's Colliery and the brickworks was situated at Gin Pit. Photo and information by David Kitching.
---
Aston Magna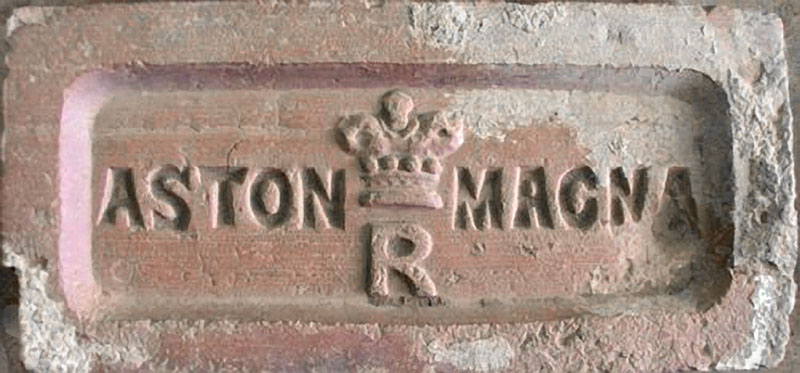 Simon Patterson photographed this one at Avoncroft Museum
---
Atkins, Mount Sorrel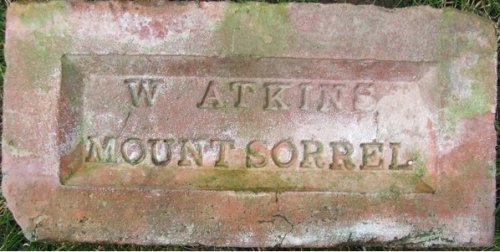 Photo by Dennis Gamble

---
Atlas: see Barnett & Beddows
---
Atlas Brick Co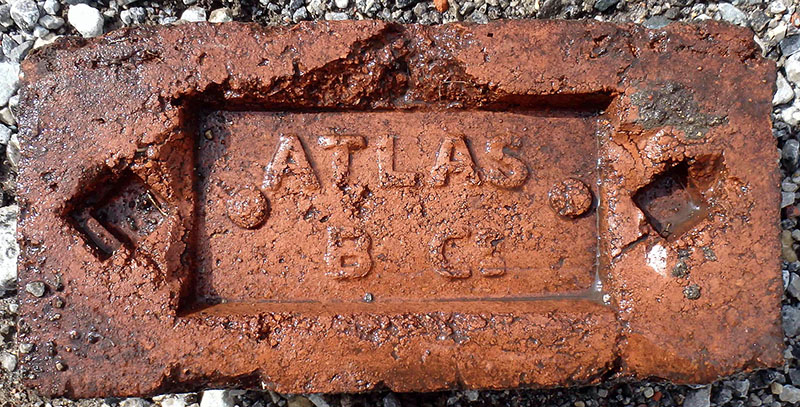 Atlas Brick Co. Ltd., Warwick Road, Batley Carr, West Yorks. White's Directory of Leeds & the Clothing District 1894. Photo and info by Frank Lawson.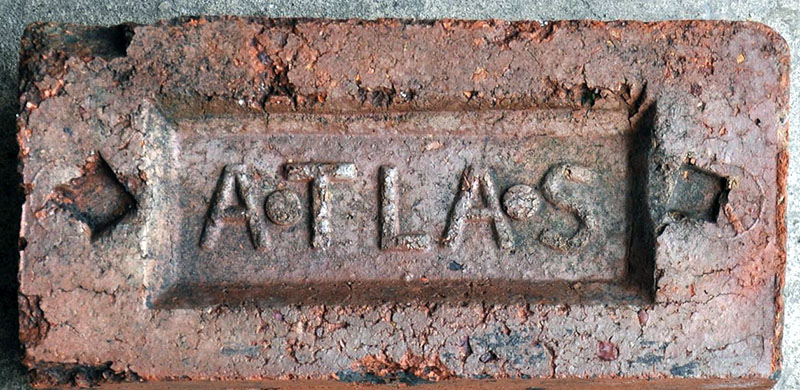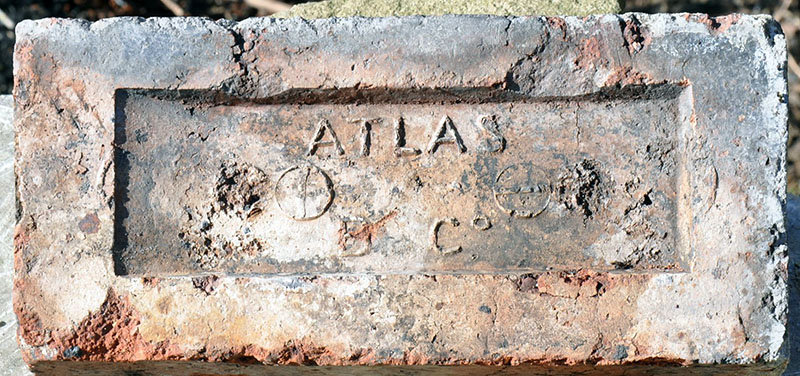 Photos by Chris Shaw.
---
Atlas Brick & Tile Co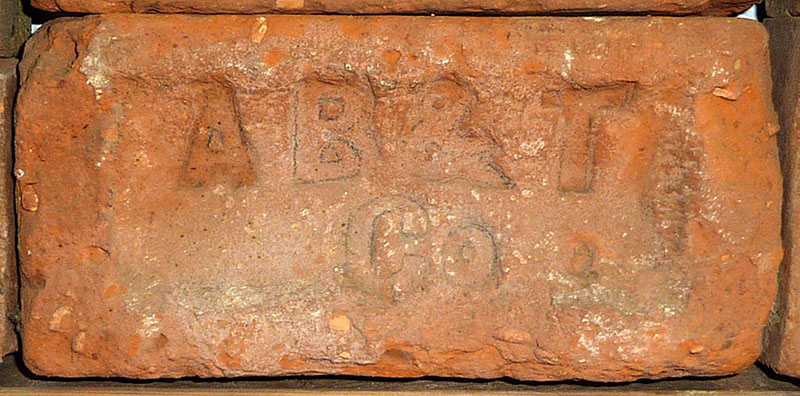 The Atlas Brick & Tile Co., Willesden Junction, Old Oak Lane, Acton was owned by James Knox (Managing Director) & managed by E.E. Osbourne from 1886 to 1909. The company is listed in Kellys 1890 to 1899 editions. Map of the works at this Link. https://maps.nls.uk/view/101201241. Photo & Info by Martyn Fretwell.
---
Atlas &Crown, Birmingham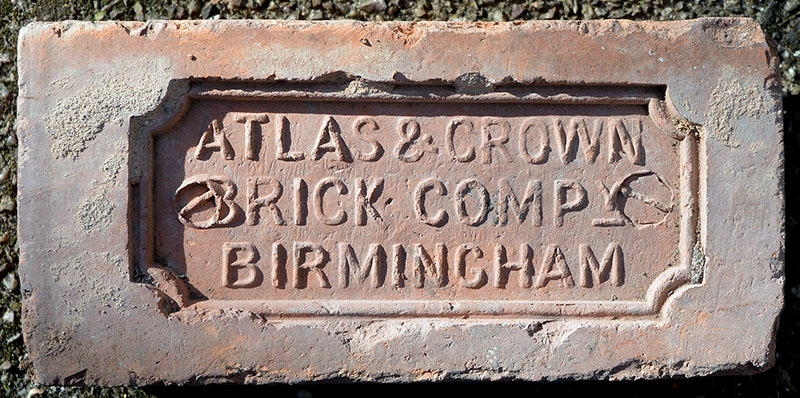 The Atlas & Crown Brick Co. Birmingham is listed in Kelly's 1890 edition at Garrison Lane, Small Heath & Bordesley Green Road, Saltley with Evan Thomas as Managing Partner. Then in the 1892 to 1900 editions the works are now recorded as Bordesley Green, Small Heath & Bordesley Green Road, Saltley. Photo by Frank Lawson, info by Martyn Fretwell.
---
Atlas Wallsend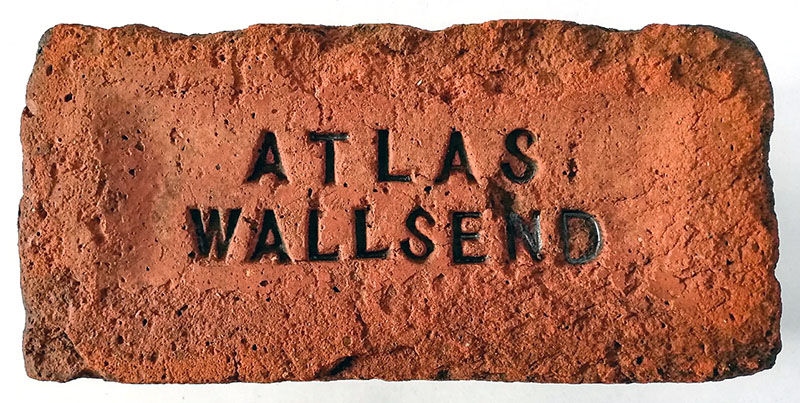 Photo by Chris Tilney.
Photo by Frank Lawson.
---
Attercliffe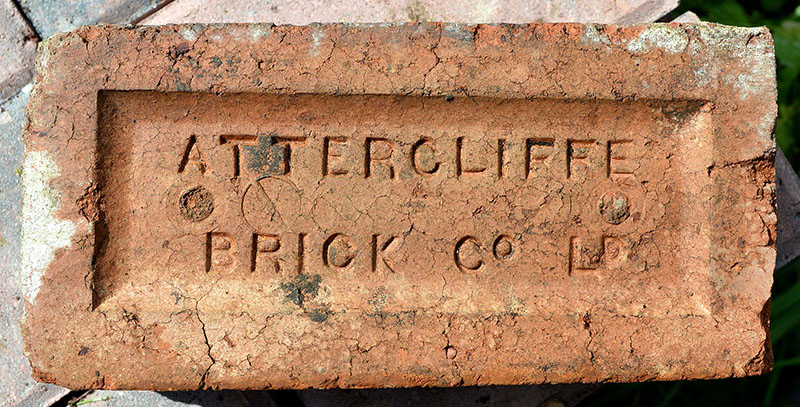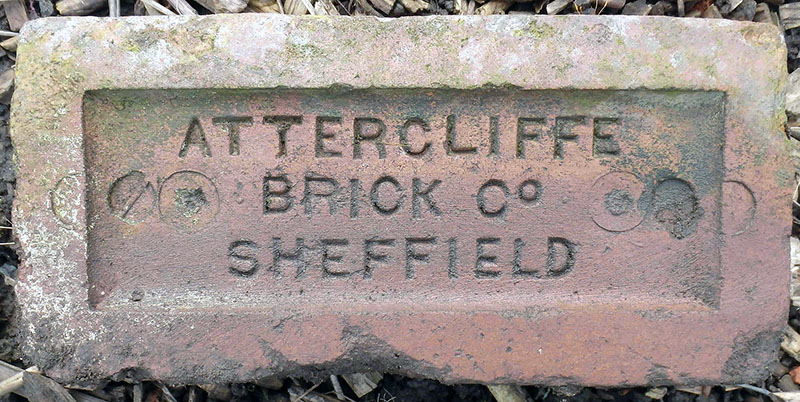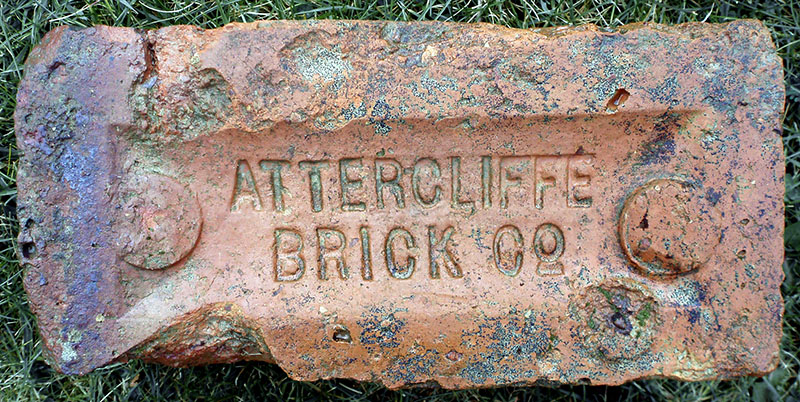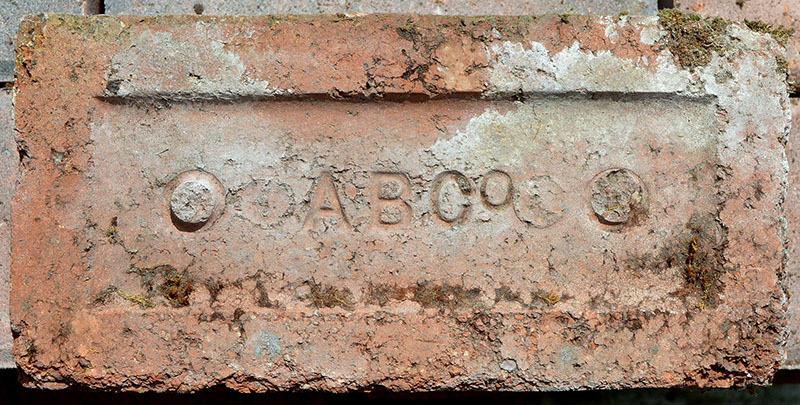 Attercliffe Brick Co. Ltd., Copster Road / Darnall Road, Sheffield. White's Directory of Sheffield & Rotherham 1901, 1905 & 1908. The businesss had closed by 1914. Photos and info by Frank Lawson.
---
Attwood Stourbridge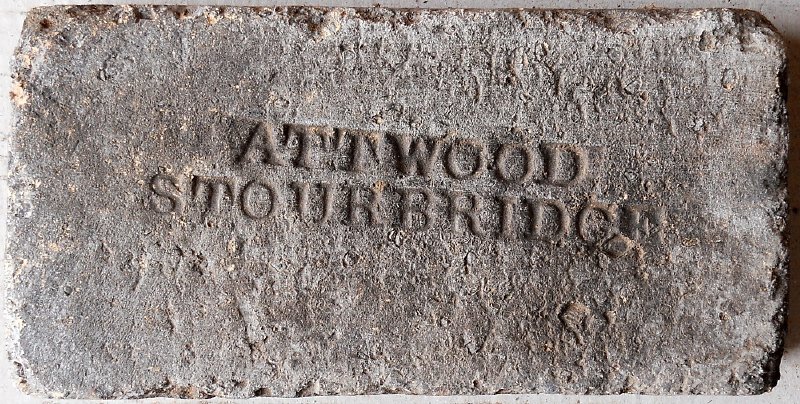 Photo by Ray Martin
---
Audley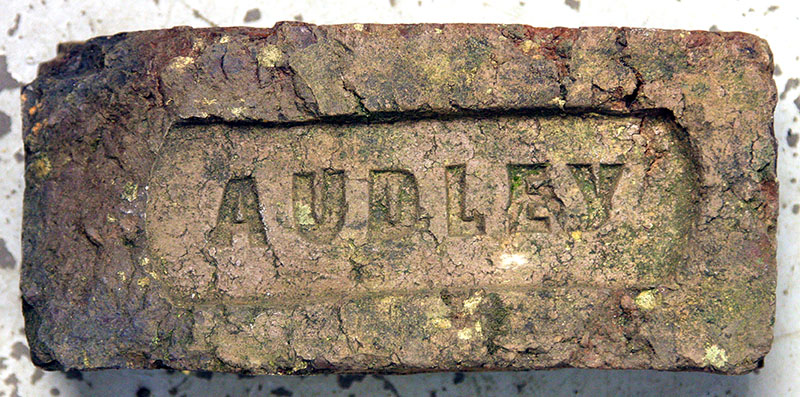 The Audley Brick & Pipe Co., Newcastle-under-Lyme, is recorded in operation from 1899 - 1908 at Boyles Hall Brickworks, Audley. Photo and information by David Kitching.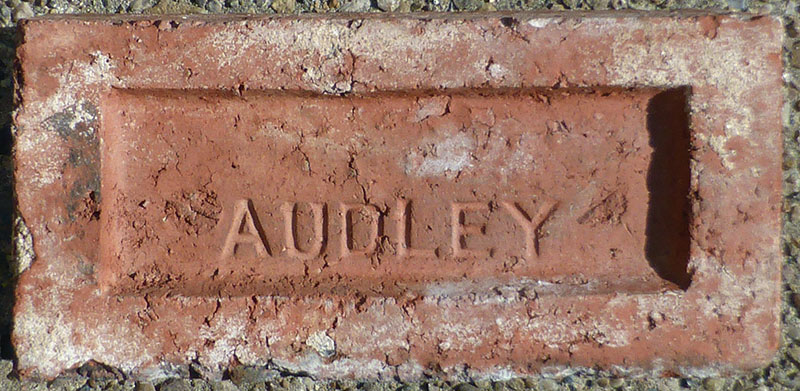 Photo by Martyn Fretwell.
---
Austin & Harper, Tipton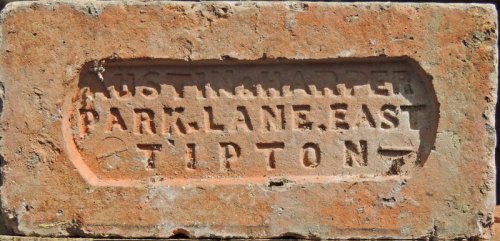 The only listings I have found in Kelly's is for Thomas Glase Austin at Park Lane East, Tipton in it's 1880 & 84 editions at the Wellington Brickworks making red, brown & blue bricks. So Harper could have been his partner either before or after these dates ? Photo by Colin Wooldridge from the John Cooksey Collection & Info by Martyn Fretwell.
---
Awsworth Patent Brick Co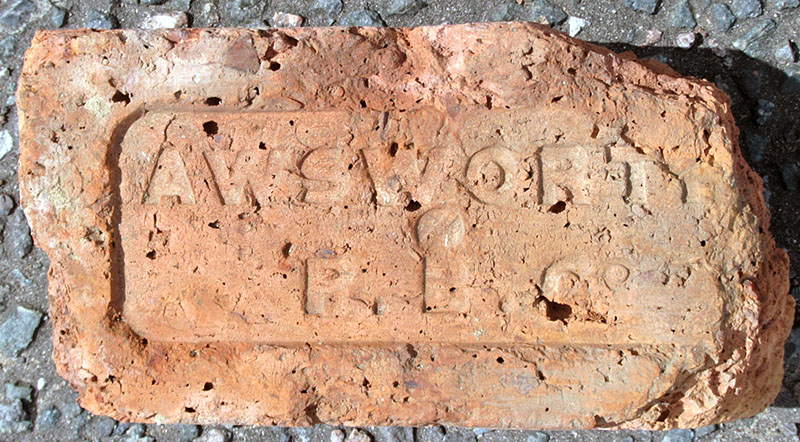 The Awsworth Patent Brick Co. was operational between 1874 & 1877. The works also operated under the name of the Nottingham & Awsworth Brick Co. It appears due to shares in the company not being taken up in 1877, the company folded. Info & Photo by Martyn Fretwell, courtesy of Nottingham City Museums & Galleries.
---
Axford, Bridgewater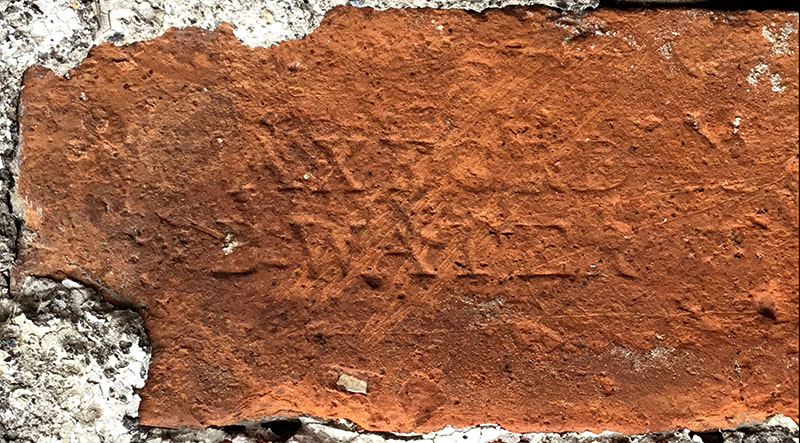 The Axfords were involved in the production of Bath Bricks (scouring bricks) in the later 18th century and went on to be ironmongers in Bridgewater. They owned the London and Bridgwater Shipping Co. between 1825 and 1847, as coastal traders with fast schooners. In the 1850s Axford & Sons(Frederick Paul Axford & John) were the leading merchants in Bridgwater docks. The Axford Brothers partnership as timber merchants seems to have been dissolved in 1856. This is an early hand-stamped brick but as yet no definite information has been found to conclusively link them to a particular brickworks. Photographed in Haverfordwest, Pembrokeshire by Richard Blacklaw-Jones.

---
Axwell Park Colliery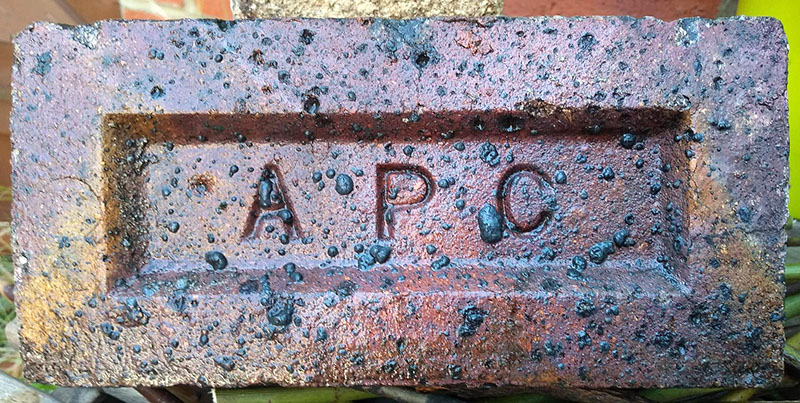 Axwell Park Colliery, County Durham. Photo by Tony Gray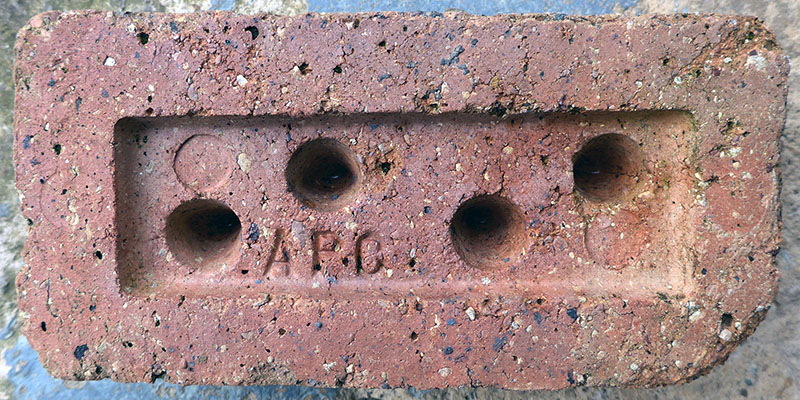 Photo by Dan McVey.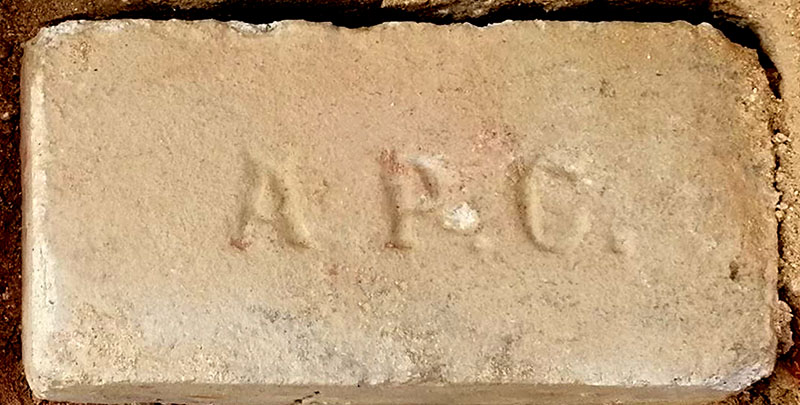 Firebrick found in Lisbon. Photo by Rui Ribolhos.
---
Ayot


Made by Joseph Fenwick Owen at his Digswell Hill Brickworks, Ayot Green, Welwyn. J.F. Owen was followed by his son also named Joseph Fenwick Owen at this works which is recorded in Kelly's 1912 to 37 editions. The works was next to Ayot Railway Station & closed in 1941. The family were also builders based in Wheathampstead. A 2nd works was operated by the family at St. Albans between 1899 & 1941, then a 3rd works at Gustard Wood, Wheathampstead which is listed in Kelly's 1922 to 33 editions. Also see Osta entry. Photo & Info by Martyn Fretwell.

---