"Old Bricks - history at your feet"
England page 3b - letter A - Allied to Anvil
---
Allied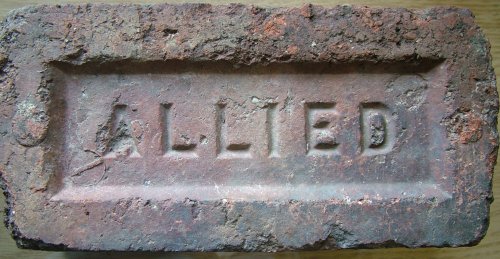 Derek Barker writes: I can't identify the origin of this brick with certainty. There was a company called Allied Brick & Tile of Beeston, Leeds. Mike Green adds: Allied took on Jabez Woolley's Elland Road site in Leeds when Woolley went to Bramley. Allied Bricks like the ALLIED one you portray can be seen making up the shelter and small garden on Chorley Lane, Leeds, plus I've found bricks in a post war style for them in Leeds. They had moved to Whitehall Road where Fireclay was heavily mined, but were lost to the trade by the mid fifties.
---
Allied Brick & Tile, Harrogate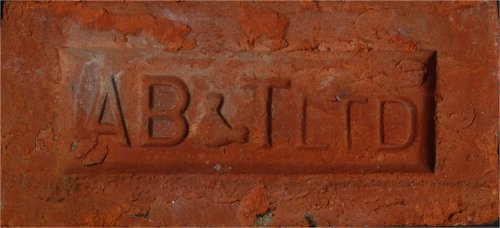 Found on Penny Pot Lane, Harrogate and made by Allied Brick & Tile probably at their Grange Works, Ripon Road site. This operated until the late 1960's. Image PRBCO.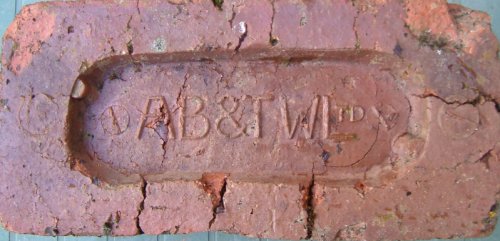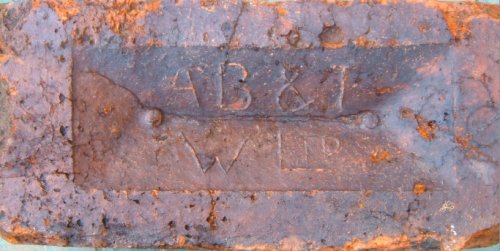 Both found at the Napton brickworks site, Warwickshire by Nigel Furniss.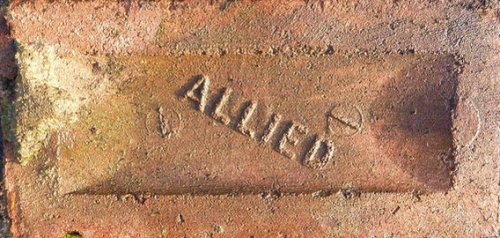 Photo by courtesy of the Frank Lawson collection.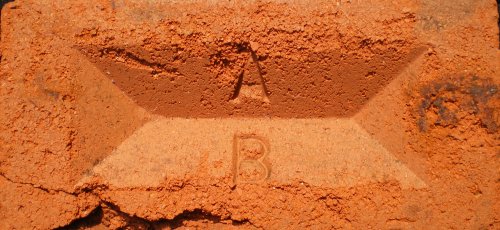 Found in Harrogate by David Gamble. Quite possibly made locally.
---
Allison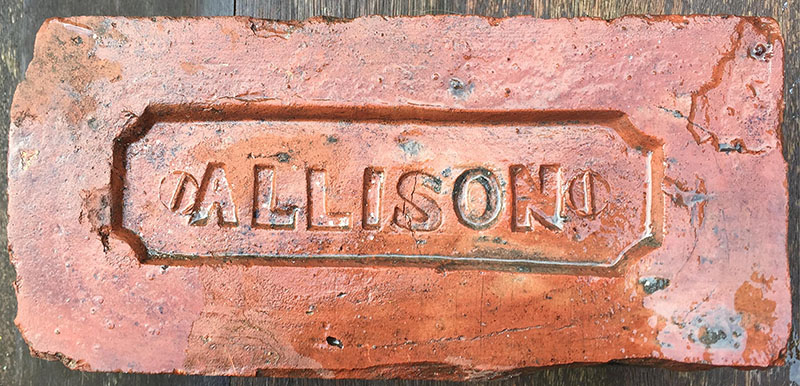 The 1890 edition of Kelly's Directory for the area has E H & J Allison, Durham Road, Sunderland. Photo by Steven Tait who found this brick in Sunderland.
---
Alltones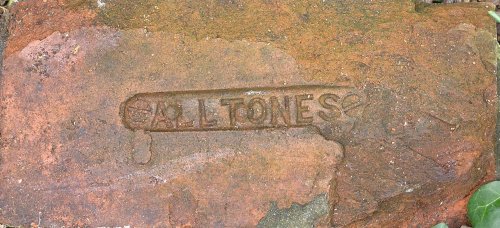 Spotted on the beach at Crosby, Merseyside.
---
Alma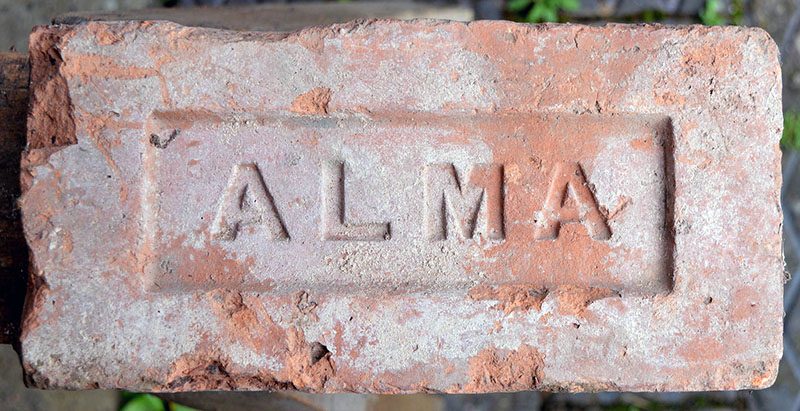 Alma Colliery at North Wingfield, Derbyshire was sunk & owned by Thomas Houldsworth around 1854. It is listed under the ownership of Mrs M Turner in 'Derbyshire's Mining Industry, 1896 - a list of coal mines. A report in the Derbyshire Times states that in February 1922 the management of Alma Colliery reluctantly closed the pit with the loss of 172 jobs due to the heavy expenditure of running costs. Info Frank Lawson / Phillip Rothery, photo by Frank Lawson.
---
George Almond, Burnham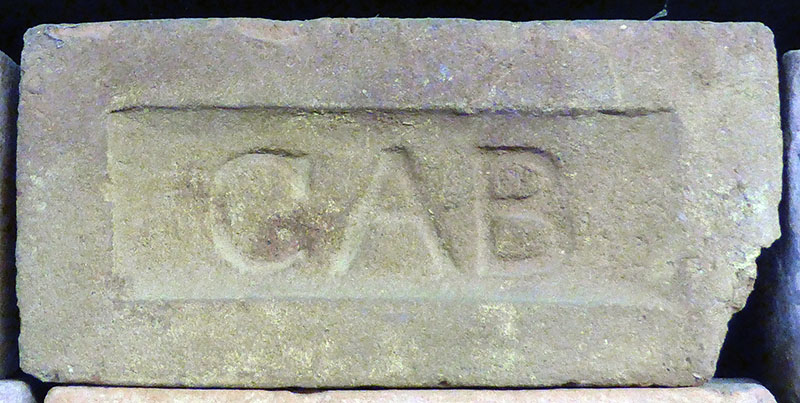 George Almond is listed as brickmaker at Burnham, Bucks. in Kellys 1895 to 1903 editions. It seems that George Almond owned the business from 1895 to 1903. Kelly's 1931, 35 & 39 editions list George William Almond, (residence) Britwell Road, Burnham. Photo & info by Martyn Fretwell.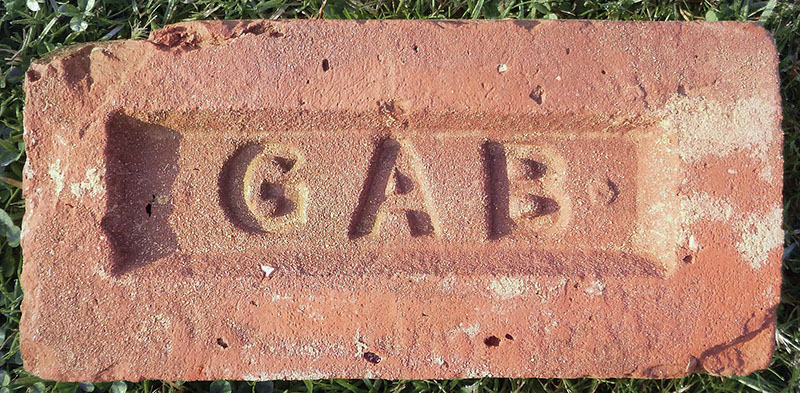 Photo by Frank Lawson.
---
Alosil: see Pickford, Holland & Co.
---
Altham Colliery Co (1924) Limited, Accrington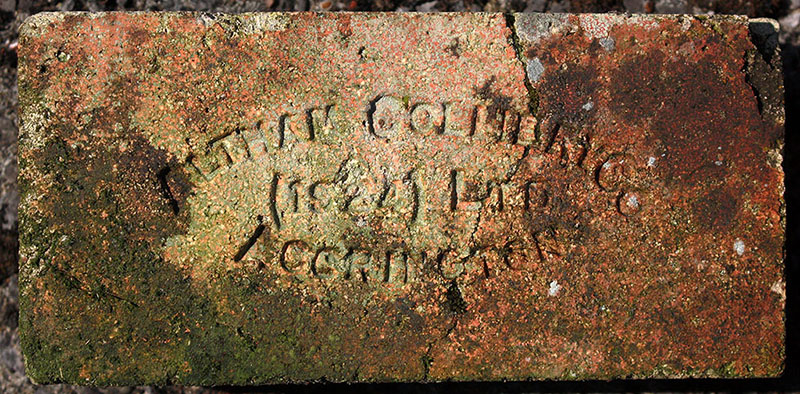 Photo by David Kitching
---
Altham works, Accrington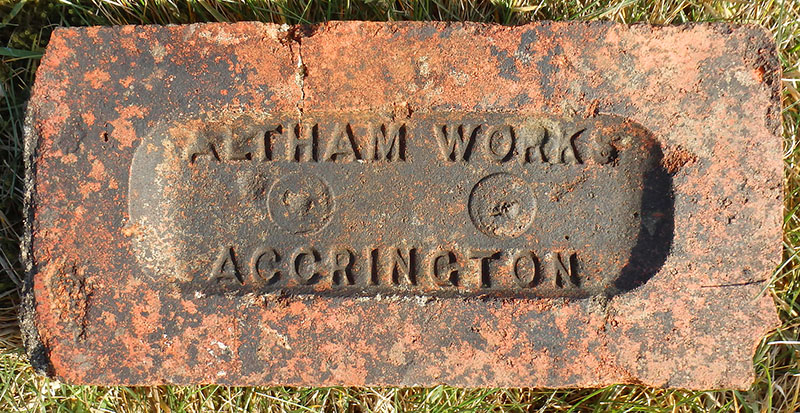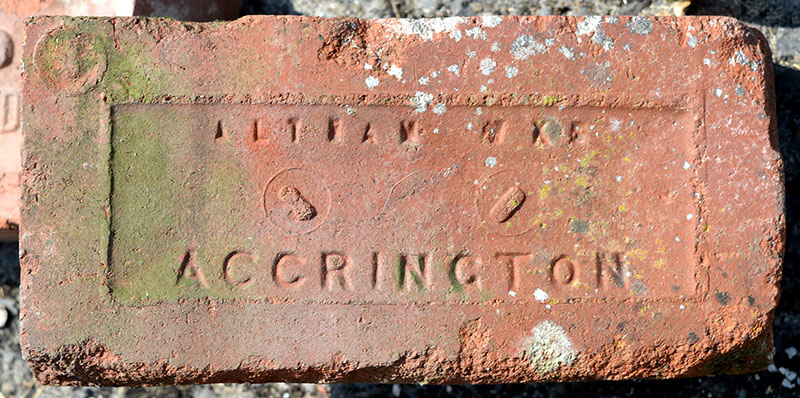 Photos by Frank Lawson.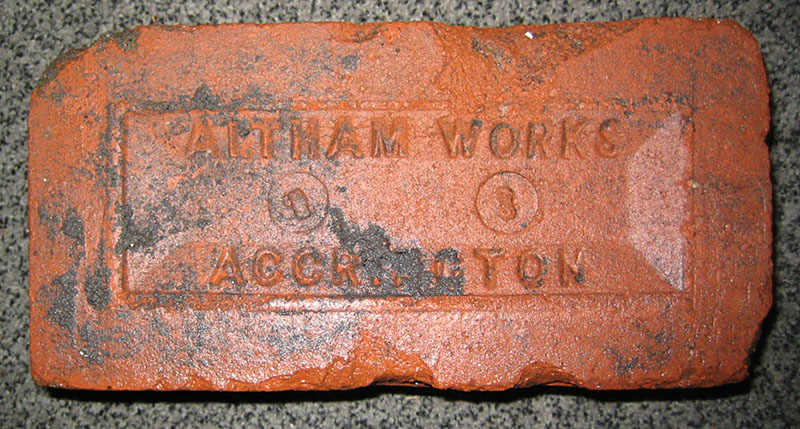 Thanks to Brian Hartley for the photo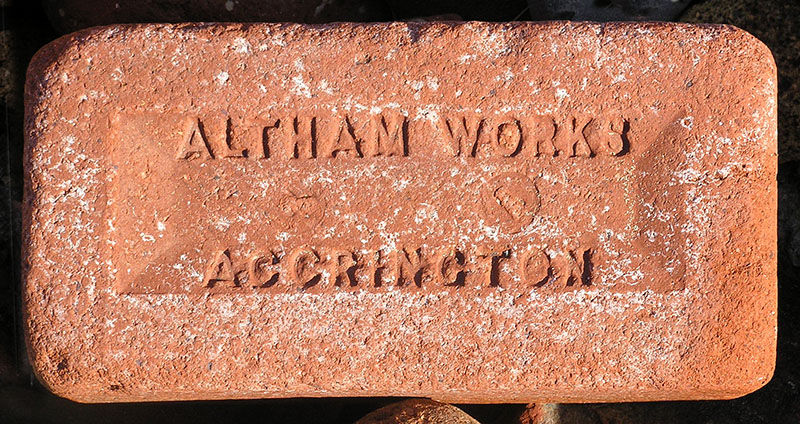 Spotted on the beach at Crosby, Merseyside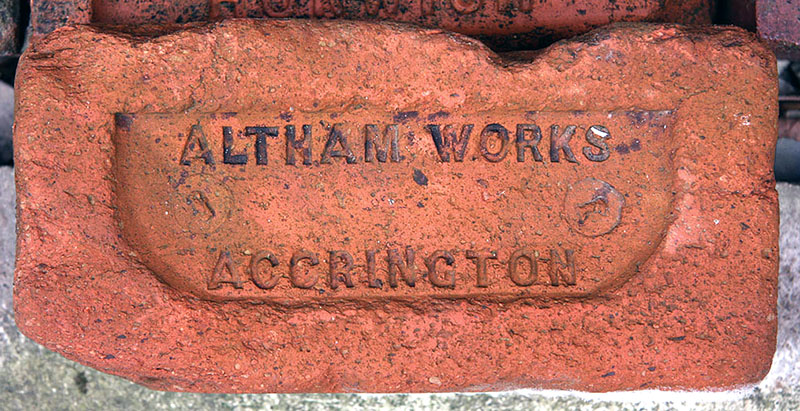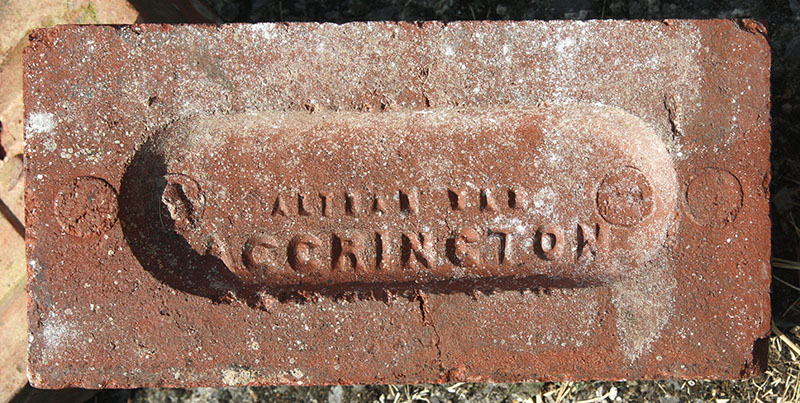 Photos by David Kitching.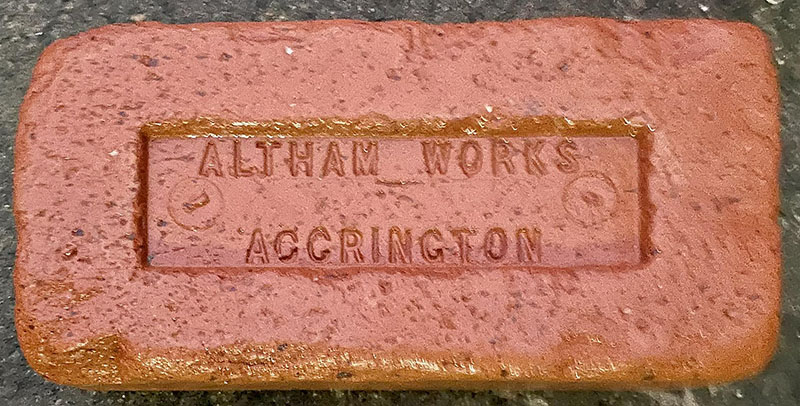 Photo by Phil Burgoyne.
---
Altofts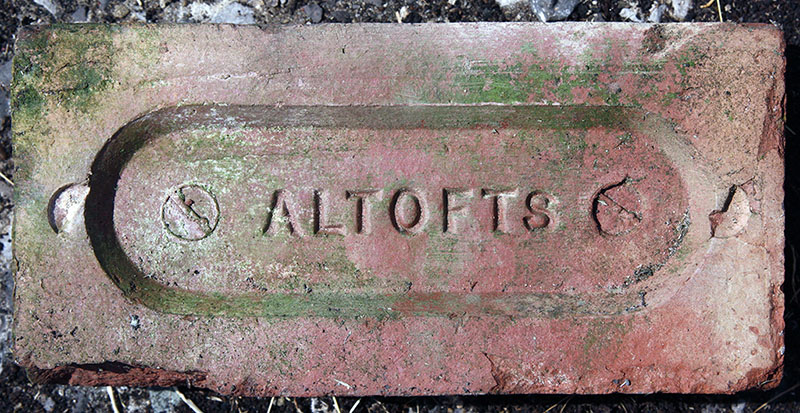 Altofts Brickworks, Altofts, Normanton, W.Yorks.
---
Henry Alty Ltd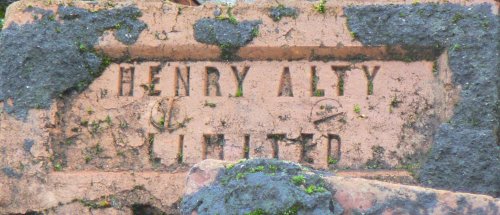 The brickworks at Hesketh Bank in West Lancashire was built shortly after the completion of the railway link between Preston and Southport in 1878. Established initially by the Ainsdale and Skelmersdale Brick Company, the brickworks had been taken over within a few years by Henry Alty. The works was served with private railway sidings and a quay on the navigable River Douglas, and expanded to become one of the largest brickworks in the area. Production declined during the 1960s, and the works had closed by 1970. This example was found amongst demolition rubble on the site of Penwortham Mill, near Preston. Photo and information by Ian Miller.

---
Alvechurch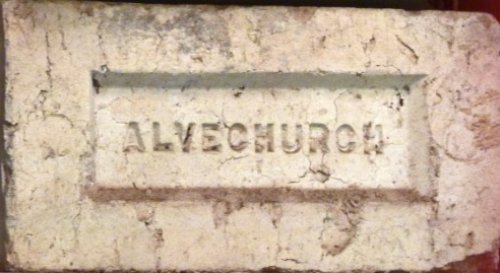 Possibly made by W.H. Wynn, Alvechurch. The lettering look similar. Photo by Martyn Fretwell.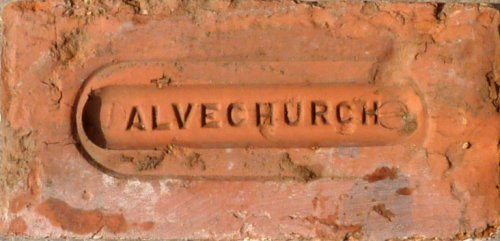 Photographed at Cawarden Reclamation Yard by Martyn Fretwell.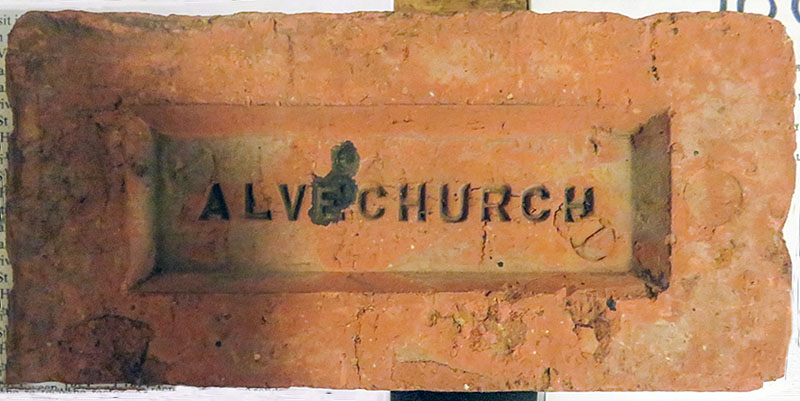 Photo by Mike Chapman.
---
Ambergate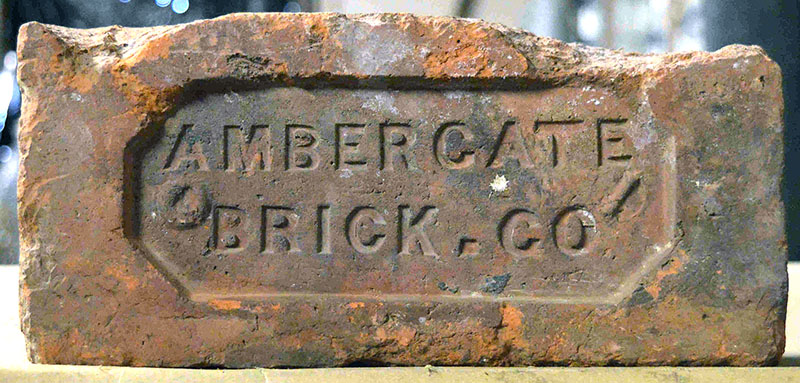 This site was located behind the present day Excavator Public House, Buckland Hollow. There are traffic permits for bricks being carried from this works on the Cromford Canal in the 1820s. The next reference to the Ambergate Brick Company is in Kelly's trade directory for 1876 with W.B. Chamberlain as manager & the works at Heage. Info by Martyn Fretwell, photo by Frank Lawson.
---
Ambrose, Copford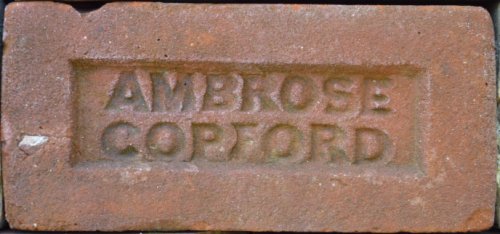 John Ambrose is listed in Kelly's 1874 edition at Copford, Colchester. John Ambrose was a farmer who established a brickworks in 1838 on his land next to the Great Eastern Railway Line just off London Road in Copford. In 1851 John employed 65 workers on his 480 acre farm & brickworks. By 1876 the works had expanded to two brickfields & five claymills. Photo & Info by Martyn Fretwell.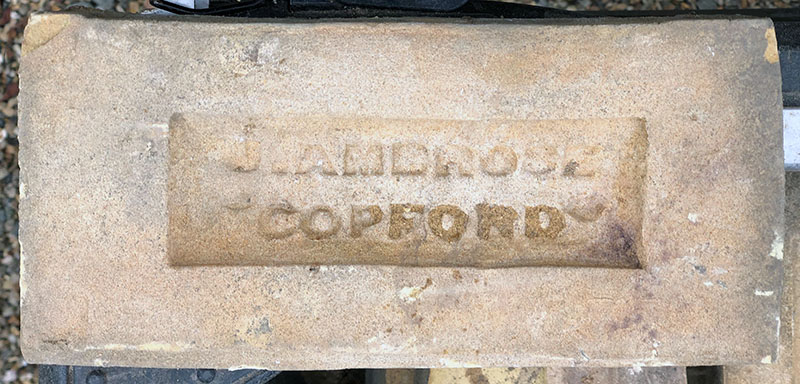 Photo by Nichola Whitehouse.
---
Anderson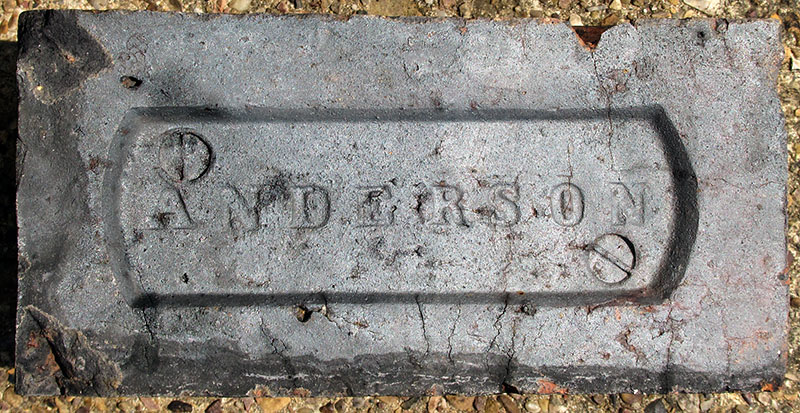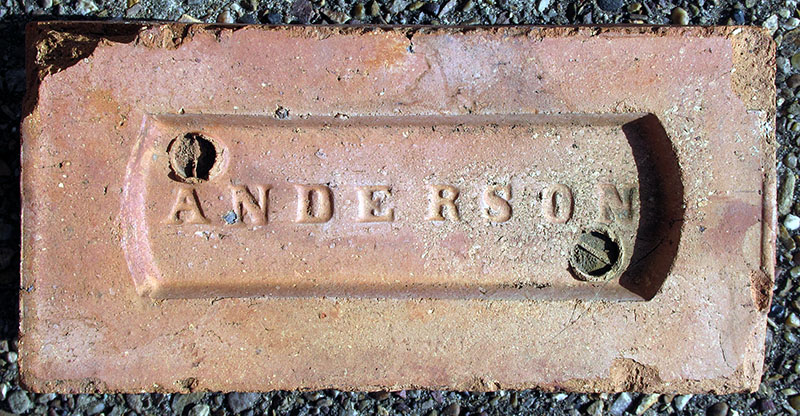 Anderson Brothers and Williams took over the Port Vale Tileries at Wolstanton in 1875 but the partnership of David Henry Anderson, William Anderson and William Williams was unsuccessful, being dissolved in February 1877. The nearly twenty years of their lease of the business was then advertised for sale. Photos by Martyn Fretwell.
---
Anderson, Cottingwood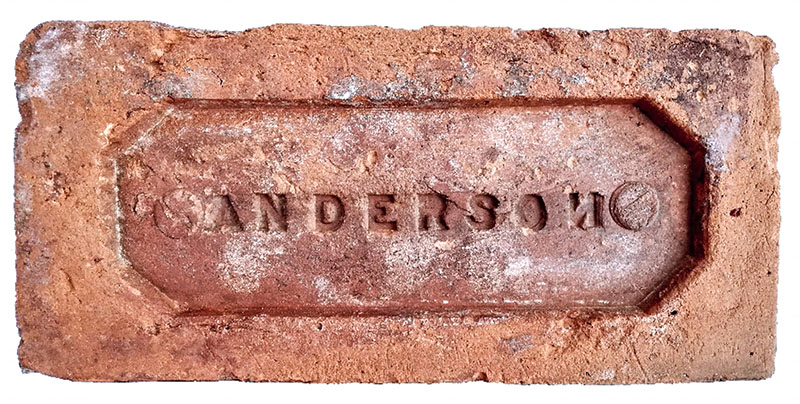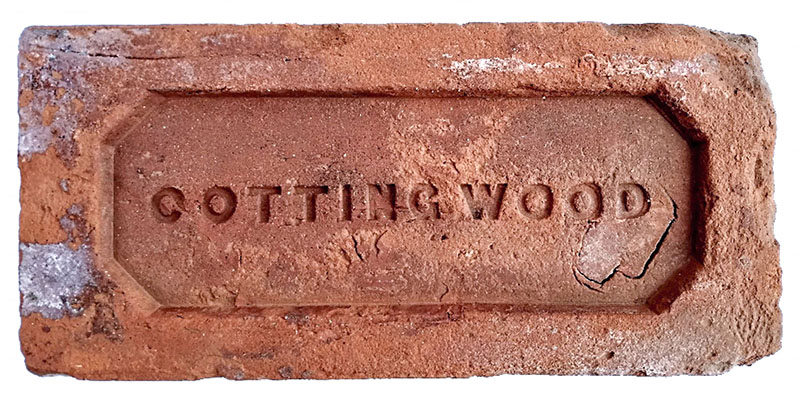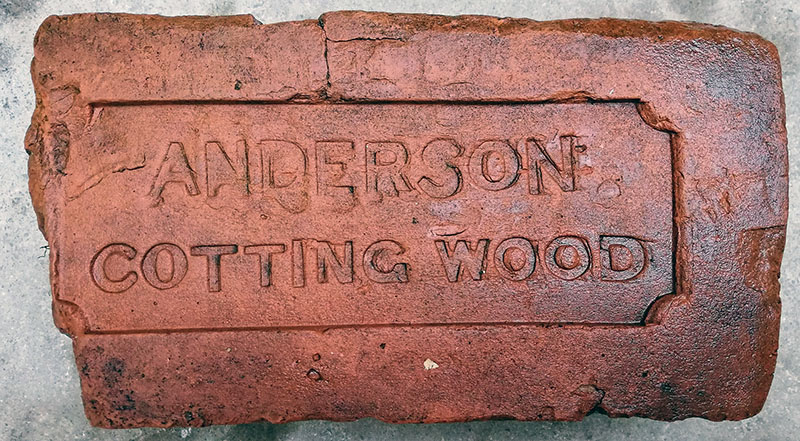 The Anderson family ran a brick and tile works at West Cottingwood, Morpeth for much of the 19th century and into the early years of the 20th century. In 1841 George Anderson was listed as a tile manufacturer and continued as a brick,tile and drain pipe maker, employing 16 men & 2 boys in 1861, until succeeded by his son John William Bootyman Anderson by 1871 when he was employing 7 men and 2 boys. John's son James had taken over by 1901 as farmer and brick manufacturer. The brick business seems to have closed before 1911. Photos by Chris Tilney.
---
Annesley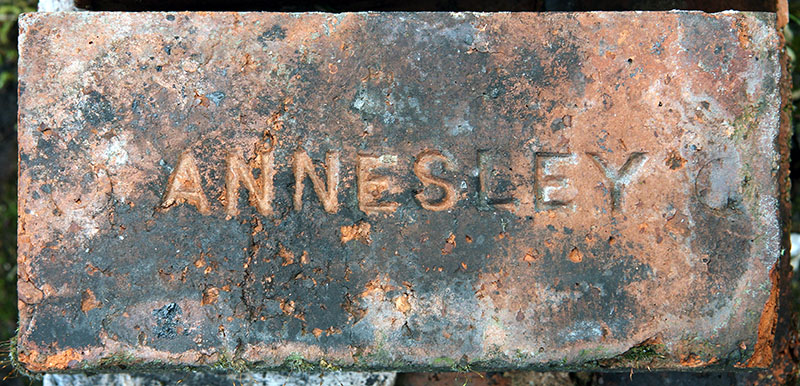 Photo by David Kitching.
Annesley Colliery was first sunk in 1865 and it closed in 1999. When it closed it was the oldest working colliery in Nottinghamshire. Photo by Martyn Fretwell.

---
Ansley-Hall - see also N C B Ansley Hall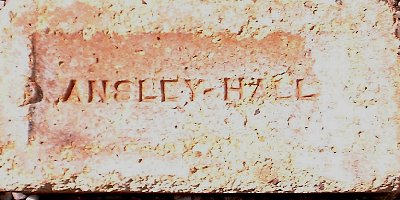 Ansley Hall was the name of a colliery near Atherstone in Warwickshire. The brick was found during demolition of part of Llandudno station. As Atherstone was on the main line of the London & North Western Railway, who also extended Llandudno station, this is the likely reason why it was found so far from home.
---
Anstone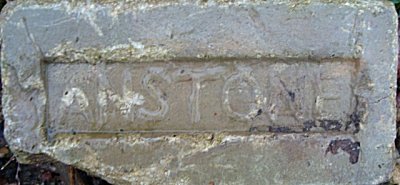 Simon Patterson writes: This is made from reconstituted limestone and was made by the Steetley Company at their Anston quarry in South Yorkshire. They are still being made by Forticrete but it has not had the frog with the name on it for many years.
Steetley PLC (Steetley) originated in a company formed in the 1880s to operate a quarry at Steetley near Worksop in Nottinghamshire. In 1885 the quarry traded as The Steetley Lime and Building Stone Company supplying mainly hard-burnt lime. The company expanded to become an international operation with several works across the UK and around the world producing limestone based products including chemicals and refractory bricks. It became part of the Redland Group in 1992. Info by Frank Lawson.
---
Anvil


Photo by David Kitching, part of the collection at Wheal Martyn China Clay Museum.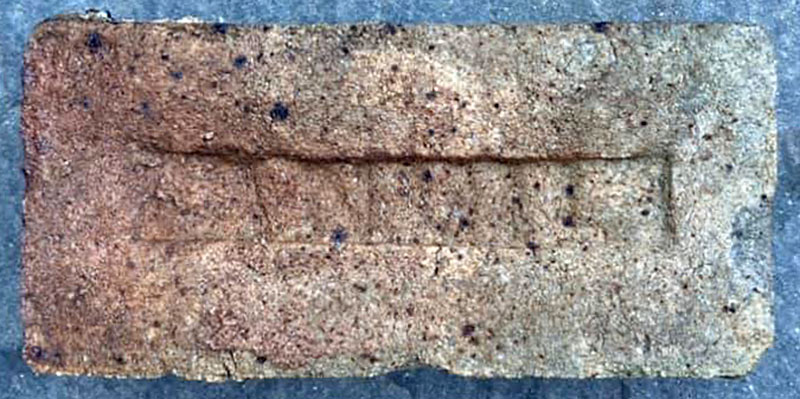 Found on the site of the Westlake brickworks near Chilsworthy in Cornwall. Photo by Ian Williams.
---