"Old Bricks - history at your feet"
England page 3d - letter A - Ashington to Atlas
---
Ashington Coal Company Limited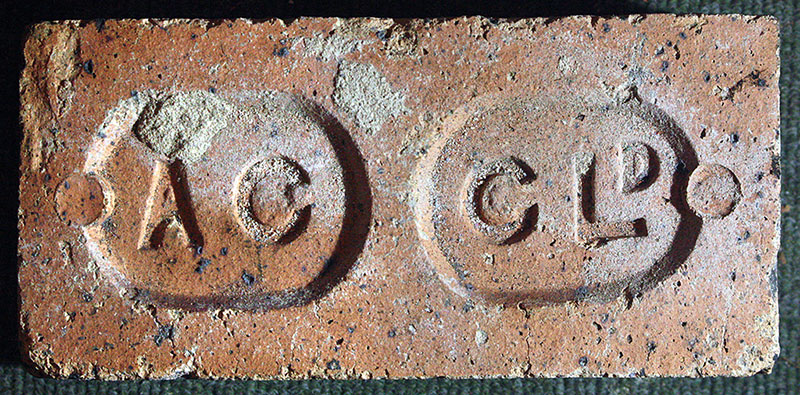 A hundred years ago, Ashington in Northumberland was a one industry town. The primary industry was coal mining and the main employer was the Ashington Coal Company. If you worked for them, then you probably lived in a company house built and owned by the ACCL with bricks made in the ACCL brickworks.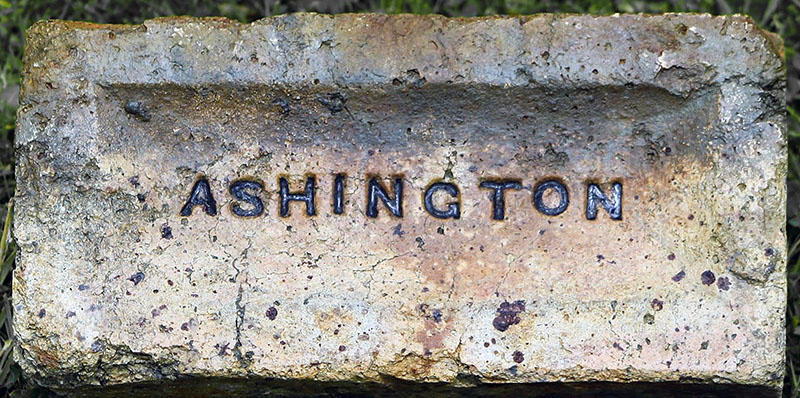 Photos by Chris Tilney.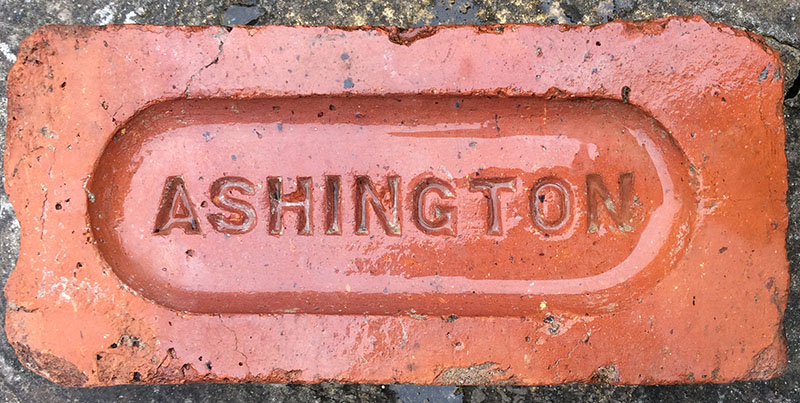 Photo by Andrew Stewart.
---
Ashley's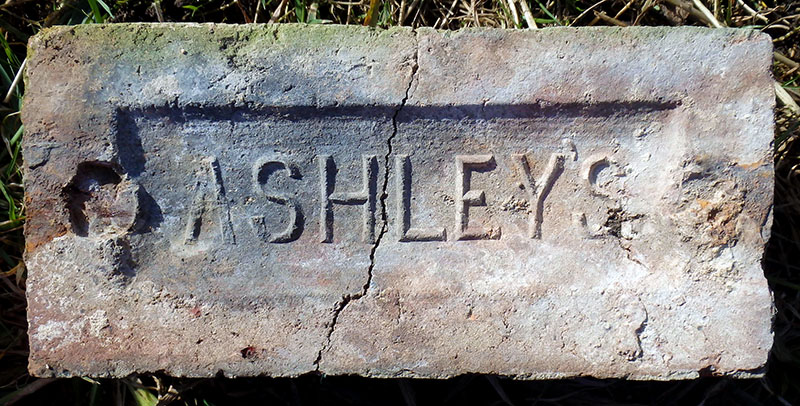 Joseph & Mark Ashley, Holderness Road, Hull. Alphabetical Directory of Trades and Professions for Hull - Bulmer's Gazetteer (1892): Ashley Joseph, brickmaker, Ashley's vls, Chalk ln Ashley Mark, brick manufacturer, Holderness rd (and Barton); h Ashley's vls, Chalk lane. Photo and info by Frank Lawson.
---
Ashton & Green



Photo by Martyn Fretwell.

In the Brick, Tile & Sanitary Pipe Makers section of Slaters 1880 edition, there is the entry for Ashton & Green (merchants), 75 & 77 Victoria Street, Bristol. In 1887 the company was advertising as Ashton & Green, Limited: Slate, Tile, Brick, Cement, Marble, and Iron Manufacturers and Merchants. Head office, Bury Street, London EC.; Branches: Holborn Viaduct, EC,; & Temple Gate, Bristol. The business seems to have slowly declined through the 1880s and in 1891 the shareholders passed a resolution that the business be wound up. What is for sure is that they did not make bricks and these will have been made on contract and a few stamped with their name on the edge. The lower brick was one of around 100 small bricks, of around 6 inches in length, found in use as garden edging in Odiham, Hampshire. This was the only one to be stamped. Photo by Richard Alderton.
---
Ashton Vale Iron Co.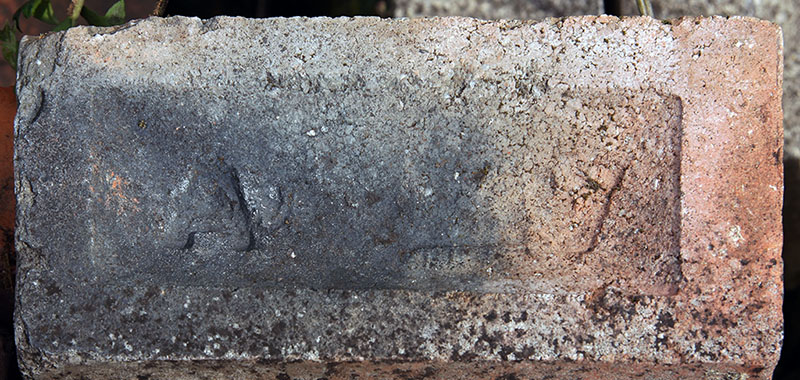 A product of the Ashton Vale Iron Company Ltd, South Liberty Brick & Tile Works, Bedminster, Bristol. Photo and info by David Kitching.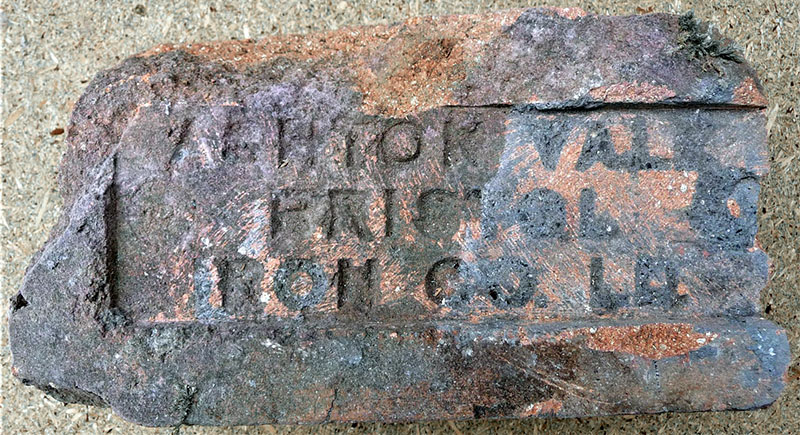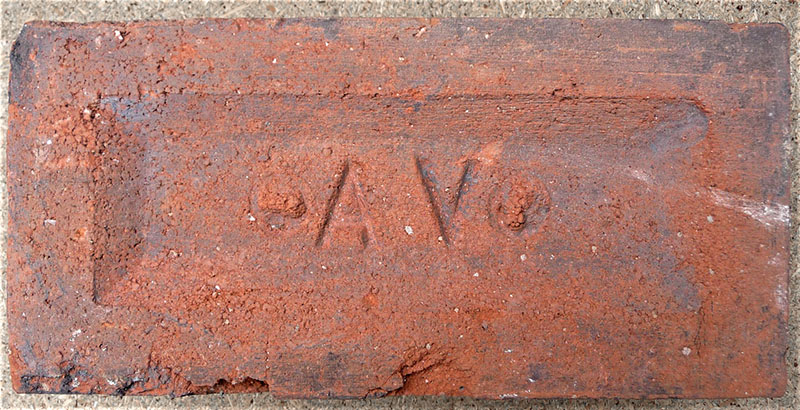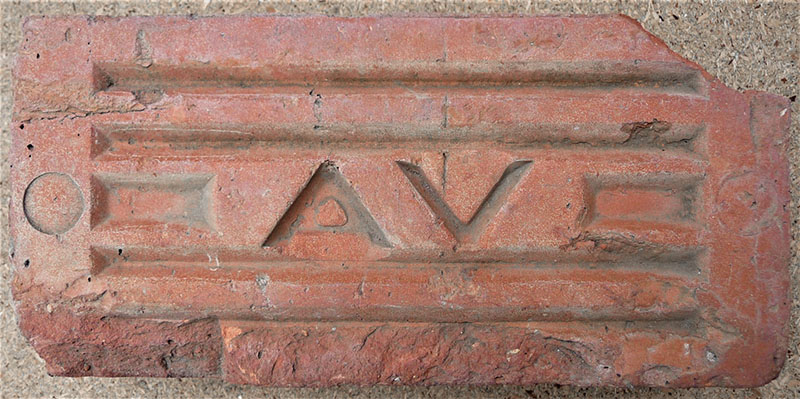 Photos by Eric Taylor.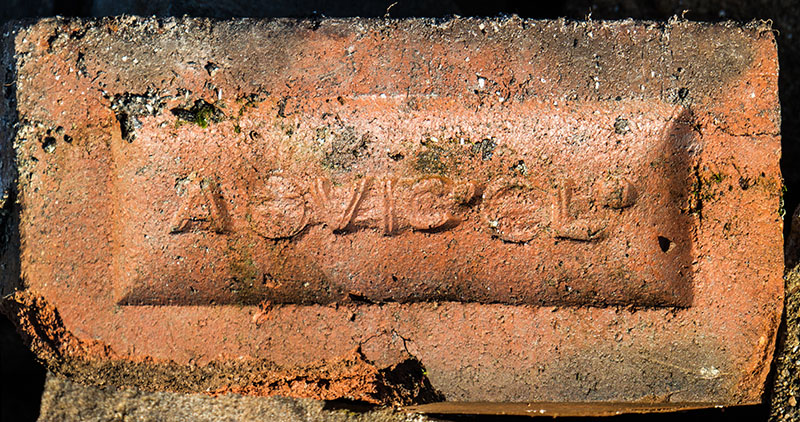 Found near Newport by Phil Jenkins.
---
Ashworth, Sparth, Rochdale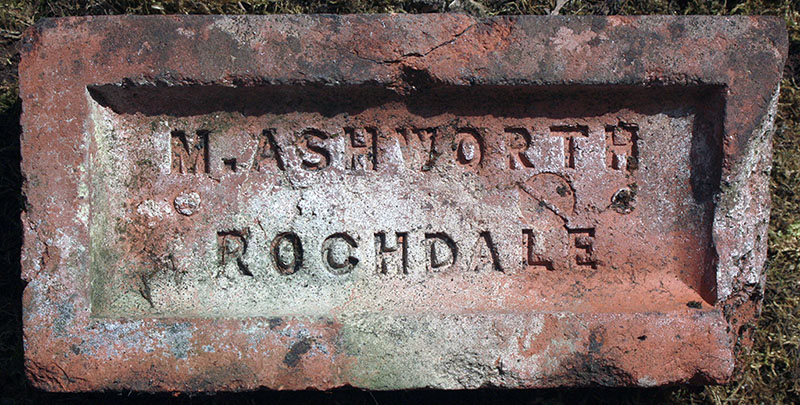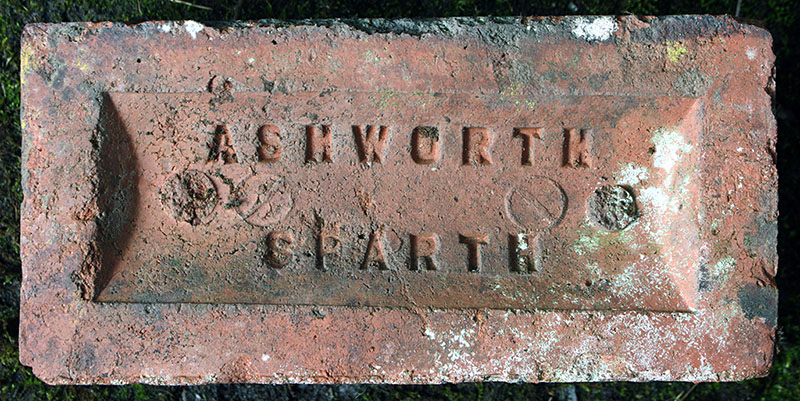 Martin Ashworth, Sparth Brickworks, Rochdale. Photos by David Kitching.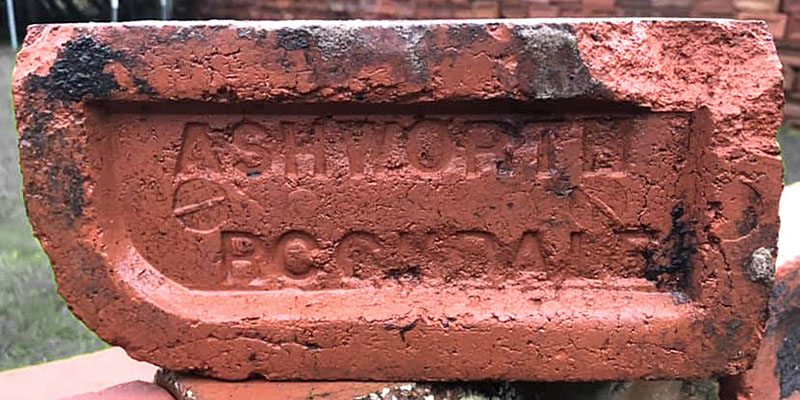 Photo by Jason Stott.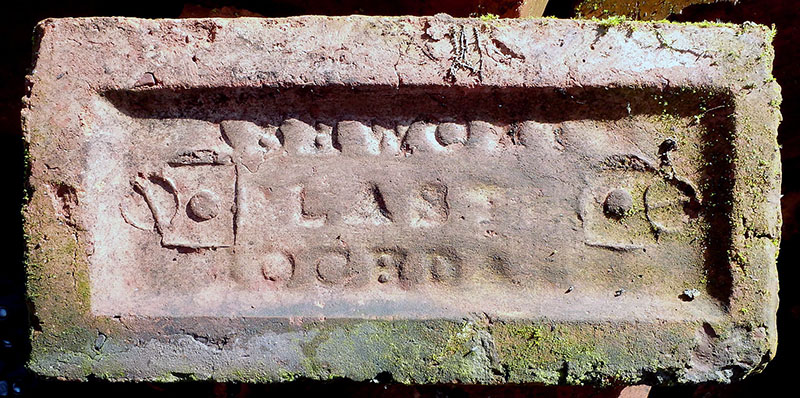 Ashworth Plastic, Rochdale.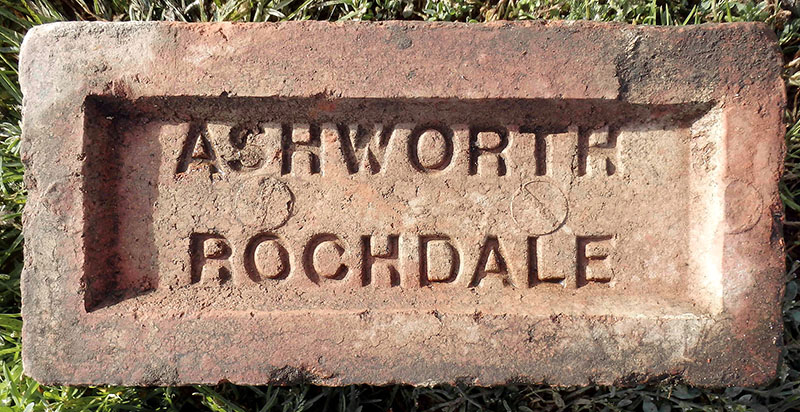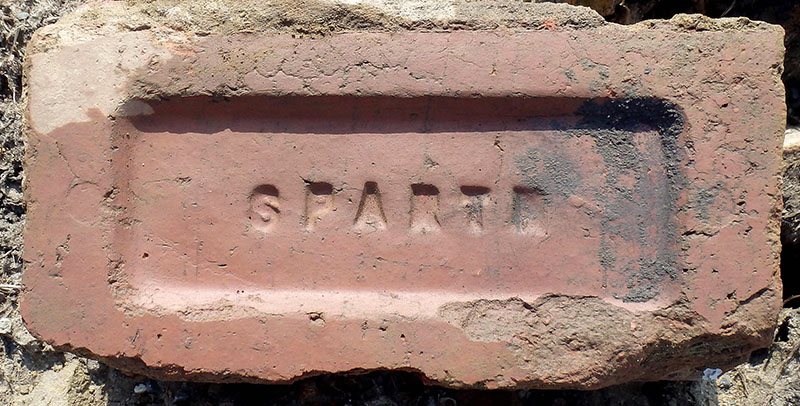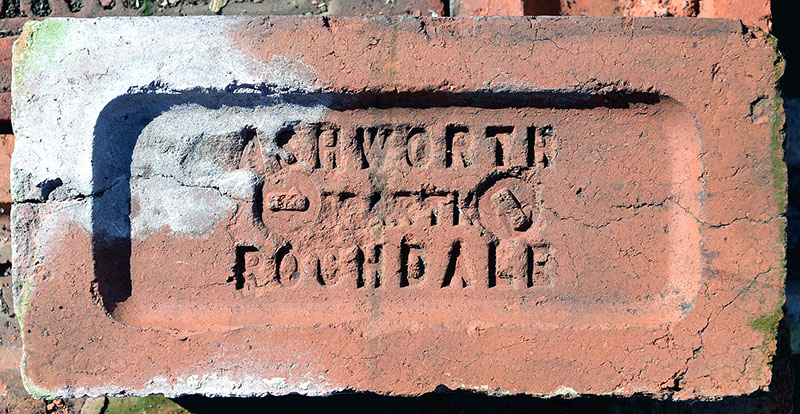 Photos by Frank Lawson.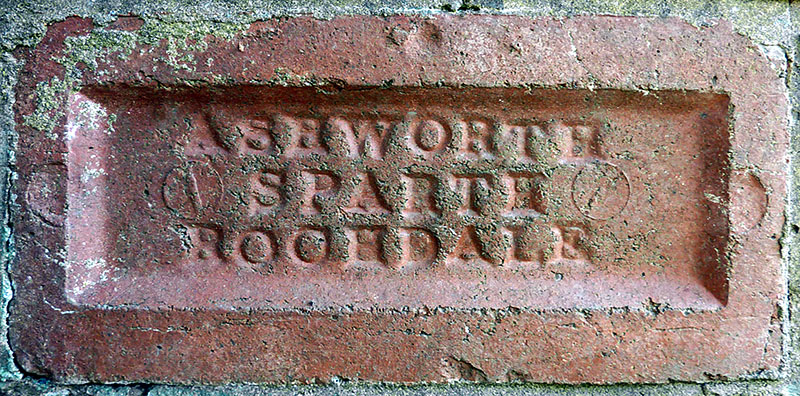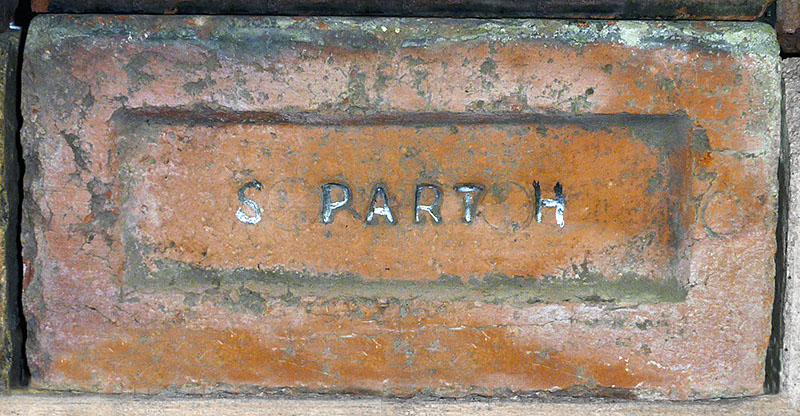 Photos by Martyn Fretwell.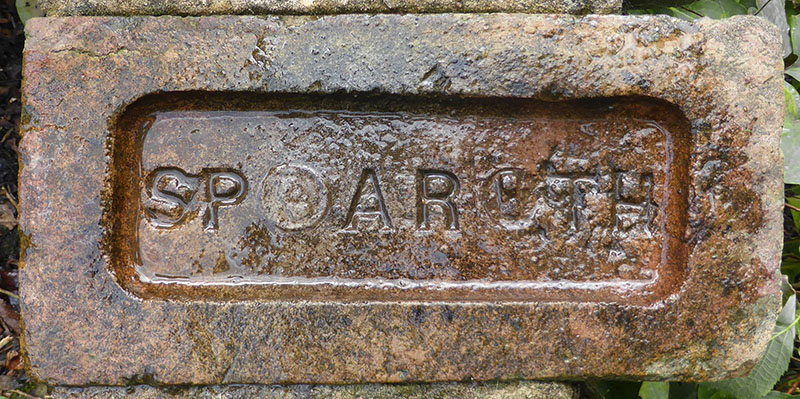 The London Gazette records the Sparth Brickworks Ltd, Rochdale as going into liquidation in 1920, with the works later re-opening as Ashworth Sparth. Info & Photo by Martyn Fretwell courtesy of the David Penney Collection.
---
Martin Ashworth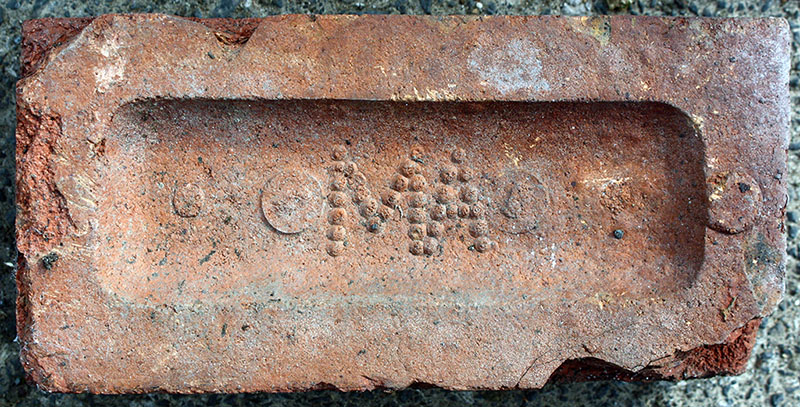 Martin Ashworth, 102 Starkey Street, Heywood, Lancs. Barrett's Directory 1880. Photo by David Kitching.
---
Askam Brick Co.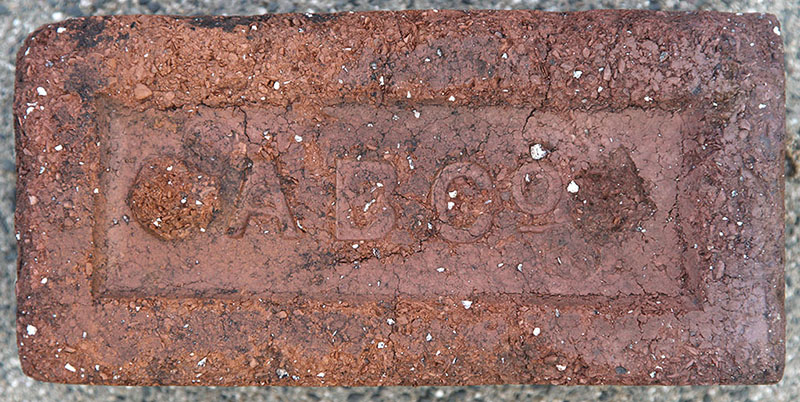 A group of local businessmen, H.Mellor, G.S.Heath, R.F.Matthews and John Field formed the Askam Brick Company Ltd. in about 1899/1900. The Works was constructed during 1900 with plant and machinery installed and railway connections made and brick production commenced on the 1st December 1900. During the year 1901 to 1902 Furness Brick & Tile Co. Ltd. acquired the assets of Askam Brick Company.
Found on a beach near Ulverston. Photos and info by David Kitching.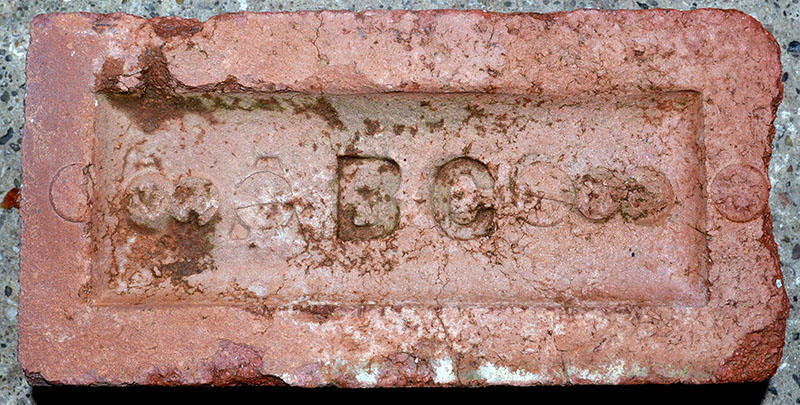 Photo by Richard Cornish who points out that there are the remains of the A and O pressed out by the screw marks on this brick. It is likely that the brick in the photo above is similar although the missing letters are not obvious on that example. This may have been a temporary measure after the takeover by the Furness Brick & Tile Company.
---
Askern

Askern Brick & Tile Co., listed in Kelly 1936 with advert 'Makers of the facing bricks for
H.M. the King's house'. Askern lies on A19, 10km north of Doncaster. Image PRBCO.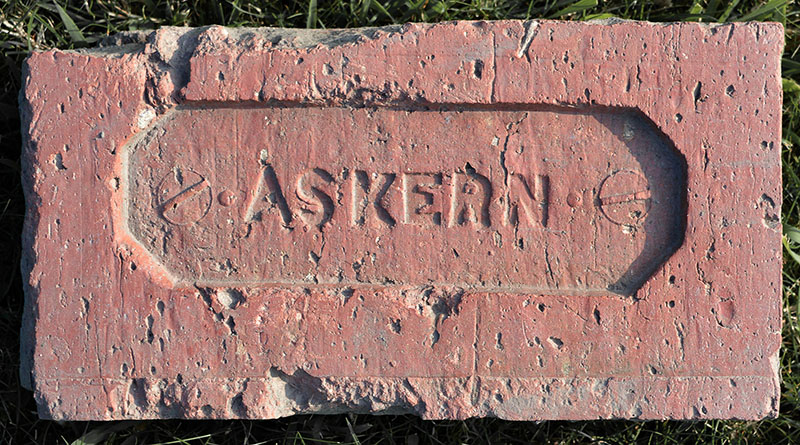 Associated with Askern Colliery, Doncaster. Found at Kirk Sandal, Doncaster. Photo by courtesy of the Frank Lawson collection.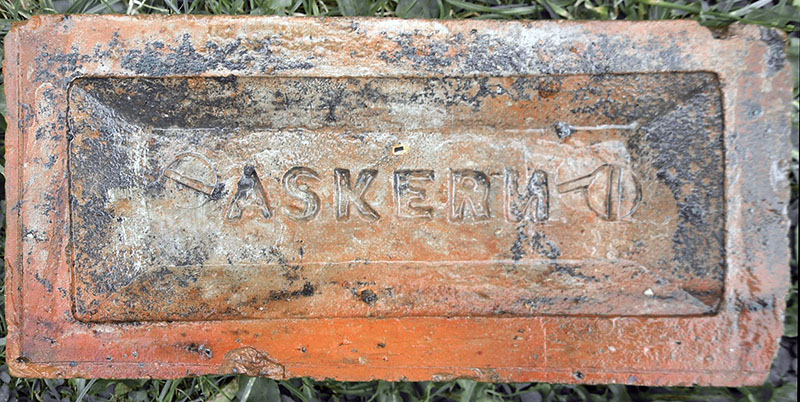 Photo by Dennis Canning.
---
W Asten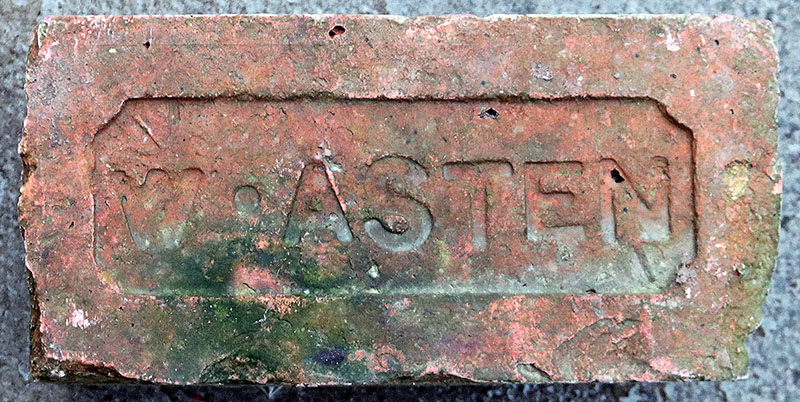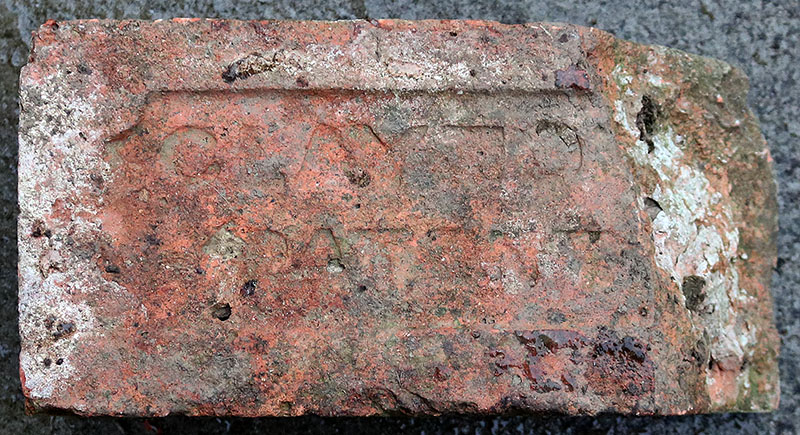 William Asten, Oddingley Brick & Tile Works, Oddingley, Worcestershire. The works was operational by 1854, was located on the west side of the Birmingham and Worcester Canal between the Canal and St James Church at Oddingley. William Asten died in 1878 and the brick works and associated tramway were sold. The brickworks was later closed and demolished. Photos by Catrin Meredith.
---
Astley & Tyldesley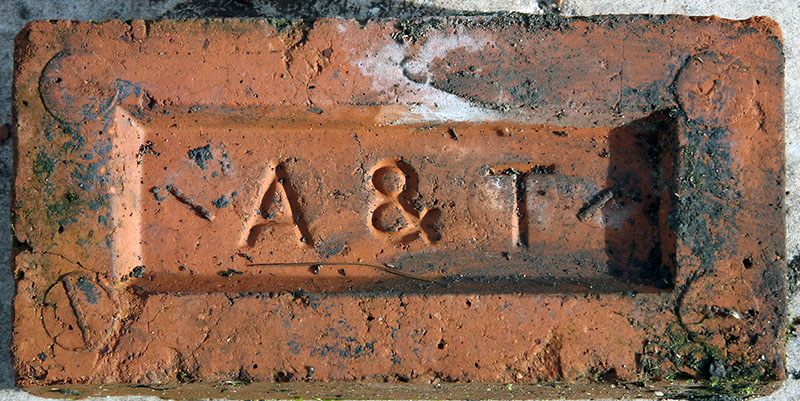 Astley and Tyldesley Collieries worked Gin Pit, Nook Pit and St George's Colliery and the brickworks was situated at Gin Pit. Photo and information by David Kitching.
---
Aston Magna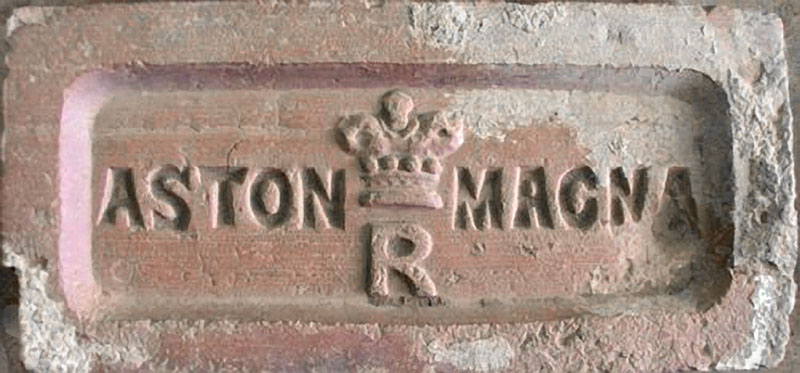 Simon Patterson photographed this one at Avoncroft Museum
---
Atack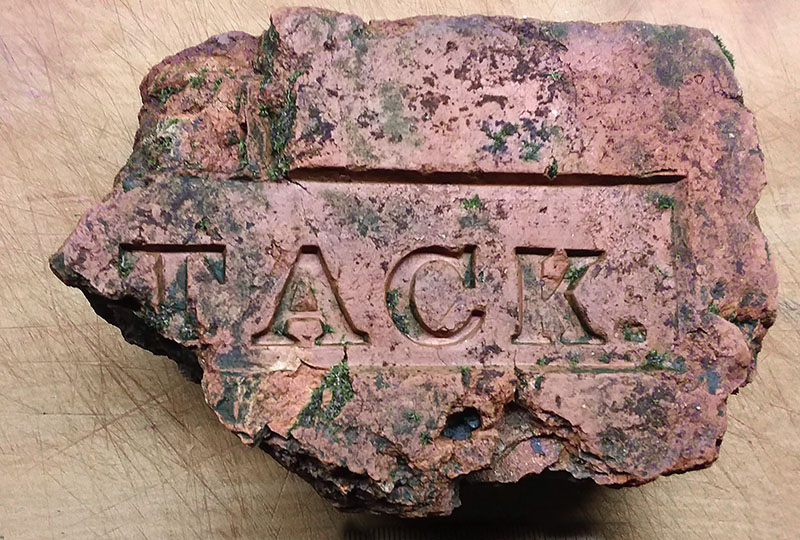 Samuel Atack was a Leeds based builder and brick maker/manufacturer in 1841. He was bankrupt in April 1857 following disputes with the architect responsible for the Leeds Town Hall contract. This is a rare find and cannot date from any later than 1857. Photo by David Fox who found this brick in Leeds.
---
Atkins, Mount Sorrel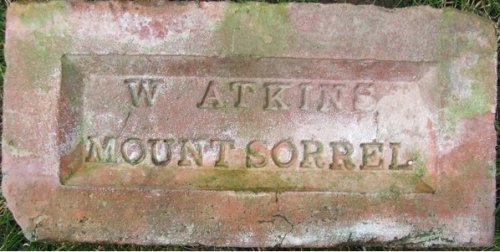 Photo by Dennis Gamble

---
Atlas: see Barnett & Beddows
---
Atlas Brick Co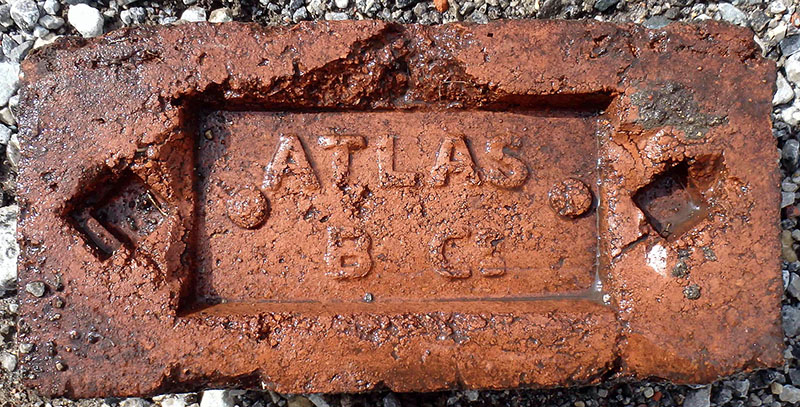 Atlas Brick Co. Ltd., Warwick Road, Batley Carr, West Yorks. White's Directory of Leeds & the Clothing District 1894. Photo and info by Frank Lawson.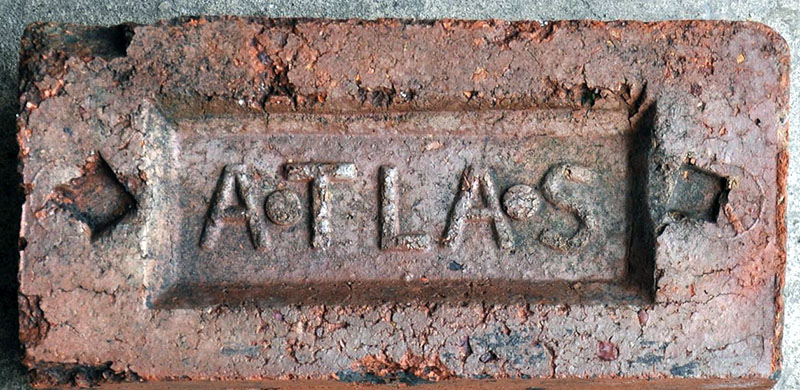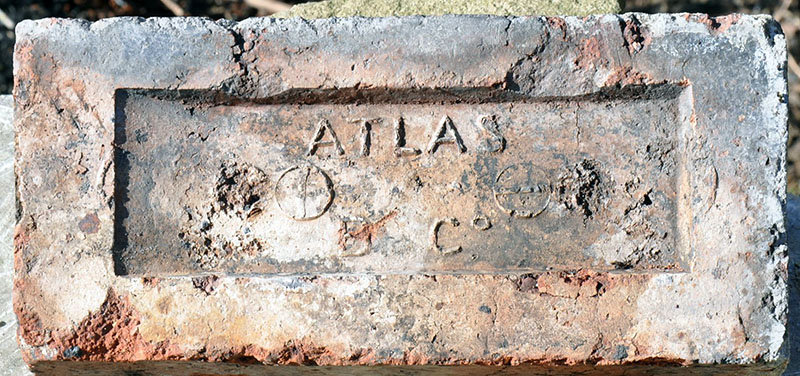 Photos by Chris Shaw.
---
Atlas Brick & Tile Co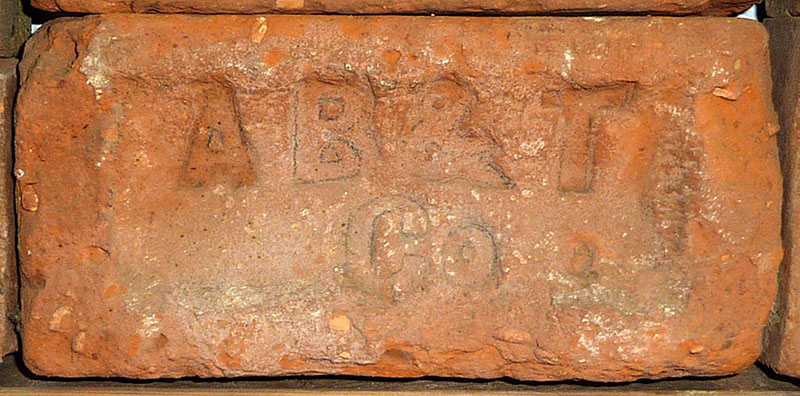 The Atlas Brick & Tile Co., Willesden Junction, Old Oak Lane, Acton was owned by James Knox (Managing Director) & managed by E.E. Osbourne from 1886 to 1909. The company is listed in Kellys 1890 to 1899 editions. Map of the works at this Link. https://maps.nls.uk/view/101201241. Photo & Info by Martyn Fretwell.
---
Atlas &Crown, Birmingham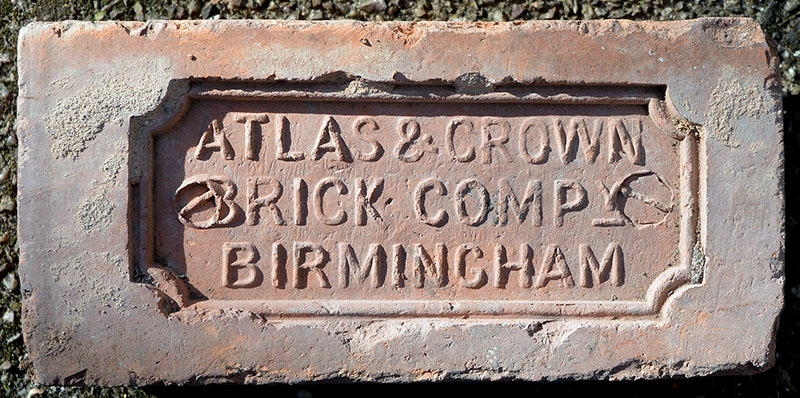 The Atlas & Crown Brick Co. Birmingham is listed in Kelly's 1890 edition at Garrison Lane, Small Heath & Bordesley Green Road, Saltley with Evan Thomas as Managing Partner. Then in the 1892 to 1900 editions the works are now recorded as Bordesley Green, Small Heath & Bordesley Green Road, Saltley. Photo by Frank Lawson, info by Martyn Fretwell.
---
Atlas Wallsend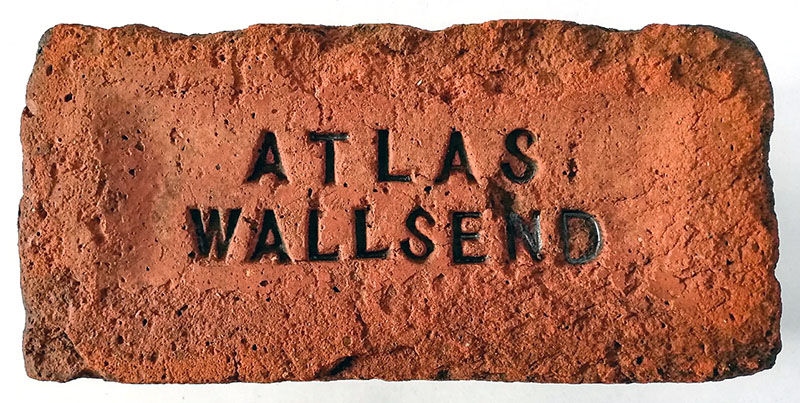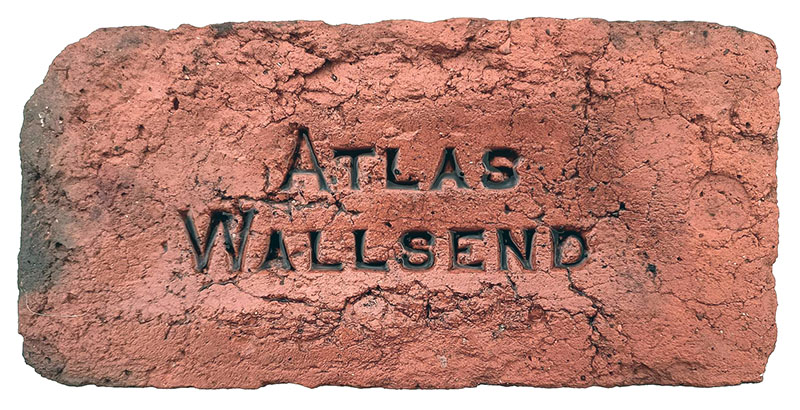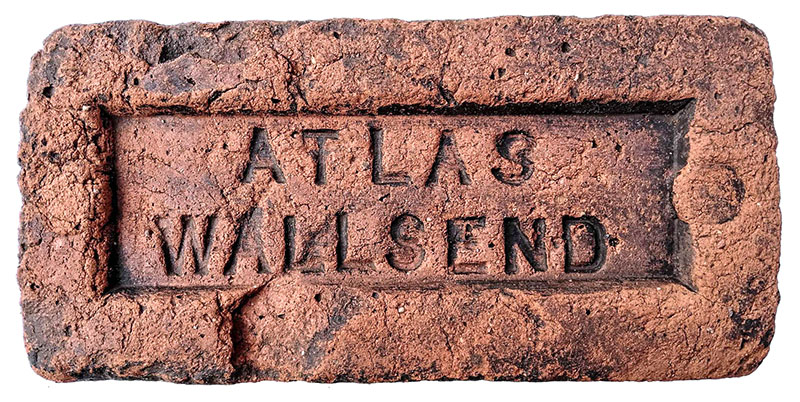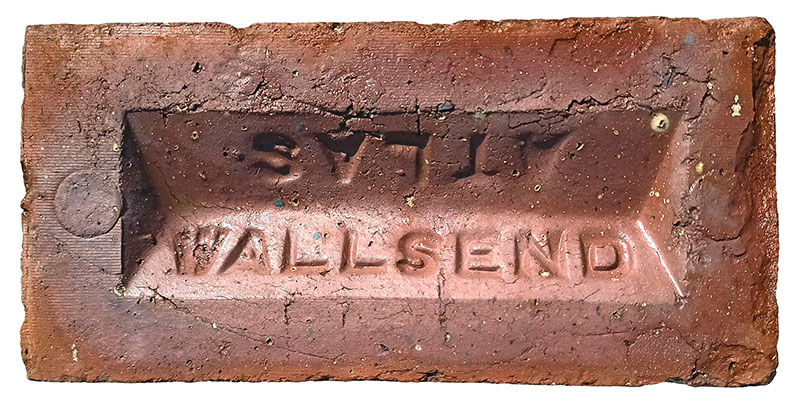 Photos by Chris Tilney.
---
Atom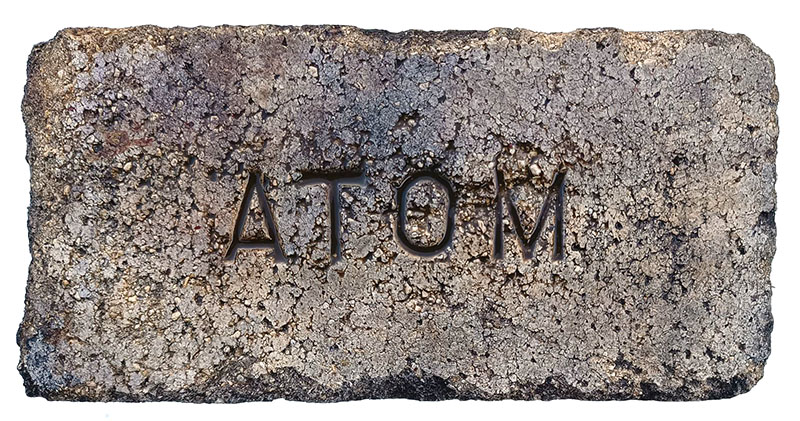 This was made at an unknown works for Henry Moat & Son Ltd who advertised as The North's largest builders' and plumbers' merchants. Atom House, Rutherford Street, Newcastle on Tyne with branches elsewhere in the north-east. Manufacturers of Atom Fireplaces. Photo by Chris Tilney.
---