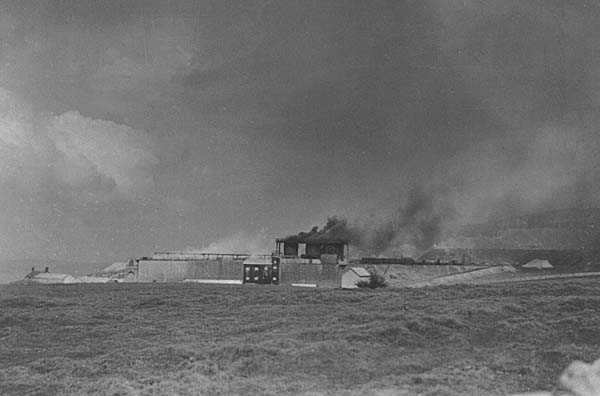 Limekilns at Harpur Hill, near Buxton c1910.
Limestone continues to be of considerable economic importance in Derbyshire, and in the Peak District in particular. Limeburning has been undertaken for many centuries in the county and the remains are widespread.

In all the pre-19th century limeburning complexes, the quarries are shallow and the limestone was burnt in kilns set in circular earthen mounds. The quarries are normally upslope of the kiln and there are large waste heaps of ash, slag and burnt coal on the downslope side. When production carried on over a long period there is a large number of kilns as it was better to build a new kiln rather than transport the limestone over greater distances.
In the late 18th century the Dove Holes area was linked to the lowland canal network via the Peak Forest Tramway. With the advent of railways and better road networks, limeburning on an industrial scale was also developed elsewhere in the Peak, as for example in the Wye Valley at Millers Dale, and at Cauldon Low to the south-west.

Quarrying around Buxton and Dove Holes has thus flourished to the present day, whereas the Peak Forest kilns were abandoned in the early 20th century.