"Old Bricks - history at your feet"
England page 21 Letters: T, U, V

Ta to Ti: below To to V
---
Tamar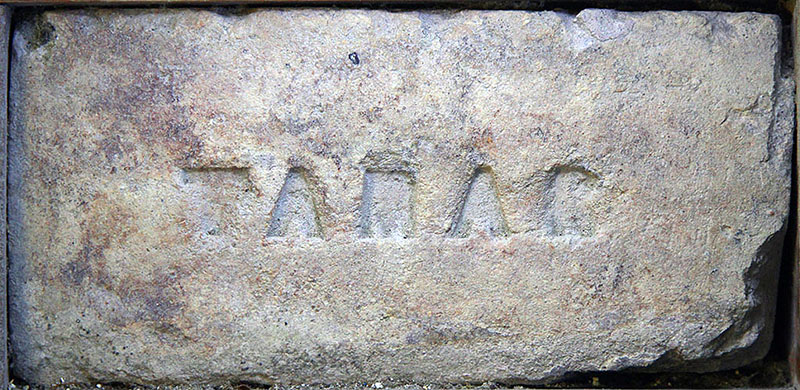 There are lots of these at Devon United Mine, Mary Tavey, Devon.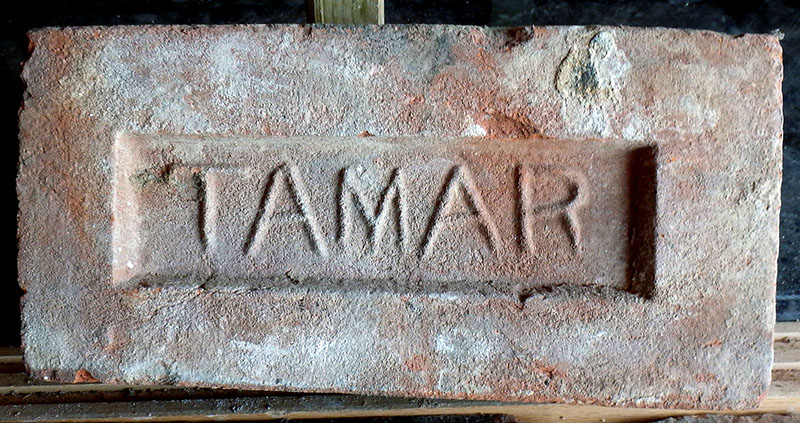 Tamar Brickworks & Potteries Ltd., Cox Park, Gunnislake, Cornwall - Calstock Directory 1930. Photos by David Kitching.
Tamar Firebrick and Clay Company
Opened in April 1871 after 20 acres of land had been acquired by Thomas Procter and Samuel Richards,a mining engineer. The company was registered with a capital of '20,000, shares being '2 each. In 1880 some of the products were used in the building of the Plymouth Public school. The works had closed down by 1887 when Charles Edward Appleby was the proprietor (or was it 1914). The company was restarted around 1918 with Thomas Hill as manager. Westbrick Co bought it in 1918 and it closed down in the same year (and closed in 1935 by which time, the name had changed to Tamar Brickworks and Potteries Limited . White firebricks and terracotta tiles were produced and latterly chemical stoneware. Clay came from a pit across the road and was brought in through an adit via a tramway. They used a Hoffman kiln with 16 compartments. All the works have been demolished and the clay pit backfilled. It is now the site of the Cox Park caravan site. Info by Frank Lawson.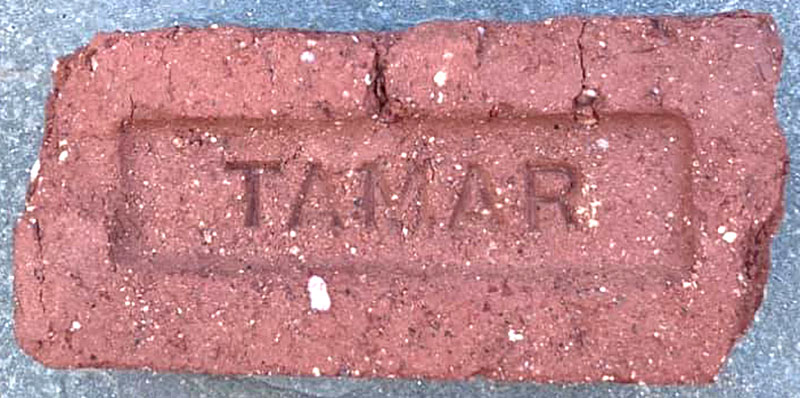 Photo by Ian Williams.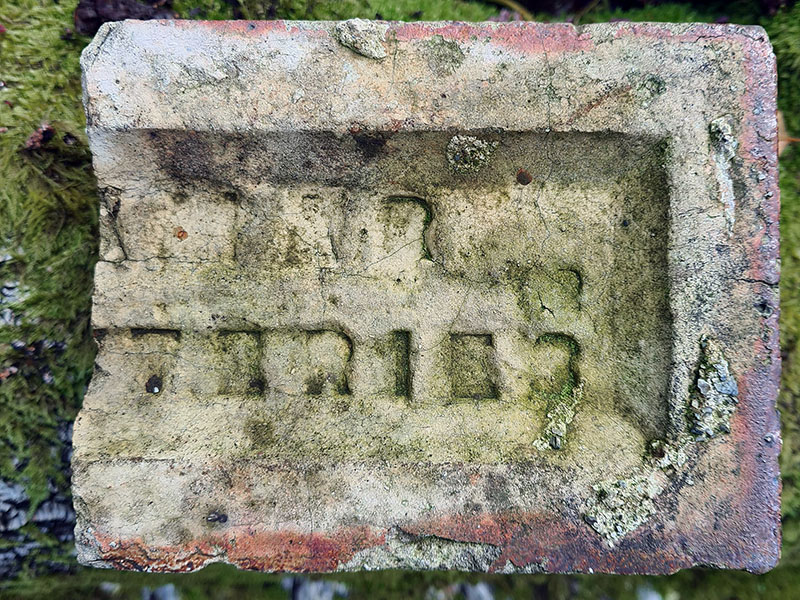 Sadly only partial examples have been found so far. Photo by Dave Hayball.
---
Tamar & Coalville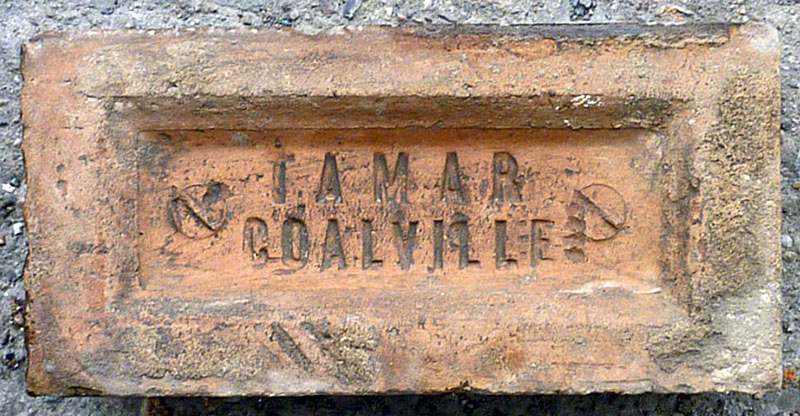 Tamar & Coalville Ltd. is recorded at Coalville, Leicestershire in Kelly's 1895 & 1900 editions. Photo & Info by Martyn Fretwell.
---
Tamworth Colliery
Tamworth Colliery Co Ltd., Tamworth Colliery, Alvecote, Warwicks. Kelly's Warwickshire Directory 1900 -1928 (Langford Ridsdale - Managing Director). The brickworks and the colliery were situated either side of the Coventry Canal close to the village of Alvecote in Warwickshire. It seems that in the 1941 the name of the company was changed to the Alvecote Colliery Co Ltd., and the colliery was renamed Alvecote Colliery. Photo and info by Frank Lawson
---
Tandy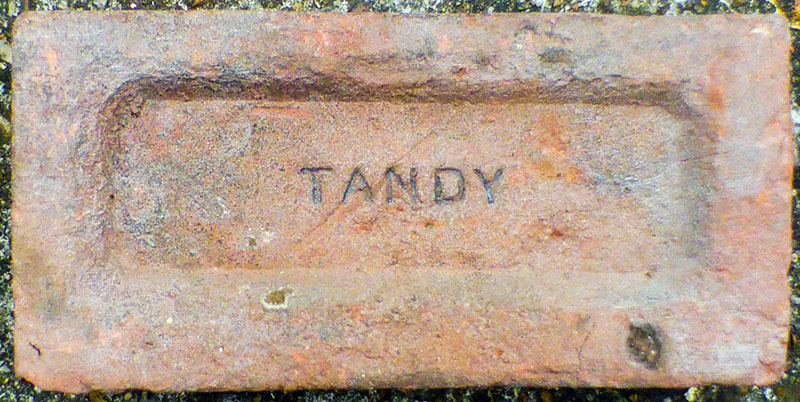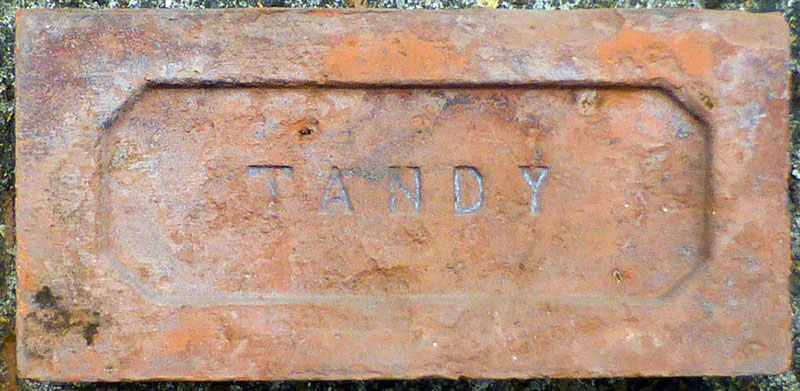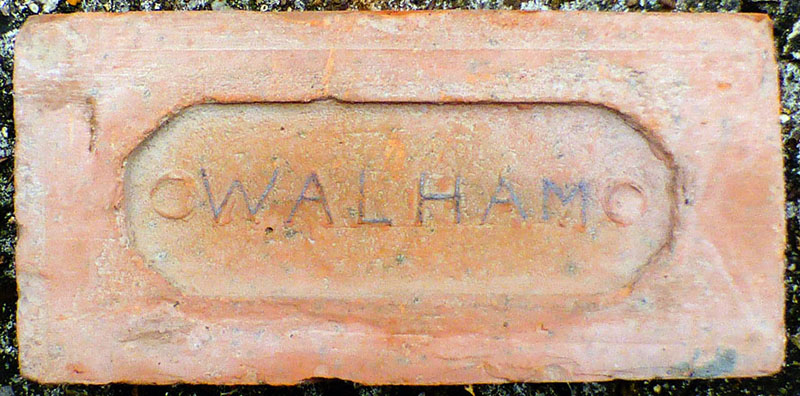 The Walham brick works which was situated just off Sandhurst Road in Longford, Gloucester, was run by Maria Tandy in 1881. Her nephew Frank Tandy was the proprietor in 1897 and continued to be listed at the Longford Works in Kellys 1897, 1902, 1906& 1914 editions. Info by Martyn Fretwell and David Kitching. Photos by Martyn Fretwell.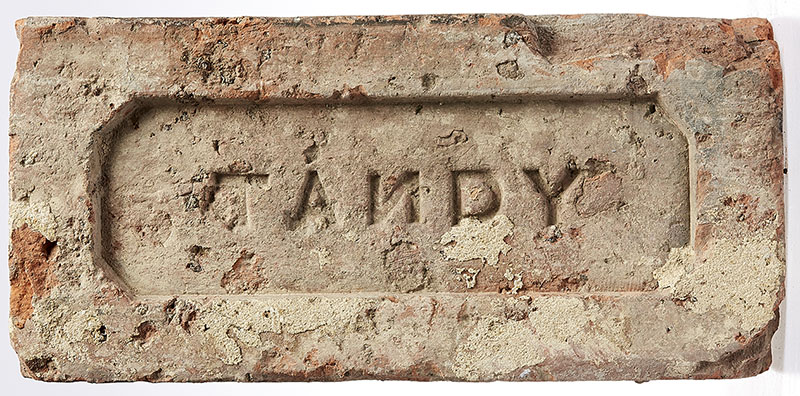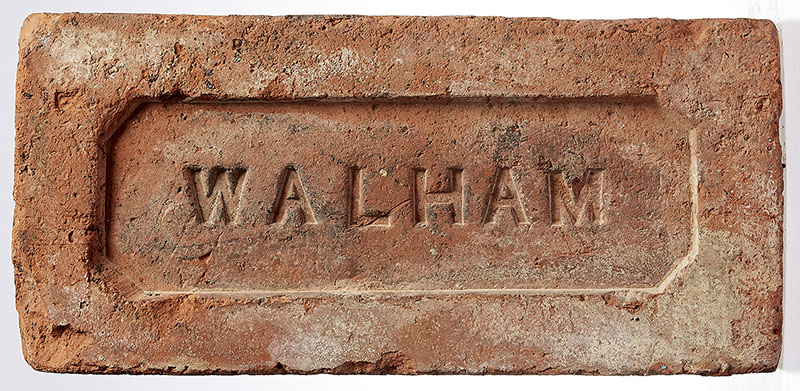 ---
Taylor, Brookfield, Bolton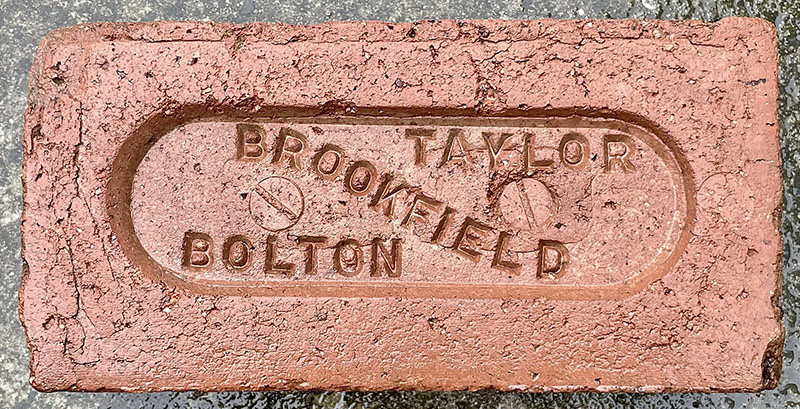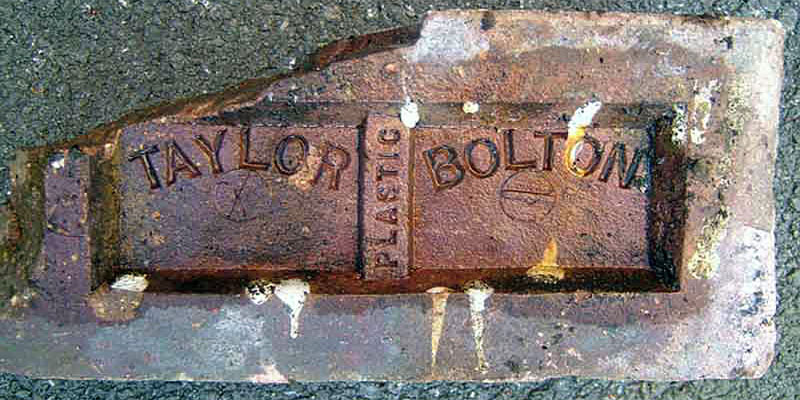 Photos by Alan Davies.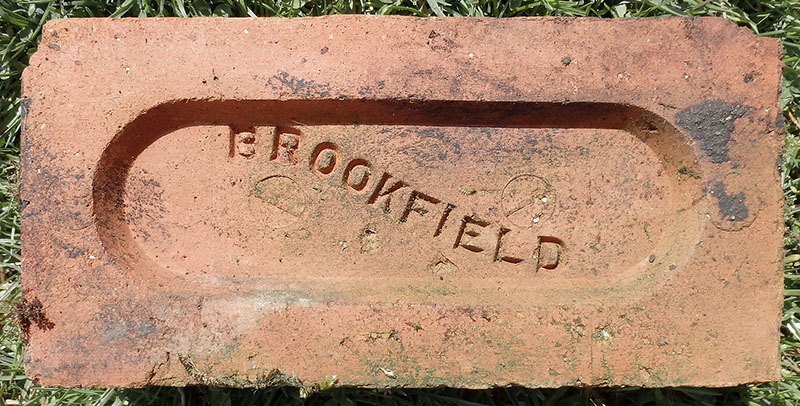 Found at Tottington in Lancs - made by Taylor & Sons, Brookfield Brickworks, Hypatia Street, Tonge, Bolton, photo by Frank Lawson.
---
H Taylor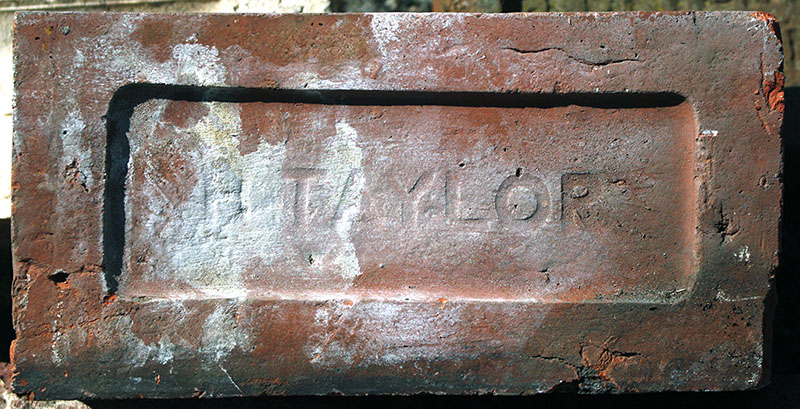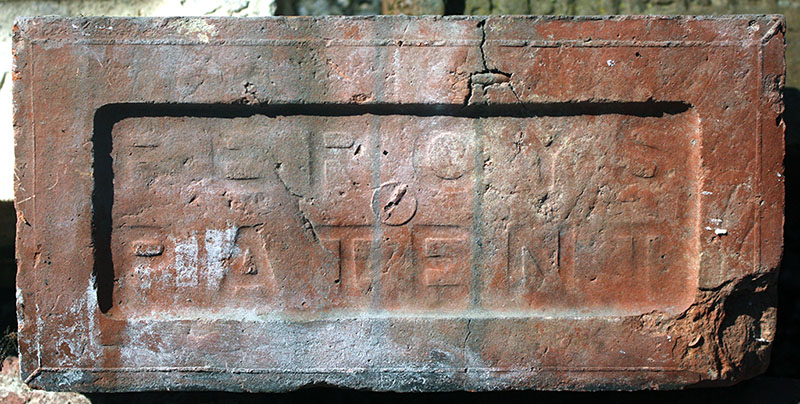 Found in Shawforth, north of Rochdale. Possibly a product of the works at Tonacliffe just south of Shawforth which was operated by Taylor & Lord in the 1860s trading as the Whitworth Vale Brick & Tile Company. The works closed with the materials of a kiln and drying shed sold off in 1869. The date is certainly about right for bricks bearing the Percy's Patent imprint. Photos by David Kitching.
---
John Taylor, Exchange Buildings, Manchester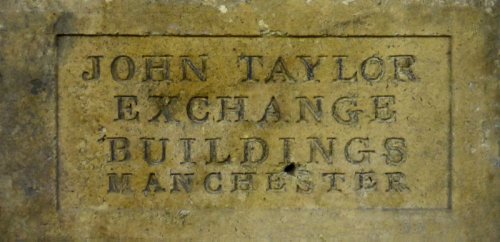 Could this be the office address of Taylors, Bury? Photo & Info by Martyn Fretwell.
---
J Taylor Patent, Linthurst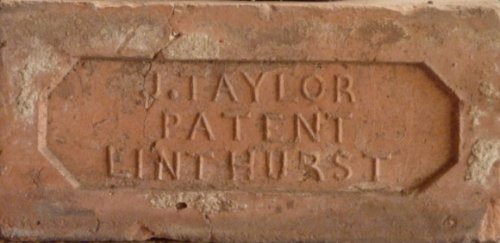 John Taylor is recorded in Kelly's 1860 edition to it's 1872 edition at Linthurst, Lickley, Bromsgrove. John is also listed in the Bromsgrove Trade Directory from 1865 to 1878 as brick & tile manufacturer & coal merchant at Newton Linthurst, Blackwell. From the two entries, John made bricks for 18 years. Photo & Info by Martyn Fretwell, with the information provided by Bromsgrove Library.
---
R Taylor, Washwood Heath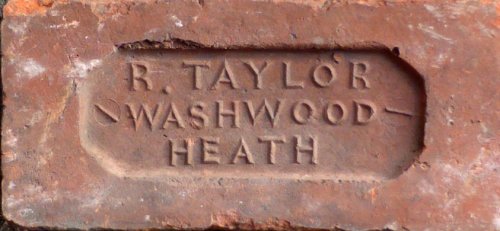 Richard Taylor first operated the Heath Brickworks, Saltley which was located next to the Birmingham & Warwick Canal & he is listed in Kelly's 1867 & 68 editions at Saltley. Richard Taylor then relocated to a new works on Washwood Heath Road in the 1870's. We then find that Richard Taylor was next in partnership with Edward Hales as Taylor & Hales & they are listed in Kelly's 1878 & 79 editions at the same works. Taylor then left the partnership around 1883 leaving Hales to carry on at Washwood Heath until 1905. Also see Taylor/Hales & Hales entries. A 1889 map showing the Washwood Heath Road works along with the many other brickworks in the Saltley/Garrison Lane areas of Birmingham can be seen at this link. Info & Photo by Martyn Fretwell courtesy of the Chris Thorburn Collection.
---
Thomas Richardson Taylor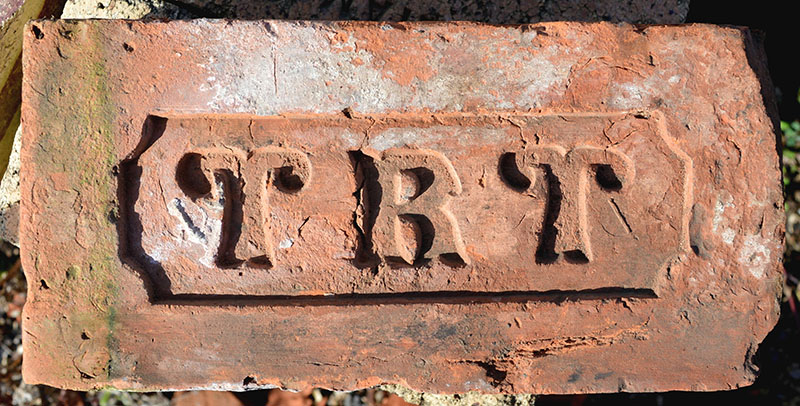 Middlesbrough & Stockton Gazette 4 September, 1868 - Thomas Richardson Taylor, Steam Brick Works, Cargo Fleet, Middlesbrough. 1871 census, Thomas Richardson Taylor, age 46, brick manufacturer employing 19 men, 16 boys, 2 girls. Also works at Yarm Lane, Stockton. Found North Lincs. 2017. Photo by Frank Lawson.
---
Taylor & Hales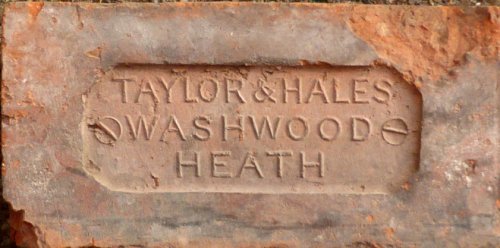 Richard Taylor & Edward Hales are listed in Kelly's 1878 & 79 editions at Washwood Heath. Taylor then left the partnership around 1883 leaving Hales to carry on at Washwood Heath until 1905. Also see entries for Edward Hales, Washwood Heath & R. Taylor, Washwood Heath. Info & Photo by Martyn Fretwell courtesy of the Chris Thorburn Collection.
---
Taylor & Hoyle, Greave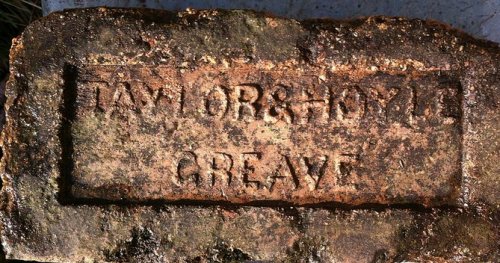 Greave is a district of Bacup to the right of Todmorden Road a few hundred yards from Bacup centre. The works was operating in 1869. Found in Stacksteads. Photo and info by Colin Driver.
---
Taylor & Son, Dumbleton: see Dumbleton
---
Taylors, Jericho, Bury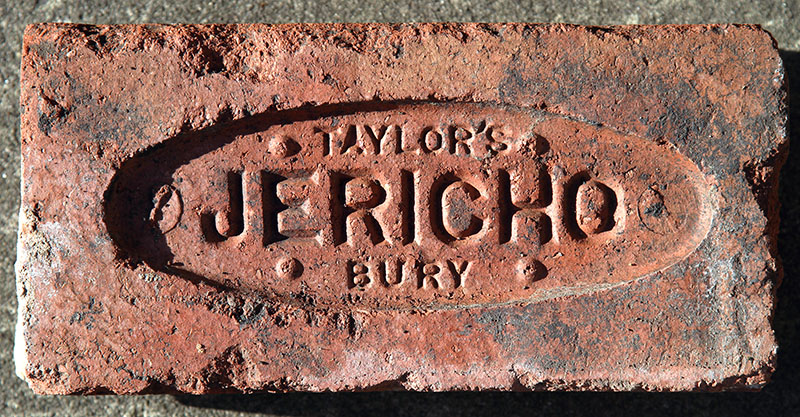 Taylor's Bricks ( Jericho ) Ltd, Smethurst Hall Brickworks, Jericho, Bury, Greater Manchester. Site operated 1870 - 1966. Photo by David Kitching.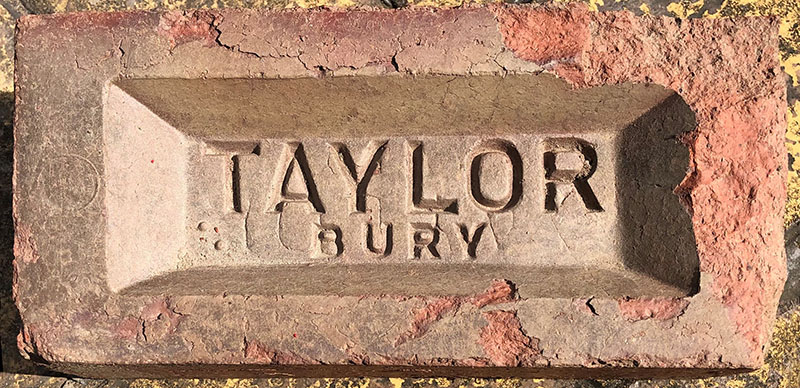 Photo by Elaine Hill.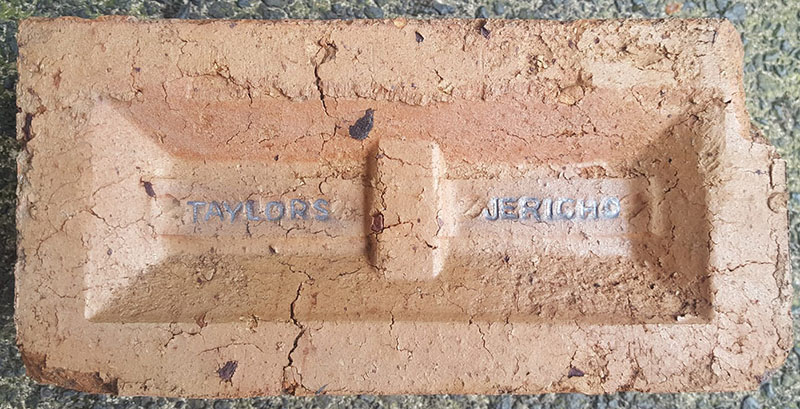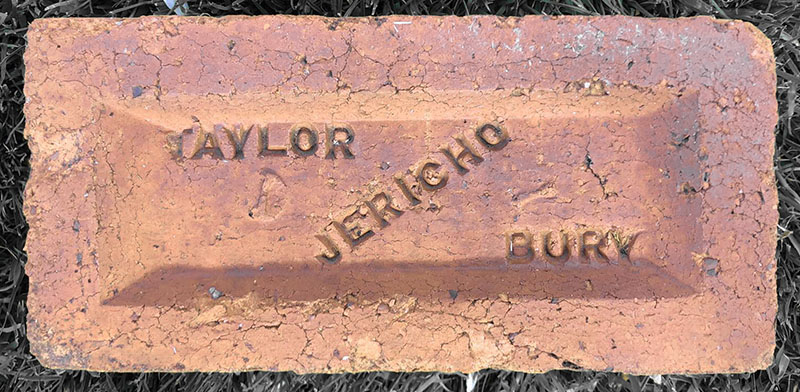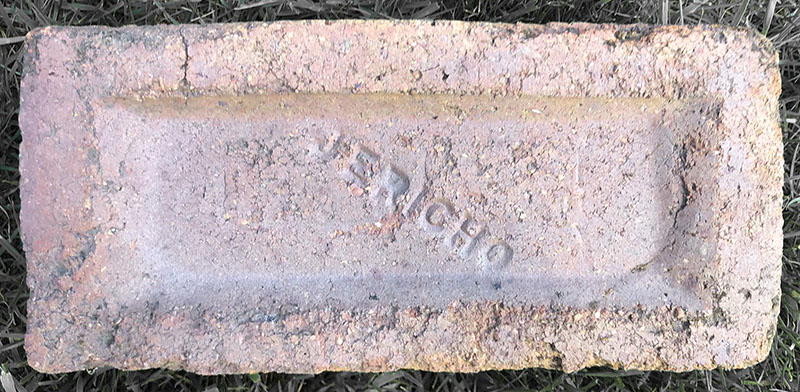 Photos by Jason Stott.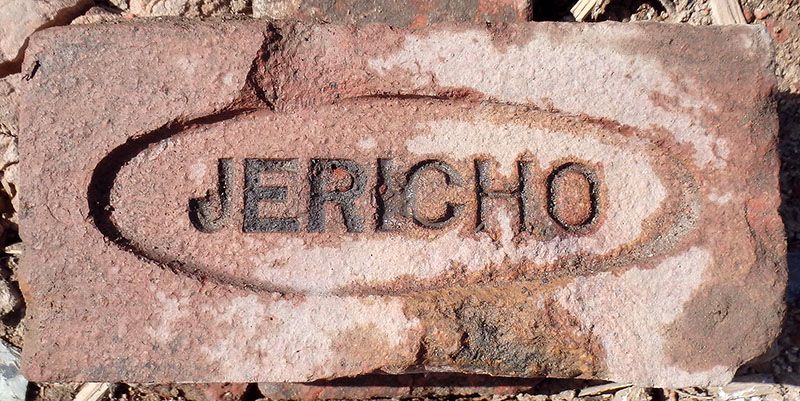 Photo by Frank Lawson.
---
Teale Fire Place Co : see Wortley
---
Tebbutts Patent Safety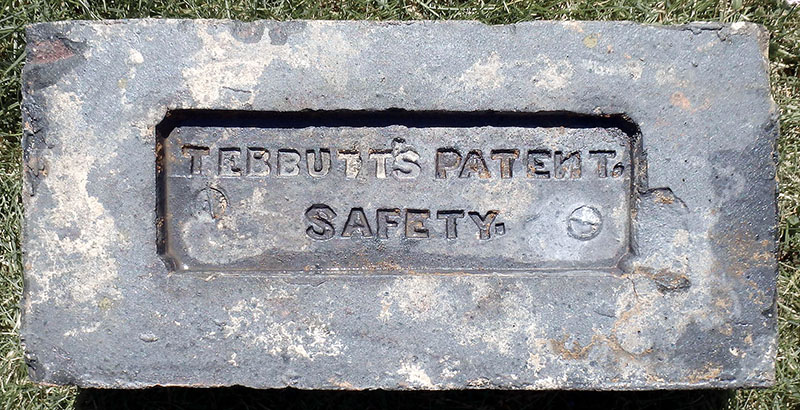 Charles Goodman Tebbutt of Huntingdon, patented his safety bricks for stables, cattle markets, sheds, pens & yards on the 20th July 1884 in England & on the 12th April 1887 in the USA. His safety bricks were designed so man could walk comfortably without slipping & animals could stand or walk without slipping, with or without straw. Info by Martyn Fretwell, photo by Frank Lawson.
---
Tees Scoria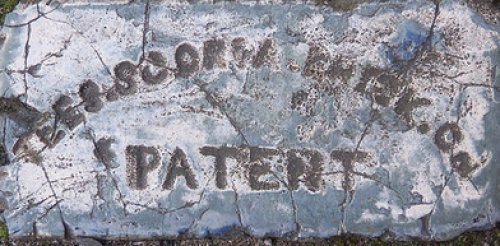 A Tees Scoria paving brick spotted in Yarm high street. Photo by courtesy of the Ian Stubbs collection.

Derek Barker writes: this is not really a brick in the sense of being a ceramic building material. Basically these were units made in moulds from molten iron-making slag. Scoria is an older name for slag or ashes. Scoria blocks were produced by the Tees Scoria Brick Co., based near the Skinningrove Iron Co. works in Cleveland. I have only seen these used as road-making setts and I believe the company existed from the late nineteenth century until the 1960s, making setts of increasingly complex design. They can be recognised by their blueish colour. I think they are most common in the north of England and are plentiful in Whitby and York.

---
Tellwright & Watkin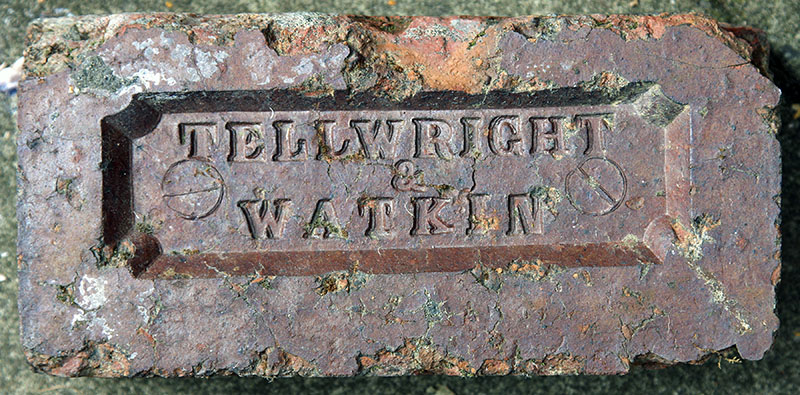 The 1879 trade directory shows Telwright (sic) & Watkin as brickmakers in Cobridge, between Hanley and Burslem. I can find no subsequent reference to this business so it looks like a short-lived venture. Tellwright and Watkin were operating Cobridge Colliery in c1880 and Sandbach Colliery in 1882. In 1877 there was a brickworks adjacent to the colliery with three round kilns. By 1900 all had been cleared away. Photo and information by David Kitching.
---
Temperley, Todmorden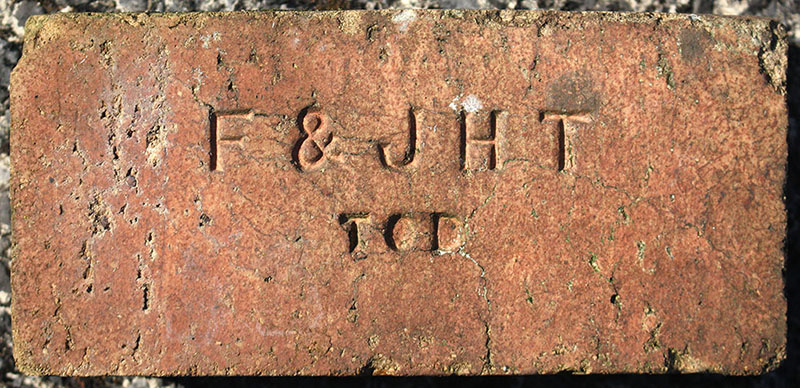 Fred & Jack Henry, Temperley, Todmorden. Photo by David Kitching.
---
W. Temple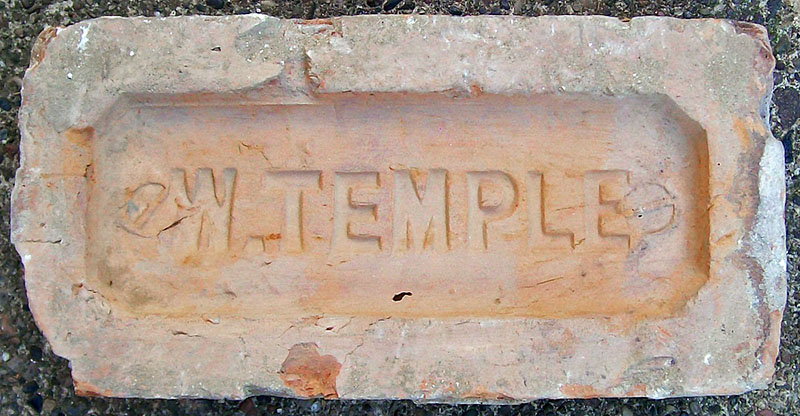 William Temple, West Heaton brick works, Stratford Road, Heaton, Newcastle on Tyne - Kellys Northumberland Directory, 1894. Photo by Alton.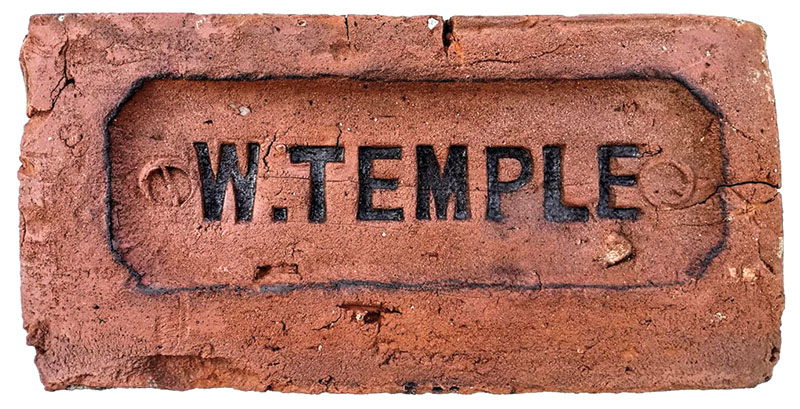 Photo by Chris Tilney.
---
J Terry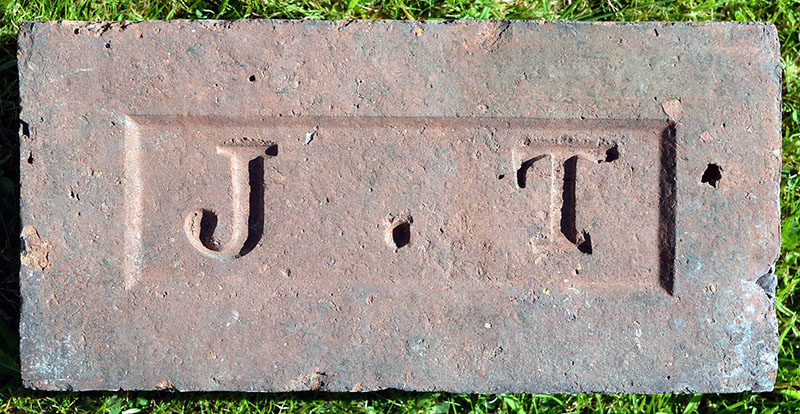 J Terry, Gawthorpe, Ossett, West Yorks. Kelly's West Riding Directory 1857. Photo by Frank Lawson courtesy of the PRBCO collection.
---
Tetlow & Sons, Littleborough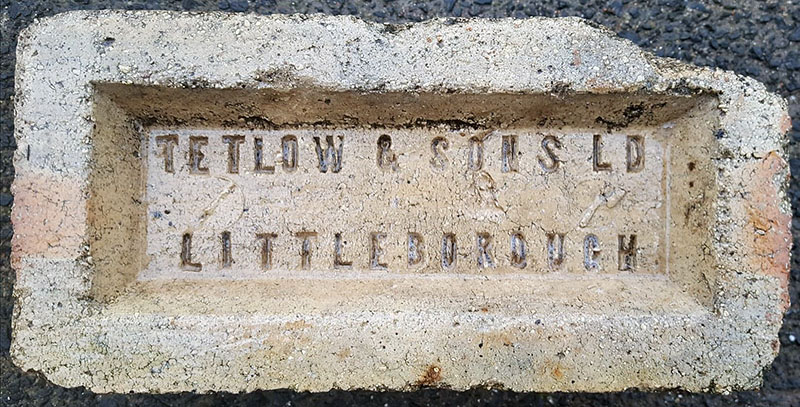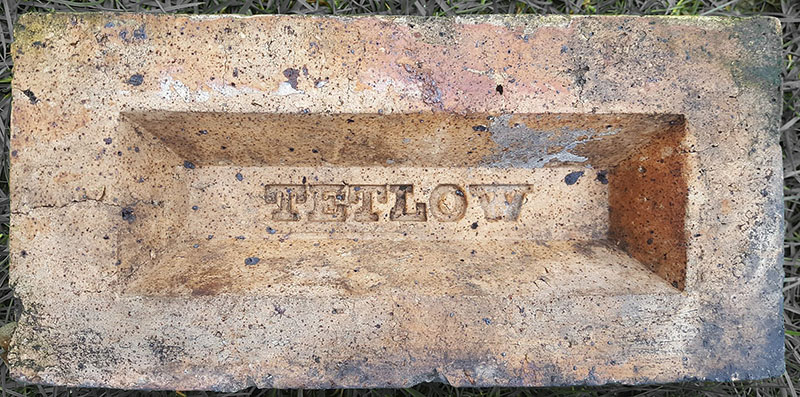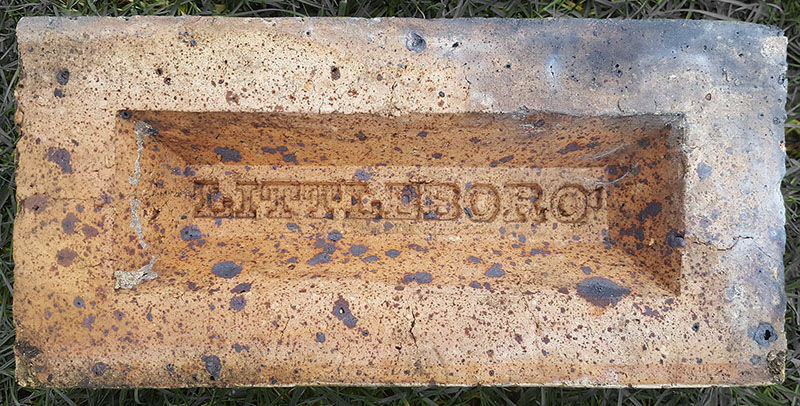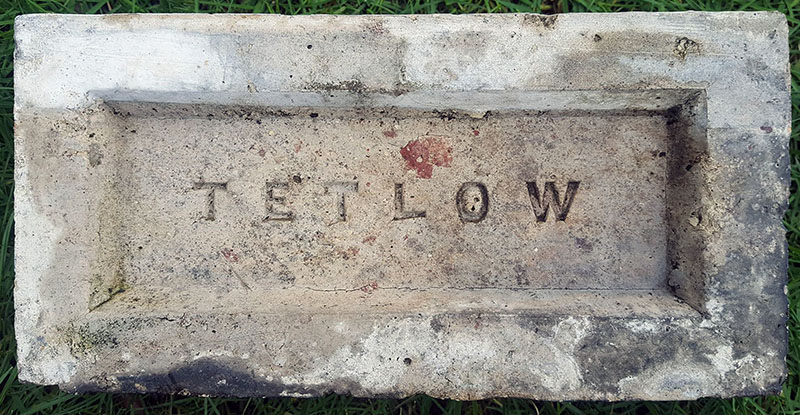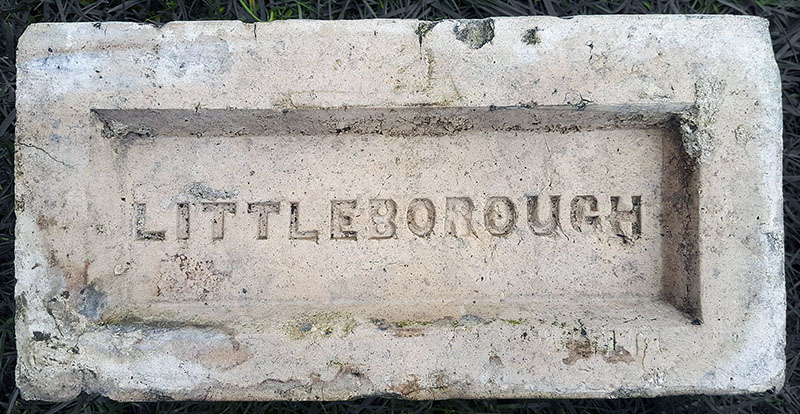 Honour Matthews built a brick and tile works on land at the opposite side of the Rochdale Canal from the newly erected Sladen Wood Mill near Punchbowl Lock at Summit, Littleborough in 1852. It was about a half mile from the Summit Brickworks on the Littleborough side. In 1857 the works was sold to John Tetlow,who then traded as J.Tetlow & Sons,Fire Brick & Sanitary Tube Manufacturer (Castleton). John snr. died in 1883,and his son also John took over the business. In 1898 John jnr.was found guilty of defrauding Manchester City Council of £5000 over a period of 10 years. He went to jail for 3 years. Clay and some coal was transported by tramway from Lower Sladen and Greenvale,some distance away. Apparently this eventually made the works uneconomical to run, so brickmaking ceased and it was sold to Fothergill & Harvey who had several mills close by. (One report says this was in 1889,another 1911). Harvey's used some of the buildings for the manufacture of an experimental type of clinker block, which was used to build the Timbercliffe Estate now covering the site. The chimney remained until the 1920's. Photos by Jason Stott and info by Colin Driver.
---
Thackrah and Peirce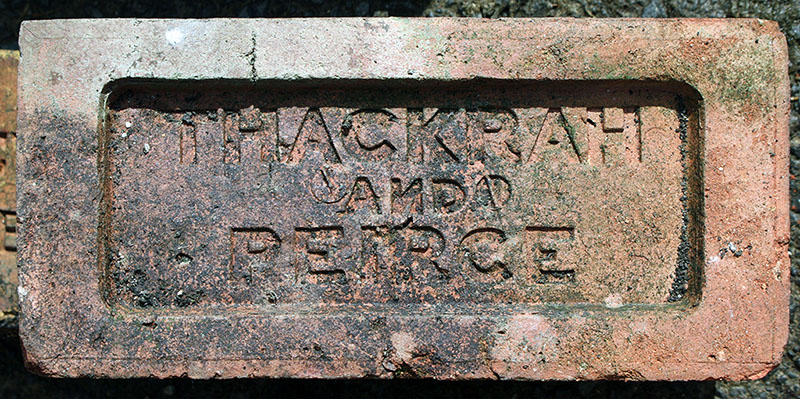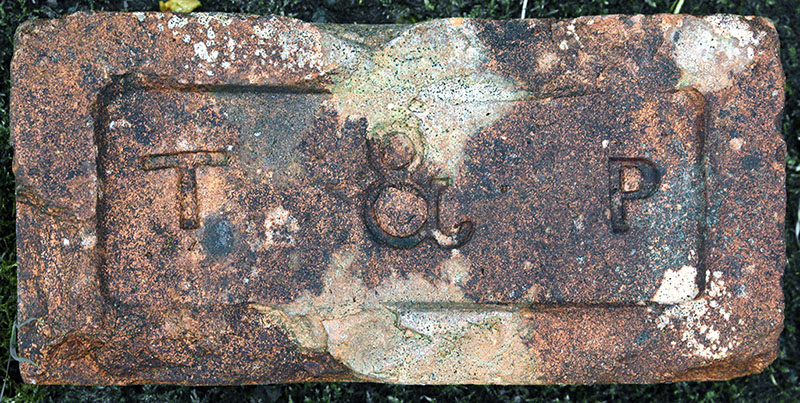 Joseph Thackrah and Peter Peirce were both builders in Stockport, Cheshire in the 1860s. In 1865 their brickworks was on land between Turncroft Lane and Woodbank Park, Stockport.
---
Thackwell, Cheltenham


Photo by Dave Crewe.
---
The How Brickworks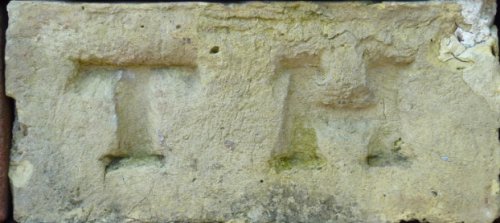 John Saint owned The How brickworks in the 1870's and Kelly's 1877 edition lists John Saint at Sheepmarket & The How Brick & Tile Works, St. Ives, Cambridgeshire.

---
Thetford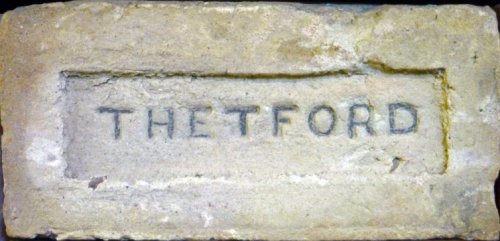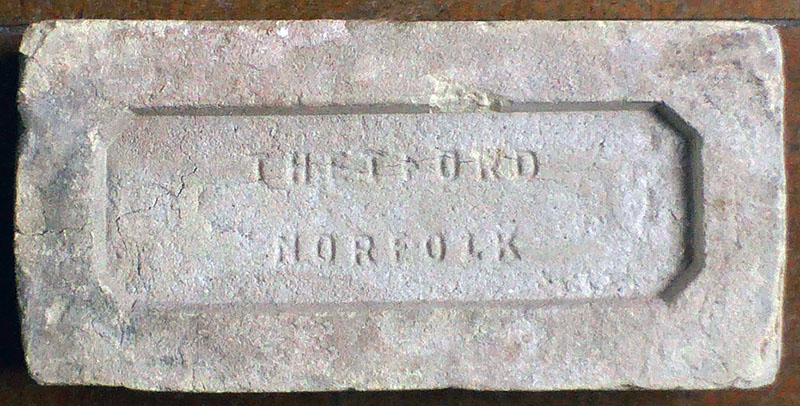 There are no trade directory entries for Thetford, but a brickworks is shown operational north of the town on the 1881 map & then marked as disused on both the 1903 & 1926 maps. Info & Photos by Martyn Fretwell.
---
Thomas, Derby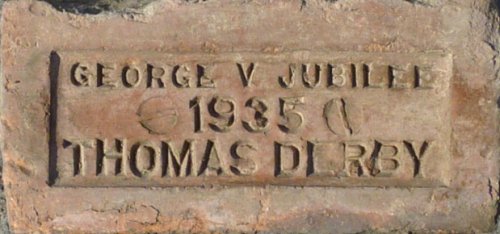 Photo by Martyn Fretwell.
---
Richard, Thomas & Co, Santon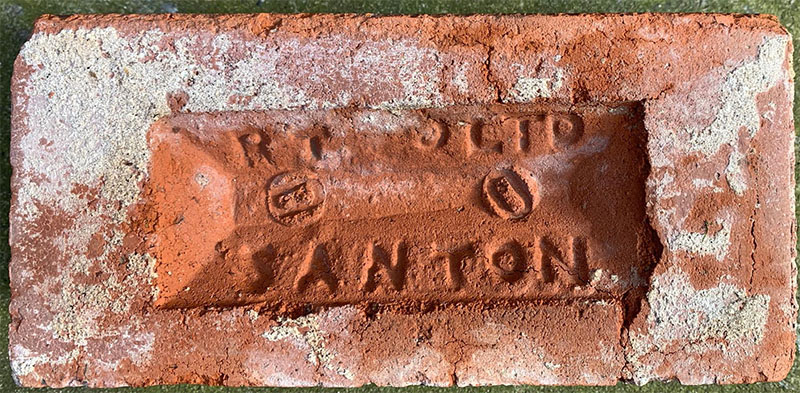 This is from Santon in Lincolnshire close to the Scunthorpe steelworks. Photo by Russell Firth.
---
Richard, Thomas & Baldwins, Crowle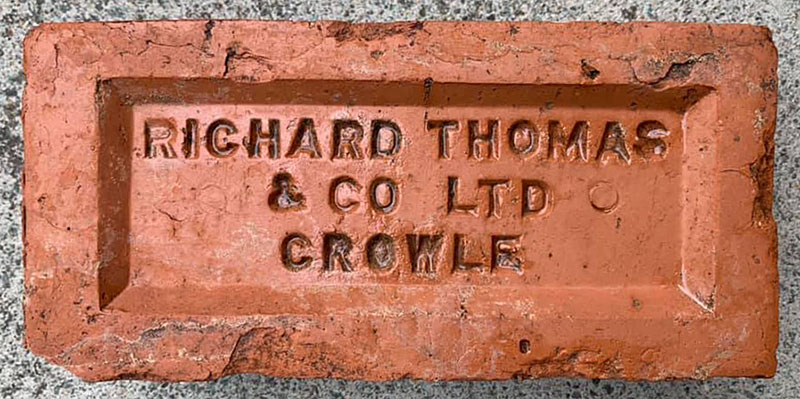 Photo by Russell Firth.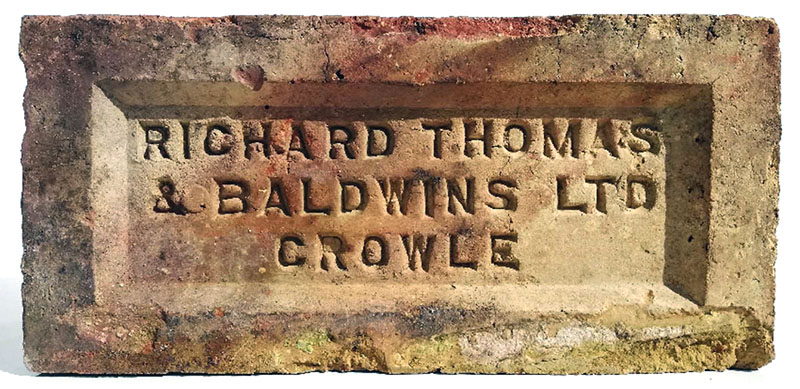 Richard Thomas & Baldwins were a famous steelmaking company, their history may be read here. Crowle is near Scunthorpe in Lincolnshire. Photo by Chris Tilney.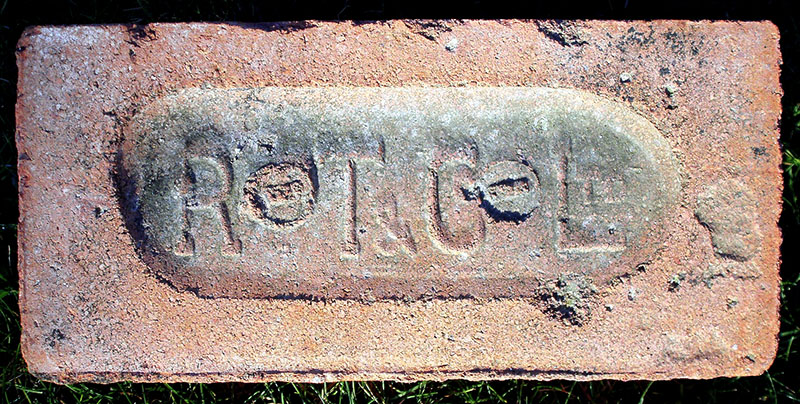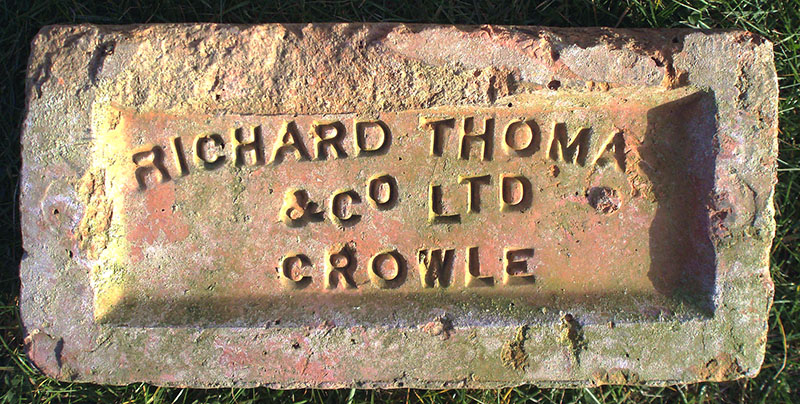 Photos by courtesy of the Frank Lawson collection.
Crowle Brickworks was adjacent to the Keadby Canal at Crowle Wharfe. During its lifetime it was in the hands of several owners including: - Crowle Brick & Tile Co. Ltd. : Richard Thomas & Co Ltd. : Richard Thomas & Baldwin Co. Ltd. : George Robinson : Oakland Brothers : Redbourne. The works finally closed in 1980. For a history of the works and further information visit: - http://crowle.org/?p=63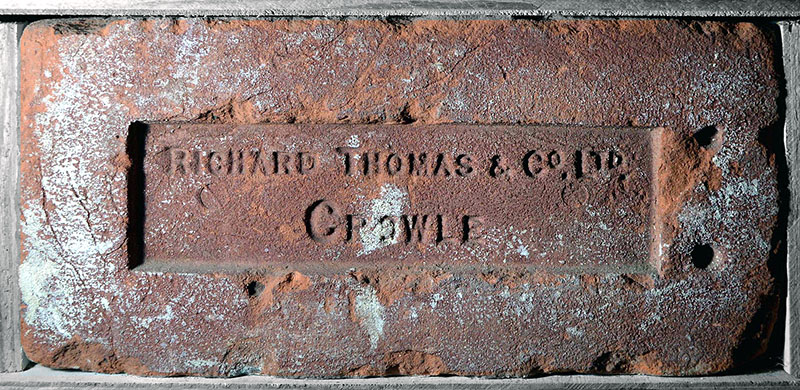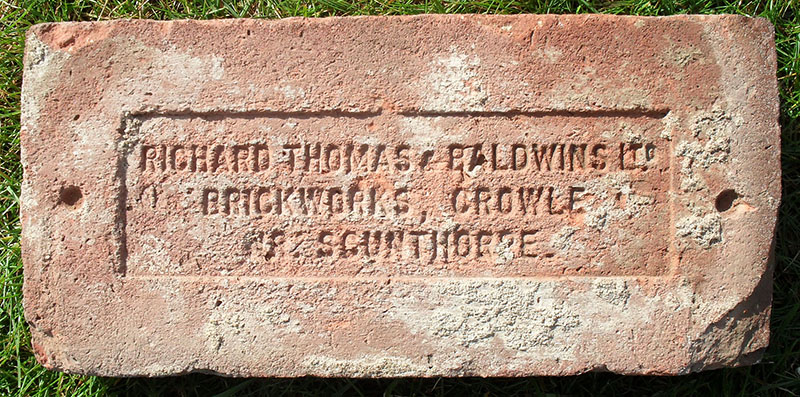 Photos by Frank Lawson.
---
William Thomas, Torquay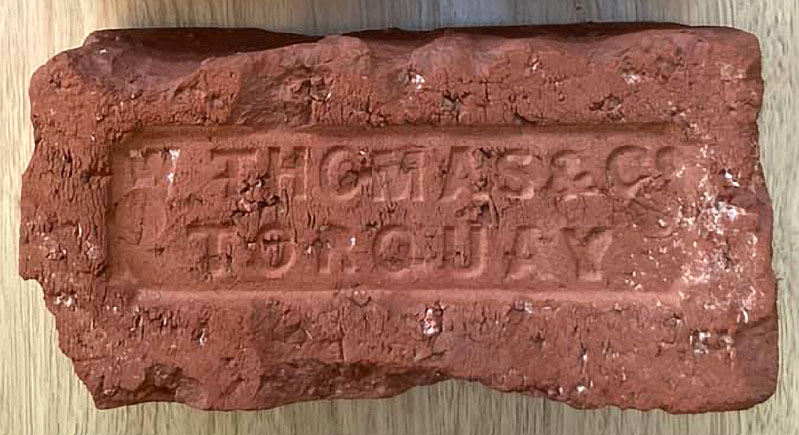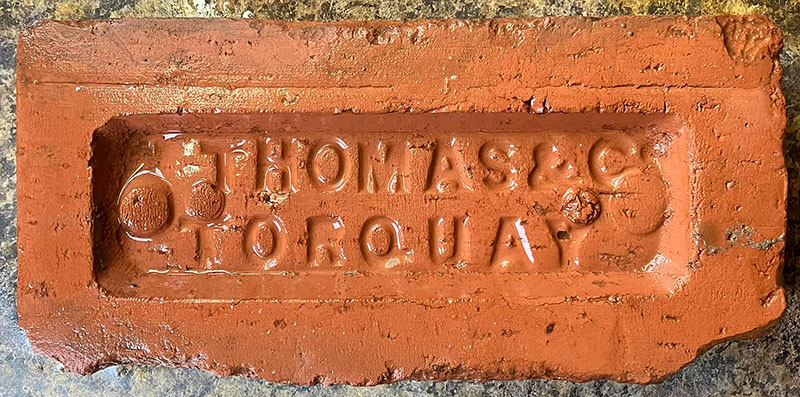 William Thomas & Co. Ltd., Tor Yard & Lowesbridge, Newton Road, St.Mary Church, Torquay, Devon. Kelly's Devonshire Directory 1893 - 1919.
William Thomas owned brickworks in several locations across the West Country including Wellington in Somerset & Tavistock in Devon. William Thomas started brick making early in the 19th century. From around 1886, under the management of the Thomas, Corner, Sully and Gill families, William Thomas & Co. expanded to embrace both Wellington's Robert Peach brickworks and the Taunton Brick and Tile Co. It also had factories in Torquay, Bridgwater and Oldbury. The company was an early adopter of Hoffman kilns; in 1867 they had the biggest kilns in Britain. The company folded at the end of the twentieth century despite the efforts of Steetley and then Redland to modernise its production methods. Info by Frank Lawson, photos by Ian Williams.
---
William Thomas, Wellington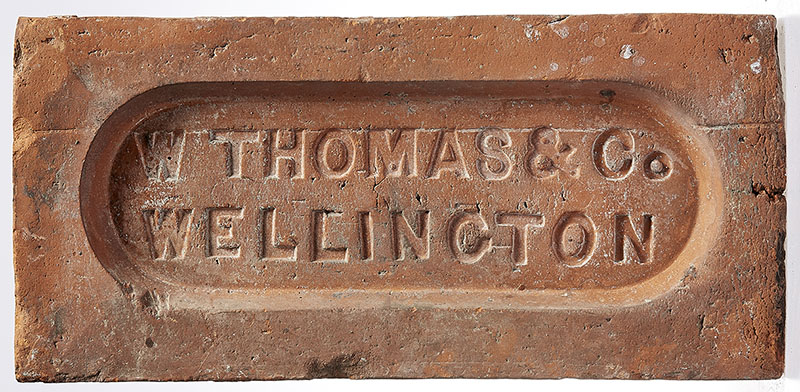 Made at Poole Brickworks, Wellington, Somerset.
Photo by Nick Savage.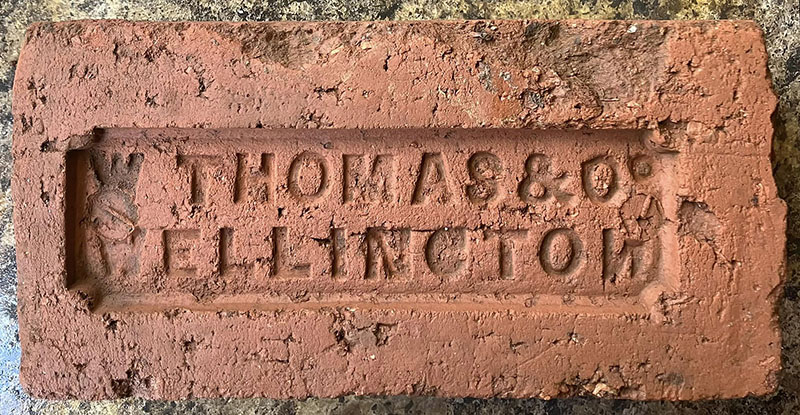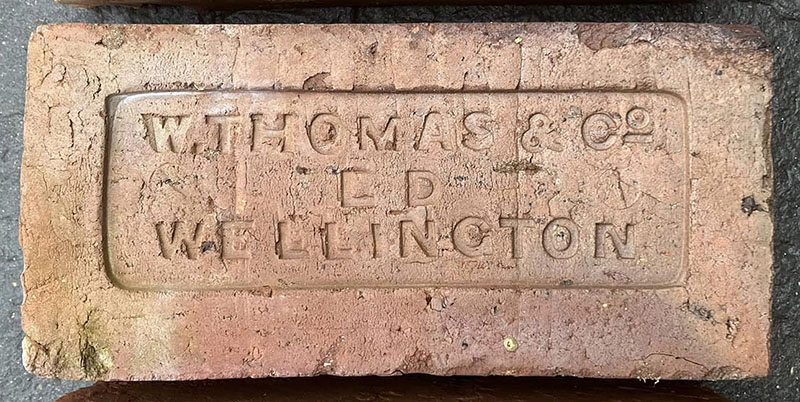 Photos by Ian Williams.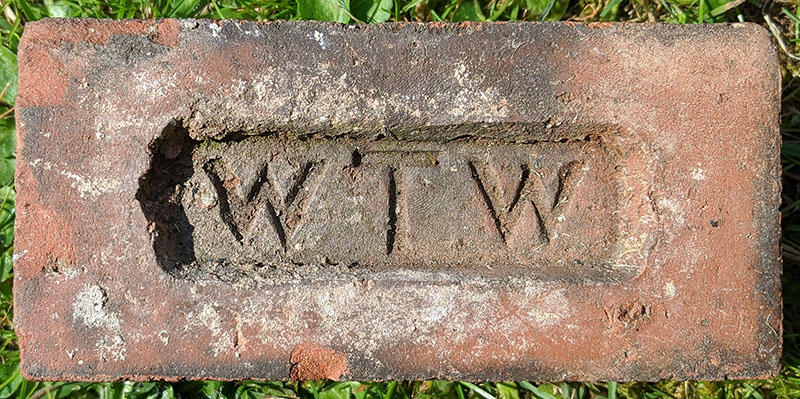 This is likely to be an early example from the William Thomas, Wellington works. Found in Cullompton and photo by Stephen Bosley.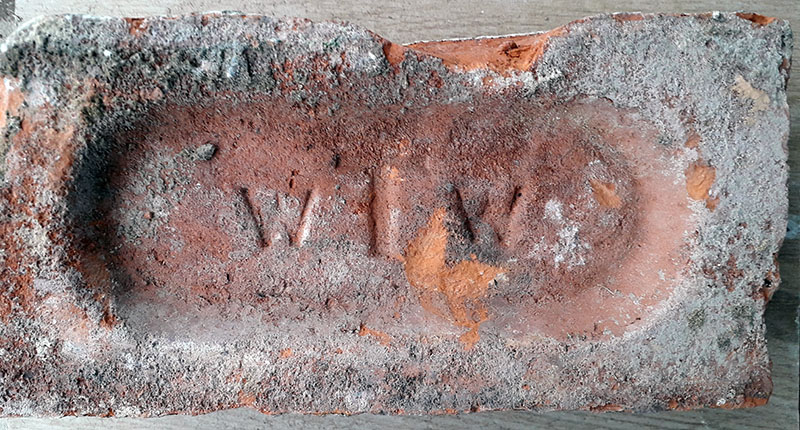 Photo by Sam Cutler.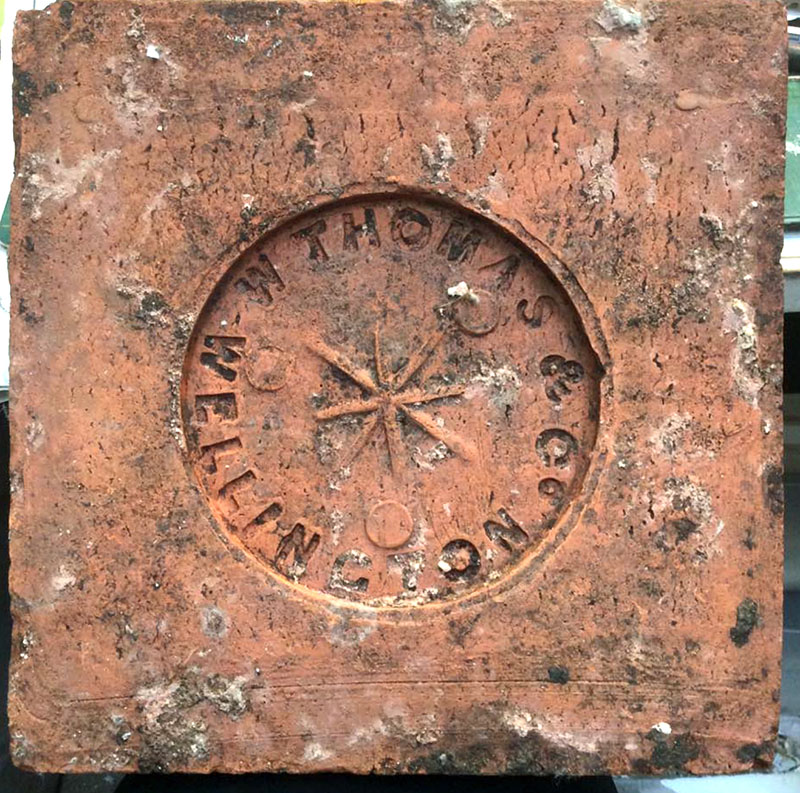 Photo by Louise Baker.
---
G. Thompson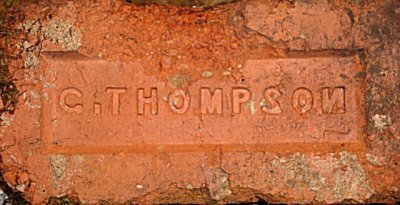 This was found at Teversal Notts and had the name in both frogs. The N is also the wrong way round. Thanks to Simon Patterson
---
Thompson & Beck
Thompson & Beck are listed in Kellys 1884 to 92 editions at Fenton Park, Fenton Culvert, Stoke & then at Queen St, Fenton in Kellys 1896 to 1921 editions. Info by Martyn Fretwell. Photo by David Kitching at Apedale Heritage Centre.
---
Thompson, Cadishead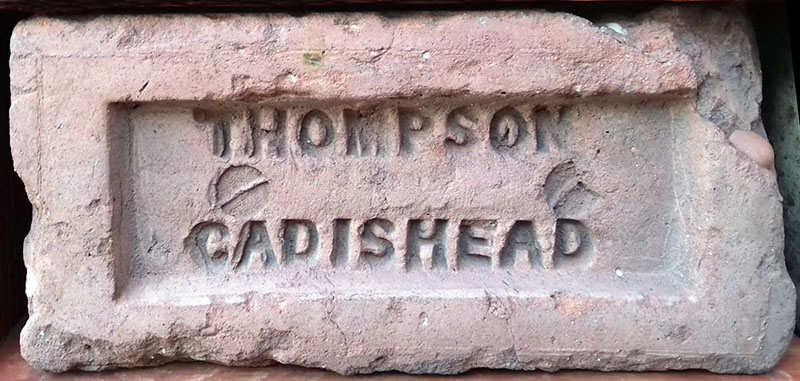 All I can find about this manufacturer is that the works was in Atherton lane, Cadishead and that by the 1880s John Thompson had leased it to William Robinson at a gross rent of £20 per annum. Photo by Steve Biddulph.
---
Thompson, Chilwell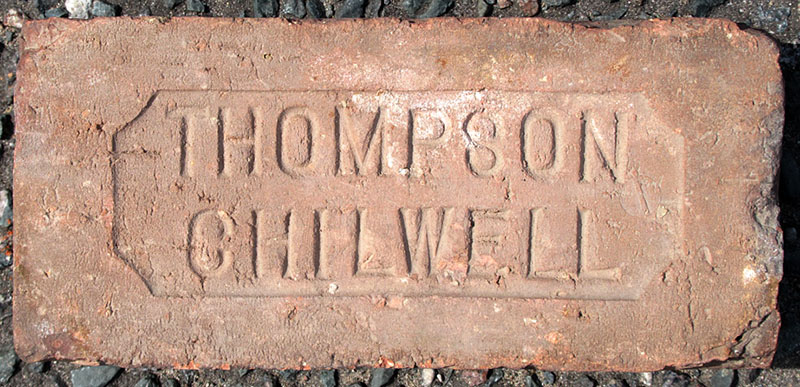 Edward Thompson of Breaston owned the Chilwell brickworks and is recorded in a London Gazette article dated 2nd January 1866 stating that he had taken over the Chilwell brickworks on the 31st of December 1865 which had previously operated as J.G. Thompson & Company. This company had been owned by himself, John Garton Thompson of Chilwell & Richard Thompson of Chellaston, both of whom had retired from brickmaking. Henry Thompson took over in 1876 and is listed in Kelly's trade directories until 1908 when the entry is Henry Thompson (exors of). In 1912 the listing is for William Thompson (possibly his son) Chilwell & William's entry continues until the 1941 edition. Date of closure is unknown. Info & Photo by Martyn Fretwell. Courtesy of Nottingham City Museums & Galleries.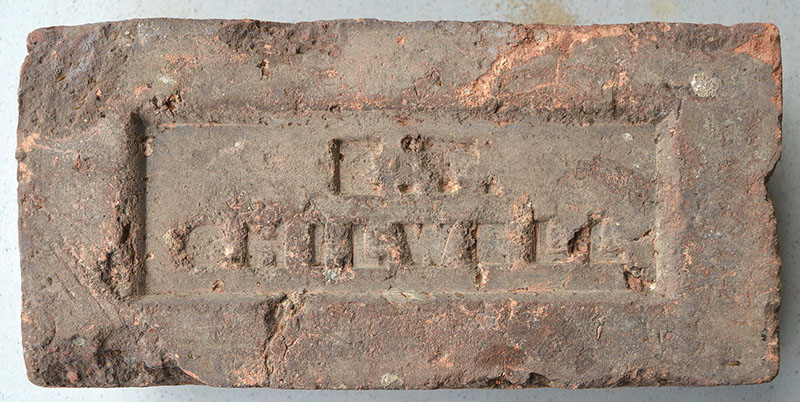 E T Chilwell. Photo by Frank Lawson, Courtesy of Nottingham City Museums & Galleries.
---
Alfred J Thompson : see Jabez Thompson
---
G Thompson, Wellingboro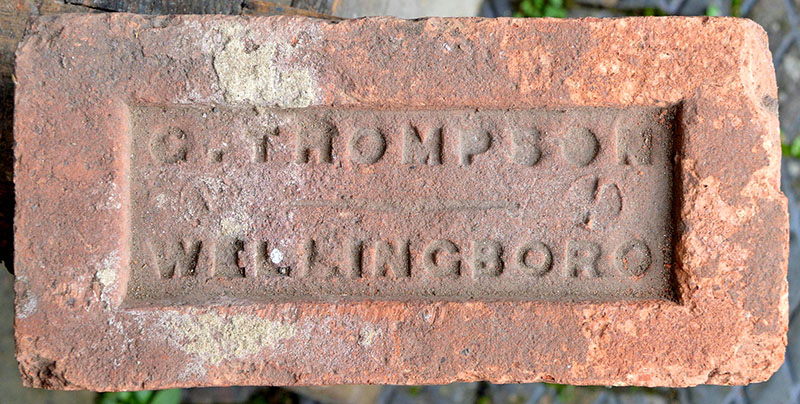 G. Thompson is listed in Kellys 1868 edition as brickmaking on Midland Road in Wellingborough. Info & Photo by Martyn Fretwell courtesy of the Bill Richardson Collection at Southwick Hall.
---
Jabez Thompson, Northwich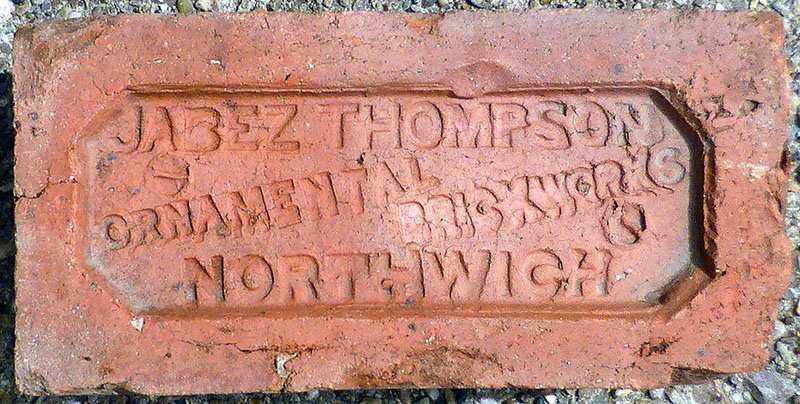 Photo by Frank Lawson.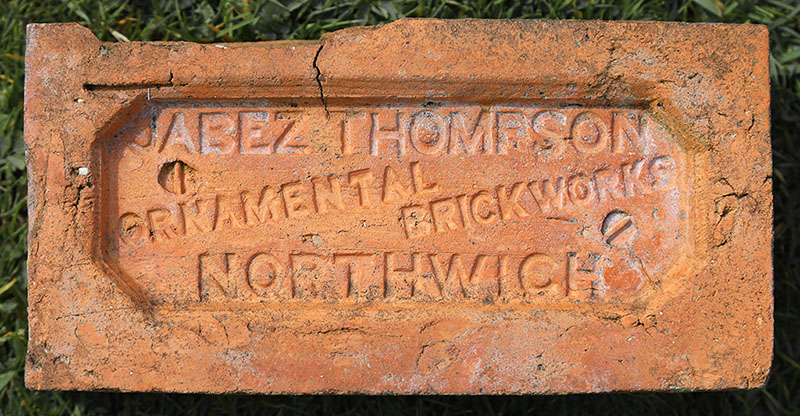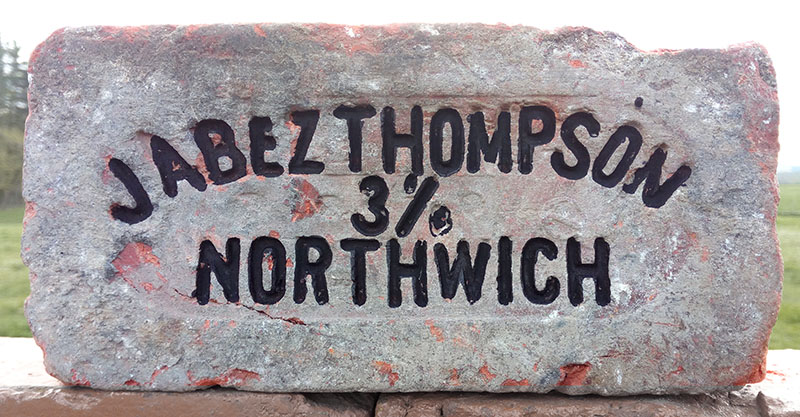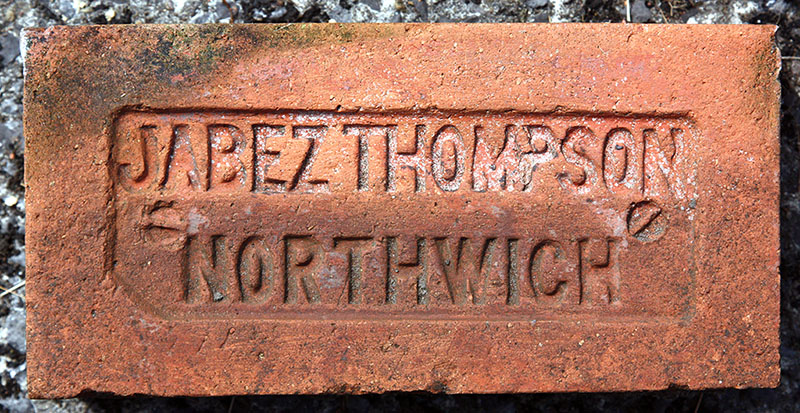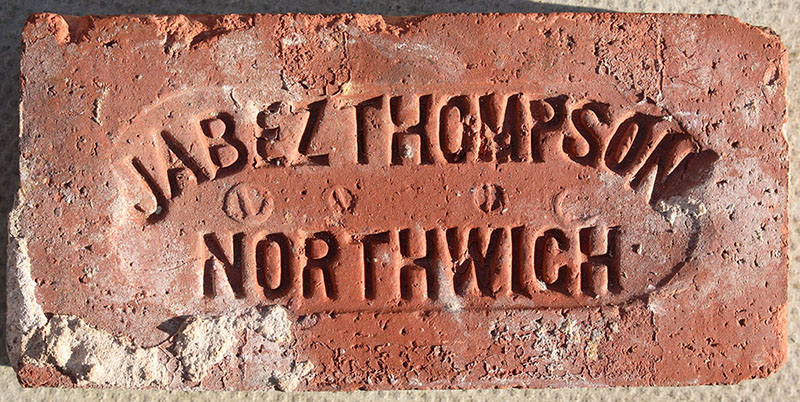 This one is a paver.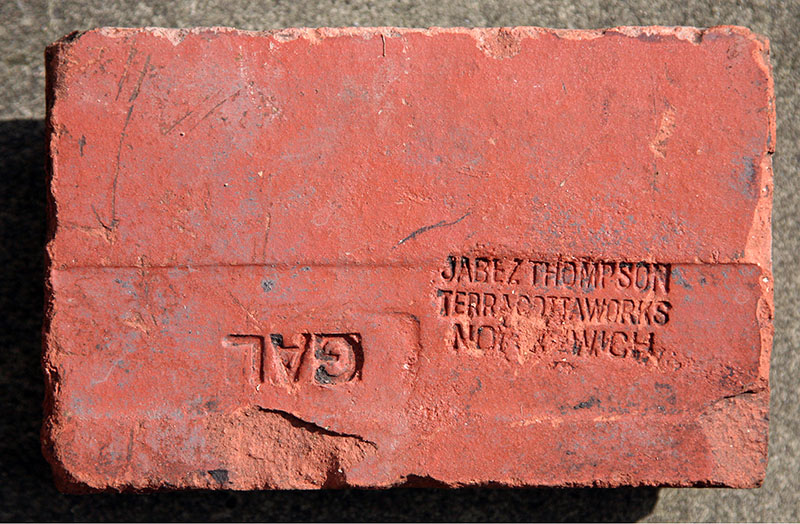 Photos by David Kitching.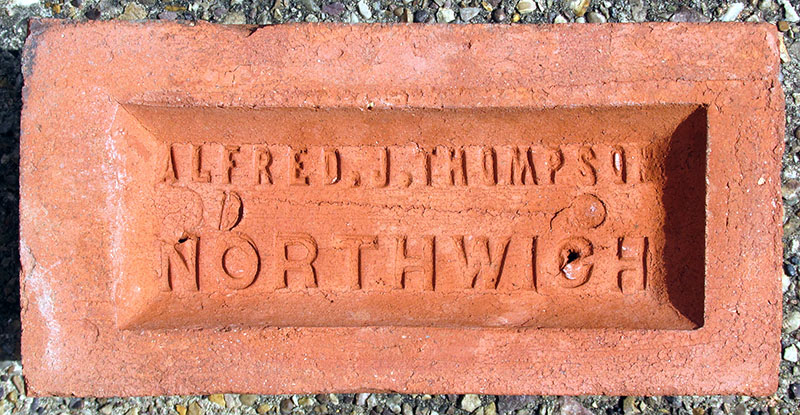 Photos by Martyn Fretwell.
Jabez Thompson came from a family of salt producers and was himself a proprietor of the Alliance Salt Works at Marston, near Northwich in 1871. By that time he also described himself as a brick manager having opened a brickworks on Manchester Road, Northwich. The business flourished and the production of high quality terracotta was developed. Jabez Thompson died in 1911 and I believe that his nephew Alfred Jabez Thompson then ran the business which seems to have closed after 1914 when it last appeared in the trade directories.
---
J. Thompson, Jarrow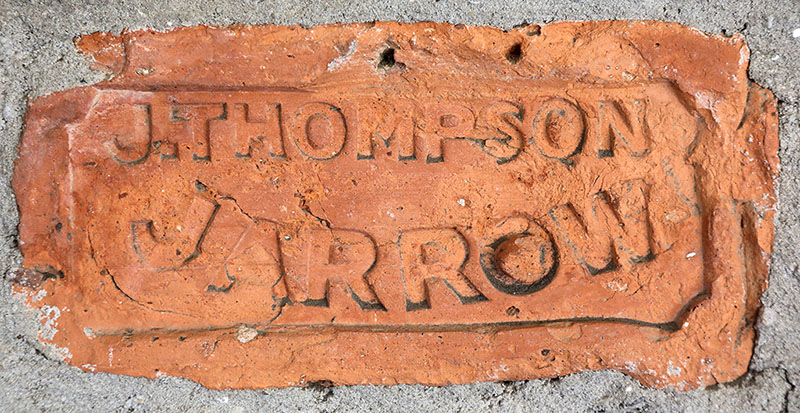 Photo by David Kitching.
---
J Thompson, Peterboro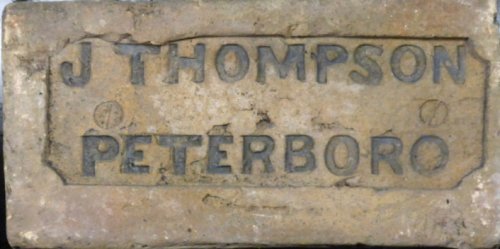 John Thompson was a Peterborough builder & contractor who opened three brickworks in the 1860's at Eye, Yaxley & south of Woodston in the complex of brickworks we now know as Fletton. These yards only operated on the summer basis taking men & boys on as & when required. Kellys 1869 edition lists John Thompson with his works on London Road, Peterborough. In 1874 Thompson became a director of the Peterborough Patent Brick & Tile Co. Ltd. & he sold his three works to this company. Raising share capital was always an uphill struggle for the company & the purchase of Tucker's Patent Kilns did not yield the output the company was after. There were plans to move to all year production, but this did not happen. The Peterborough Patent Brick & Tile Co. Ltd. with works at Eye, Yaxley & Woodston are listed in Kellys 1877 edition. April 1881 saw the end of the Peterborough Patent Brick & Tile Co. when their works & plant were sold to other brickmakers. There is no connection to the later Peterborough Brick & New Peterborough Brick Company's. Info from Richard Hillier's Clay that Burns book with T.D. dates & Photo by Martyn Fretwell.
---
Thompson & Co.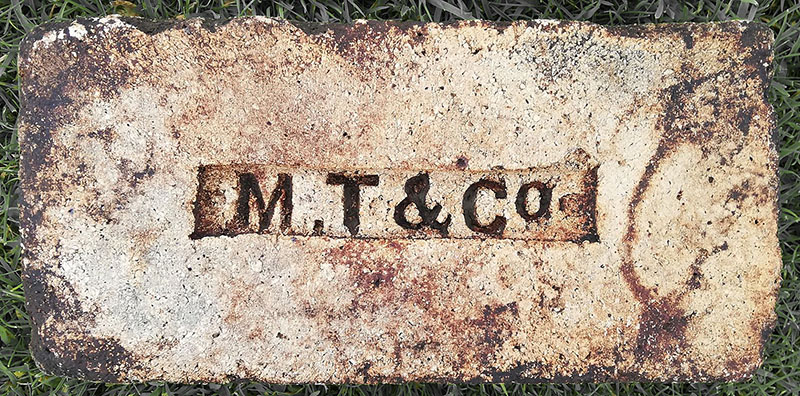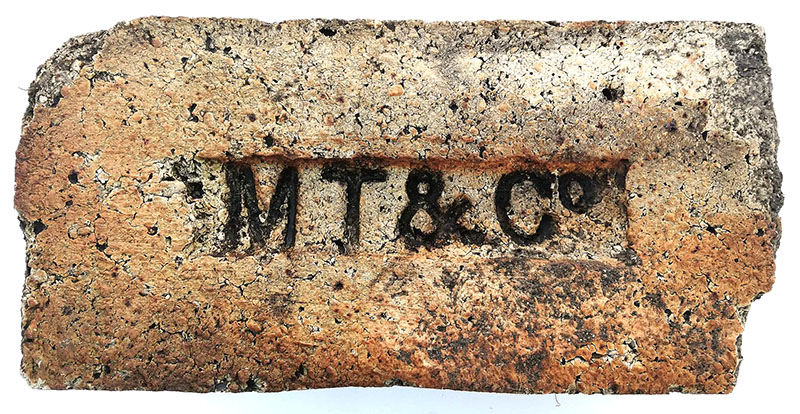 Photos by Chris Tilney.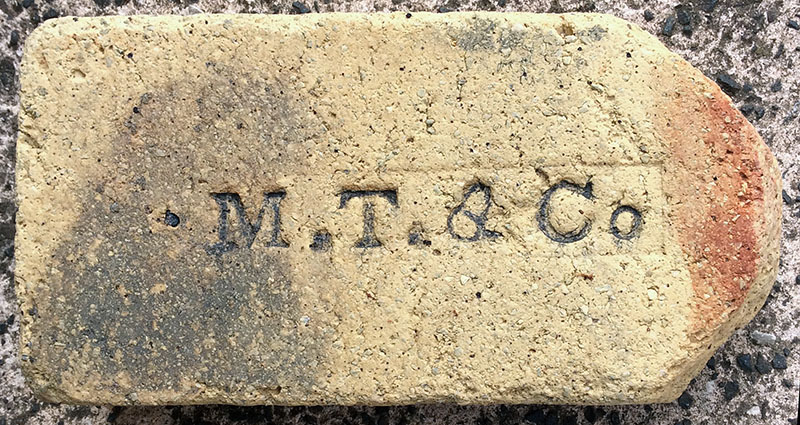 Found on the Tweed estuary by Andrew Stuart.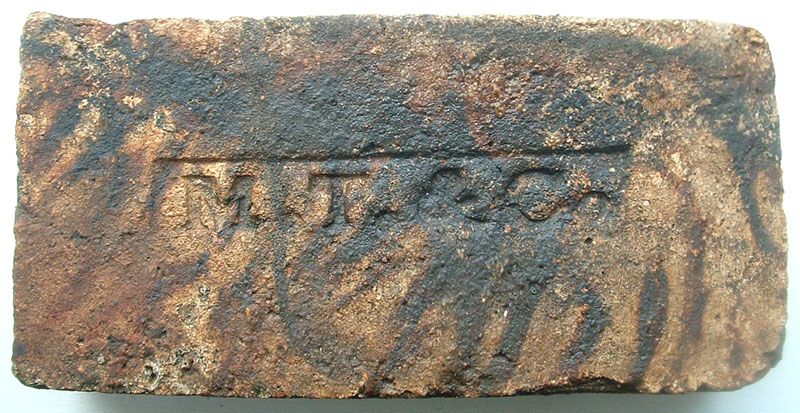 M. Thompson & Co., Delaval Colliery, Scotswood, Newcastle upon Tyne. A Tyneside firebrick which would appear to have been exported extensively, however its origin is often misappropriated, the initials 'M.T.&.Co.' being rather vague. Originally produced at Ouesburn, a tributary of the Tyne east of Newcastle', the company is later listed at Delaval Colliery in Scotswood in the 1870's. This example, recovered from the Tyne in the vicinity of those former works, bears the 'tiger-stripes', indicating the ebb and flow of the tide over the intervening 100 plus years! Photo and info by Arthur Brickman.
---
Thompson Brothers, Woodville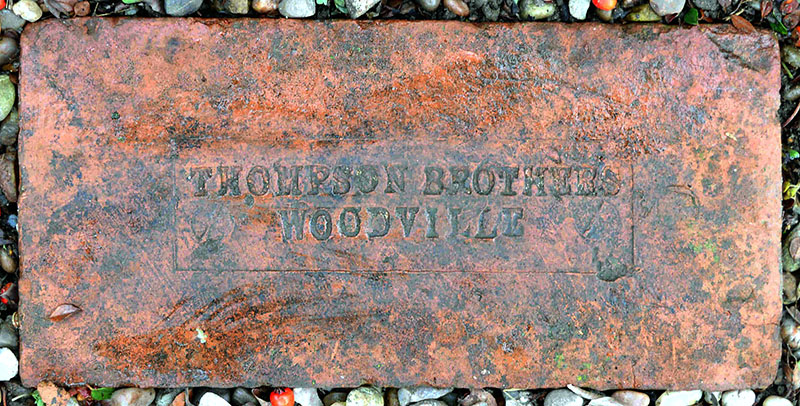 White's Derbyshire Directory 1857 - Thompson Brothers, (and manufacturers of ironstone earthenware, Rockingham ware, brownstone ware, fire-bricks and red quarries, and dealers in fireclay. Photo and info by Frank Lawson.
---
Thompson & Taylor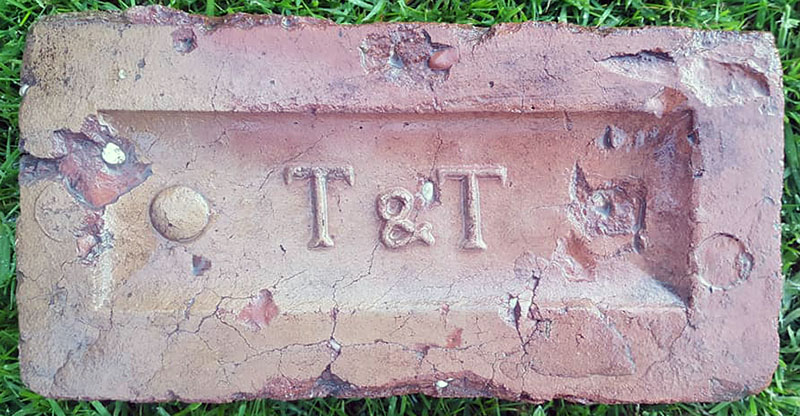 Worrall's Directory of Oldham for 1884 has Thompson & Taylor, Ridge Hill Lane, Stalybridge, where there seems to have been a brickworks on the site of the former Ridge Hill Colliery. They are also listed as Railway Contractors. Photo by Jason Stott.
---
Thoresby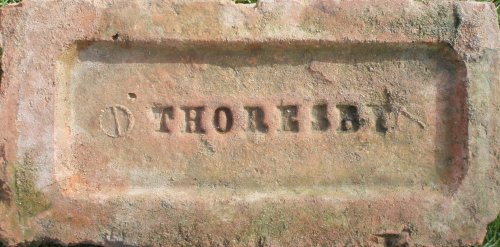 Photo by courtesy of the Frank Lawson collection.
---
Thornclays see Thornton Fireclays
---
Thorncliffe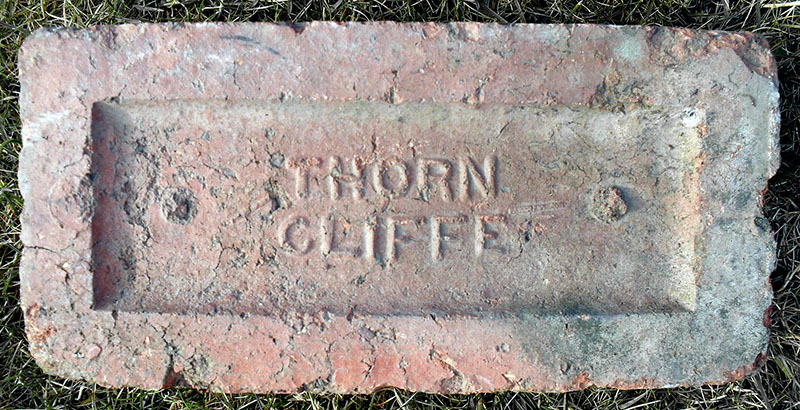 Photo by courtesy of the Frank Lawson collection.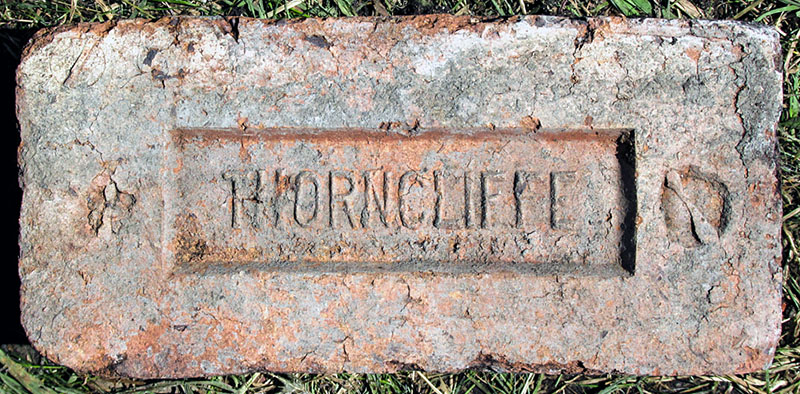 Associated with Thorncliffe Iron Works & Colliery which were part of the vast Newton Chambers & Co Ltd., industrial empire situated in Chapeltown, Sheffield. Newton Chambers produced a vast range of coal, iron and chemical based products ranging from Churchill Tanks to Izal disinfectant. Photo by Martyn Fretwell & Info by Frank Lawson. See also Newton Chambers.
---
Thorne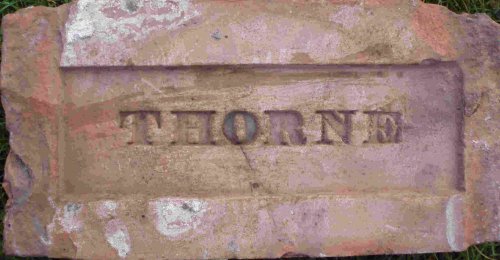 Found in Thorne - a suburb of Doncaster, by Frank Lawson.
---
Thorne Brickworks Ltd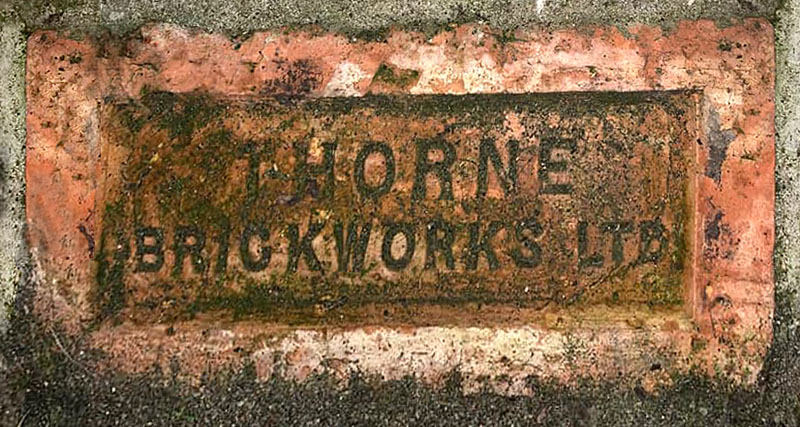 Photo by Phil Sokell.
---
C Thornsby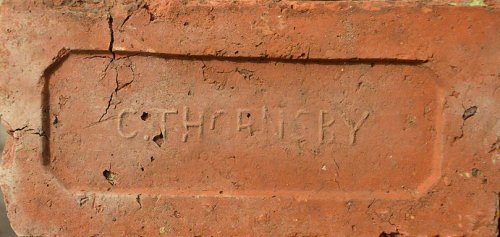 Christopher Thornsby, Carlisle Street East, Sheffield. White's Directory of Sheffield & Rotherham 1879. Photo and info by courtesy of the Frank Lawson collection.

---
Thornton, Shipley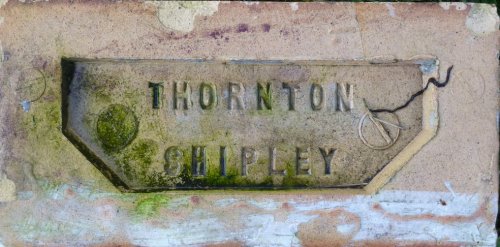 Found by Tony Woods in Shipley, West Yorkshire. Derek Barker has added:

It is clearly a glazed fireclay brick and looks reasonably modern, say late nineteenth century. It also looks immaculate; I wonder where it has been? My first thought was that it could be a product of Thornton Fireclay. Their works in Thornton kept going into the 1960s, although latterly they specialised in salt glazed stoneware sewer pipes. However the mark on their house bricks was [THORNCLAY] and I've never heard that they had a presence in Shipley. An alternative suggestion is that 'Thornton' represents Israel Thornton of Wrose Brow brick-works.
In the 1870s the proprietors of Wrose Brow were Messrs. Kitson & Woodhead with Mr Israel Thornton (Cudworth 1876: 406). Simeon Kitson was a local businessman and Jeremiah W. Woodhead was the son of William Woodhead of Manor Potteries, Eccleshill. Israel Thornton (b.1826) was a contractor of Undercliffe and then East Parade who was originally in partnership with his brothers. He was the contractor for All Saints, Horton. He may well have constructed the Wrose Brow brick-works and seems also to be the land-owner. Wrose Brow was originally run by Kitson & Woodhead but they moved on to Wrose Hill. By the 1881 & 1883 Trade Directories we find Israel Thornton, Wrose Brow, Windhill. Israel Thornton was also a town councillor and it was suggested in the later 1870s that he influenced the awarding of contracts.
The West Yorkshire Archives have a plan dated 1873 (BMT/WN/W139) that purports to be the plan and elevation of Wrose Brow works. The plan is of a symmetrical structure with a central chimney and boiler house and two end projections consisting of machine houses and 5 double bays of 'patent ovens'. This design does not produce the structure that appears on the OS maps of the period, but does confirm that I Thornton owned a substantial property in the area. I can't trace him in trade directories after 1883; he died in 1890. [SUTCLIFFE] becomes the Wrose Brow mark (?1888-?1920) and then [SHIPLEY][BRICK]. There were brick-makers in Clayton and Bowling called Thornton, but 'Shipley' is a fatal objection to those.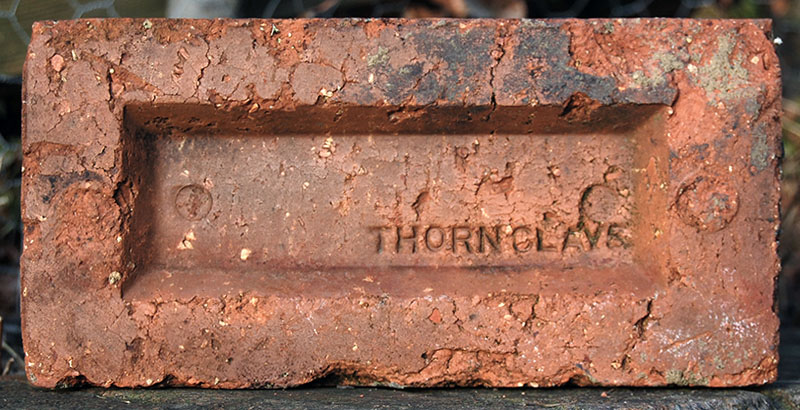 Thornton Fireclays Ltd., Thornton, Bradford. Research by Derek Barker shows that the works does not appear on the 1921 OS Map. So it is possible that the Company was founded in the mid - 1920's. Salt glazed ceramic drainpipes and their fittings were also made and, despite some retrenchment in the mid - 1930's, firebricks continued to be made up to the mid - 1950's. After this time, concentration was focussed on drainage goods. This brick was found within the internal walls of a piggery at Denholme near Bradford. Image PRBCO.
---
James Thorougood, Lathom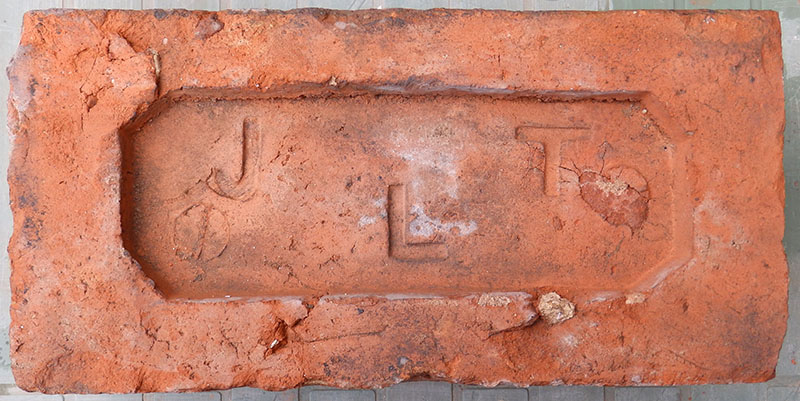 Found at Cawarden Reclamation by Nigel Furniss.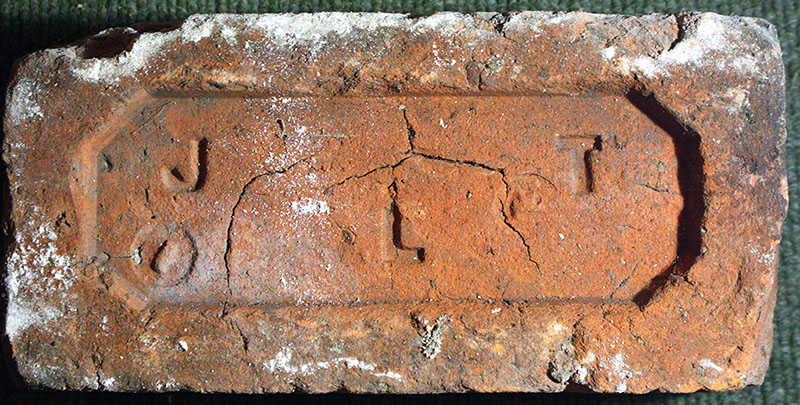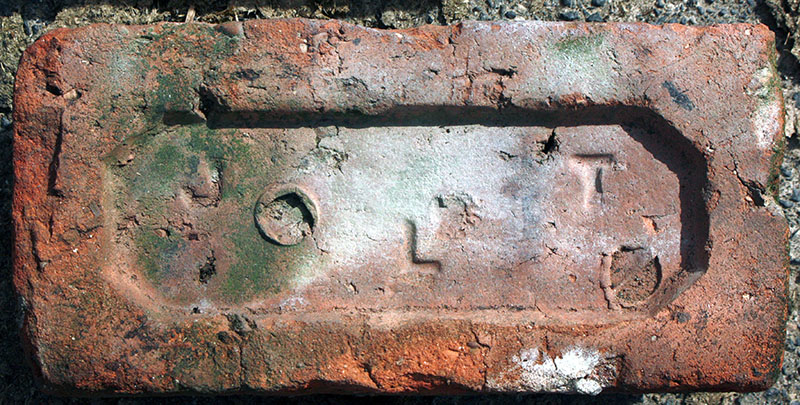 Found in Lathom, Lancashire. Photos by David Kitching.
I think that these were made by James Thorougood of Lathom, Lancashire. James senior was a Liverpool brewer who lived at Burscough Bridge and his son James Hewitt Thorougood is recorded as a brick manufacturer in the 1901 and 1911 census. The Burscough Junction brickworks is known as Thorougood's to the locals. The earlier works was on the north east side of Platts Lane before James junior was involved and I suspect that his father had an interest in the business in the 19th century. All this is just over the Lathom boundary in Burscough but James junior is listed as born in Lathom so the family presumably lived there at some point.
---
Thurmaston, Leicester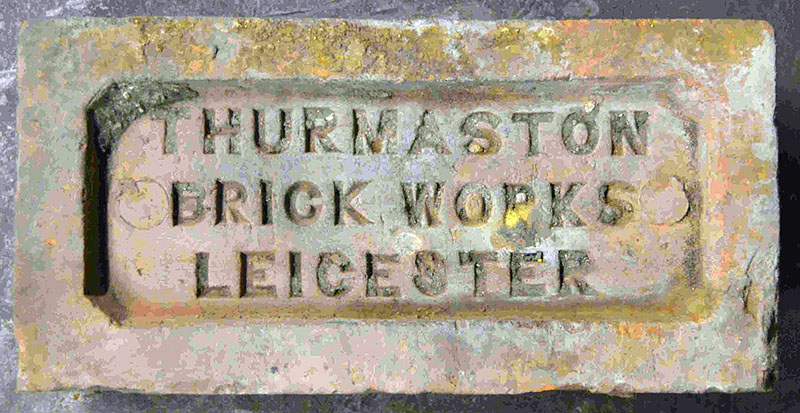 Thurmaston Brick and Tile first appear in the trade directories in 1875 as Thurmaston Terra Metallic Brick and Tile Company run by Mr. H.T. Porter. The offices were in Halford Street. By 1891 they are listed as Thurmaston Brick and Tile Works with offices in Greyfriars Leicester and works at Thurmaston. The proprietors were A. C. Palmer and Co. Sometime just before the First World War they became part of En-tout-cas Ltd. Of Syston. Info by Dennis Gamble, photo by Frank Lawson.
---
Thurstonland
Thurstonland Brick & Stone Co Ltd., Thurstonland, Huddersfield, West Yorks.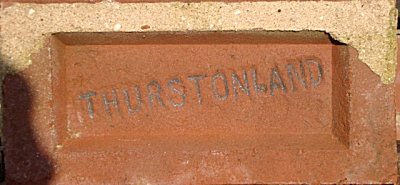 Found in Worksop by Simon Patterson. Thurstonland is a village near Holmfirth, West Yorkshire.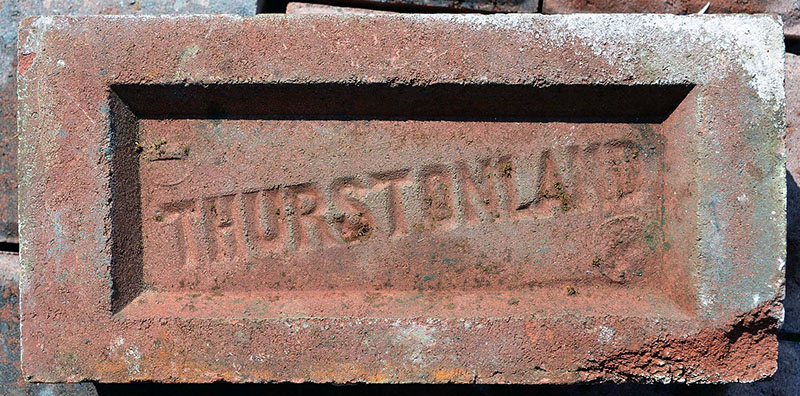 Photo by Frank Lawson.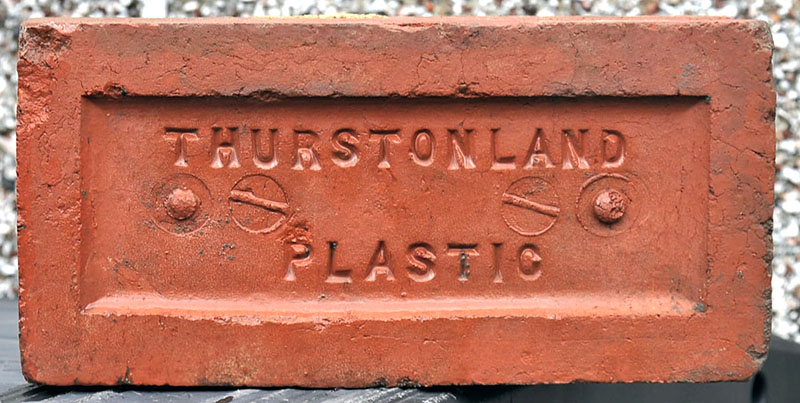 Photos by Chris Shaw.
---
Tibbington Co, Tipton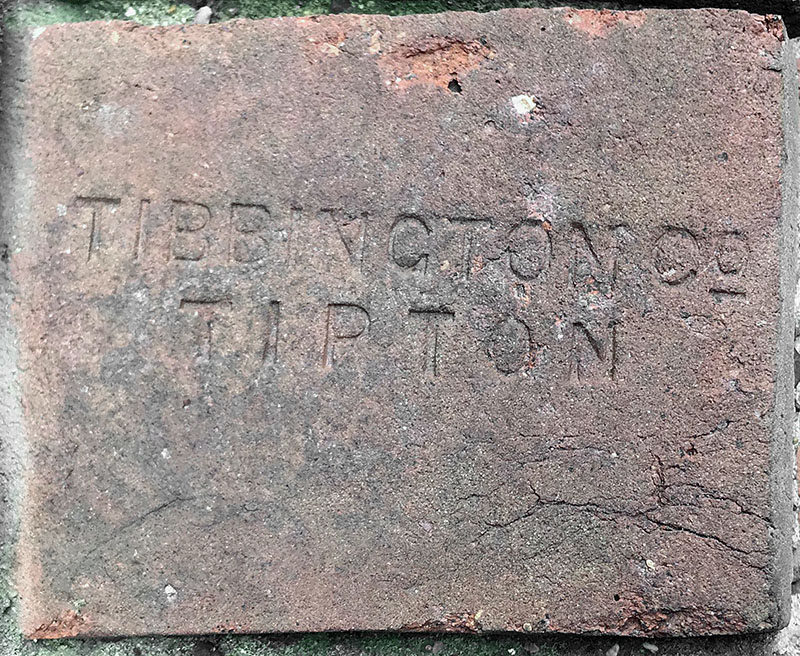 Tibbington Collieries and Brickworks Limited, Prince's End, Tipton. The business is listed in Kelly's directory between 1896 and 1904. The 1885 map shows a large brickworks with at least a 100' diameter round continuous kiln that has a standard gauge railway line all around it. This was connected to the LNWR Stour Valley Line, Princes End Branch. A tramway connects the Colliery site no. 8 with the brickworks. The 1901 map shows 6 rectangular kilns, 2 small round kilns, and the round continuous large kiln. There is an
article on a website that states the Tibbington Collieries & Brickworks sale of in 1912 but the works is shown on the 1913 map as disused with the round kiln demolished. Info and photographed at the site of Wolverton Carriage and Wagon Works by Nigel Furniss.
---
Tibshelf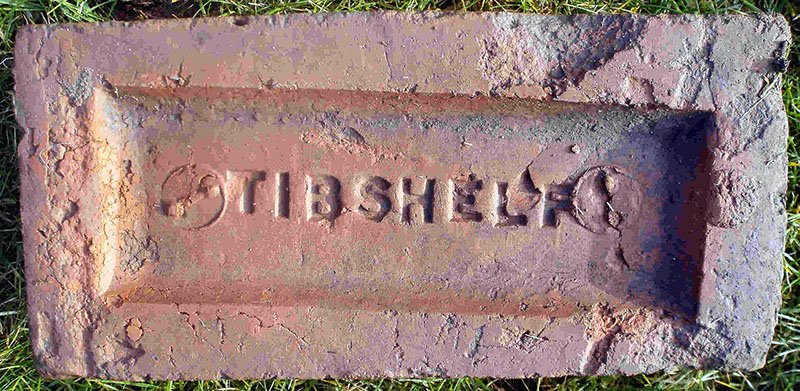 Photo by Frank Lawson.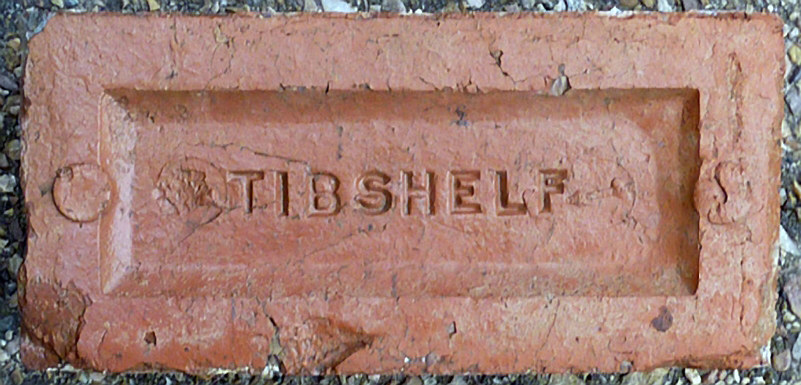 Two brickworks & coke ovens were opened at the Tibshelf Collieries by Charles Seeley & Company around 1900. See also Sheepbridge Coal & Iron Co. Photo and info by Martyn Fretwell.
---
Tickle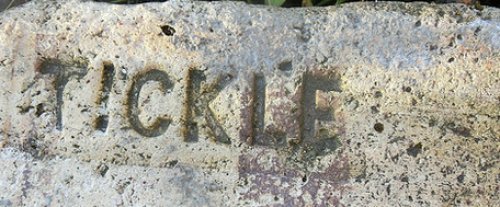 The Tickle family were involved in many aspects of industry in and around Maryport. In 1871 George Mason Tickle is listed in the census as living at Crosscanonby as a fireclay manufacturer employing 35 men, 3 women and 7 boys. His father William Tickle was a colliery agent. In 1881 he is now a commission agent and share broker whilst his 76 year old father is shown as a retired fire brick manufacturer. In 1877 a newspaper report states that George was leasing a the land for a brickworks at Cumwhinton from the Midland Railway. This does not seem to be an area with fireclay and only common bricks would have been made there. This leaves the most likely location for the Tickle fire brick works as Birkby Brickworks just south of Crosscanonby. Found in Maryport, Cumbria by Mark Cranston.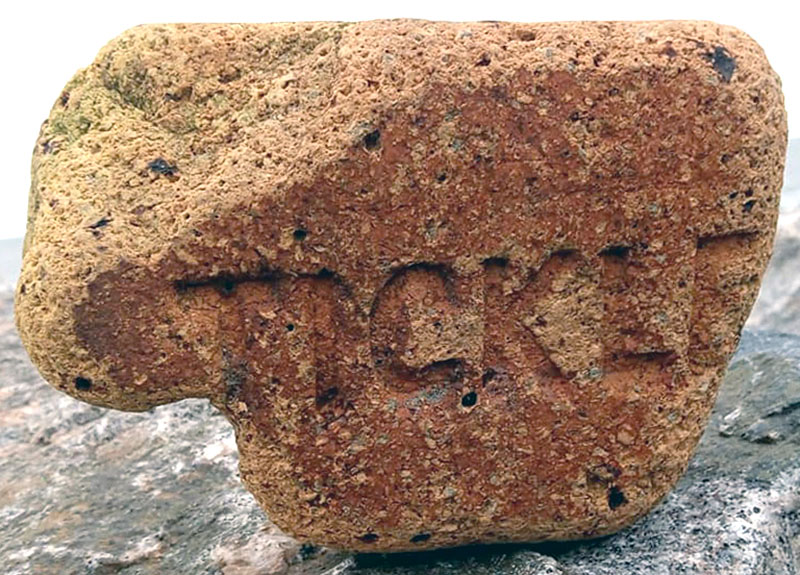 Photo by Chris Graham.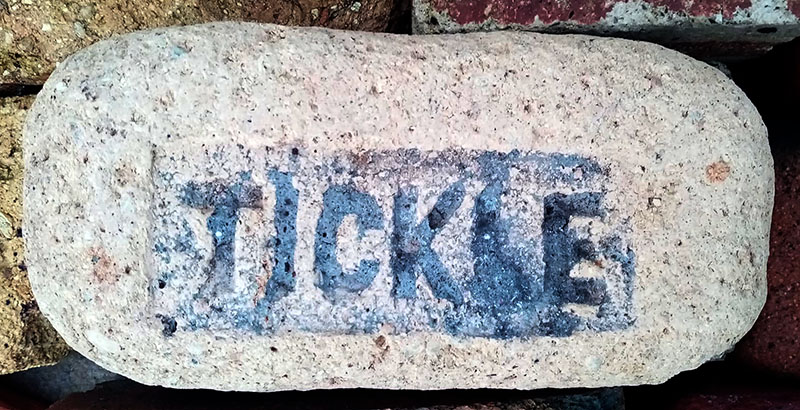 Photo by Catrin Hughes.
---
Ticknall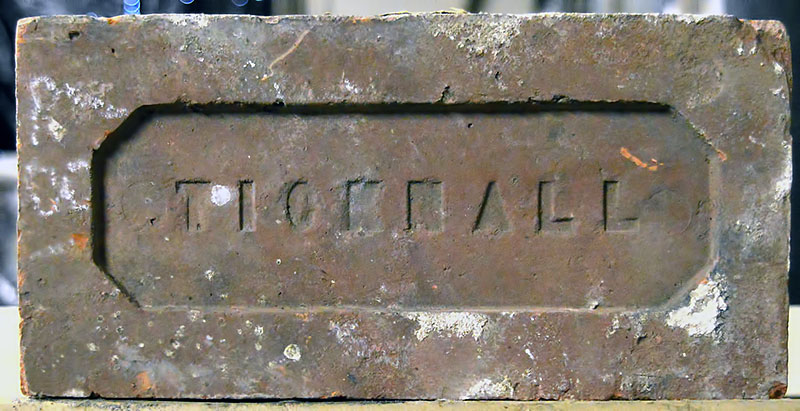 This brickworks was owned by Sir John Harpur-Crewe of Calke Abbey and was situated behind Limekiln House in Ticknall. A Scotch kiln still stands in fairly good condition with a collapsed drying shed and other remains, which were in use in 1881. An arched bridge over the road next to Limekiln House was used by a horse drawn carriage to transport bricks to the Ashby Canal until 1915. Photo & Info by Martyn Fretwell.

---
Tidman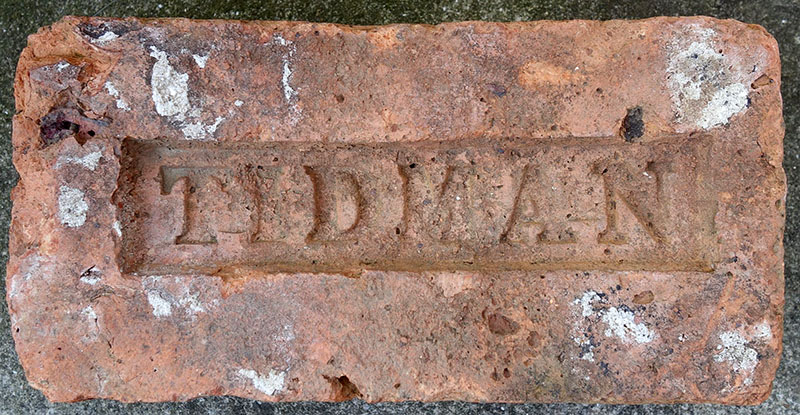 From The Weekly Exchange (Price One Penny)
Thursday 25th January 1877
The Borough Steam Brick and Tile Works, Dwelling-house, Lands and Premises, near Linthorpe, Middlesbrough.
TO CAPITALISTS, BUILDERS, CONTRACTORS, and Others.
To be SOLD BY AUCTION, at the house of Mr Medforth, The Talbot Hotel, Middlesbro', on TUESDAY, the 30th day of January, 1877, at Two for Three o'clock in the Afternoon, and subject to conditions to be then read,
Mr JOSHUA BROWN, Auctioneer.
ALL that Freehold DWELLING-HOUSE, with the Outbuildings to the same belonging; and the Piece or Parcel of LAND, containing by estimation 3a. 3r. 9p., more or less, together with the appurtenances to the same belonging, situate in the Township of Linthorpe, in the County of York, now or late in the occupation of Mr Isaac Cornelius Tidman.
There are various Buildings on the premises for Making and Drying Bricks, and a Seam or Seams of valuable Clay, containing 20ft.
Persons who intend purchasing are recommended to view the premises, and further information may be obtained of Mr JOSHUA BROWN, Auctioneer, Middlesbrough; of Mr WILCOX, Solicitor, Stokesley; and at the Offices of Messrs ALLISON, SON, & WILLAN, Solicitors, Darlington.
Darlington, 5th January, 1877
Photo by courtesy of the Ian Stubbs collection.
---
Tile & Brick Co. Coalville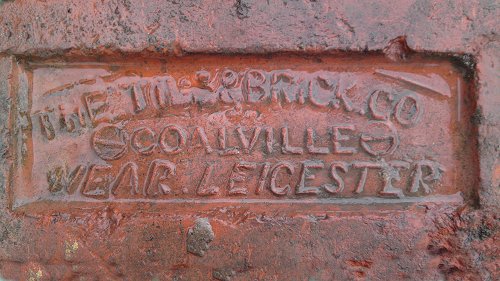 Spotted at Caly Mills Pumping Station near Burton on Trent by Maurice Stokes.
---
R Tilsley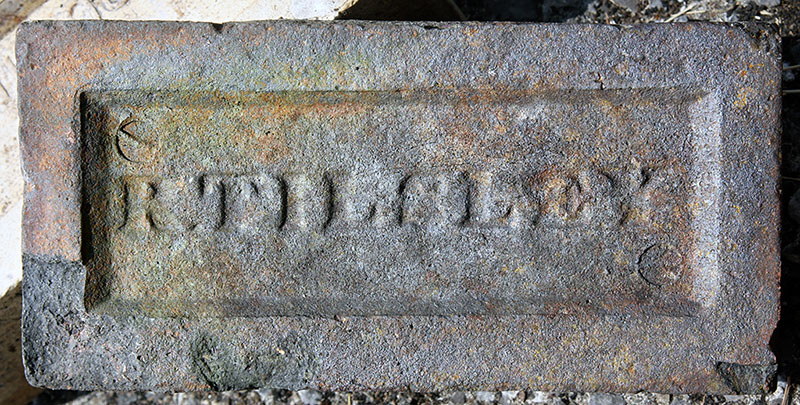 This is a product of the brickworks of Richard Tilsley, Lodge Tileries, Trent Vale. He resided at, High Grove, Trent Vale. The works appears in trade directories between 1865 and 1870 but is absent in the 1873-74 edition. Photo and info by David Kitching.
---
Joseph Timmis & Sons Ltd.

Photo by David Kitching.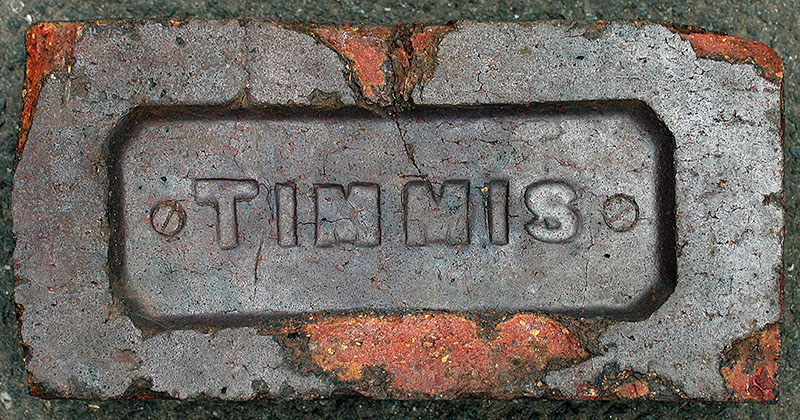 Spotted on the beach at Crosby, Merseyside
The Bradwell Wood Tileries were established in 1849 and operated under the Timmis name until 1927 when William Herbert Timmis sold the business to Bentley Tileries Ltd.
---
Timmis, Stourbridge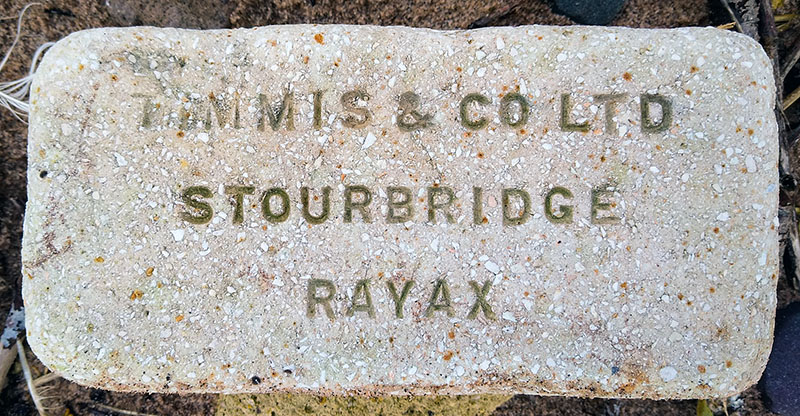 Timmis & Co Ltd started as Timmis Brothers at their River Stour Works in Lye, Stourbridge, in c1871. The business was acquired by Price-Pearson Refractories in 1958. Photo by Graham Brooks.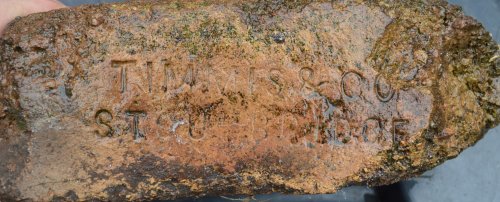 Found in Barrow in Furness by Richard Cornish. Some works information.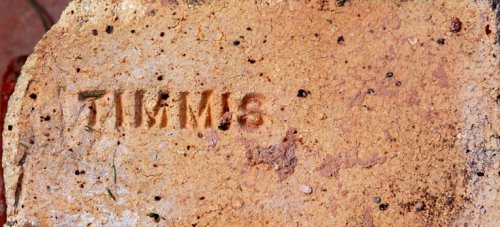 Found at the ruins of the old American-owned "Swift Beef Company" plant in Puerto San Jul'an in southern Argentine Patagonia by Robert Runyard.

Another one that crossed the seas. This was found and photographed at a metal mine in Mina De Sao Domingos, Portugal by Paul Jones.
---
C S & H W Tinker, Hazlehead, Sheffield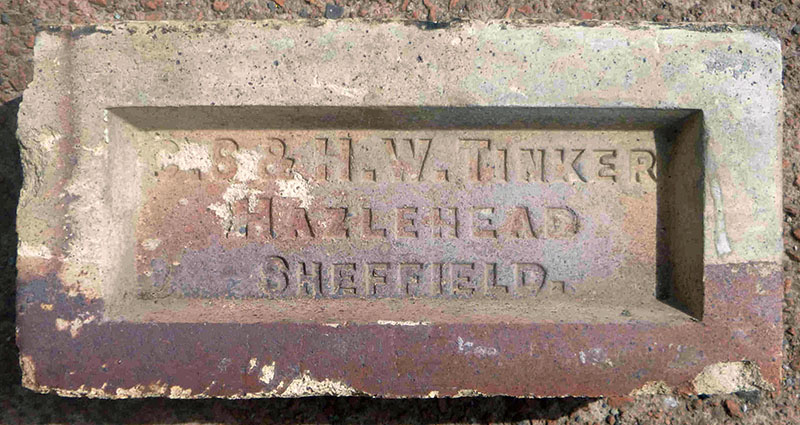 C S & H W Tinker, Hazlehead, Sheffield. Photo by Steve Horn who writes: Tinkers owned several coal mines in the Holmfirth / Penistone area and were involved with coke ovens and brick works at Hepworth Iron, Hazlehead.
See also the Hepworth Iron entry.
---
Tinsley Park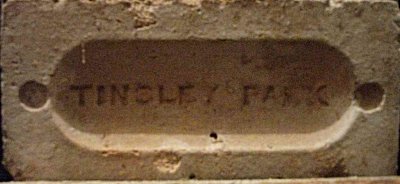 Tinsley Park Colliery Co., Tinsley Park, Sheffield. The Tinsley Park Colliery Co owned several collieries in the Tinsley Park area of east Sheffield and this was made at the associated brickworks. Info by Frank Lawson. For more information visit: - www.gracesguide.co.uk/Tinsley_Park_Colliery_Co
Photo courtesy of Graham Hague (Sheffield) collection, made in Sheffield.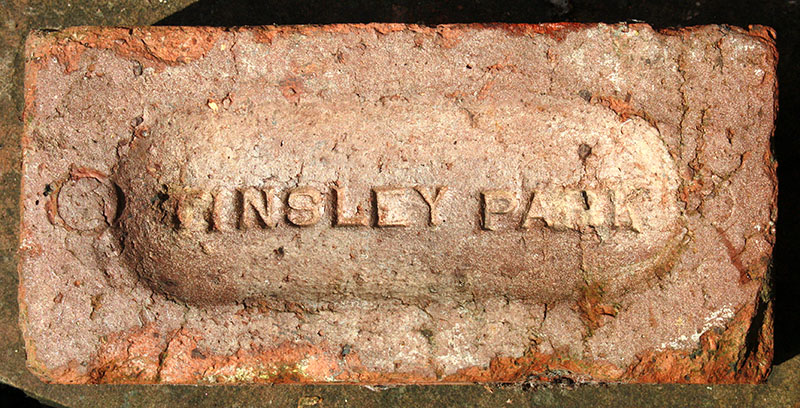 Photo by David Kitching.
---
Joseph Tipper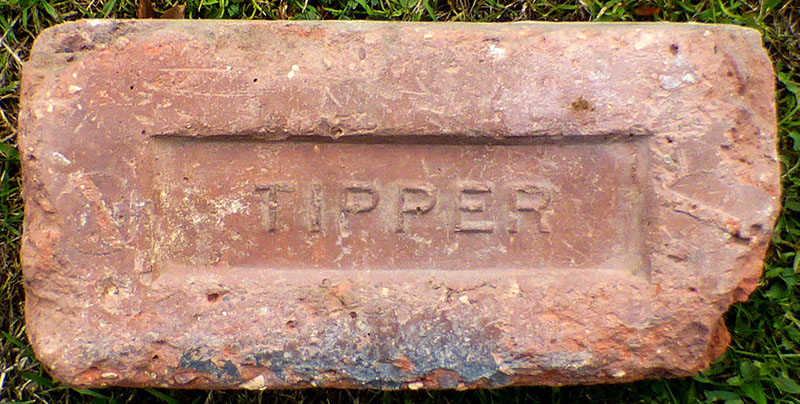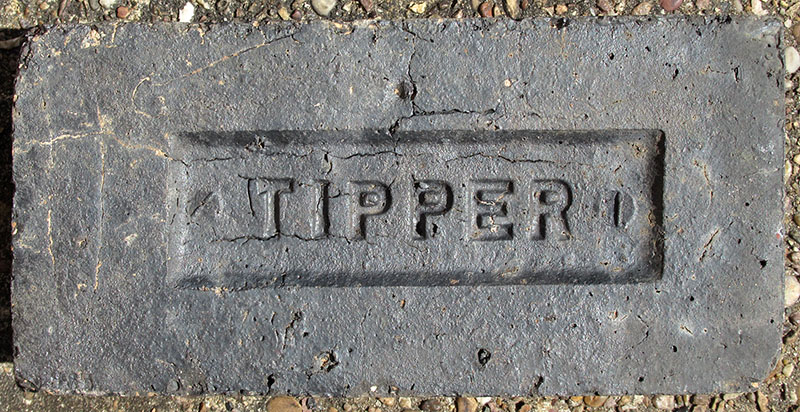 Joseph Tipper, Spring Bank, Willenhall, Staffs. is listed in Kellys 1900 to
1912 editions. Photos & Info by Martyn Fretwell.
---
Titford Brick Co, Black Heath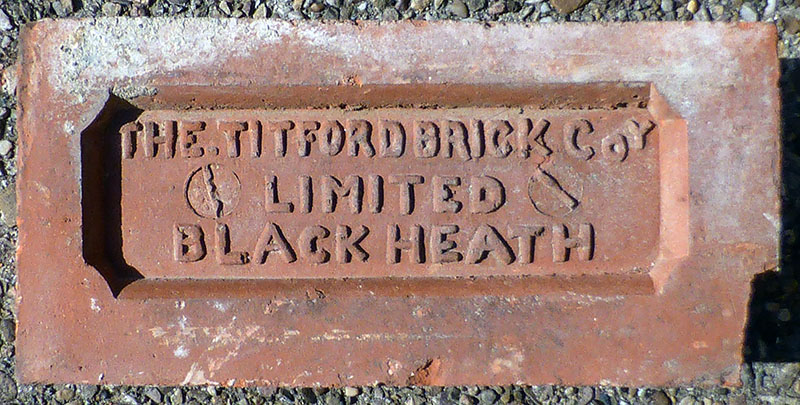 It appears the Titford Brick Co. situated on Penncricket Road, Blackheath, Staffs. was established by Samuel Barnett (b.1854) who also owned three more brickworks in the Tipton area. After his death in May 1918 his eldest son William took over the running of this works & the two remaining works in Tipton. Samuel had three more sons who worked for him at his brickworks. There are no trade directory entries for the Titford Brick Co. William Barnett died in 1929 & both his sons were Master tailors, however at the time their mothers death in 1952, Samuel is listed as a Company Director & William (junior) as a Clothier. Then on the 14th of August 1959 the Titford Brick Co. was placed into voluntary liquidation by Chairman A.E. Barnett. The completion of the liquidation of the Titford Brick Co. took place on the 10th of May 1960. I have not been able to ascertain whose son, A.E. Barnett was. Photo & Info by Martyn Fretwell.

Photo by Rob Sutton.
---
Titley, Louth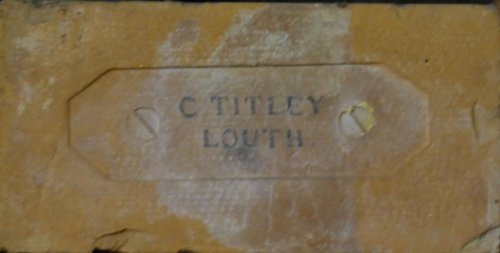 Kellys 1876 & 85 editions records Charles Titley at 47, Eastgate, Louth, Lincs. Info & Photo by Martyn Fretwell.
---