Poynton Collieries: the Early Years Part 2
1832-57 Development under the Vernons
At the end of the leases the operation of the collieries was taken over in its entirety by Lord Vernon through his agent William H. Fisher from the beginning of 1832. No figures or documents have survived for the period of Fisher's agency. In June 1834 the agency passed to Thomas Ashworth, a Quaker from the Ashworth family that had considerable cotton interests in Lancashire. James Bann was colliery manager and John Evans reviewed the colliery and its stock annually from 1834 and contributed a section to the annual reports. These were the men who formed the policies and steered the collieries through a prosperous period. Output rose after the opening of the canal from 86,514 tons in 1831 to 123,873 tons in 1834-35 and 180,184 tons in 1836-37 when profits were £30,049. The canal provided cheap transport to the markets in Macclesfield, Marple and Bollington but the main market of Stockport still had to be supplied by cart, a problem which was somewhat eased by the introduction of tramways to a new coal yard at the end of what is now Towers Road.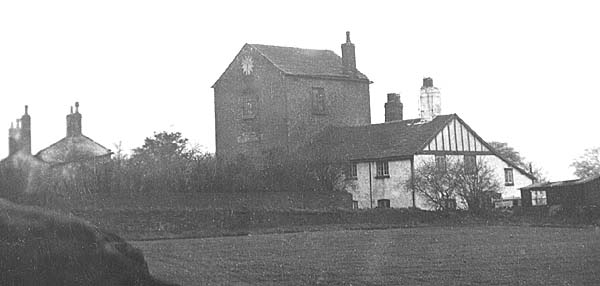 Pumping engine house for Norbury Colliery (c1840). 10.4.1954

Photo © John Ryan

Several new pits were opened by 1840 including Vernon, Lord and Lady pits, whilst Shadyoak, Accommodation and several of the Clough pits had been closed. Workings were moving into the area around Prince Wood to work the deeper coal there for the first time. In 1847 there were 18 pits sinking or winding coal with Waterloo pit used purely for pumping.24
They were as follows:
New sinkings: 2 Towers Pits, Park Round, Park Oval, Lower Vernon, Nelson Higher and Lower.


| | | | |
| --- | --- | --- | --- |
| Nos employed underground | | | |
| | Men | Boys | Horses |
| Lady | 42 | 18 | |
| Lord | 19 | 8 | |
| Vernon | 41 | 20 | |
| Quarry | 85 | 43 | 7 |
| Lower Canal | 84 | 10 | |
| Higher Canal | 41 | 5 | |
| Dingle | 25 | 6 | |
| Albert | 81 | 28 | 2 |
| German | 7 | 1 | |
| Anson | 36 | 6 | 1 |
| ________________________ | _______________ | _______________ | ______________ |
| Total | 483 | 150 | 10 |
| | | | |
One reason for the large number of new sinkings was to keep up with the rising demand caused by the opening of the main line rail link in 1845. Production had risen from 150,792 tons in 1844 to 206,700 tons in 1845 and 237,000 tons in 1846. The colliery workshops at Worth Clough were inconveniently situated when the railway was introduced and in 1845 it cost £400 to move material from there to the various pits. It was first proposed to move them to the new coal station by London Road but in 1846 they were built at Towers Yard half way up the Prince's Incline.
It is interesting to see which seams were being worked in 1848. In the east towards the crop of the coal where the shallower seams were worked out or absent the lower seams such as the Gees and Accommodation were being exploited, whilst the western pits were working the top seams at depth. In this year the report gives details pit by pit.25
Dingle Pit
working the Accommodation mine, depth 74 yards. Reserves for 3 years.

Nelson Pit
sinking to the Accommodation mine, expected depth 140 yards. Expected to be ready for working in 2 years.

Higher Canal Pit
Accommodation mine at 110 yards.

Lower Canal Pit Gees mine at 65 yards.
Accommodation mine at 128 yards.
Water was also pumped here 6 hrs a day.
The Reform seam was not yet being worked due to its thinness and difficulty to work.

Germans Pit
Gees mine at 101 yards.

Albert Pit
4 foot mine at 111 yards 3 yrs reserves.
5 foot mine at 155 yards 4 yrs reserves.
This pit was drained by the engine at Lord Pit.

| | |
| --- | --- |
| | |
| | |
| | Winding engine house for the unsuccessful Tower Pit of 1846, 1983 (SJ929841) |
Higher Vernon Pit
10 feet mine at 46 yards.
Only the top block of this seam was worked the bottom block being of inferior quality.

Lower Vernon Pit
10 foot mine - still sinking, had reached 50.5 yds.

Tower Pit
This pit was sunk upon the Red Rock fault and had been abandoned. "This rock is dangerous and objectionable". The sinking of this pit indicates how limited knowledge of the geology of the area was at this time.

Park Pits
These two pits had been sunk 20 yds. The intention was to work the 10 foot mine, 4 foot and 5 foot mines. It was estimated that the 10 foot mine would be reached at 55 yds and the 5 foot at 170 yds.

Lower Anson Pit
Gees mine at 132 yds very little coal was left ready to work. Higher Anson or Hig Meadow was closed by this time.

Quarry Pit
Gees mine at 151 yds. This pit was drained by Waterloo Engine but it was hoped to transfer the job to Lady Pit and dispense with Waterloo Pit. Ventilated by Anson Pit.

Lady Pit
5 foot mine at 108 yds. The 4ft and 5ft mines were nearly worked out and it was soon to be sunk to the Gees mine at 164 yds and also to drive through the Worth Hall Fault to get the 5 foot coal to the North.

Lord Pit
4 foot mine at 66 yds.
5 foot mine at 116 yds.
Not everything ran smoothly at the collieries. Ashworth's report for 1849 stated that "On the 26th January last we had an awful fire in three of the pits, Lord Pit, Lady Pit and Albert Pit, which I am thankful to say was providentially extinguished without the loss of life". A plaque in the former Methodist Chapel at Hockley records this event; the chapel is now run as the Poynton Christian Fellowship.
Trade was also suffering, the price of coal had been falling since 1847 and in 1851 Ashworth produced a report in June which tried to explain the situation and justify his actions. "This first half-year of the present year has proved to be a period of extreme depression in the coal trade. During the past 30 years of my experience in the trade, I have never before seen such unscrupulous competition and such consequent depression in the prices, arising mainly from a determination on the part of the proprietors of remote collieries to sell."
Poynton Collieries however, he believed to be: "---in better condition than any other in this district". Reductions in price were only reluctantly conceded to individual customers who may have been lost to competitors supplying at lower prices, such abatements varying from 3d to l0d per ton, the average on 94,000 tons sold being about 6.5d per ton. All superfluous workmen were discharged and working expenses were cut as far as practicable.
We are fortunate in having a full description of the collieries around the beginning of 1856 which is contained in a report completed in March of that year by George Clementson Greenwell who was manager at Lady Waldegrave's Radstock Collieries in Somerset and was later due to play an important part in the history of mining in Poynton. It is a pity that Ashworth's thoughts on someone being brought in over his head to make suggestions on future management have not been recorded. It is worthwhile considering this report in detail as not only does it describe the works but also comments on the efficiency of operations and how the situation might be improved.
The first consideration was the reserves of coal.
After allowing for loss in working, colliery use etc, the total amount of saleable coal would be 15,163,027 tons which would supply a vend of 245,000 tons for 61 years.
There were 12 pits fitted up with coal drawing machinery of which only seven were working. These were:

| | |
| --- | --- |
| | |
| | |
| Park Oval pithead c1935. Lawrance shaft behind | |
Park Oval Pit
Only winning and drawing 30 tons per day but would shortly be in a position to draw a large quantity of coal. Unfortunately the engine was only capable of drawing 60 tons per day due to having to pump water. Greenwell recommended moving the Horsepasture engine to this pit which should then yield one third of the total required output for the collieries or say 80,000 tons per year. The arrangements would then suffice for 22 years without further outlay after which the pit could be sunk to the Gees and Accommodation seams.

Park Round Pit
At present drawing 126 tons per day but capable of drawing 80,000 tons per year for 22 years and then should be deepened with the Oval Pit.

Germans Pit

Nearly exhausted, this pit would continue for about eight years at the present rate of 38 tons per day. "--but as the coal can be obtained at a future period by the Horsepasture Pit I would recommend this pit at once to be discontinued in work, the men to be placed in the Park Pits and the machinery sold".

Nelson Pit

"---at present rate of working (225 tons per day or 67, 500 tons per annum) it will last 5 years when the machinery attached to it may be sold unless applied to draw Anson pit Coals up to the canal".

Anson Pit

Now drawing 170 tons per day or 51,000 tons per year from the Accommodation mine. It should draw 80,000 tons per annum after the closure of the Nelson Pit and the coal should last for 15 years without further outlay "besides which several years coal might be obtained from the dip from the application of underground machinery and by these means in fact this pit might be employed to work all the coal between the Worth Hall, South and Red Rock Faults".

Lady Pit

Working the Gees mine via a stone drift with about 20 acres left to work and about 12 acres of the Five Foot mine reached by a drift through the Worth Hall Fault. "At its present rate of working it will be exhausted in 4 years when it should be abandoned and the machinery sold"".


Lord Pit

Working the 4 Feet seam by a drift through the Worth Hall Fault but only about 30 tons per day. This coal could be obtained from the Park Pits and it should therefore be closed immediately although pumping would have to continue.
The eventual aim was to be a vend of 240,000 tons per annum made up as follows:
| | | |
| --- | --- | --- |
| Park Round Pit | 4 & 5 Foot | 62,000 tons |
| Park Oval Pit | 4 & 5 Foot | 62,000 tons |
| Nelson Pit | Accommodation | 66,000 tons |
| Anson Pit | Accommodation | 50,000 tons |
On the exhaustion of the Nelson Pit the quantity was to be made up to 80,000 tons from each of the others.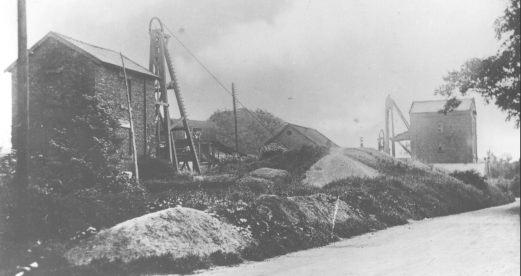 Lord and Lady Pits c1900.
Of the pits not at work the Horsepasture Pit was considered for getting a large area of the Gees Mine but this was discounted for the present and the machinery was to be re-used or sold. This pit was noted as being a possible site for a later new winning. Canal pit was reckoned to be exhausted but pumping was necessary for a day or two a week. Lower Vernon, Albert and Quarry Pits were exhausted and all the machinery except Albert Pit engine and two of the best boilers were recommended to be sold.
The average price of house coal for the last half of 1855 was 8s 7½d per ton and slack 4s 9¼d. The respective quantities being 27.15% and 72.85% of the total vend.
"These prices are ample but the comparative quantities of large and small coal unsatisfactory The Coal underground is worked well, the scale of prices paid to the workmen is calculated to produce as much large coal as possible the seams of coal are generally of fair hardness; but the system upon which the Coals are manufactured aboveground into what are termed 'House Coals' and 'Slack' is in my opinion a bad one. The men are paid a higher price for sending House Coal and a lower one for Slack which is judicious, but the whale of what they send as House Coal is emptied direct into Trucks and sent to the markets as such, containing as it undoubtedly does, a good deal of small coal, and what they send up as Slack, is similarly sent for small coal purposes, contains much that would go with the House Coal.
I am informed that unless the coal was sent to the Factories for Engine Coal in state equal to this last the Mill Owners would not have it; and at the prices now charged probably not, but if by a system of skreening as practised in the North of England, the percentage of small coal could be reduced which I have no doubt it might be, to 35 per cent of the whole, and a market obtained for the increased quantity of House Coals then produced (in a much cleaner state than now) both large and small coal might, if necessary be sold at 1s 6d per Ton cheaper than at present and as much money realized by the whole, and these prices would defy competitors."
| | |
| --- | --- |
| | |
| | |
| | |
| | |
| G.C. Greenwell, Senior 1888 | |
To commence this system Greenwell recommended screens should be erected at Park Pits with ¾" between the bars.
It was also shown and stated that it was more profitable for Lord Vernon to continue to work the pits himself and not to lease the workings and that the system of direct sales should be retained until more distant markets were entered.26
Ashworth wrote to Lord Vernon's London agent, Arnold White in April 1856 agreeing with most of Greenwell's figures and suggestions. The Germans Pit was already closed but Lord Pit was only to be closed after getting the remaining coals. The Horsepasture engine he said had to be retained for pumping, otherwise the water would flow through old workings and inundate Lady Pit. Average collier's wages were 21s a week and he doubted whether any reduction at present as suggested would be wise. Lastly screens were to be erected at Park Pits.
The collieries had been extremely successful for over twenty years under Lord Vernon's control and yielded substantial profits. Conditions for this had been advantageous with good local markets and excellent transport to them with the opening of the standard gauge railway in 1845. Ashworth was not a professional colliery manager and Greenwell's report shows just how inefficient certain aspects of the concern were. Competition from more distant collieries was increasing as further railways were built and national output increased. Rationalisation and improved efficiency were going to be of paramount importance if Poynton Collieries were to remain viable in the event of a major slump. Professional control was also important for a coal concern of such a size with so much at stake.
At the end of June 1857, Thomas Ashworth retired from his position as agent. The profit for the year from July 1856 was £16,217 on a vend of 238,462 tons. The engine from Albert Pit had been transferred to Park Oval for winding, whilst the engine from Quarry pit was now winding at Park Round Pit. Rationalisation of the number of pits and working and marketing methods were continuing and it appeared that the collieries had a bright future ahead.
References and Notes
1. For a more detailed survey of the geology of the area see Memoirs of the Geological Survey for the area around Stockport. H.M.S.O.
2. Downes MSS DDS 3/21 CRO.
3. Downes MSS DDS 3/38 CRO.
4. Downes MSS DDS 13/2 CRO.
5. Downes MSS DDS 12/12 CRO.
6. Earwaker J.P. East Cheshire: past and present, 1877. Vol.1 p.30.
7, 8. Legh of Lyme MSS Box N 8/16. John Rylands Library.
9. Vernon MSS DVE Acc 1893/11 CRO.
10. Manchester Mercury, 9.10.1764.
11. Chaloner, W.H. "Charles Roe of Macclesfield, 1715-81 an eighteenth century industrialist." Transactions of the Lancashire and Cheshire Antiquarian Society Vol.62, 1953.
12. Estate plan dated 1851 with pencil additions, copy in possession of D.A.Kitching.
13. DLT/D 183/1 DLT/D 183/2 CRO.
14, 15, 16, 17, 18. Legh of Lyme MSS Box T D/1, John Rylands Library.
19. Colliery Report 1848. DVE Acc 1893/1 CRO.
20,21. Stockport Reference Library AX 1136, AX 1137.
22. Stockport Advertiser, 7.5.1824.
23. Stockport Advertiser, 27.12.1822.
24, 25. Colliery Report 1847, 1848, DVE Acc 1893/1 CRO.
26. Poynton Collieries Report 10 March 1856, DVE Acc 1893/1 CRO.
For further information see:
Poynton A Coalmining Village; social history, transport and industry 1700 - 1939, by W.H.Shercliff, D.A.Kitching and J.M.Ryan, published by W.H.Shercliff, 1983. ISBN 0 9508761 0 0
Poynton Collieries: General history of mining to 1831
Poynton Collieries: 1857-90 Years of change and progress
Poynton Collieries Index
---
© David Kitching 2014

Last updated 7.6.14