"Old Bricks - history at your feet"
England page 7, Letter: E
---
E C C S: see Carloggas
---
G Eadon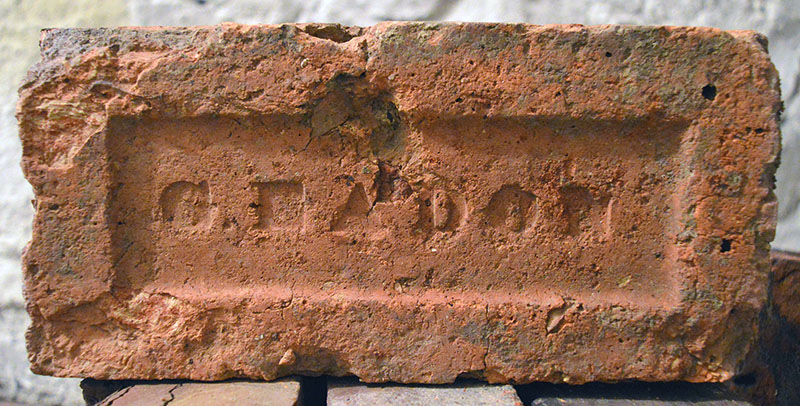 Photo by Frank Lawson, found in Sheffield.
---
Eagle Gill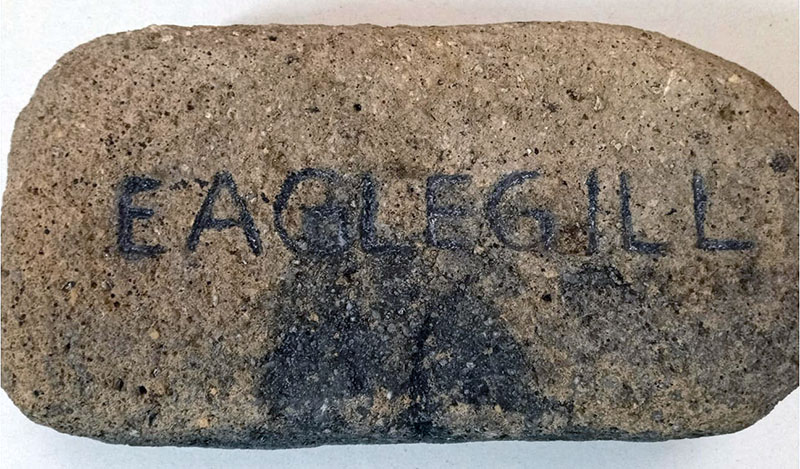 Photo by Chris Graham.

Eagle Gill Colliery and Brickworks, Maryport. Info & photo by Mark Cranston.
---
Earl
Found at Spittal on the south side of the River Tweed by Ian Suddaby. W B Earl was noted as being involved in brickmaking at Consett in 1844. He may well have become involved in the manufacture of firebricks at some time later although no brickworks has yet been found in his name.
---
---
Earl of Ancaster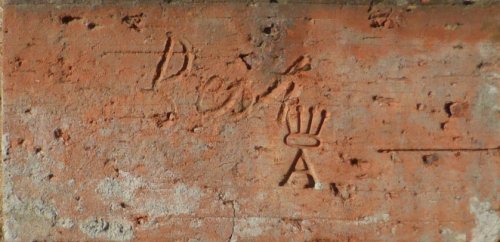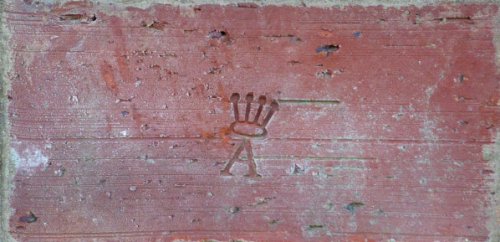 North Luffenham Brick & Tile Works, Rutland was owned by Henry Heathcote-Drummond-Willoughby, 1st Earl of Ancaster (from 1892). He also had the title of 2nd Baron Aveland from 1867, so the A could stand for either Ancaster or Aveland. This works produced the bricks needed for his vast Grimsthorpe Castle estate & I have been told that one of these A crown stamped bricks was built into every one of his estate buildings, not showing of course. The farmer who told me this story found his while renovating the old barn in which he now lives & he has set the brick showing near his front door. The other brick with the writing on & may be the makers mark was found by the builders who are renovating the farmer's former farm house & it is going to be reset into the house. With this works being an Estate brickworks it is not listed in trade directories, but I have found that Samuel Walker is recorded as manager at the works & living in North Luffenham in Kelly's 1881 edition. Near to the works there is a row of three cottages & after talking to one of the owners they told me that the houses were built around 1900 by the Earl for his works manager & under managers. Photos & Info by Martyn Fretwell.
---
Earl of Derby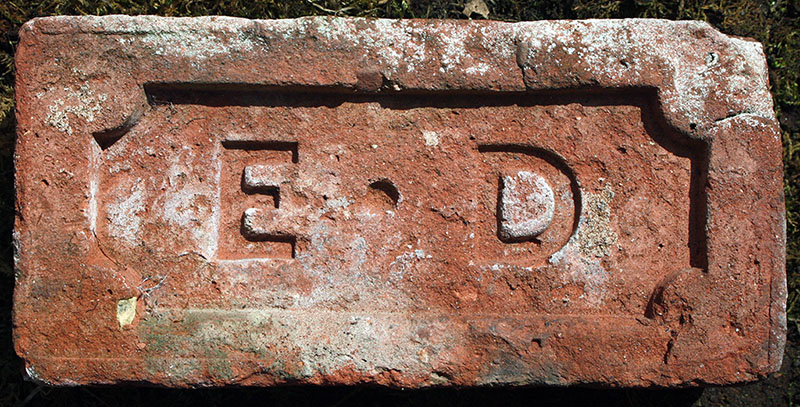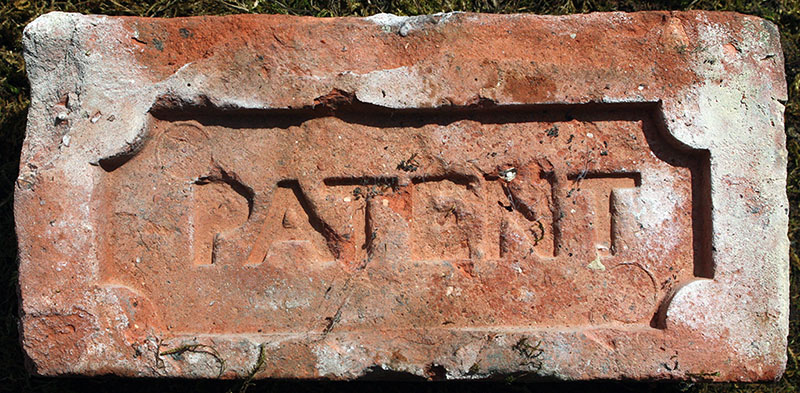 Earl of Derby's Brick Works, Bootle, Liverpool. Gore's Liverpool Directory 1900. Originally found in Liverpool. Info by Frank Lawson.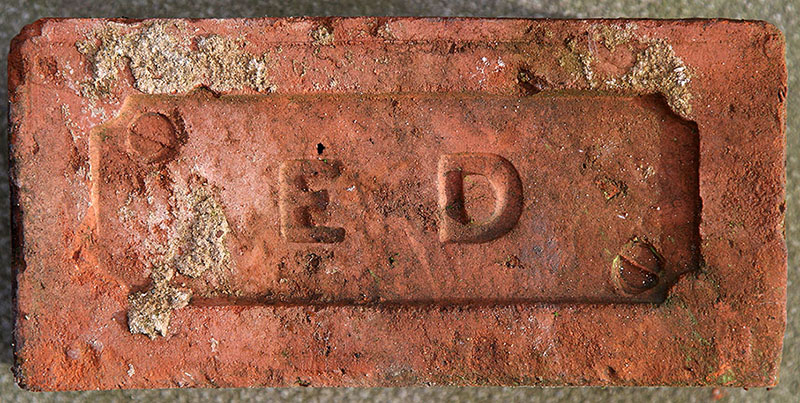 Seen at Cheshire Demolition, Macclesfield, the brick has Clayton's Patent on the reverse. Photos by David Kitching.
---
Earl of Durham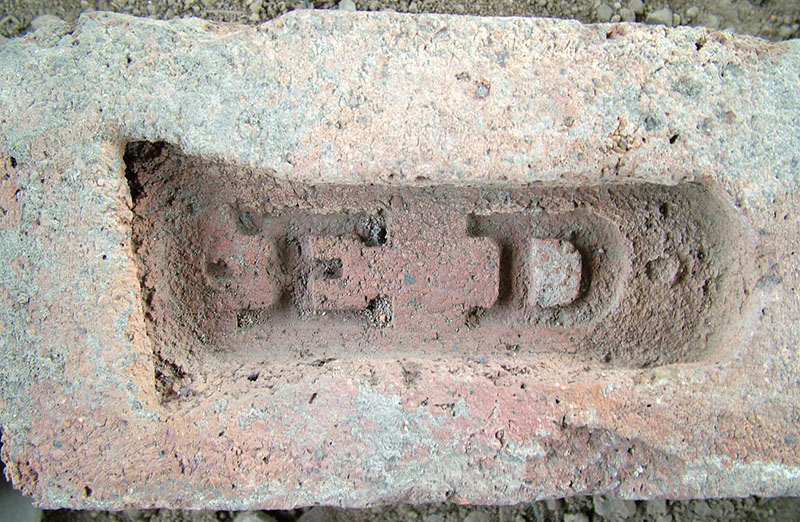 Thanks to George for the photo. David Oliver writes: this Brickyard was at New Lambton near Chester le Street and closed in 1947.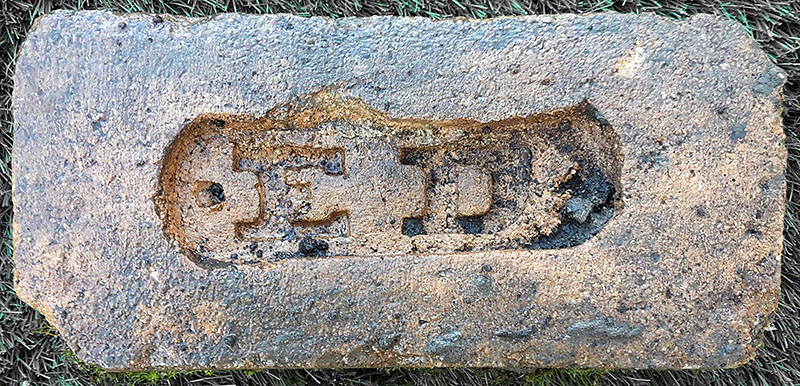 Image by Mitch Richardson.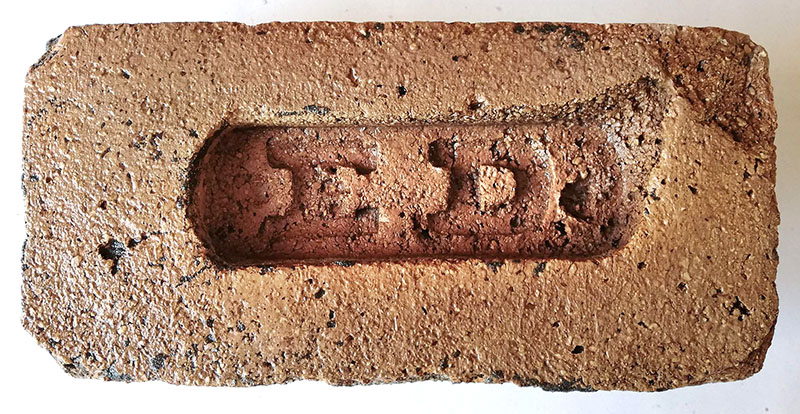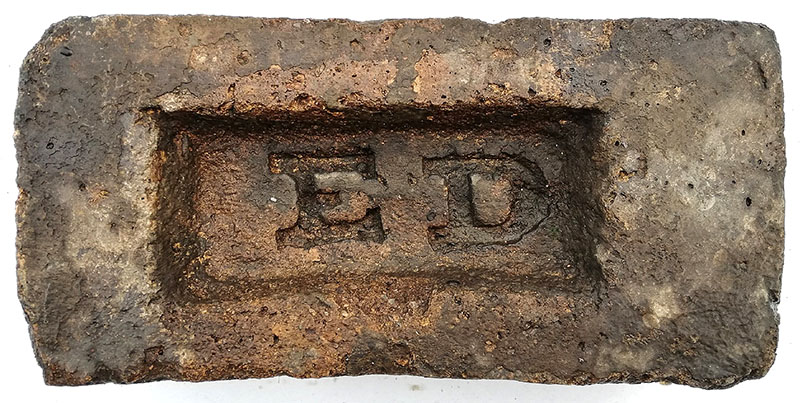 Photos by Chris Tilney.
---
Earl of Pomfret 1815
Found in in the wall of a house at Hulcote, on the Easton Neston estate by Nigel Furniss. Nigel writes: The Earl of Pomfret (1815), I believe refers to the the 3rd Earl, George Fermor born 1768, died 1830. The seat of the Fermors was Easton Neston house and he became Provincial Grand Master of Northamptonshire in 1798. He therefore would have had control of the brickworks that were on this site, in the north of the parish. This brick therefore pre-dates the Easton Estates & Mineral Co. Ltd. Towcester example previously shown. In 1849 this brick works were producing 107,000 common bricks, 25,000 plain roofing tiles, 294,500 pipes of various sizes, as well as special bricks, flooring tiles, drain pipes and chimney pots.
---
Earl of Sefton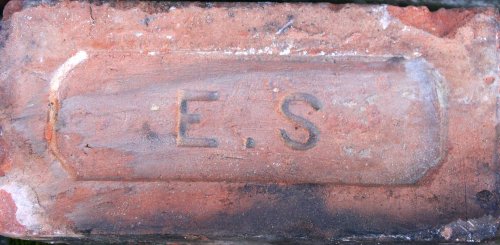 Discovered during restoration work at Croxteth Hall, Liverpool. These are from a wing of the Hall built in 1702 ' but subsequently extensively damaged by a fire in 1952 and repaired (quite possibly the bricks date from then). The owners of Croxteth Hall at the time, the Earls of Sefton, owned large areas of South Lancashire, including (at one time) a brickworks. Photo and info by Chris Lines.
---
Eastbourne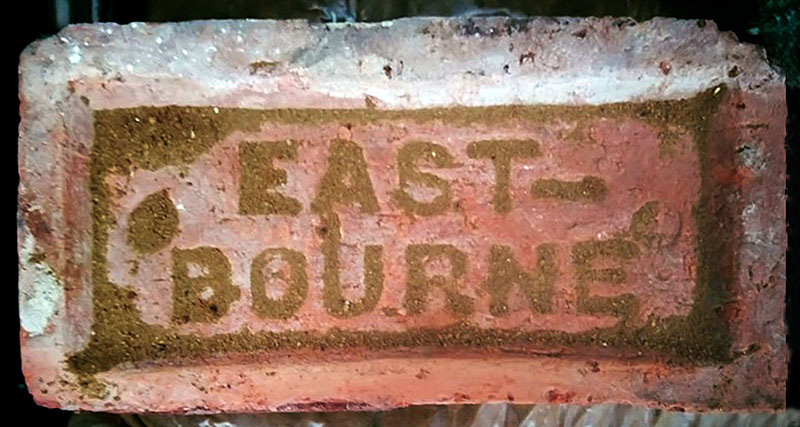 Eastbourne, East Sussex. Photo by Dave Askew.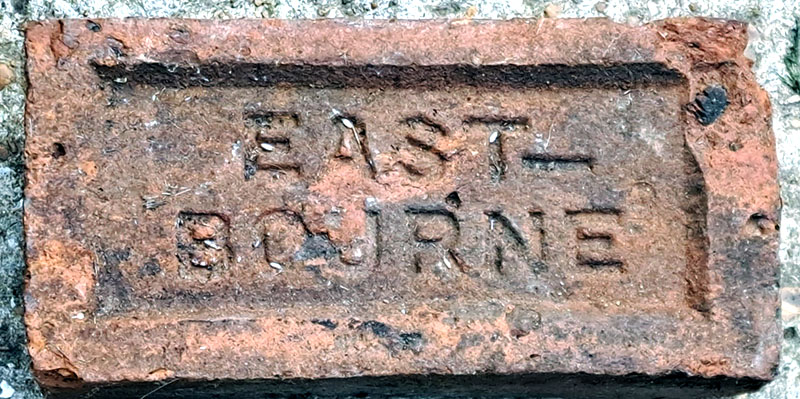 Photo by Nick Litton.
---
East Cowes Park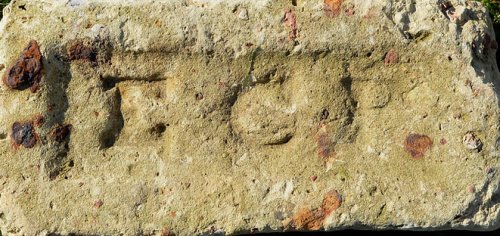 East Cowes Park Brick Works, East Cowes, Isle of Wight. (Richard Langley, agent). Harrod & Co's Directory of Hampshire & Isle of Wight 1865. Found by David Ashford.
---
East Hetton Colliery

Photo by Steven Tait.
---
East Howle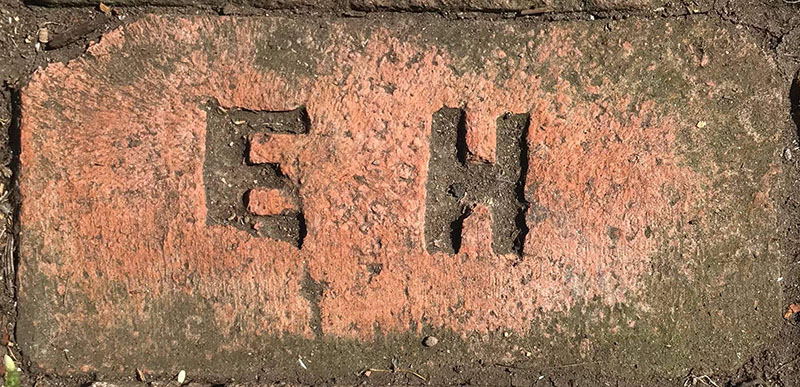 1869 East Howle Coal & Firebrick Co, 1870 East Howle Coal Co. This company operated East Howle Colliery just north of Ferryhill in Durham. East Howle firebricks were being advertised in 1910. Photo by Steven Tait.
---
Easton Estates & Mining Co. Towcester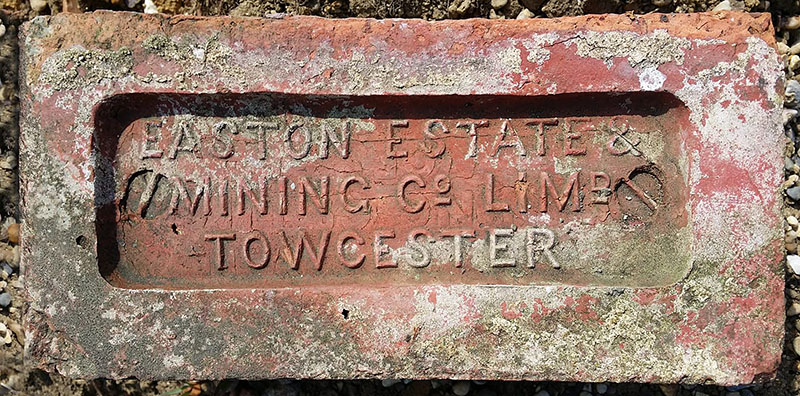 This company was formed by Sir Thomas Fermor-Hesketh in 1873 but only lasted 10 years until 1883. Note the similarity of the lettering style to the Towcester Mineral & Brick co ltd, of which the Easton Estates was the forerunner to that company. Photo and information by Nigel Furniss.
---
Eastwood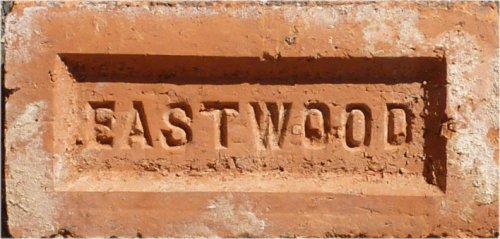 In 1920 the Eastwood Brick Company amalgamated with the Erewash Brick & Pipe Company to form the Manners Brick Company. Photo & Information by Martyn Fretwell. Also see entries for Erewash & Manners.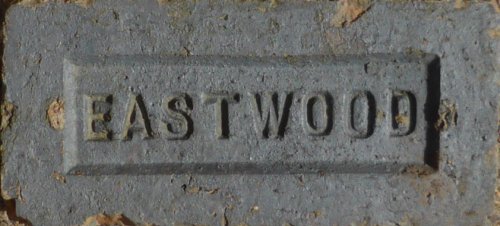 Photo by Martyn Fretwell & found by Will Moss in Brinsley.
---
Eastwood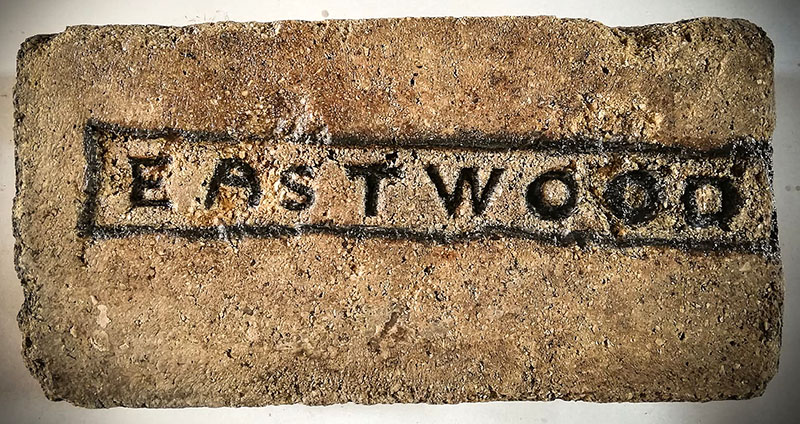 Found near Chester-le-Street, County Durham. Photo by Chris Tilney.
---
Eastwoods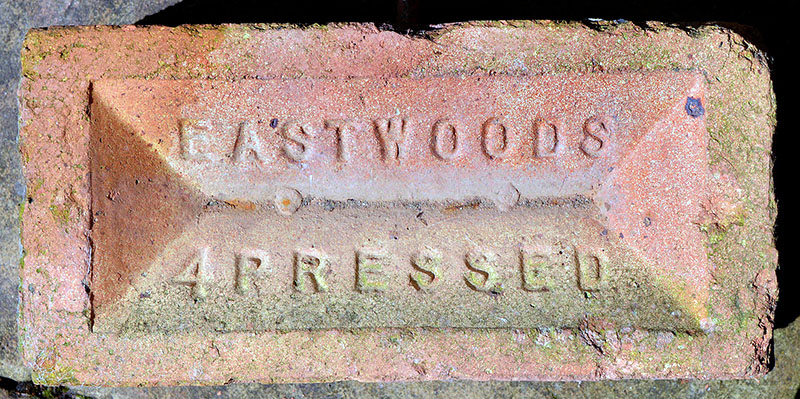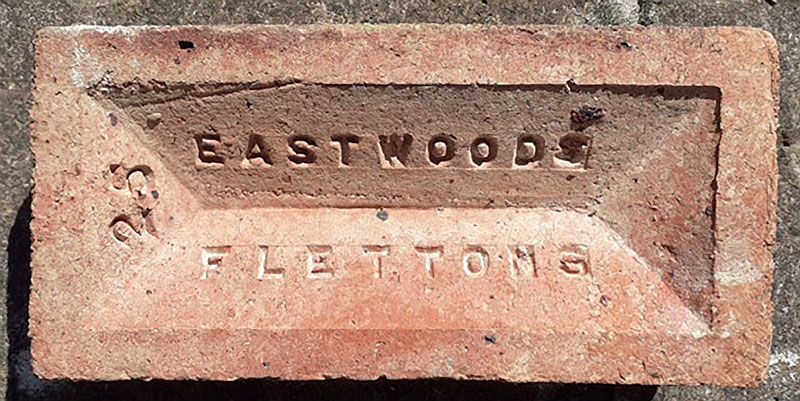 Photo by Ken Evans. Made in the Peterborough area. Info for Eastwoods: http://www.gracesguide.co.uk/Eastwoods_Group:_1934_Review
---
Eastwood Mill Company, Hanley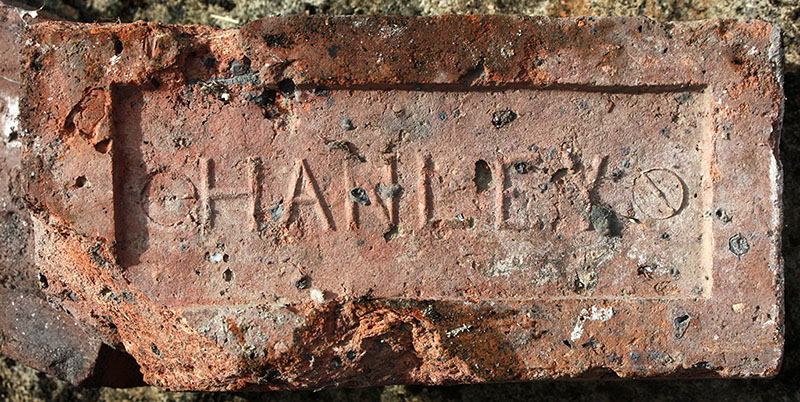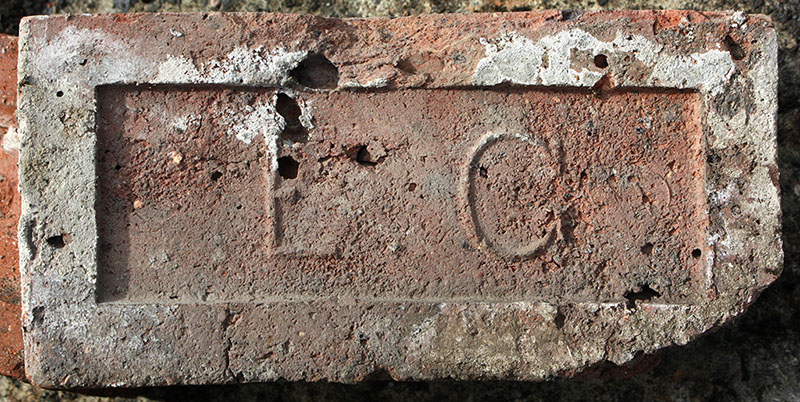 The Eastwood Brick Works first appears in the North Staffordshire trade directories in 1873 and is last seen in 1892. The proprietor was Charles Adams and the Eastwood Mill Company seems to have been his business name. I have concluded that the E C on this brick represents "Eastwood Company".
---
W Eaton, Bull Bridge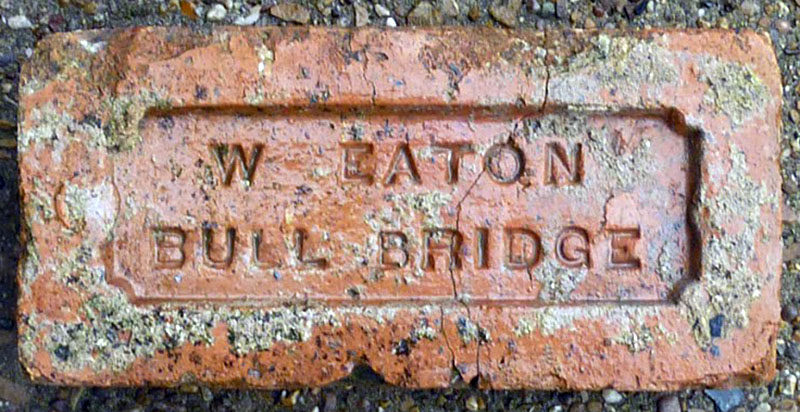 Bull Bridge is near Ambergate, Derbys, photo by Martyn Fretwell. Martyn writes :- William Eaton is first recorded as co-owner with Samuel Hall at the Bull Bridge Brick Company at Sawmills near Ambergate in Kelly's 1895 edition. Then in 1899, the BBB Co. was dissolved & William Eaton took full control of the works, carrying on the business under his own name. The last Kelly's entry for William is 1916.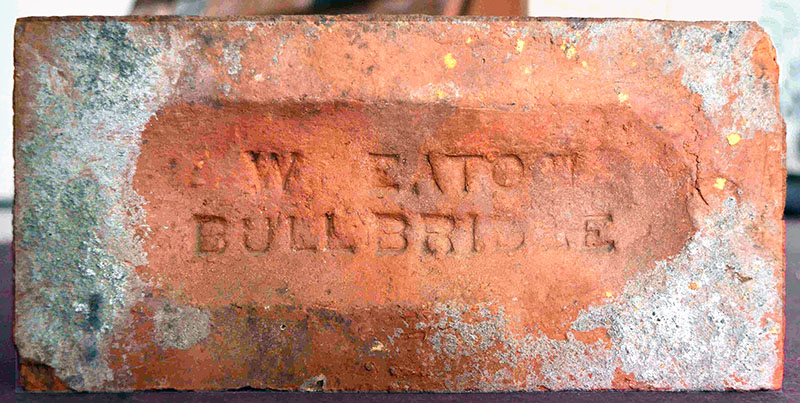 Photos by Frank Lawson.
See also Bull Bridge Brick Co.
---
Eberhard, Old Hill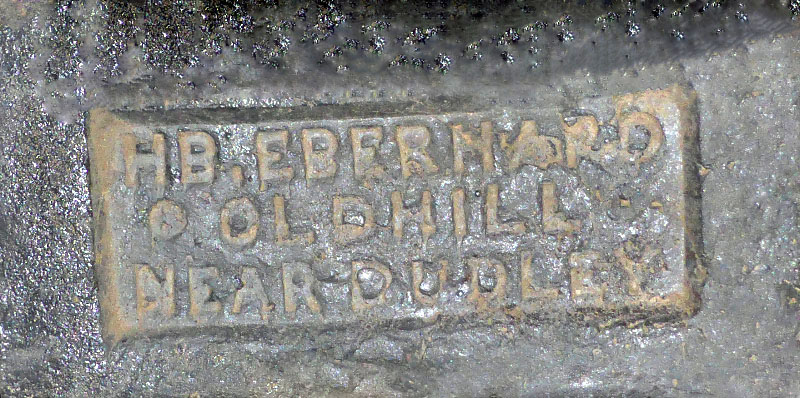 H.B. Eberhard is listed in Kellys 1860 & 68 editions at Waterfall Lane, Old Hill, Rowley Regis, Dudley. Jones's Mercantile Directory for 1865 lists Benjamin Eberhard, brick and tile manufacturer. Info & Photo by Martyn Fretwell.
---
Edge Lane, Royton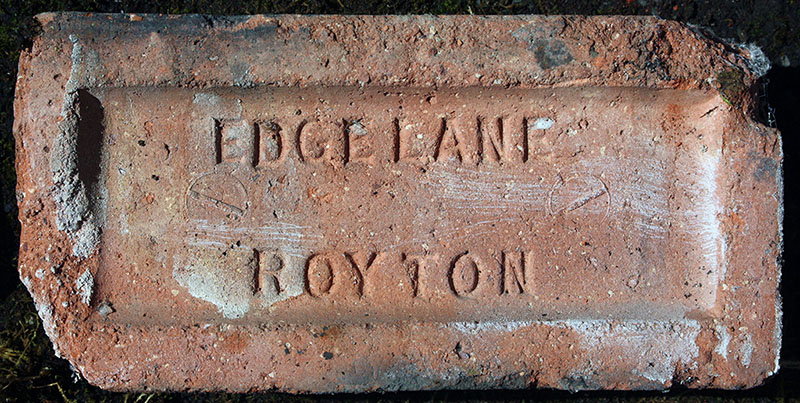 Probably associated with the Edge Lane and Dry Clough Collieries at Edge Lane which were operated by Evans, Barker & Company in 1854 and subsequently by the Oldham, Middleton & Rochdale Coal Co Ltd. Closed before 1894.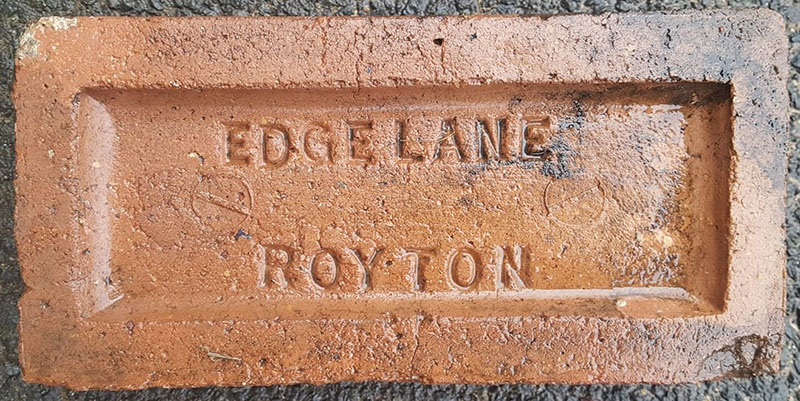 Photo by Jason Stott.
---
Edgewell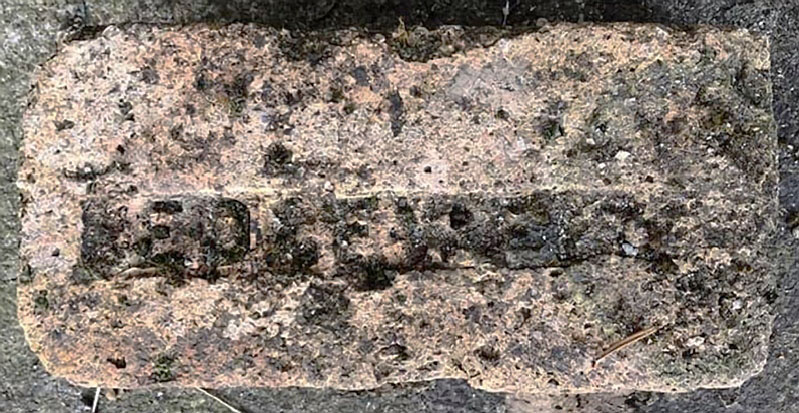 The Edgewell colliery brick and tile works, Prudhoe was owned by John Johnson in the mid 19th century and was advertising drain pipes from Messrs Johnson and Murton in 1895. Production of a range of ordinary common and firebricks, as well as roofing and drainage tiles lasted from 1840 to 1904. Photo by Lizzie Catsup.
---
Edgworth: see W Bentley
---
Edlington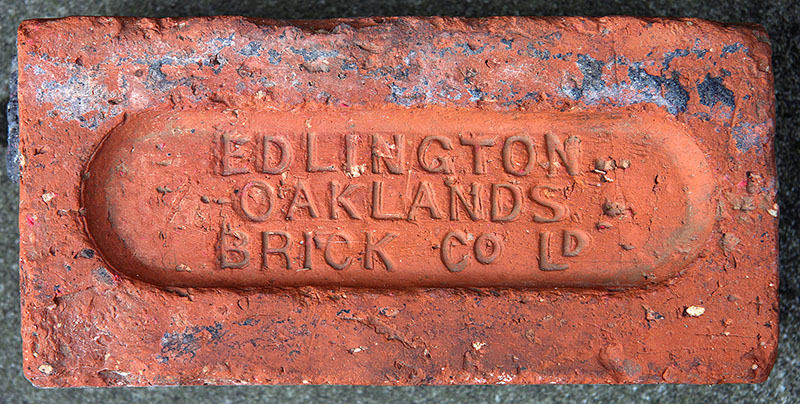 Edlington Brickworks, Edlington, Doncaster On the evidence of this brick it seems that the works may originally have been owned by Oakland Brothers who also owned several other brickworks across West & South Yorkshire and North Lincolnshire. The works at some time passed into the hands of The Yorkshire Brick Co. There is no evidence on the 1901 6" OS map of either the brickworks or the colliery village of New Edlington. The village was built to serve Yorkshire Main Colliery which was opened in 1913. Info by Frank Lawson, photo by David Kitching. .
---
William Edmundson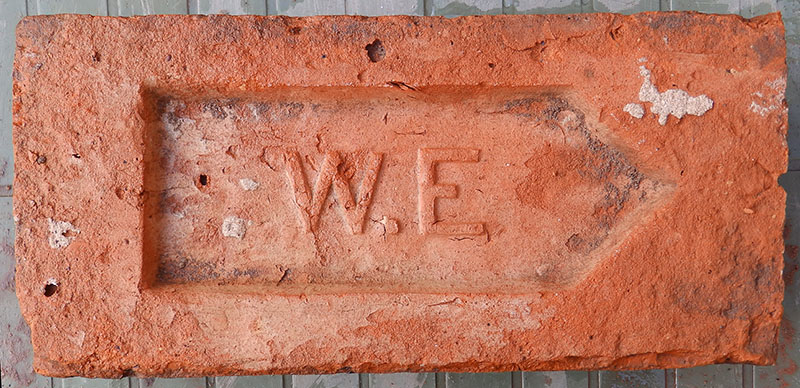 Thought to be William Edmundson, Montague Street, Blackburn. Found by Nigel Furniss at Cawarden Brick & Tile Co, Rugeley.

---
Edward VII Coronation June 1902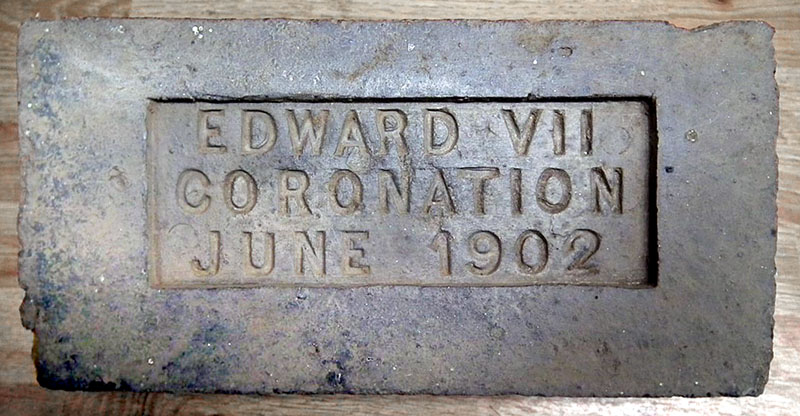 Photo by Denis Welchman who found this in a building near the centre of Coventry.
---
H J Edwards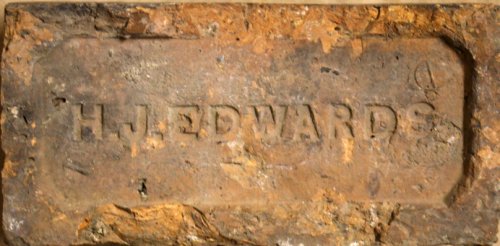 H.J. Edwards is recorded as the owner & sinking the Holme Wood Colliery, Staveley, Derbys. in 1877. Info & Photographed at Derby Silk Mill by Martyn Fretwell.
---
J W Edwards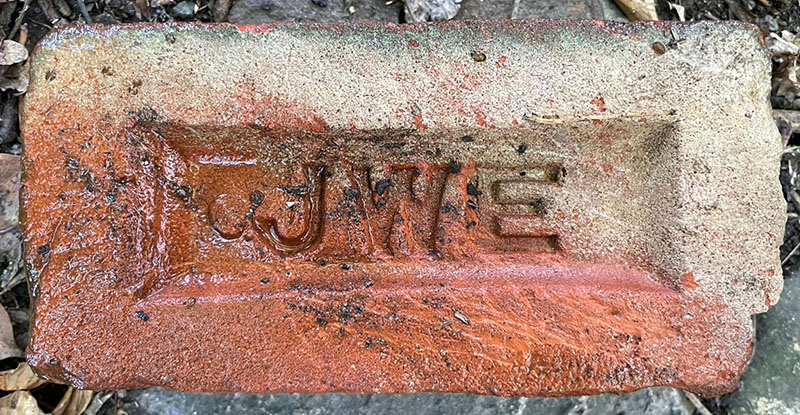 J W Edwards & Son, St Stephen's Brick Works, Broad Oak Road, Canterbury. In 1931 the works was advertising Hard Brindled Reds, Mottled Builders Dark and Light Red Sand-Faced Bricks, Moulded Bricks, Antique Thin Bricks, Oven and Paving Tiles. Photo by Keith Aldis.
---
F. Eggar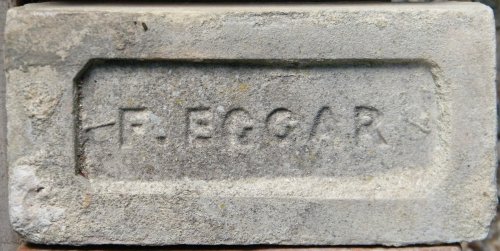 Made by the Aldershot Brick & Tile Works. The works was closed in 1881. Further information here. With thanks to Mike Hatch.
---
William Egglestone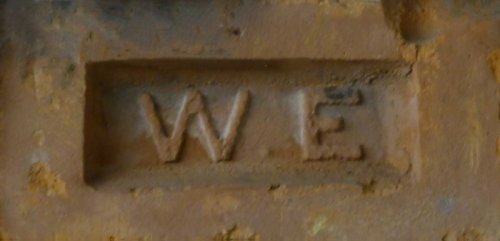 William Egglestone is listed in Kellys 1868 to 1889 editions as brickmaker at East Theddlethorpe near Louth, Lincs. Info & Photo by Martyn Fretwell.
---
Egill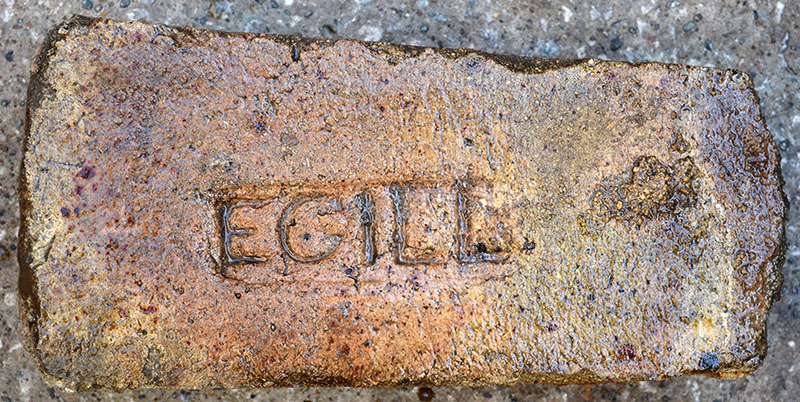 This is thought to be a product of a works at Eagle Gill Colliery which operated in the 1880s and early 1890s at Eagle Gill between St Helens Colliery and Brickworks, and Gillhead Colliery and Brickworks at Flimby, Cumbria. Photo and info by Richard Cornish.
---
Elcocks & Co, Bewdley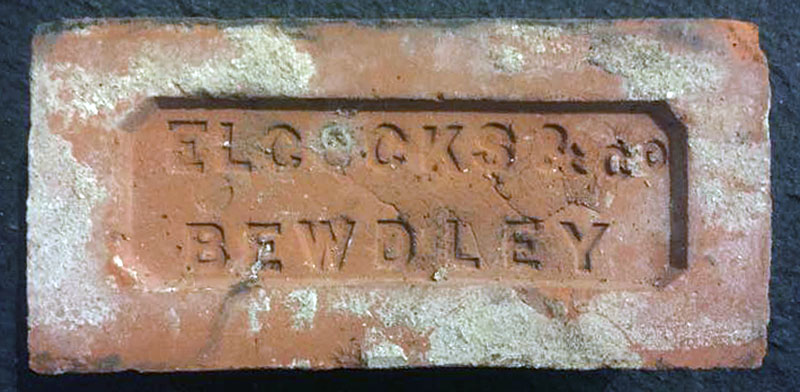 London Gazette, October 17, 1879. Notice is hereby given, that the Partnership heretofore subsisting between Thomas Elcocks of the Great Western Hotel, Wribbenhall, near Bewdley, in the county of Worcester, Licensed Victualler, and Thomas Bond of Bewdley aforesaid, Brick Maker, trading under the style or firm of Elcocks amd Bond, Brick, Tile, Pipe, and General Earthenware Manufacturers, at Dowles Brickyard, Dowles, near Bewdley aforesaid, was this day dissolved by mutual consent. And notice is hereby further given, that the said business will in future be carried on by the said Thomas Elcocks alone, on his own account, and he will also pay and receive all debts due and owing from and to the said firm of Elcocks and Bond. - Dated this 25th day of September, 1879.
Thomas Elcocks only survived a few more months, dying on 17th December, 1879.
Photo by Scochki Kolasinac.
---
Eldon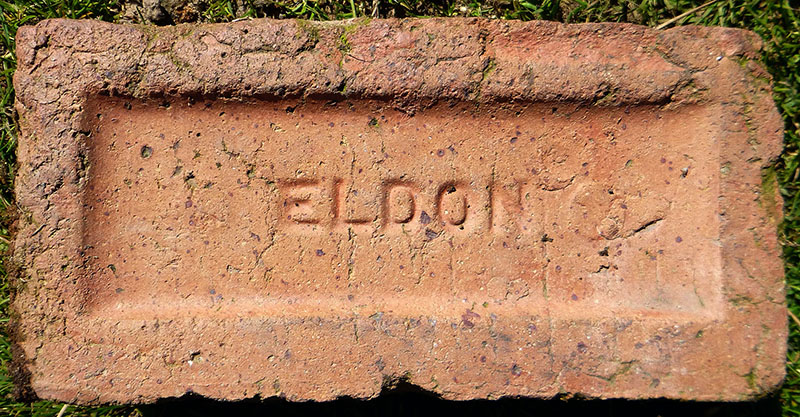 Tim Lawton writes: I'm fairly sure this would have been made at the Eldon brickworks to the east of Bishop Auckland, Co. Durham. Again this was a colliery brickworks dating back to at least 1897 and part of the South Durham Colliery complex, later named Eldon Colliery. Gratifyingly the brickworks far outlived the colliery and is still producing bricks today under the ownership of Wienerberger.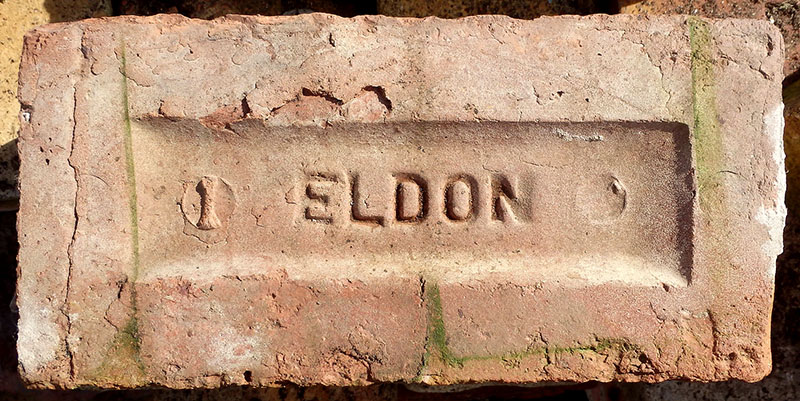 Photos by Frank Lawson.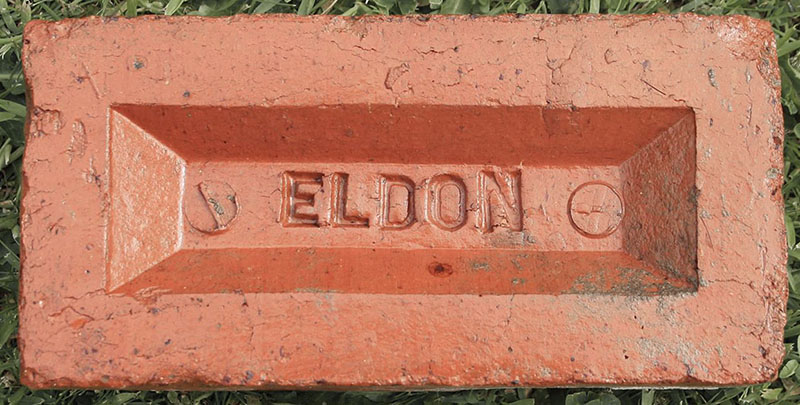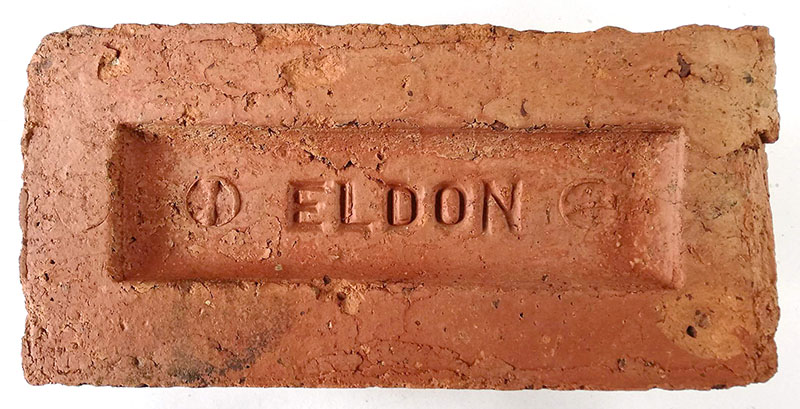 Photos by Chris Tilney.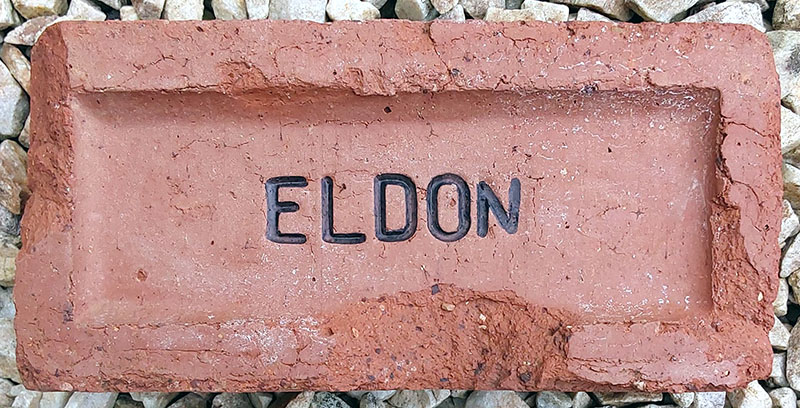 Photo by Bill Duff.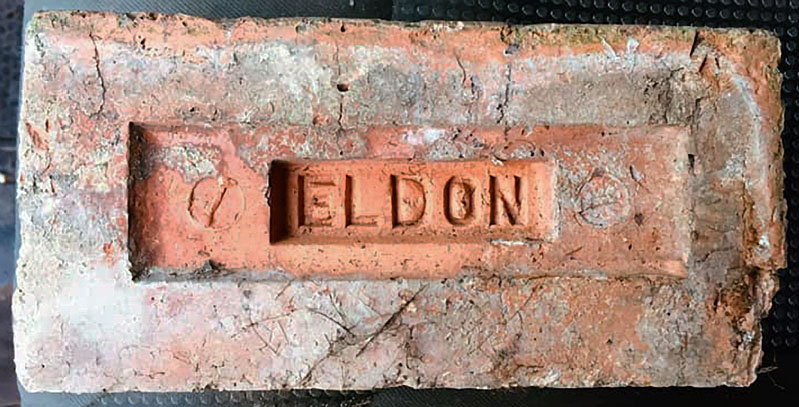 Photo by Steven Tait.
---
Electric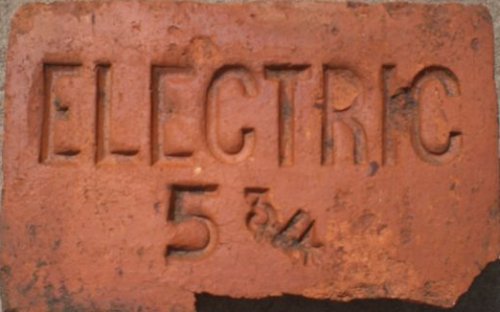 Retrieved from a road excavation in West Yorkshire by Alwyn Sparrow
---
Electric Supply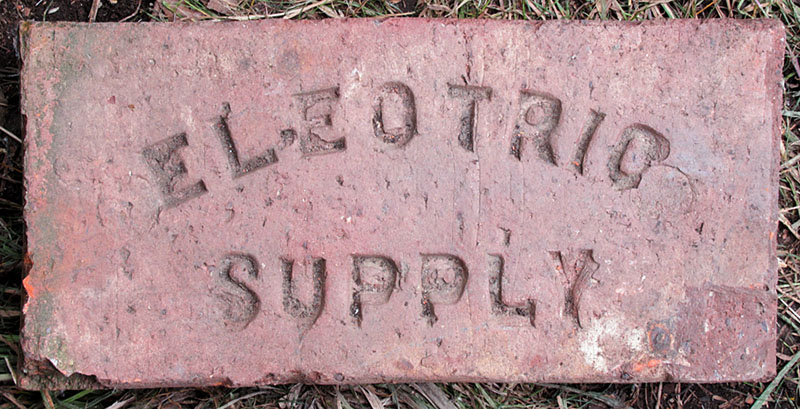 ---
Elham Valley Brick & Tile Company Limited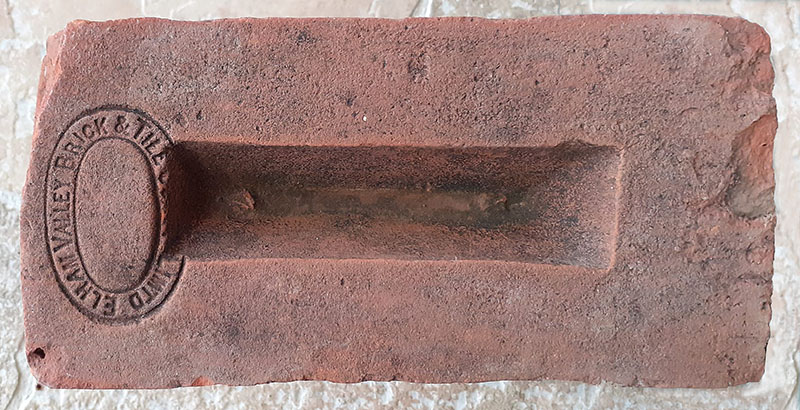 The Elham Valley Brick and Tile Company at Elham in Kent is listed in the 1891 Kelly's trade directory but not in that for 1903. In 1893 it was reported that their bricks had been used to build the new post office in Dover. Photo by Ken Evans.
---
Elizabeth II: see London Brick Co.
---
---
Elland Road: see entries for Leeds Fireclay Co. and Wortley Fireclay Co.
---
Elliotts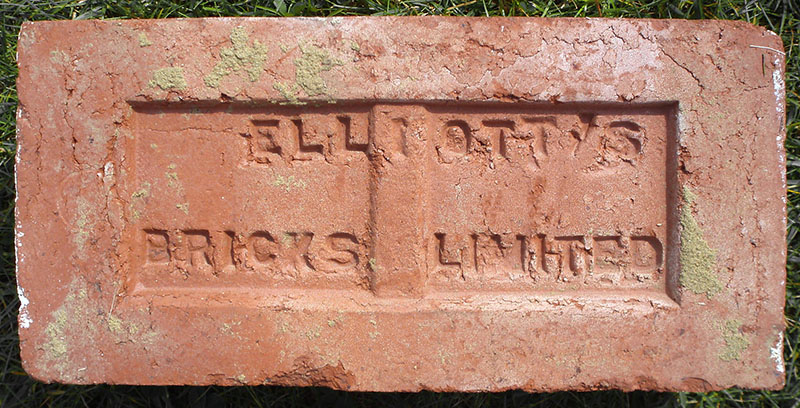 Photo by courtesy of the Frank Lawson collection. Elliotts Ltd were brick-makers of Lepton, Huddersfield. Thanks to Derek Barker for the information.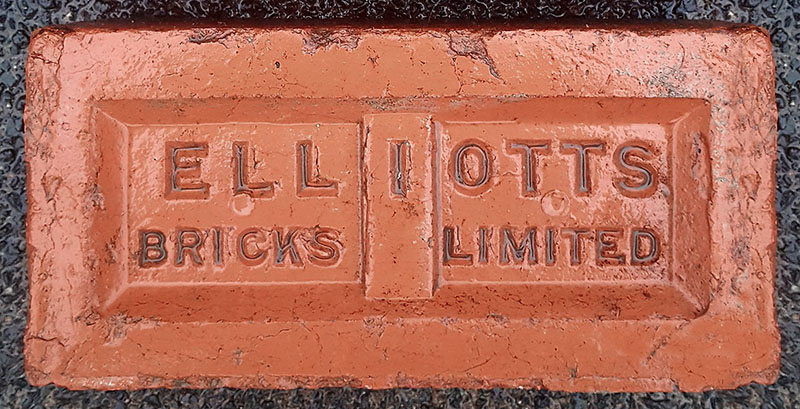 Photo by Jason Stott.

Found in Mansfield by Martyn Fretwell.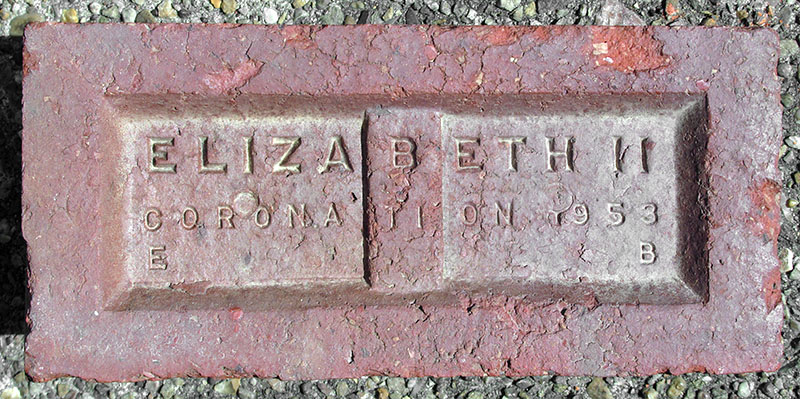 Photo by Martyn Fretwell.
---
John Ellis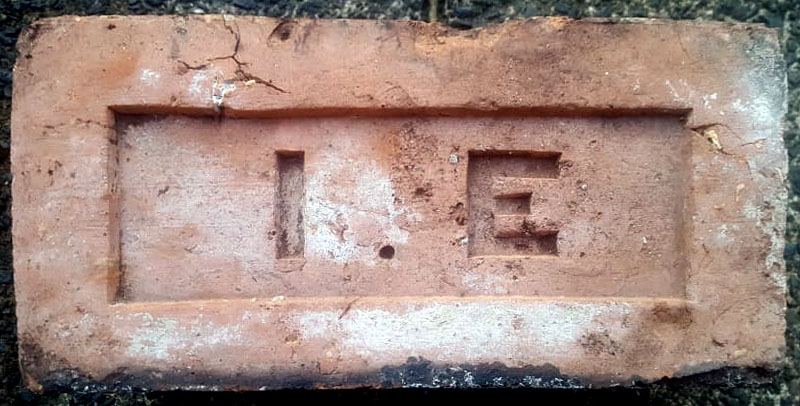 John Ellis was a brick manufacturer born in Mirfield in 1800. His brickworks was just west of Dewsbury Station at The Flats and he lived nearby at Daw Green. The census shows him as a brick maker in 1841, 51 and 61. In 1851 he was employing 5 men and in 1861 is shown as employing 5 men and 5 boys. Found in Dewsbury by Jason Stott.
---
J Ellis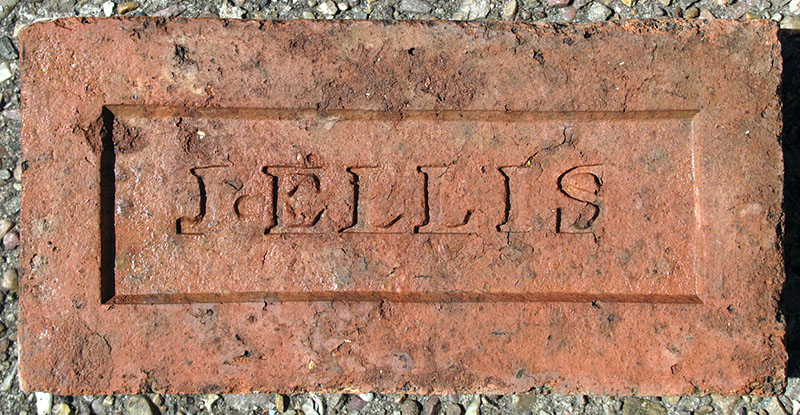 Joseph Ellis born in 1784 is listed as Brickmaker & Victualler at the 12 O'Clock Inn on Saville Road Sheffield in White's 1833 & 1849 editions. These TD's entries are to early for stamped bricks, but he is still listed as a Victualler in Slater 1855 edition, so I am assuming he was still brickmaking as I have established bricks were being stamped with a makers name by 1855 and this style of the lettering was used in the 1850's. Photo & Info by Martyn Fretwell.
---
Ellis Partridge & Co., Leicester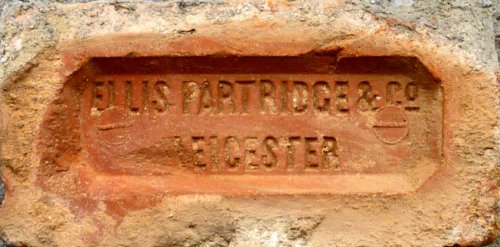 Ellis, Partridge & Co. are recorded in Kelly's 1891 edition at 10 Market Street & 8 Brunswick Street, then in the 1891 edition, ditto plus L. & N. W. Railway Goods Station Humberstone Road, Leicester & Woodville, Burton-on-Trent. The 1895 entry just lists the Company at Woodville, then there is a gap in directory entries until 1908 when the Company is listed at Greyfriars & L. & N. W. Wharf, Humberstone Road. This entry continues to the last available directory in 1941. Photo & Info by Martyn Fretwell.
---
Ellis Partridge, Woodville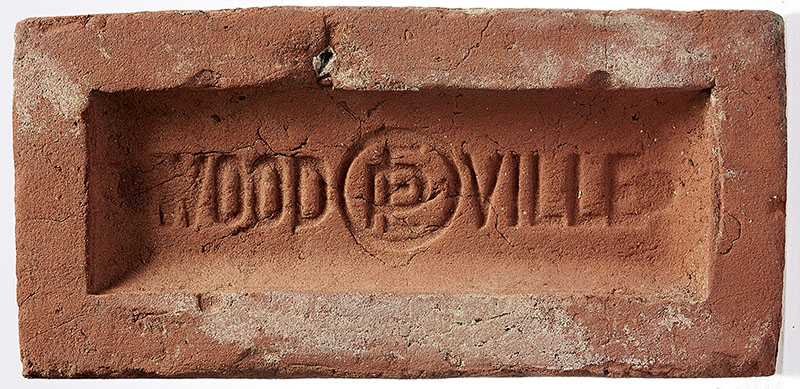 Ellis, Partridge & Co. are listed in Kelly's 1899 to 1922 editions at Woodville, Burton-on-Trent. I was told at Cawarden Reclamation Yard that this brick came from the old Derbyshire Royal Infirmary Hospital in Derby. Photo & Info by Martyn Fretwell.
---
Ellistown
Ellistown Colliery & Brickworks was started by Joseph Joel Ellis in 1874. Building terrace houses for his miners, Ellistown soon grew with the expansion of the company. In 1897 when Joseph died, the colliery & brickworks was under the control of trustees under orders of the Court of Chancery until 1936. The Colliery & Brickworks were then separated into two companies in 1936, with the brickworks closing at the start of WW2. Listed in Kelly's Directories as Ellistown Collieries, (fire), (J.J. Ellis, proprietor), Ellistown, Leicester 1881. then Ellistown Collieries, Brick, Pipe, & Fire Clay Works, Ellistown, Leicester 1891 to 1941 editions. Before opening Ellistown Colliery & Brickworks, Joseph had owned the Nailstone Colliery & Brickworks. Info by Martyn Fretwell.

Ellistown Pipe Works was taken over by Hepworth Iron and Steel Co. in the 1960's and was operated as a Clay Pipe manufacturing unit 1986. The unit was then redeveloped by Hepworth Building Products and reopened as a brick plant in 1988, the factory and associated stock ground covers 9 acres. The Ellistown Brick Factory was sold to Ibstock Brick in September 1999 and operated as an extruded brick unit. The manufacturing process was changed to soft mud with the ability to change back to produce wirecut extruded brick in spring 2002. To produce soft mud brick the unit uses local raw materials to produce up to 55 million bricks per year. Info by Frank Lawson.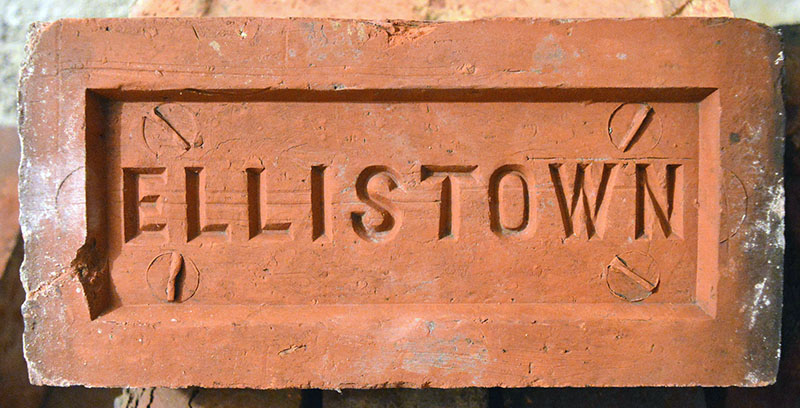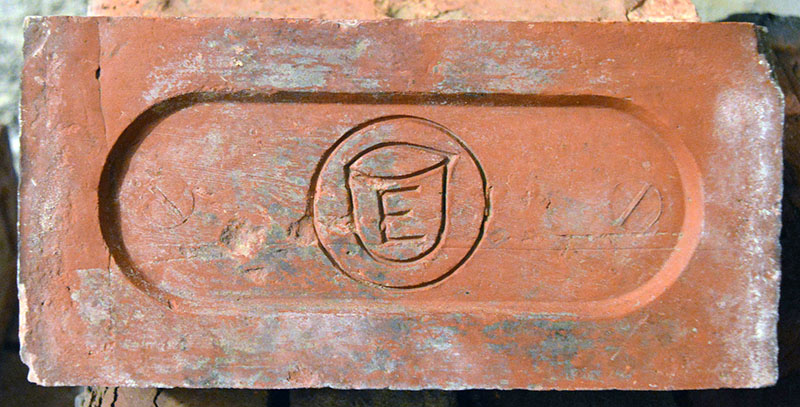 Photos by Frank Lawson.
Photographed at a recycling yard in Kent by Martyn Fretwell.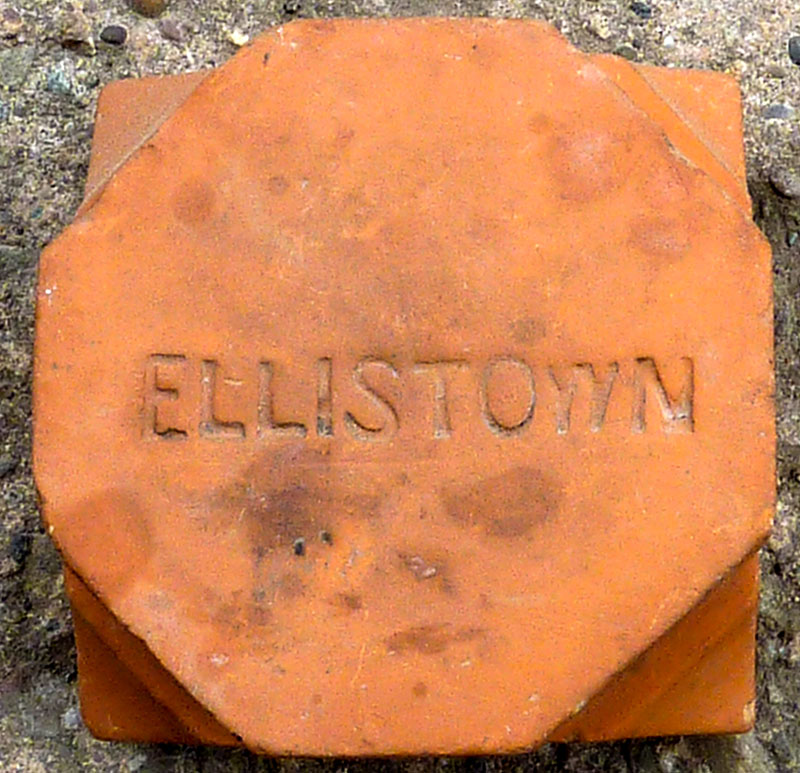 A sample brick, photo by Martyn Fretwell.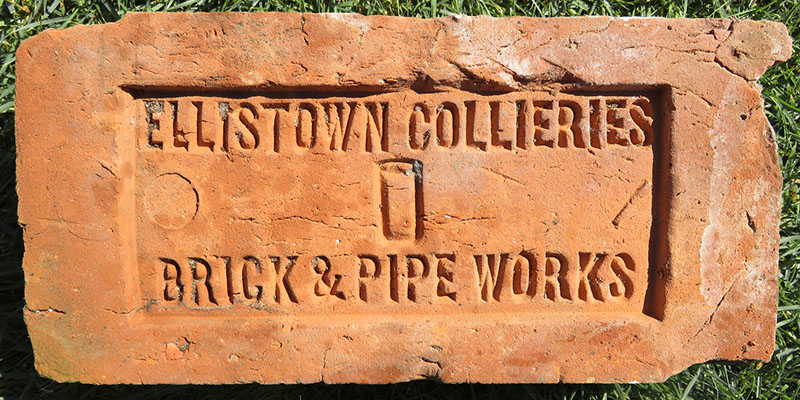 This is possibly the first design used by the Ellistown Brick Works with their full name used on the brick and quite a crude trade mark. The brick came from a site where houses built in the early 1870s had been demolished in 1964. Photo by Mike Chapman.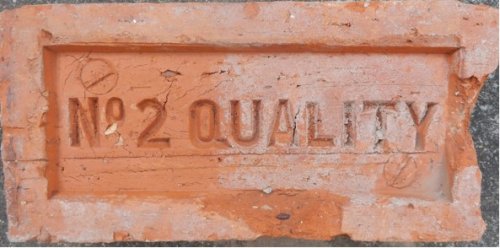 A brick stating its quality from a demolished factory in Ross Walk, Marjorie Street, Belgrave, Leicester. The rear of the brick has a faint maker's mark of the Ellistown Brick Company. Not many brick makers indicated the grade of brick on their product. Photo and info by Dennis Gamble.
---
Elsleys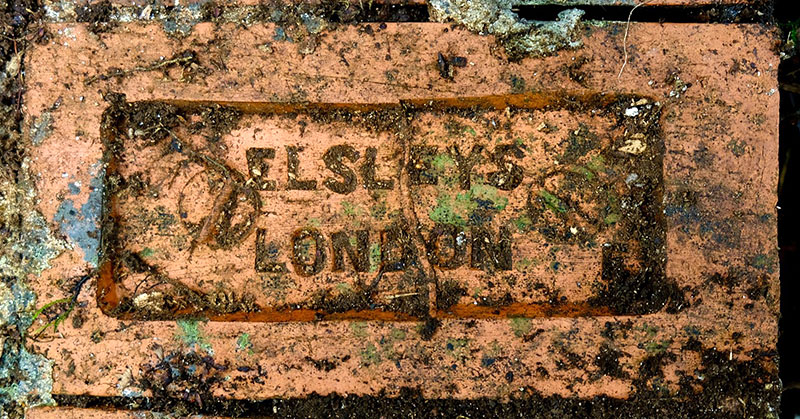 Thomas Elsley Ltd was a manufacturer of cast iron decorative pieces, especially firebacks and grates. This miniature brick was one of many used in creating an Elsley fireplace and was made by J C Edwards of Ruabon with the Elsley name in the stamp. Photo by Lesley Frances.
---
Elson & Burke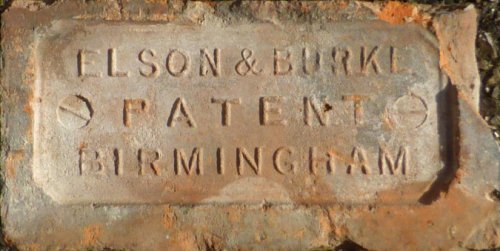 This works was set up by John Burke in the 1860's on land just north of the railway on Bordesley Green Road, Birmingham. John was later joined by Robert Elson in the partnership of Elson & Burke. After John's death the partnership was carried on by John's widow & the works was operational into the 1870's. In 1875 the works was taken over by the new formed Adderley Park Brick Co. in which both Robert Elson & George Burke (John's son) managed the works. The works was brought up to date with new machinery before APB Co. opened a second works just south of the railway on Bordesley Green Road. Also see Adderley Park entry. Info & Photo by Martyn Fretwell courtesy of the Chris Thorburn Collection.
Photo by Ray Martin.
---
Elswick
Made at one of the works on the north bank of the Tyne at Elswick, Newcastle. Photo by Chris Graham.
---
Eltringham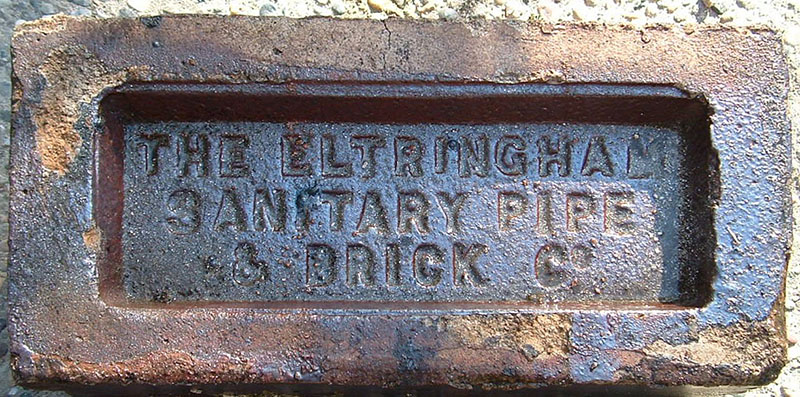 The Eltringham Sanitary Pipe & Brick Co. Photo by Arthur Brickman.
The brickworks was set up by the Eltringham Colliery Company before 1881 on a site adjacent to the colliery and in 1883 the works was leased to Harriman and Co of Blaydon. At this time it operated as the 'Eltringham Brick and Tile Works making firebricks and white house bricks. It then expanded the range to include salt-glazed sanitary pipes. In 1891 a new company name: 'Eltringham Sanitary Pipe and Brick Company'. As well as pipes (3 inch to 15 inch diameter), they made mostly salt-glazed bricks. There were six round kilns in use in the 1890s and when the yard closed in 1970 there were eight round kilns. Source; http://thecastlegate.co.uk/theatrium/archives/172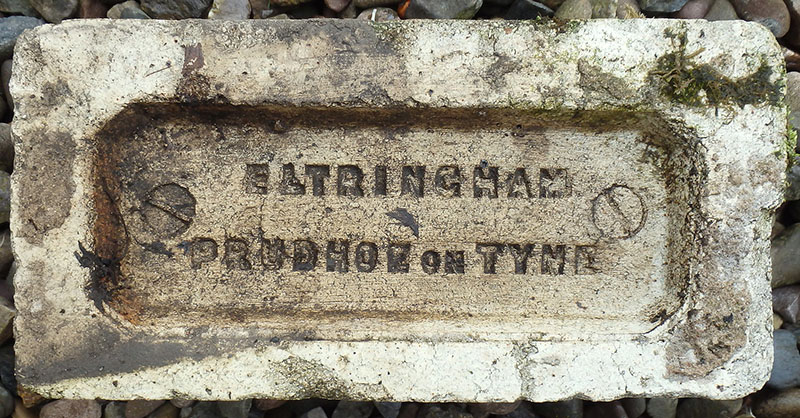 Photos by courtesy of the Frank Lawson collection.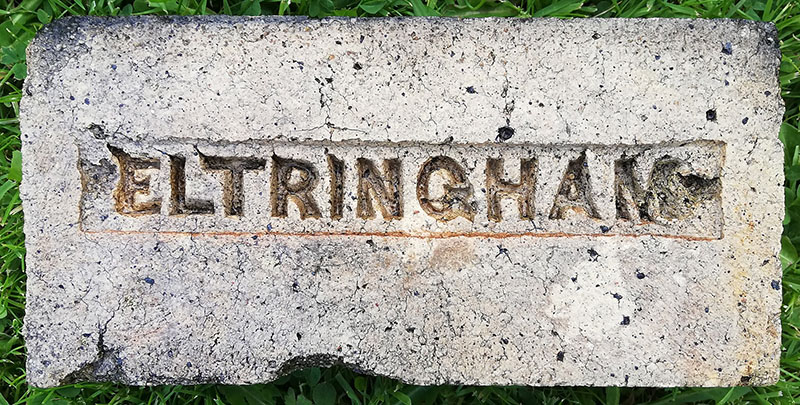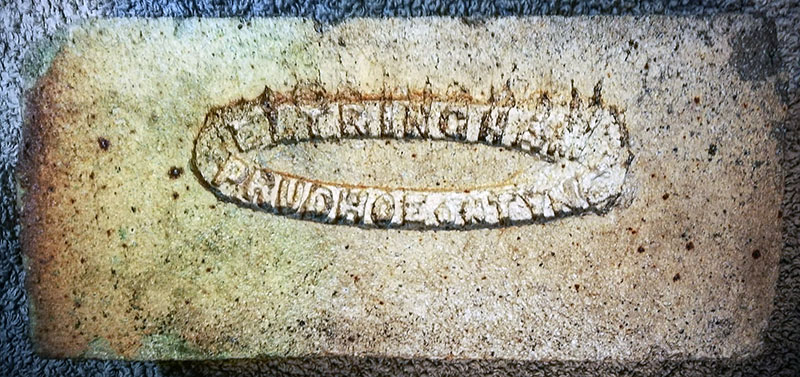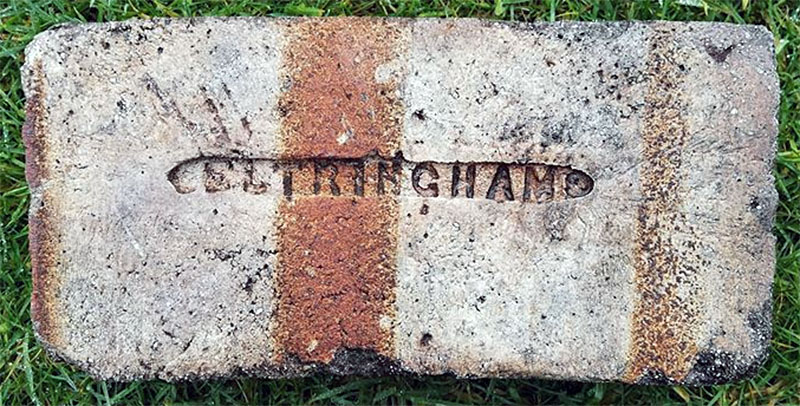 Photos by Chris Tilney.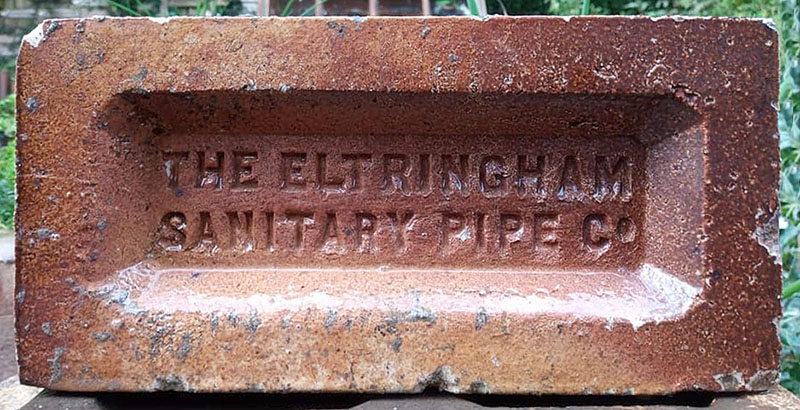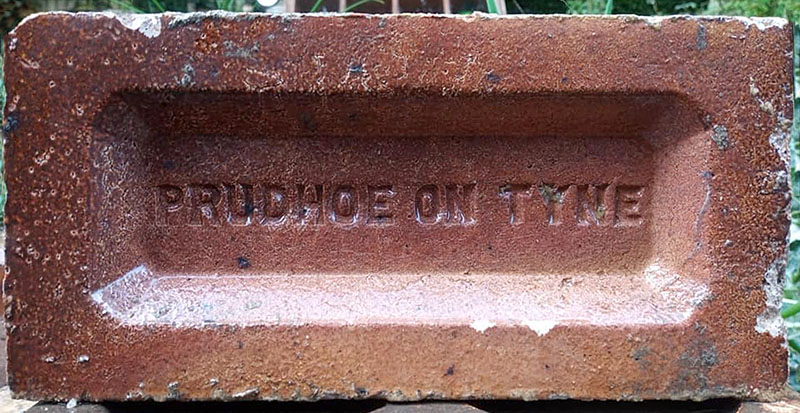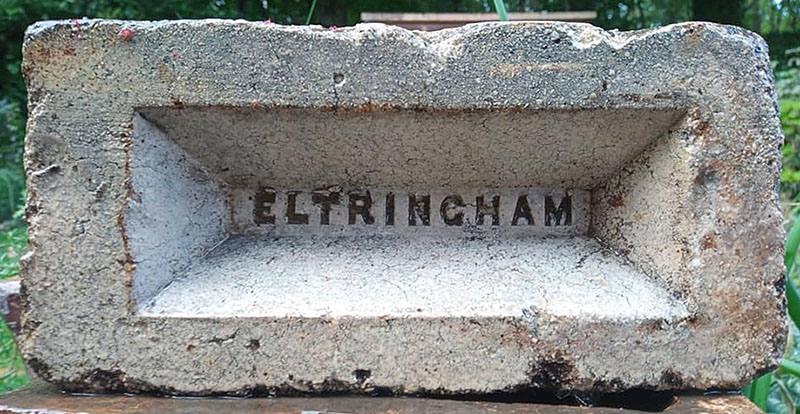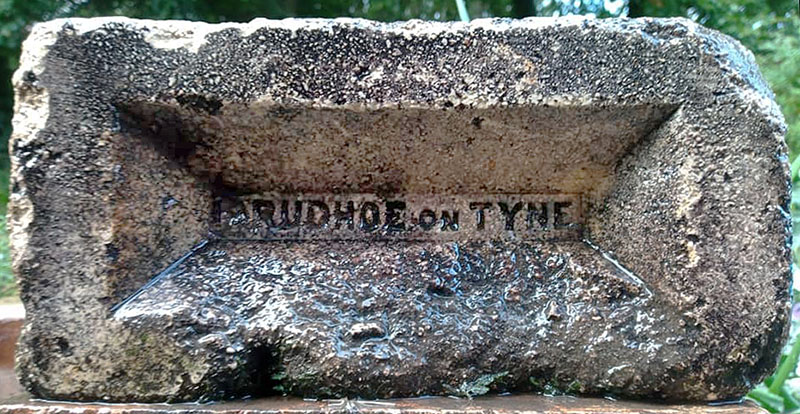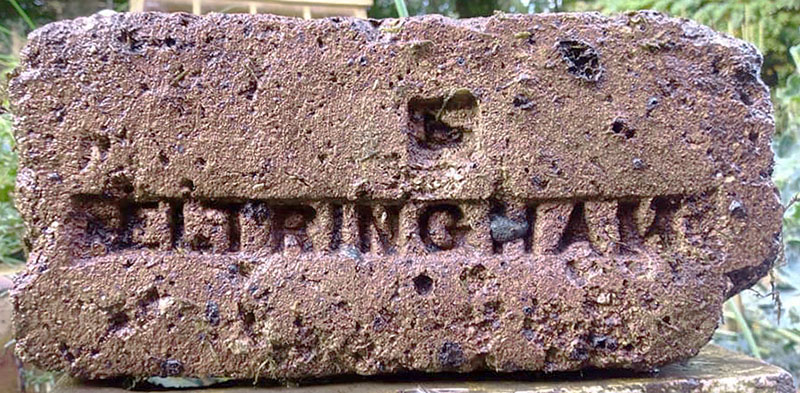 Photos by Chris Graham.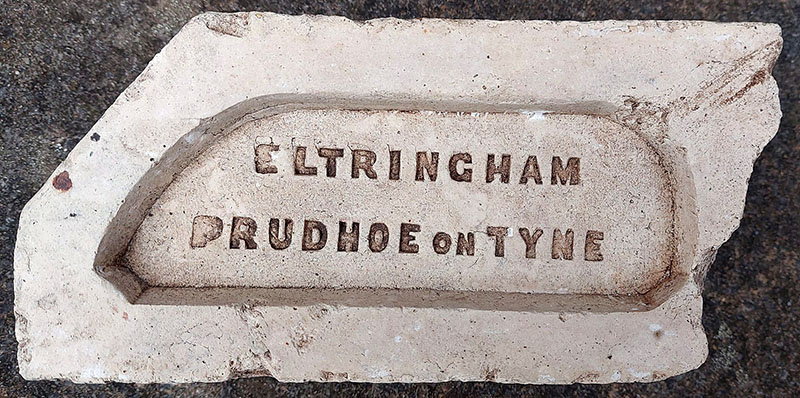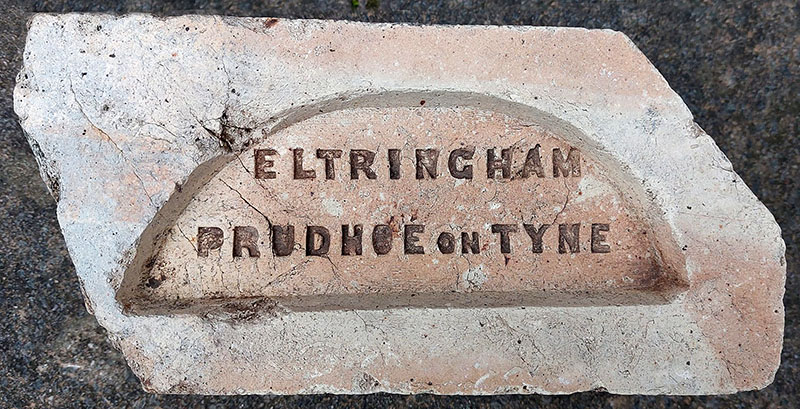 Photos by Mike Graham.
---
Elveden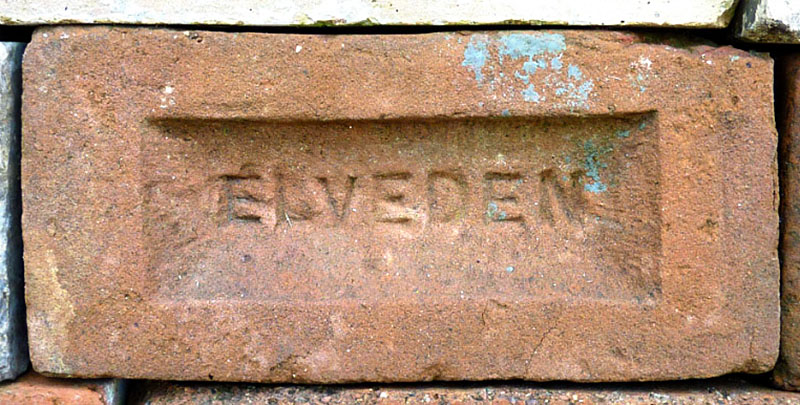 This was an estate brickworks belonging to Elveden Hall in Suffolk. I have found that the brickworks was set up after 1901 & it is shown on two maps dated 1903 & 1926 but is not shown on the next available map dated 1938. From 1894 to the present day, Elveden Hall has been in the ownership of the Guinness family. Photo by John Bowes & Info by Martyn Fretwell. More info of the works & estate at this link.
---
W. Elverson Patent, Stapenhill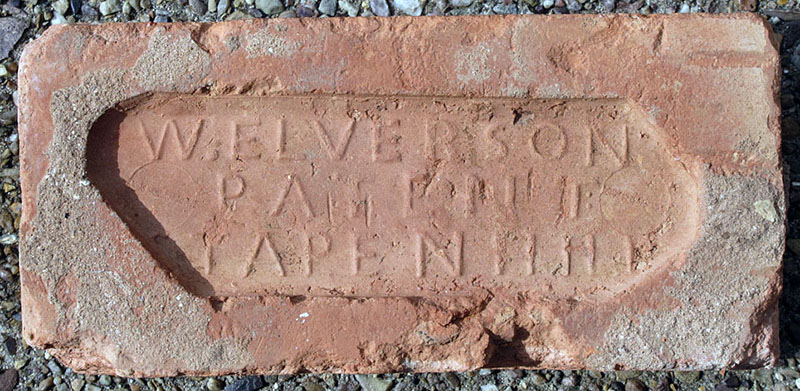 There were several brickmakers in Stapenhill, near Burton, by the mid 19th C, and in 1881 William Elverson was one of the principal employers in the town. (British History Online). Thanks to Christopher Dixon.
---
Emberton, Audley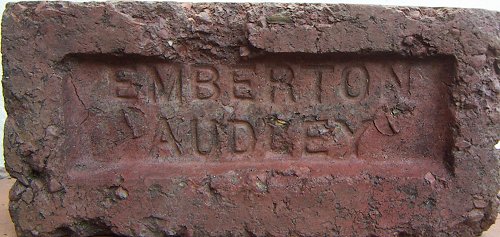 A particularly rare one found by Ken Perkins: George Emberton & Co.
Ravens Lane brick & tile Co Audley, Staffordshire 1884.
---
Embrey, Fenton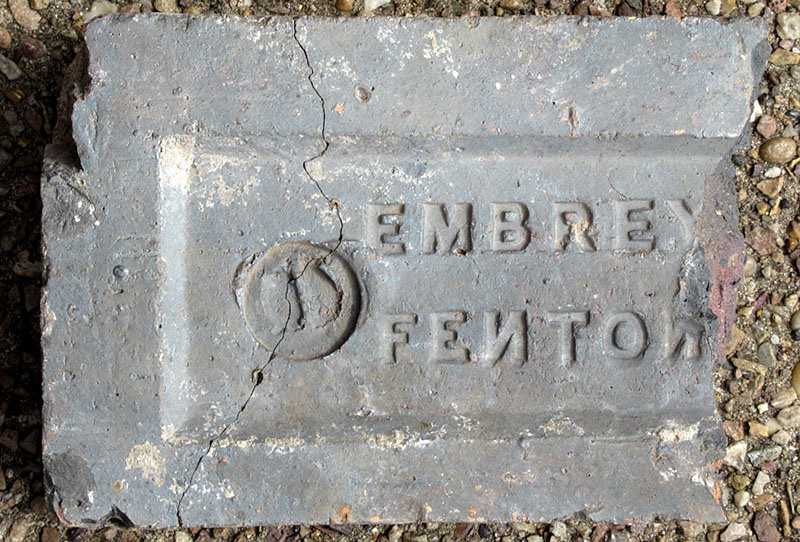 Hamlet Parker Embrey was a builder and contractor based at Fenton, Stoke-on-Trent, in the 1890s and early 1900s. He is listed as a brick manufacturer at Springfields, a couple of miles west of Fenton, in the 1900 and 1904 editions of Kelly's trade directory. I suspect that Hamlet Embrey had bricks made with his name on by a manufacturer at
Springfields rather than actually running a brickworks there himself. Photo by Martyn Fretwell who found this broken paving brick at Cawarden Reclamation.
---
Embley
This small brickworks is shown on a 1900 O.S. map. Located on Ryedown Lane in the centre of Embley Wood just west of Romsey, Hampshire, this works may have been an estate brickworks belonging to Embley Park, the home of Florence Nightingale. Info & Photo taken at Bursledon Brick Museum by Martyn Fretwell.
---
Emerson & Milner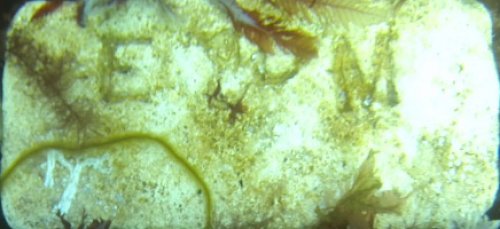 Yes, that is seaweed you can see! Martyn Fretwell received this photo by Jan Fredriksson of Sweden. Jan writes that he had recently photographed this E & M brick on the seabed while diving on a shipwreck near Gothenburg, Sweden and he believes that the ship that carried the bricks as cargo was the steamship Beech (s/n 68972). The ship was built in it's hometown of Sunderland in 1878 and sunk on the 18th of October 1879 outside Gothenburg, while on a trip from Sunderland to Kronstadt (St Petersburg). Martyn Fretwell writes ;- The E & M mark was originally owned by Emerson & Milner, Blaydon Burn, County Durham, but their yard was taken over by William Cochrane-Carr around 1850. In 1858 William Cochrane-Carr opened the South Benwell Fire Brick Works (also known as the E & M yard) & production was transferred to this new yard. The Trade Mark name of E & M continued to be used by the South Benwell Fire Brick Company and as well as local use, E & M firebricks were exported to Mediterranean & North Sea Ports, America, India & China. The brickworks closed in 1934. With the steamship Beech sinking in 1879, it looks likely that the bricks found by Jan were made by Cochrane-Carr's company and not by the original owners.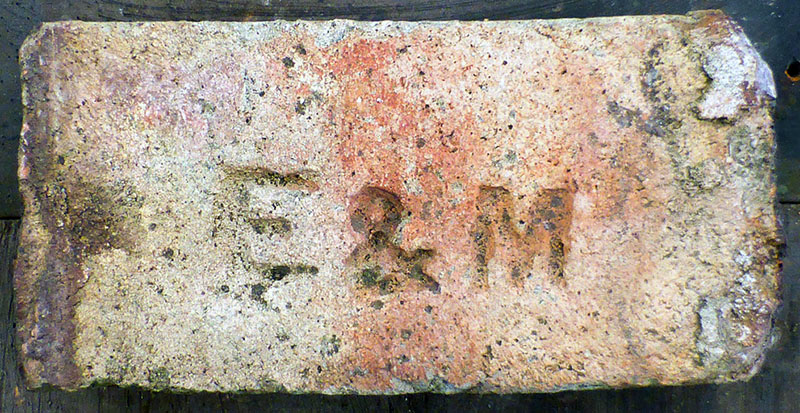 Photo by Martyn Fretwell.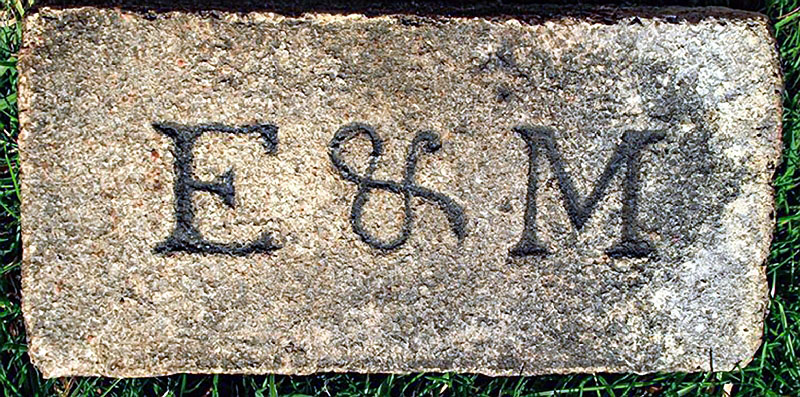 Photos by Chris Tilney.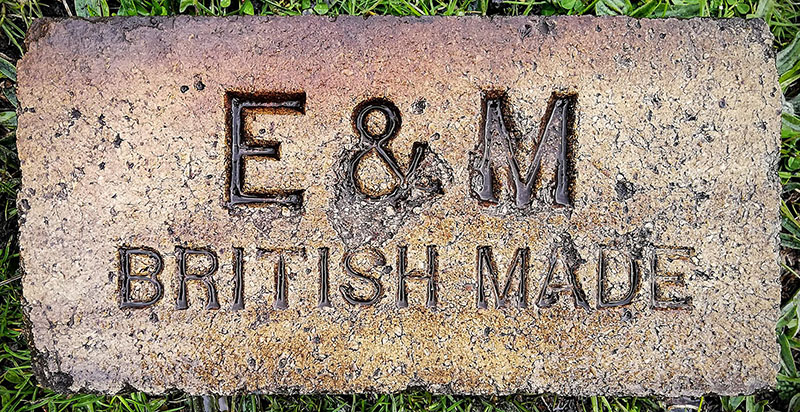 Photo by Neal Barrass.
Photo by Jordon Tinniswood.
---
F. Emery, Westbury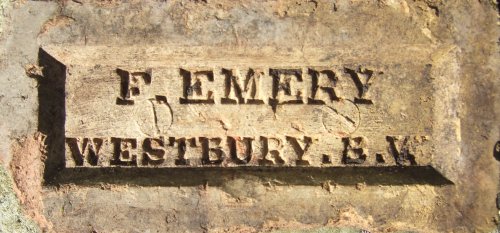 Frederick Emery, Westbury Brick Works, Westbury-on-Trym, Bristol. Kelly's Directory 1897. Photo by Mike Gregg.
---
Empire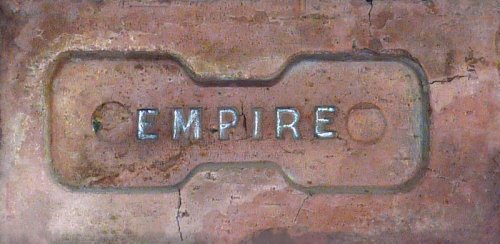 Empire Brick Company. Veolia Waste are now on the site of the Empire Brickworks, Stubbers Green Road, Aldridge, Walsall. It is listed in the trade directories from 1896 to 1961. Info by Martyn Fretwell.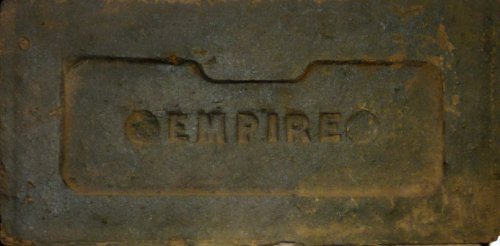 Photo by Martyn Fretwell.
---
Enderby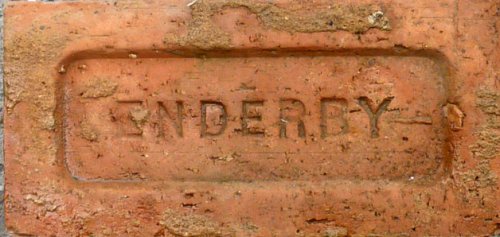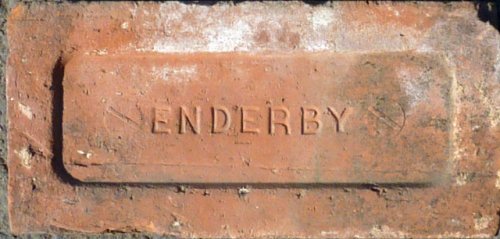 Enderby Brick Co. Narborough, Leics. are listed in Kelly's from 1908 to 1932. Photos & Info by Martyn Fretwell.
---
Enfield, Accrington
The Enfield Brick & Terra Cotta Co. Ltd was founded in 1893 by Stephen Holgate, quarrymaster, Charles Foster, builder, and others. By 1900 they employed 100 people and produced engineering, and rustic bricks and terra cotta specials. The works were sold to the Accrington Brick and Tile Co Ltd in 1938 when the Enfield company moved to new works at Deerplay. Information from http://www.solwaypast.co.uk/index.php/bricks/14-brick/104-lanc-b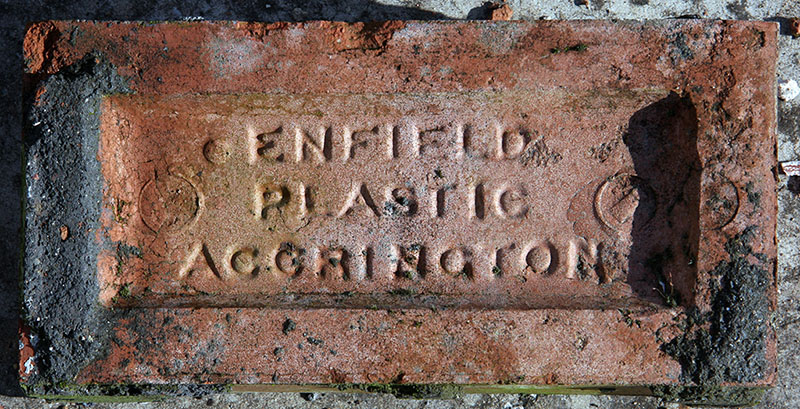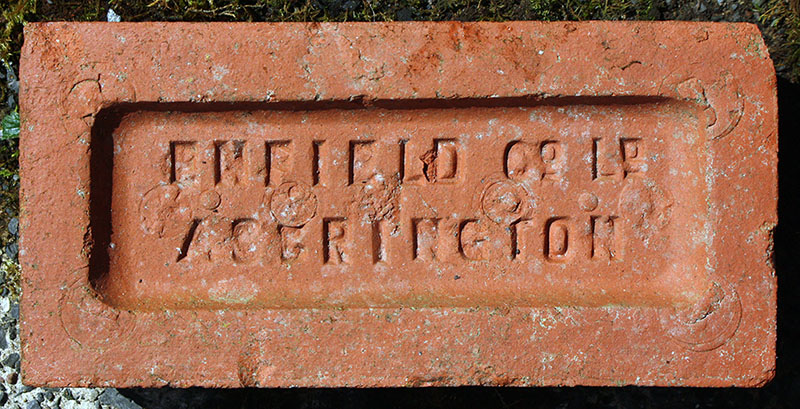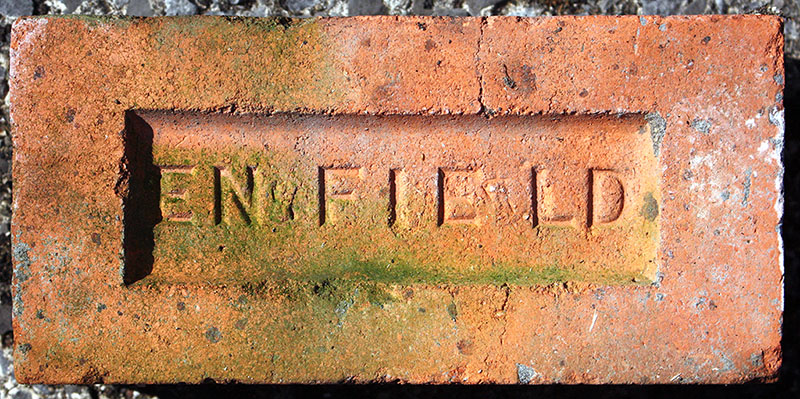 Photos by David Kitching.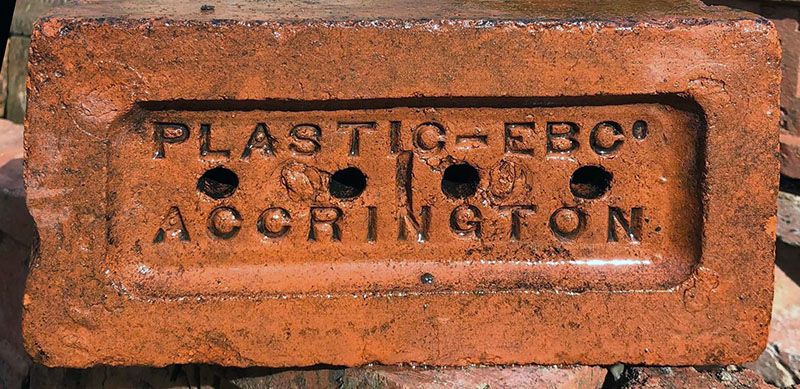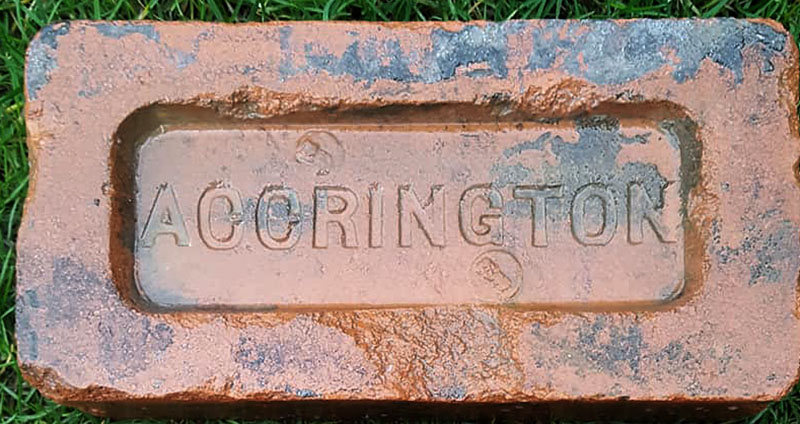 Reverse of Enfield Co Ld brick. Photos by Jason Stott.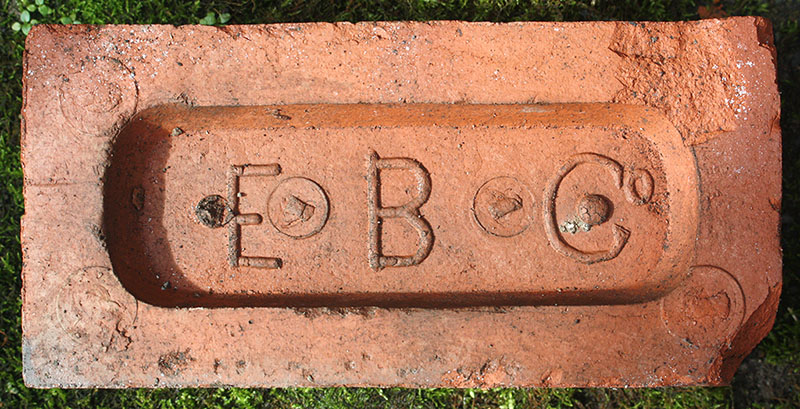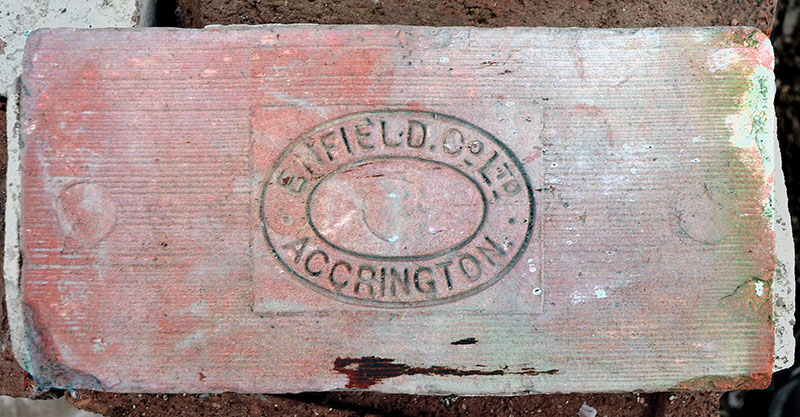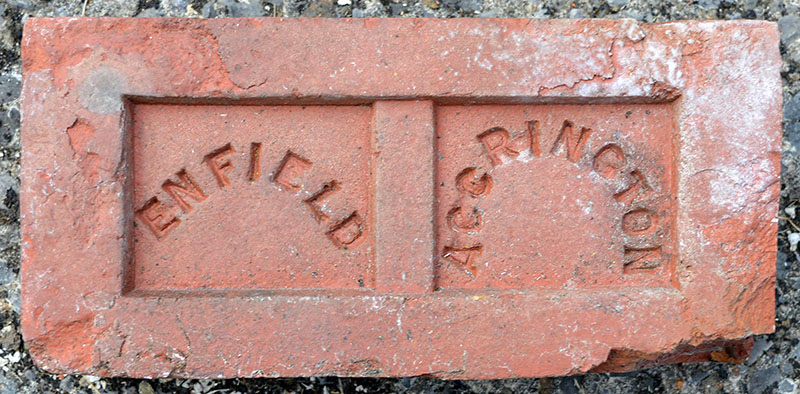 Radius brick 10ft 0ins.
Photos by courtesy of the Frank Lawson collection.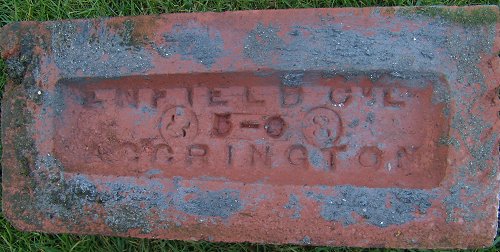 A brick used in chimney building. Clive Midgley writes: possibly the 5-0 refer to the chimney radius in feet? The wider end face is radiused to suit the chimney. It rings like a bell!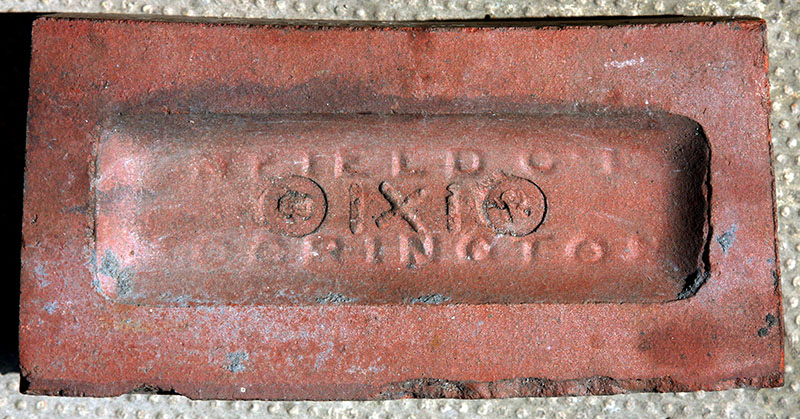 Radius brick from Sykes'bleachworks chimney at Edgeley, Stockport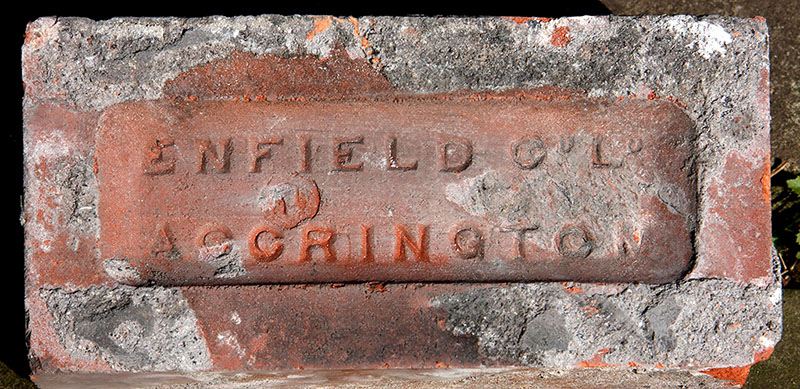 Photos by David Kitching.
---
Enfield, Deerplay
The Enfield Brick & Terra Cotta Co. Ltd developed its new works at Deerplay, Burnley in 1935 and transferred all production there in 1938 after selling the previous Accrington location. Production continued here until 1978.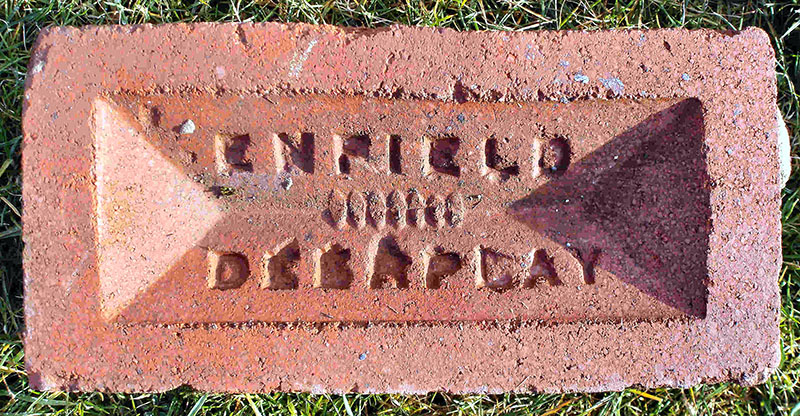 Photo by courtesy of the Frank Lawson collection.
---
Enfield Red Brick Co.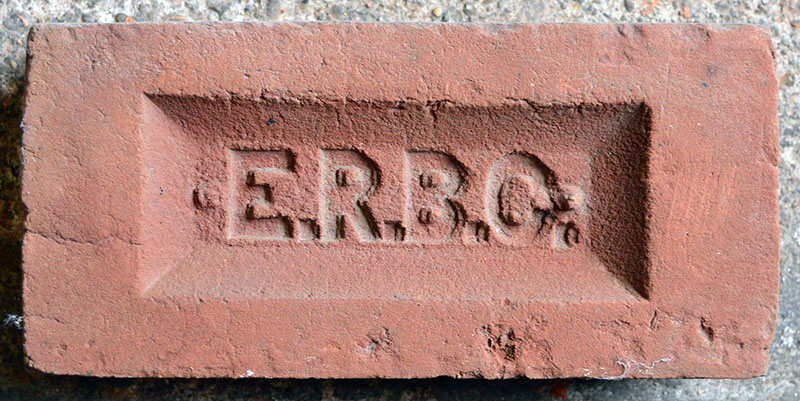 I was told that this brick was made by the Enfield Red Brick Co. in Enfield, Middlesex. No trade directory entries have been found, but maps dated 1913 & 1938 show two brickworks marked either side of Southbury Road in Enfield, with one being shown as the Crown Brickworks. Info by Martyn Fretwell, Photo by Frank Lawson.
---
English, King Stagg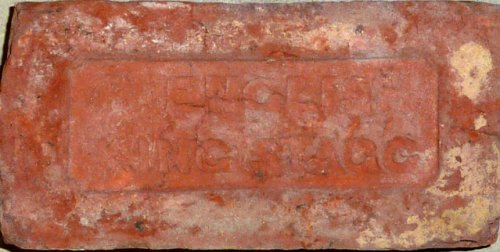 Robert English, Holwell, Sherborne is listed in Kelly's 1880 edition, then at the King Stag Brickworks, Sherborne in Kelly's 1889 edition. The 1895 edition reads Robert English (exors of), Lydlinch, Sturminster Newton & Holwell, Sherborne. Photo & Info by Martyn Fretwell.
---
Enock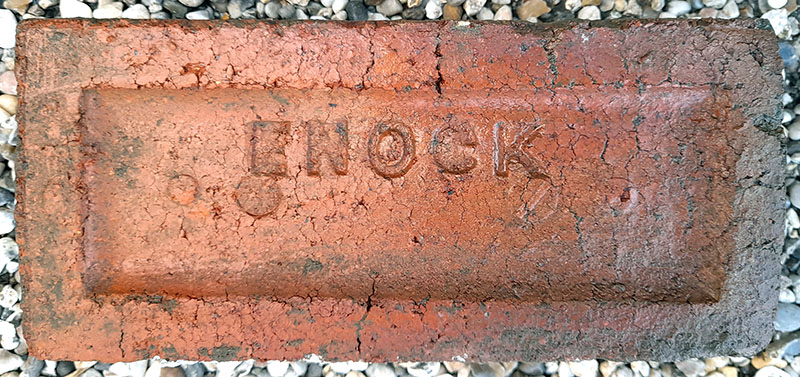 Joseph Enock was a Sheffield based builder and developer who established the Firth Road Brickworks in 1901 to make bricks for the houses he was building in the area. The road name changed to Woodseats Road in 1903 and the works was thereafter known as Woodseats Road Brickworks. The development of the area took many years and Enock was still building in 1929 and the works is shown on the 1935 update of the 25 inch ordnance map. Photo by Darren Clarke.
---
R Entwistle & Co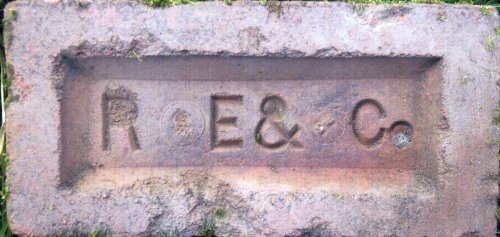 Found by Entwistle station. The maker is most likely to be R Entwistle & co., Cranberry Lane, Darwen, Lancashire, as seen in Barrett's directory of Blackburn, 1912. Image PRBCO.
---
Erewash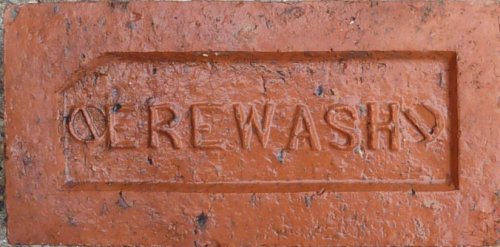 Only 2" thick, this brick from the Erewash Brick & Pipe Company at Eastwood was found by Dave Wall in Skegby, Notts. The Company later amalgamated with the Eastwood Brick Company to form the Manners Brick Company. Photo & Information by Martyn Fretwell.
---
Espley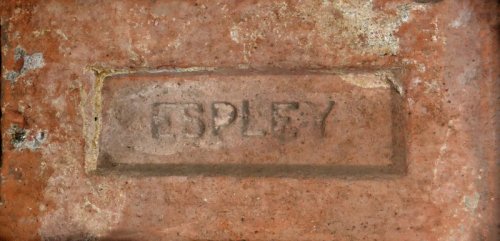 Kelly's Trade Directory records Alfred Espley as brickmaker from the 1876 edition to the 1892 edition at Birmingham Road, Stratford on Avon. Then from 1900 to the 1940 editions the entry is Alfred Espley Brickworks Ltd. The London Gazette records Espley Brickworks Ltd as being voluntary wound up on the 29th of April 1942 and the works was disposed of by the liquidator. Information from a family web site states that Benjamin Bomford b.1864 d.1915 was the manager of the Espley Brickworks in Stratford on Avon, but it does not state any dates. Photo & info by Martyn Fretwell.
---
Essington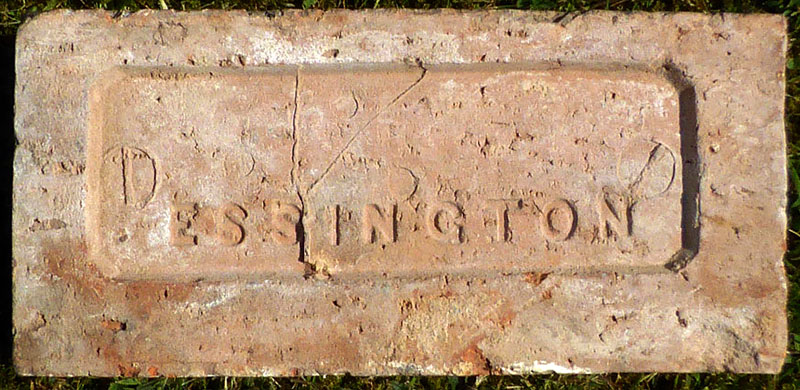 This brickworks on Hobnock Road, Essington was originally owned by W. Davis & Co. between 1868 & 1896 (example on D Page). Kelly's 1900 to 1928 editions then lists G.W. Lewis brickmaking at this works. So this Essington example may have been made by Lewis who used the same moulds as Davis, but without his name at the top, hence the blank section. Production of bricks may have only been on small scale at this Essington works because Lewis owned another works at Cheslyn Hay & both works made the famous hand made & machine made Rosemary Brand of roof tiles. Bricks stamped Rosemary may have also been made at the Essington works as some of the Essington listings for Lewis have blue in brackets after his name. The Cheslyn Works continues to be listed in Kelly's after 1928. Photo & Info by Martyn Fretwell.
---
Eston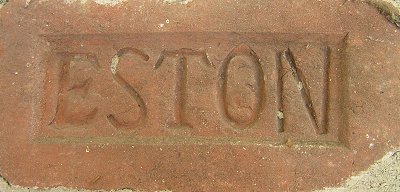 Eston is near Middlesbrough.
---
Etruria Tileries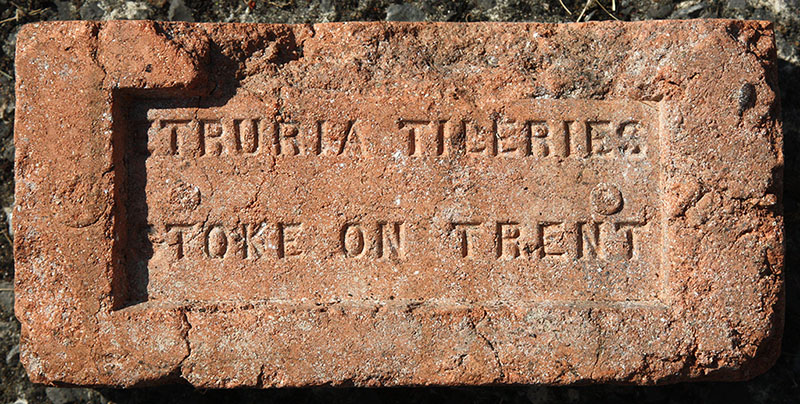 Etruria Tileries at Basford, Stoke-on-Trent is listed under John Sneyd from 1879 to 1907 and G.H. Downing & Co 1920s to 1960s.
---
---
Evans(Sheffield)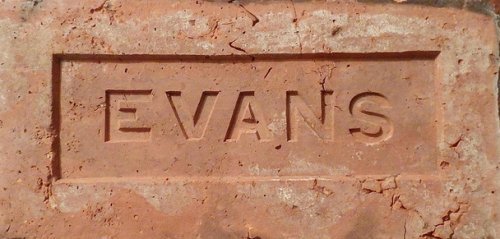 James Evans, Milton Street & Clarence Street, Sheffield. White's Sheffield & Rotherham Directory 1856 / 1862. James Evans, Headford Street, Sheffield. White's Sheffield & Rotherham Directory 1879. Photo and info by courtesy of the Frank Lawson collection.
---
Evans, Melbourn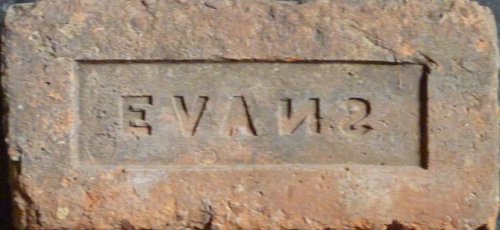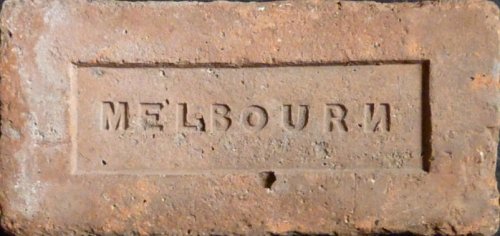 John Evans is recorded in Kelly's for 1857 at the Common, Melbourne, Derbys. Photos & Info by Martyn Fretwell.
---
James Evans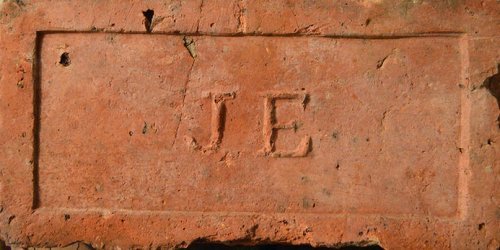 Probably: - James Evans, Milton Street & Clarence Street, Sheffield. White's Sheffield & Rotherham Directory 1856 / 1862. James Evans, Headford Street, Sheffield, White's Sheffield & Rotherham Directory 1879.

Possibly: - Joseph Ellis, Twelve O'Clock Court, Saville Street, Sheffield, White's Sheffield Directory 1849.
Photo and info by courtesy of the Frank Lawson collection.
---
Luke Evans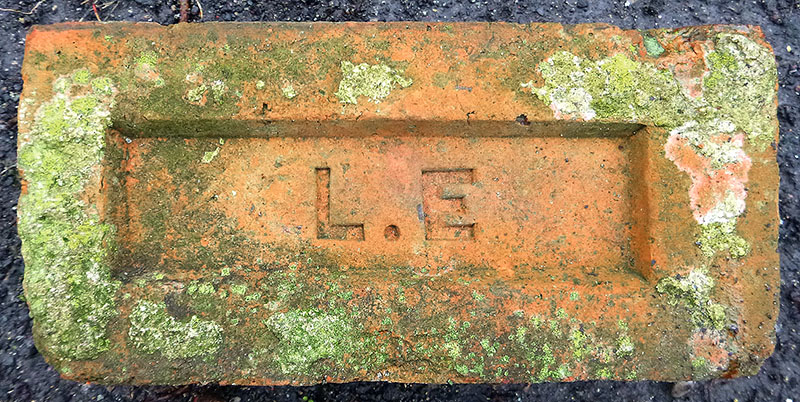 Found near Alfreton by Frank Lawson, Luke Evans, brickmaker of Alma Street, Alfreton. is recorded in Kelly's 1901 Trade Directory.
---
Richard Evans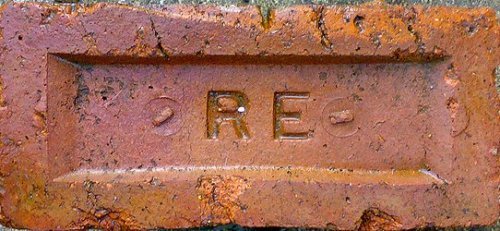 Richard Evans Haydock Collieries, photo and info by Alan Davies.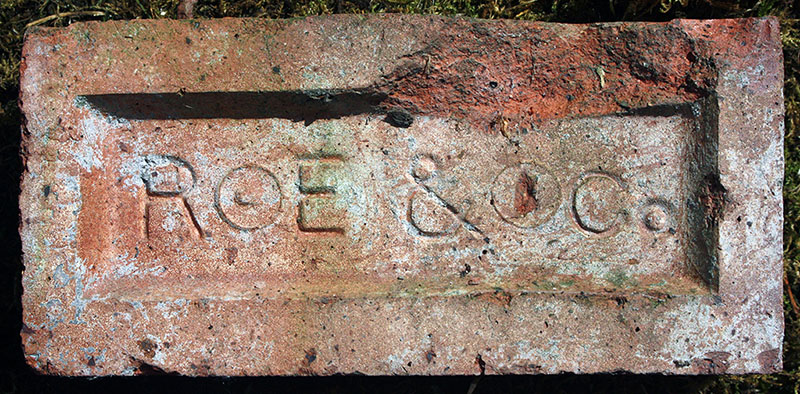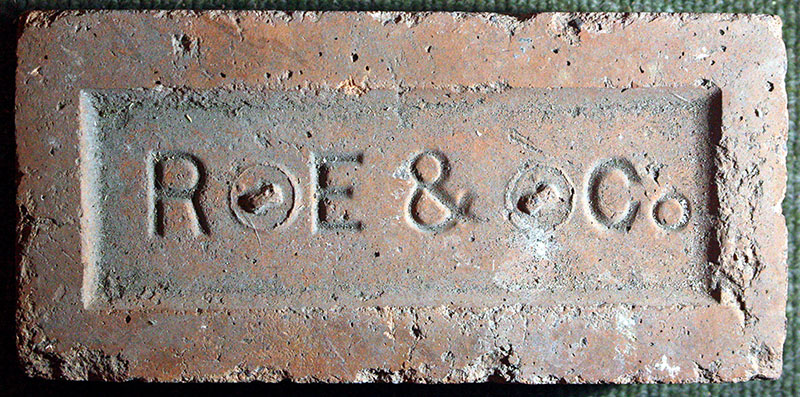 ---
William Evans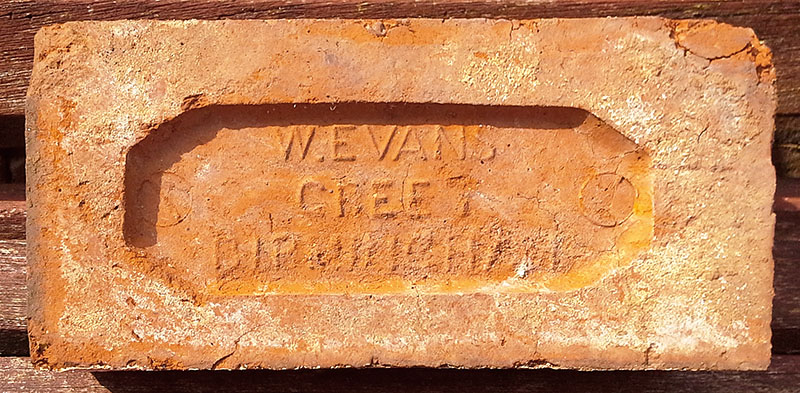 William Evans, Greet Brickworks, Warwick Road, Greet, Yardley. Evans is listed at this brickworks in Kelly's 1883 edition until Kelly's 1888 edition. Stephenson in his 1933 brickmakers book makes a remark about Evans, saying "this yard was run by a friend of mine named William Evans, who was just about as well fitted to make bricks as to fill the position of Prime Minister! But then there is a popular superstition that any fool can make bricks!" Mrs. Hannah Evans is next listed at this works in Kelly's 1890 edition until Kelly's 1896 edition. Info by Martyn Fretwell, photo by Angel Rose.
---
Evans-Lombe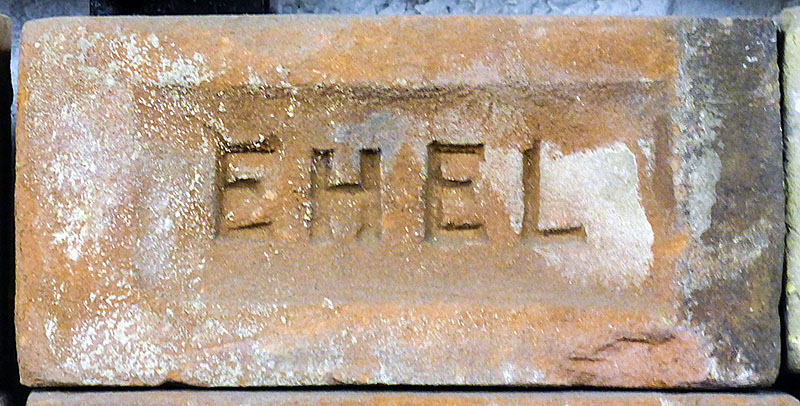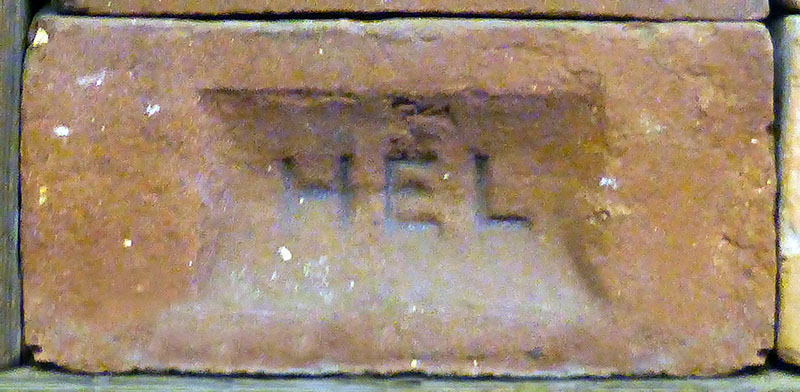 Made at Great Melton in Norfolk. It was once the estate brickworks of the Evans-Lombe family and it appears that bricks were lettered after the head of the family at the time of production. There is said to be a version lettered E E L too. The initials to belong to the following family members: HEL: Henry Evans-Lombe (listed 1864-88) EEL: Edward Evans-Lombe (listed 1890) EHEL: Edward Henry Evans-Lombe (listed 1892-1937). Info by Chris Fisher, photos by Martyn Fretwell.
---
J G Evatt, Coalville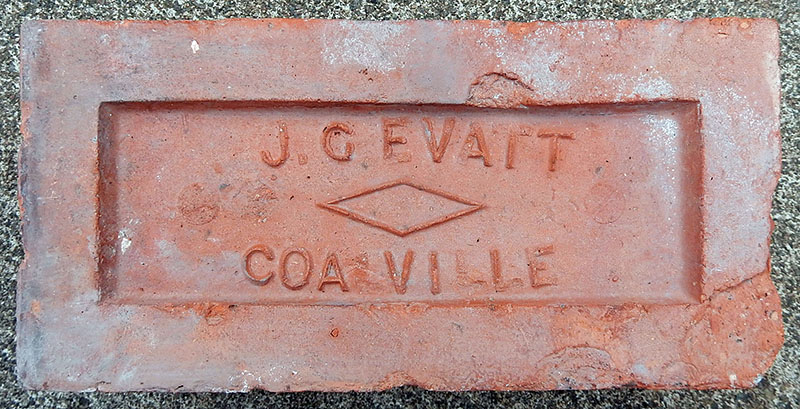 John Green Evatt was listed as Managing Partner of Coalville Tile and Brick Company in Kellys directory of 1876 and 1877. Coalville Tile and Brick is further listed in Kellys in 1881 but with no mention of John Evatt. Photo and info by Dennis Gamble.
---
Everard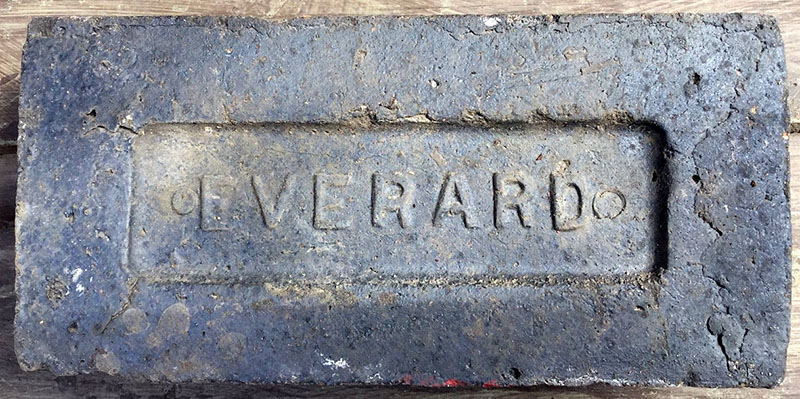 Photo by Jeff Wynch.
---
Evercreech: see Somerset Brick & Tile Company
---
Evers, Stourbridge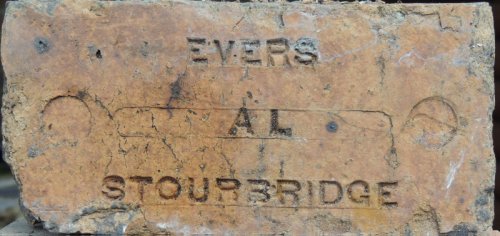 Samuel Evers & Sons are listed as firebrick manufacturers at Holmer Hill, Cradley Heath, Staffs. in Kelly's Directories from 1888 to 1936 editions. The company also produced bricks stamped with the trade name of Rainbow, which can be viewed on the R page. Photo by Colin Wooldridge from the John Cooksey Collection & Info by Martyn Fretwell.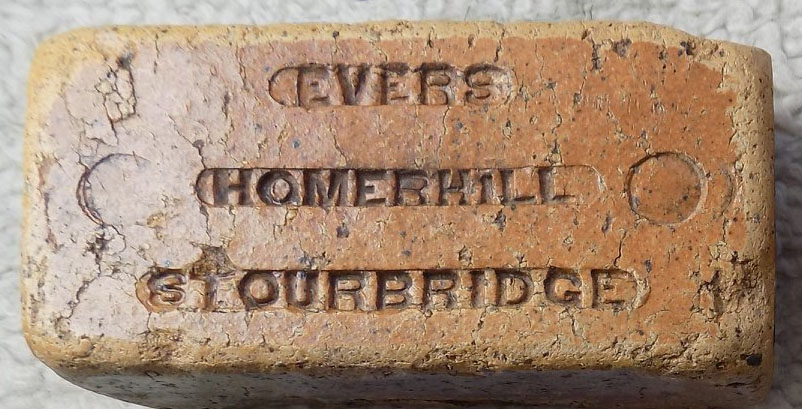 Photo by Jan Latusek
---
T. A. Everton, Droitwich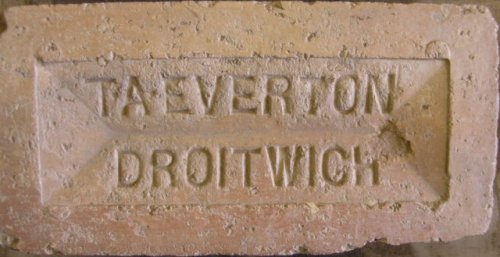 Simon Patterson photographed this one at Avoncroft Museum.
---
Ewart

Found near Wooler. N. Northumberland. Photographed by Andy Stewart. Made at Ewart Park Brickworks at Belsay.
---
Ewhurst (Surrey) - see Ockley
---
Exhall Colliery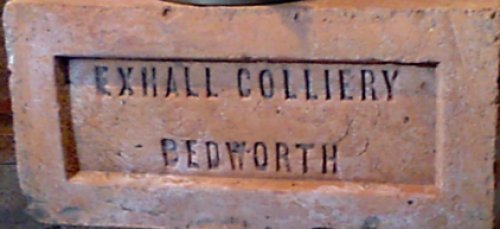 Photo taken by Alwyn Sparrow at a recent exhibition on the disaster at this colliery 100 years ago.
---
Exmouth Brick & Tile Co.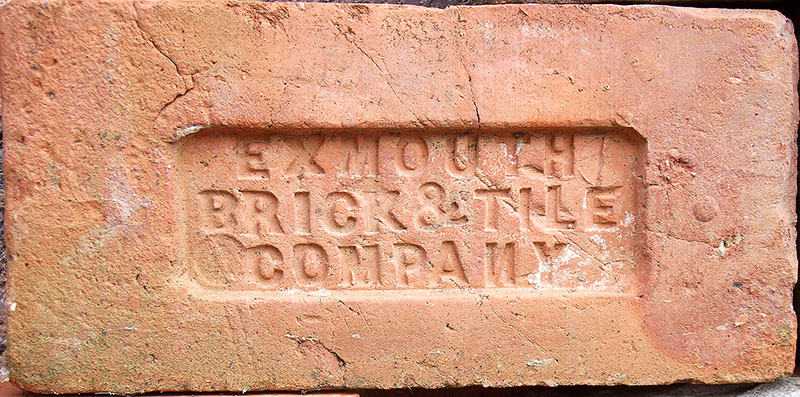 Found in a salvage yard by Angela Coles.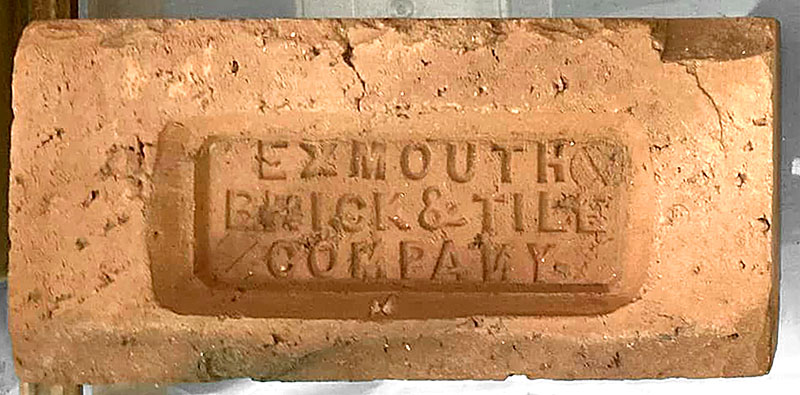 Photo by Chris Henley.
---