"Old Bricks - history at your feet"

England page 13, Letter: K
---
Kaye & Darwin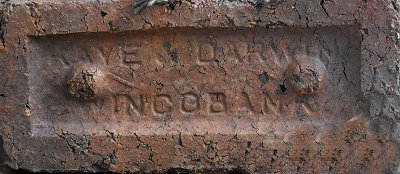 Found by Michaela in Sheffield city centre.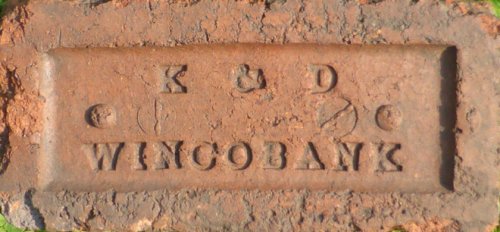 Kaye & Darwin are listed in White's 1901 edition at Wincobank, Sheffield. Info & photo by Martyn Fretwell, courtesy of the Bill Richardson Collection.

---
Kaysburn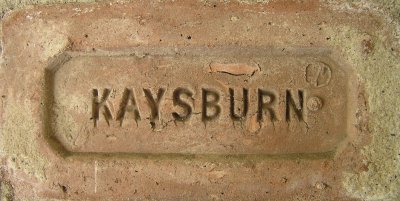 Kaysburn Brick & Tile Works was situated to the north-east of Langley Park in County Durham. It was operating in the 1850s but was closed and the site cleared by 1915.
---
Keeling, Clutton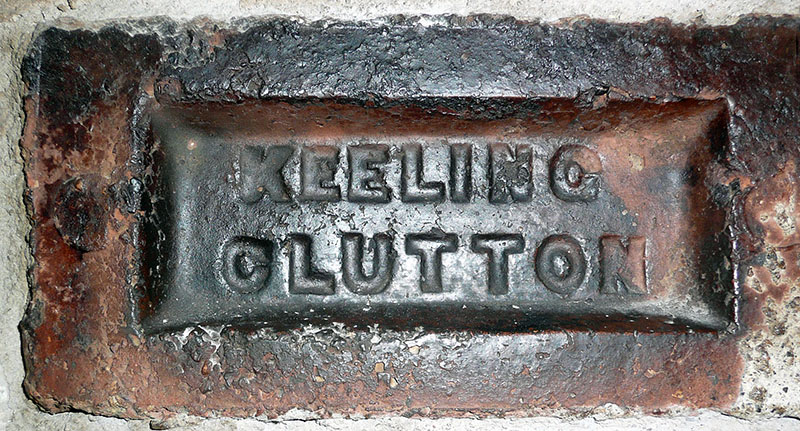 Tom Keeling, Greyfield, Clutton, Somerset appears in Kelly's Directory for 1902. Photo by Mark Annand.
---
Sidney Keen
Sidney Green, Clevedon Potteries & Steam Brick & Tile Works, Strode Road Clevedon. This works is listed in Kelly's Somerset Directory from 1894 to1902. From1910 to 1939 it is Sidney Keen & Brother. This stamp is on a roofing tile. Photo by Mike Chapman.
---
Kelham


Kelham Brickworks near Newark operated from its Broadgate Lane site around 1900. By 1912 it is marked disused on a local map. Photo & Info by Martyn Fretwell.
---
J Kemp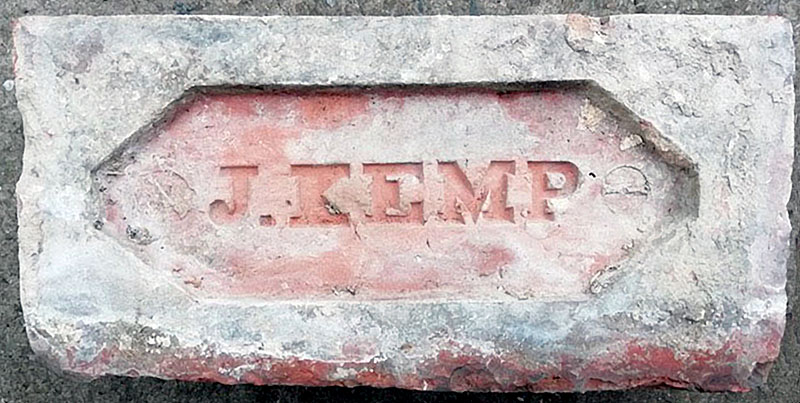 Found in the Midlands by Alwyn Sparrow,
---
Kemp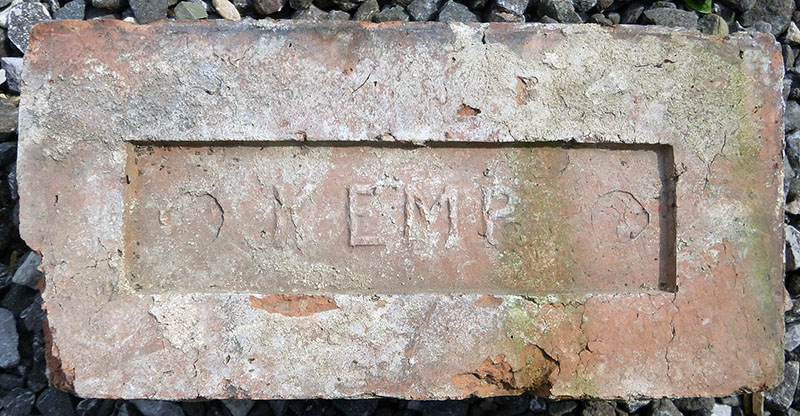 William Kemp of Commonside, Heanor is recorded in Kelly's Directoryfor 1881 and 1888. Photo by Frank Lawson.
---
K (Kemp)


George Kemp's brickworks, The Aldershot Brick and Tile works, Boxalls Lane, Aldershot Hants. Company #7429, 1873. Further info here. Photo and info by Mike Hatch.

---
Kempston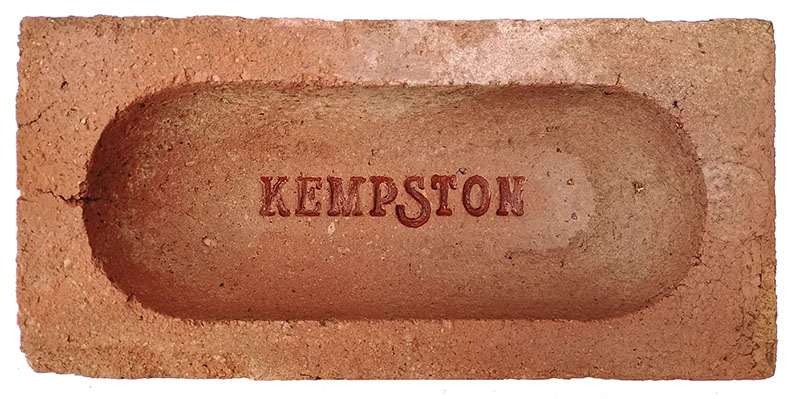 The Kempston company in Bedfordshire was one of the founding works of the London Brick Co. Photo by Chris Tilney.
---
J. Kent Derby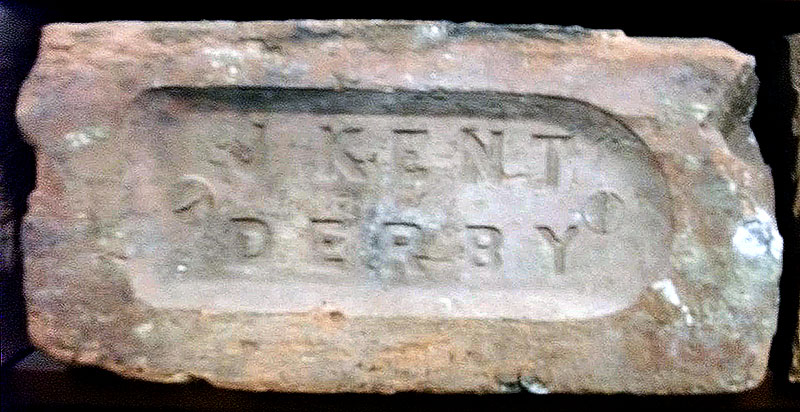 Photo supplied by A.K.A. Demik.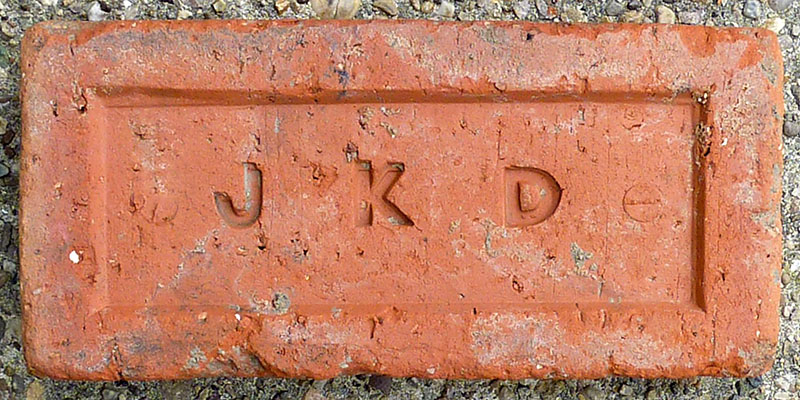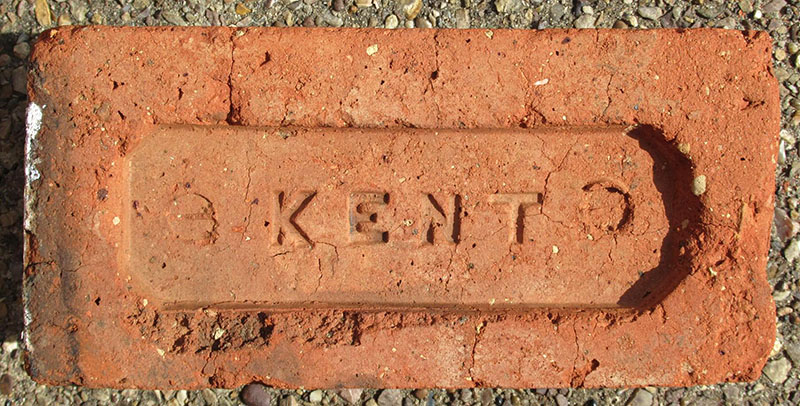 James Kent is listed as brickmaker in Kelly's 1876 & 1881 editions at Stockbrook Lane, Derby. Photos & Info by Martyn Fretwell.
---
Kent Co, Pluckley: See Pluckley
---
Kenyon, Harrop, Macclesfield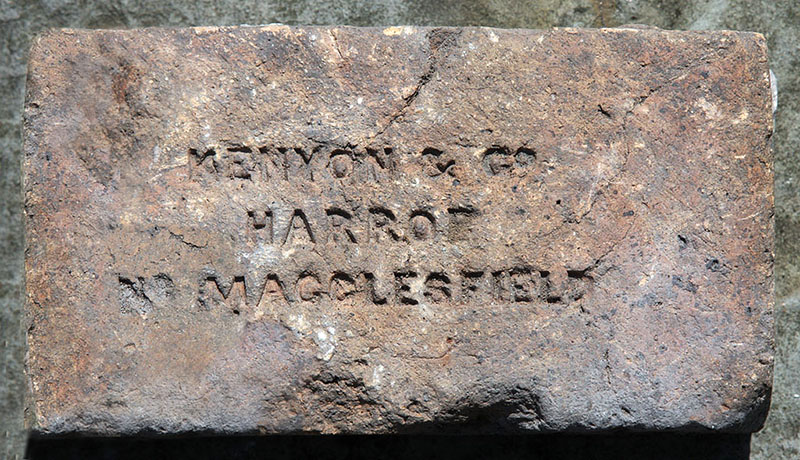 Harrop is a district at the north-west of the parish of Rainow, near Macclesfield, where there were a number of small coal and fireclay mines in the nineteenth century. The only known kiln in that area was at Brink Brow north of Further Harrop Farm. Photo and information by David Kitching.
---
Robert Kershaw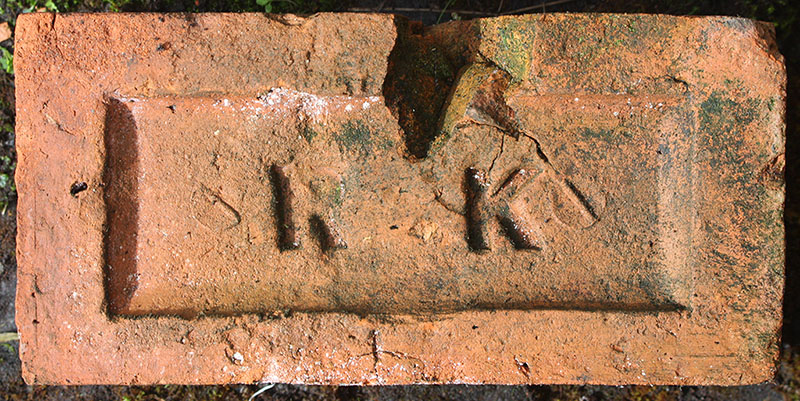 Robert Kershaw, 296 Rochdale Road, Collyhurst, Manchester. Slater's Manchester Directory 1861 - 1871. Photo by David Kitching.
---
J H Ketley & Co.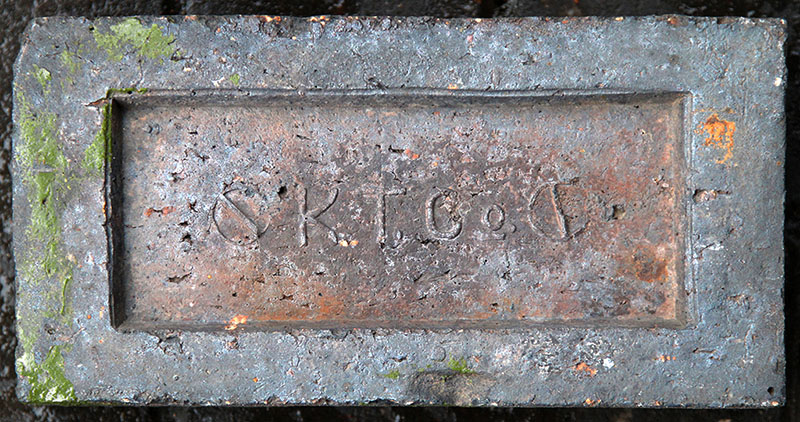 Knutton Tileries Co.

During the later 19th century John Howard Ketley owned, or was the principal partner in, several undertakings, in connection with the manufacture of tiles and bricks, extracting the clay to make them, as well as calcining mine dust to make coal briquettes. He operated from a site at Knutton, alongside the North Staffordshire Railway line from Newcastle to Silverdale. From 1907 the tileries were later operated under the title Knutton Tileries Co Ltd until 1917 and then as Knutton Tileries Limited until the company was wound up in March 1936 after the business was acquired by G H Downing Co Ltd in 1932.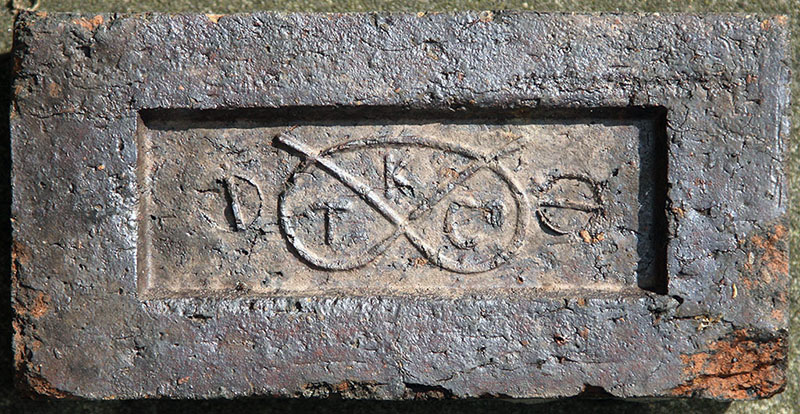 Ketley Tileries Co.
Photos by David Kitching.
---
Ketley Brick, Brierley Hill
Ketley Brick Company Ltd. Dreadnought Works, Dreadnought Road, Pensnett, Brierley Hill. Kelly's Staffordshire Directory 1880: - Ketley Brick Co., (William Wood, manager) Kingswinford. The Ketley Brick Company is a family business with over a century of tradition manufacturing Staffordshire Blue Bricks and Pavers and is still producing bricks today. Information from Frank Lawson.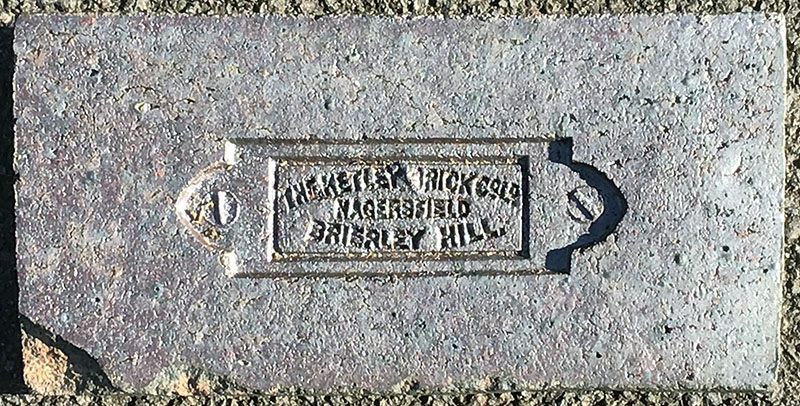 Photo by Peter Prest.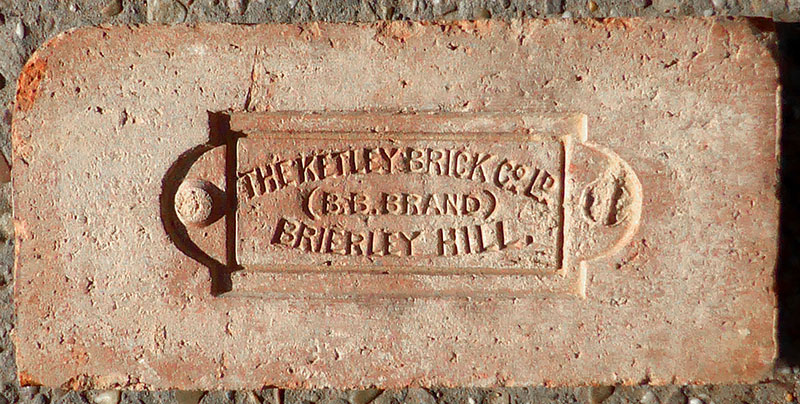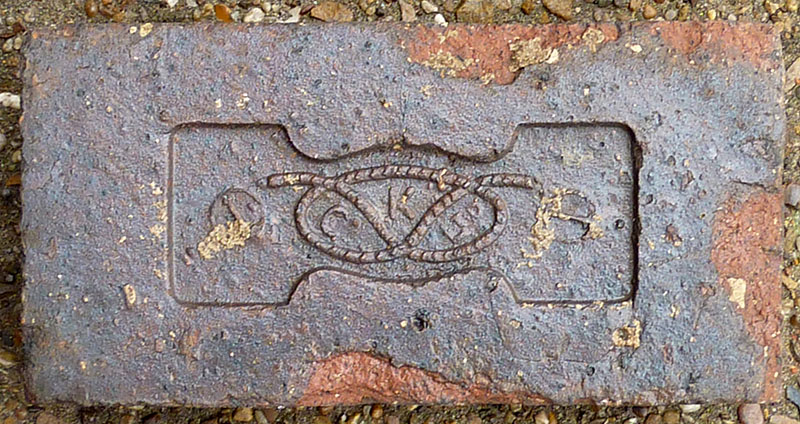 Found at a Spondon reclamation yard.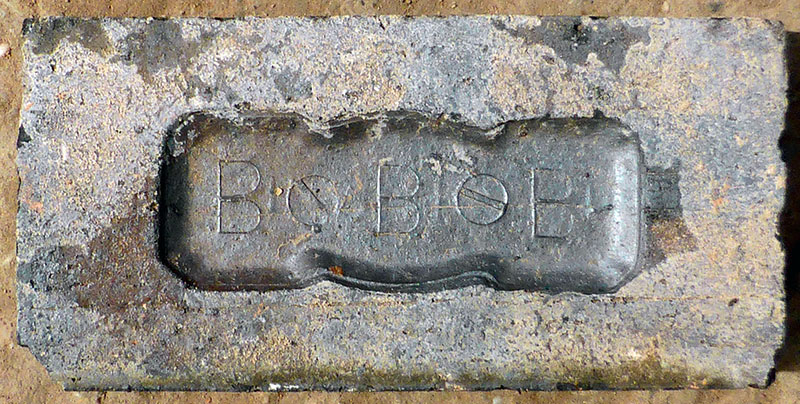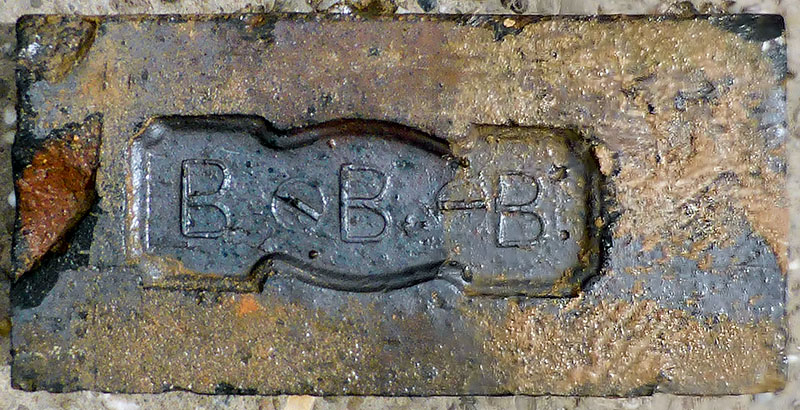 Thought to represent the Ketley Blue Brick Brand. Photos by Martyn Fretwell.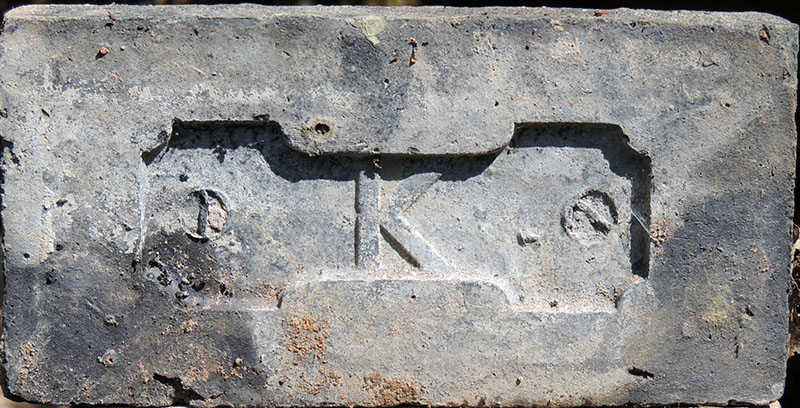 Photo by Colin Wooldridge.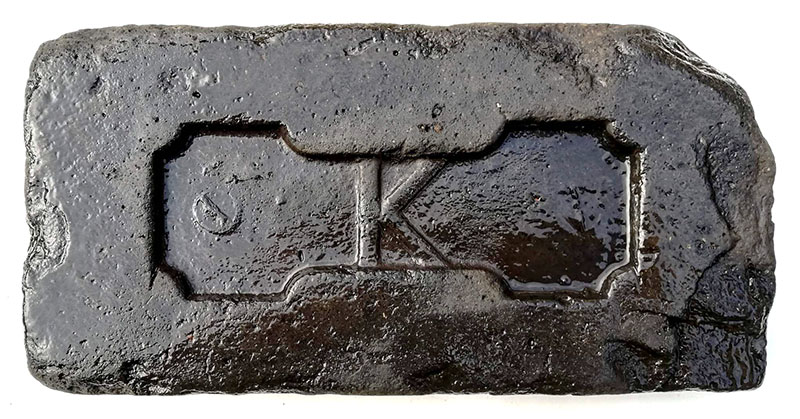 Photo by Chris Tilney.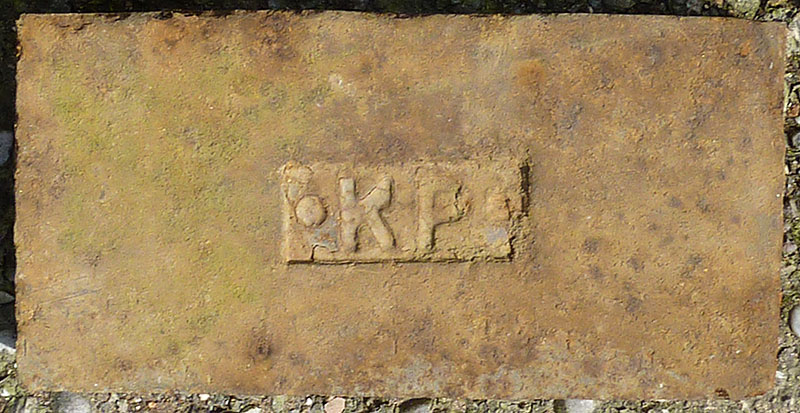 A fairly modern pavior. Photographed at Four Oaks Reclamation Yard. Photo by Martyn Fretwell.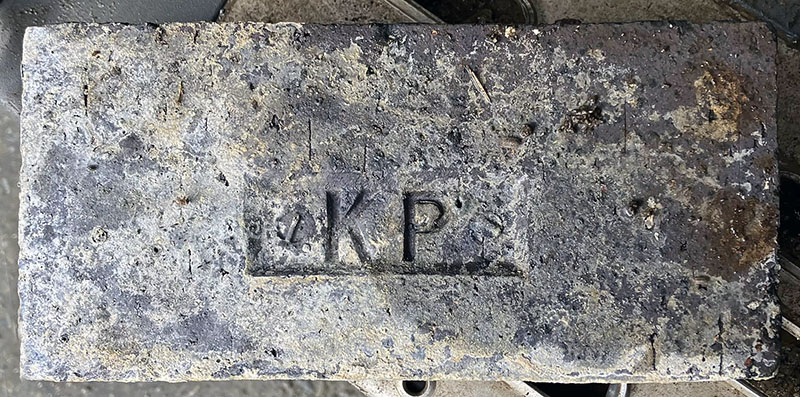 Photo by Ian Williams.
---
Kettering Brick Co.


The Kettering Brick Company opened to the south of the town in 1873 and closed around 1934. Photo and info by Dave Clemo.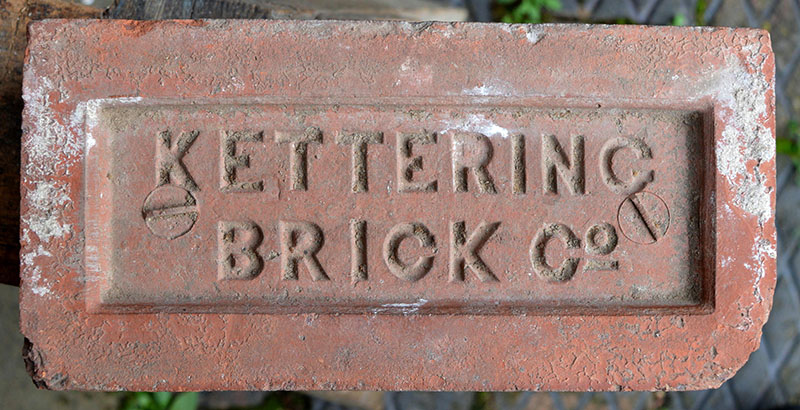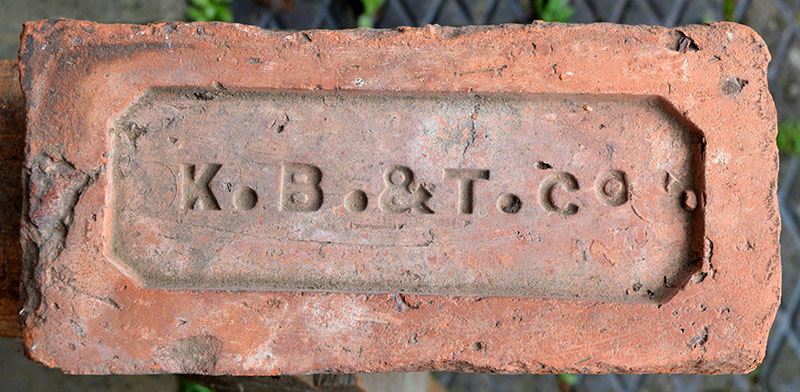 Photos by Martyn Fretwell and by courtesy of the Bill Richardson Collection at Southwick Hall.

---
Keymer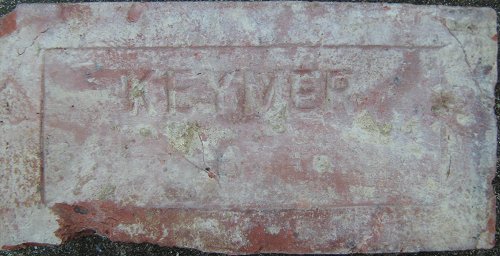 Made in West Sussex, photo by Richard Symonds.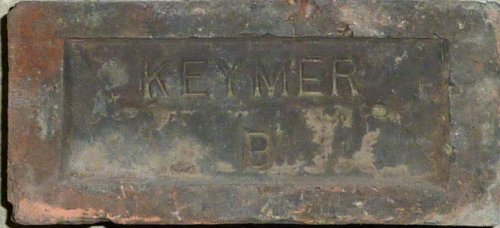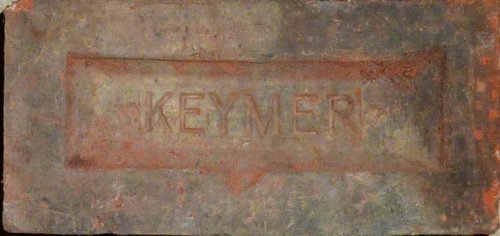 The Keymer Brick & Tile Co. can trace it's origins back to 1588 when it began as Ditchling Pottery. The move to Nye Road, Burgess Hill took place in 1860 & the first listing for the Keymer Brick & Tile Co is in Kelly's 1890 edition as Keymer Brick & Tile Works Ltd. (late Johnson & Co.) (A.P. Serase, managing director & secretary), Burgess Hill, Sussex. Brick production ceased in the 1970's due to lack of demand with the works continuing to make handmade roofing tiles. Owned by Wienerberger when the Nye Road works closed in 2015, it's production of handmade roof tiles was transferred to Wienerberger's Ewhurst, Surrey plant. A full history of the Company can be read here. Photos & Info by Martyn Fretwell.

---
Chas Keyworth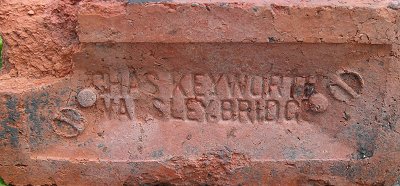 Made on Halifax Road in Wadsley Bridge Sheffield, thanks to Michaela for the photo.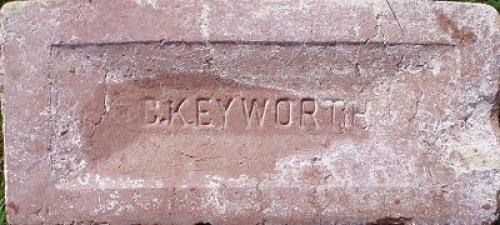 Photo by courtesy of the Frank Lawson collection.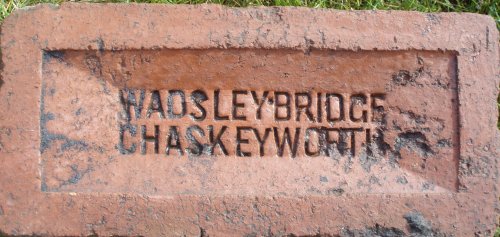 Photo by courtesy of the Frank Lawson collection.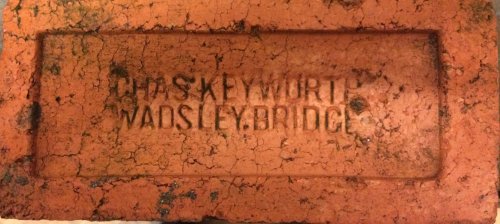 Photo by Chris Nadin.
---
Henry Kidd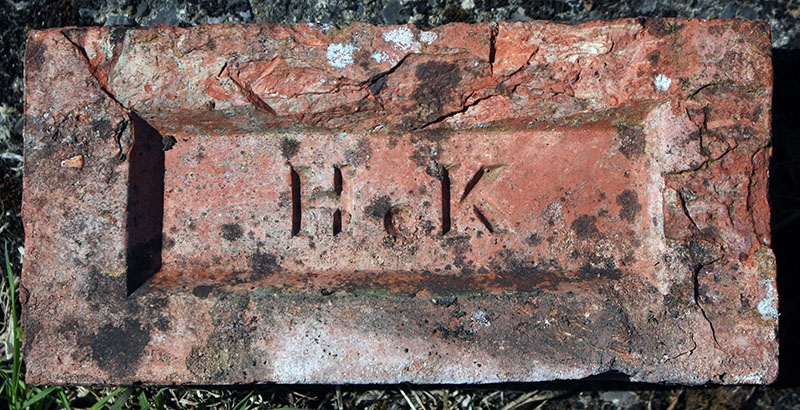 Photo by David Kitching.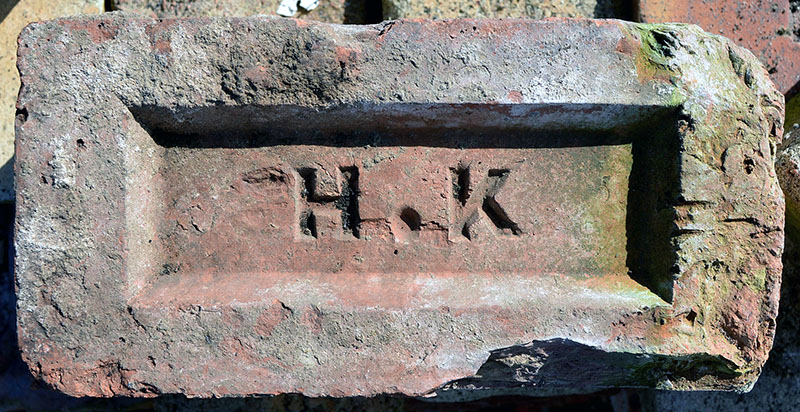 Henry Kidd, Hallfield Road, Layerthorpe, York. York Directory 1846 -1872. Photo by Frank Lawson.
---
Kidsgrove Colliery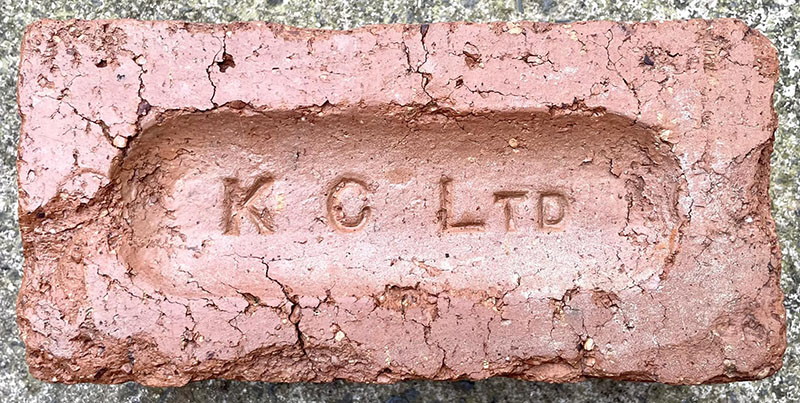 This company was established when Birchenwood Colliery & it's brickworks announced that it was to close in 1925. The Heath brothers, sons of Robert Heath came out of retirement & used their own personal wealth to rescue this colliery & brickworks from the receivers, a venture which proved to be disastrous. Three months after setting up the Kidsgrove Colliery Co. there was an explosion at one of the pits killing seven in December 1925. The General Strike in 1926 put more pressure on the ageing brothers & by 1928 the brothers were financially ruined & the company was put into administration. Info & Photo taken at Apedale Heritage Centre by Martyn Fretwell.

---
Kilburn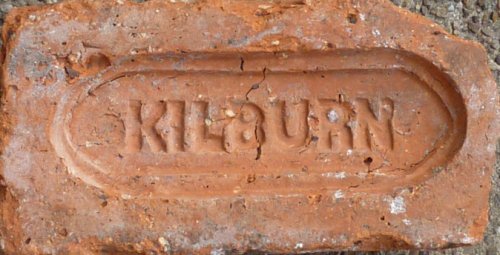 Found in Derbyshire, photo by Martyn Fretwell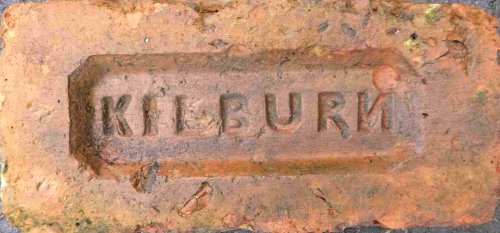 Kilburn is a village to the south of Ripley with strong mining & brickmaking associations. From the Phil. Sparham collection, photo by Frank Lawson.

---
Killamarsh Brick Co Ltd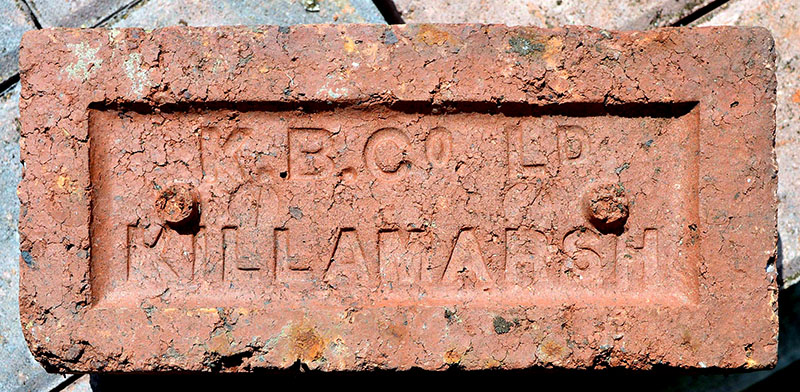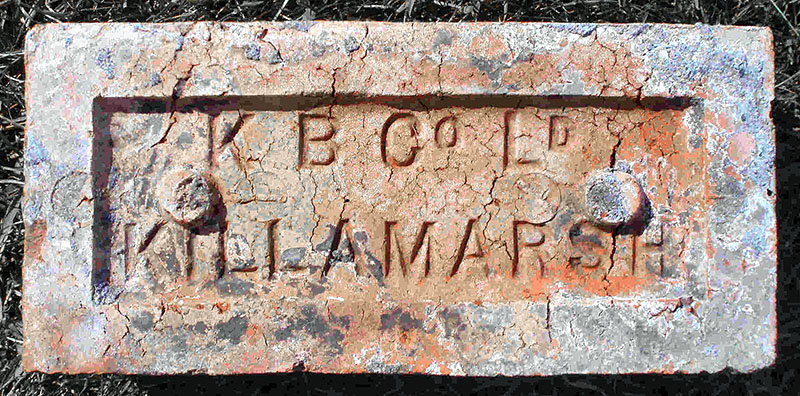 Killamarsh Brick Co Ltd., Killamarsh, Nr. Sheffield. Kelly's Derbyshire Directory 1899. Photos and info by Frank Lawson.
---
Killick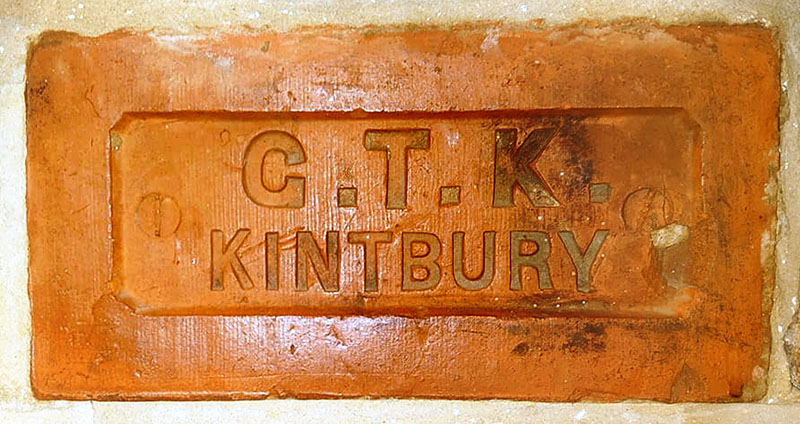 George Thomas Killick, Kintbury, Hungerford, Berks. Listed in trade directories from 1899-1915. Photo by Ian McCarthy.
---
Kilner, Thornhill Lees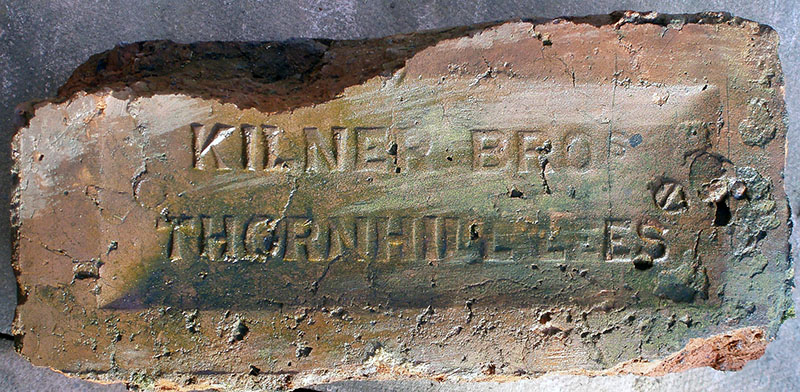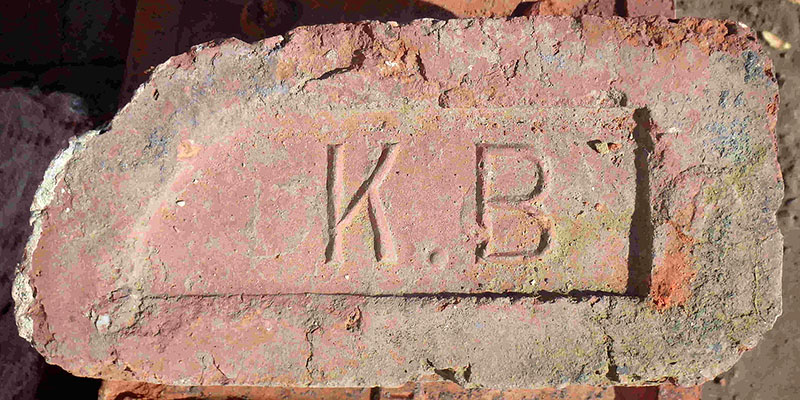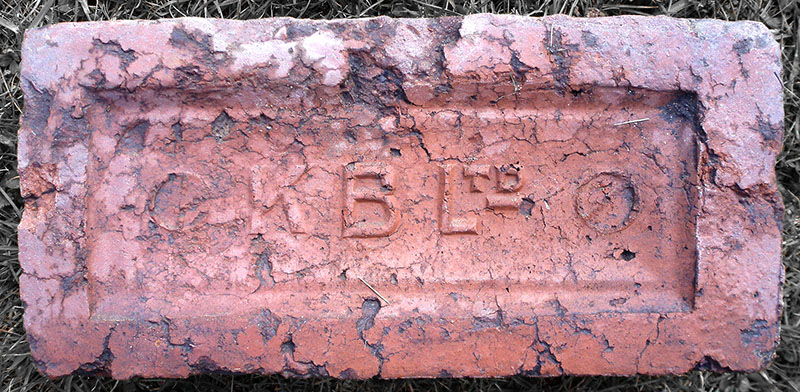 Photos by Frank Lawson.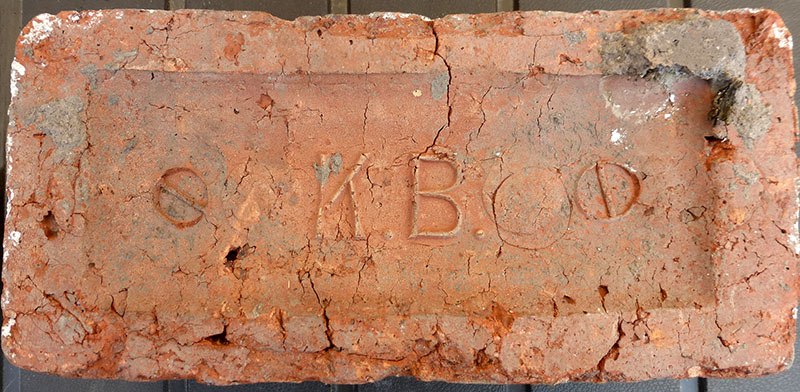 Found at Briestfield, Dewsbury, West Yorkshire, by Philip Jervis.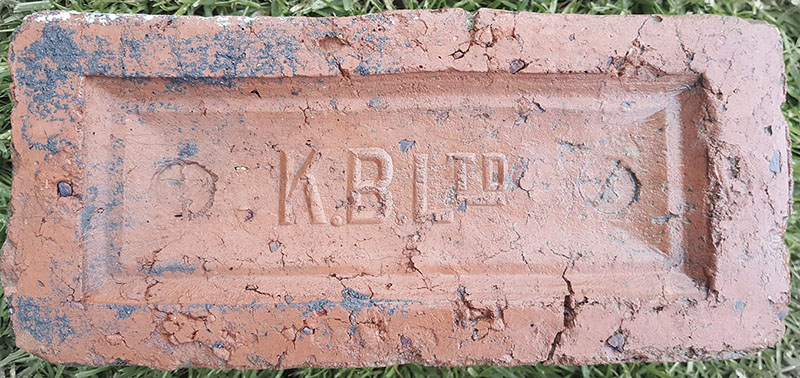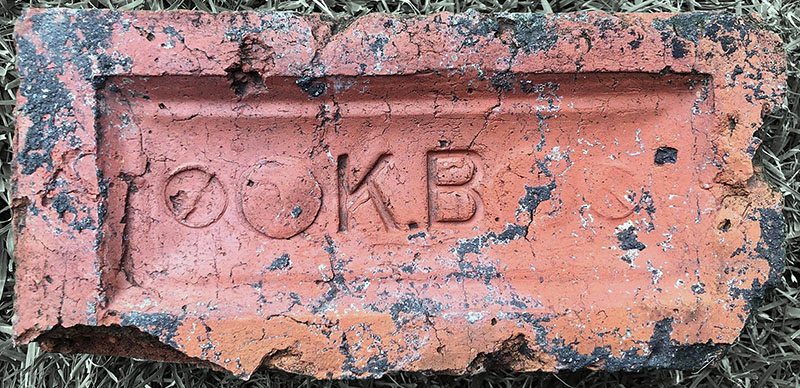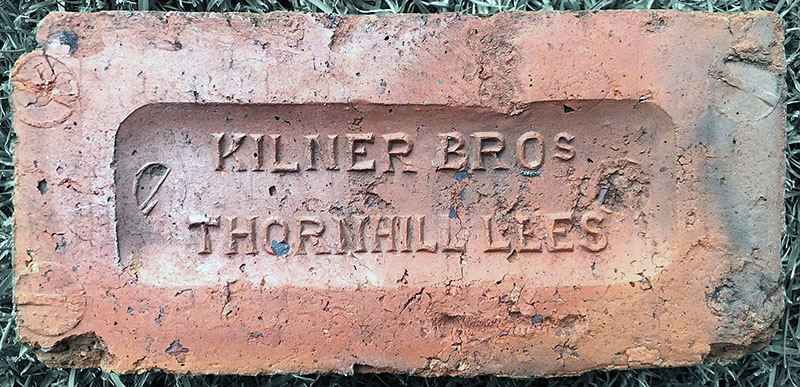 Photos by Jason Stott.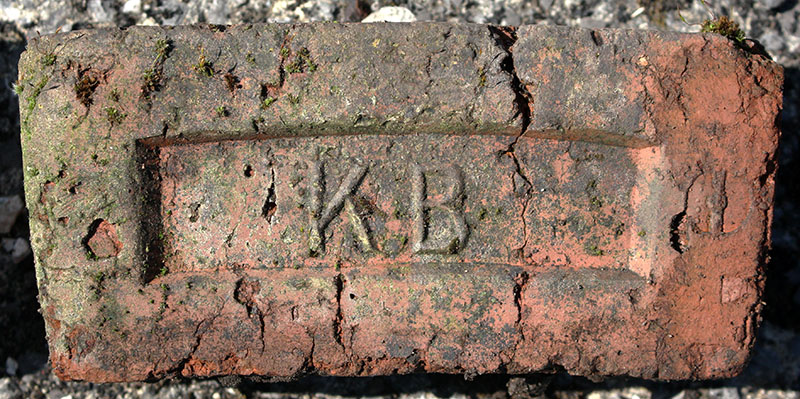 Photo by David Kitching.
---
Kilnhurst
Kilnhurst Colliery Brickworks, South Yorks.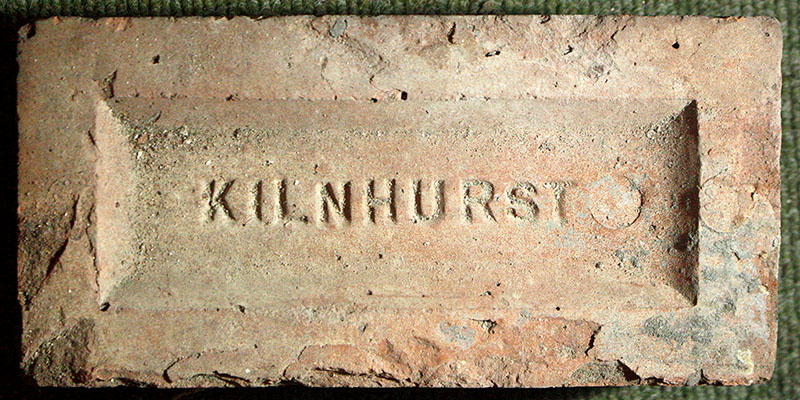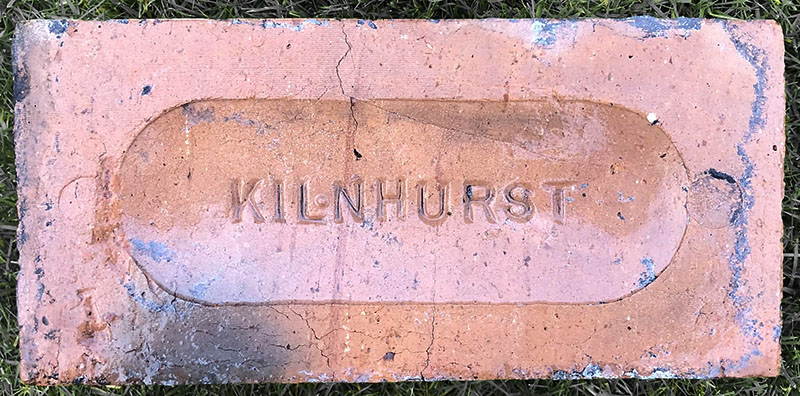 Photo by Jason Stott.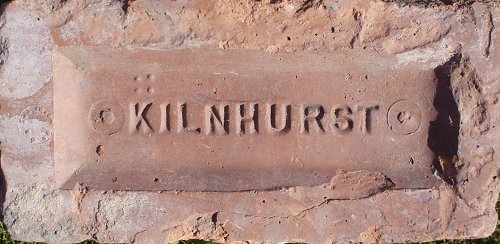 Photo by courtesy of the Frank Lawson collection.
---
Kimber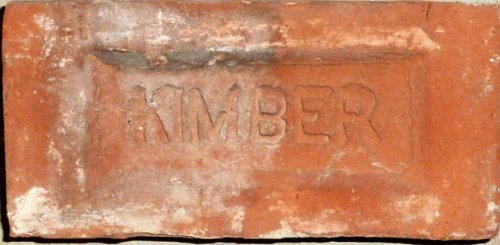 Found these two makers who could have been father & son for this Kimber brick. Kelly's 1885 & 89 editions lists Richard Kimber at Church Lane, Highfield, Southampton, then in the 1895 edition at Crown Street, Highfield, Southampton. Kelly's 1902 edition now lists Sidney G. Kimber at Highfield Brickworks, High Crown Street, Southampton & Mount Pleasant Brickworks, Sholing. The next two directories that I have are 1920 & 27 & they list Sidney just at the Highfield Brickworks. Photo & Info by Martyn Fretwell.

---
J. King & Co. Stourbridge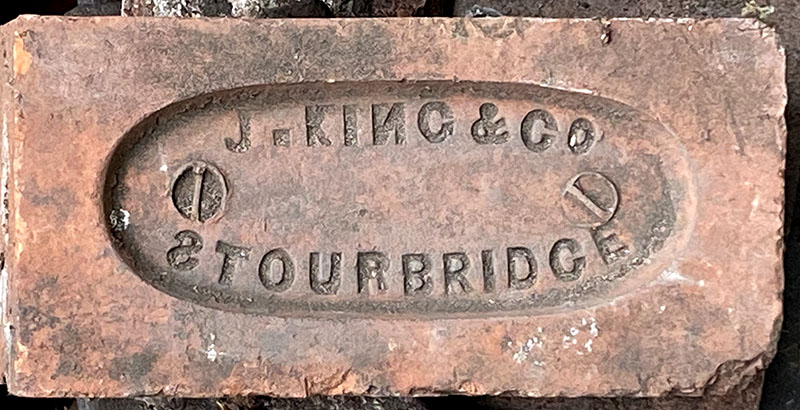 Photo by Richard Lycett.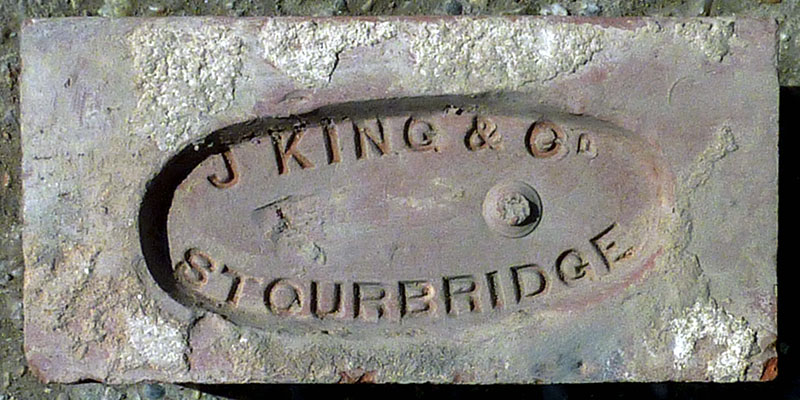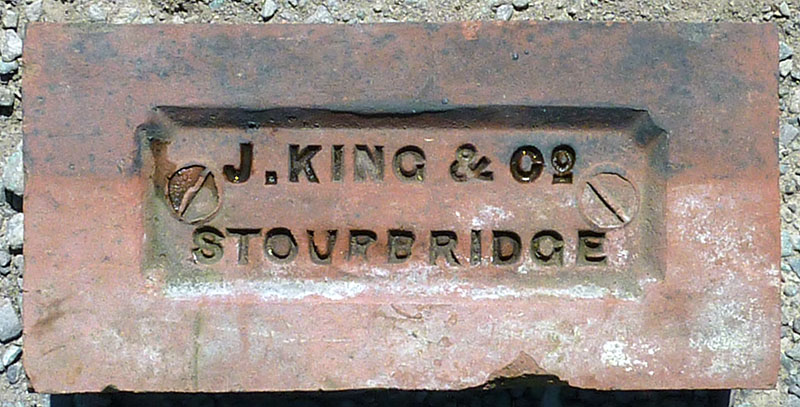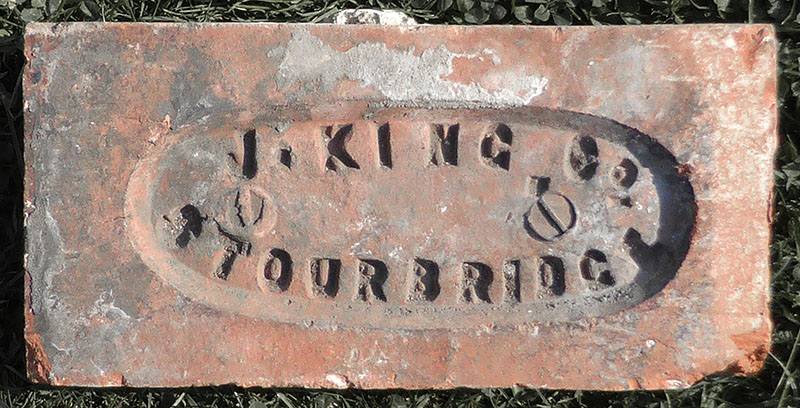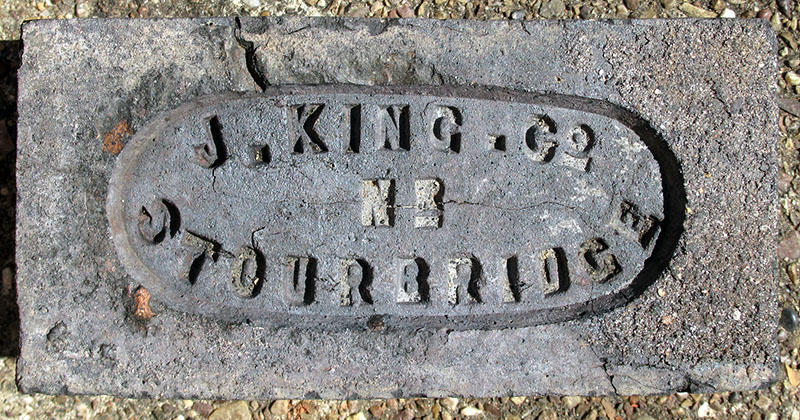 Joseph King & Co, Stourbridge, Chapel Terra Cotta Works, Park Lane, Cradley, Halesowen. West Midlands. Kelly's Trade Directories from 1870 to 1888 list this entry - J. King (red & blue), Netherend,
Stourbridge. The business seems to have closed between 1908 and 1912. Photos by Martyn Fretwell.
---
King Brothers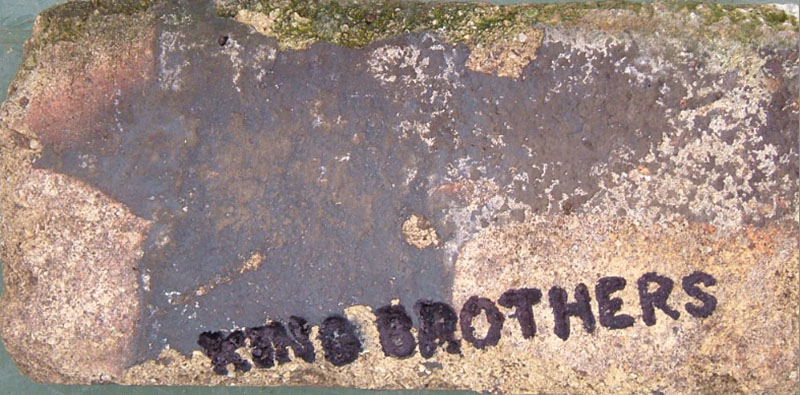 King Brothers, Stourbridge Fire-clay Works, Netherend 1860 - 1955. Manufacturers of fire bricks, glasshouse pots, crucibles, retorts and all fire-clay goods. Found at the site of Towcester Company Iron Works, in production 1875-78, for iron smelting. Photo and info by Nigel Furniss.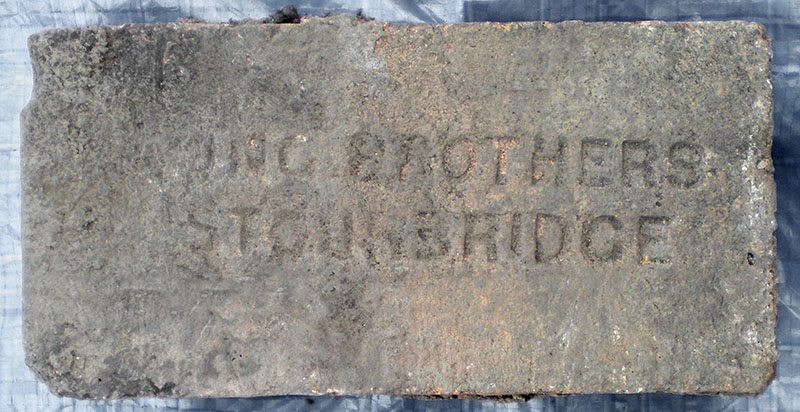 Recovered by Glamorgan - Gwent Archaeological Trust from the Cyfarthfa Ironworks Coke Yard site at Merthyr Tydfil, photo by Richard Paterson.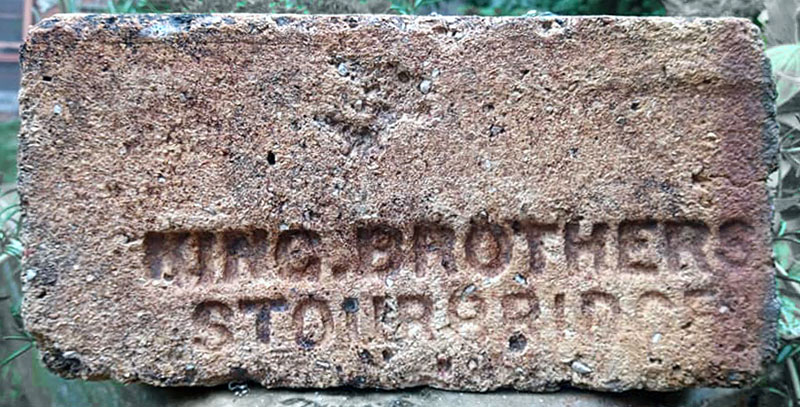 Photo by Chris Graham.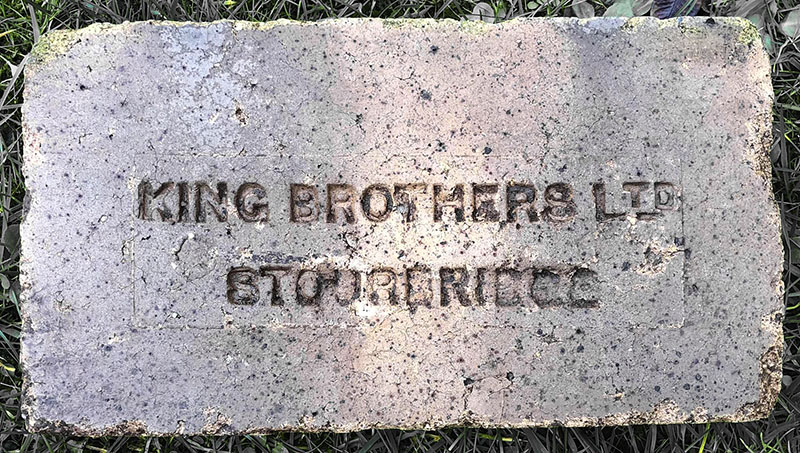 Photo by Greg Julian.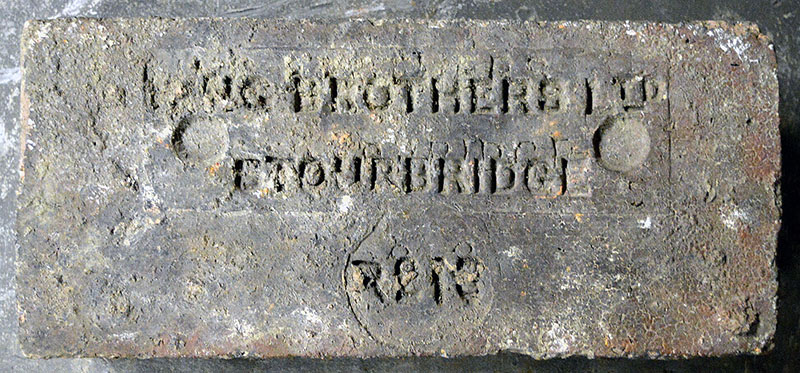 Photo by Frank Lawson.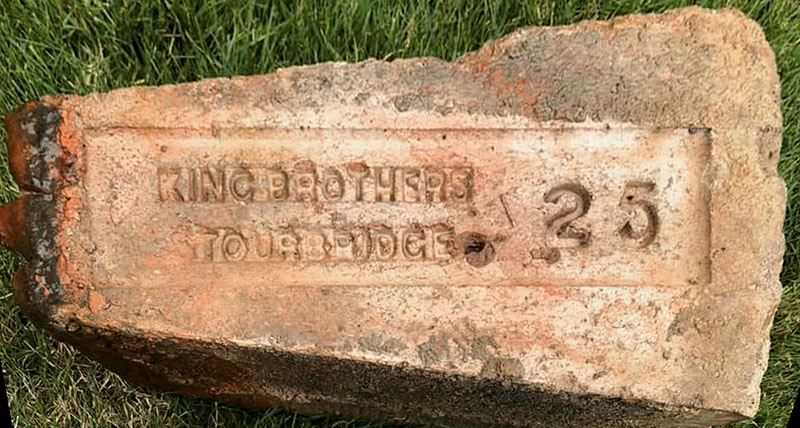 Photo by Jason Stott.
Joseph & William King were in partnership in running this firebrick works which is listed in Kellys 1860 to 1900 edition at Netherend. Then Joseph King owned the Chapel Terra Cotta Works, Cradley on his own producing red bricks & terracotta. The 1901 OS map shows that the two works where situated nearly opposite one another on Park Lane, Netherend. Photo & Info by Martyn Fretwell.
---
King & Smith, Stowe Works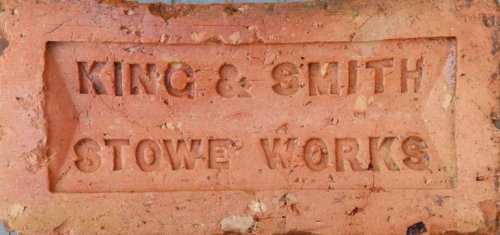 There was the Steel & Iron Co Ltd site (1866-1892) next door to the brickworks where King & Smith (1889-1906) had 3 kilns operating, probably updraughts. The ironworks site was taken over by George King & Son, when it closed in 1892. 1906-1920 Blisworth & Stowe Siding Brick & Tile Co. Ltd. Further expansion to include a 2' 11" tramway, a connection to the L&NWR, and a rectangular 14 chamber continuous kiln. 1920-1940 Henry Martin of Northampton, Nether Heyford Brickworks (1923 map known as Stowe Works Brick & Tile). Closed 1940 as site requisitioned by the War Dept. for ammunition Storage. Photo and info by Nigel Furniss.
---
King Street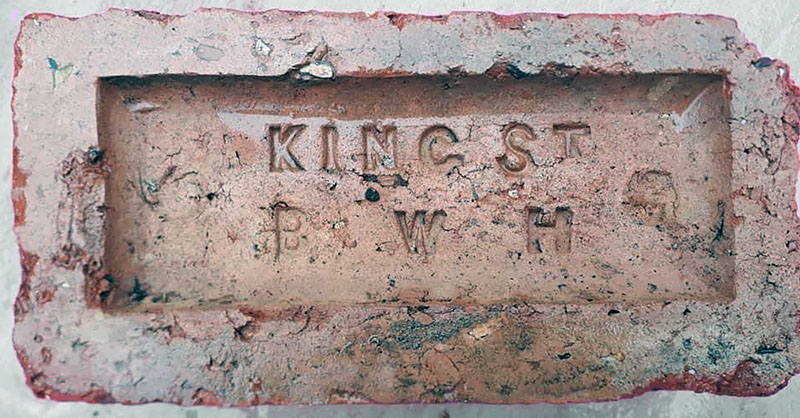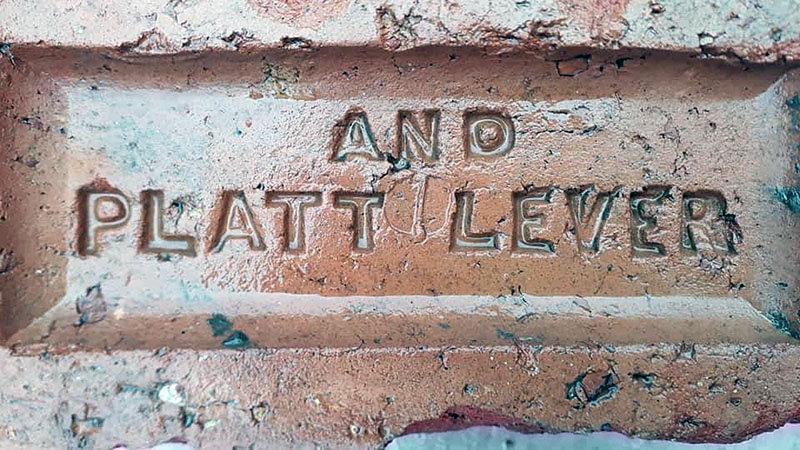 King Street Brick Works in Hindley, between Wigan and Bolton, was operated by Samuel Francewho was also proprietor of the nearby Royal Hotel. The works was auctioned off in 1892 and it seems that France transferred his business to another, as yet unidentified, works in the area. The significance of Platt and Lever on the reverse of the brick is not clear. Photo by Frank Hilton.
---
King Taudevin & Gregson Ltd



The company was formed in 1918 and known throughout the furnace building and relining industry as 'KTG'.  They were based on Scotland Street, Sheffield. Information by John Bramall. Found in Ellesmere Port by Christine Hallmark.
---
Kingmoor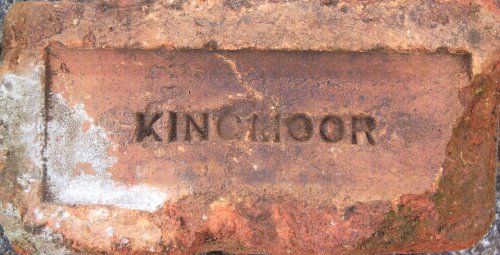 Found at Brampton, Cumbria, from the works at Kingmoor, Carlisle. Information from Angus Glasgow suggests the site operated 1896 - 1956 and was known as Moorville Brickworks from 1952. Image PRBCO.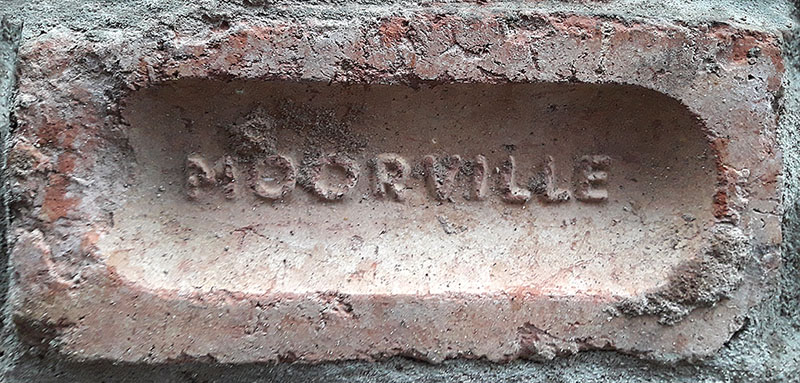 In 1952 John Laing & Son took over the Kingmoor Brickworks in Carlisle and it was subsequently known as Moorville Brickworks. Production ceased four years later in 1956 but the building were standing up until the mid 1960s. Info & photo by Chris Graham.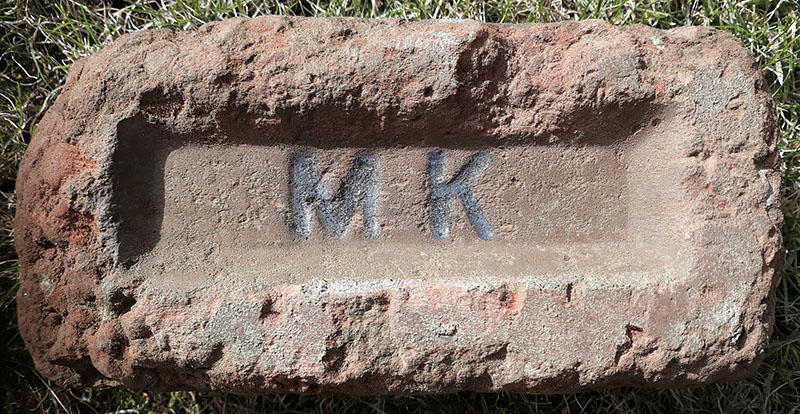 Found at Maryport and thought likely to be Moorville Kingmoor. Photo by Mark Cranston.
---
Kings Newton: See Richard Bennett or H Orton.
---
Kings Norton Brick Co, Birmingham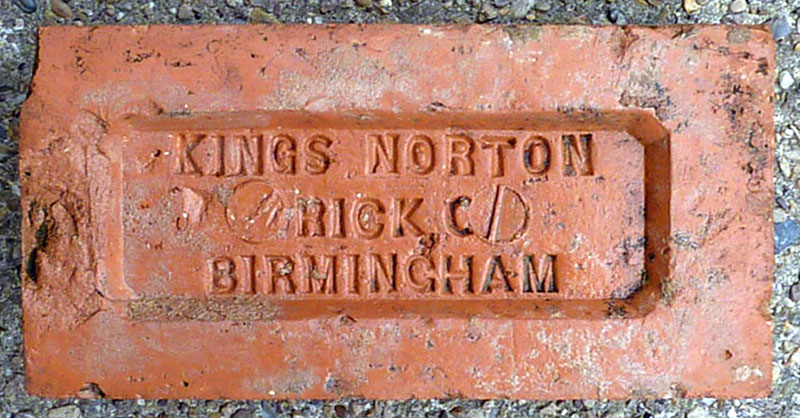 This works first appears in Kelly's 1899 edition as John Hough & Son, Wharf Road, Kings Norton, Birmingham. This entry is repeated in the 1900 edition. By Kelly's 1905 edition John or his son had renamed the Wharf Road works as the Kings Norton Brick Co. This new entry then appears in the 1908 & 1915 editions. I have a gap in trade directories until 1940 & in this edition the works is still listed. The works closed in 1959. John Hough also owned another brickworks at Kings Heath & examples from this works can be seen under Hough & Co. KIngs Heath. Info & Photographed at Oldfield Reclamation Yard, Old Hill, Cradley Heath by Martyn Fretwell.
---
Kingsbury


Produced by the Kingsbury Brick& Tile Works Ltd which in 1947 was owned by Kingsbury Collierys. Photo by Alwyn Sparrow.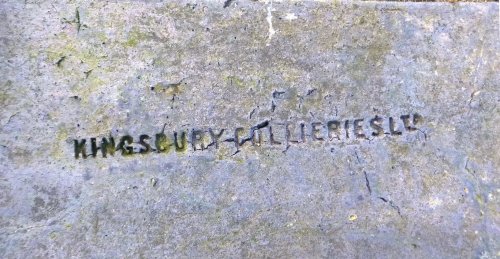 A Warwickshire edging brick found by the Erewash Canal in Long Eaton, Derbys by Frank Lawson.
---
Kingswood Reformatory, Bristol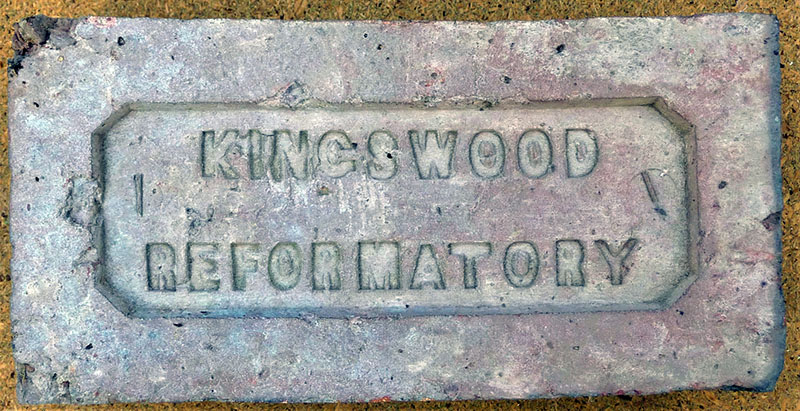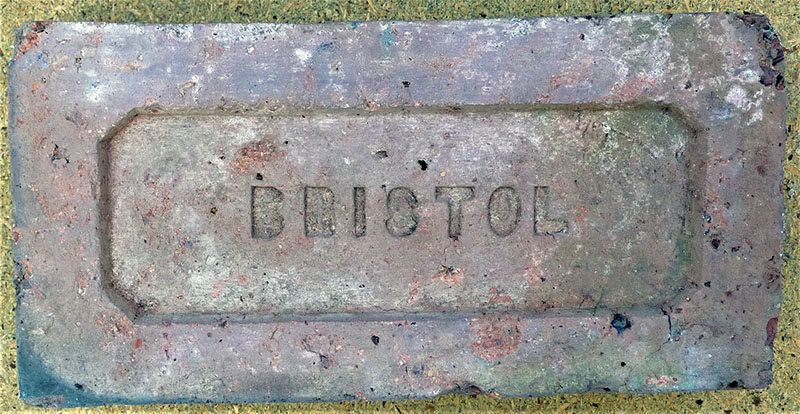 The Kingswood Reformatory (Borstal) on the outskirts of Bristol began to develop brickmaking in about 1859 as a trade for the boys sent there. The works developed to employ a large number of boys and by 1872 a circular Hoffmann kiln had been erected. Production eventually ended in 1884 by which time it was considered that the trade was not conducive to good order amongst the boys. Photos by Eric Taylor.
---
Kinsley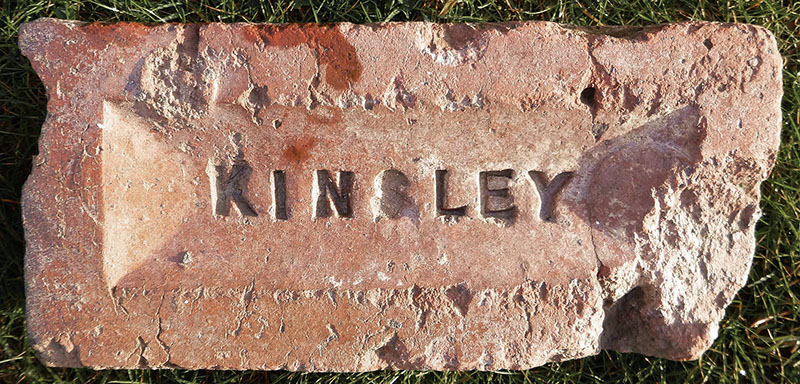 Kinsley is located 1.5km North-west of Hemsworth in West Yorkshire, contiguous with Fitzwilliam. Image PRBCO.
---
Kinson Pottery Ltd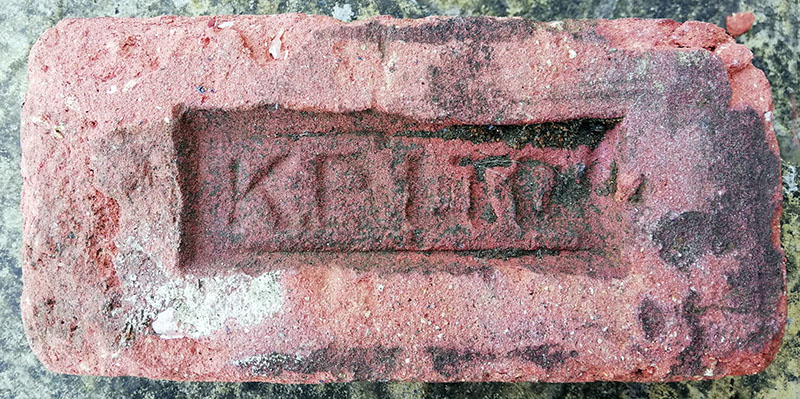 The first listing of the business I have found is for 1889. The 1931 Kelly's Directory lists Kinson Pottery Ltd (wire cuts & salt glazed), Parkstone & Hamworthy Junction, Poole, Dorset. Also orginal manufacturers in the district of the celebrated Sand-Lime facing bricks in all shades; also makers of hand-made multi-facing bricks. Photo by Andrew Florey.
---
Kirk & Sons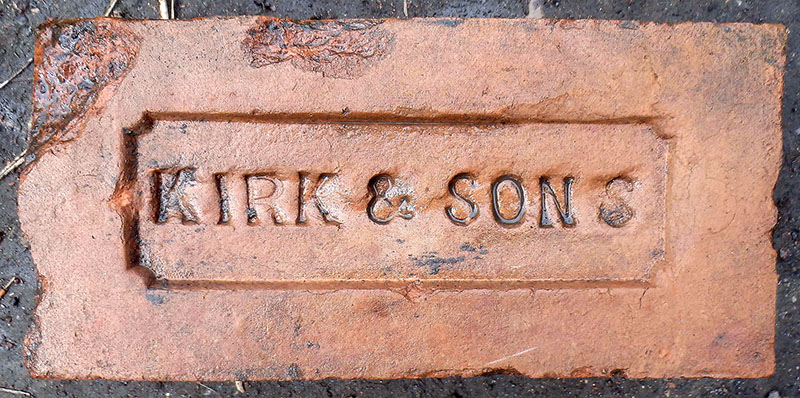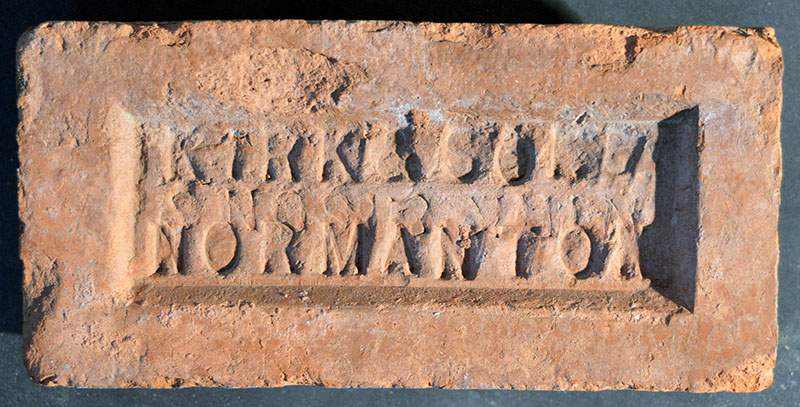 Kirk & Sons, Wakefield Road, Normanton, West Yorks. White's Clothing District Directory 1894. A brickworks was founded in the 1890s by a Thomas Kirk from Nottingham, who had heard rumours that Normanton was rapidly turning into an important junction on the railways. Both Kirk and his sons used their life savings and formed the Normanton Brick Company. Photos and info by courtesy of the Frank Lawson collection.
---
W Kirkham, Stoke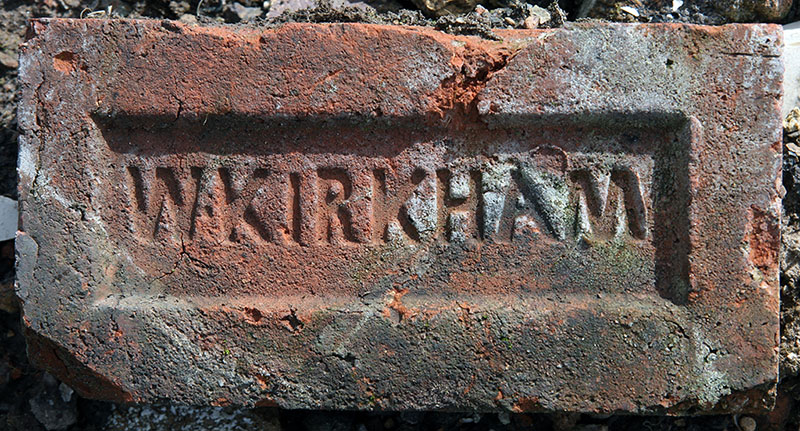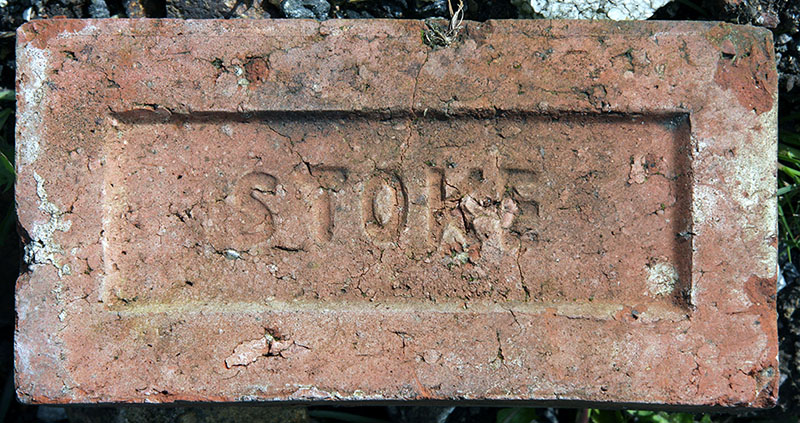 William Kirkham, London Road, Stoke-on-Trent. The works is listed from 1868 to 1880. Photos by David Kitching.
---
Kirkheaton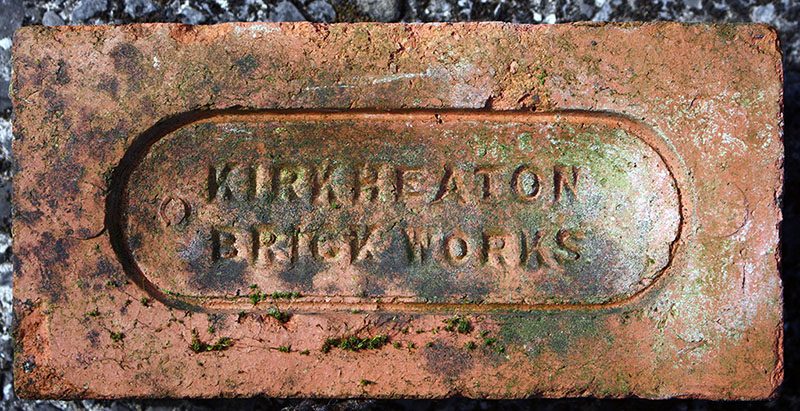 Photo by David Kitching.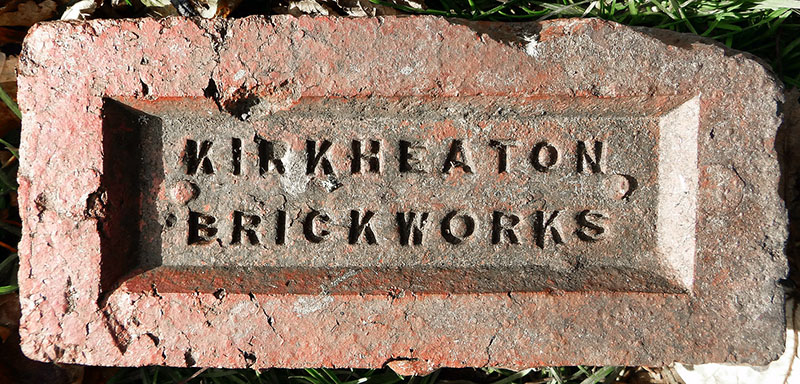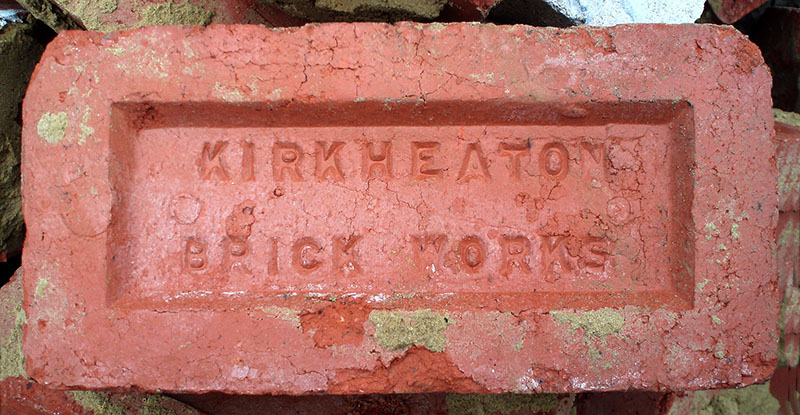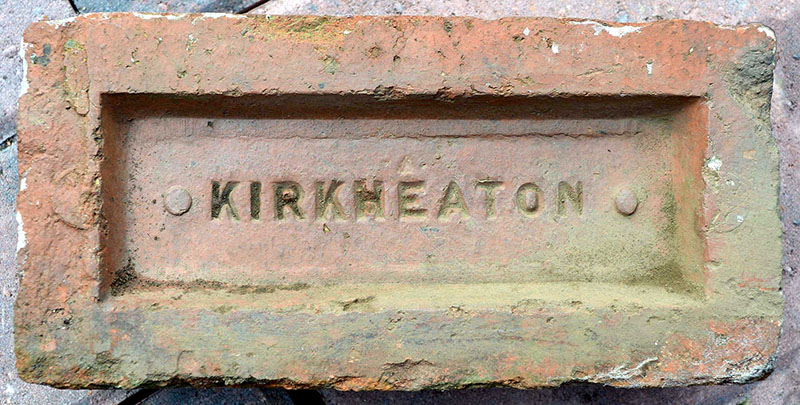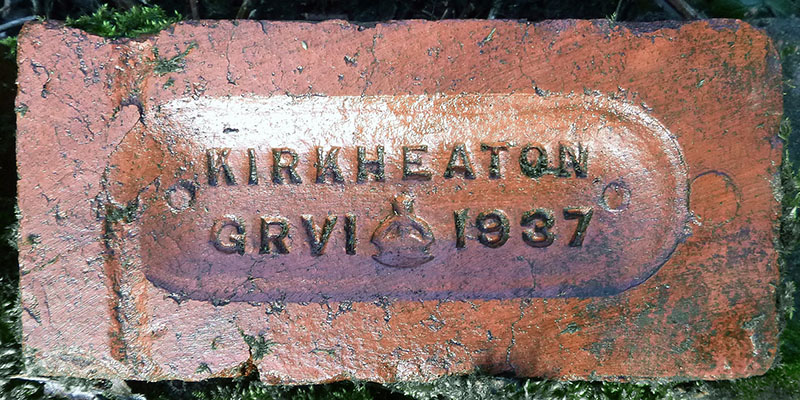 Made at Kirkheaton Brickworks, Huddersfield. Kirkheaton bricks were manufactured by Elliott's Brickworks Ltd., who also owned Kirkheaton Brickworks Ltd and Kirkheaton Fireclays Ltd., from around 1935 until 1960. Before this Benjamin Elliott and Sons Ltd. had operated brickworks at Spa Bottom Lepton and Fenay Bridge. Benjamin also owned Lodge Mill Colliery which operated nearby in the early 20th century. Much of the coal produced was used in the company brickworks. Benjamin died in February 1928 at Cop Riding Farm, Lepton. In early life he had become a partner in Grange Ash Colliery before sinking the Lodge Mill pit. He later took control of the Flockton Coal Company Ltd. and founded the Fenay Bridge Brick and Tile company. George, Frederick and Stanley Elliott were also involved in the brickmaking business. Elliotts finally went out of business in 1990. Photos and info by Frank Lawson.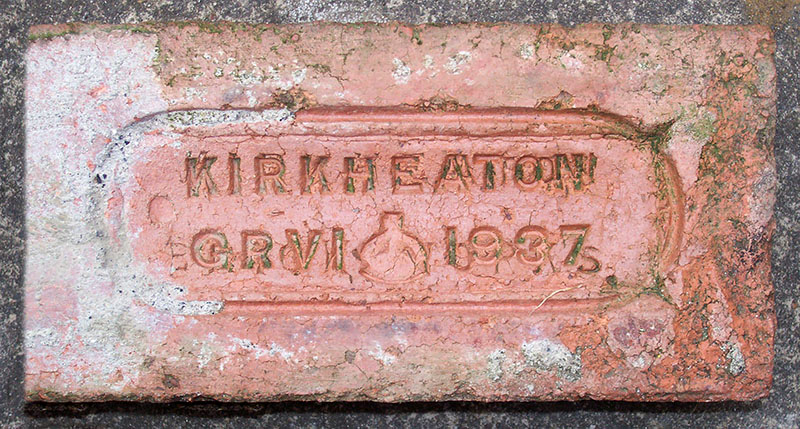 An overstamped Kirkheaton brick, courtesy of Steve Horn.


---
Kirkhouse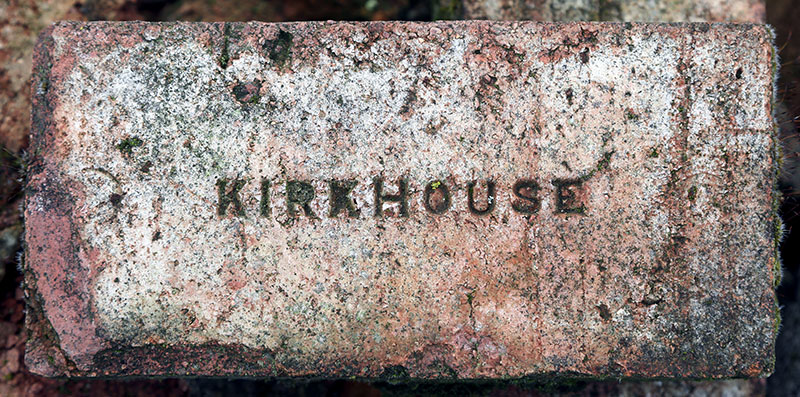 Photo by David Kitching.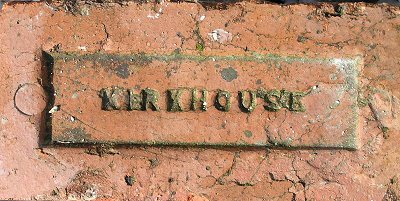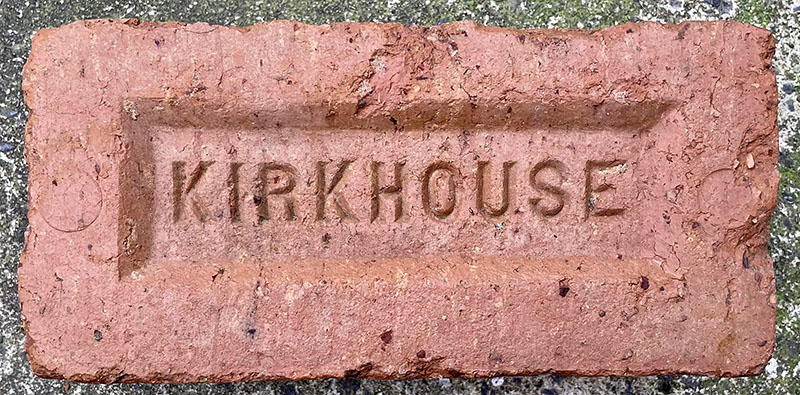 Peter Robinson found this example in Moffat.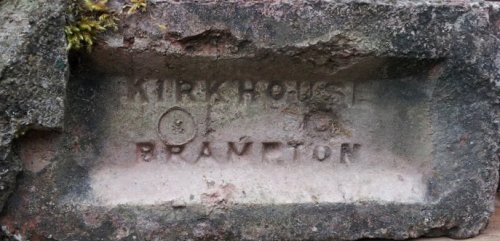 Photo Mark Cranston.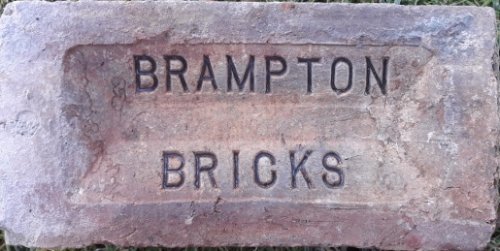 Recovered from the old Hoover Factory, Cambuslang, Glasgow. Photo by Mark Cranston.
The Kirkhouse brickworks was built on part of the Naworth Colliery workshop and office site at Kirkhouse using shale as a raw material for brickmaking. Bricks were made by two Bradley and Craven machines. There was a continous kiln and two smaller semi-continous kilns. After the 2nd World War production was increased with the introduction of a wire cut machine. The works was still operating in 1969. Info from Graham Brooks, http://www.solwaypast.co.uk/index.php/bricks/14-brick/82-cb.
---
Kirkstall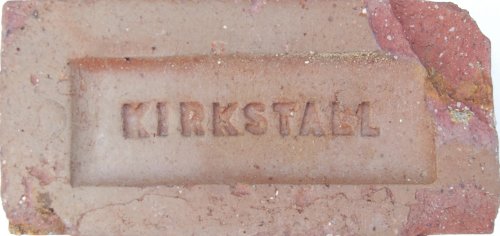 Kirkstall brickworks operated in the early 20th century at Wyther Lane, Kirkstall, Leeds. Listed in Robinson's directory of 1904 as the Kirkstall Brick Company. Image PRBCO.
---
Kitchener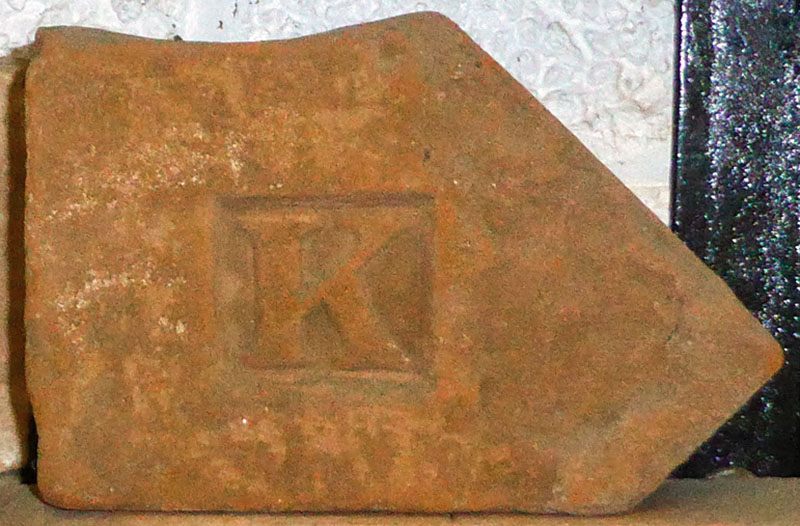 Edward Kitchener opened the Harlington Brickworks at Westonng, Bedfordshire, c1922-24. The ownership had passed to R Fielding & Son by 1931. Photo by Martyn Fretwell, info from Survey of Bedfordshire - Brickmaking A History and Gazetteer.
---
Joe Kitson, Denby Dale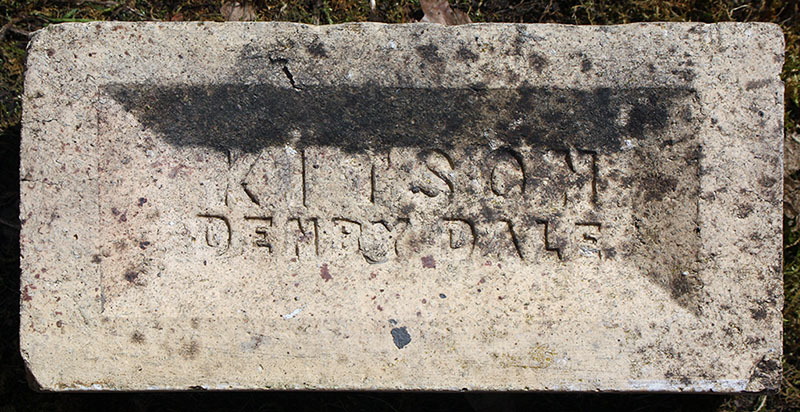 Photo by David KItching.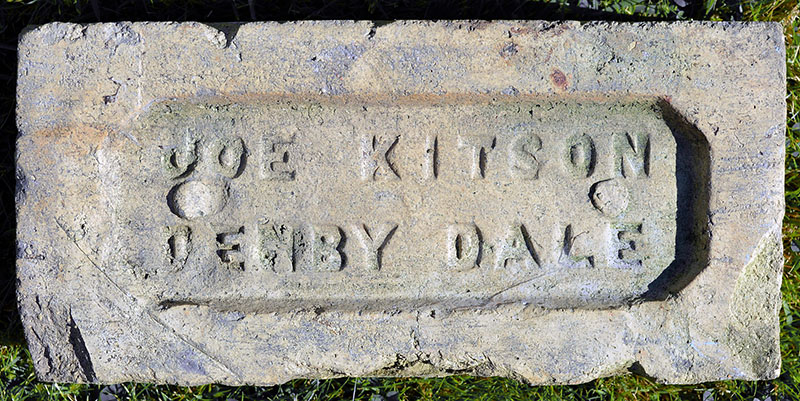 Joe Kitson & Sons Ltd, Denby Dale. Denby Dale lies 11km west of Barnsley on the Holmfirth Road. First listed in trade directories, 1881. Operating in 1974 as a member of the Hepworth Group, Image PRBCO.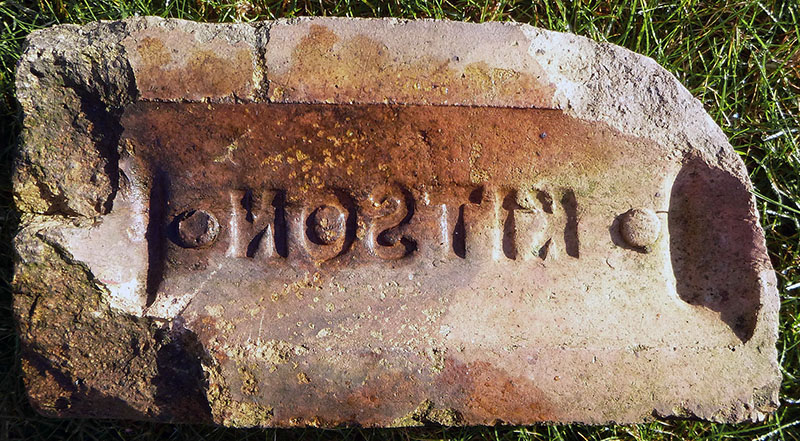 The letters have been reversed, Found at Denby Dale, West Yorks by Frank Lawson.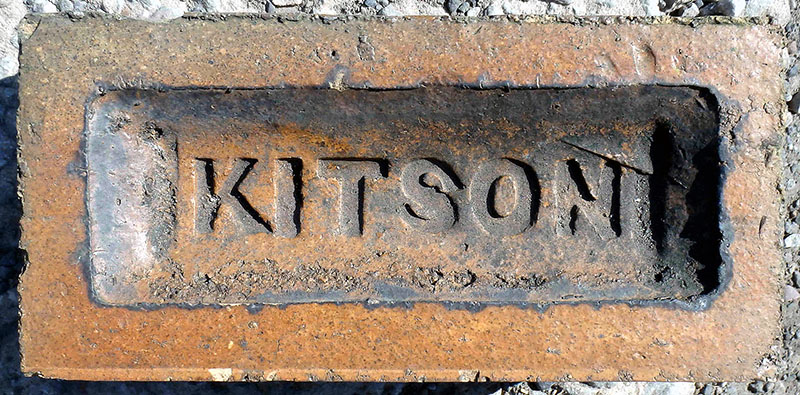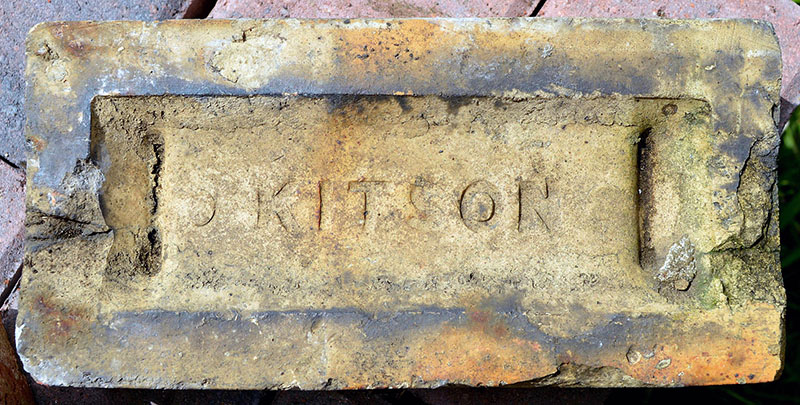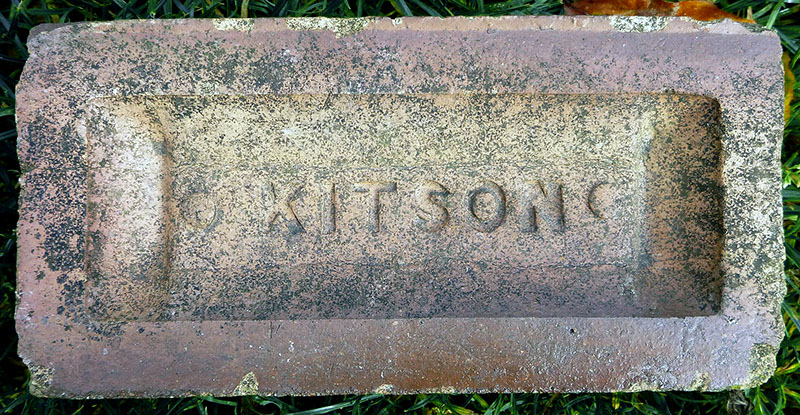 Photos by Frank Lawson.
---
Kiveton Park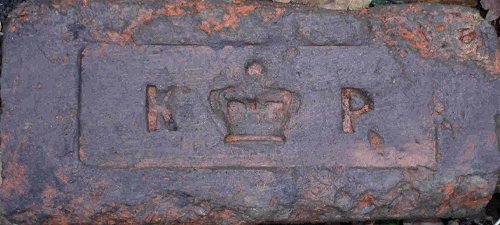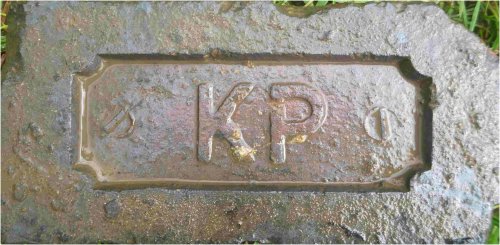 Photos by courtesy of the Frank Lawson collection, K P probably stands for Kiveton Park near Sheffield.
---
Kleudgen & Co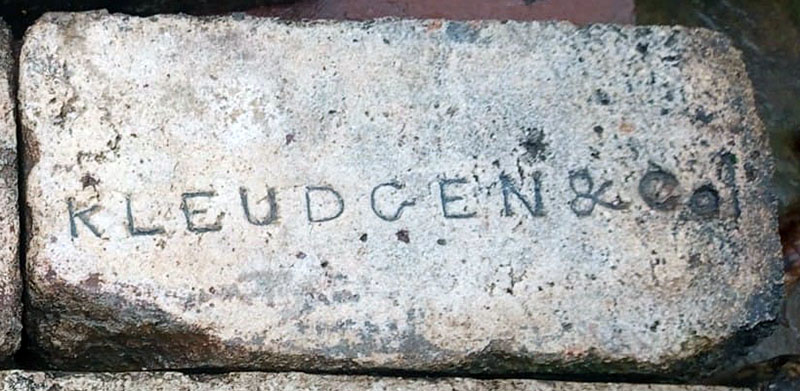 Found to the west of Newcastle-on-Tyne. In the mid 19th century Kleudgen & Co operated in Hartlepool as coal merchants and shipping agents. Photo by Chris Graham.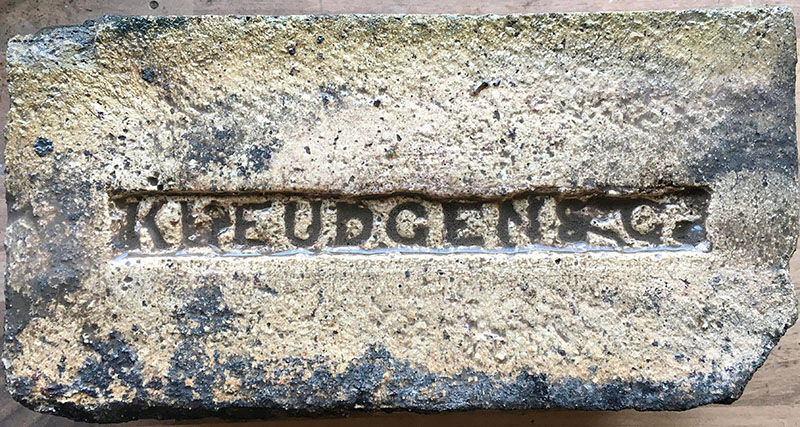 Found at Newfield Durham. Photo by Steven Tait.
---
Klondyke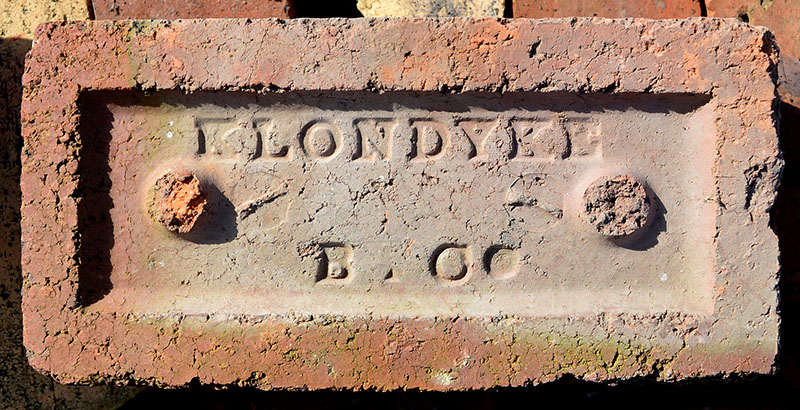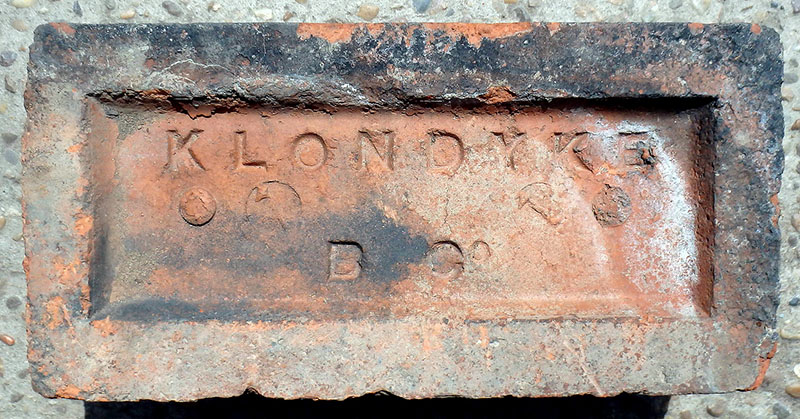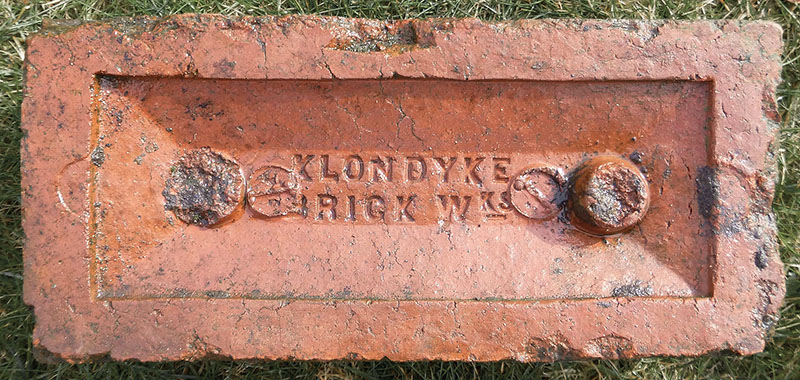 Klondyke Brick Co., Langsett Road / Middlewood Road, Wadsley Bridge, Sheffield. White's Sheffield & Rotherham Directory 1901/1905/1908. The works was later owned by Daniel Doncaster Ltd. Photos by Frank Lawson. Link to works history.

---
Dale Knapping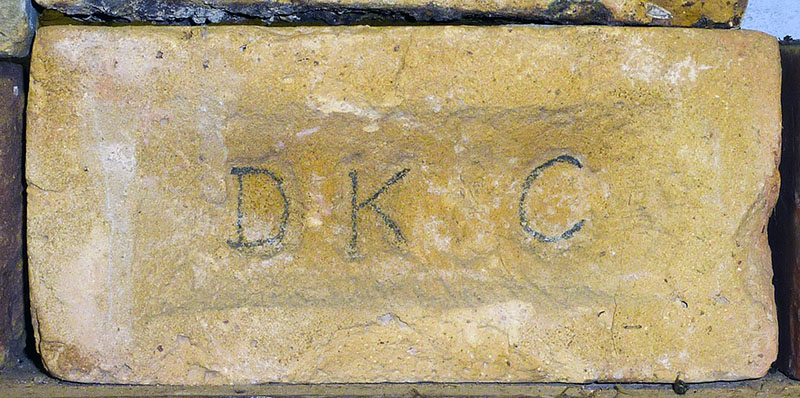 Kellys 1862 to 1871 editions list Dale Knapping as the proprietor of the Shoeburyness Brickworks, South Shoebury, Southend with Edward Cook listed as manager. Kellys 1878 edition now records J. Jackson & Co. as the owners of the works. Found that Dale Knapping was a Justice of the Peace in Southend & he built the National School in 1862 on the site of St. Peters Church for his workers children. The Knapping Family had been the Lords of Shoebury Manor. Photo & Info by Martyn Fretwell.

---
J Knight, Gloucester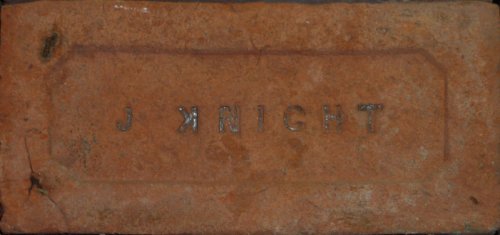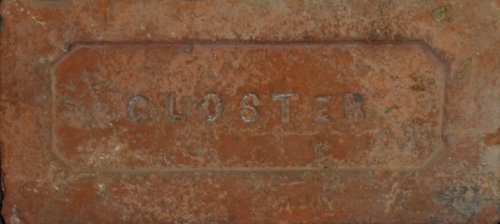 Front and back of J Knight, Gloucester brick. Photo. by Martyn Fretwell.

---
Knight, Woodbridge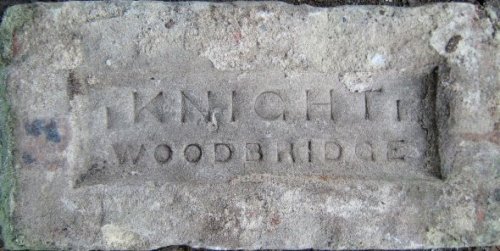 Photo by courtesy of the Richard Symonds collection.
---
George Knighton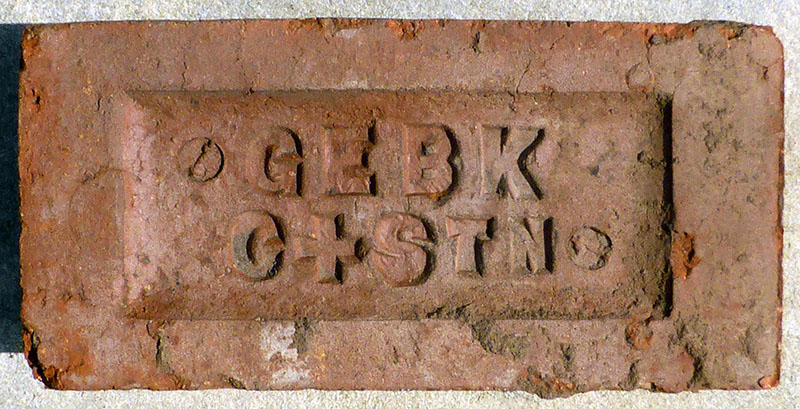 George Enoch Banister Knighton, Tupton, Derbyshire. Kelly's Directory 1895 to 1912. The works was east of Clay Cross Station and the connection was known as Knighton's Siding. Photo by Martyn Fretwell.
---
Knighton Junction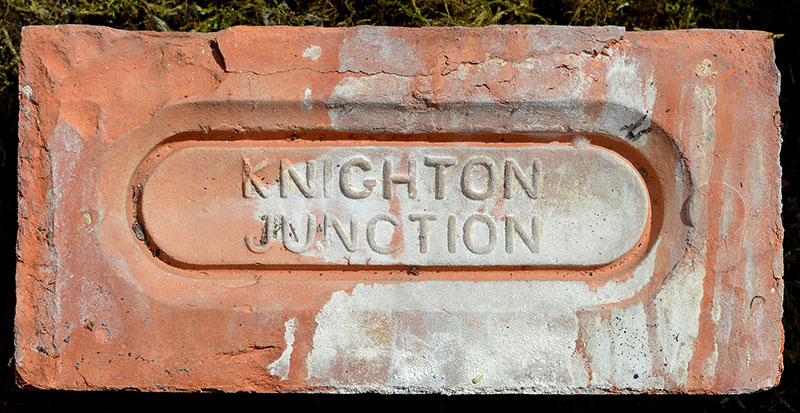 William Watts Clarkson owned the Knighton Junction Brickworks on Welford Road, Leicester from at least 1877, employing 74 men. He retired from the business in 1888. The Knighton Junction Brick Company first appears in Kelly's 1891 edition with James Squires as Manager & as wrote previously this company was formed around 1888 & was owned by Orson Wright, a local builder. The kilns were derelict in the 1950's and the site now has student flats (Nixon Court) built on it, belonging to Leicester University. Info by Martyn Fretwell, photo by Frank Lawson.
---
Daniel Knights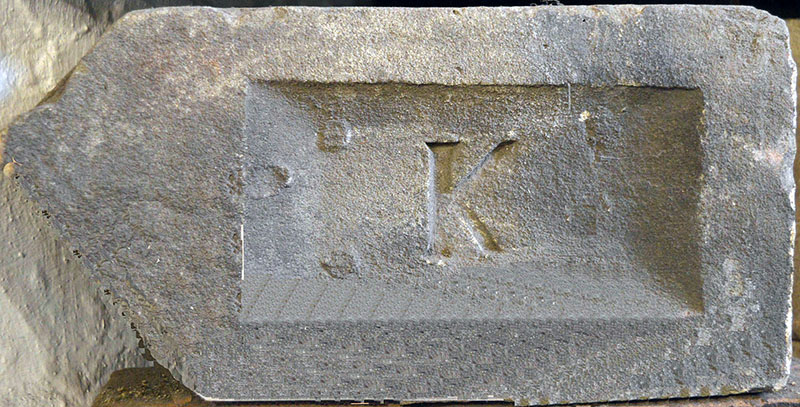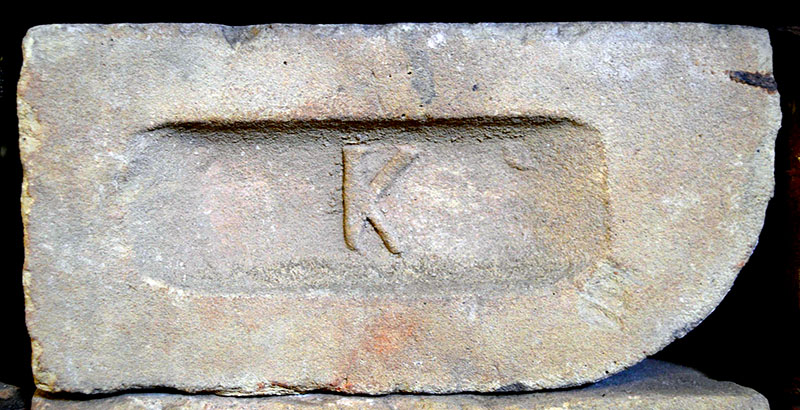 Daniel Knights is first listed as manager at the Lucas Brothers brickworks at Somerleyton, Suffolk in Kellys 1869 edition. Daniel Knights then takes over this brickworks & he is listed in own name in Kellys 1875 & 1888 editions. Kellys 1892 edition now records Henry Knights at the works. We then find Kellys 1896 edition lists Henry Knights as brickmaking in Burgh Castle, Norfolk & his former Somerleyton works had been taken over by the Somerleyton Brick Co. in 1893. Also see Lucas Brothers, Somerleyton Brick Co. & Norfolk & Suffolk Brick Co. entries as they are all the same works. Photos by Frank Lawson, info by Martyn Fretwell.
---
Henry Knights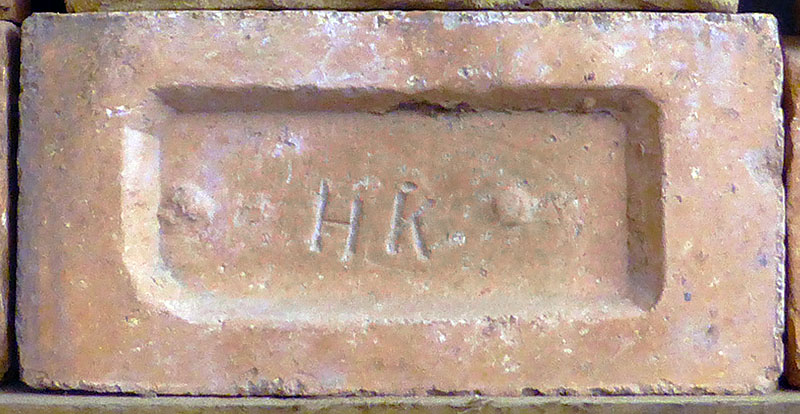 Henry Knights is first listed in Kellys 1892 edition at a brickworks in Somerleyton, Suffolk previously worked by Daniel Knights. Kellys 1896 edition now records Henry Knights at a brickworks in Burgh Castle near Great Yarmouth. The 1882 OS map shows a small brickworks situated on Porter's Loke (Loke is a private road or lane) and which is assumed to be the works operated by Henry Knight around 1896 as the much larger Burgh Castle Brickworks next door was owned by the Burgh Castle Portland Cement Co. from 1875 to 1892, then the Burgh Castle Brick Co. Ltd. from 1892 to 1904. It is unknown at which works (Somerleyton or Burgh Castle) this HK brick was made. Henry's small Burgh Castle brickworks is not shown on the 1900 OS map. See Burgh Castle entry. Photo & Info by Martyn Fretwell.
---
Knitsley Refractory Products, Wolsingham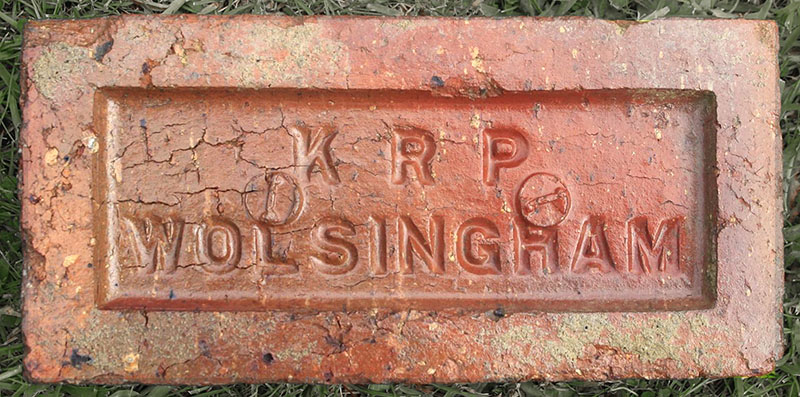 David Oliver writes: This one is Knitsley Refractory Products and was based on Knitsley Fell near Wolsingham in County Durham where a Ganister rock (a hard sandstone) was quarried to make Silica bricks. In 1937 a shale quarry was opened and red facing and common bricks were made. This closed in 1940 due to the effects of the war and never reopened, although ganister was quarried until 1963. Photo by Chris Tilney.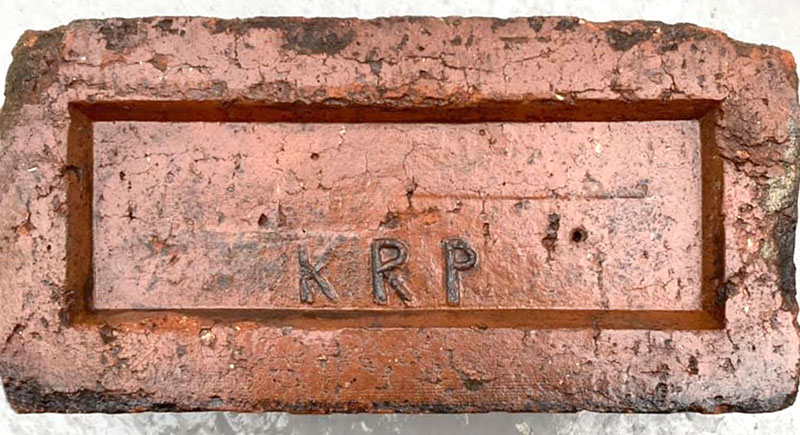 Photo by Neville Akers.
---
Andrew Knowles & Sons Ltd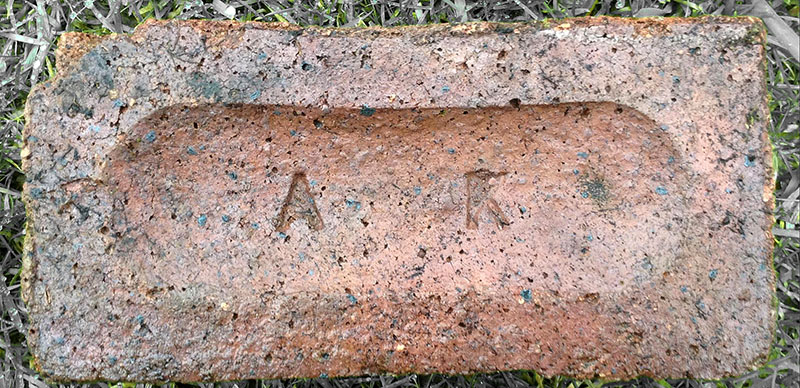 Andrew Knowles & Sons Ltd. was a colliery company that operated on the Manchester Coalfield in and around Clifton, Lancs. They owned several Collieries in the Irwell Valley area including Agecroft and Pendlebury. In 1929 the company became part of Manchester Collieries. The associated brickworks was probably that established c1900 on Cliveley Road, Pendlebury, close to Wheatsheaf (Pendlebury) and Clifton Hall collieries. Photo by Jason Stott.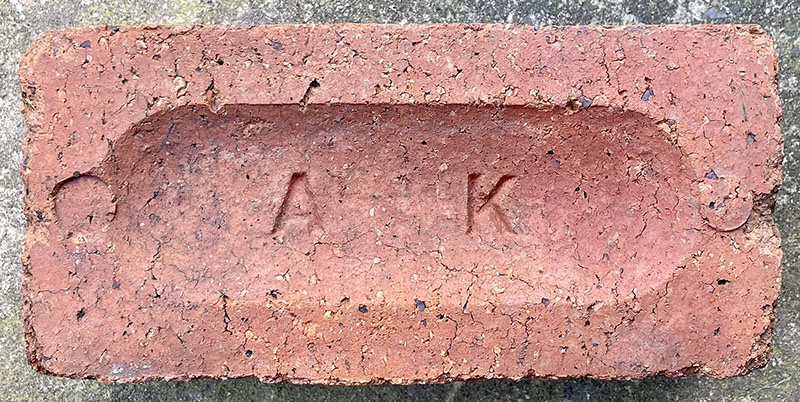 Photo by Phil Burgoyne.
---
R E Knowles, Furness Vale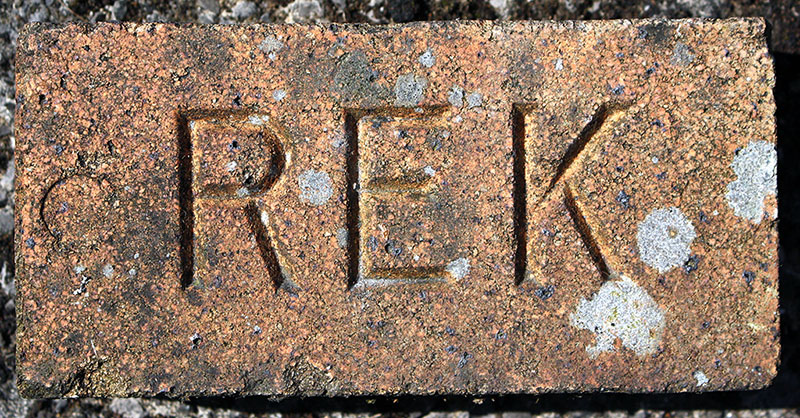 The Knowles brickworks at Furness Vale, Derbyshire, survived until the 1980s.
---
S. Knowles, Holcombe Brook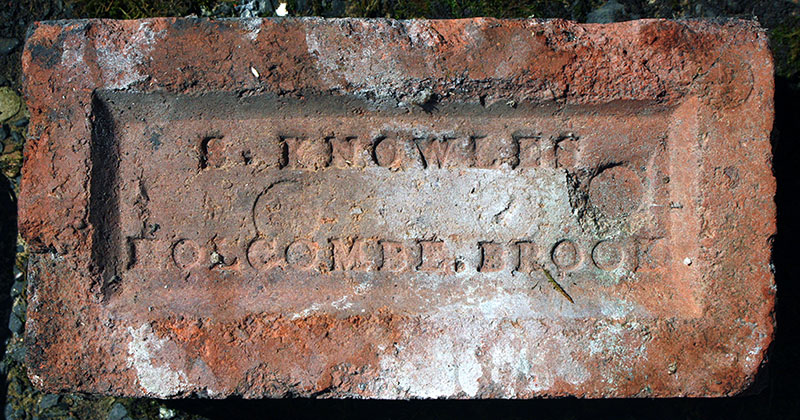 Photo by David Kitching.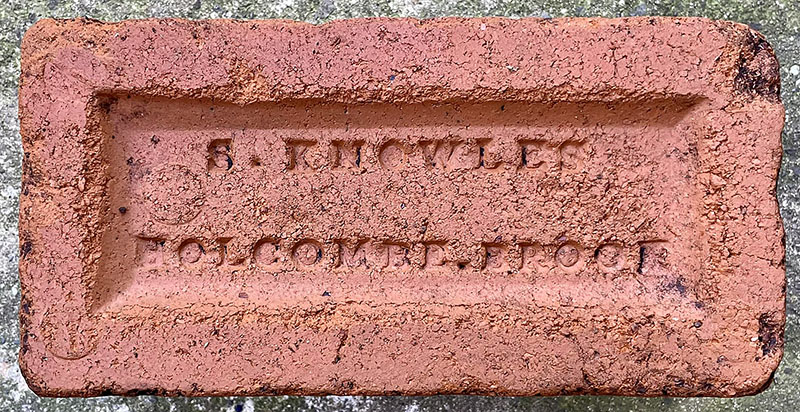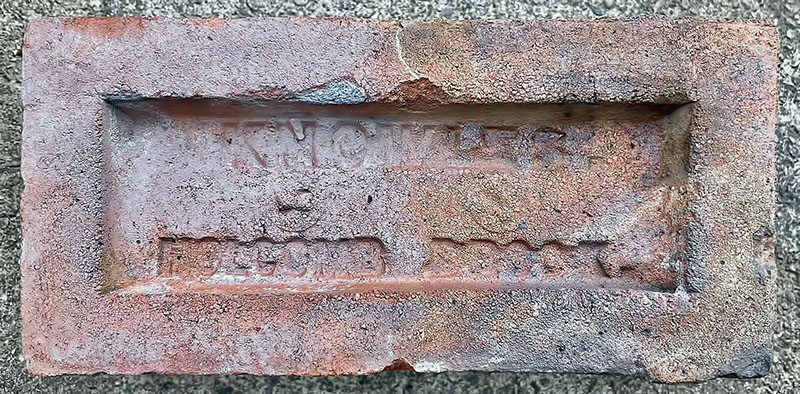 Photos by Phil Burgoyne.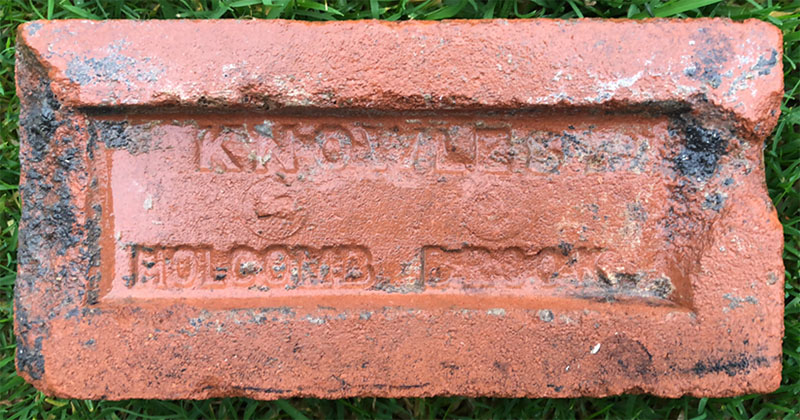 Photo by Jason Stott.
---
John Knowles & Co. - Wooden Box
This one was spotted by Robert Runyard near a now closed animal processing and freezer complex in Puerto Bories in Chilean Patagonia.
Mark Duggins writes: Wooden Box is the old local name for Woodville, near Swadlincote in Derbyshire, so named because the toll booth was a large old barrel from one of the nearby Burton-on-Trent breweries. Knowles is the name of the old pipeyard there, who once provided salt-glazed sewerage worldwide, so was probably used for packing on a delivery to Patagonia.
A full history of the Mount Pleasant works may be read here.


Photo by courtesy of the Frank Lawson collection, found at Pye Bridge in Derbyshire


Photo by Ian Suddaby.
---
Knutsford Brick Co Ld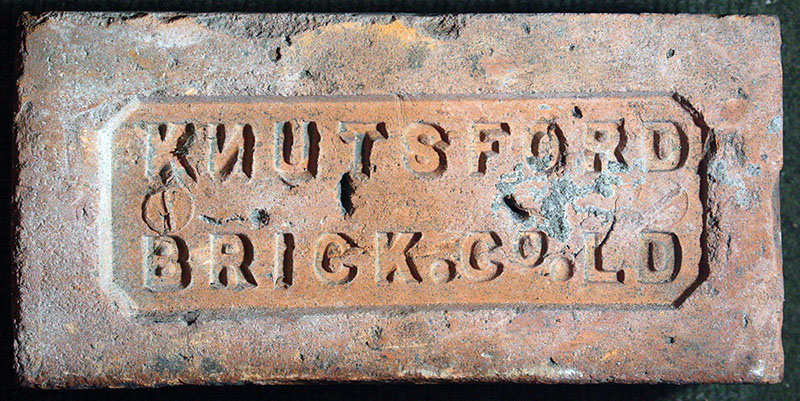 1878 Post Office Directory of Cheshire has The Knutsford Brick & Tile Company Ltd, Joseph Wild, Manager, Booth's Mill, Over Knutsford. Kelly, 1896 - William Chapman, Manager. The business disappears before 1910. Photo by David KItching.
---
Knutton Tileries: see J H Ketley & Co.
---
Kough's Universal Ventilators



T H Kough opened the Sarn works, Westbury, Shropshire in 1860. Photo by Mike Shaw. More photos under the Sarn entry.

---
Kurtz, St Helens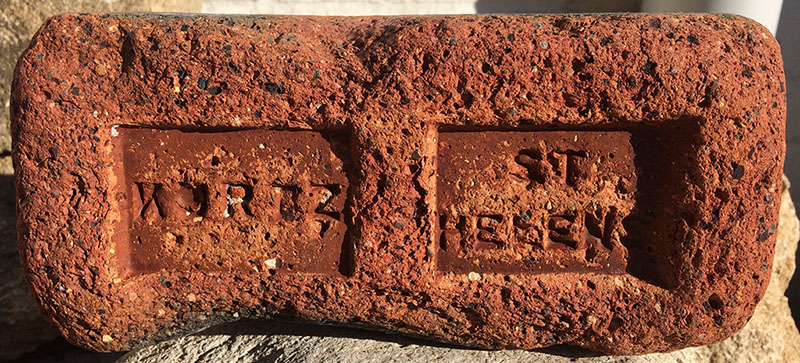 Photo by Christopher Dixon.
---