Total species recorded during the 2011 season is 6
Hairy Dragonfly (Brachytron pratense)
Broad-bodied Chaser (Libellula depressa)

Large Red Damselfly (Pyrrhosoma nymphula)
Blue-tailed Damselfly (Ischnura elegans)
Azure Damselfly (Coenagrion puella)
Variable Damselfly (Coenagrion pulchellum)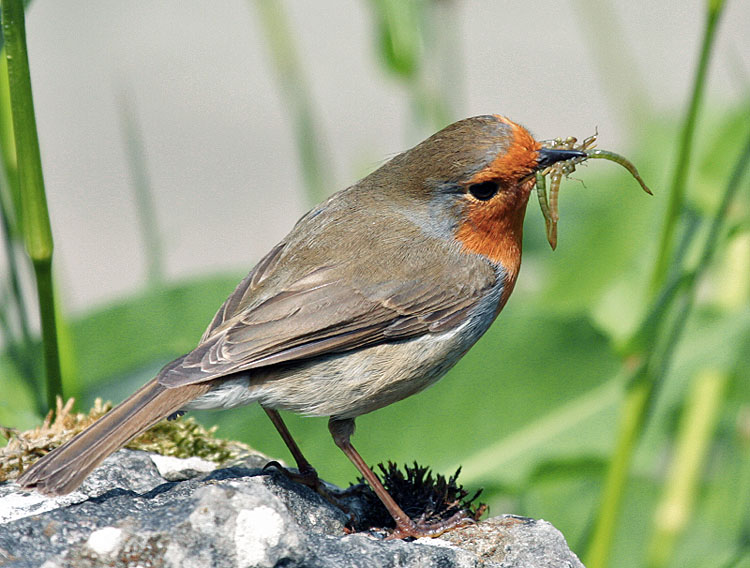 The Robin takes advantage of the Damselfly nymphs at Stapeley 30.4.11. Photo © R Bradshaw 2011
30.4.11
Martin Pennell visited Sound Common (64E SJ619480) and Marbury Big Mere (54M SJ557457) today, and found Large Red Damselfly flying at both. At Lostock Hall Nursery in Poynton (98B SJ908833) Richard Gabb found Broad-bodied Chaser emerging.

Emerging male Hairy Dragonfly at Churton 29.4.11. Photo © P Corley 2011
29.4.11
On a visit to Churton (45I SJ430565) today, Phil Corley saw three Hairy Dragonfly emerging and two tenerals flying. There were also very many Variable Damselfly emerging and a couple of Large Red Damselfly.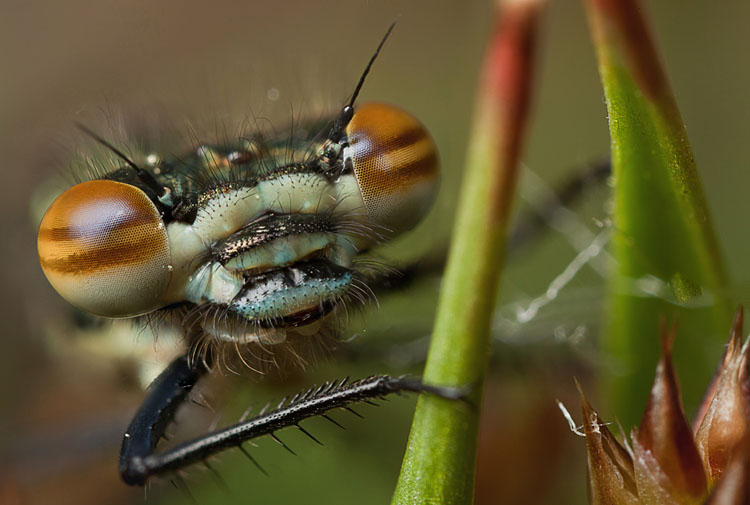 Large Red Damselfly at Rixton 27.4.11. Photo © P Corley 2011
27.4.11
At Rixton Claypits (69V SJ685907) Phil Corley found both Large Red Damselfly and Azure Damselfly.

Female Large Red Damselfly at Poynton 25.4.11. Photo © Richard Gabb 2011
25.4.11
Richard Gabb found a teneral female Large Red Damselfly near his newly restored garden pond in Poynton (98B SJ914837) today. It doesn't take long before they show up. Meanwhile Bob Bradshaw checked the indoor pools at Stapeley Water Gardens (65Q SJ663513) and found four female Azure Damselfly and a single male Blue-tailed Damselfly, all teneral.

Emerging female Azure Damselfly at Stapeley 25.4.11. Photo © R Bradshaw 2011
24.4.11
At Thurstaston Common (28M SJ243848) Michael Gardner spotted 10 adult Large Red Damselfly and 128 exuviae.
23.4.11
Mat Bingham reports a teneral Large Red Damselfly at Anderton Nature Park (67M SJ651751) today.
22.4.11
Richard Gabb reports a male Azure Damselfly at Lostock Hall Nursery in Poynton (98B SJ908833) this afternoon.
21.4.11
here were five teneral Large Red Damselfly at Handforth Fields (88R SJ870835) when Stu Burnett visited.
20.4.11
There were plenty of teneral Large Red Damselfly around at Newchurch Common (66E SJ602687) and along the adjacent Whitegate Way. This species was also flying at Marbury Country Park (67T SJ660761) according to Paul Hill.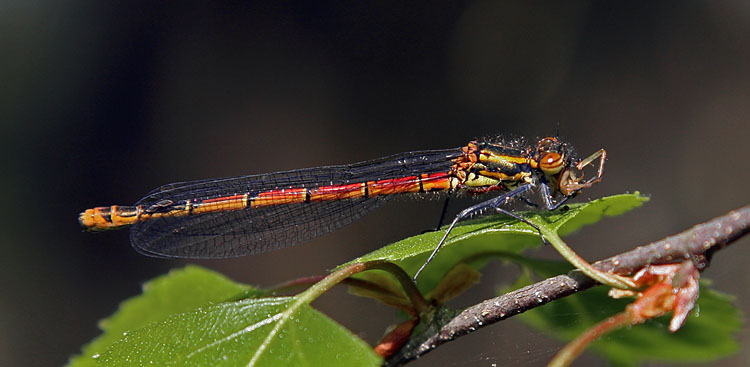 Large Red Damselfly at Newchurch Common 20.4.11. Photo © David Kitching 2011
19.4.11
Barry Shaw spotted another teneral Large Red Damselfly today at Stock-in-Hey Farm (88G SJ 800826), again near Manchester Airport.
17.4.11
First confirmed sighting of the 2011 season comes from Bryan Roberts who found three emerging Large Red Damselfly at Woodend Pools (88G SJ 802821) near Manchester Airport. Paul Hill also saw one teneral at Meadow Bank Farm (45R SJ476530) near Broxton.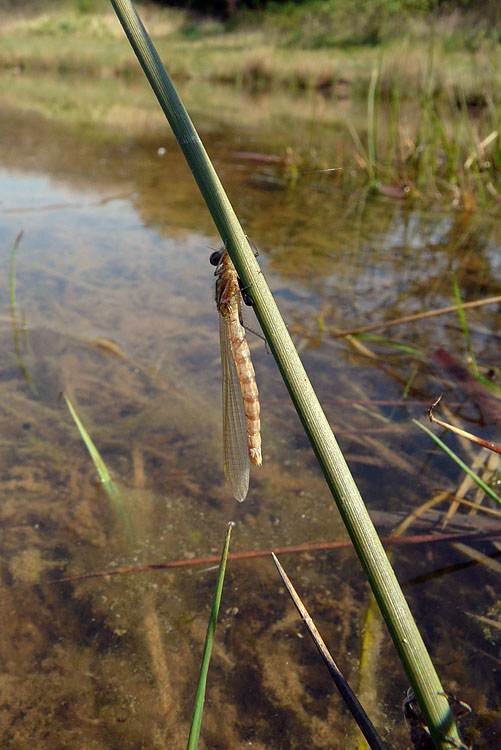 Emerging Large Red Damselfly at Woodend Pools 17.4.11. Photo © Bryan Roberts 2011
24.3.11
Mark Ambrose reports being very surprised to see a large brownish hawker dragonfly near Cholmondeley (55K SJ551500) whilst he was driving to work. Whilst the identity cannot be confirmed it is possible that this was a Vagrant Emperor (Hemianax ephippiger). This species has never been reported from Cheshire but it is certainly worth looking out for it as several have been seen recently in the UK. Whatever it was, it is certainly the first adult dragonfly that has been reported in Cheshire during March.
If you have made any Odonata observations in Cheshire and would like to share them with others or wish to take part in the recording scheme please email me. Good quality photographs of Cheshire Odonata for use on the news pages are also very welcome.
---
© David Kitching 2011
Last updated 12.5.2011