"Old Bricks - history at your feet"
England - Page 15, Letter M.
Ma to Me below Mi to Mu
---
M & M, Carbrook


Origin not known - from the Carbrook area in the east end of Sheffield. Photo by Frank Lawson.
---
S Machin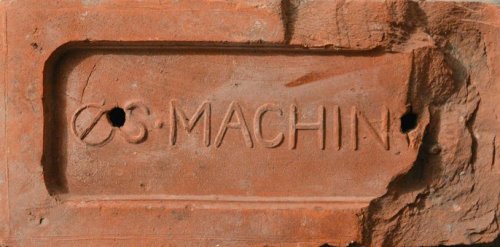 Origin not known - probably from the Sheffield area. Found Crookes, Sheffield by Frank Lawson.
---
Madeley Coal & Iron Co
Found in a Macclesfield reclamation yard. The Madeley Coal and Iron Company Limited, and then Madeley Coal, Coke and Brick Company Limited, was at Little Madeley, Staffordshire from 1905 to 1924 when the business became Madeley Collieries Limited. Photo by Martyn Fretwell.
---
Madeley Collieries
Madeley or Leycett Colliery was sunk 1880 and closed in 1957. It was located 5.5km west of Newcastle-under-Lyme, adjacent to the current M6 motorway - Paul Deakin, Collieries in the North Staffordshire coalfield, 2004. Image PRBCO.
---
Ann Maden, Bacup
Ann Maden, Hogshead Colliery, Gauther Fold, Brittania, Bacup. Mining began in the late 18th century.Brick making started in the 1840's when the principal owners were Maden & Lord. By the mid 1860's Maden had died and his widow Ann Maden had taken over the business. She was succeeded by Henry Maden & Co. - her son. The brickworks closed in 1873. Info courtesy of Colin Driver.
---
Madeley Wood


Found in Madeley Road, Ironbridge by Mike Shaw.

---
H J & C Major, Bridgwater


Found near the old RAF Andover airfield by Andrew Farthing.




Found around the Hayling Island / Langstone Harbour shoreline in Hampshire by Tony Russell.

---
Malago Colliery and Brick Works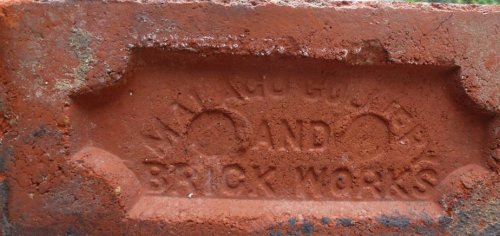 Found in Wiltshire. Located in the Bedminster district of Bristol; the Malago colliery itself was possibly also known as the West Street pit and /or the Red Cow pit, and the brickworks straddled the main GWR line and was located north of the Malago Vale carriage sidings. The colliery closed in 1897 and the brickworks closed in 1918. Thanks to Phil McMullen for the photo and info.

---
Malden, Surrey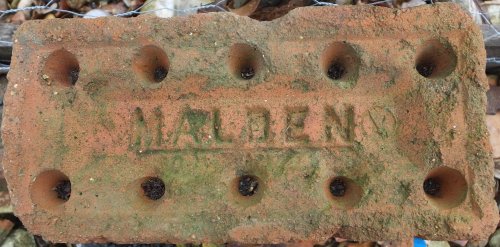 Photo by Richard Symonds.




Photo by John Packham, who found this example on his allotment. John adds: The brickworks were in Blagdon Road, New Malden (now a leisure centre) and apparently took the clay from the tunneling of the Northern Line's extension of the Underground to Morden in the early 1920's. The houses around my allotment site were built then which is why it's not surprising that I now have some residual ones lying around. I've no idea whether the brickworks existed before or after the Northern Line clay was available but local 'knowledge' seems to suggest that it existed only to use the raw material while it was available.

---
Maltby Metallic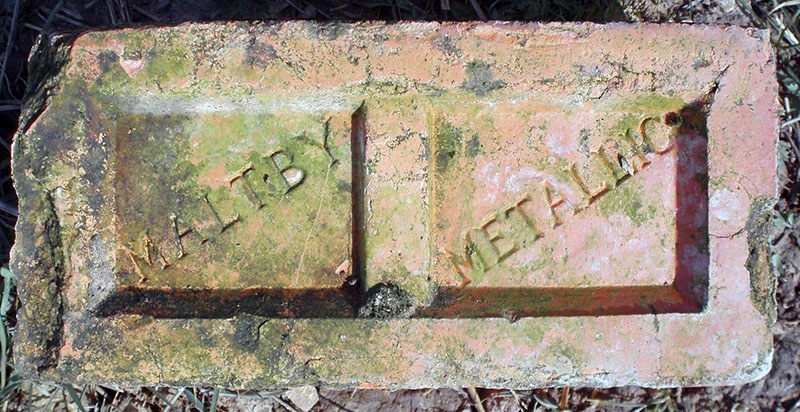 Photo by courtesy of the Frank Lawson collection.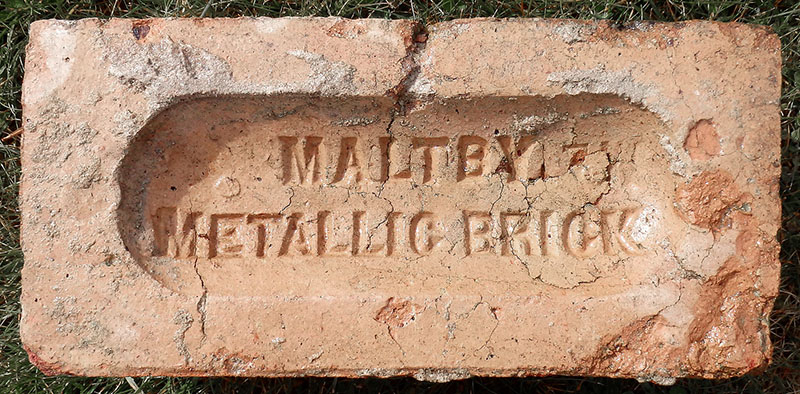 Thanks to Simon Patterson for the photo
Photo by courtesy of the Frank Lawson collection.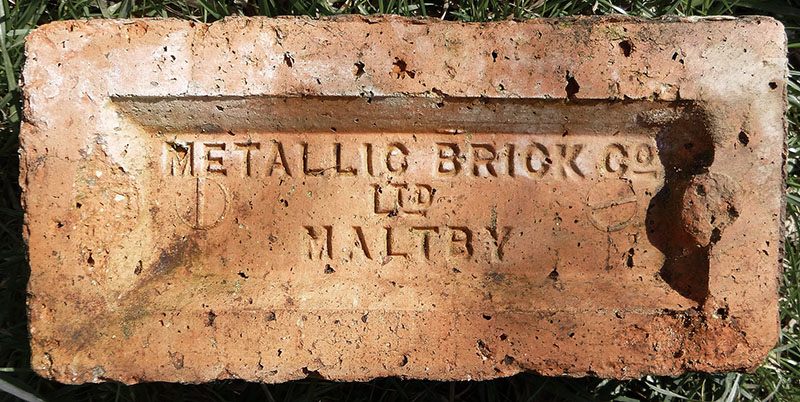 Photo by courtesy of the Frank Lawson collection.

Spotted in Derbyshire by Simon Patterson.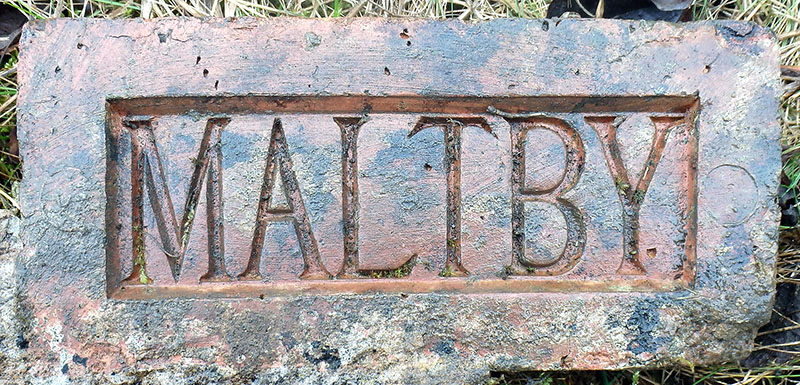 Photos by Malcolm Adlington.
---
Malton
Manufactured at Malton Colliery, County Durham.. Photo by Ian Suddaby
Photo by Chris Tilney
---
William Coverdale Malton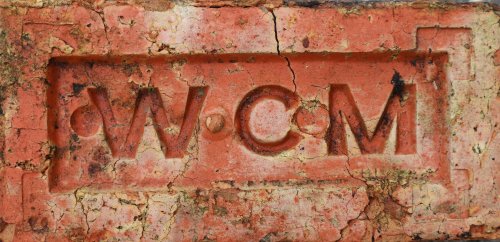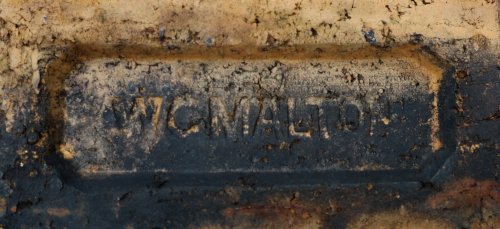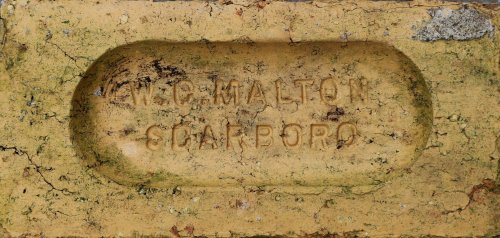 All three bricks are products of the Scalby Road Brickworks in Scarborough. This was one of four brickworks in the town with quarries working the soft shales of the Upper Estuarine Series which were crushed for brick making. Scalby Road brickworks were set up by a local building and civil engineering contractor William Coverdale Malton (hence WCM) in the 1880s (I dont have an exact date yet). On his death in 1891 they were run by his wife Ellen until his sons entered the businesswhen ity became Wm Malton and Sons. Brick production ceased in 1956 and the site is now built over (Malvern Crescent, Scarborough). Photos and info by Chris Hall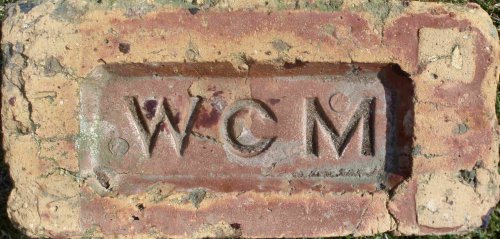 Photo by courtesy of the Frank Lawson collection. Found in Ravenscar, N Yorks.
Photo by John G de Nobriga.
---
Malton & Driffield Railway


This railway in east Yorkshire existed from 1836 until amalgamated with the North Eastern Railway in 1854. Photo by Alwyn Sparrow.

---
Mandall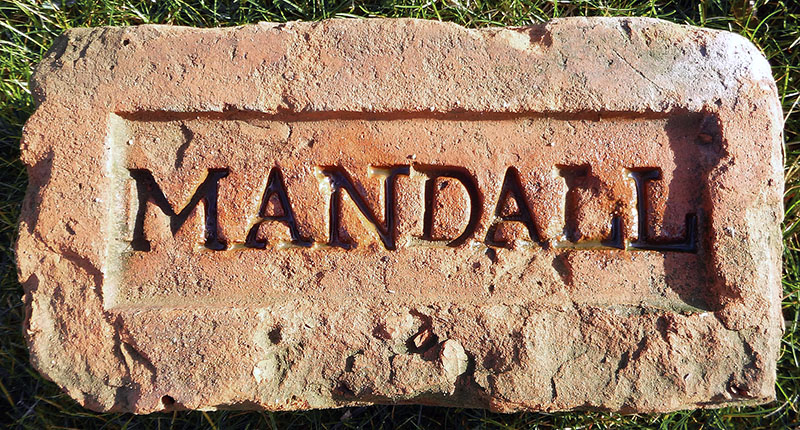 Photo by David Ashford.

---
Manners, Eastwood
In 1920 the Manners Brick Company was formed from the Eastwood Brick and Pottery Company and the Erewash Brick, Pipe and Pottery Company. The site being next to the Great Northern Railway line, on its Derbyshire extension and the Erewash Canal. The brickworks closed in 1977. Photo and information by Martyn Fretwell.
A 1927 photo taken inside the works can be viewed here.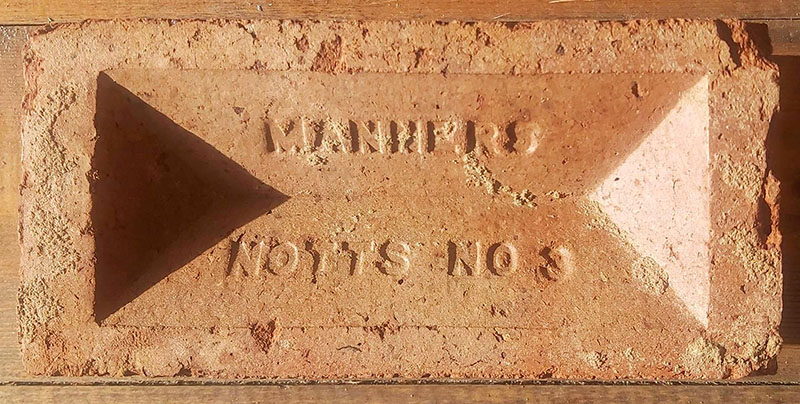 Stamped No. 3, photo by Simon Patterson.
These two found by Martyn Fretwell in Sutton in Ashfield.


This one is shaped - the back is chamfered - probably therefore for use as coping on top of a brick wall. photo by Glynn Lowth.

---
Manor Potteries
The Manor Pottery, Undercliffe Road, Eccleshill was established by Jeremiah Rawson, Lord of the Manor of Bradford, in 1837. It was purchased by Mr William Woodhead, a good geologist and chemist. Woodhead's eldest daughter Hannah married William Marshall who in turn owned the works. By 1867 the products had been switched from pottery to brick, firebricks and sewer-pipes. In June 1873 a valuation of the works described a 12 acre site consisting of: manor house, cottages, engines, sheds, land, Hoffman brick kiln and two other kilns were worth '8587. The first block of houses in Undercliffe Road, Eccleshill ('Terracotta Row - 1854') were linked with the works being, unusually for Victorian Bradford, brick built. Bricks marked [ECCLESHILL] and [WW] are known in addition to the above. According to trade directories the Undercliffe Road kilns were still in operation in 1912. At some stage in the early 20th century the works were closed; the chimney was felled on 12th November 1921. Photos and information by Derek Barker.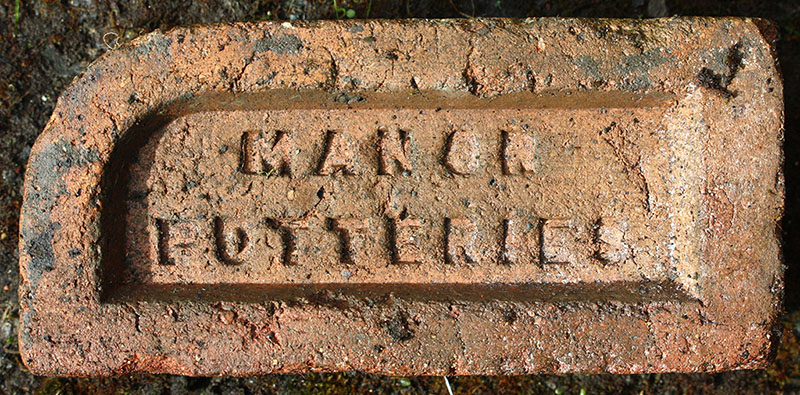 ---
J P Mansell, Netherton


I have found a 1896 trade directory reference for a J P Mansell, Windmill End, Netherton as publican of the Bull's Head in Netherton. From past research publican's have also been brickmakers, so it is possible that this J P Mansell is our maker of this paving brick. Info & Photographed at Oldfield Reclamation Yard, Old Hill, Cradley Heath by Martyn Fretwell. Martyn adds :- I have now found that J. P. Mansell is listed as brickmaker in Kelly's 1899 edition as James P. Mansell, (blue bricks a speciality), The Dixon's Green Endurance Brick Works, Netherton, Dudley.

---
Mansfield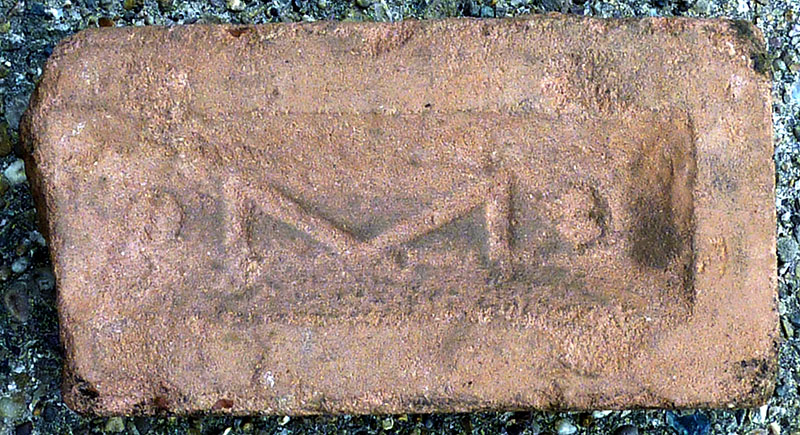 The Mansfield Brick Company, a subsidiary of Mansfield Sand Co. produced calcium silicate bricks from 1926 to the mid 1990's at its Sandhurst Avenue site. This brick came from a 1930's/40's house recently demolished, situated very close to were it was made. In 2010 the Company relocated to Crown Farm Way, Mansfield and now produces bespoke concrete bricks and products. Photo and info by Martyn Fretwell.

---
Mansfield Stone & Brick Works
Photo by Greg Sirdifield.
Found by Frank Lawson at Blidworth near Mansfield
Found by Simon Patterson in N. E. Derbyshire.


Photo by Martyn Fretwell.

Martyn has since found out that this brickworks was located at the end of Moor Lane, on land running down to the railway. It now has flats built on it, with a football field where they dug the clay from.

---
H. R. Mansfield, Whitwick
Horace Rendall Mansfield, Hermitage Works, Whitwick, Leicester is recorded as brickmaker in Kelly's 1899 to 1912 editions. Mansfield was an MP for the Coalville Area The works was famous for Terra Cotta mouldings. It was eventually sold to National Star from South Wales. He also had a salt glazed pipe works at Church Gresley. Thanks to Peter Harris and Martyn Fretwell for the info.
Photo by courtesy of the Frank Lawson collection.


Found in Bolsover by Simon Patterson




Photo by courtesy of the Frank Lawson collection.




Photo by Peter Harris.
Photos by Martyn Fretwell.
---
W Mansfield, Patent, Birm


Photo by William Whitehead.




William Mansfield is listed in Kellys 1867 & 68 editions at the Atlas Works, Garrison Lane, Birmingham. William Mansfield went bankrupt in 1872 & his yard was taken over by George Savage. Photo by Martyn Fretwell courtesy of the John Baylis Collection.

---
Manvers Main Colliery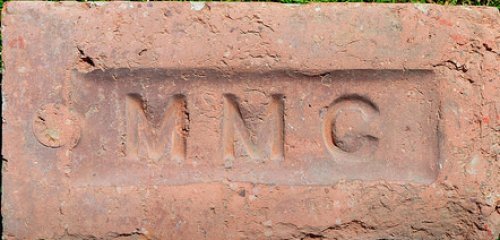 Manvers Main Colliery Brickworks, Wath-on-Dearne, South Yorks. Manvers, as it was known, was named after Earl Manvers of Nottinghamshire, who owned much of the freehold on the mineral property. Manvers Main Colliery was one of, if not the, largest collieries in South Yorkshire producing coal, coke and associated chemical by-products.

The colliery was expanded and developed after the Second World War, but even before then it had masses of buildings, by-product plant and miles of railway sidings lined with full and empty coal trucks. There were two pits, No.1 and No.2 collieries, some 650 yards apart; a brickyard producing 120,000 bricks a week; a small power station; a plant for making benzol and toluol; huge spoil heaps to which spoil was transported by iron skips on overhead cableways and batteries of coke ovens that produced so much gas that in the 1930s Manvers was able to supply the Wath, Bolton & Thurnscoe Gas Co., the Swinton & Mexborough Gas Co., and several local companies besides. The site is now a massive industrial estate with modern offices and warehouses. Photo by Frank lawson and by courtesy of Caphouse Mining Museum, Overton, Wakefield




A brickyard attached to the colliery had a capacity of 120,000 bricks per week in the 1940s. 'A. Hill, The South Yorkshire Coalfield, 2001'. Image PRBCO.

---
Marbrow


Front and back of a Marbrow Newton brick. In 1871, John Marbrow of Newton Solney near Burton was employing 6 men & 1 boy at his Newton brickyard. He produced bricks, tiles, drainpipes & kiln tiles until 1890. The works had been founded by John's father-in-law, William Hopkins in 1811. Photo & Info by Martyn Fretwell, Brick - Phil Sparham Collection.

---
Mar Hill


Mar Hill, Carlton, Nottingham. Photo by Mike Chapman.

---
Market Harborough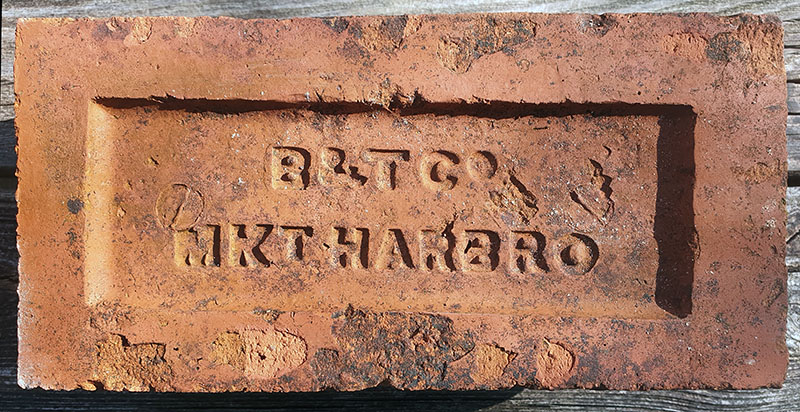 Photo by Peter Harris.

---
Marland


Found on the Island of Lundy by Paul Dean. It was made Marland Moor, south of Great Tottington, Devon. The works closed in 1940.
Photo by Simon Fogg.
---
Marley Hill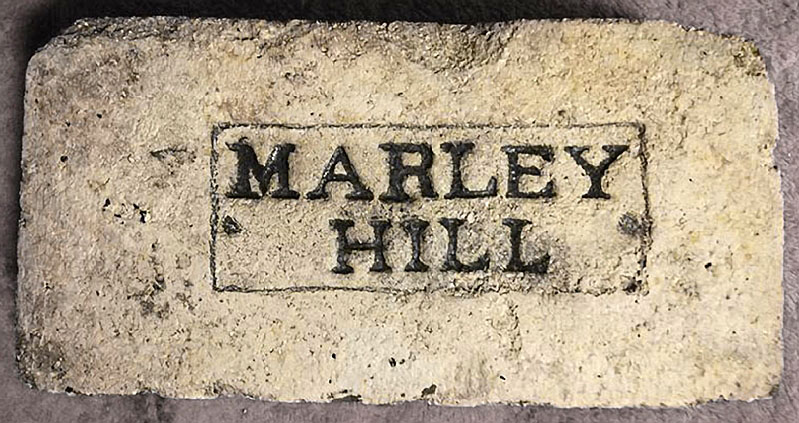 Made at Marley Hill colliery, County Durham. Photos by Chris Tilney.

---
Marple: see Tymms
---
Marple Brick Co Ltd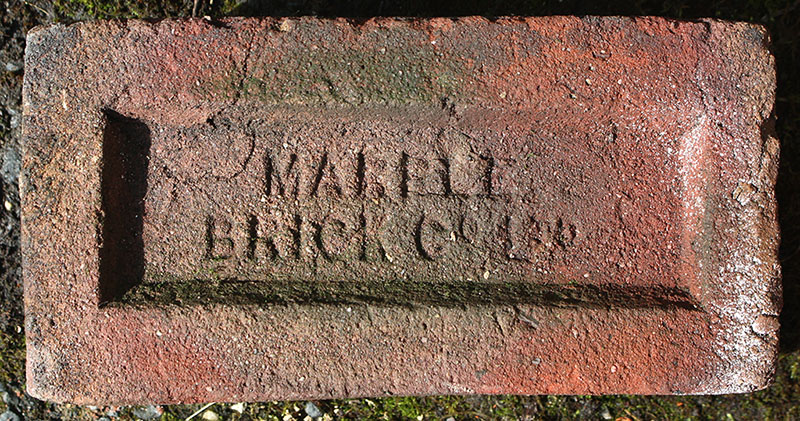 This brickworks in Marple, Cheshire was short-lived due to the poor quality of the raw material used to make them. The bricks tended to return to dust rather quickly when faced with the weather.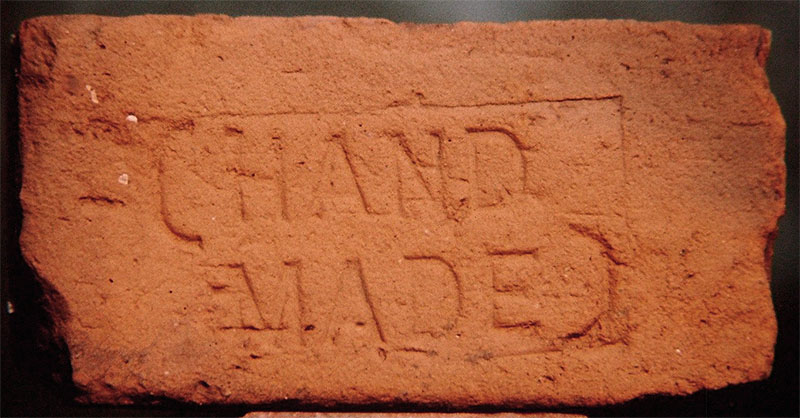 Reverse of brick. Photo by Alan Hulme.
---
Marriage, Hatfield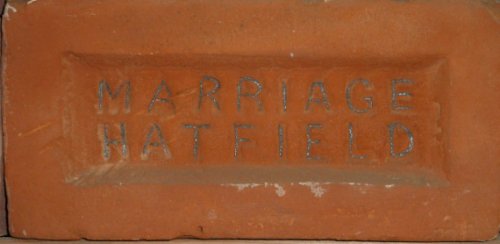 Hugh Marriage is listed in Kellys 1899 to 1922 editions at Hatfield, Witham, Essex. Photo & Info by Martyn Fretwell.

---
Marrian


Found Sheffield, South Yorks. 2016. Origin not known. Probably from the Sheffield area. Although I can find no reference to a brickmaker with the surname Marrian there is a brewer with the name Thomas Marrian at Royds Mill Street, Sheffield in the 1881 directory however I can find no evidence that he also had an interest in brickmaking. Photo and info by courtesy of the Frank Lawson collection.

---
J Marriott


No info. Photo by Martyn Fretwell.

---
Marshall Green
Photo taken by Gary Scurr at the remains of an old lead smelt mill in Frosterley, County Durham.
Found by Frank Lawson near Frosterley, believed to be Marshall Green Brick Works of Witton le Wear.
---
Marshall Sons & Co.
Marshall Sons and Company were an engineering firm who made traction engines, etc. at Gainsborough, Lincolnshire. The factory was built from bricks made from clay out of the hillside where the factory stood. On the other side of the brick it is stamped Clayton Patent, this was the brick making machine. Photo and info by David Rogers.
---
George Backhouse Marshall & Sons
This boldly lettered brick was made by George Backhouse Marshall & Sons, Church Garforth, listed as masons, builders and brickmakers in White's Clothing District directory, 1875. Photo by Alan Tomlinson.
---
Thomas Marshall (Loxley) Ltd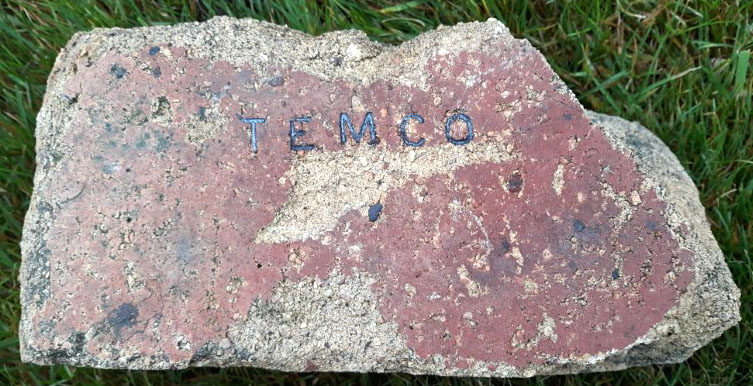 Photos by John Bramall.
---
Marshall & Gray (Guiseley)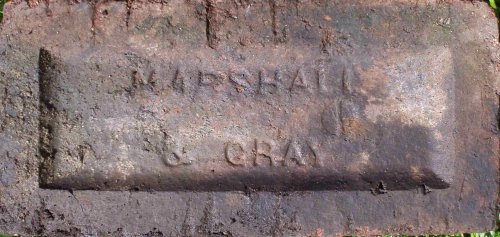 Marshall & Gray were once owners of Guiseley Brickworks.
A later product of the works. Photos by courtesy of the Frank Lawson collection.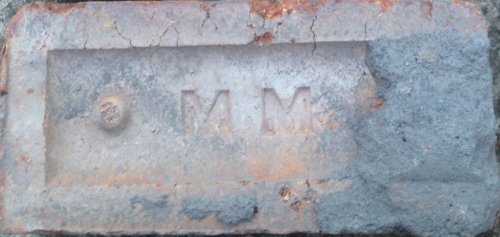 Photo taken near Leeds/Bradford airport by Melanie Harriman.




M M - Maurice Marshall of Guiseley, photos by Frank Lawson. The works was worked by John Marshall Barwick and Maurice Marshall under the title Barwick and Marshall until the partnership was dissolved in July 1889.

---
Marshalls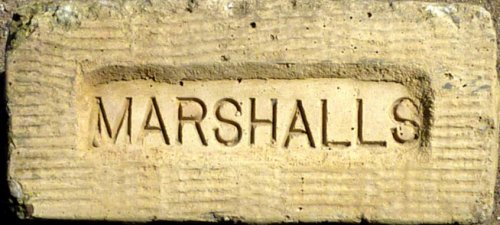 A concrete brick made by Marshalls of Nottingham. The company was taken over by Hanson in 2005. Photo & Info by Martyn Fretwell.

---
Marston
Photographed in Sharpness, Gloucestershire.
Photo by courtesy of the Frank Lawson collection.
Marston Vale is an area of Bedfordshire. Most of the clay pits are now exhausted, and most of the brickmaking chimneys have been demolished. At the height of the industry's production there were 167 brick chimneys in the Marston Vale. Thanks to Darren Haywood for the contribution.


Found in Abadan city in south-western Iran by Reza Rahimnia.

---
Martin, Lee Moor


Photo by David Kitching, part of the collection at Wheal Martyn China Clay Museum.

---
M'port (Maryport)


Found on the beach at Carsethorn on the Dumfriesshire coast just across the Solway Firth. It is uncertain where the brickworks was but situated but there is an unnamed Brick & Tile Works on the southern edge of Maryport just west of Ellenborough Colliery which looks a likely candidate. It might have obtained fireclay from the colliery. It was active in 1867 but absent from the 1899 OS map. Photo and info by Ian Suddaby.

---
Mason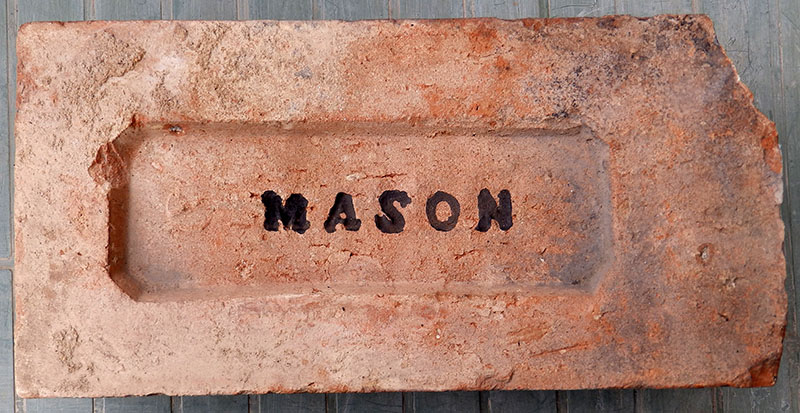 Location unknown. Photo by Nigel Furniss
---
A Mason, Horwich
Adam Mason, Montcliffe Colliery, Horwich, Bolton. Photo and information by David Kitching.
Photo by Alan Davies.
---
James Mason, Exeter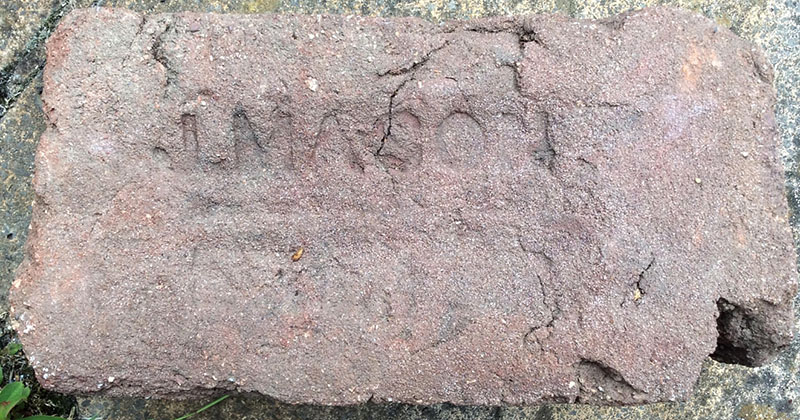 An advert in 1853 by Mr Mason's Brickmaker at the brick field indicates they could supply bricks from the 25 April under his supervision. James Mason
would run the works until January 1859, when he resigned just before the
works went into private ownership. Information by David Cornforth and photo by Simon Fogg.
---
Richard Mason & Sons, Tipton
Richard Mason & Sons, Crown Brick Works, Toll End, Tipton. Richard Mason & Sons are first recorded in Kelly's 1884 edition, then the entry from the 1896 edition to the 1916 edition is Mason Ltd, (blue & red), Toll End, Tipton. Present day Bayleys Pool on Toll End Road is where they dug the clay from for the Crown Brickworks. Info by Martyn Fretwell.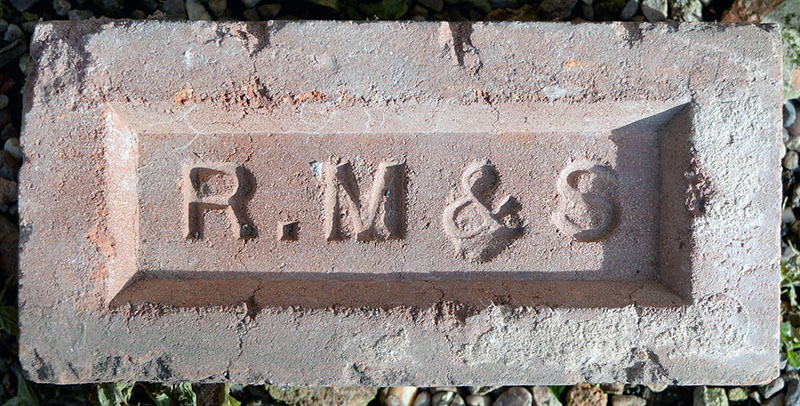 Photo courtesy of the the Chris Thorburn collection.
---
Mason & Dall
Mason and Dall were the first, brief, proprietors of a new brickworks in Kenilworth starting operations in January 1889. The only found examples of their named produce are decorative bricks such as this one. A railway siding was installed from the outset. The works became the Cherry Orchard as featured elsewhere on this site. Thanks to Robin Leach for the photo and info.
---
Mason & Watson, Napton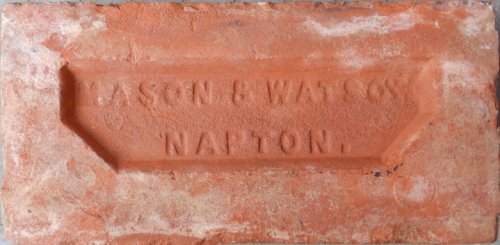 1878 Thomas Mason (brickmaker) and Charles Watson (carpenter & builder) established a brick & tile manufacturing site near the canal at Napton. They supplied bricks for the Sheffield, Manchester & Lincolnshire Railway ( later G.C.R.) in 1894 for contract No.4, that section being built by Thomas Oliver & Son. Earlier they supplied bricks to the L.N.W.R. Weedon - Marton Junction section 1888 onwards (opened 1895).
1896 (10th December) Partnership dissolved by mutual consent. Trading as Charles Watson Brick & Tile Makers until 31/12/1901.
1902 (1st January) Watson Nelson Ltd. Brick & Tile Manufacturers (Windmill Brand - T.M.) with Watson as managing director. The Nelson connection was Charles Nelson & Co. Ltd. cement manufacturers of Stockton. Sold to Allied Brick & Tile Works Ltd., head office 13, Stratford Place, London W1 in 1934. Work continued at Napton until the 1970's, when they closed in 1973.


The company emblem on some of their bricks and tiles was a WINDMILL, as there is one on the 500' hill above the works, built in 1543 and restored in the 1960's. It was a landmark for all the old boatmen transporting the bricks and tiles in narrow boats, and can be seen for miles around. The windmill emblem can be faintly seen on the brick above. Photos and info by Chris M Jones and Nigel Furniss.

---
Matthews (Barrow): see entry for Furness, Barrow
---
H Mathews Co. Wordsley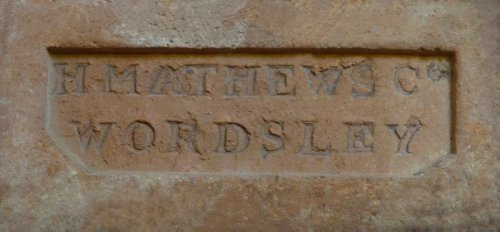 Photo by Martyn Fretwell who adds: Howard Mathews & Co. are listed at Buckpool, Wordsley, Kingswinford in Kelly's 1860 edition. This works was adjacent to Naggersfield Colliery & was later owned by William Richardson in 1872. See W. Richardson entry.

---
Matthews, Blackburn


William Matthews, Royshaw Brickworks, Blackburn. Started in 1887. The works was rebuilt in 1932 by the Royshaw Brickworks Co. and later taken over by John Woods Brick & Tile Co. Ltd. of Bog Height Darwen. It closed in the early 1950's. Info by Colin Driver.
---
Henry George Matthews


Founded in 1923 by Henry George Matthews, his descendants still make hand-made & machine-made bricks in Buckinghamshire today. A family run business, the clay is still dug from original deposits around Bellingdon & Chalfont St. Giles. Photographed at a reclamation yard on the outskirts of Aylesbury. Photo and info by Nigel Furniss.

---
John Matthew & Son
John Matthew & Son, Holbeck, Leeds. Photo and info by courtesy of the Frank Lawson collection.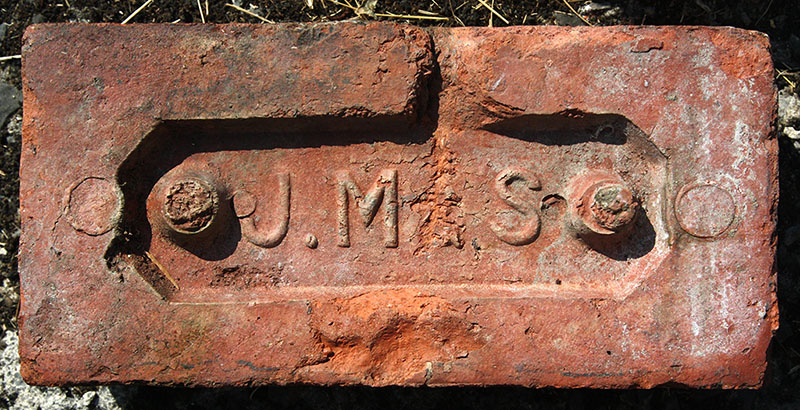 Photo by Frank Lawson.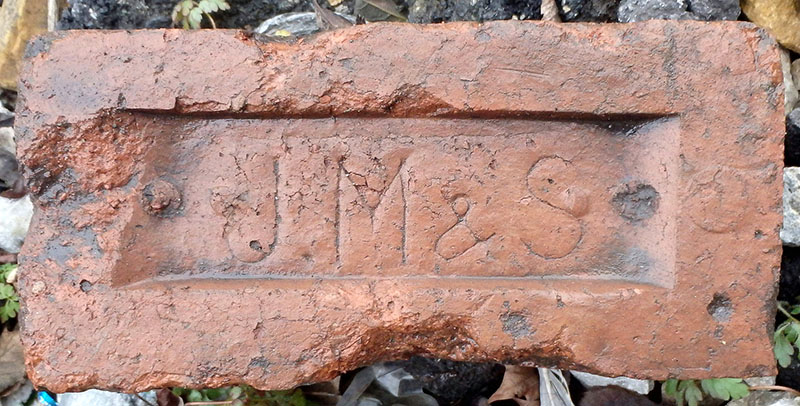 ---
Maud
George Maud of Thorne, Yorkshire is listed as a farmer & brickmaker in Kelly's West Riding Directory of 1881. Photo and info by Frank Lawson.
---
C & J May
Charles and Joshua May were colliery proprietors at Sneyd Colliery in Burslem where they are listed as running the brickworks from 1851 to 1873.

---
T A May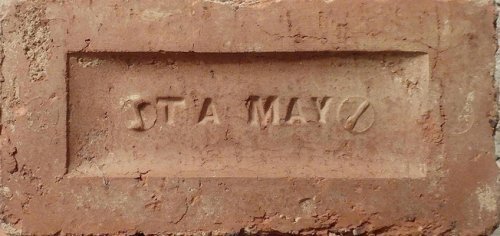 T A May - Found Sheffield, South Yorks. 2016. Origin not known. Photo and info by courtesy of the Frank Lawson collection.

---
McCallum Langley Mill


Photographed at Derby Silk Mill Museum by Martyn Fretwell.

---
McCarthy's Bulwell
McCarthy's brickworks was at the end of Thames Street in Bulwell, on the opposite side of the then Midland Railway line to Sankey's Brickworks, but now the path of the railway line is Sellers Wood Drive. These internal bricks were stamped either McCarthy's or MAC and were very absorbent. A bricklayer friend has told me, that he had to soak them overnight, before he layed them the next day. If not the bricks would draw the moisture out of the mortar and the wall would fall down. A picture of the works which closed around 1977 can be seen on picturethepast.org.uk Photo & Info by Martyn Fretwell
---
McCarthy & Co, Coventry


Photo by Alwyn Sparrow.

---
A McGill, Whitehaven


Photo by Martyn Fretwell from the Chris Thornburn Collection.

---
Meadow Hall Brick Company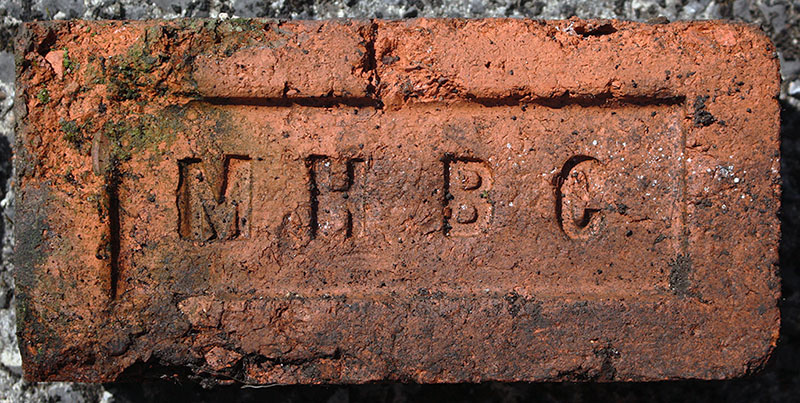 Meadow Hall Brick Co., Lower Wincobank, Sheffield. White's Sheffield & Rotherham Directory 1879. Info by Frank Lawson.
---
Meadows Kettering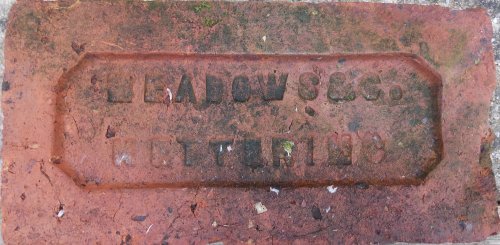 Like many towns Kettering expanded in the last quarter of the 19th Century. Two businessmen called William Meadows and John Bryan bought 70 acres and laid out streets and sold building plots. There was a huge demand for house bricks and in 1872 Meadows built a brickworks just off Stamford Road. The 1885 map shows it but the 1900 map does not. Photo and info by Dave Clemo.
---
William and Thomas Meadows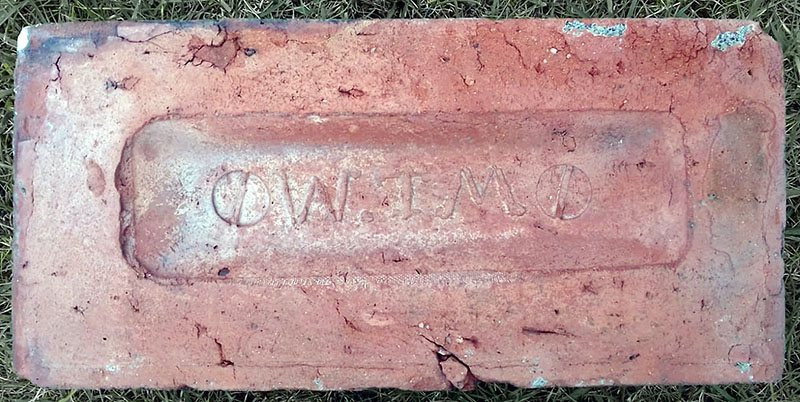 This business is usually listed as T & W Meadows in the trade directories from the 1870s at Georges Road, Heaton Norris, Stockport. In 1881 Thomas Meadows is listed as a timber merchant and contractor employing 200 men. The timber yard and sawmill was on Georges Road but the brickworks seems to have been on Garners Lane in Davenport. By 1902 it was trading as the Davenport Terra Cotta, Brick & Tile Co still under Meadows' ownership. The works disappeared some time after 1910 and before 1914. Photo by Steve Biddulph.
See also Davenport.
---
R Meakin, Newton Burgoland, Ashby


Richard Meakin & Co. had a brickyard at Newton Burgoland in 1881. There are two disused brickyards near Newton Burgoland and I think Meakin used the one to the east of the village. Photo and info by Richard Gamble.

---
Measham Terra Cotta Co.


- The Measham brick and Terra Cotta works was just off Atherstone Road, starting around 1883. The works are recorded in Kelly's for 1895 and in 1899 the company sank the Measham Newfield pit to extract coal & clay, its manager was John Tomlin. A railway siding was also built to the pit. On either side of the main railway line, there were two other brickworks - Coronet & Redbank on Atherstone Road, each with its own clay pits. The Measham Brick & Terra Cotta works closed in 1925 & was demolished. Photo and Info by Martyn Fretwell




Photo by Ray Martin.

---
Medley


Found near Huddersfield in W. Yorks by Frank Lawson. Made by Jesse Medley at Brownroyd Brickworks, Kilner Bank, Moldgreen, Huddersfield, and listed in trade directories between 1889 and 1939. Thanks to Phillip Rothery for the history.

---
Meek Spence & Wilson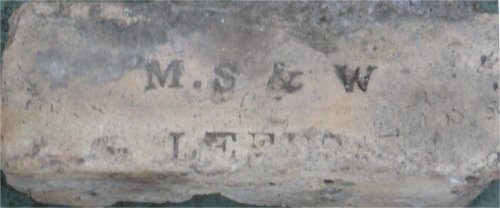 This was recovered from the Ferrybridge Pottery in Yorkshire, which closed down in 2003 and was demolished later that year. It came from the early (1795) group of buildings. Photo and info by Alan Tomlinson. Philip Rothery writes that it is a product of Meek, Spence & Wilson. Listed in Slater's Yorkshire/Leeds 1848 and in White's Clothing District/ Leeds 1861.

---
Meir


Photographed in Corris, Powys. Meir is a suburb of Stoke-on-Trent, Staffordshire.




Photo taken at Apedale Heritage Centre by Martyn Fretwell.




Photographed at Corris by Martyn Fretwell.

---
Melbourne
Possibly have been made by Richard Bennett of Kings Newton, Melbourne or John Evans, Melbourne. Photographed in Derbyshire by Martyn Fretwell.
---
Mellodew & Co, Oldham


Thomas Mellowdew & Co, Besom Hill Brick & Tile Works, Moorside, Oldham. The business appears in the trade directories as Mellodew & Clegg in 1879 and 1880, in 1889 and 1895 as Thomas Mellowdew & Co .

---
Metal
"Metal" and "Metal Brand" was the trade brand used by The Metallic Tile Co. (Rowley Bros.) Ltd. They operated the Metallic Tileries in Chesterton, Newcastle-under-Lyme, Staffs. Trading ceased in 1977. This is believed to be is a late example of their pressed bricks. Bricks marked Metal" were also produced at Rowley Brothers Hanford Tileries which operated from 1936 to 1954.
Thanks to Darren Haywood for information and Frank Lawson for the photo.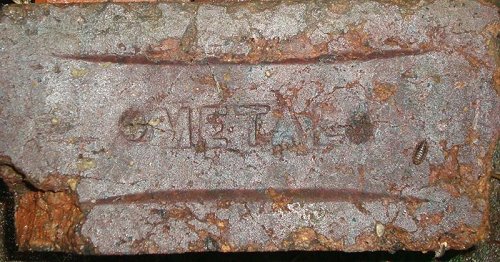 Found in Lincolnshire by Simon Patterson.
Found in Hucknall by Martyn Fretwell.


Photo by Nigel Megson, spotted in Earlsheaton, Dewsbury.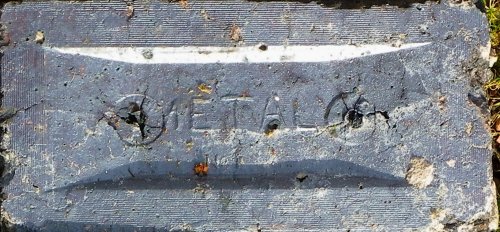 Photo by Malcolm Adlington.
Photo by Michael Brown. Found at Milton Country Park, near Cambridge.
Photo by Beverley Pearson.
---
Metallic Plastic, Accrington
Photo by courtesy of the Frank Lawson collection.



Photo by Alan Davies.

Metallic Brick Co. Accrington. Some of their bricks were stamped "Metallic Baxenden",though strictly speaking the works was at Catclough in the village of Rising Bridge. Info by Colin Driver.

---
Metric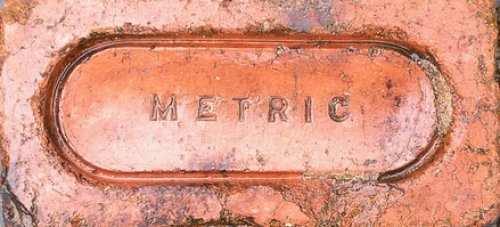 Found in Todmorden, photo by Colin Driver.

---
Metropolitan Brick & Tile, Irthlingborough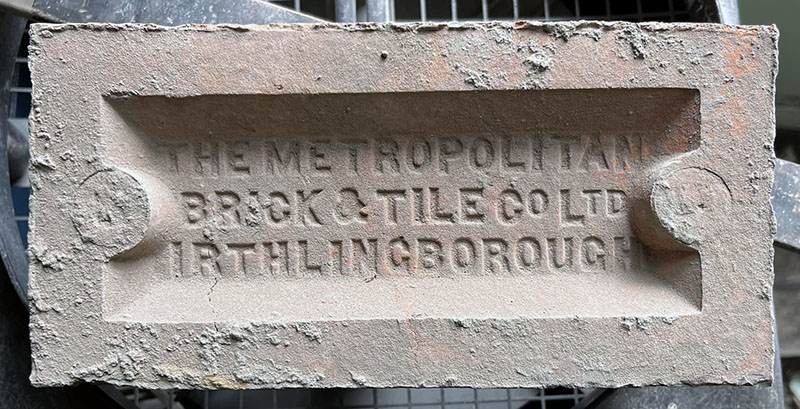 Made near Wellingborough, photo by Nigel Furniss who writes: the works were in existence by 1890 and had a large continuous kiln of 30 chambers plus a chimney stack. Demolished in 1919, can find no info on the actual closure date.




Photo by Martyn Fretwell courtesy of the Bill Richardson Collection at Southwick Hall.

---
Mexboro/Mexbro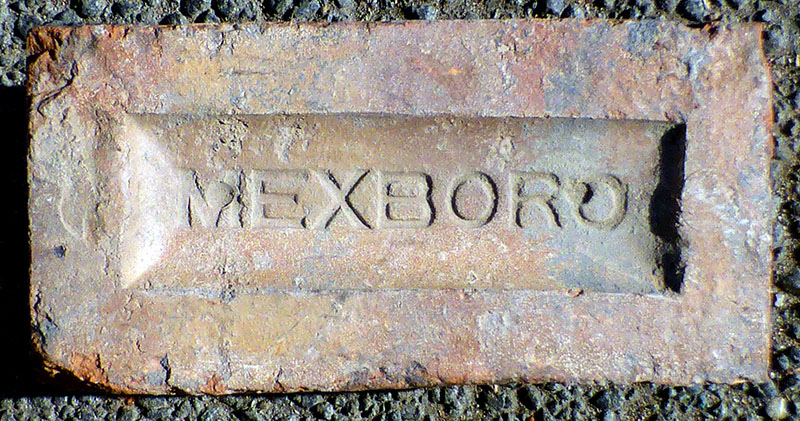 Made in Mexborough, South Yorkshire, photo by Simon Patterson.
Photo by courtesy of the Martyn Fretwell collection.

---
Next page: English bricks, page 15a Mi to Mu