Lord and Lady Pits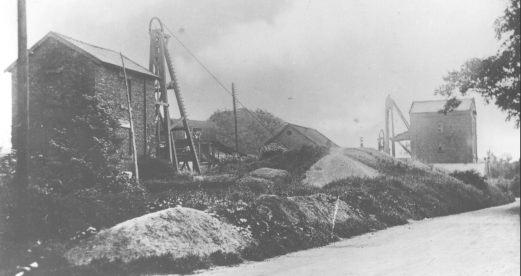 Lord & Lady Pits c1904.
In 1847 the Lord Pit employed 19 men and 8 boys and was a major pumping station for the collieries with a 72hp pumping engine.the engine house had a plaque dated 1835 on the end wall. It was 66 yards to the Four Foot seam and 116 yards to the Five Foot. Working ceased c1857 and in 1891 the old engine house was fited up as a water tower to hold c30,000 gallons of water for public supply. The end wall eventually collapsed in the 1920's.
Lady Pit was wound by a 32hp engine from 108 yards deep to the Gees Seam in 1847, employing 42 men and 18 boys. The Four Foot and Five Foot seams were almost worked out here by this time although a small amount was worked via a tunnel cut through the Worth Hall Fault. In 1857 c120 were employed raising c3,600 tons of coal per month. In 1866 the pit had been walled with bricks "where necessary" from the surface to the Gees Seam and was now sinking to the Accommodation Seam. By 1868 levels had been completed between Lady Pit and Anson Pit and Park Pits in the Accommodation Seam. In 1870 a second hand Cornish Engine was purchased from Harvey's Hayle Foundry. This condensing engine had a cylinder 80" in diameter, stroke 10ft with 4 boilers. It pumped from 228 yards with a 20" diameter pump to 108 yards (Five Foot Seam) and from there by 2 pumps 17" diameter side by side. It was finally started to work in 1875 pumping 190 gallons per stroke.
A new winding engine was provided in 1889, 22" cylinder, 4 ft stroke, at a cost of £325. The single cage was counterbalanced by another running in the Lord Pit shaft. Output in 1892 was 5,810 tons rising to 24,665 tons in 1897. In October 1985 the cylinder jacket burst on the pumping engine and considerable damage was done to other parts of the engine. Repairs were not completed until March 1896 and this led to water being wound in barrels and extra pumping at Park Pits.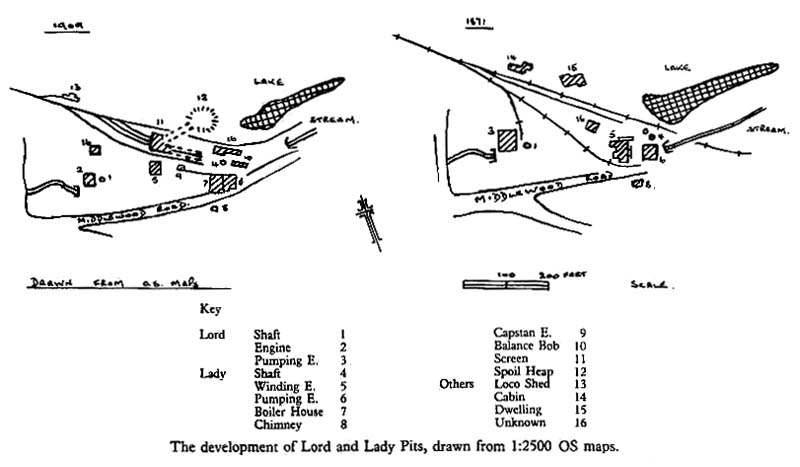 With the electrification scheme in 1926 Worthington Simpson high lift centrifugal pumps were installed. The bottom lift comprised a 75hp 5 stage pump raising 224,000 gallons per hour. The top lift required a 115hp motor. An electric winder manufactured by John Wood and Sons Ltd, Wigan, was also installed, powered by a British Thomson Houston 20hp motor.
The 1889 engine house survives as offices.

Photo© John Ryan
The locomotive shed for the colliery railways was located at Lord Pit. This view shows the shed from Towers Road on 25.5.1952. The building was originally constructed c1882 with the arrival of the first locomotive "Sir George Warren" (Walker Brothers, Wigan, 1130/1876), was extended in 1889 and was demolished in September 1996.
Clickable Map for images of Collieries and Railways
Poynton Collieries Index
---
© David Kitching 1998

Last updated 18.10.98