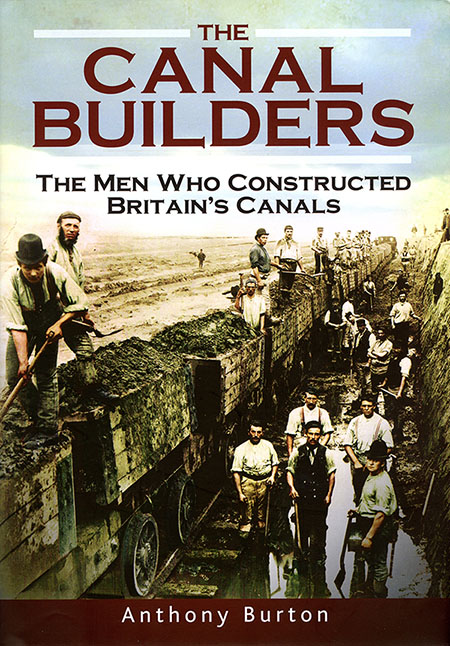 Anthony Burton
Pen & Sword Transport, 47 Church Street, Barnsley, South Yorkshire, S70 2AS
http://www.pen-and-sword.co.uk/
ISBN 978147384 372 1
250mm x 180mm, 192 pages. Gloss art paper. Casebound with dust jacket.
Price £19.99

I first thought that this was going to be a book about the navvies who laboured to build the extensive canal network that developed across Britain in the eighteenth and early nineteenth centuries, but it actually has a much wider scope. The book looks at all aspects of creating a waterway starting with the promoters and financiers and the battles they fought to overcome opposition to their schemes, gaining Parliamentary sanction, and raising the funds to undertake the work. This is followed by the people who supervised the works and administered the business of building a canal, and finally the contractors and navvies who actually did the digging of the channel and built the locks, bridges, tunnels and aqueducts. It is rounded off with a look at the methods of construction and organisation, followed by a peek at what happened after the canals were opened.

This is not some dry history but is delightfully brought to life with extracts from an extensive range of contemporary letters and publications and a good selection of illustrations. The story is brought to life by these quotations and one is drawn steadily into a world where the descriptive language is rather more flowery and verbose than that with which we are familiar, but the underlying problems and issues are no different. There is humour in some of the characters such as resident engineer on the Inverness end of the Caledonian Canal, Matthew Davidson, who is said to have resembled Dr Johnson in both person and manners, and a little sadness in the plight of Mr Longbottom who had been engineer in the early years of work on the Leeds & Liverpool Canal. His straitened circumstances in later life saw him request a small annual stipend from the Canal Company but the Committee delayed for so long before looking to see what could be done that he had already died.

Anthony Burton has a relaxed style and makes the story interesting without being simplistic or patronising. The reader is smoothly led through the intricacies of eighteenth century business and is well entertained on the way. If you want to know how the canals came to be built and who were the people who made them happen then this is the book to tell you. It has not been bettered since it first appeared in 1972 and it has been steadily improved until it reached this its fifth edition.