Boathouses on the Macclesfield Canal
Pleasure boat traffic on the Macclesfield Canal was established by the first decade of the 20th century. The 1911 Ordnance Survey map shows several boathouses on the south-west side of the High Lane Arm. In 1908 Westall (Westall, G. Inland Cruising on the rivers and canals of England and Wales. Westall and Co., 1908) wrote of the Ashton, Peak Forest and Macclesfield Canals:
"The enterprising owners, the Great Central Railway, have a most liberal tariff for navigation (by pleasure boats) of their series of three canals. The toll on the A.P.M for a (pleasure) motor boat for the 42 miles (sic) from end to end being 8 shillings an object lesson to many other railway and canal companies who by no means appreciate the potential advantages that may accrue from the use of their, in some instances, moribund waterways by motor boats for which there is mutual adaption."....."The G.C.Rly encourages pleasure boating on these canals and the tolls charged are merely nominal ....... and they are admirably adapted to pleasure boating as they run at the foot of the moors through most diversified and picturesque country."
Photo:Basil Jeuda Collection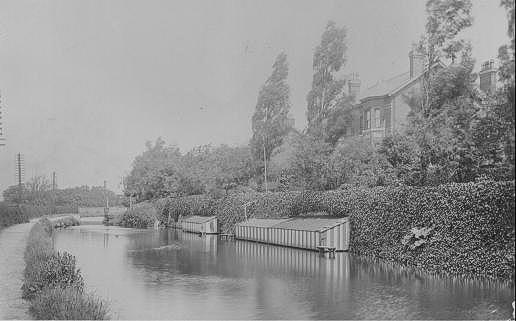 Photo:Basil Jeuda Collection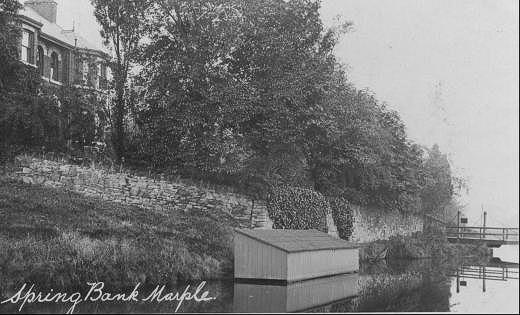 The Macclesfield Canal attracted considerable pleasure use, firstly with rowing boats, and increasingly by motor boats equipped with petrol engines. To keep these vessels safe and secure boathouses were erected along the line of the canal on the side away from the towpath. The above photographs show the rowing boat accommodation either side of Bowden's Swivel Bridge (No.3) just outside Marple.
Photo:Basil Jeuda Collection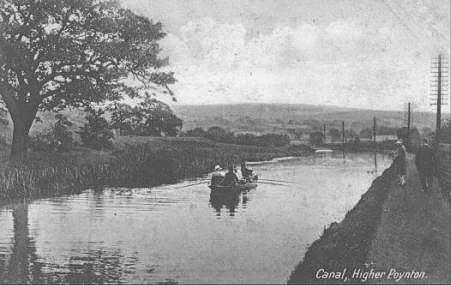 Rowing on the canal at Higher Poynton in the 1920's
Photo:Basil Jeuda Collection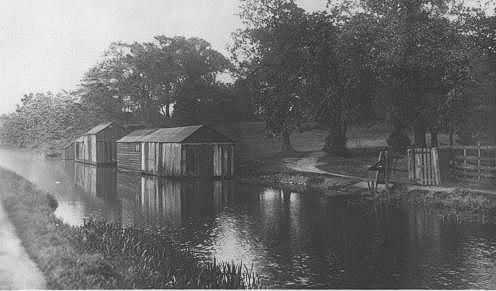 Larger boathouses for motor boats south of High Lane. This type of structure survived in a number of places on the canal until the late 1970's/early 1980's. There were several at Buxton Road in Macclesfield and others at Middlecale near Bridge 13. Sadly these have now been cleared away and the only surviving examples are to be found close to the site of Bowden's Swivel Bridge and on the High Lane Arm where they continue to be used by members of the North Cheshire Cruising Club.
Photo:Basil Jeuda Collection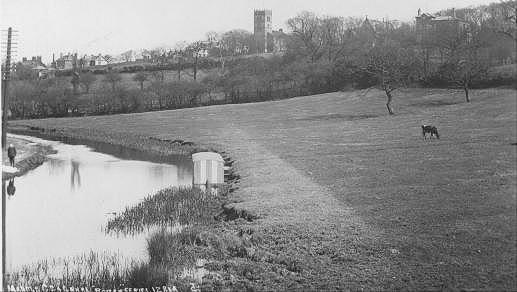 Another boathouse near Hawk Green, the striped paintwork appears to have been the recognised best practice for the period.
Photo:Basil Jeuda Collection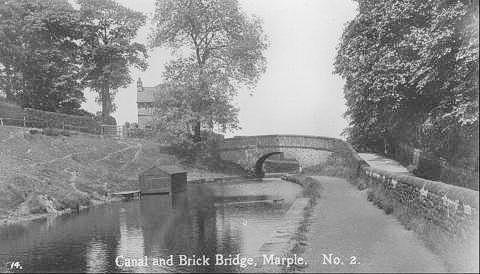 Boathouses were also to be found on the Peak Forest Canal around Marple. This example for rowing boats was just east of Marple Junction.
It would be a great shame if the tradition of boat houses on the Macclesfield Canal were to be completely lost. Sadly they may not last too much longer, particularly as the average size of boat increases. Perhaps someone should campaign to preserve one before it is too late.
---
Back to Ashton, Macclesfield and Peak Forest Canals Page
© David Kitching 1999
Last updated 27.3.1999