Talyclyn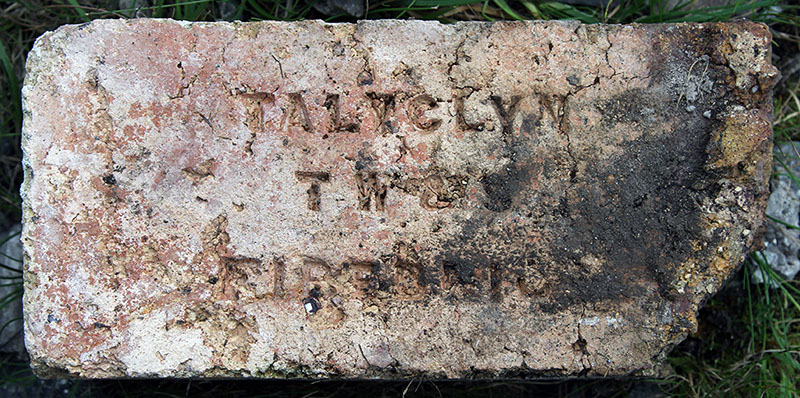 The Talyclyn Colliery and Fire Brick Co of Pontardulais, Carmarthenshire, was wound up voluntarily in about 1900. By the early 1900s the colliery and brickworks was owned by Thomas Williams & Sons. Photo by David Kitching at the Foel Fawr limekilns.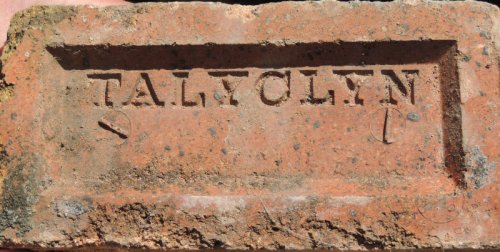 Link to history of Colliery & brickworks: http://www.welshcoalmines.co.uk/Carm/Morlais.htm. Photo by Colin Wooldridge from the John Cooksey Collection.

---
Tanybryn, Aberdare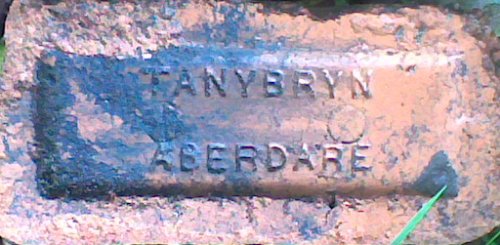 Photo by Brotherglyn
---
Taylor, Neath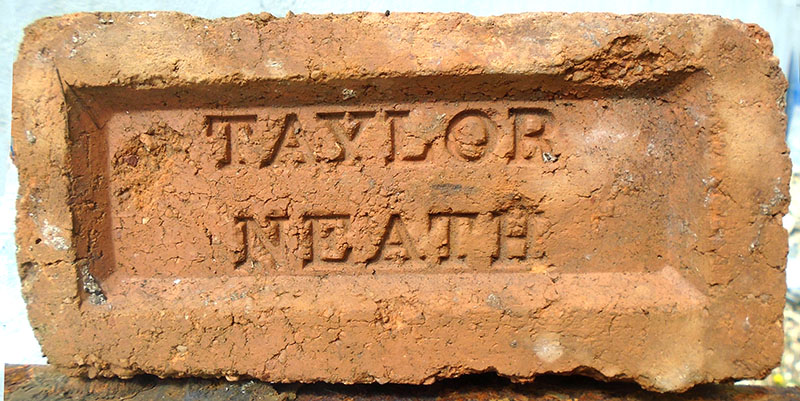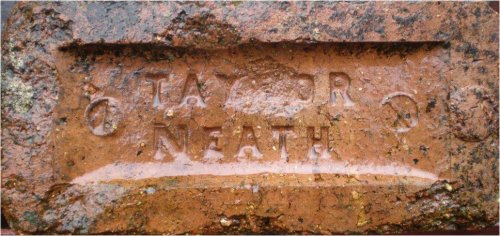 From the works of J Brooks Taylor & Co, Melincrythan, Neath, which went into liquidation in May 1949 as J Brooks Taylor and Co Ltd. Photos and info Richard Paterson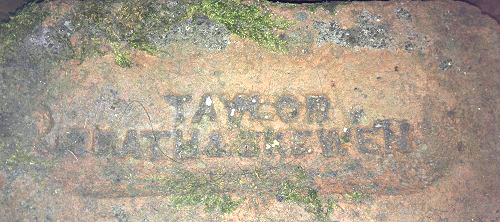 J Brooks Taylor & Co also had the Cwmdu brickworks in Skewen at one time. Photo by Geraint Daniels.
---
Templeton
Made by Templeton and Stokes in Pembrokeshire - thanks to Mike Bennett for the photo.
---
Thomas Rees, Caerphilly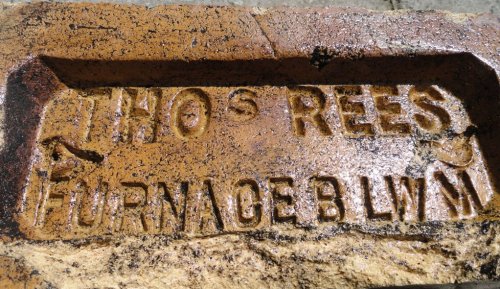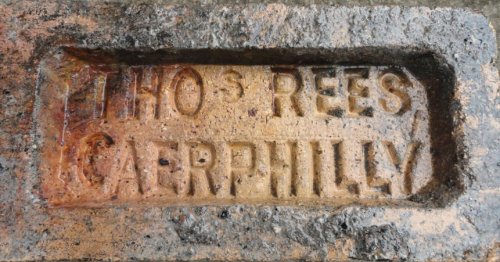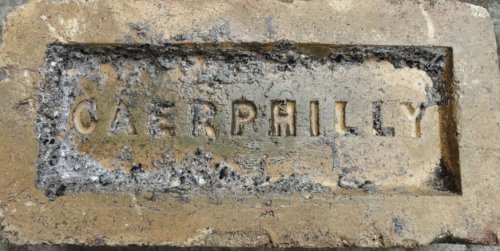 Andrew Havard found these by the entrance to an old drift mine in Caerphilly.
---
Richard Thomas & Baldwins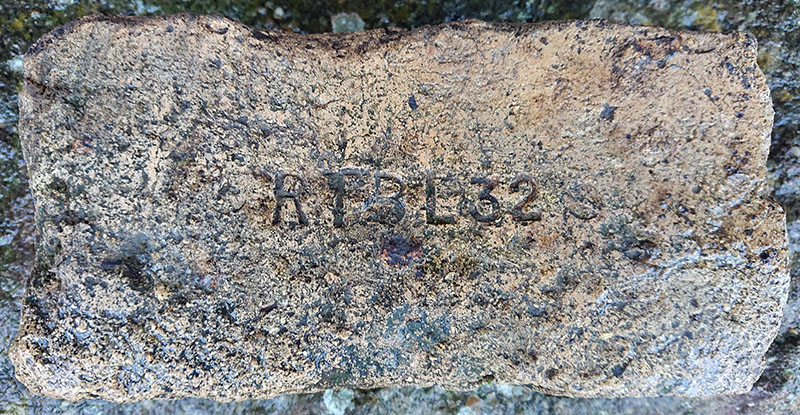 Found near Varteg between Blaenavon and Pontypool. This is probably a product of the Richard Thomas & Baldwins brickworks at Sirhowy. This was opened by the Ebbw Vale Steel, Iron & Coal Co in 1911 and became the largest of Richard Thomas & Baldwins brickworks by 1955 but by 1962 it had closed. Info by Phil Jenkins, photo by Dai Prosser.
---
Thorne, Ely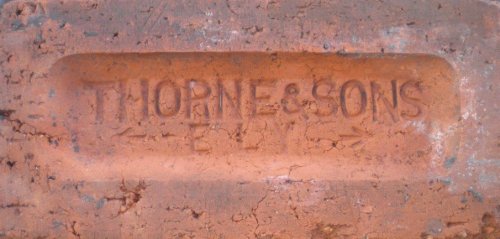 The Ely brickworks of Thorne & Sons, also known as the West End Works, was established in about 1890 by William Thorne (1857 - 1938), a native of Bridgwater, Somerset. The firm traded up until Thorne's death and re-emerged after the war as Welsh Brick Industries (1946) Ltd. Photo and info by Richard Paterson.
---
Tidy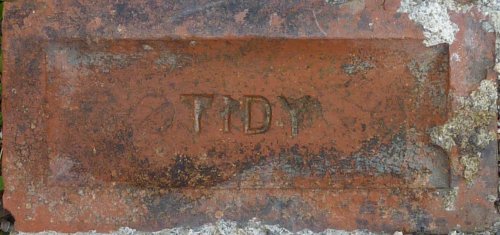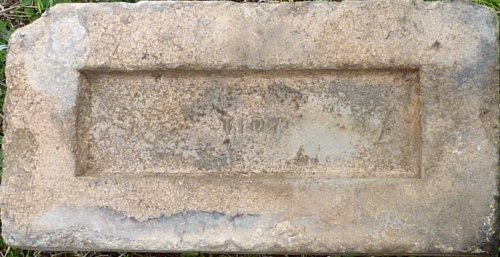 Made at Porthwen near Amlwch. Anglesey. Photos by Martyn Fretwell. A full description of the works may be read David Sallery's website.

---
Tillery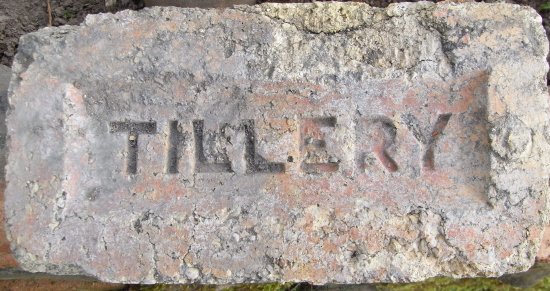 From the Penybont brickworks Abertillery, Thanks to Norman Lowe for the photo and information.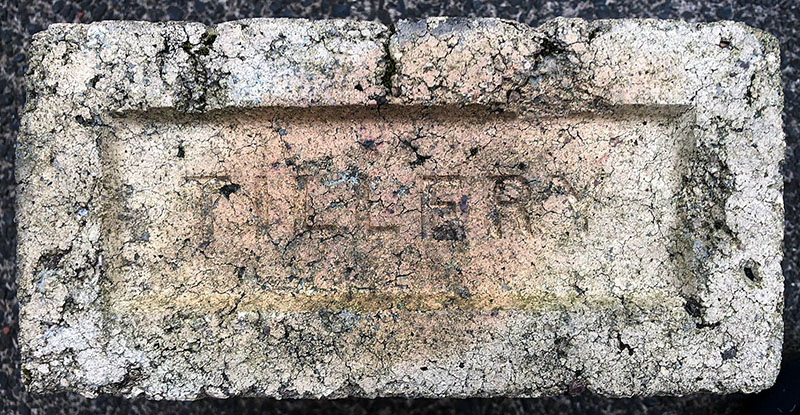 Photo by Jason Stott.
---
A Tilney, Cwmtillery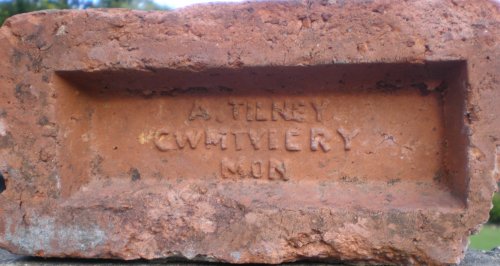 Sometime in the late 1850s, young Arthur Tilney, born in 1842, left the rural hamlet of Kirby Bedon, in Norfolk, where his father, Robert, was a shoemaker. Arthur joined the 'coal rush' and travelled 250 miles to the Monmouthshire town of Abertillery. The area was at the beginning of a boom, with the opening of collieries and the building of houses for a huge influx of workers. In 1861, Arthur Tilney was working as a railway porter at Abertillery Station and, by 1871, he had married and been promoted to station master. But he must have seen a better opportunity for advancement because, by the 1881 census, he was described as an Ironmonger and Timber Merchant. His business flourished and, by 1891, he was the 'Owner of Sawmills and Brick (?works)'. The 1895 Kelly's Directory shows that his business had expanded: he was a builders' ironmonger and merchant, undertaker, wheelwright and general smith and timber merchant, with saw mills, joinery works and brickworks at Cwmtillery. In the 1891 census he was a timber merchant and, by 1901 he had apparently retired. Arthur Tilney died in 1917 and is buried in Newport. There is no obvious evidence of where his brickworks was, but it may have been a small-scale operation near his timber yard site at Cwmtillery. Thanks to Richard Paterson for the photo and information.
---
Tirbach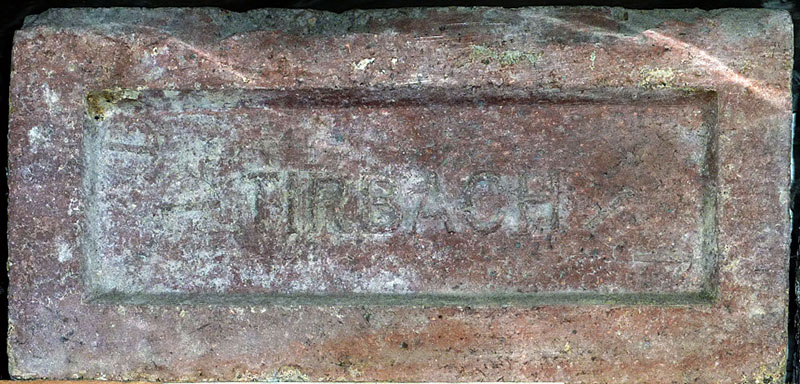 The Tirbach Brickworks Co. at Gurnos, Ystalyfera is shown on the 1903 OS map next
to the Swansea Canal. Photo & Info by Martyn Fretwell.
---
Tondu
Another South Wales example from Tondu near Bridgend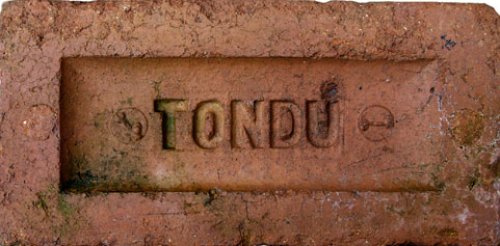 Photo by Mike Stokes.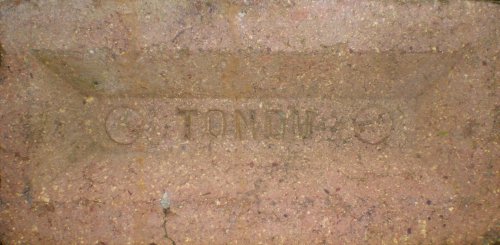 Photo by Richard Paterson.

---
Treboeth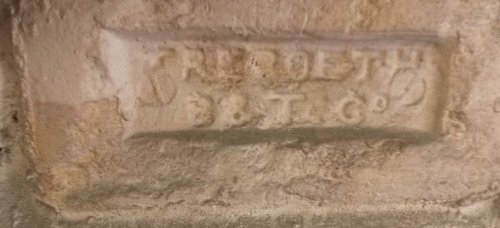 Made in Swansea, photo by John Fraser.

---
T I C - Tredegar Iron Company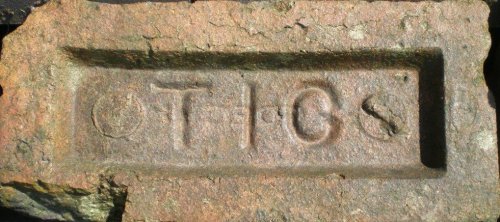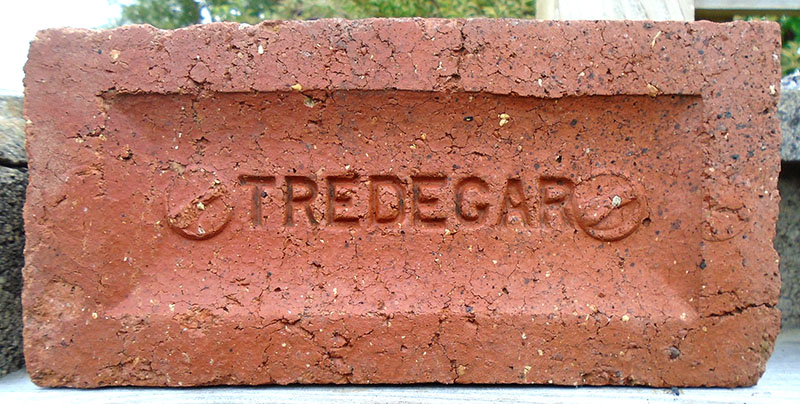 Photo by Richard Paterson.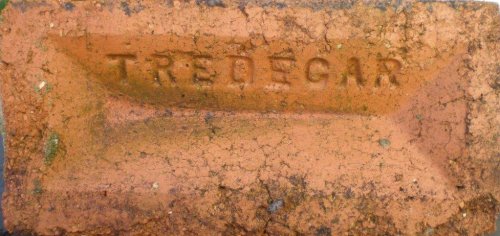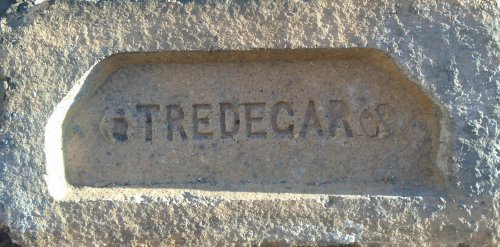 The Tredegar Iron Company was created in 1800 and was at the cutting edge of the industrial revolution in the Monmouthshire valleys. In 1891 production of iron ceased as the company concentrated on what was at one time a total of 13 collieries in the Tredegar area. Already, in 1875, the company had renamed itself the Tredegar Iron and Coal Company (TIC). The brickworks was not established until 1933, and bricks were designated TIC and later Tredegar. It was nationalised along with the company's collieries in 1946, when the bricks became 'NCB Tredegar'. Production seems to have continued until the 1960s, when the works ceased to be competitive. There is a photo of the works here. Brick photos and information by Richard Paterson.

---
Trimsaran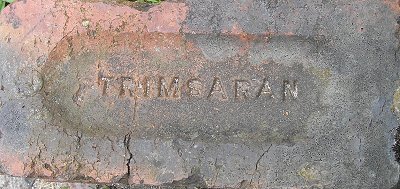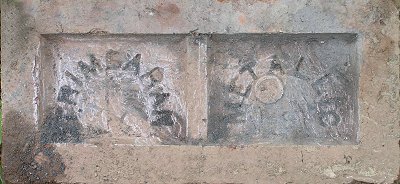 Trimsaran is near Kidwelly in Carmarthenshire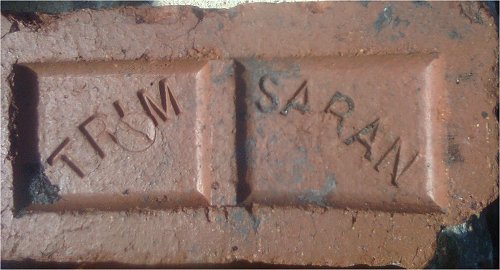 Found at the site of Carmarthen Bay Power Station, Burry Port by Hugh Owen.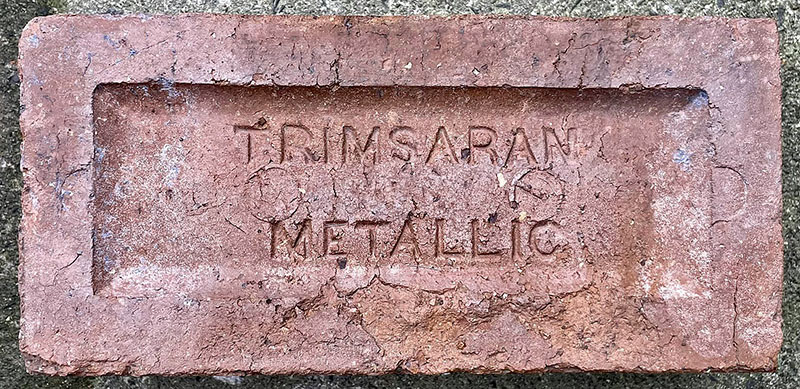 Photo by Phil Burgoyne.
---
Tunnadine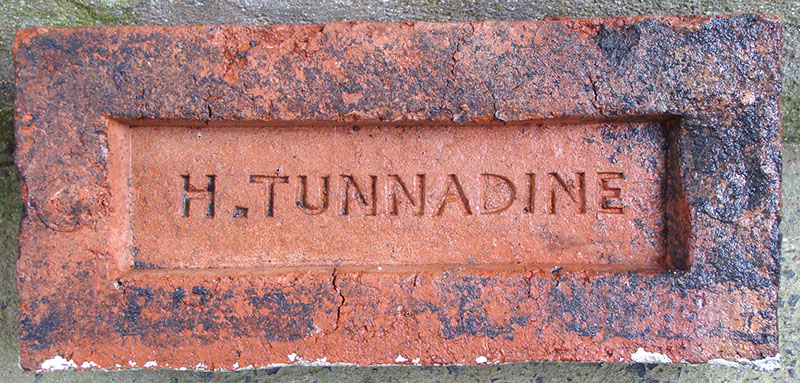 Henry Tunnadine, Carlton House, Malpas, Newport. Photo and info by Graham Bennett.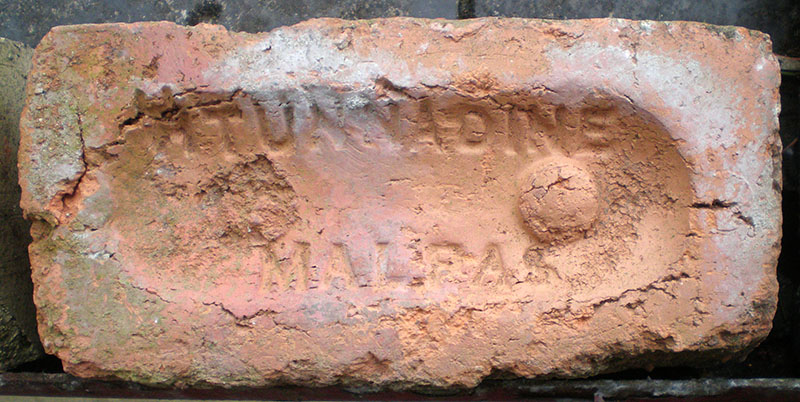 Tunnadine, Malpas, photo by Richard Paterson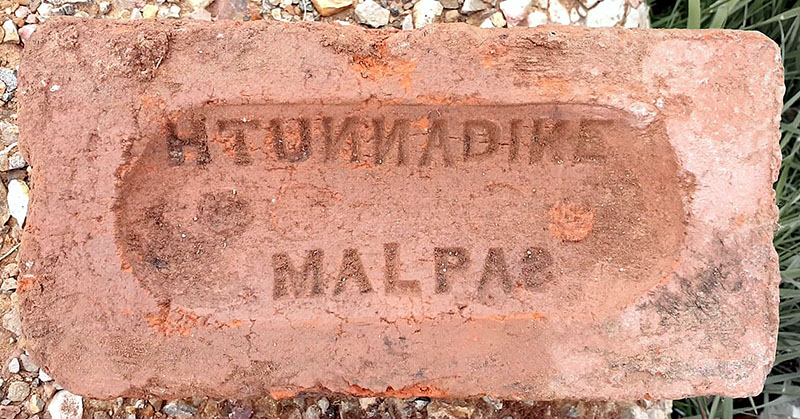 Photo by Jase Fox.
---
Tunnel, Swansea
Photo by Tony Gostling. The Tunnel Brickworks, Cockett, Swansea, Glamorganshire. Made from around 1884-1914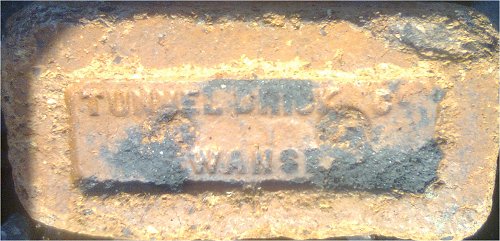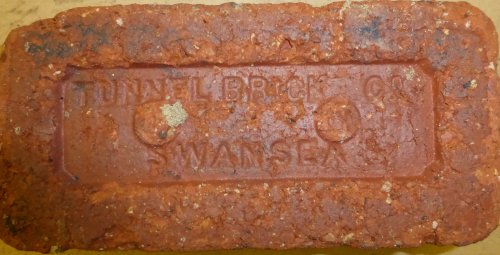 Both found at the site of Carmarthen Bay Power Station, Burry Port by Hugh Owen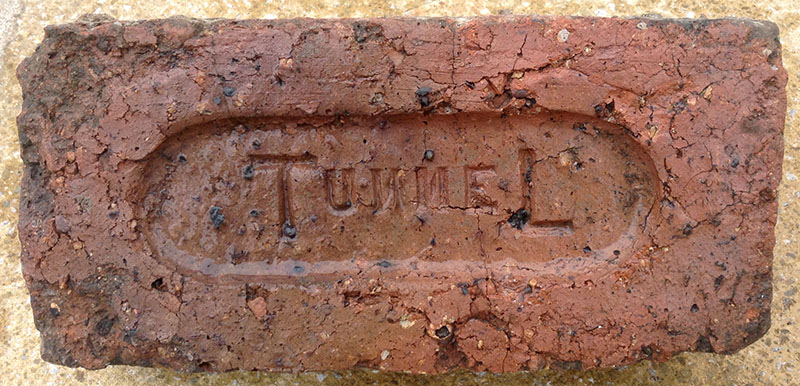 The Tunnel works was owned by J Osman Co Ltd wich was dissolved in 1919. It is possible that production continued for some years after this under different owners but by 1938 the works had closed with the site cleared. Photos by Robert Jones.
---
Letter V
Vachell, Cardiff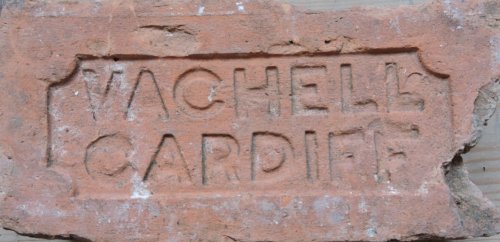 Found at Insole Court, Cardiff by Mike Statham.
---
Upper Bank, Swansea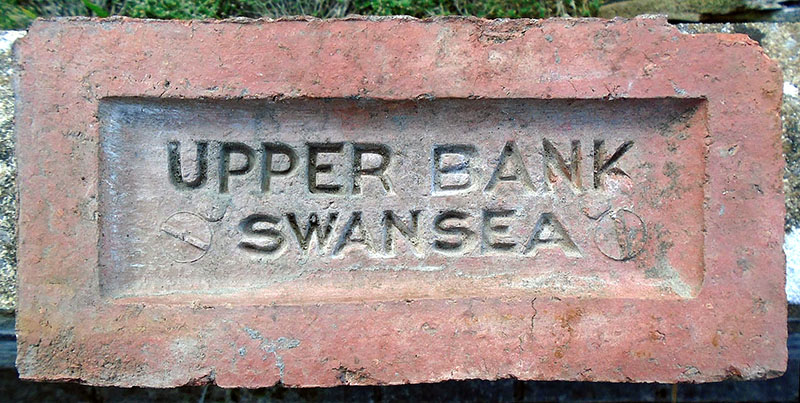 Upper Bank brickworks, Bon-y-maen, Swansea, West Glamorgan. Photo by Richard Paterson.
---
Victoria Works, Pontypridd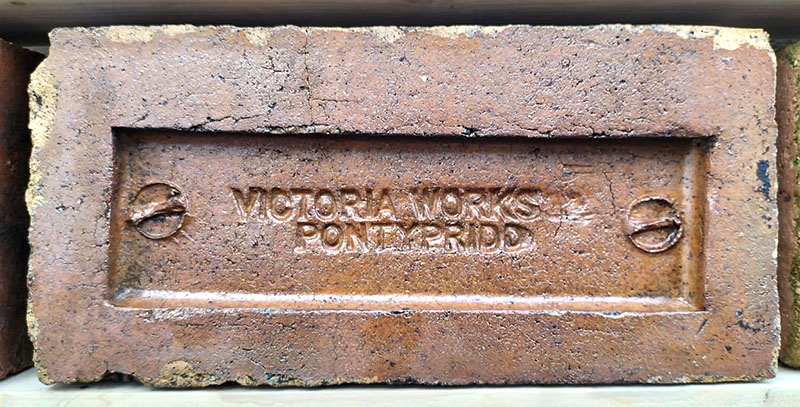 From the Victoria Works at Pwllgwaun, Pontypridd, which was operating in 1896. The later Pwllgwaun Works was a separate entity located at the Pwllgwaun Colliery, though within a mile of the old Victoria Works. During the depression, when coal prices tumbled, the colliery turned to making bricks from its fireclay reserves, but this enterprise is said to have ended when World War II broke out, as it was feared that the glow from the kilns might attract enemy bombers. By then, the Victoria Works had become a recycling depot known as the 'Rag Works'. Info by Richard Paterson, photo by Deiniol Iago.

---
Voylart, Dunvant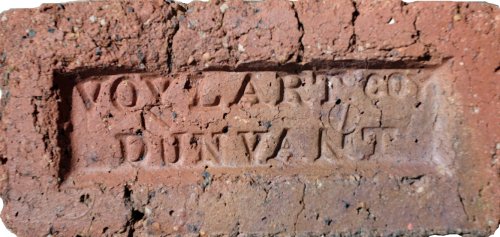 Photo by Mike Stokes

---
W. B. I. 1946
The Highland Park Brick Works in Ely, Cardiff was originally the Westend Brick Works Co but, from about 1914, was operated by William Thorne & Sons before the formation of Welsh Brick Industries in 1946 (WBI 1946 LTD). Information and photo by Richard Paterson.
---
W. B. & C Co, Caerphilly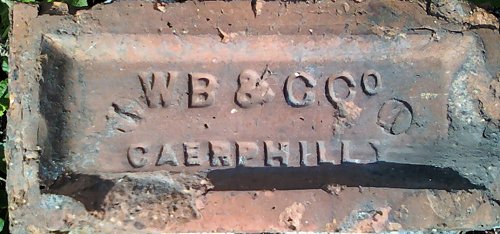 Photo by Brotherglyn. Richard Paterson adds: W B & C Co. is Wernddu Brick & Coal Co. Bricks were made from the clay found above shallow coal measures on the north side of Caerphilly Mountain. The brickworks chimney stack remains, and is a listed structure.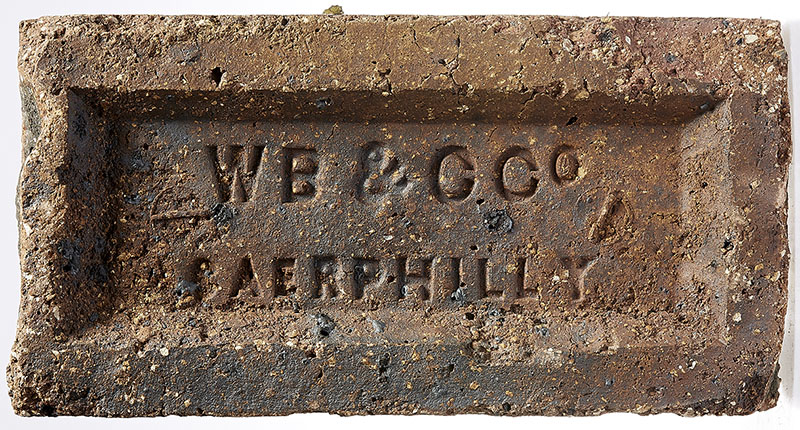 ---
Weig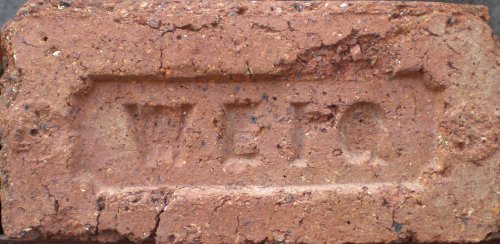 From the Weig Brick & Tile Co at Cockett, Swansea. Photo by Richard Paterson.
---
Welsh Brick Industries (1946) Ltd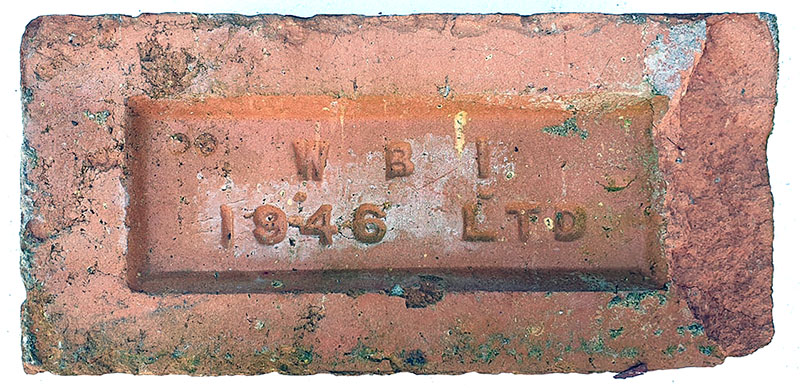 Two brickworks formerly operated in the Ely area of Cardiff by William Thorne & Sons reopened after WWII as Welsh Brick Industries (1946) Ltd. The Cowbridge Road works was renamed Highland Park Brickworks and the other was known as West End works. The former closed by 1955 whilst the West End works continued until 1975. Info by Phil Jenkins, photo by Jase Fox.
---
Welshpool Brick Co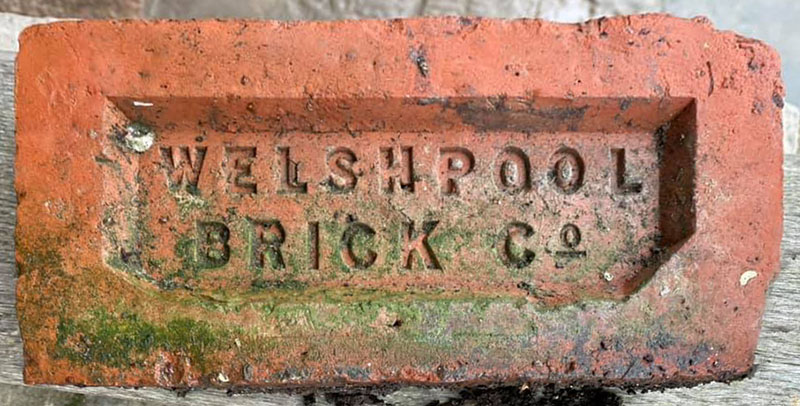 Photo by Nick Kaye.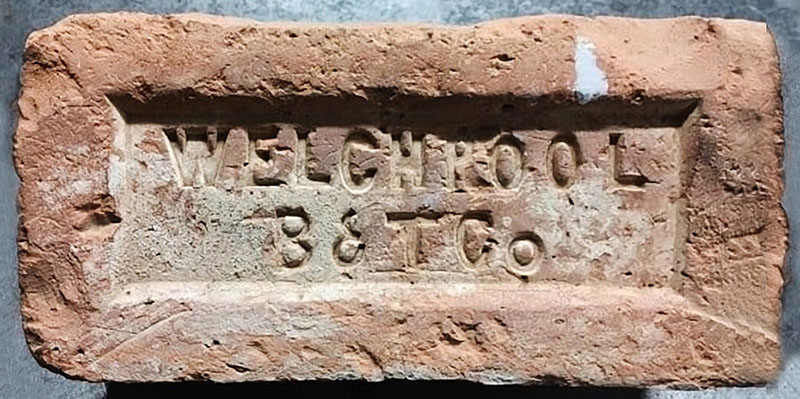 Photo by Mike Richards.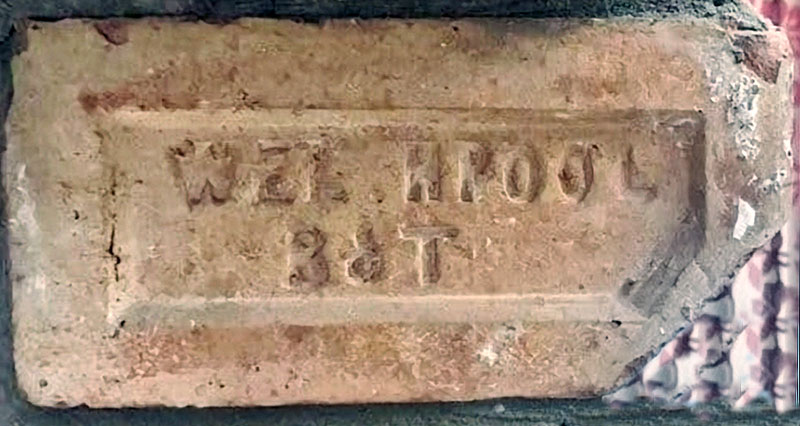 Photo by Rachel Oliver.
The history of this company is a little obscure. Westworth, Murray & Co owned both Welshpool (town centre) and Pool Quay (4 miles away) brickworks until 1882, when they went bankrupt. The town centre brickworks had disappeared by 1901 but the Pool Quay works had grown and appears to have carried on until c1940, presumably as the 'Welshpool Brick Co'. It was 'disused' in 1948. I suspect the 'Welchpool' brick is from one of the 'Westworth, Murray & Co' works with the other two from Pool Quay. Info by Phil Jenkins.
---
Wernddu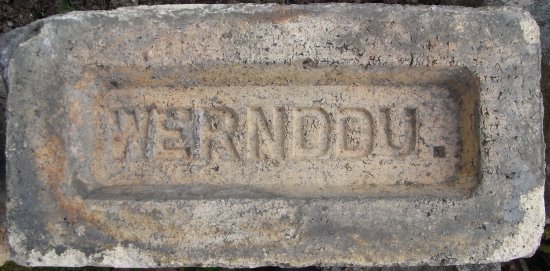 From the Wernddu brickworks Caerphilly, thanks to Norman Lowe for the photo and information.
---
White, Kerry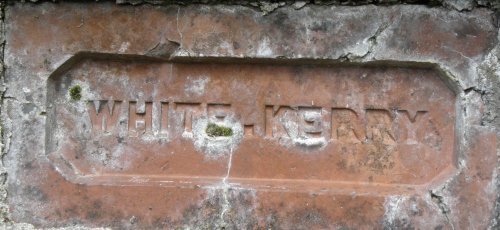 Photographed in Corris, Powys. I suspect this was made in Kerry near Newtown, Powys.

---
White, Llansamlet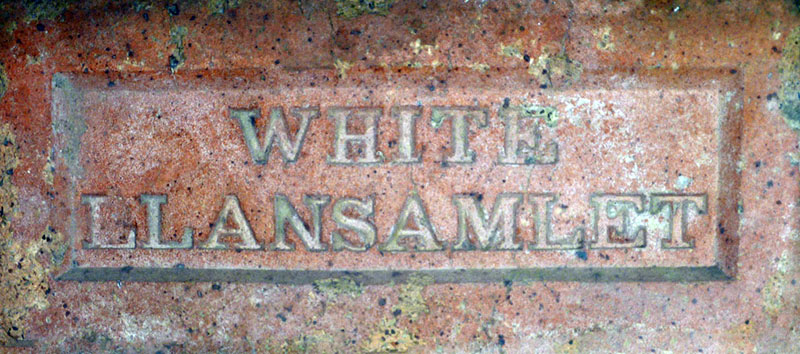 The 1897 & 1913 OS maps shows the Roundpit Brickworks at Llansamlet which may have been where this brick was made. Photo by Martyn Fretwell.

---
Whitehead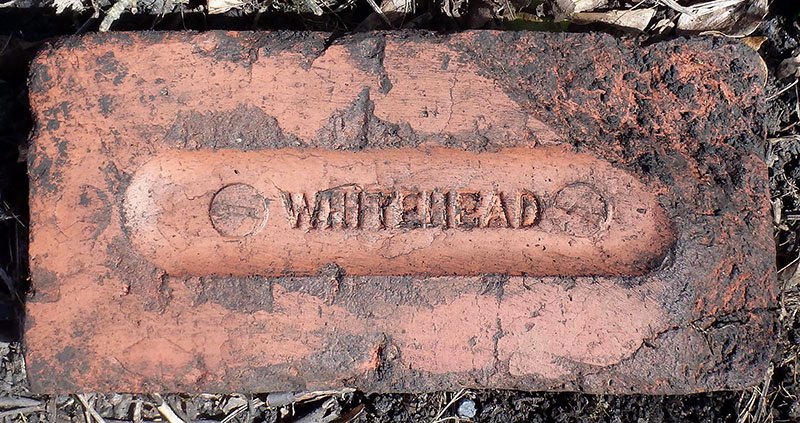 Another one seen at the Big Pit museum in Blaenavon. Whitehead Hill and Co took over from JC Hill and Co in 1925. The works, known as the Llandowlais Brick Works was located on Ty Coch Way, Two Locks, Cwmbran, east of the Dowlais Brook and south of the Monmouthshire - Brecon Canal. The works incorporated two eighteen chamber kilns, each chamber having a capacity of 19,000 bricks. In each kiln, approximately eight chambers per kiln were fired each week, giving an output of some 304,000 bricks per week. The last listing for the company is in the D.O.Q for 1973. Thanks to Lawrence Skuse for the info.
Image PRBCO.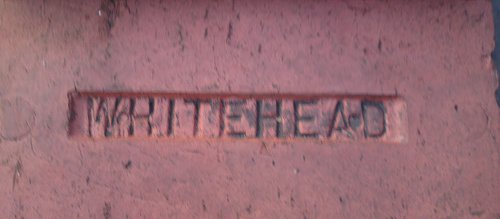 Spotted by Maurice Stokes in Tewkesbury.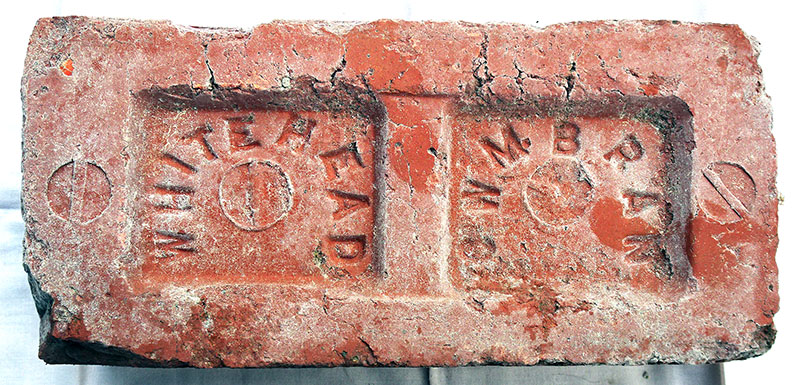 Photo by Michael Kilner.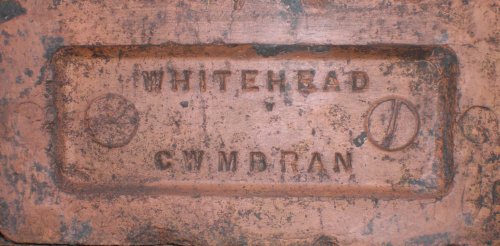 Photo by Richard Paterson.

---
William Wild, Holyhead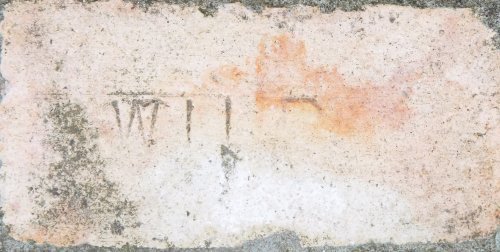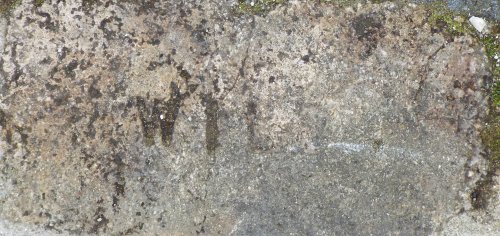 William Wild & Sons were based at the quarry which originally supplied stone for the construction of Holyhead breakwater. They built a brickworks in 1901 for the supply of heat resistant silica bricks. The bricks were sent out by sea to Cumberland, Glasgow and Merseyside. The works finally closed in 1973 and the remaining buildings are now part of the Breakwater Country Park.
---
Thomas Williams, Bryncoch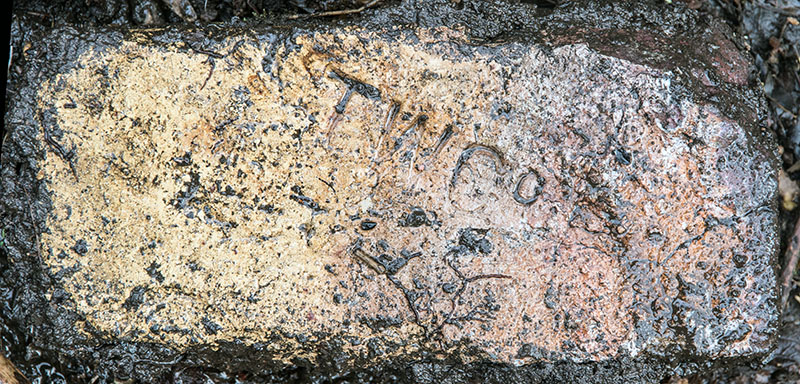 Found at Pentyrch Brickworks, near Taffs Well. Stephen Rowson has pointed out that Thomas Williams owned the Bryncoch Brickworks on the other side of the valley and an Ironworks a mile or two away so it seems very likely that 'T W Co' is from Bryncoch. Photo and info by Phil Jenkins.
Photo by Richard Paterson.
---
Williams, Hirwain


The village of Hirwaun (often spelled 'Hirwain' in late Victorian times), lies about four miles north of Aberdare at the top of the Cynon Valley in South Wales. It was an early centre of iron production - the Hirwaun Ironworks was opened in 1757, flourished between 1819 and 1859 in the ownership of the Crawshay family of Cyfarthfa and finally closed in 1905. Coal mining became important from about 1864, when William Williams opened the Graig Tower drift mine on Hirwaun Common, named after a nearby folly built by the Crawshays. Fireclay was also brought up and probably led to the establishment of the adjacent Tir Herbert Brickworks. It is almost certain that Williams' brick production was at Tir Herbert since the other, later, brickworks in Hirwaun (originally owned by N B Allen and lastly by the GR Stein conglomerate) produced silica bricks. The later focus for coal production at Hirwaun was the Tower Colliery, close to the old Tir Herbert brickworks site, which became famous as the last deep mine in Wales, having been bought by the workforce in 1995 after the miners' strike before final closure in 2008. Photo and info by Richard Paterson.

---
Woodside brick Co. Cwmbran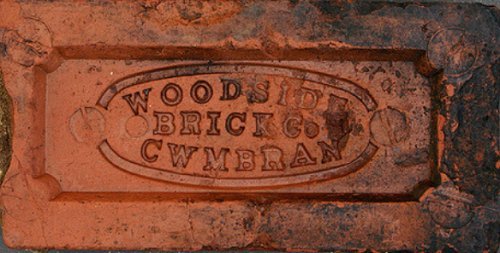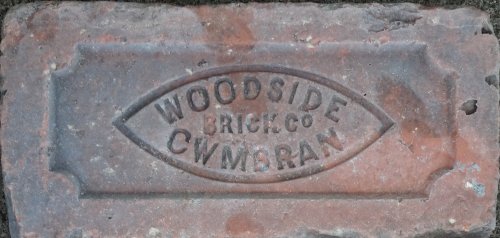 Worral's Directory of 1875 cites the Woodside Brick Co, Cwmbran, proprietor Hy. B Sketch (see 'Sketch'). Kelly's for 1906 lists the company, the last such listing for it. The 1886 OS map shows a disused brickworks and the "Woodside Brick & Tile Co on the western side of the Mon-Brec Canal by Woodside Road. The 1922 OS map shows both only brick works to the west of the canal, as disused, but a new brick works is shown on land a playing field today, at the junction of the canal/Maendy Way, behind Greenhill Way, Cwmbran. Kelly's for 1914 lists the Standard Brick Co as being at the Woodside site. The Woodside works are believed to have closed by 1926. Photo and info by Lawrence Skuse.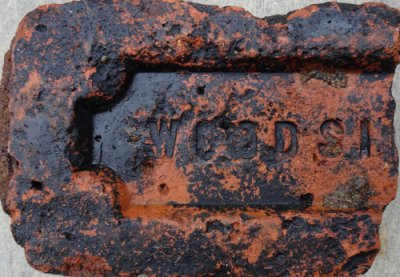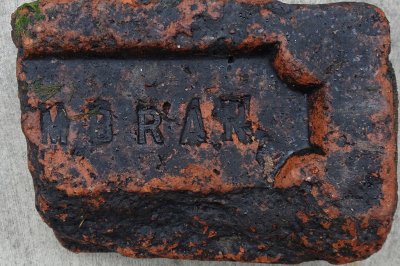 Unfortunately incomplete, this is the only such example I have come across of this pattern from the Woodside Brick Company (see below). Others have elaborate ovoid designs and are either plain on the reverse or have a cross hatched pattern. I suspect that this is an older design than the ovoid ones referred to. I have only seen this shaped frog on some Abersychan bricks. This brick was found in the Blaen Bran Brook near Pontnewydd Golf Club. Photos and info by Lawrence Skuse.

---
Woodward, Cardigan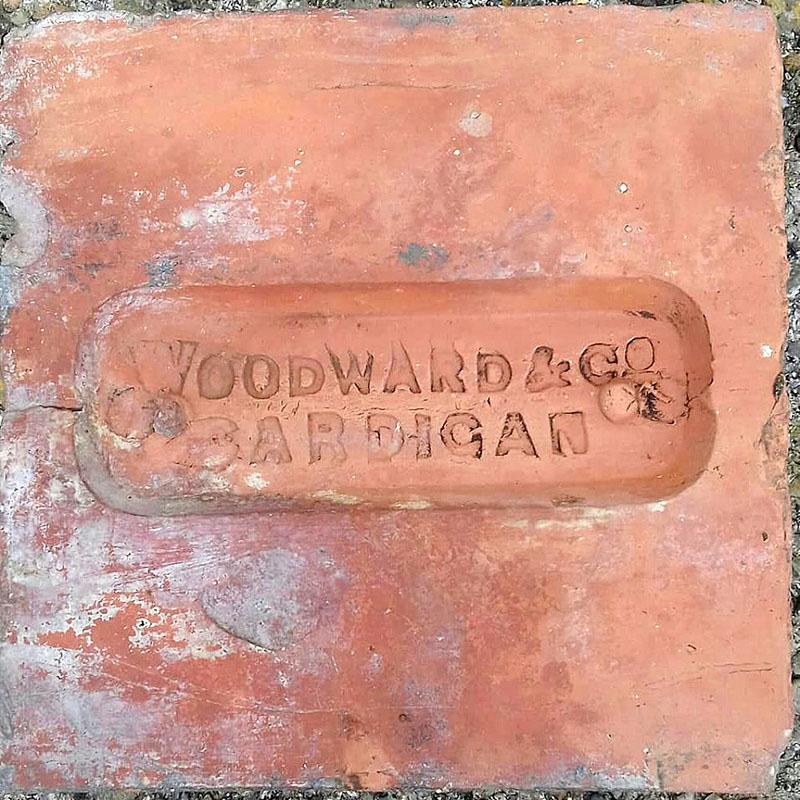 William Woodward was a very important figure in Cardigan. He served as the town's mayor I believe and was a prominent J.P. He was originally from Bingham, Nottinghamshire, and he's buried in Cardigan's Municipal Cemetery. Photo and info by Aled Jones.

---
Letter Y
Ynysawdre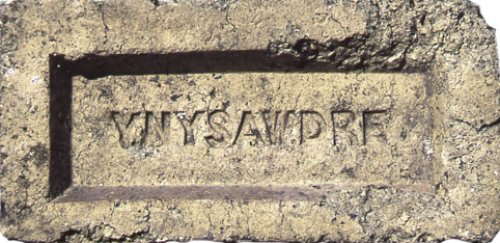 https://southwalesbricks.weebly.com/ynysawdre.html Photo and info by Mike Stokes

---
Ynysddu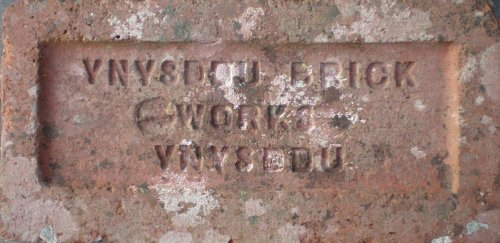 The village of Ynysddu, in the Sirhowy valley, is about nine miles north of Newport. The brickworks, associated with the Wentloog Colliery, functioned between 1901 and 1938, photo and info by Richard Paterson.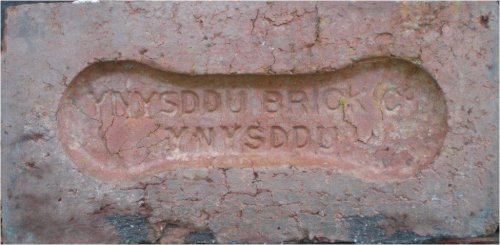 Found in a garden wall in a street in Treharris, near Merthyr Tydfil. Photo by Richard Paterson.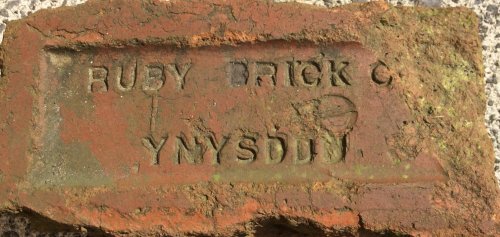 Found in the undergrowth on the site of the old Ynysddu brickworks near Newport South Wales by Peter Jones.

---