"Old Bricks - history at your feet"
English bricks page 15a
Mi to My
---
Michelmersh Brick Co.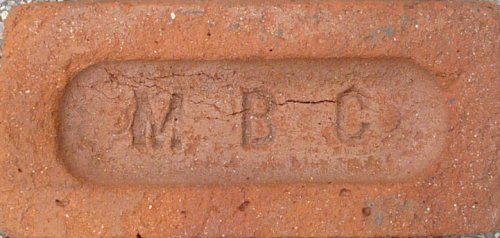 Michelmersh Brick Company, Romsey, Hampshire. Producer of both machine and handmade bricks. The company started in 1842 still operates today, other companies in the group include Charnwood, Dunton, Blockleys and Hathern Terra Cotta. Photo and info by Martyn Fretwell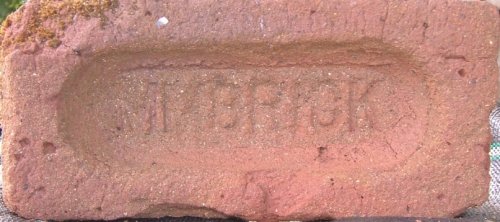 Photos by Nigel Furniss.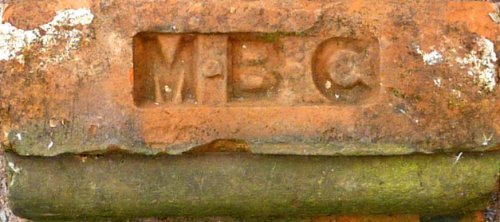 Photographed at Romsey Reclamation Yard by Martyn Fretwell.
---
Micklam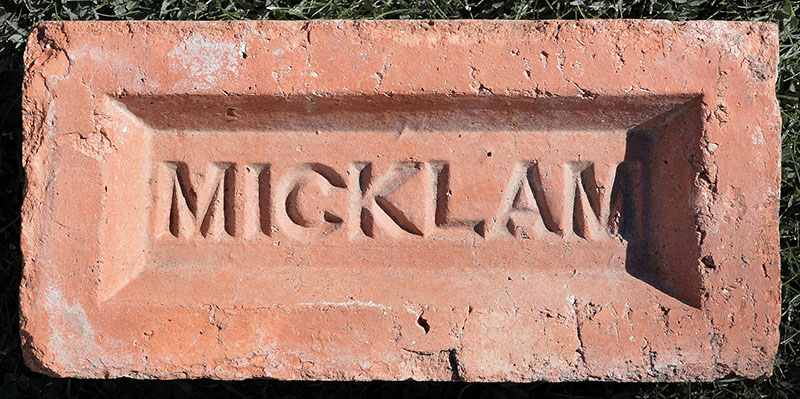 Micklam is near Lowca, to the north of Whitehaven. Photo by Frank Lawson.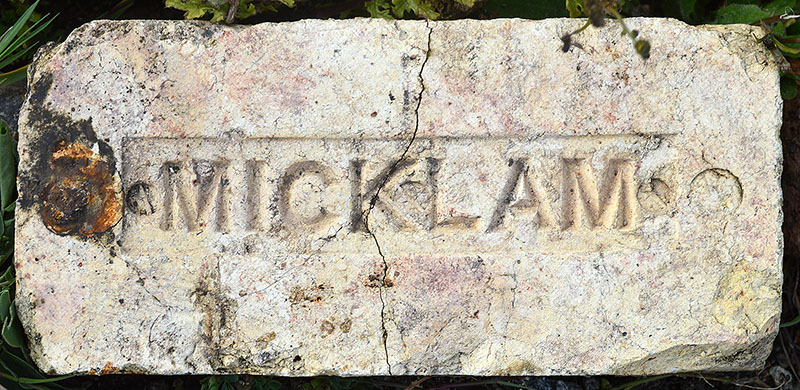 Found at Workington by Richard Cornish.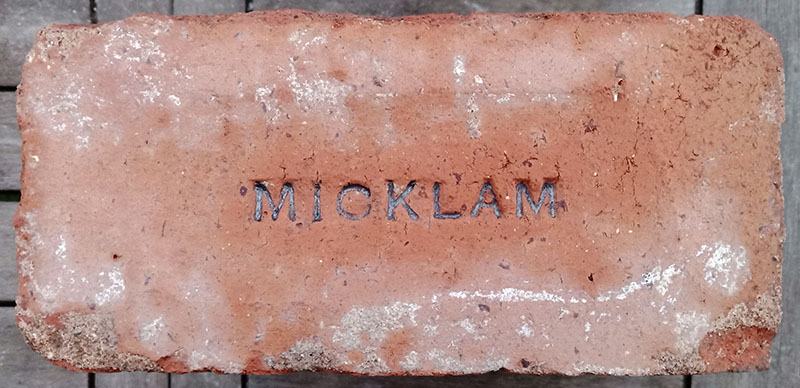 Photo by Michael Worthington.
---
Mickley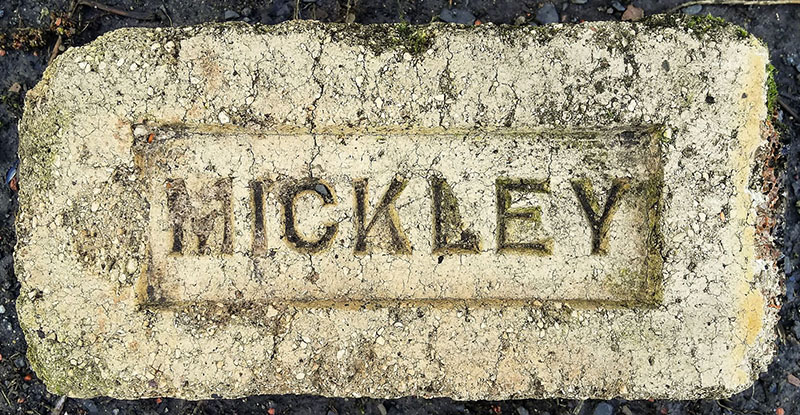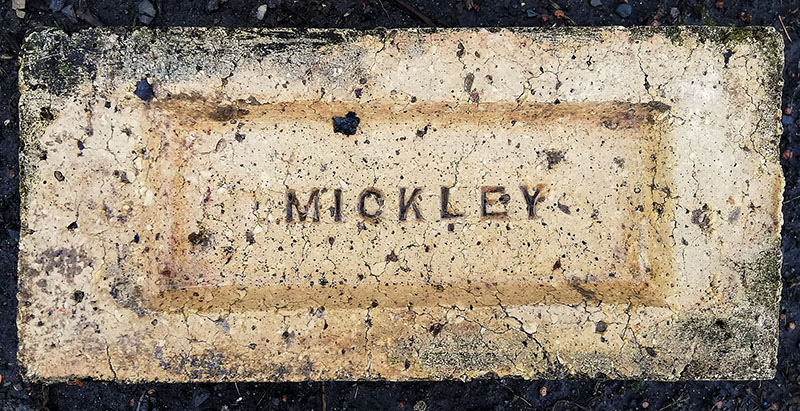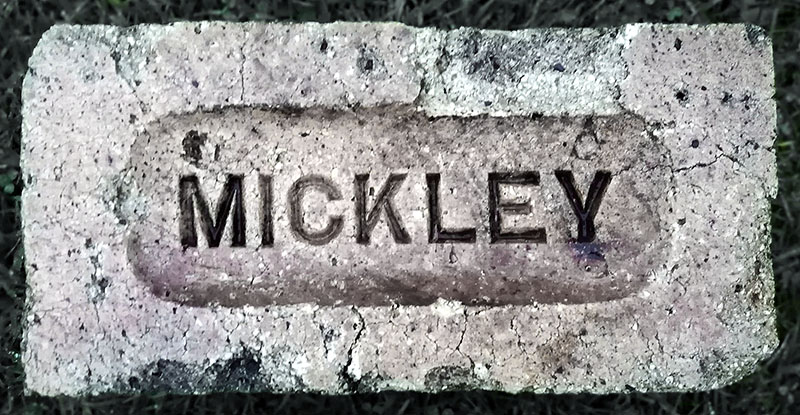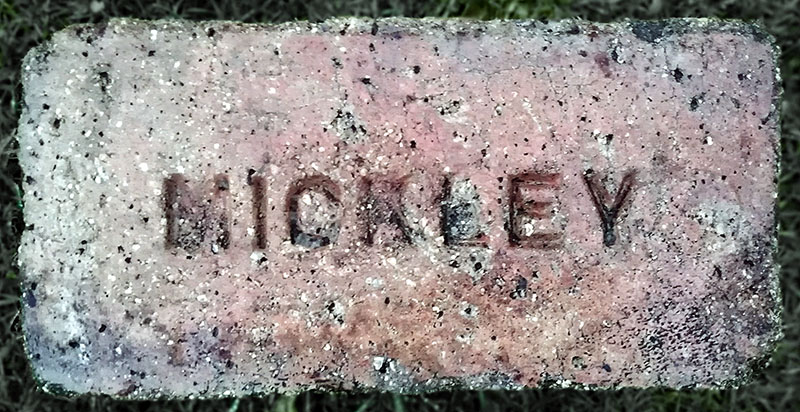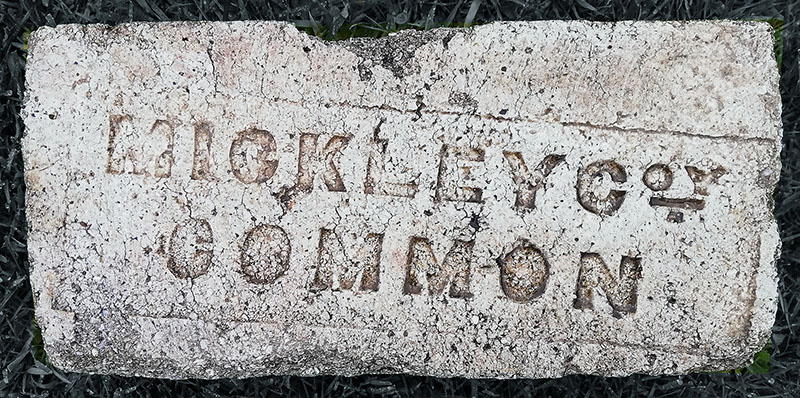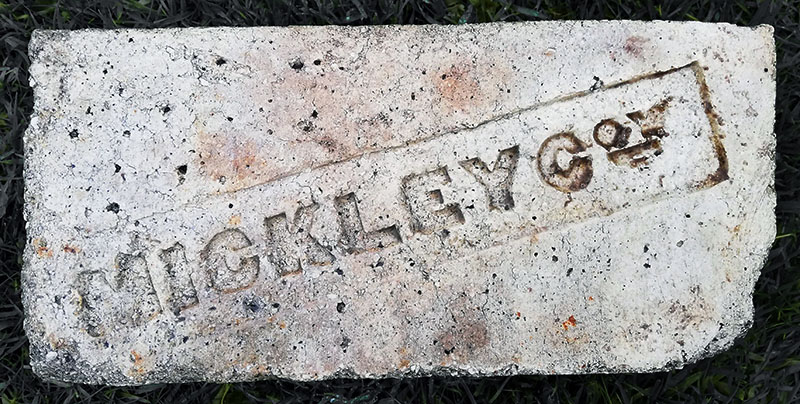 Photos by Chris Tilney.
---
Middlemiss Corbridge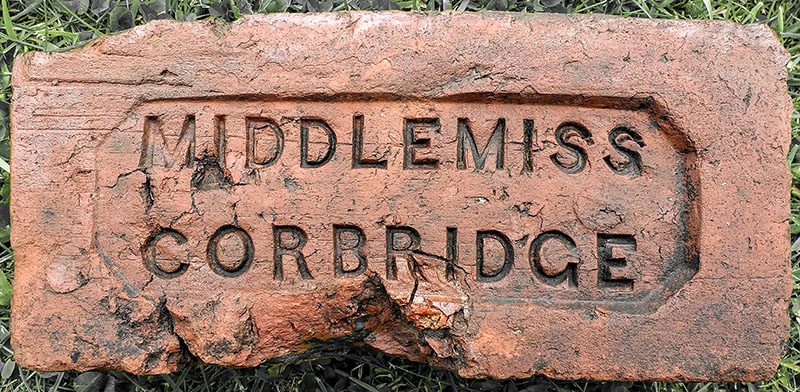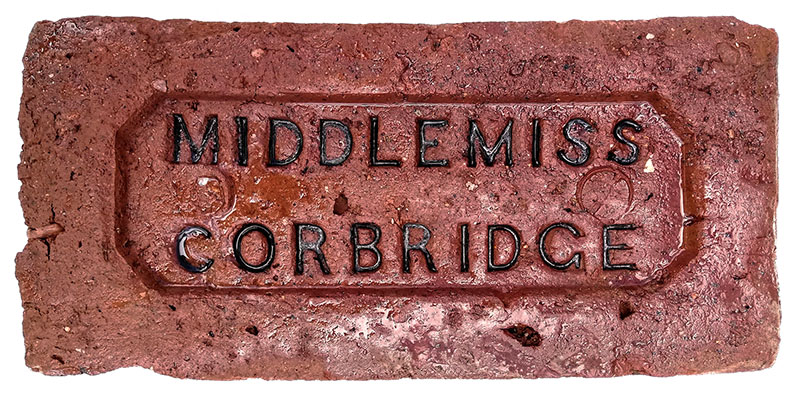 Photos by Chris Tilney.
---
Middleton, Leeds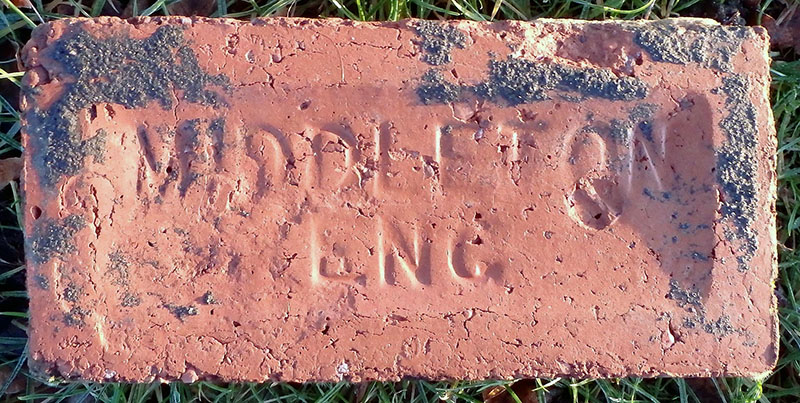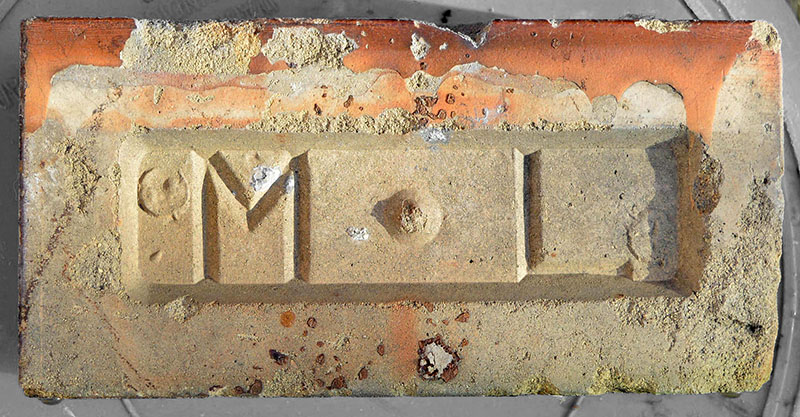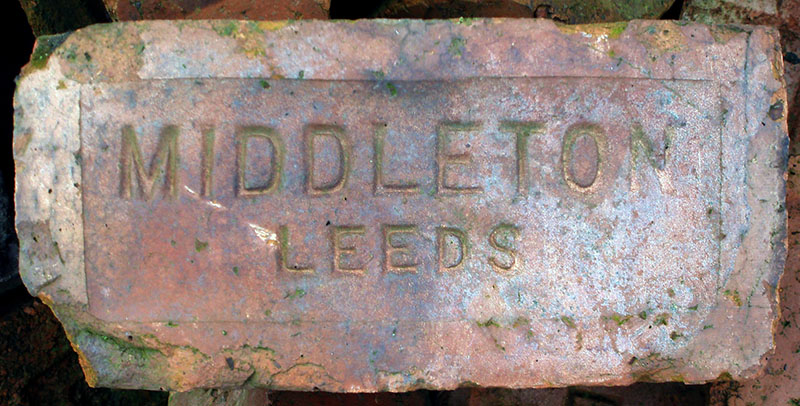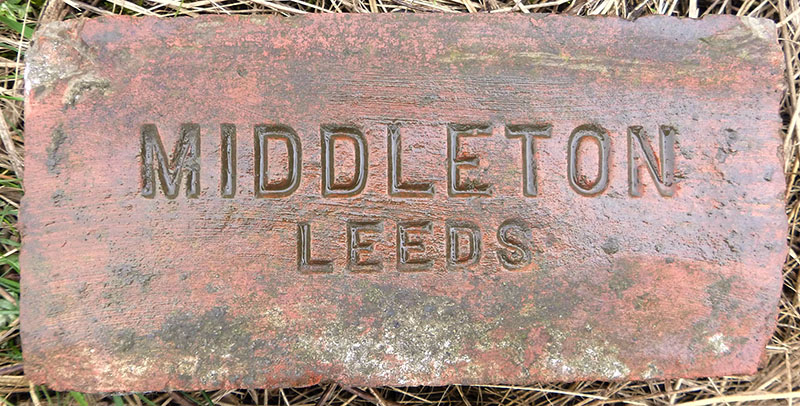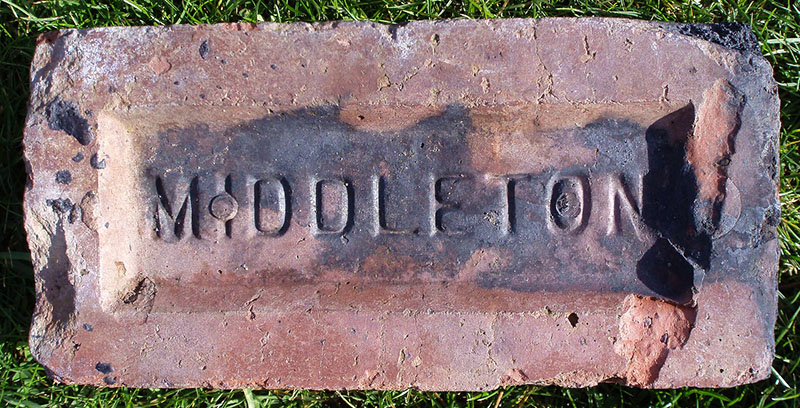 Photos by courtesy of the Frank Lawson collection.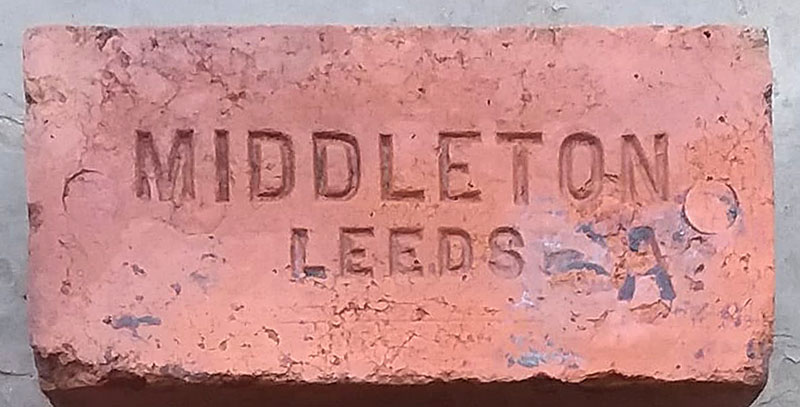 Photo by David Fox.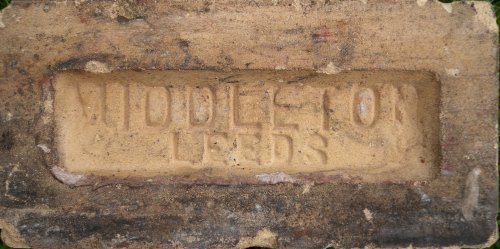 Found in the village of Woodlands near Doncaster by Dennis Canning.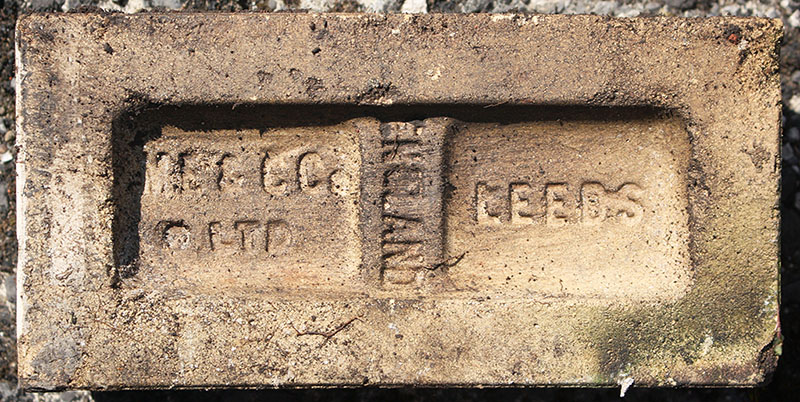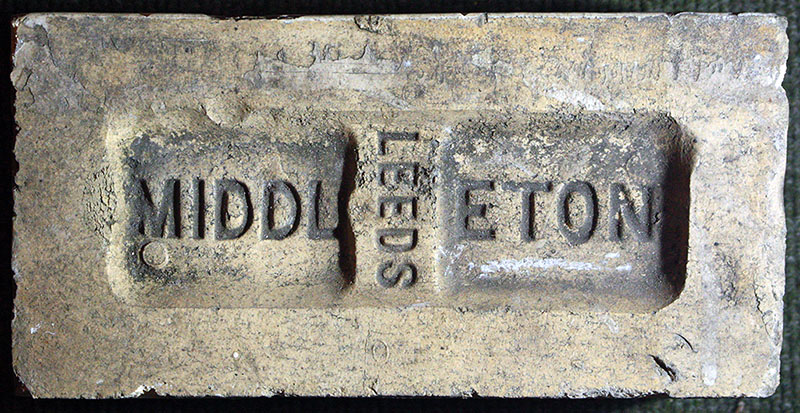 Photos by David KItching.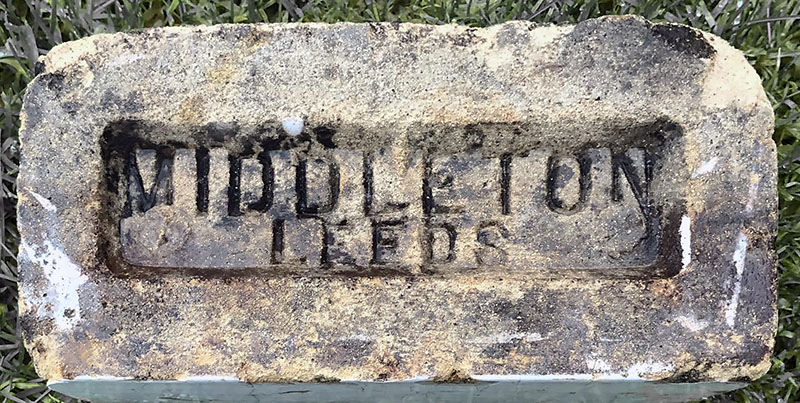 Photo by Jason Stott.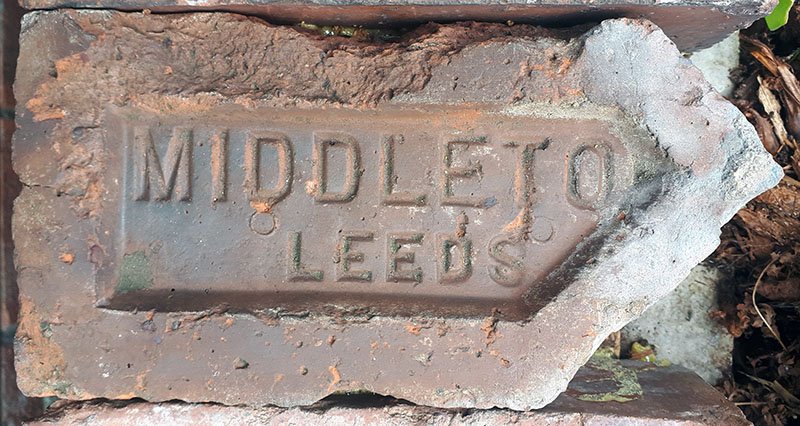 "Squint" brick. Photo by Paul Davies.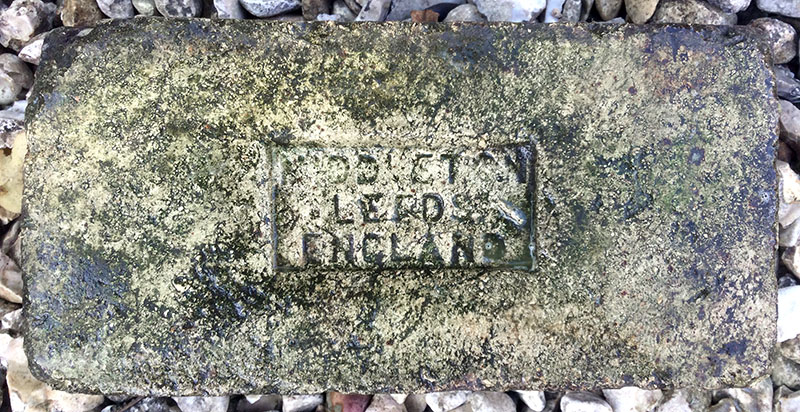 Photo by Darren Wall.
Middleton Fireclay Co Ltd., Middleton Broom Colliery, Leeds. Originally the Middleton Estate and Colliery Co. Ltd. Listed in Kelly Leeds 1906 as Middleton Estate & Colliery Company, while in 1927 a Middleton fireclay Works is listed under the ownership of the M E & C C. The Middleton fireclay works became the Middleton Fireclay Co Ltd at Nationalisation in 1947 and was also part of the Leeds Fireclay Company. Info by PRBCO and Frank Lawson.
---
Middleton Colliery Company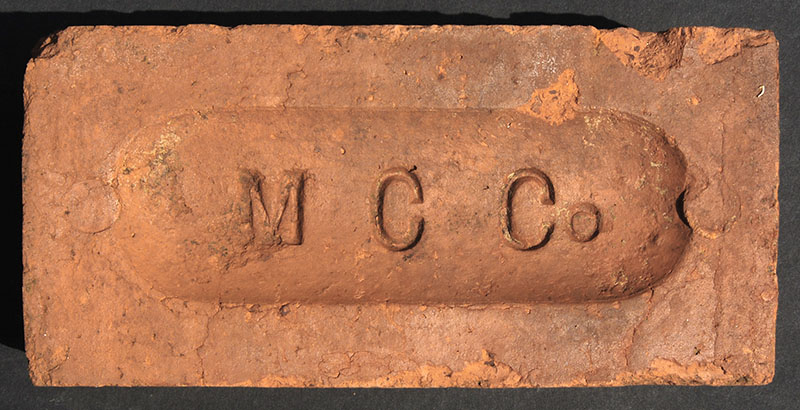 Image PRBCO.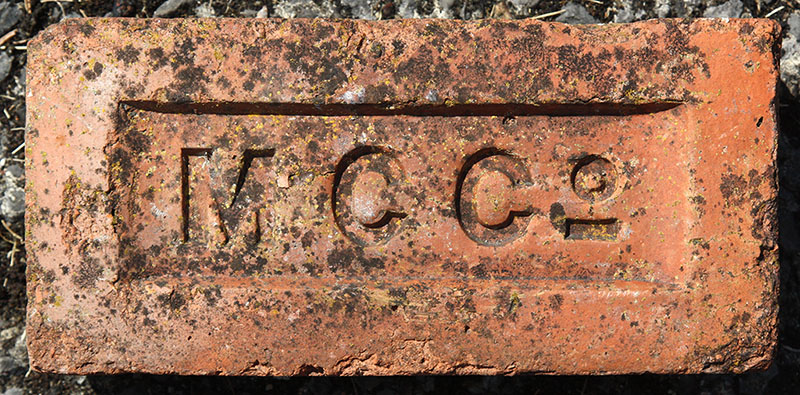 Photo by David Kitching.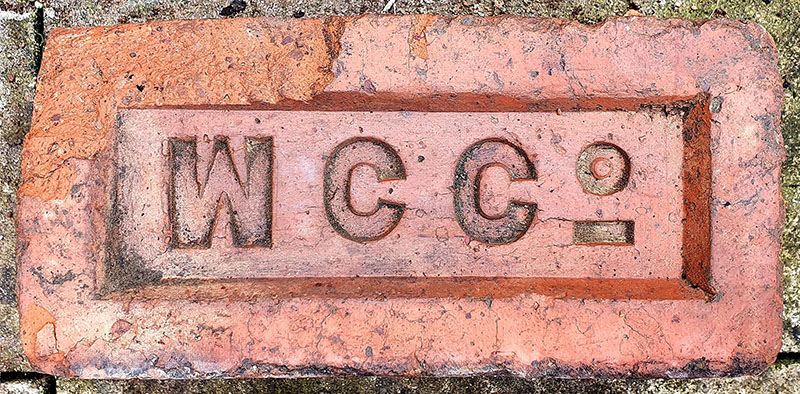 M upside down in this one. Photo by Kevin Moyles.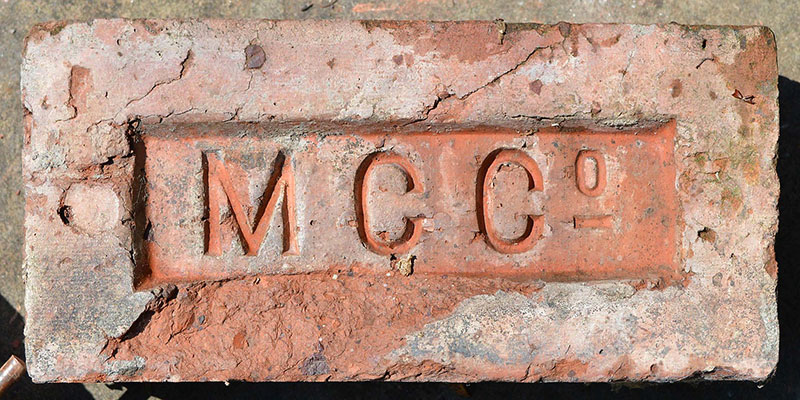 Photo by Frank Lawson.
Found in Middleton Park, Leeds, and thought to be from Middleton Colliery. Photo by Paul Hebden.
---
C Middleton & Son, Hellesden, Norwich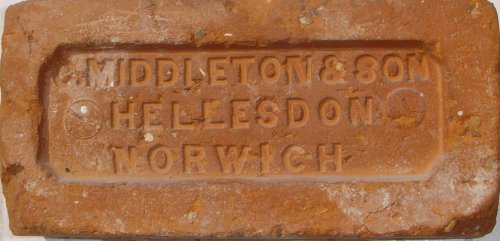 Charles Middleton is listed as a farmer 1883; farmer and brick & tile maker 1890; brick & tile maker 1896. Gone by 1904 (a hard red brick (Norfolk usually soft),with flint pebbles - possibly many were lost in the kiln!).
There is now a Middleton's Lane passing the site - now housing. Photo and info by Chris Fisher.

---
Middleton and Tonge Brick and Tile Company Limited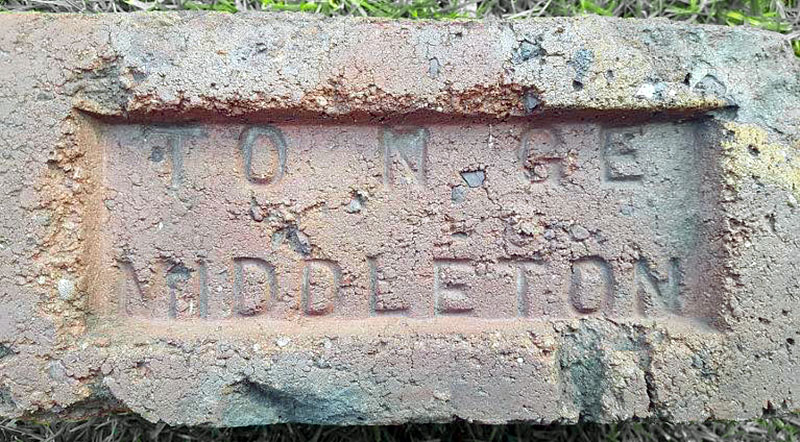 The Middleton and Tonge Brick and Tile Company Limited, Tonge Lane, Middleton, Lancashire. Tonge Lane is now Oldham Road. The works seems to have been roughly where Don Street now is. The Company only appears in Worrall's Directory of Oldham for 1875. The London Gazette, November 22, 1881 has the company to be dissolved after 3 months. It was not trading at that time. Photo by Jason Stott.
---
Middlewood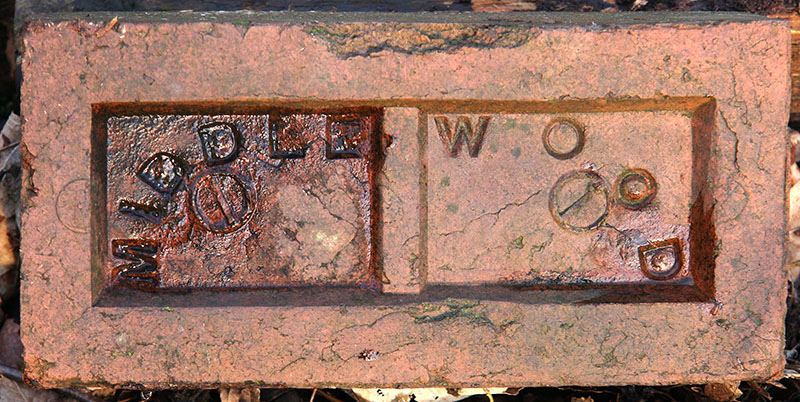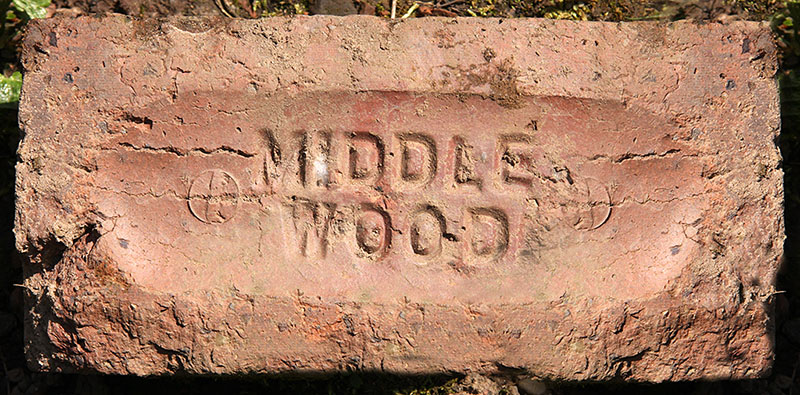 Hand stamped on the side of a wire cut brick. from the Middlewood Brick Company. Photos by David Kitching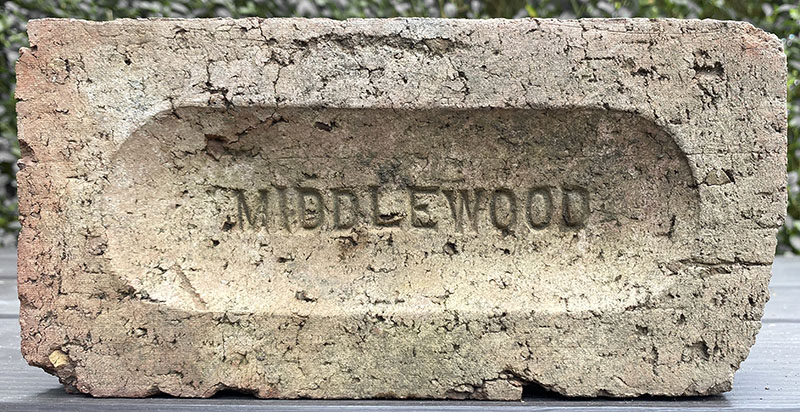 Photo by Craig Souter.
Lancelott Allison, a mining engineer from Durham, purchased land at Middlewood near Poynton, Cheshire, in 1920 and, after attempting to mine coal there, went into brick production as The Middlewood Brick Company Ltd. The works started with Beehive kilns but later a Hoffmann continuous kiln was erected. In 1930 brickworks entrepreneur Joe Booth took over the business which was then renamed as The Cheshire Brick Company Ltd.
---
Midhurst Brick Company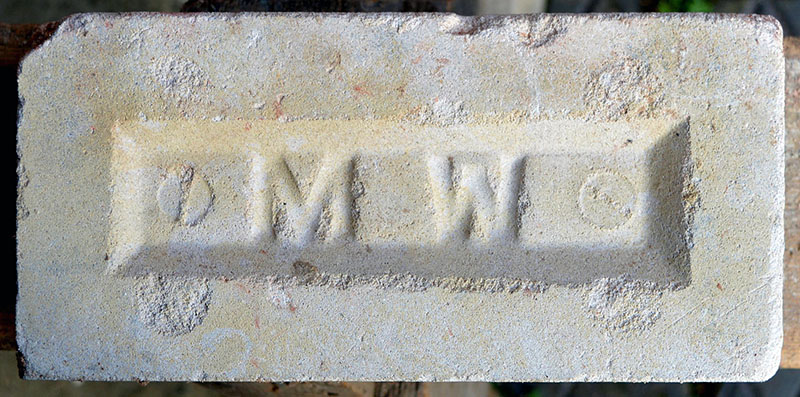 Midhurst Brick Co Ltd., Easebourne, Midhurst, Sussex. Kelly's Sussex Directory 1915 "M W" stands for Midhurst White and for comprehensive information on this brick & brickworks visit: - this site. Photo by Frank Lawson courtesy of the Bill Richardson Collection at Southwick Hall.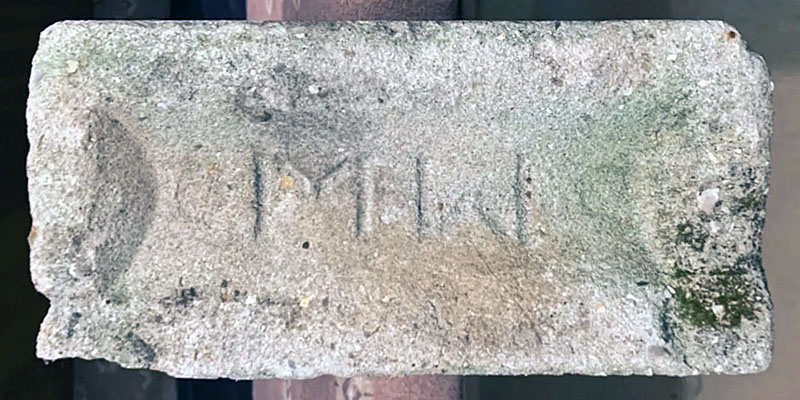 Photo by Andrew Morley.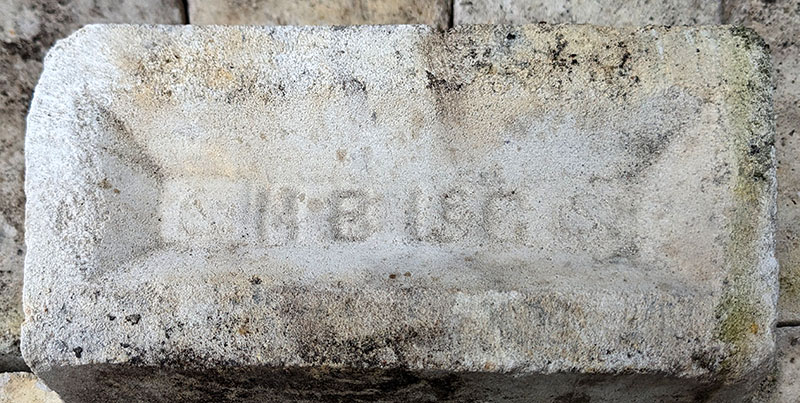 The predecessor of Midhurst Whites was the Midhurst Brick & Lime Company. Photo by Simon Ferré.
---
Midland Brick Co, Ackton Hall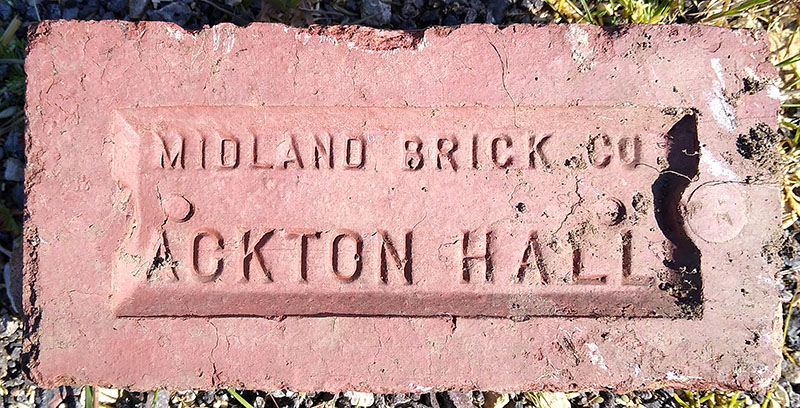 Made at Ackton Hall Colliery. The Midland Brick Co Ltd was formed by the National Coal Board with a number of its brickworks included. The business. which included several other works in Nottinghamshire, Leicestershire and Staffordshire, was absorbed by Butterley Building Materials Ltd in 1973. Ackton Hall colliery closed in 1984. Photo by Don Boldison.
---
Midland Brick Co, Bilston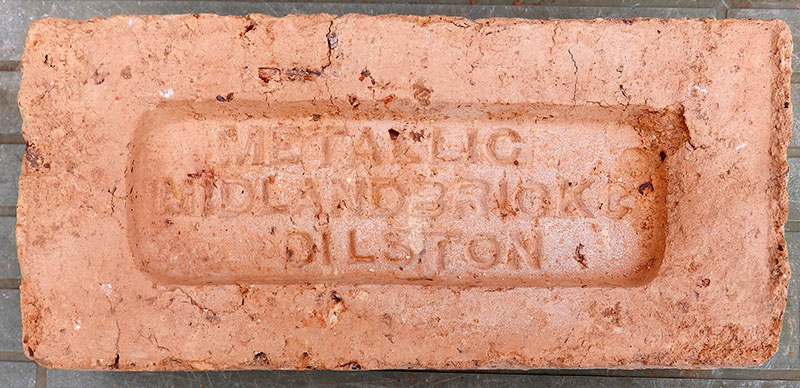 Photo by Nigel Furniss.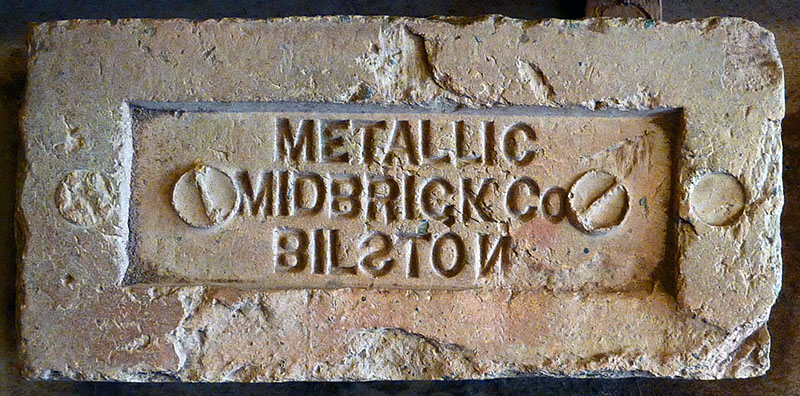 Simon Patterson photographed this one at Avoncroft Museum.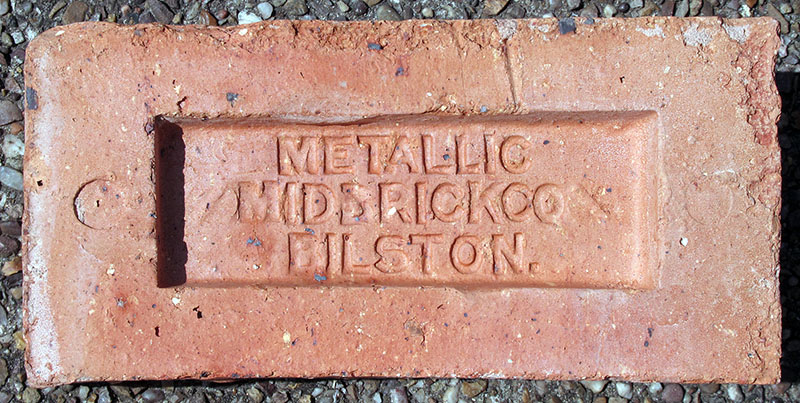 Photo by Martyn Fretwell.
---
Midland Brick Co, Birmingham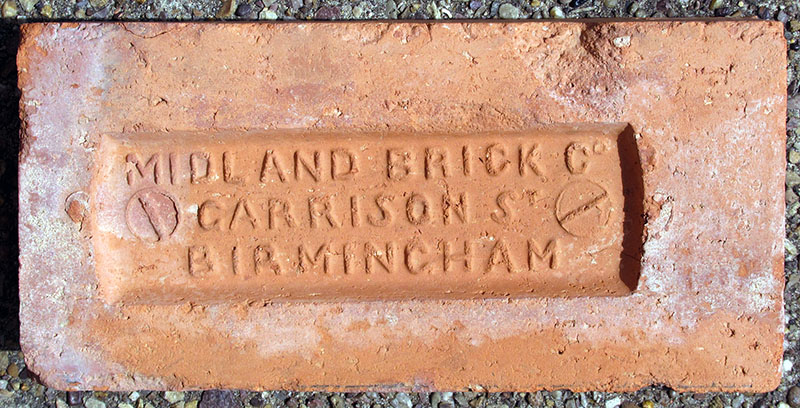 Kelly's 1878 to 1892 editions lists the Midland Brick Co., Birmingham as operating a brickworks on Garrison Lane. Then after the onsite clay had been exhausted on this small site bound on one side by the canal & the railway on the other, Midland's owner Frederick Welsh Barrows by 1905 had completed the lease of two brickworks situated on Garrison Street, namely the Garrison Farm Brickworks & the Britannia Brickworks from landowner Charles Digby which had been previously been worked by the Garrison Farm Brick Co. (1895 to 1904) & John James (last listed 1884) respectively. Kelly's 1904 to 1915 editions now lists the Midland Brick Co. at Garrison Farm & Britannia Brickworks, Birmingham with Joseph Swain as manager. Swain had previously been the manager at the Garrison Farm Works for the Garrison Farm Brick Co. Kelly's 1915 edition lists Midland as also operating a works on Warwick Road, Solihull. With no more trade directory entries after 1915 it is unknown what year the Midland Brick Co. closed. Photos & Info by Martyn Fretwell.
---
Midland Brick Co, Wellingborough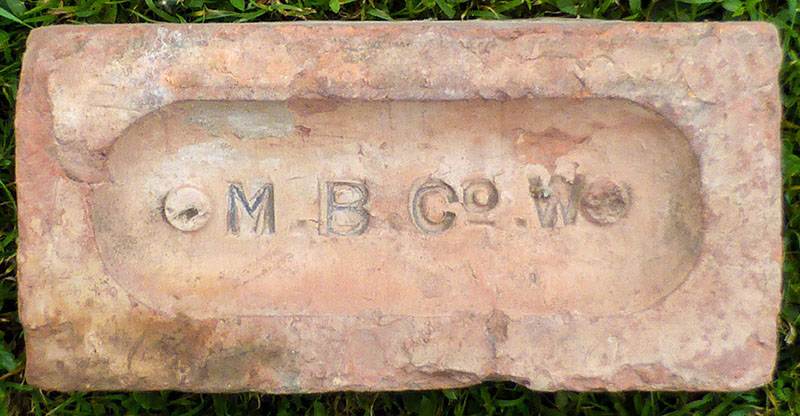 The Midland Brick Co. (Wellingborough) Ltd. Mill Road, Wellingborough is listed in Kellys 1910 & 1914 editions. The works are still shown the 1950 OS map, but may have closed soon after according to an article about the re-use of the land. Today the site is part industrial & part housing. Photo & Info by Martyn Fretwell.
---
Midland Iron Co, Rotherham
Midland Iron Co found at Barrow Hill by Simon Patterson. The Midland Iron works was founded in Masborough, Rotherham in 1844.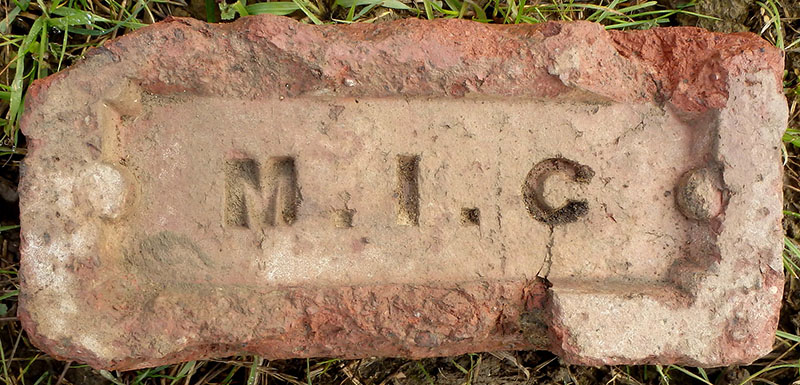 The Midland Iron Co. Ltd., Midland Road, Masborough, Rotherham. Further information at - www.gracesguide.co.uk/Midland_Iron_Co . The Midland Iron Co had a brickworks in Rotherham. George C. Hague, the proprietor of The Midland Iron Company, Rotherham was also a partner in the Manvers Main Colliery Company. Photos by courtesy of the Frank Lawson collection.
Found near Rotherham by Bob Gellatly.
---
Midland Works, Coalville, Leicester and Polesworth, Atherstone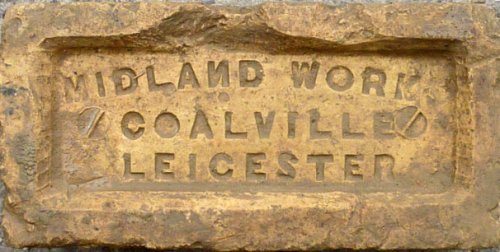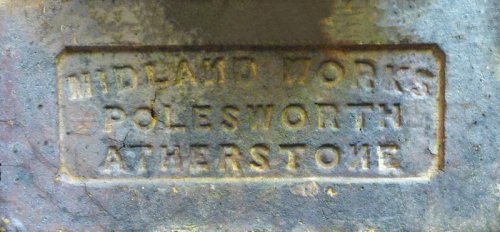 The Midland Brick & Terra Cotta Co. Ltd., Coalville is listed in Kelly's from 1876 to 1881 editions, with works at Coalville, Market Bosworth & Polesworth, then in the 1891 to 1912 editions just at Coalville. Photos & Info by Martyn Fretwell.
---
Midsomer Norton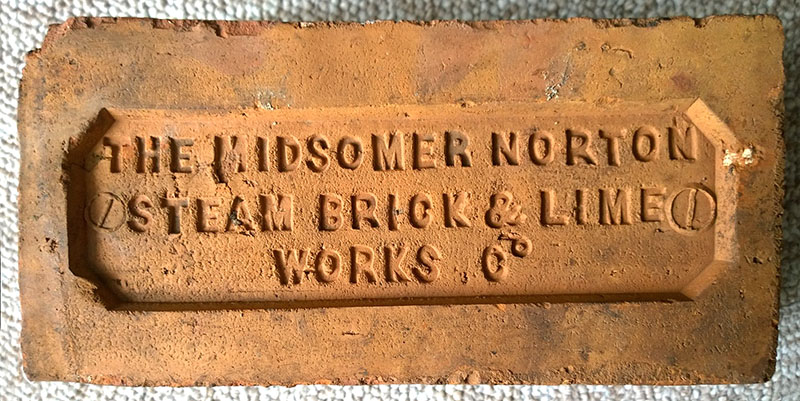 The Midsomer Norton Steam Brick & Lime Works Co is listed in Somerset trade directories from 1889 to 1910.
J. F. Gunning & Co., The Midsomer Norton Steam Brick & Tile Works was established in the 1870s on the west side of Chilcompton Road, just beyond The King's Arms. Joseph Flower Carter Gunning came from Kilmersdon and ran the business until the early 1890s when a new partnership of brothers Rede and Canning Turner, and Bristolian, Walter Hugh Fitzgerald Wilkins, took it over. They also owned the Charlton Lias Lime Works Company at Shepton Mallet, and the new company was called The Midsomer Norton Steam Brick, Tile & Lime Works Ltd. The 1891 census tells us that the Turner brothers came from the Midlands. Canning Turner was an architect and surveyor, living in Nettlebridge, and his brother, Rede, was the brick maker, living in Saltford.
Rede left the business in 1897 and the remaining Turner/Wilkins partnership was dissolved in March 1900. By 1902, the company had added "Builders' Merchants" to its title and by 1910 the proprietor was one Henry Coles.
By 1912, builder George Bell had taken over the business and, after his death around 1918/19, his wife ran it until the mid 1920s. Photo and info by Mark Wilson.
---
Mill Lane Brick Co, Bredbury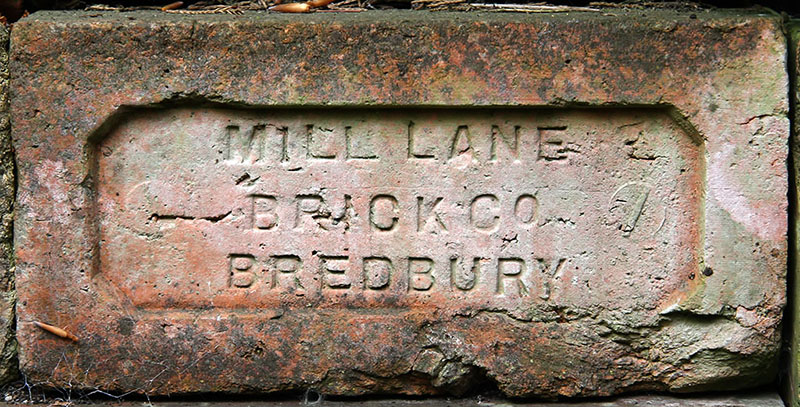 The brickworks on Mill Lane, Bredbury, Stockport, was established before 1872 and was possibly
operated by a Richard Wilkinson at that time. By 1902 the proprietor was James Warburton. The works
was demolished and the site cleared by 1910. Photo and info by David Kitching.

---
Millbank, Heywood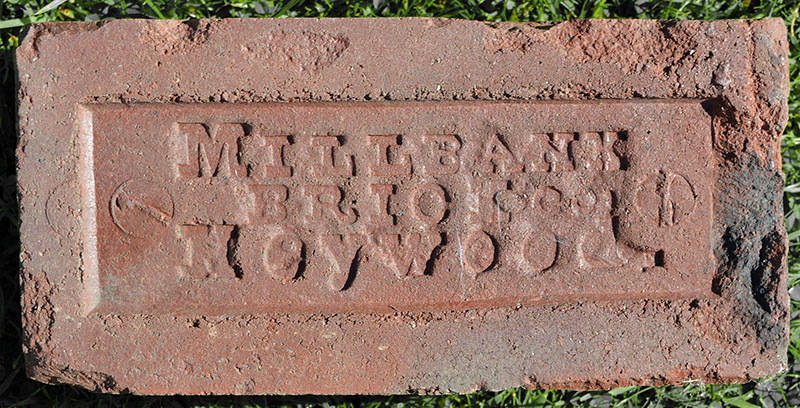 Millbank Brick & Terra Cotta Co., Heywood, Lancs. Listed in Kelly 1901 and wound up in 1936. Note unusual lower case lettering used in Heywood on the upper example. Photos and info by Frank Lawson.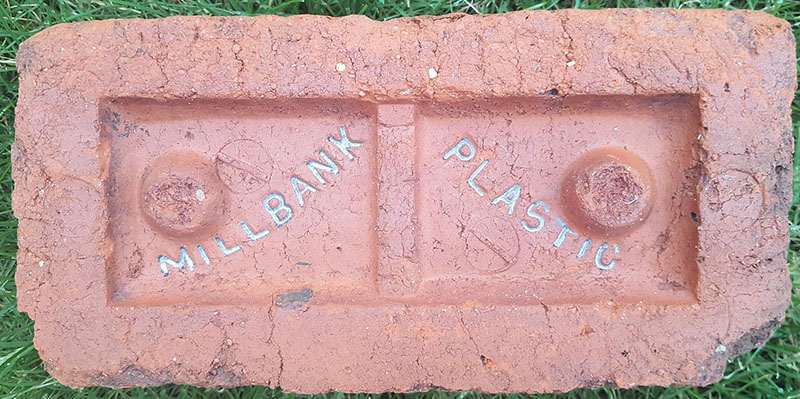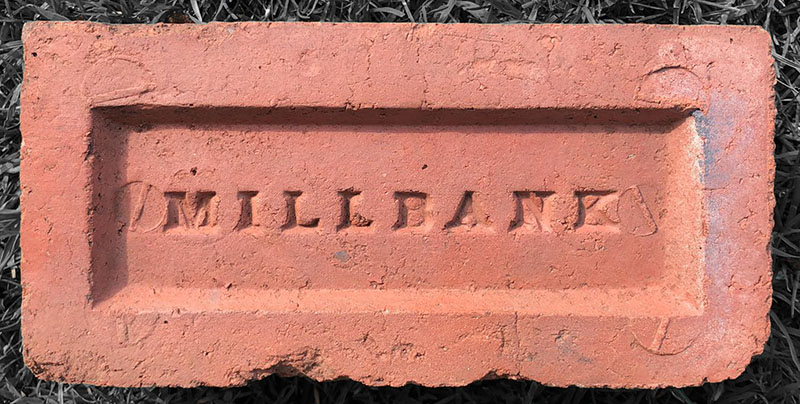 Photos by Jason Stott.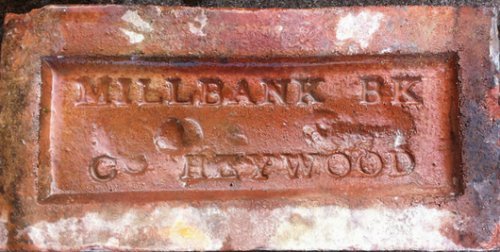 Found in Hawkshaw by Colin Driver.

---
J Miller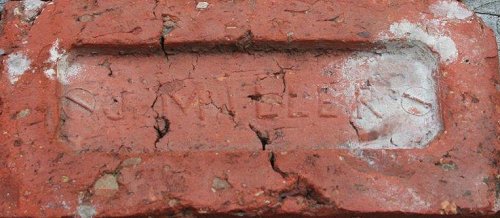 Photo by Nigel Aspdin, the history of the works can be read here
---
Miller Lilley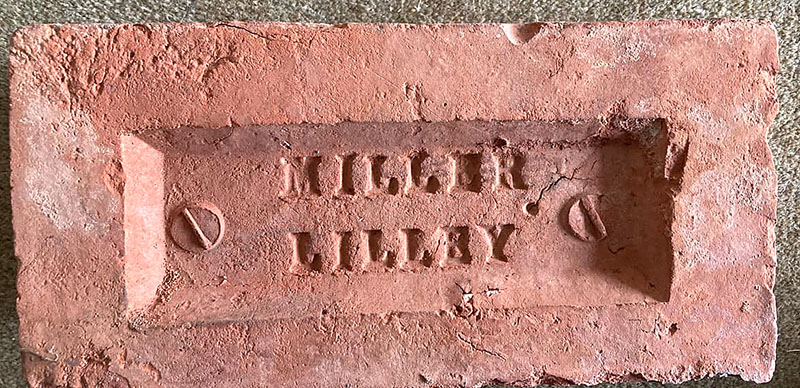 The Miller Lilley works was at Talewater, west of Honiton, Devon. It is recorded in trade directories from 1893 to 1912. Photo by Mike Chapman.
---
Millhay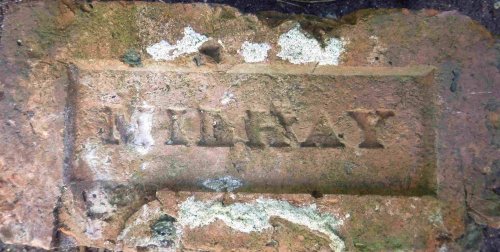 Frank Lawson writes: This one was a puzzle until I contacted the Heanor & District Historical Society who kindly informed me that it was associated with Milhay colliery at Langley Mill in Derbyshire. The colliery was owned by Smith & Goodwin and closed in 1856. I subsequently found an entry in White's Derbyshire Directory 1857 listing a "Patent Brickworks" at Milhay. From the Phil. Sparham collection

---
Millhill, Whittakers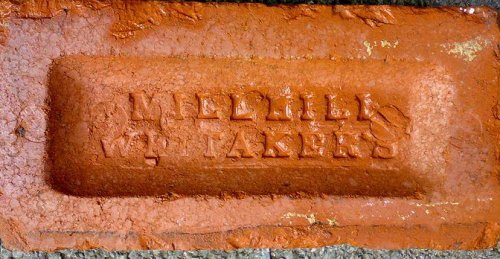 Millhill near Darwen, Lancashire, photo by Alan Davies.

---
Millom Brick Co Ltd.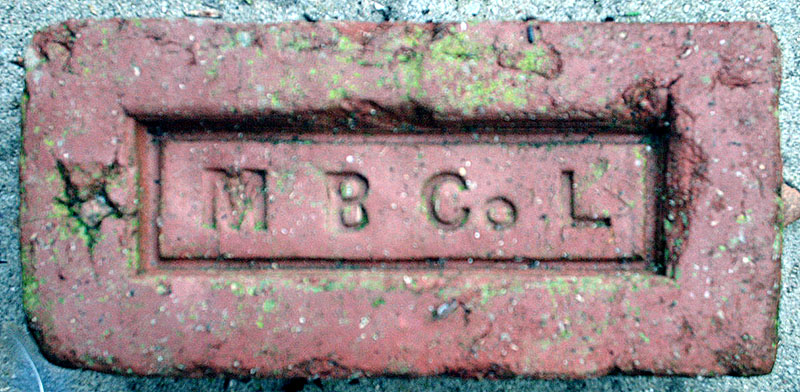 Found by David Holmes in Millom, Cumbria. This is a product of the Millom Brick Company which was first established in 1866 at Holborn Hill, Millom. Info from Mark Cranston who supplied this newspaper article from 1866.

MILLOM BRICK. COMPANY, LIMITED.
INAUGURATION DINNER, YESTERDAY.
(BY OUR OWN REPORTER)
Yesterday, the shareholders in the Millom Brick Company, Limited, together with a few friends, celebrated the opening of their new works, by a dinner at the Station Hotel, Holborn Hill.
Previous to dining. the company visited the works, and inspected the machinery, engine, and other plant, all of which is first-class. 'The brick-making machine, which, of course, formed the chief attraction of the establishment, was described while in motion by Mr. Mathews, managing director of the company, who very kindly conducted the visitors over the premises, and explained the process of manufacture from the time when the rough clay was received into the chamber until it was delivered in the shape of bricks.
This most ingenious and wonderful machine is one of Oate's, of Birmingham, and the patent for Cumberland has been pur­chased by the Millom Brick Company. The modus operandi may thus be briefly described : —The clay is put into a powerful copper, in shape somewhat resembling a coffee-mill, in the inside of which is a working Archimedian screw, which presses the clay through an aperture into moveable dies. The clay is then pressed out by means of eccentric motion on to endless belts, which carry the bricks complete to a couple of boys by whom they are loaded on barrows, and taken direct to the kilns, thus obviating the necessity common to hand-made bricks of being dried for some considerable time previous to being burnt, and effecting a saving of cost in production of fully 25 per cent. as compared with the manual process. While the moveable dies are pressing the clay into the form of bricks, a certain escape of clay at the back of the machine precludes the possibility of any breakage by reason of the enormous pressure that is employed to produce bricks from raw material in little more than a second. The machine is capable of produc­ing 2000 bricks per hour. The average quantity produced daily is 15,000, or 90,000 per week. In addition to the steam brick-making machine, there is also in the same department a powerful brick-pressing machine of the most novel construction for giving a fine finish to bricks to be used for frontal erections, and which will be found an admirable as well as cheap substitute for pre­pared stone. The ordinary brick, as it leaves the brick making machine close by, has only to be placed one at each end upon this press­ing machine, which is also worked by steam power, and in an instant are produced two compressed bricks of the finest possible finish, one bearing the letters "M. B. Co. L.," and the other those of "H, H.," representing respectively the initials of the company and the name of the place of manufacture.
---
Millott & Mettham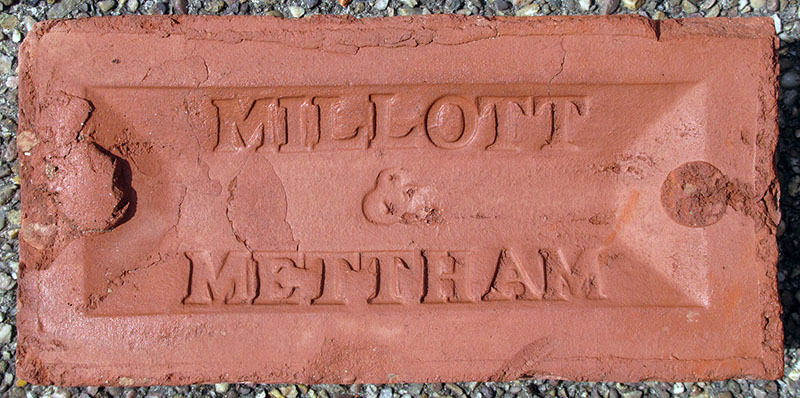 Kelly's 1876 Trade Directory lists Millott & Mettham at the Victoria Steam Brick Works & White Stone Quarries, Mansfield. The works was situated at the end of today's Moor Lane & was next to a row of cottages called Victoria Terrace which no longer exists. Also in the Brick & Tile Makers section of this 1876 edition is the listing of John Mettham at 1 Church Street, Mansfield, but this entry will have been John's home address. The modern building of Lloyds Bank now occupies this address. The Mansfield Stone & Brick Co. are next recorded as owning this works in 1881. Photo & Info by Martyn Fretwell.

---
B . Mills, Oxenhope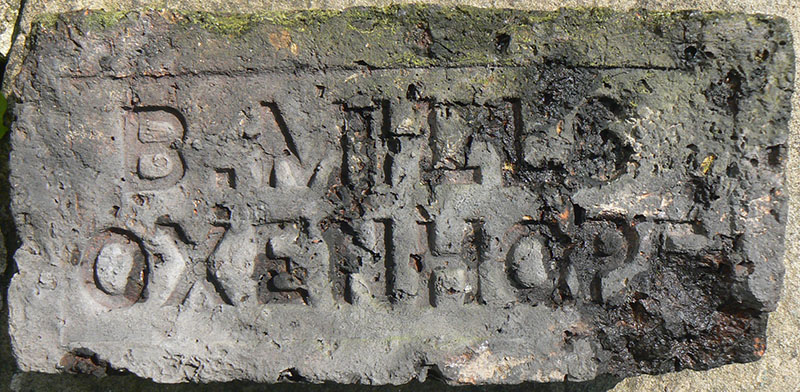 Steven Wood writes: the 1901 census returns show that Ben Mills lived at Horkinstone near Oxenhope, his occupation is given as farmer and fireclay merchant. He seems to have moved there from Clayton, Bradford some time after his youngest child was born in 1893. Bricks marked [B. MILLS][OXENHOPE] have been found near the brick works at Sawood, Oxenhope (Derek Barker's Denholme 2) and those at Clay Clough, Denholme (Derek Barker's Denholme 3). The brick in the photograph is from the latter. Map evidence suggests that the brick works at Sawood were active in the 1890s and those at Clay Clough from c.1900 until 1914 or later. After Ben Mills's death in 1910 two of his sons continued to work in the trade but as employees not employers.
---
Thomas Mills, Leamington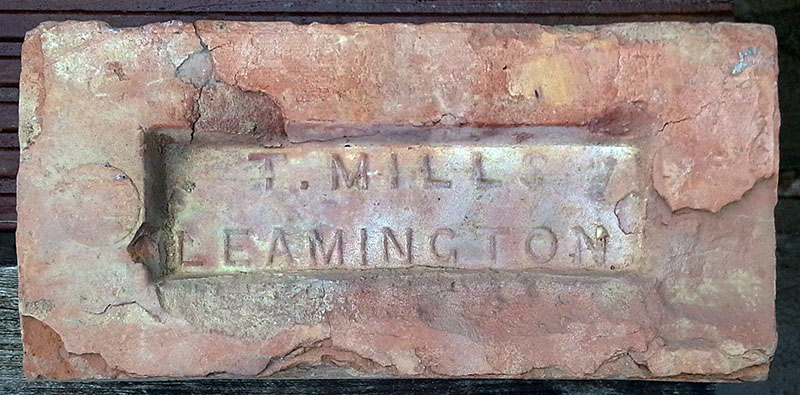 Thomas Mills was a partner in the Leamington building firm of Mason & Mills. He was the proprietor of the Victoria Steam Brick and Tile Works from at least 1879 to 1883 when it was absorbed into the Leamington and Lillington Brickyard Co. Ltd of which Mills became Managing Director. This brick is from the Victoria works. Photo by Angel Rose.
---
Milne
George Frederick Halstead Milne, Lower Moor Machine Brick Works, Mortimer Street, Oldham. Worrall's Directory of Oldham 1879 - 1884. A L Milne, Slater's Directory 1895. The 1891 surveyed OS Map shows the works as disused.
---
Milner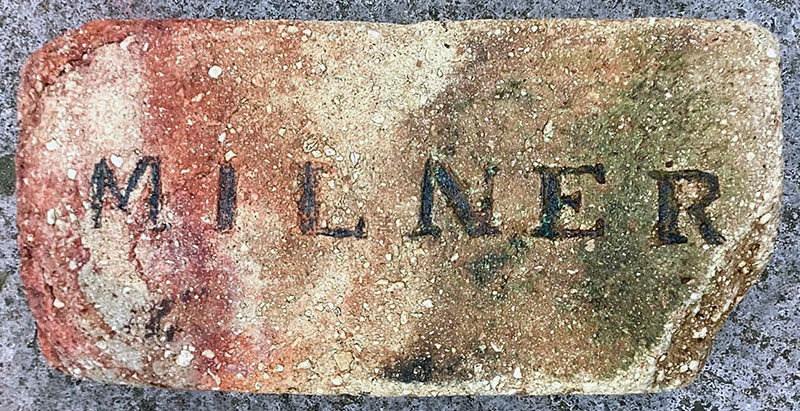 A firebrick produced at the Milner owned Blaydon Burn Firebrick Works, photo and info by Edith Stewart.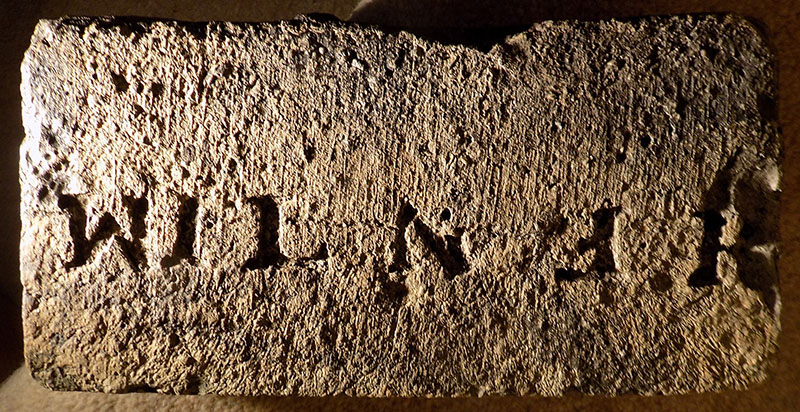 Photo by Ian Suddaby.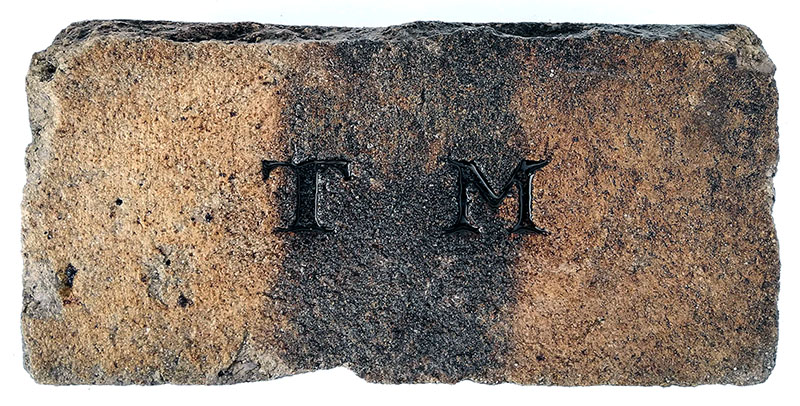 Thomas Milner. Photo by Chris Tilney.
---
Milner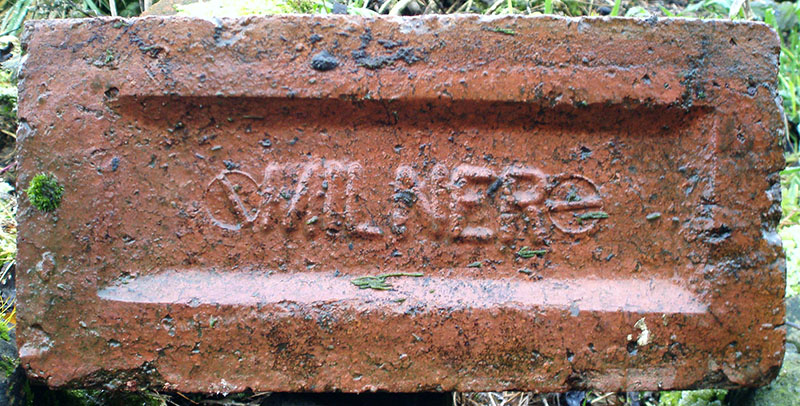 William & Joseph Milner, Lowfields, Mirfield. List in Slater 1887 and later listed in Robinson 1904 at Taylor hall Lane, Mirfield, West Yorkshire. Info by PRBCO, image by Frank Lawson.
---
G. Milnes
Found on a wall at Old Whittington Chesterfield by Simon Patterson. Martyn Fretwell writes :- George Milnes is listed as brickmaker at Mosborough, Chesterfield in Kelly's 1876 edition. This same works on Station Road is listed in White's as being owned by George Haslehurst in 1879 & then by John Lee 1887 to 1912 in Kelly's. See separate entry for George Haslehurst.

---
Milnrow Brick & Tile Co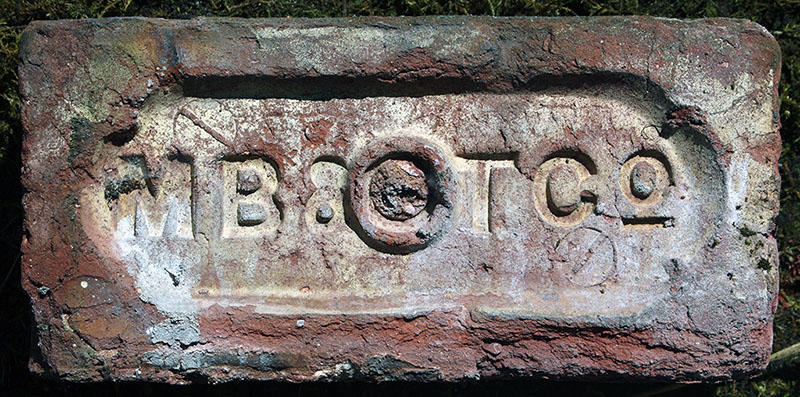 Photo by David Kitching.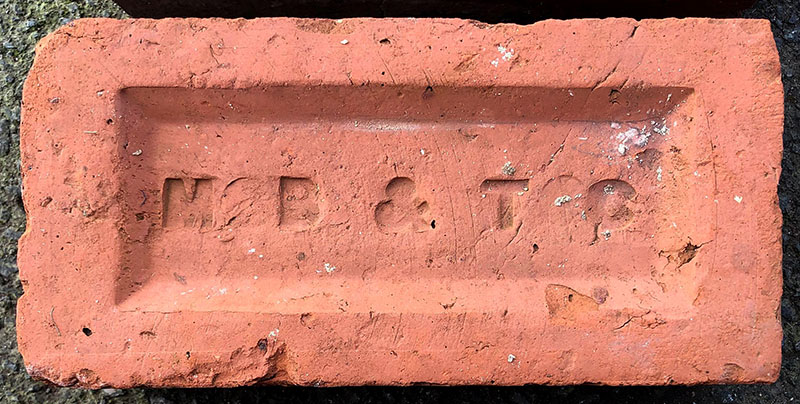 Milnrow Brick & Tile Co., Milnrow, Rochdale. MacDonald's Directory 1879. The company was registered in February 1877 with a capital of £10,000 in £50 shares. Winding up notice - Manchester Courier 18 April 1883. Photo by Jason Stott.
---
Milton Brick & Tile Co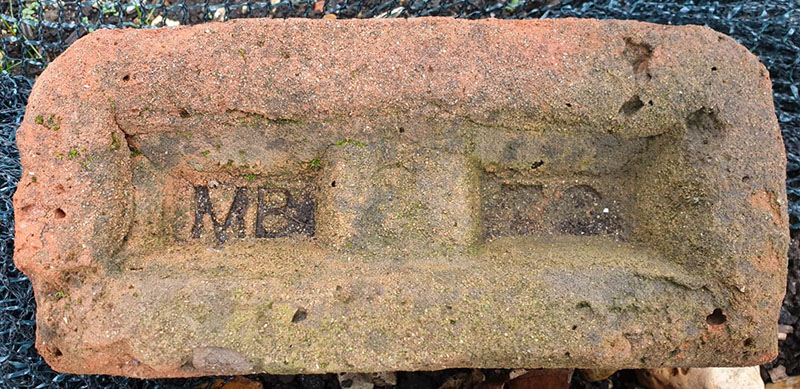 Kelly's Directory 1889 has: Milton Brick & Tile Co. (Thomas Lloyd, manager), Milton, Lymington. The works was on the north side of the railway along Stem Lane where the 1907 OS map shows two kilns (later a third was added). In 1890 the business was advertising red facing and building bricks. Brickmaking continued here until the late 1950s/very early 1960s. More information about the brickyards in the area can be found here. Photo by Maurice Stokes.
---
Milton Hall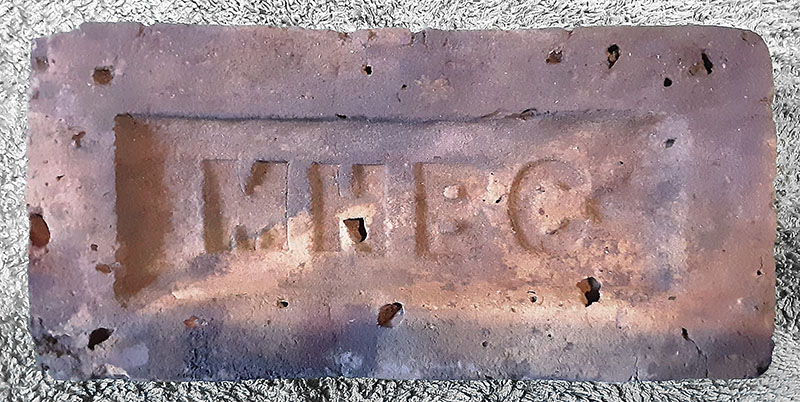 The Milton Hall Brick Company seems to have been established in Southend in 1878, the business seems to have traded to around 1906 when the name seems to have changed to the The Milton Hall (Southend) Brick Company. Photo by Jim Stevens.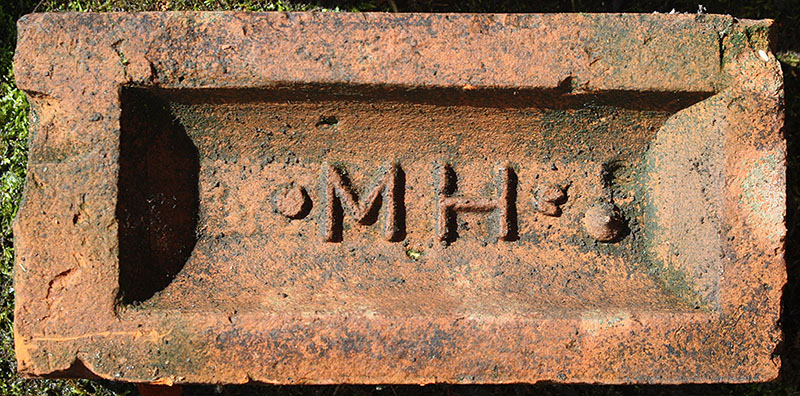 Milton Hall (Southend) Brick Co., Star Lane Brickworks, Great Wakering, Essex. The Star Lane Brickworks opened in 1932. The brickworks were operated by The Milton Hall (Southend) Brick Company Limited until 1984 when it was taken over by the London Brick Company. The brickworks closed in 2005. Info by Frank Lawson.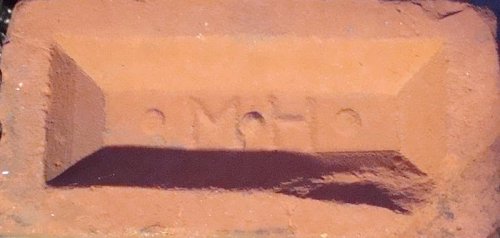 Photo by Simon Patterson. Ron Young thinks this could well be a product of the Milton Hall works in Southend, when owned by Hansons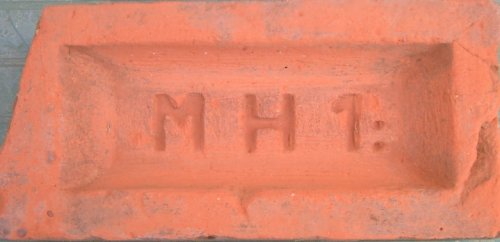 Found near the Northampton Arm of the Grand Union canal at Rothersthorpe by Nigel Furnis.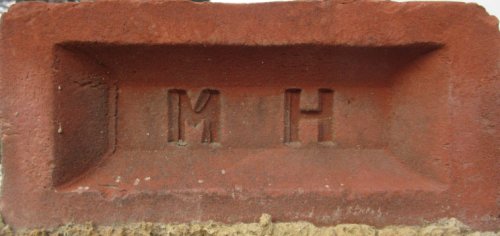 Photo taken by Jo Roesen at Broadway station Worcs, read their blog here.

---
Milward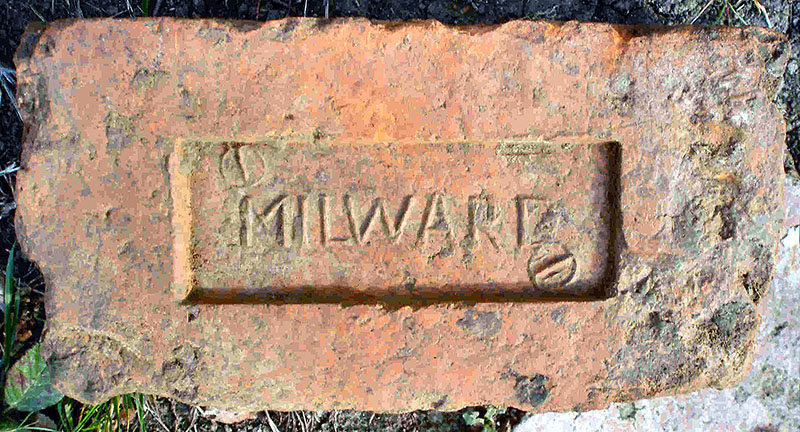 Photo by courtesy of the Frank Lawson collection. The Milward works was near Codnor in Derbyshire.
Martyn Fretwell adds; Jacob Milward, Redfern, Loscoe, Derbys. is recorded in Kelly's for 1888.
---
Mirfield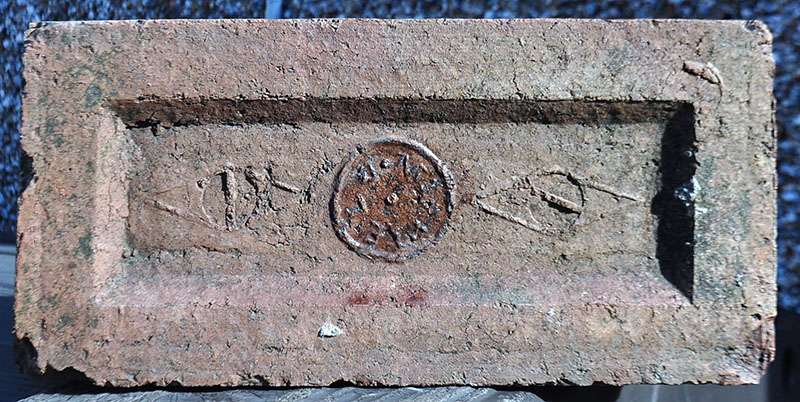 The crude Mirfield stamp suggests a brick from the1870s or 80s. This may be a product of the Garforth works rather than the Milners' Taylor Hall works which was nearby. Photo by Chris Shaw.
---
Mitchell, Kempston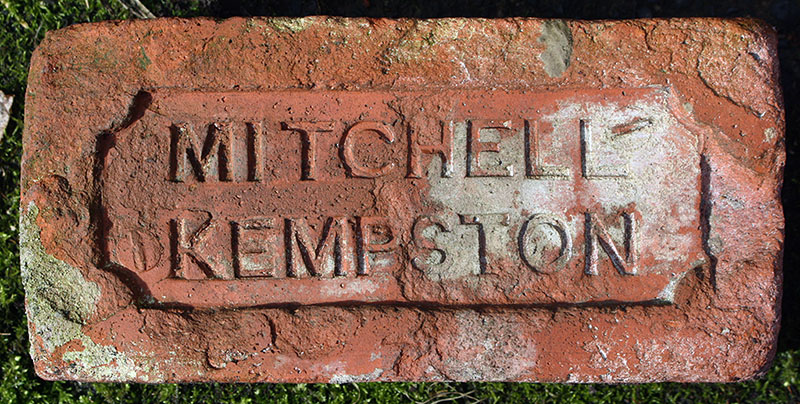 Thought to be: - Thomas Mitchell, Box End, Kempston, Bedford. c1853. Source - BBS Information sheet 54. Photo by David Kitching.
---
Mobberley & Bayley, Lye, Stourbridge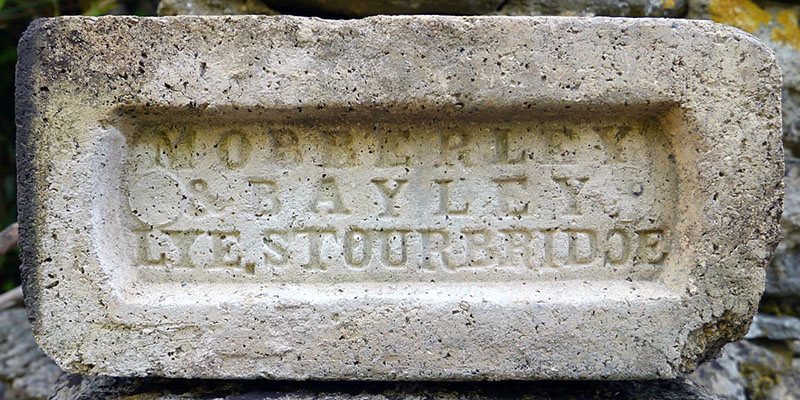 Photo by Hamish Fenton.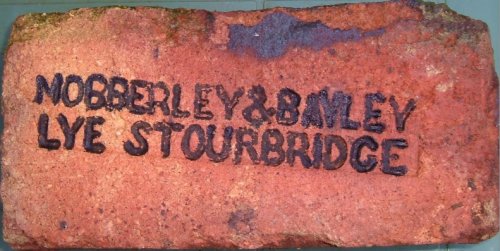 Photo by Nigel Furniss, who writes: Samuel Mobberley and James Porter Bayley were a trading partnership prior to 1866 but not before 1859, at the Thorns Fireclay & Brickworks, Kingswinford, and at the Cradley Station colliery, Cradley Heath. They were producing Fireclay & Manufacturing / House Coal. Also listed was a Mobberley & Perry of Merry Hill, (the same Samuel Mobberley), in the list of Fireclay mines in South Staffordshire dated 1875.
However, both Mobberley & Bayley filed for proceedings under the bankruptcy act in May 1879, when the company was wound up in liquidation, their creditors received 2 shillings & sixpence in the pound. Bayley had no assets, but Mobberley had (in partnership with Perry). Mobberley & Bayley do not appear in any trade directories after 1882, but Mobberley & Perry (see below) appear in the 1896 directory as owning:

HAYES / LOWER HAYES LYE UNDERGROUND EMP. 14 ABOVE GROUND EMP. 6
MERRY HILL BRIERLEY HILL " " 11 " " " 3
THORNS (part) " " " " 17 " " " 6

These were producing RED, BLUE & FIRECLAY BRICKS, GLASS RETORTS & other refractory items from the Oldbury Marl seam. They go on to take over the OLDNALL colliery by 1923, and BEECH TREE by 1933, Thorns being depleted by 1920. Only Beech Tree was in production in 1947, producing Fireclay, thick coal and brooch.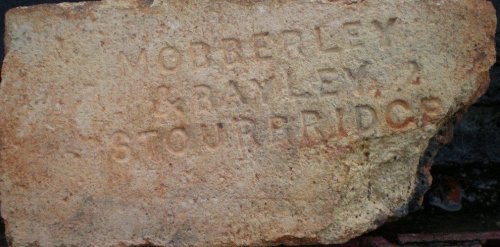 Photo taken at Ewenny by Richard Paterson.

---
Mobberley & Perry, Stourbridge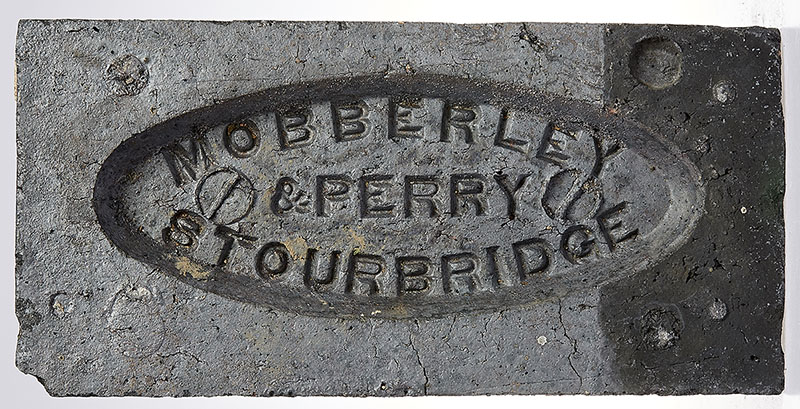 Mobberley & Perry was at The Hayes, Lye, Stourbridge, West Midlands. The brickworks for building bricks was on the main Stourbridge Road in Wollacote and the Firebrick works was in Hayes Lane. George Attwood worked the brickworks until 1840, then Fisher Bros. worked the brickworks until Mobberley & Perry took over the brickworks, the works closed in the late 1960's. My thanks for this information go to Michael Raybould.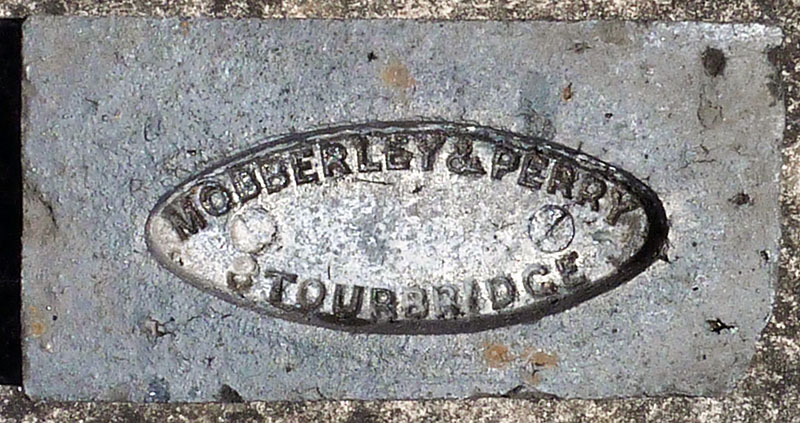 Photo by Martyn Fretwell.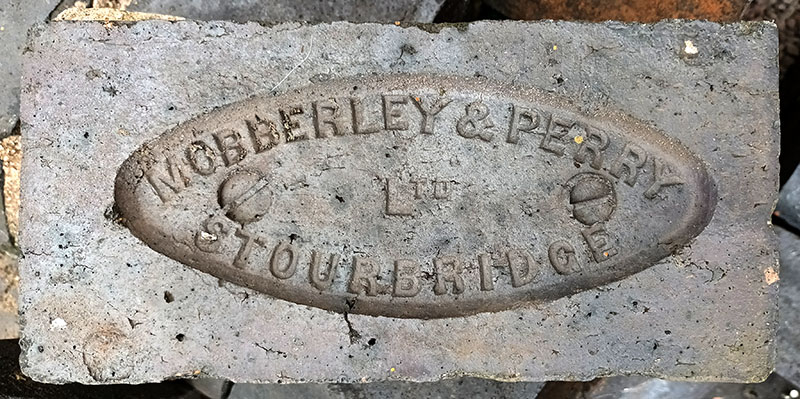 Photo by David KItching.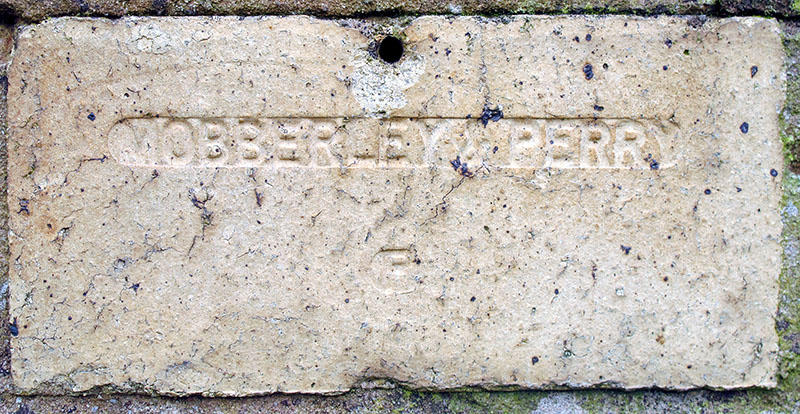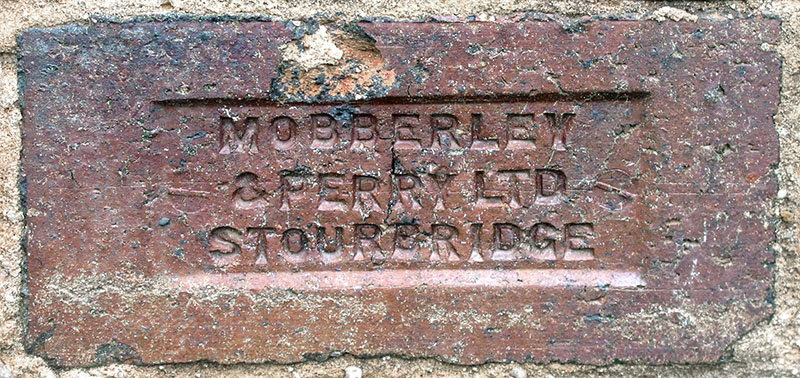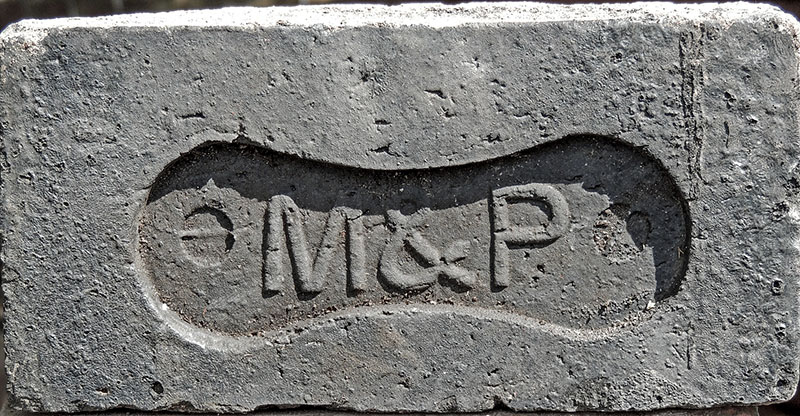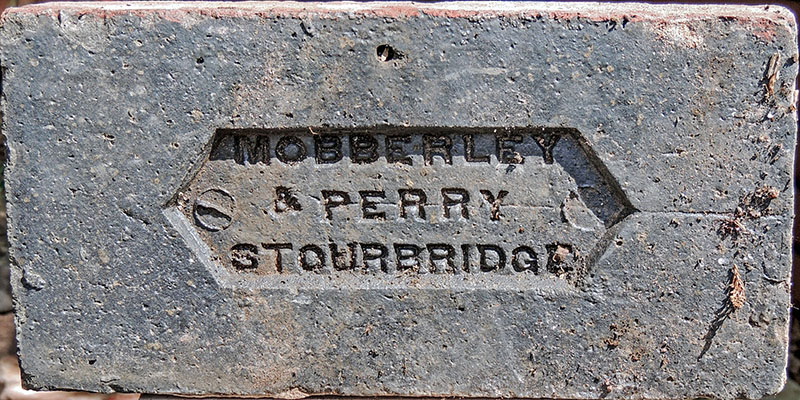 Photos by Colin Wooldridge from the John Cooksey Collection.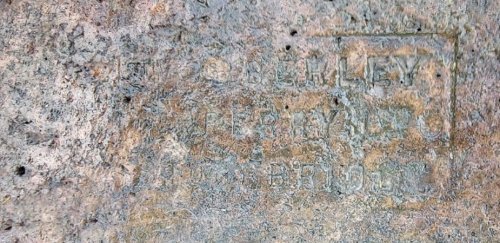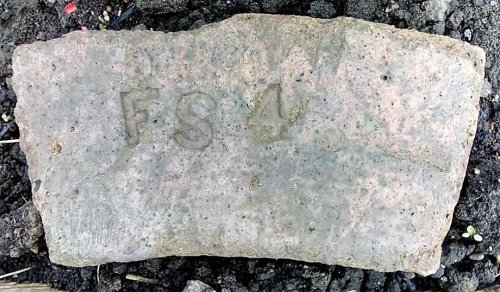 Front and back of Mobberley & Perry brick found on an allotment in York by Don Boldison.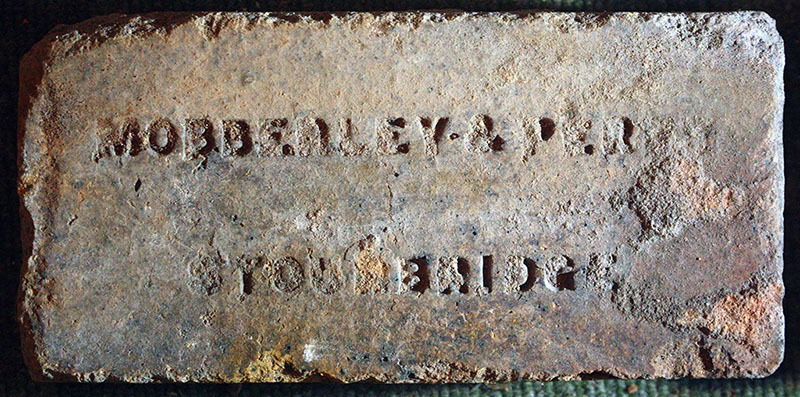 Photo by David Kitching.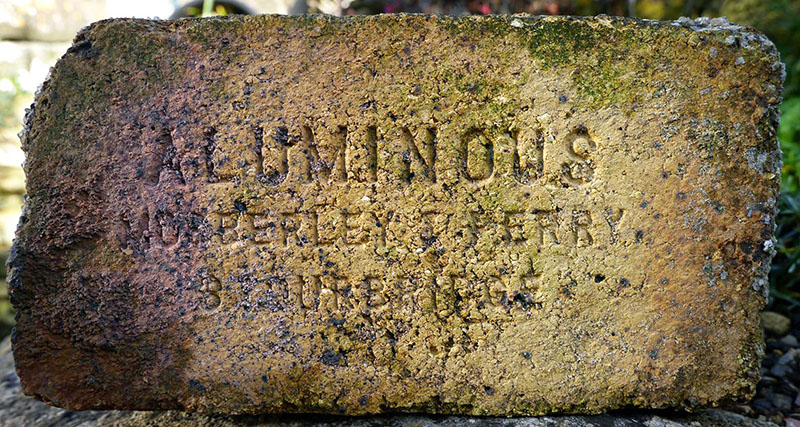 Photo by Hamish Fenton.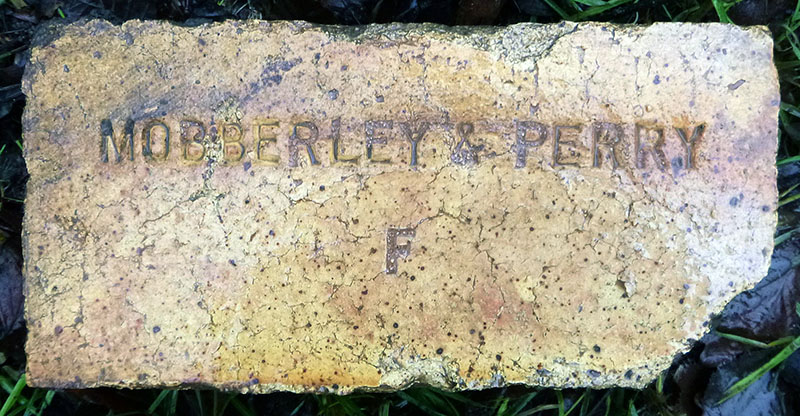 Photo by Frank Lawson.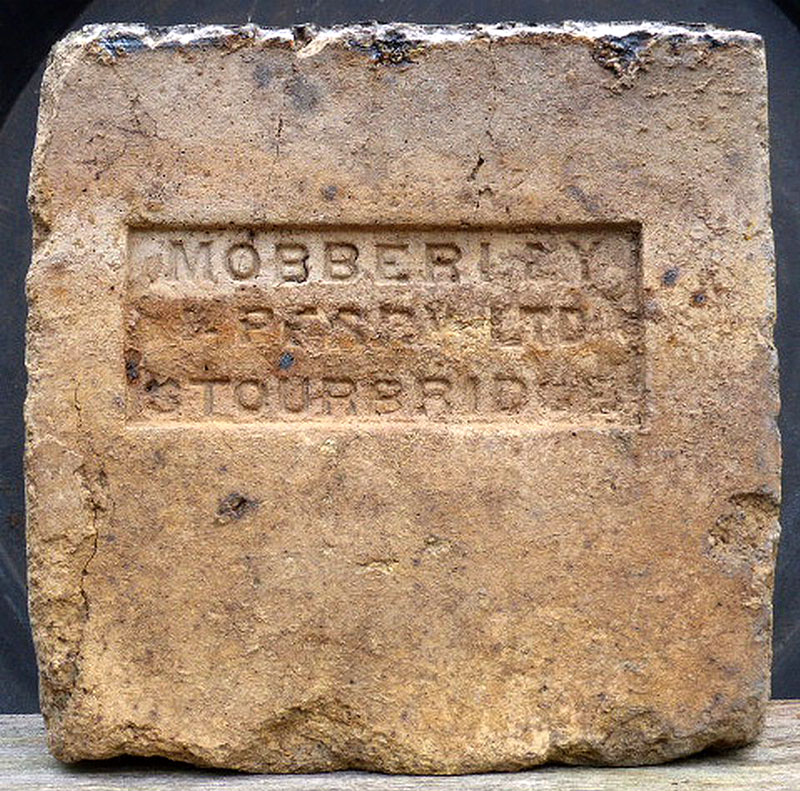 Photo by Teresa Jasper.
---
Monostock Crowle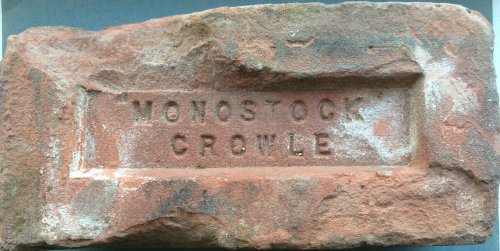 Found at Crowle North Lincolnshire by Trevor Rowbotham
---
Montagu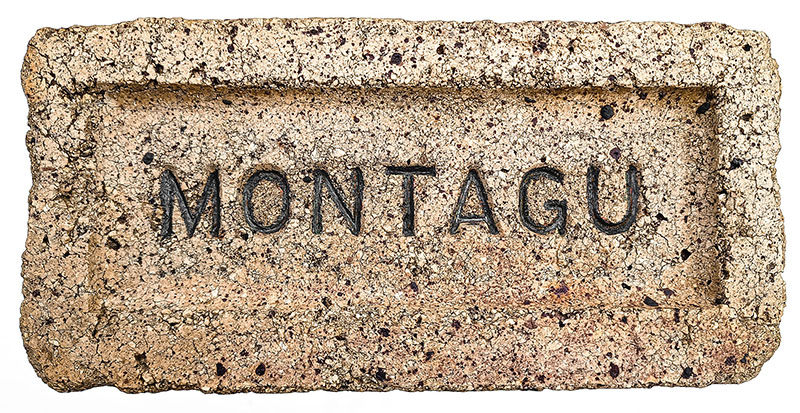 Montagu Collieries on the outskirts of Newcastle on Tyne was owned by William Benson & Son Ltd until taken over by the Mickley Coal Company in 1932. The Montagu business made fire bricks at the Scotswood brickworks and quarried limestone in addition to mining coal. Photo by Chris Tilney.
---
Moore & Son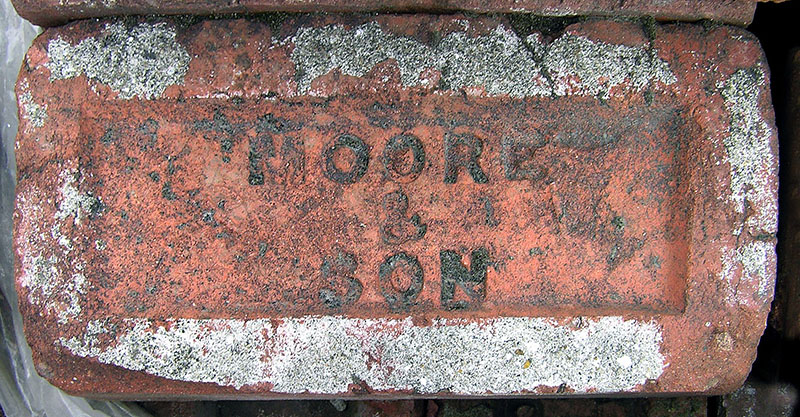 Photographed at a reclaim yard in Beeston Castle, Cheshire. Probably J Moore & Son, Stockport.
---
F Moore, Leicester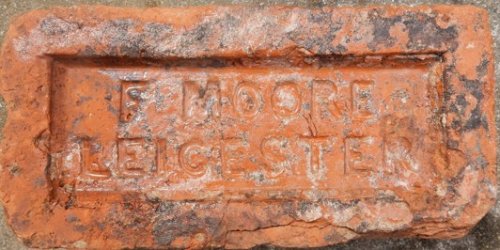 In the 1861 Trade directory their offices are in Wheat St. By 1870 they had moved to Bowling Green Street with works at Humberstone and Spinney Hills. Fielding Moore also owed the lime works at Breedon-on-the-Hill. Photo and info by Dennis Gamble.
---
Moore, Diseworth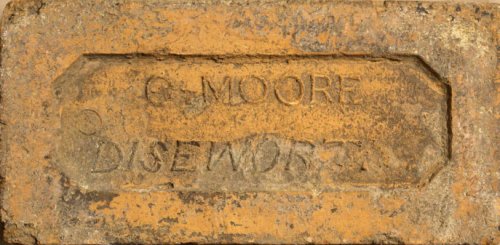 Charles Moore is listed as brickmaker at Clements Gate, Diseworth. Loughborough in Kelly's 1876 & 1881 editions. Info & photographed at Derby Silk Mill Museum by Martyn Fretwell.
---
J Moore & Son, Stockport


John Moore & Son is listed as running the Dialstone Lane brickworks from 1885 to 1898. The business then became Moore & Bristow. Photo by Frank Lawson.
---
Moore & Bristow, Stockport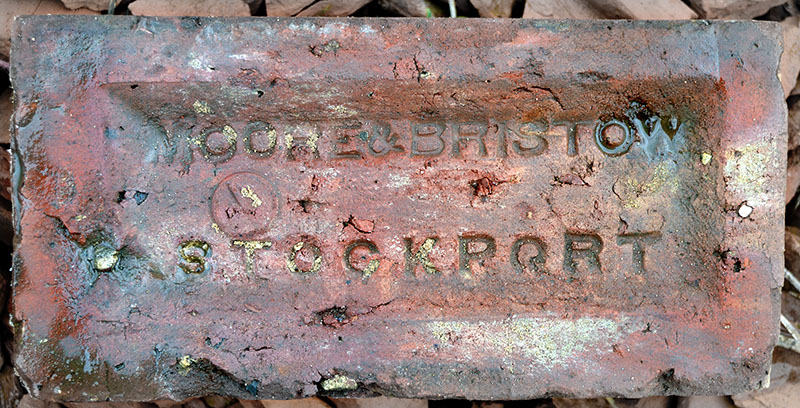 The quality of this example leaves a lot to be desired with multiple inclusions. Photo by Frank Lawson.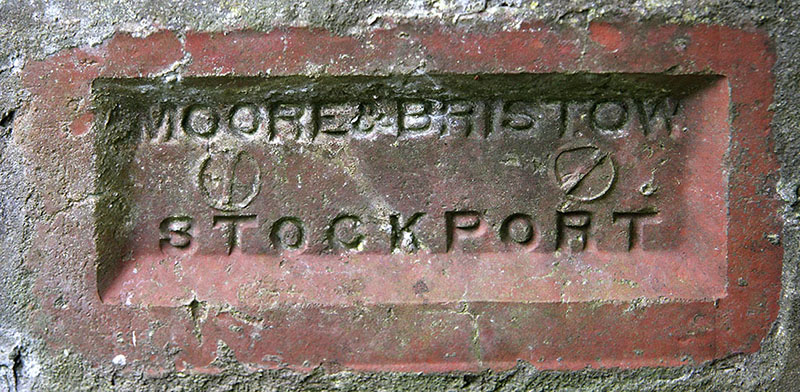 Moore & Bristow, Dialstone Lane, Stockport appears in the 1902 and 1905 trade directories. In 1905 they are also at Hempshaw lane, Stockport.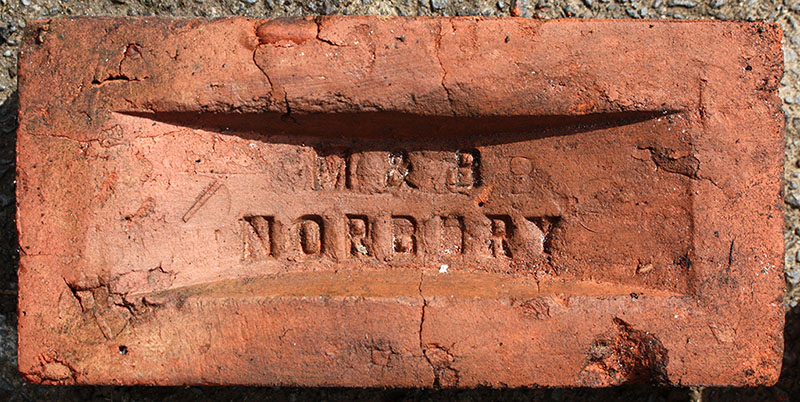 It is uncertain which brickworks this comes from. It could be Norbury Moor, or maybe the firm used the Norbury Colliery works for a while, rather than Dialstone Lane. Photos and info by David Kitching.

---
Daniel Moore, Walsall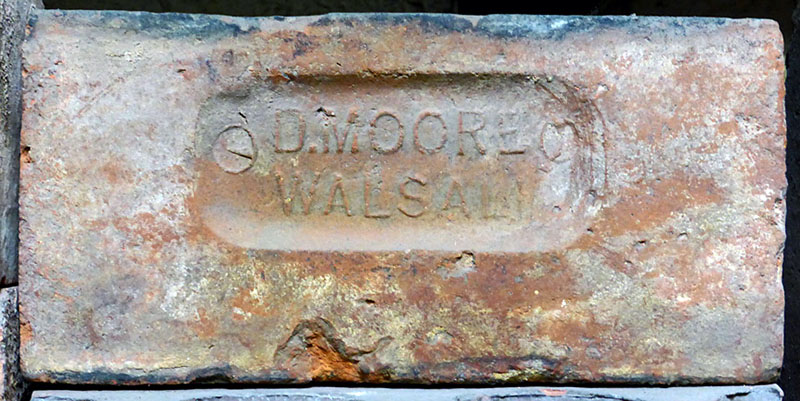 Daniel Moore is listed in Kellys 1880 edition with the entry of 245, Stafford Street: stone yard & Leicester Street (offices), Walsall. The 1884 edition records the brickworks as being situated on Dark Lane (now Lincoln Road). Photo & Info by Martyn Fretwell.
---
Samuel Moore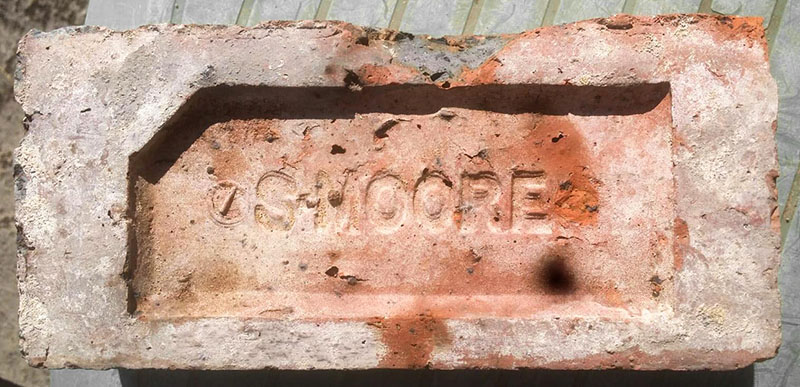 Samuel Moore established his Swains Park Brickworks, Overseal, Derbyshire around 1871, working it until he retired around 1911 when his son William who had worked alongside him took over, running the works as Moore and Sons. Photo by Nigel Furniss, info by Martyn Fretwell.
---
Moorhey, Crosby
---
Found on the seashore in Crosby, Merseyside.
---
Moorhouse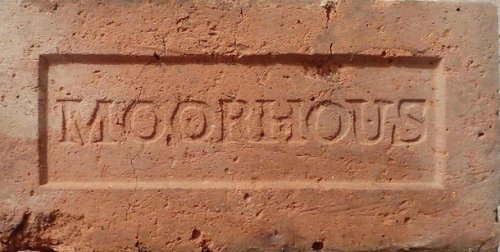 Thomas Moorhouse, Cricket Inn Road, Sheffield. White's Directory of Sheffield & Rotherham 1856 / 1857. Photo and info by courtesy of the Frank Lawson collection.

---
Moorside F B T & C Co. Bolton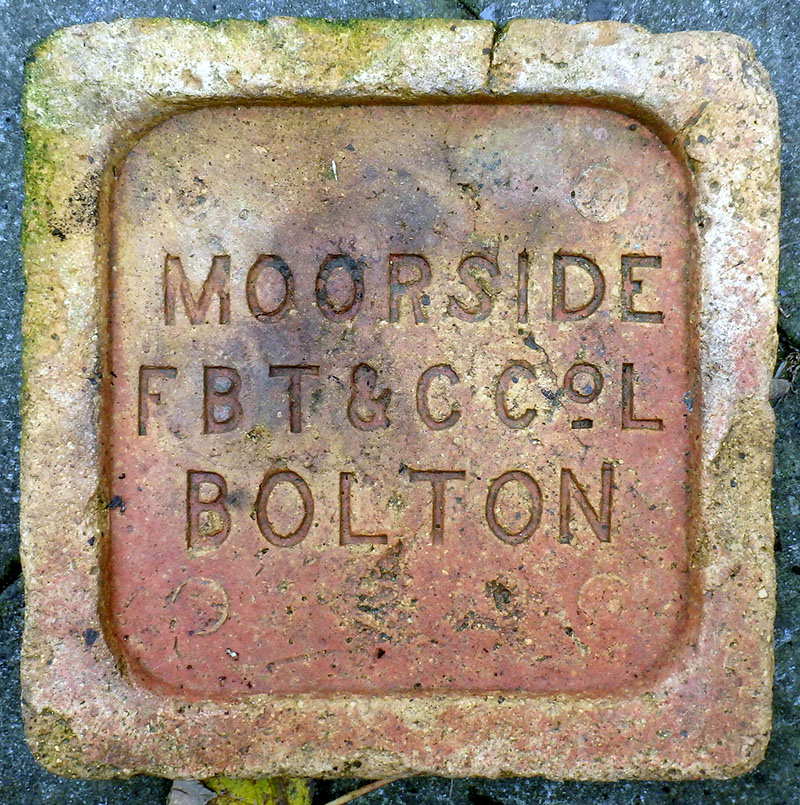 Moorside Fire Brick,Tile,& Coal Co. Ltd. Ainsworth, Bolton. Tillotson's Bolton Directory 1876-7. Slater's 1882. Photo by Frank Lawson, info by Colin Driver.
---
Moorville: see Kingmoor
---
Moorwood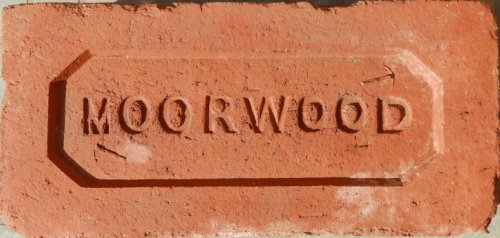 Owned by Jee's Hartshill Granite & Brick Co. Ltd. near Nuneaton. Had it's own siding, worked by horses, on the Midland Railway, Stockingford branch line. This connection was put in place in the 1890's, the brickworks closed in 1912, so had a relatively short life. Photo and info by Nigel Furniss.
---
T Morecroft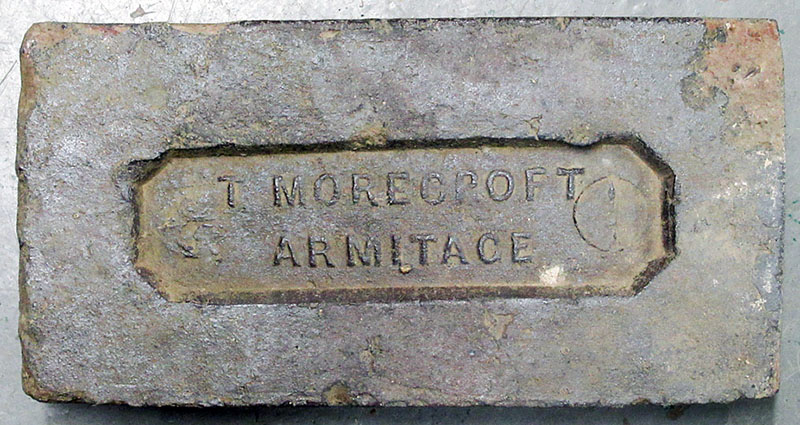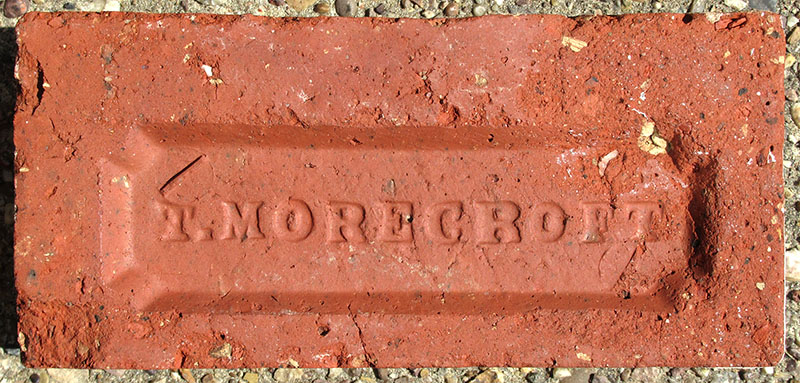 Thomas Morecroft junior is listed as brickmaker at Handsacre, Armitage, Staffs. in Kelly's 1872 to 1880 editions. Then the entry in Kelly's 1884 to 1912 editions is Thomas Morecroft, Armitage, Rugeley. Old maps show the works was situated on the main road between Handsacre & Armitage. Kelly's 1916 to 1924 editions then record Thomas William Morecroft at the works, possibly Thomas' son. Seen at Apedale Museum. Info & photos by Martyn Fretwell.
---
John P Morris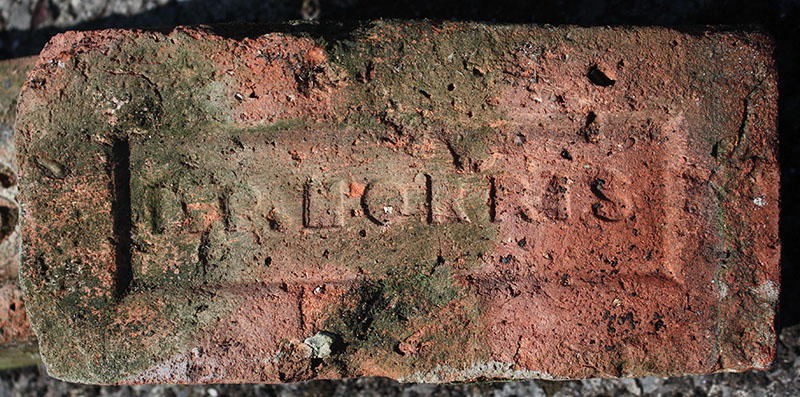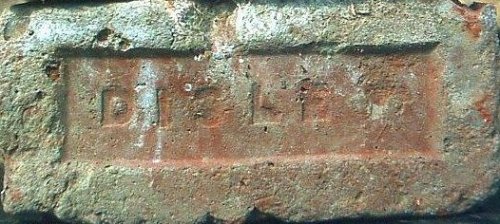 Photo by Alan Hulme.
This brickworks was situated in Newtown (Now Derbyshire, but then Cheshire) on land to the north of the canal and Victoria Mill. John Morris apears in trade directories for 1871 and 1874. By 1883 the business seems to have passed to Job Silcock. The works does not appear on the 1897 OS map.
---
W Morris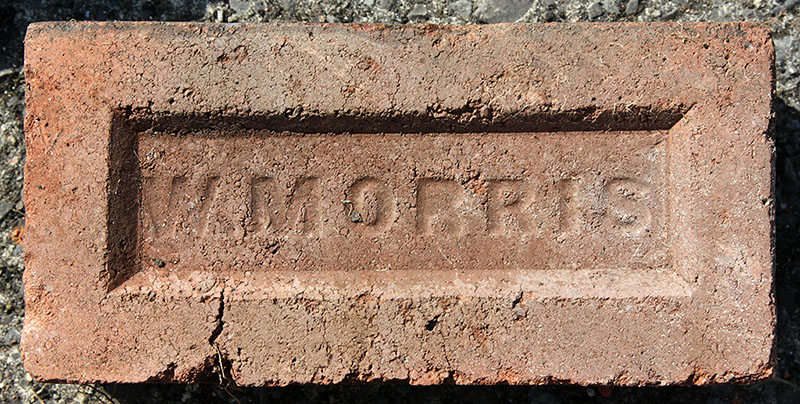 William Morris, Beeston Hill Brickworks, Cemetery Road, Holbeck, Leeds. White's West Riding Directory 1881. Morris also owned nearby Beeston Hill Colliery. Photo by David Kitching.
---
Wm. Morris, Oldbury



Photo by Ray Martin.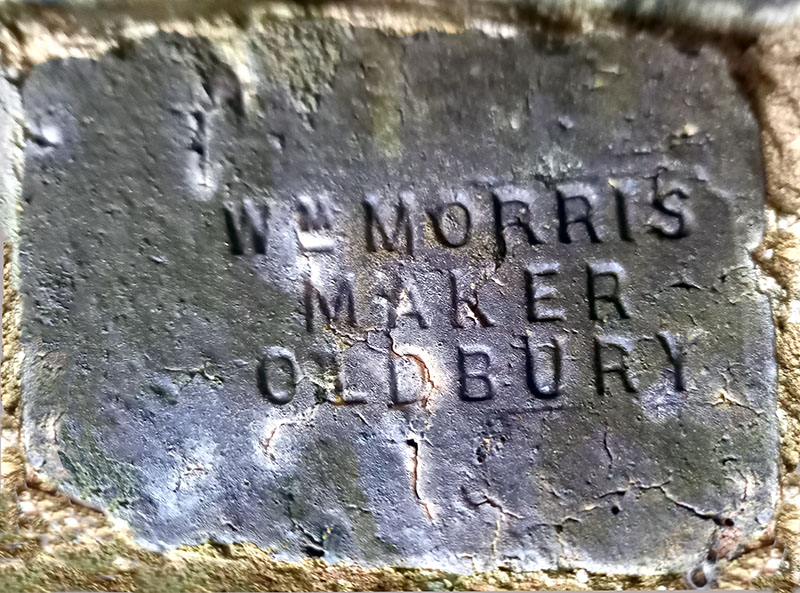 Photo by Roger Jones.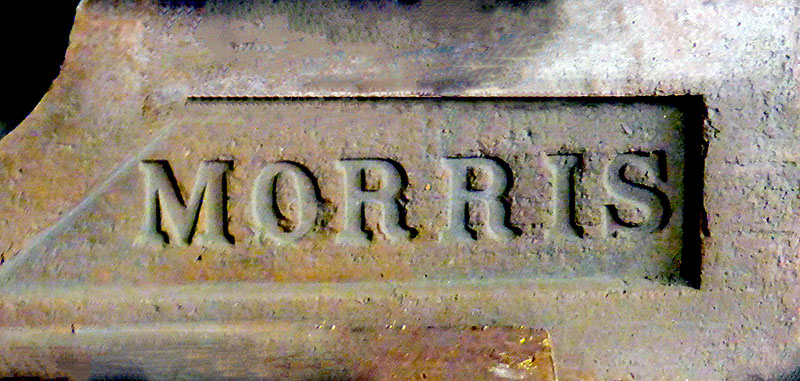 Kelly's 1860 edition lists William Morris brickmaking on Portway Road, Oldbury. Then Jones 1865 edition records his works at Radnall Fields, Oldbury. This works was later accessed from Church Bridge with the marl hole extending right up to Portway Road. William Morris continues to be listed at the Radnall Brickworks until Kelly's 1896 edition when the entry reads William Morris exors of. This entry is repeated right up to Kelly's 1940 edition when it is thought this brickworks closed. Info and photo by Martyn Fretwell.

---
Morris & Shaw, Hall End


Thanks to Helena for the photo. Martyn Fretwell has done some research and writes: Morris & Shaw, Birch Coppice Colliery, also known as Hall End Colliery & Brickworks, Polesworth is recorded in Durham Mining Museum records for 1940 ( Colliery was sunk in 1878 ). In 1947 after nationalisation it became N C B Hall End.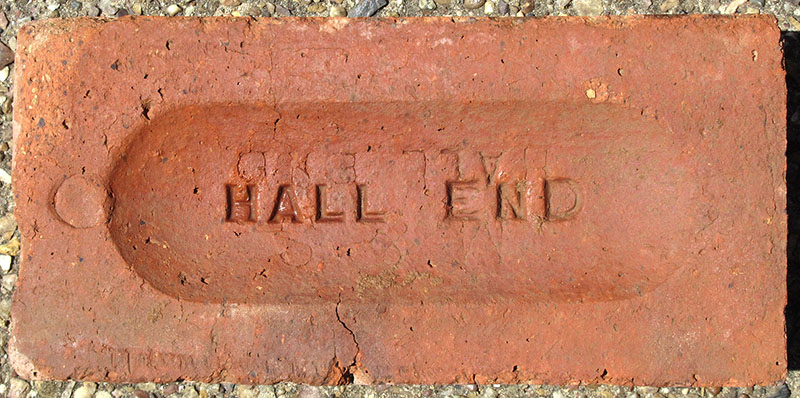 Photo by Martyn Fretwell.
---
Joseph Morton, Halifax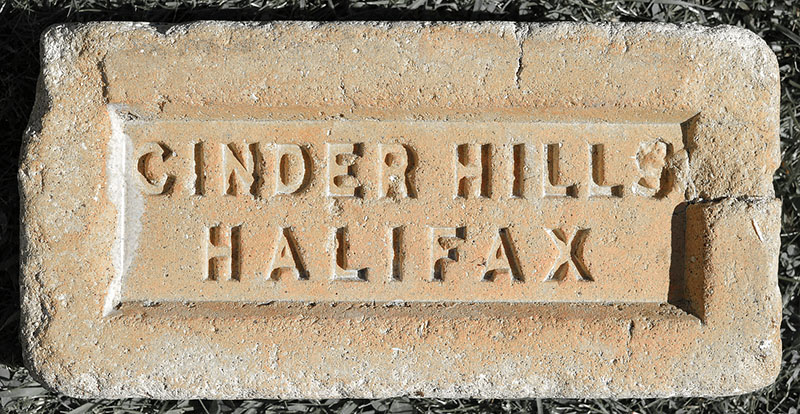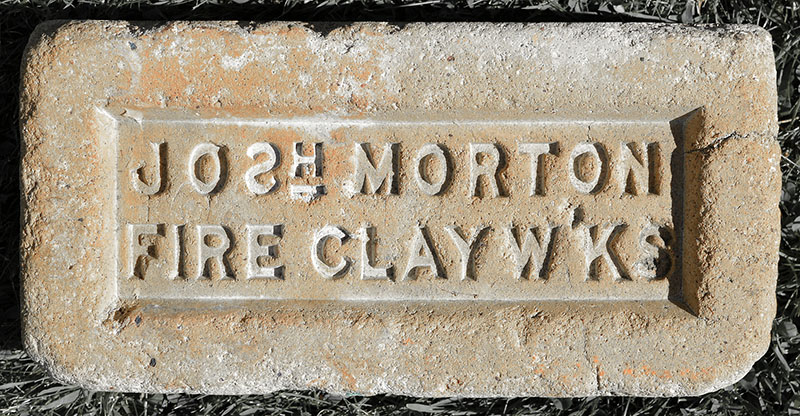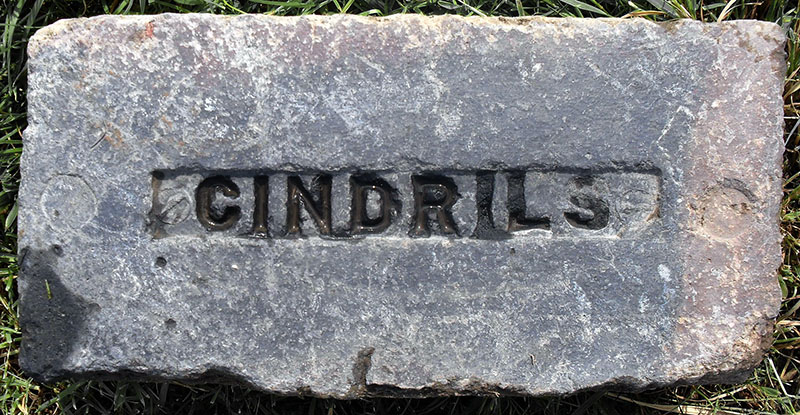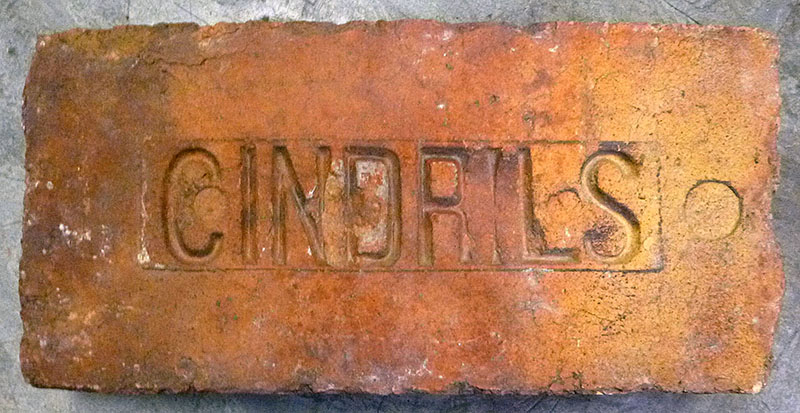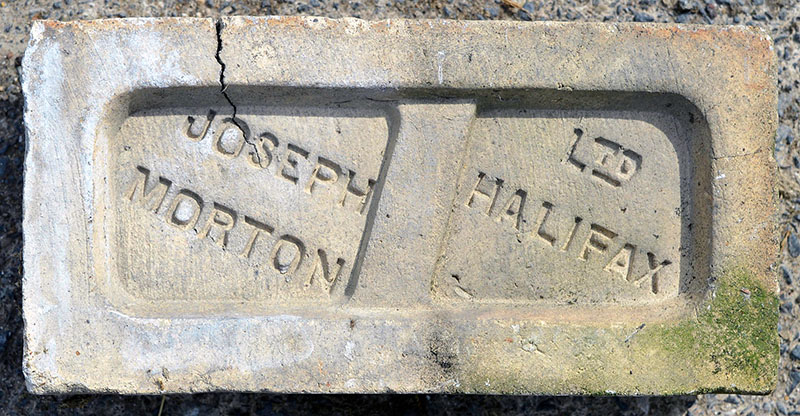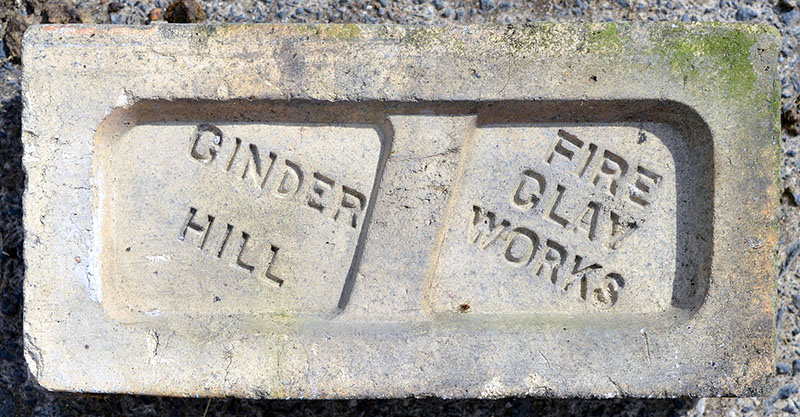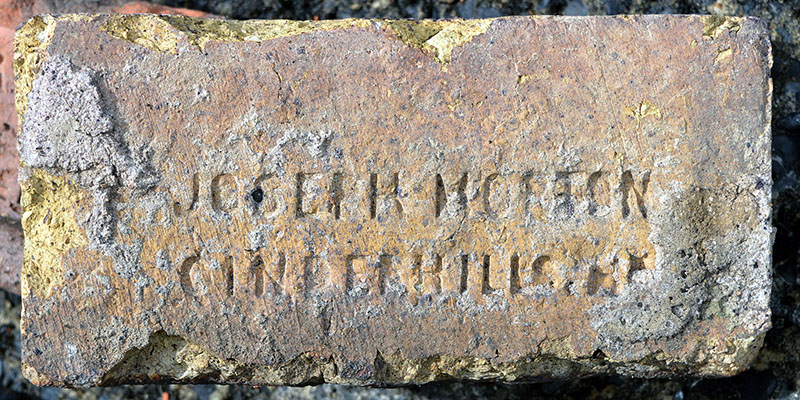 Cinder Hills Brick Works was operated by Joseph Morton at Siddal Hall Lake in 1857 ( Kelly's Directory ). It was still operating in 1927 ... and beyond. Photos by Frank Lawson.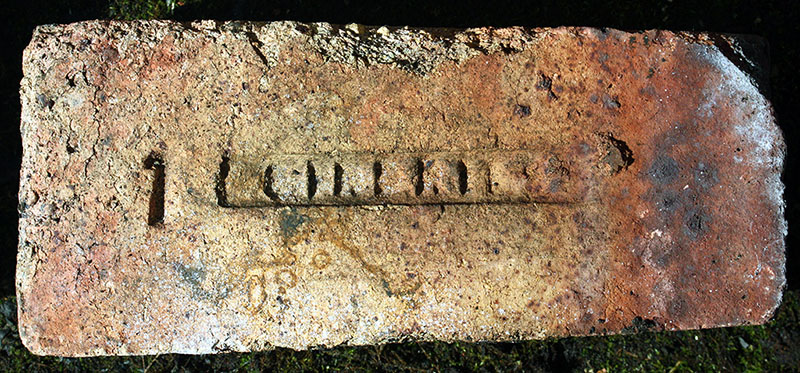 Photo by David Kitching.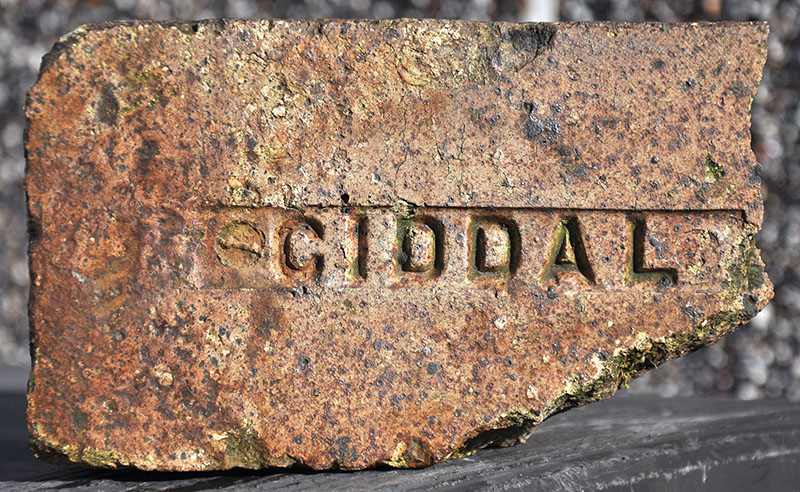 Photo by Chris Shaw.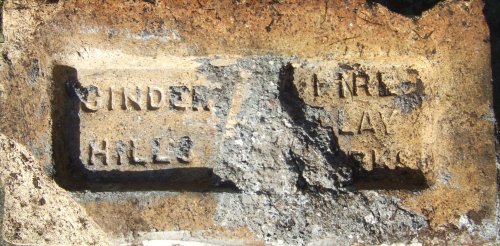 Photo by Mike Gregg.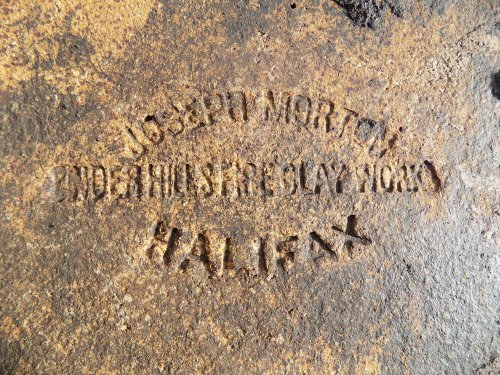 A big arc brick / radial stretcher by Joseph Morton, Cinderhills Fireclay Works, Halifax, photo by Ian Suddaby.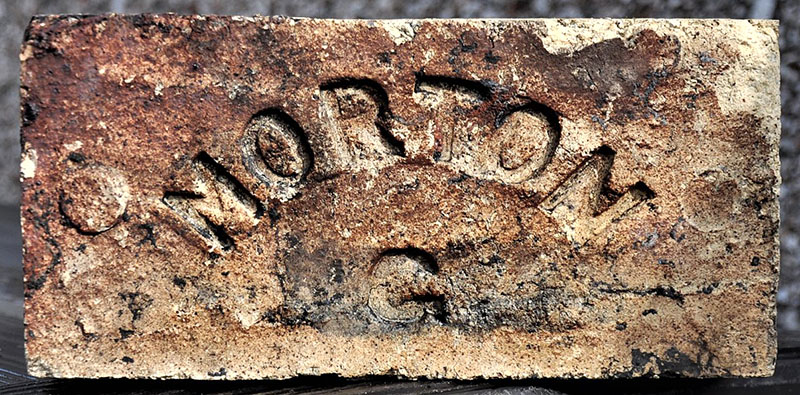 Photo by Chris Shaw.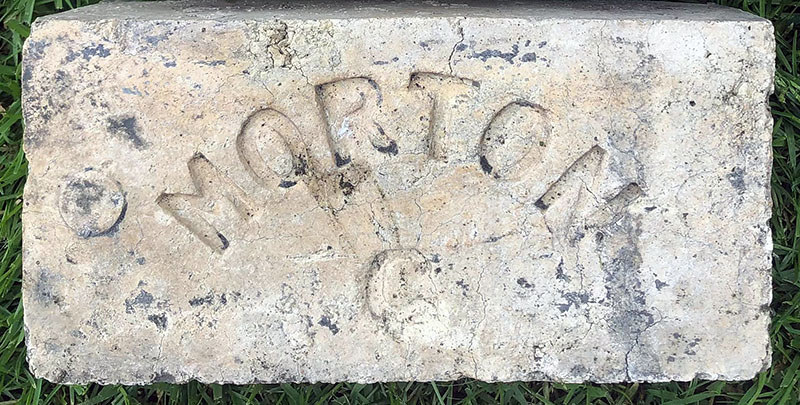 Photo by Jason Stott.
Photo by Darren Wall.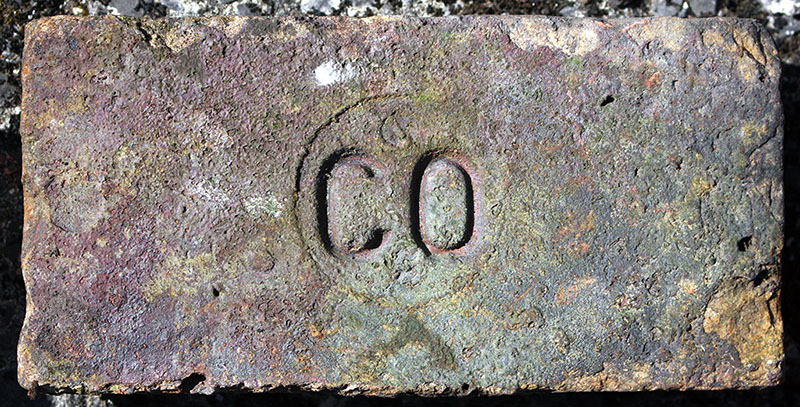 CO was a brand name used by Joseph Morton Ltd. of Cinder Hills Fireclay Works, Halifax. CO stands for 'Coke Oven', as they were originally intended as coke oven refractories. Info by Alan Telford, photo by David Kitching.
---
Mosedale

Thomas Mosedale & Sons Ltd manufactured bricks at their works in Flixton, Trafford which closed some years ago. The brand name now seems to lie with the Forterra business and is used for certain extruded wire cut products. Photo by Roger Woods.
---
Moss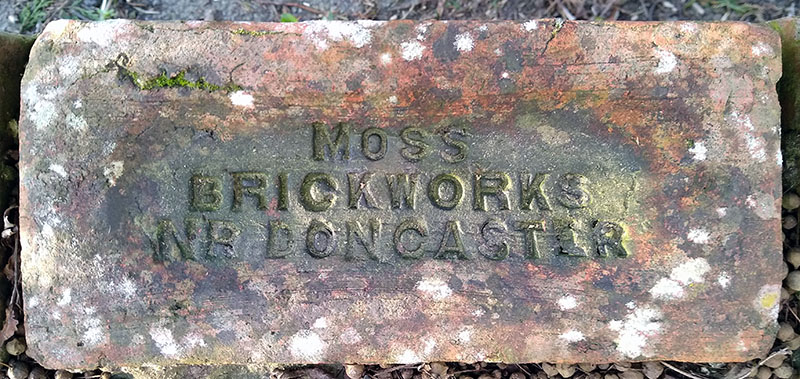 The Moss brick & tile works was located just west of Moss Station. It does not appear on the 1906 OS map and is shown as disused on that for 1932. Photo by Don Boldison.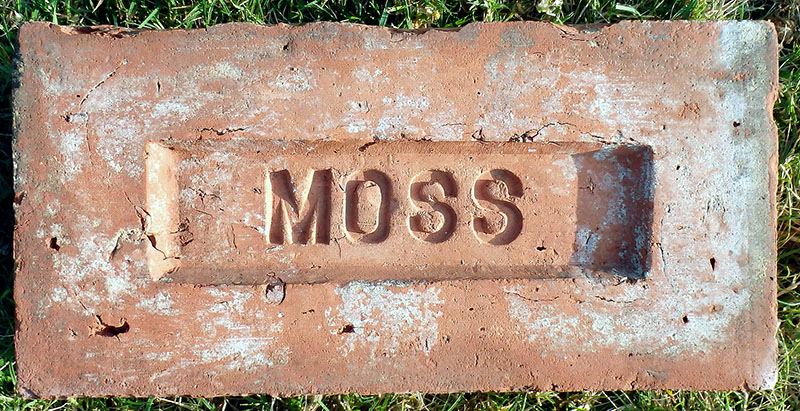 Probably from the above works. Photo by Frank Lawson.
---
William Moss, Nuneaton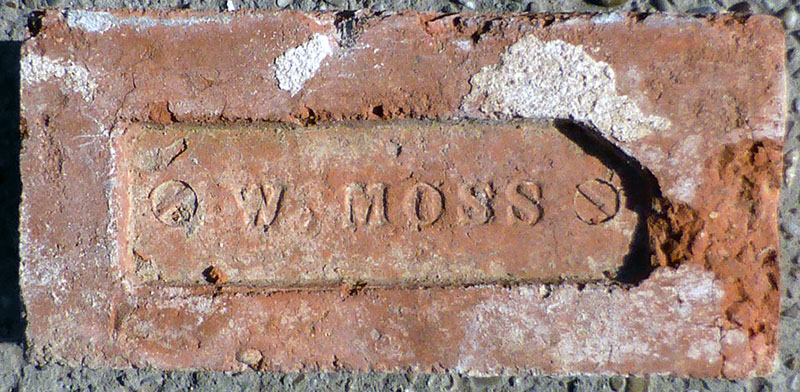 William Moss, a railway contractor of Stafford operated his Wash Lane (now Queens Road),
Nuneaton brickworks between 1874 & 1883. Moss had been engaged to lay a third track down the Trent Valley for the LNWR & in doing so produced bricks at his Wash Lane Works for the culverts & bridges that he built along the tracks route. In 1883 the two acre yard was offered for Let & it consisted of three fourteen-hole kilns, two large flame drying sheds & two occupied dwelling houses. The1886 OS map shows the brickworks as disused, so with the yard not being re-let the site was cleared and today the site is occupied by housing & industrial. Kelly's 1876 edition lists William Moss at Gas Street, Nuneaton & at Stafford. Gas Street was the name of today's Queen Road at the town end & it may have been where he lived because the previous owner of the brickyard, Arthur Hood lived at 7, Gas Street. The brickyard had been established by Samuel Bonner in 1867. Photo by Martyn Fretwell with Info by Martyn Fretwell & from Peter Lee's book - Nuneaton & Bedworth Coal, Stone, Clay &
Iron.
---
William Moss & Sons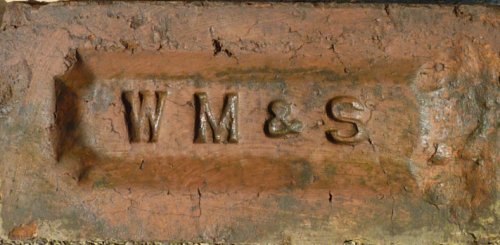 William Moss is listed as a brickmaker at Broad Street, Parkgate, Rotherham in White's 1879 edition. William is also recorded in the 1871 census as living in Lister Street, Rotherham with his wife Elizabeth & two children Sidney & Nellie. In the 1881 census he is listed as a brick & tile burner & now living near Nether Hoyland, Barnsley with the addition of two more sons, Colin & Edwin, but from a later census it appears that none of his sons followed him as brickmakers. Photo & Info by Martyn Fretwell.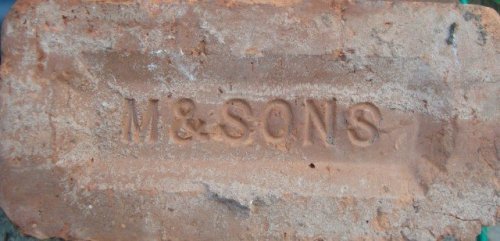 Found in Worksop by Simon Patterson
---
Mossite: see Coalmoor
---
Moulson, Bradford
Moulson, John & Sons: Henry Street, Park Lane & Birch Lane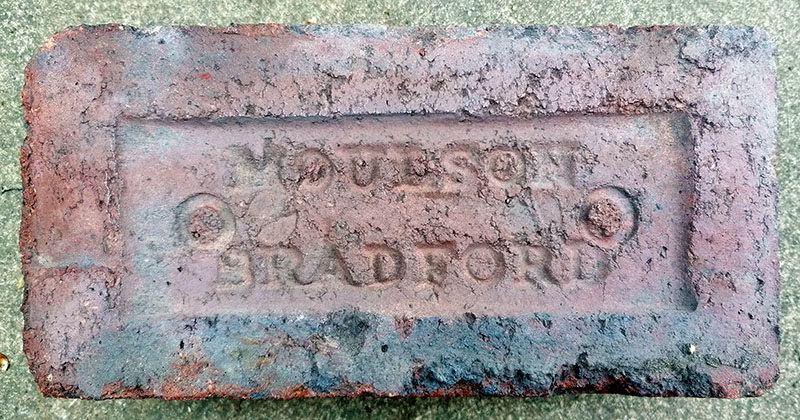 Photo by Thomas Hayman.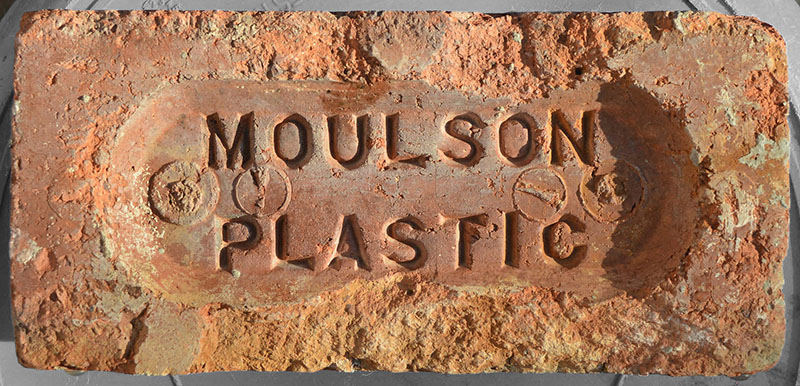 Photos by courtesy of the Frank Lawson collection.
Moulson is a famous Bradford brick-making name; in 1866 they were based at Bowling Old Road. In the 19th century John Moulson & Sons had their builder's and stone yard in Henry Street, Bradford. The first brickworks was in Park Lane and was called Woodroyd brick works. The second works may have originally been called Birch Lane works or Park Side brick-works, but it was certainly later known as Bowling Park brick-works. It was built virtually over the Bowling tunnel. There was a large face of clay & shale in the land, in addition to much material that came out of the Bowling tunnel itself. Thanks to Derek Barker for the information.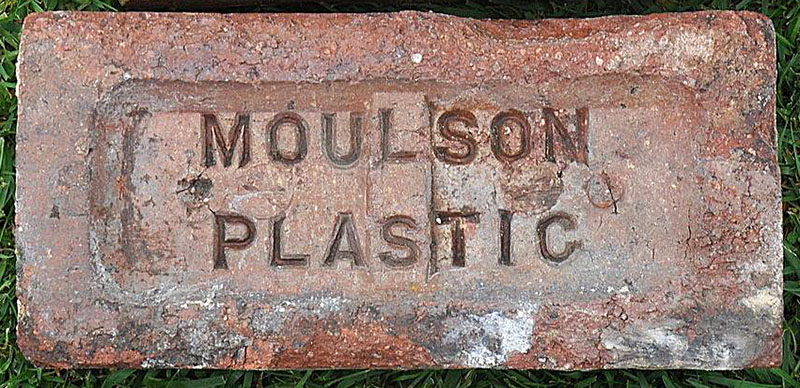 Photo by Chris Shaw.
---
Mount Clay Co. Wakefield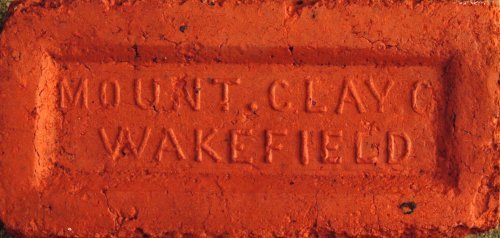 Shown on the OS 1st edition map of 1893 as Mount Clay Brickworks at Greenhill Road, Wakefield. At this time, the site was worked by J Dunn ( exors of ). Brick discovered by Frank Lawson. Image PRBCO.
---
Mount Hill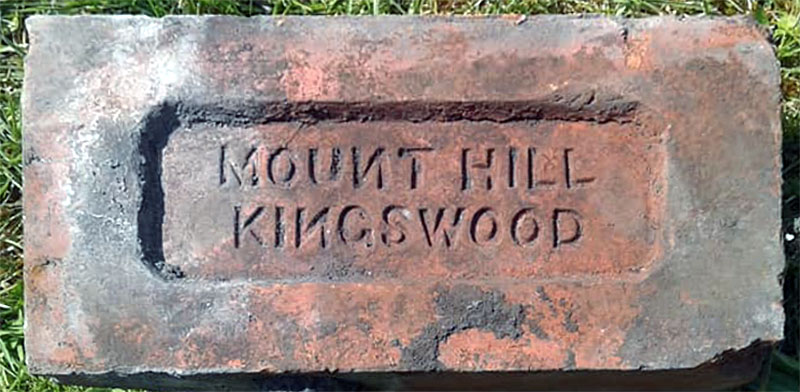 Mount Hill brickworks was on Court Road, Kingswood, Bristol, and was established by 1882. The business eventually expanded into extracting clay from pits on both sides of the road with an overhead crane bringing materials from the pits on the east side of the road and across into the works. It seems to have closed in the early 1950s. For many years the owner was A J Bridges. Photo by Billy Wheeler.
---
Mount Pleasant: see Heacham
---
Mount Sorrel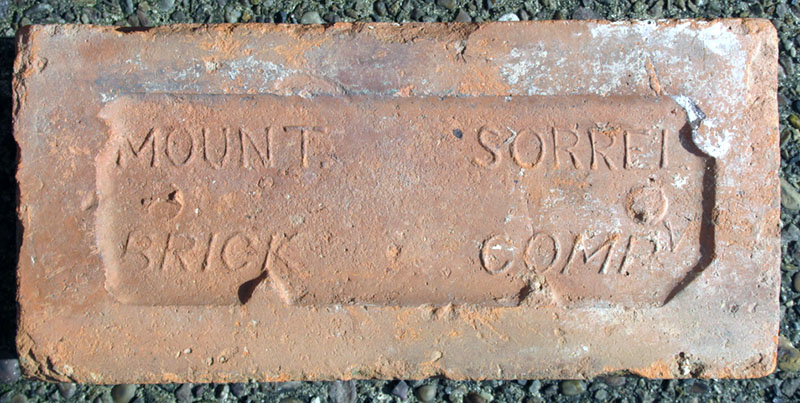 Mountsorrel is a village in Leicestershire on the River Soar, just south of Loughborough. Photo by Peter Harris.
---
Mow Cop Brick Co.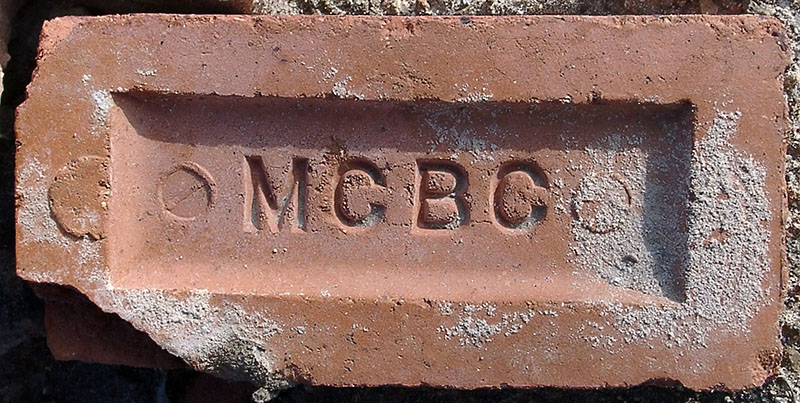 This is a product of the Mow Cop Brick Co Ltd which had a works below Mow Cop Road that was established in the 1930s and closed c1972. Photo and information by David Kitching.
---
E Mullett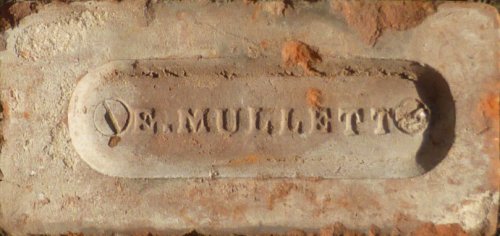 Edward Mullett is recorded as brickmaker at the Nursery Brick Yard, Handsworth, Birmingham in Kelly's 1879 edition. Info & Photo by Martyn Fretwell courtesy of the Chris Thorburn Collection.

---
Mullings, Devizes


Photo by Rog, history of the brick.

---
Multiruf: see Tucker, Loughborough
---
Murray & Co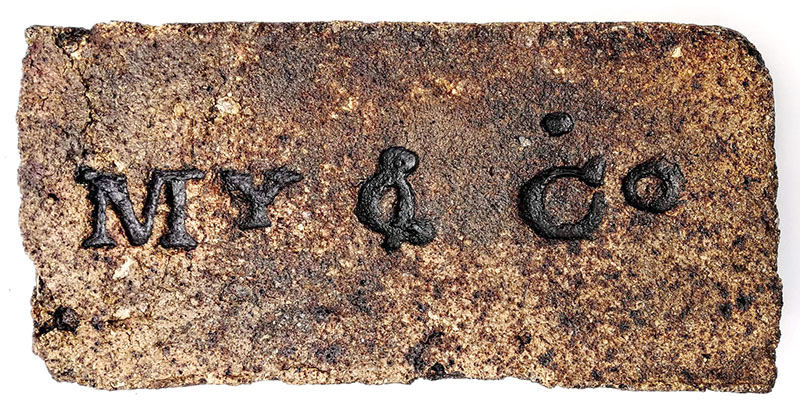 This was probably made by G Murray who was listed as a firebrick manufacturer at Fence Houses in the 1858 Post Office Directory of Northumberland & Durham. Fence Houses is not far from Sunderland near where this was found in the River Wear. Photo by Chris Tilney.
---
Murrays Patent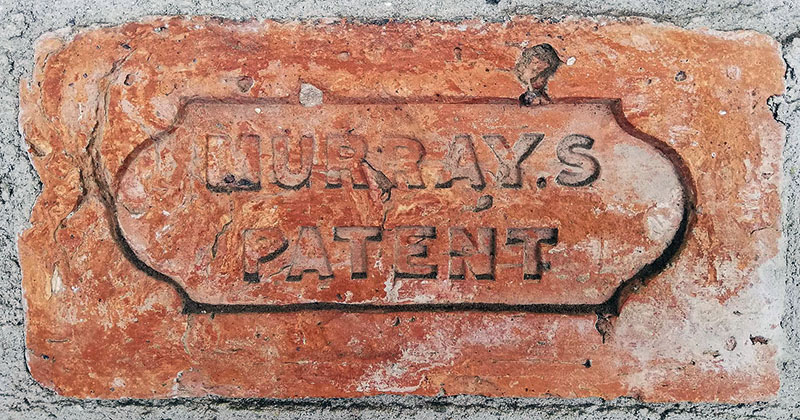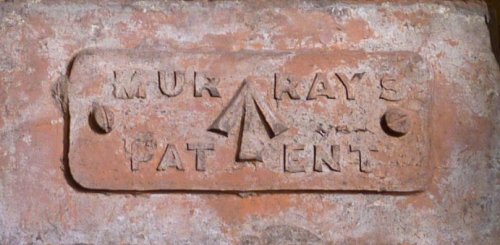 Charles Henry Murray was a maker of brickmaking machines. A list of Murray's patents - at bottom of page . http://hopkinsweb.org.uk/murray/timeline.htm , A photo of Murray's brick making machine. http://www.gracesguide.co.uk/File:Im1872ev13-p381.jpg Photo by Martyn Fretwell.
---
T E Mycock


Found at Kelham Island, Sheffield by Darren Wall.
---
J Myerscough & Sons, Preston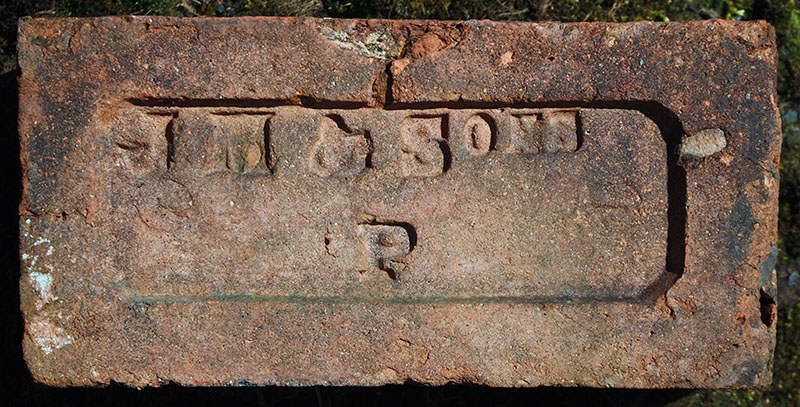 James Myerscough & Sons, Preston. The Mysercough family were limeburners with kilns adjacent to a basin on the Lancaster Canal at Tulketh, Preston. In the 1870s and 1880s they seem to have diversified into brickmaking. Photo by David Kitching.
---