This page is for bricks which are all a bit different.
---

This inscribed brick was inserted during the recently concluded restoration of the icon of the 'Amsterdamse School' type of Dutch architecture, 'Het Schip' (the ship), in Amsterdam. Thanks to A K A Demik for point this out.
The brick shows:
top line:
- the name of the housing association that had the Het Schip edifice built, EIGEN HAARD ('own hearth');
- the (stylized) logo of Eigen Haard:
-a five-pointed star;
- the name of a building company involved in the restoration, VAN MILT
- a version of their logo;
bottom line:
- the name of the architectural practice supervising the restoration, ARCHIVOLT ARCHITECTEN
- the years 2016-2017, when an important phase of the restoration took place;
- the name of another building firm involved in the restoration, VASTBOUW
---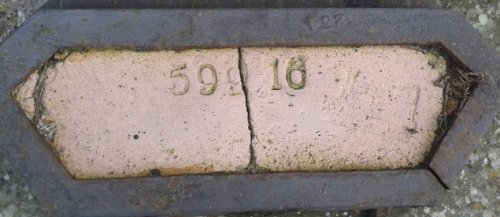 This was found up a chimney in a station waiting room by Richard Symonds. The brick has a metal surround and the faint image of a steam loco on the right, as shown below..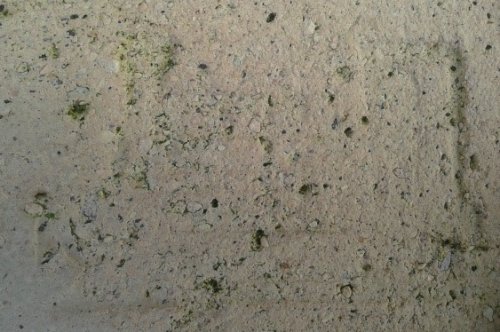 ---


A kiln or furnace refractory spyhole brick found at Walkden Yard NCB Workshops on closure. Photo and info by Alan Davies.

---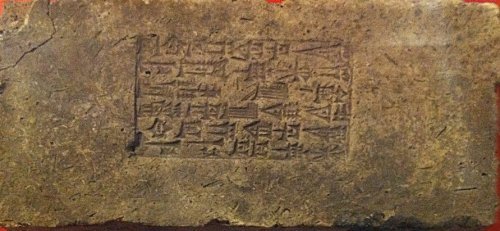 On display at Bolton Museum, dated from 605 to 562 BC, reign of Nebuchadnezzar ll. Inscription states "Nebuchadnezzar, King of Babylon, benefactor the temples of Esagil and Ezida, principal heir of Nabopolassar, King of Babylon". Photo and info by Alan Davies.

---



Photo by Martyn Fretwell

---



Photo by courtesy of the Ian Stubbs collection.

---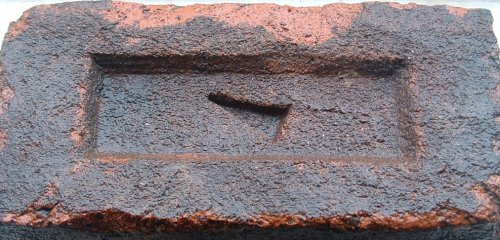 Arthur Brickman sent this one in. He writes: What appears to be a handmade brick of some age, with maximum dimensions of 8' x 4 x 2' inches, and a rectangular frog with a triangle to its centre, the like of which I've never come across before. Found near to the Newcastle' to Carlisle railway, in the vicinity of recent fencing works and a trackside sculpture, commemorating the 150th anniversary of the Geordie Anthem, 'Blaydon Races'. Any 'pointers' as to its origin would be greatly appreciated?

---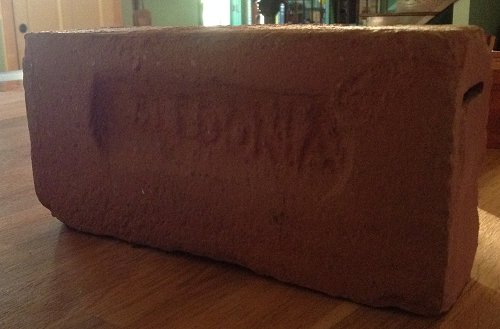 A Caledonia brick made into a money box. Photo sent from California by Tom Schmidt.
---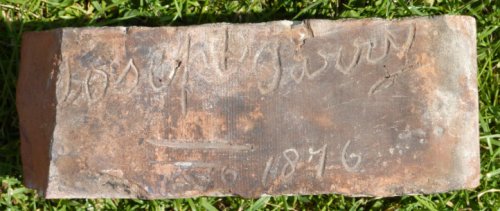 Joseph and Jason? 1876. Photo taken by Martyn Fretwell at the Greenfield Valley park, Flintshire

---
Bath Bricks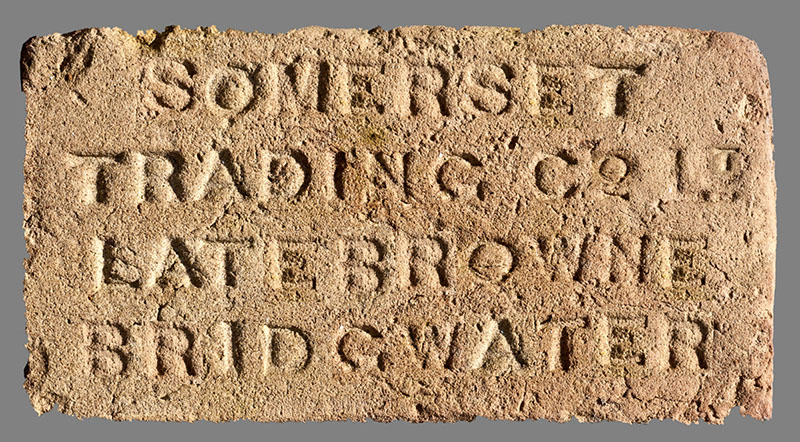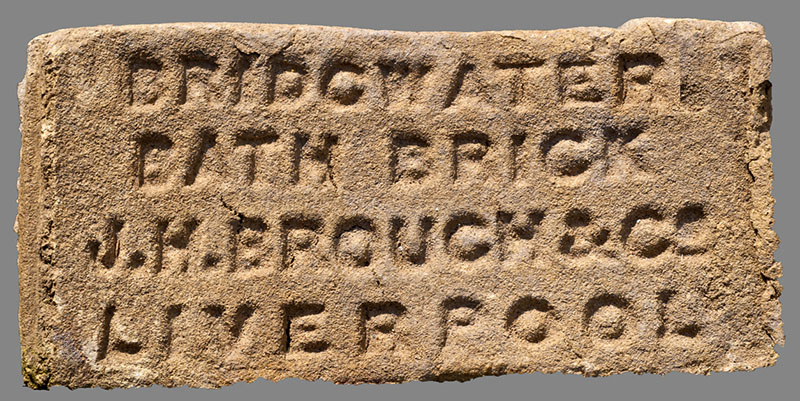 Bath Bricks are not made in Bath neither are they bricks! They were actually made in Bridgwater. In the early 19th century it was discovered that silt from the river was good for cleaning metal. Square pens were constructed on the river bank to collect the silt and slime. The bricks were fired at a lower temperature than building bricks, 500 to 600 degrees c., the material would remain soft at this temperature. They were patented jointly by William Champion and John Browne in 1823 and sold all over the world. The Champion and Browne businesses were merged when Browne married into he Champion family. John Browne took out a further patent in 1827. These bricks could be used as a block or scraped and the powder used on a wet cloth for cleaning. The Bath Brick measures approx. 6"x3"x2" and some companies would have their own name stamped on them. Thanks to John Biggs or the photos and information and Toby Champion for information.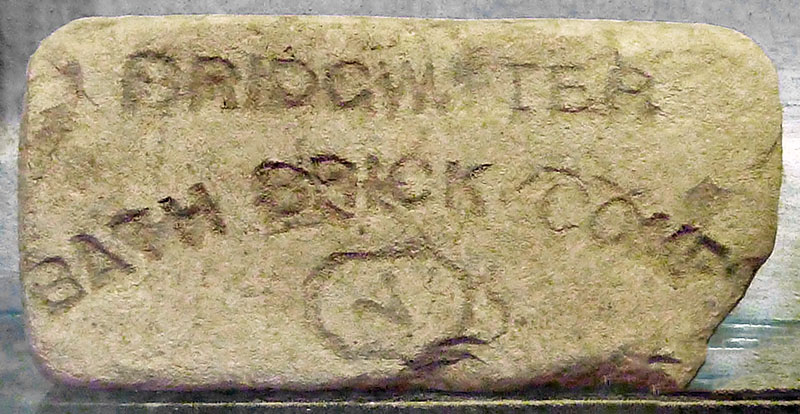 Photo by Martyn Fretwell.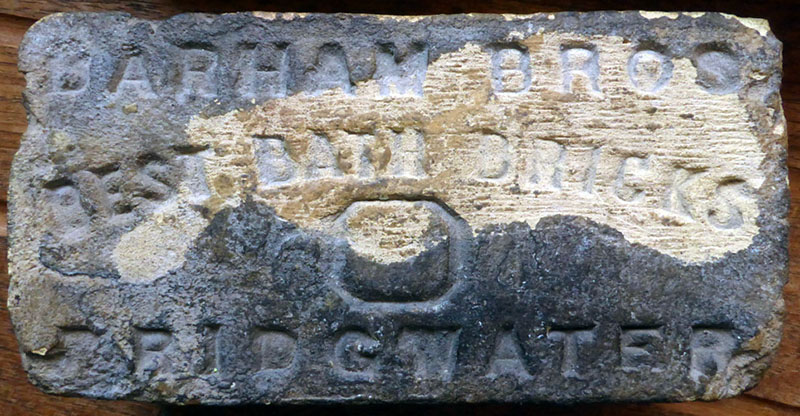 Barham Bros. The Barham Brothers works at East Quay, Bridgewater was operational between 1857 & 1965. Today the buildings of this former brickworks which still has a bottle kiln standing is the Somerset Brick & Tile Museum. Photo & Info by Martyn Fretwell.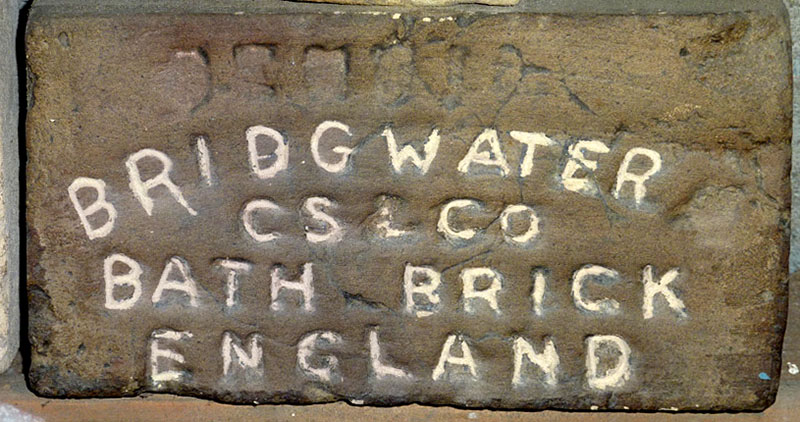 Colthurst, Symonds & Co. who owned several brick & tile works in the Bridgwater area between the late 1840's & 1960's. Information here https://www.gracesguide.co.uk/Colthurst,_Symons_and_Co . Photo & Info by Martyn Fretwell.
---
A London brick with a story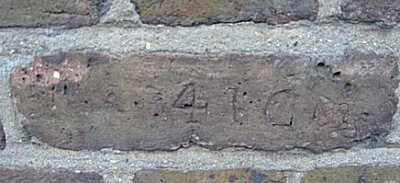 Steve Williams writes: I am attaching a brick photograph for your collection. It doesn't look very exciting and the writing's not too clear. It is in a wall in London behind Sadlers Wells Theatre in an alley way called Myddleton Passage. At the end of the 19th century this alley must have been a hang-out for scalliwags and thus a dangerous place to walk. Hence, a policeman was posted every night to guard its entrance. What a boring shift! To while away the night, the various night-shift Coppers carved their Number and Date on the face of the wall at about shoulder height. This part of the wall has quite a collection; but the lettering on most is hard to decipher. See if you can tell what this one says - I think it says "41C 1895". You won't see this in a Guide Book - so if you get to London, take the Number 19 bus to Sadlers Wells. Myddleton Passage runs from the bus stop, up by the southwest side of the Theatre into Myddleton Square.
---
'Handprints'
Lawrence Skuse writes: Given the nature of clay, I have always wanted to find a brick with imprints of the brick worker, and recently, I found one. The brick itself is unremarkable, a plain red brick I believe to be 19th Century and probably fly tipped by a builder; there are many hundreds lying around in Gwent and, obviously, many other, areas. This example however bears on one face, three finger prints and on the other the corresponding thumb print of the worker who has, apparently, carelessly handled the moulded brick; it still passed quality control however!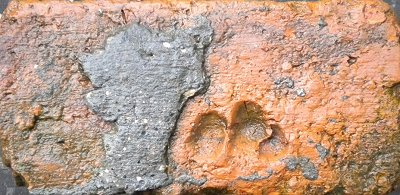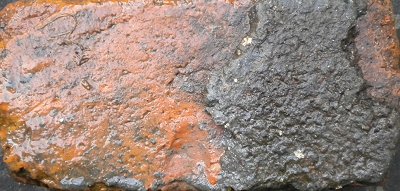 ---
'Fused' bricks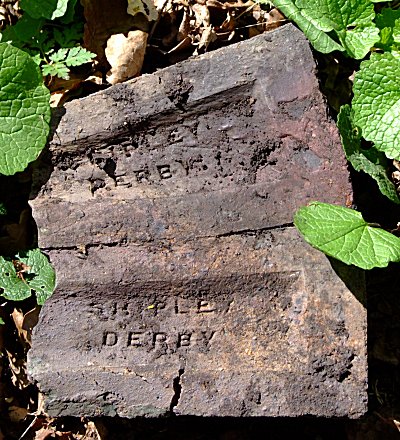 Quite often when a brick firing didn't go according to plan the partly baked bricks became fused together as seen here. Often found in close proximity to the kiln. Photo by Ian C.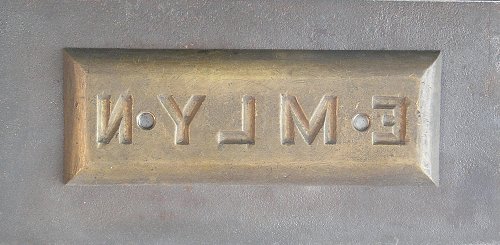 A brass brick stamp from Emlyn Colliery near Ammanford.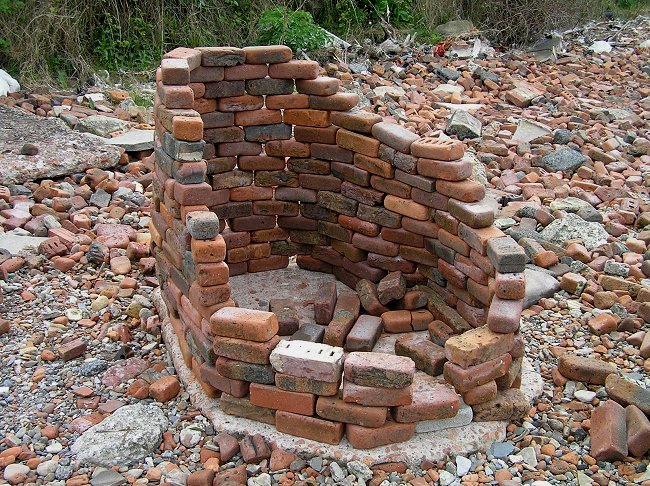 This strange construction has been built on the foreshore at New Ferry, Wirral from abandoned bricks.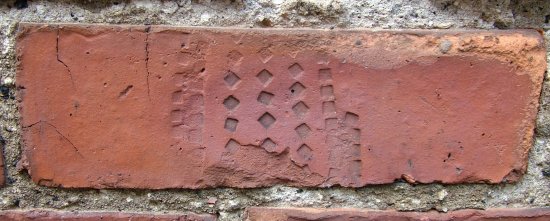 Derek Barker spotted this print of a brickmakers hob nail boot on a wall in Yorkshire.
---
Polperro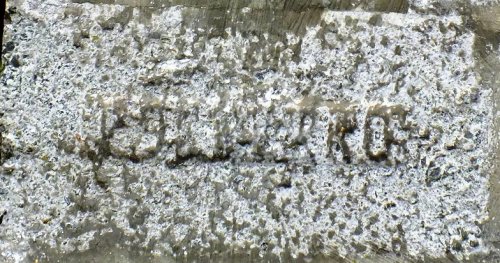 This is a cinder brick, made from ash and tailings from a tin mine. A sort of old breeze block! Photo by Ian Castledine.
---
Obsidianite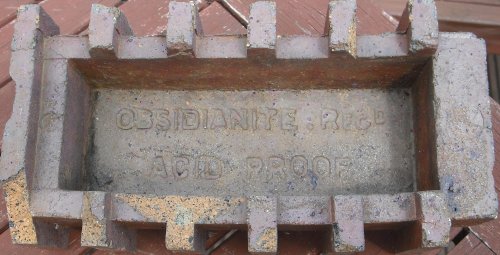 Possibly some sort of acid container brick? Photo courtesy of the Buckley Society.
---
Burma Siam railway wartime brick
Nigel Aspdin writes: My father Captain Geoffrey Aspdin was a 5th Battalion officer. Corporal Bennett was one of his men. My father had studied clay technology in Stoke on Trent in the mid 1930s before entering the family business of WH&J Slater Ltd, Denby, near Derby. So not surprisingly, during his time as a POW, my father got involved in making bricks for the railway. The souvenir brick is about 2.5 x 3.5 inches. It reads:

Tamuang Thailand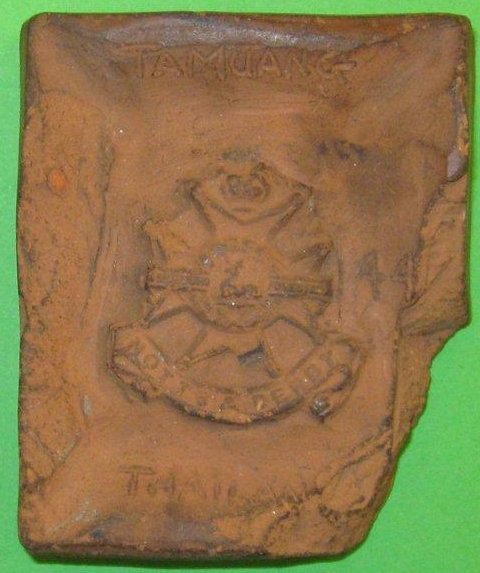 CPL Bennett's
1/5 Sherwood Foresters
POW Singapore
1942
Thailand
1944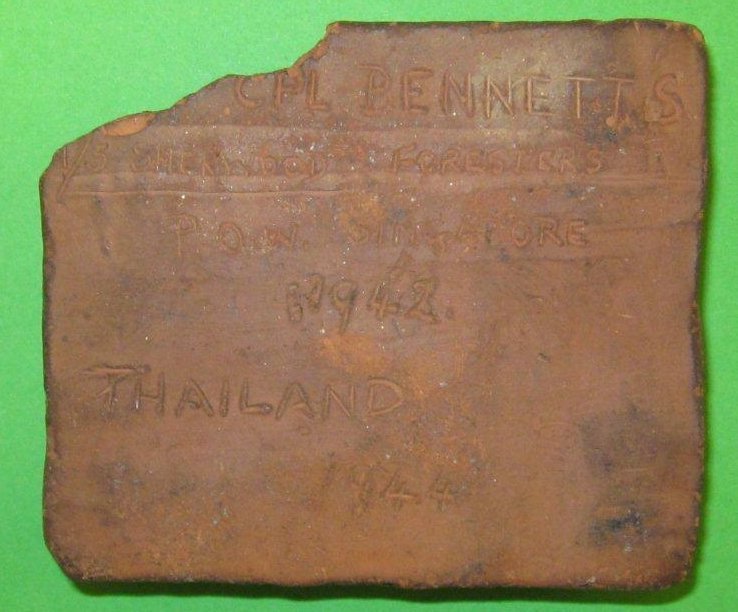 Tatters




I am not sure what Tatters refers to, whether a nick-name for Cpl Bennett, or perhaps the brick work party or specific brick yard or kiln.
---
Nightstor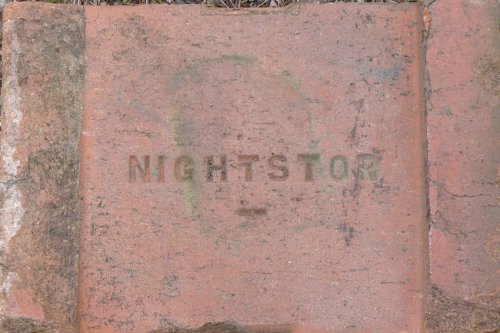 Modern heat retaining brick as used in night storage heaters. Photo by Alan Murray Rust.
---
old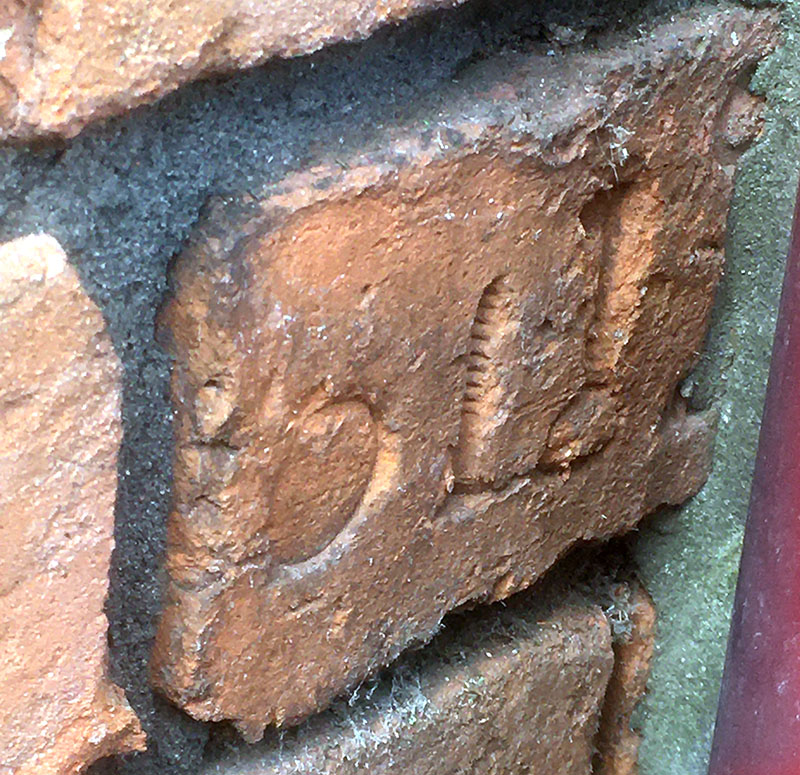 Found in a house at Ormskirk by Peter lea. The letters 'old' impressed in the brick using a piece of pipe, a screw and a key.
---
Footprints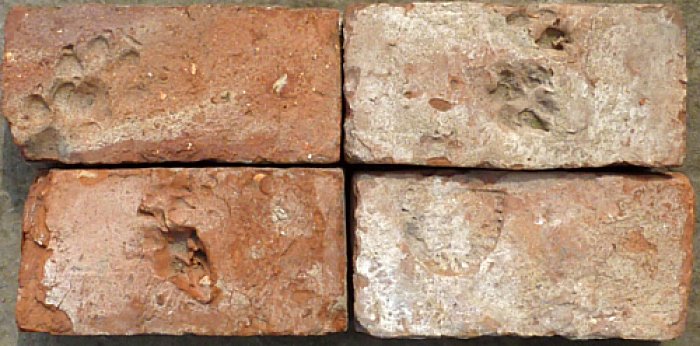 A selection of animal and human footprints. Photo by Martyn Fretwell at Macclesfield Reclamation Yard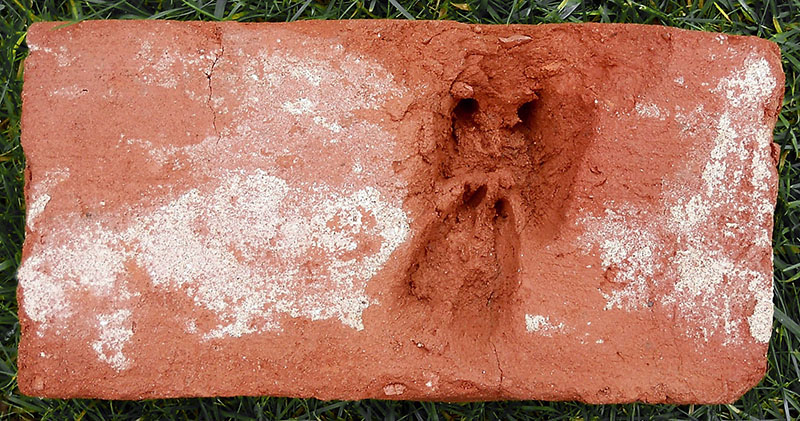 The deer footprints in this brick did not stop it being sold and used. Photo at Cawarden reclamation by Ray Martin.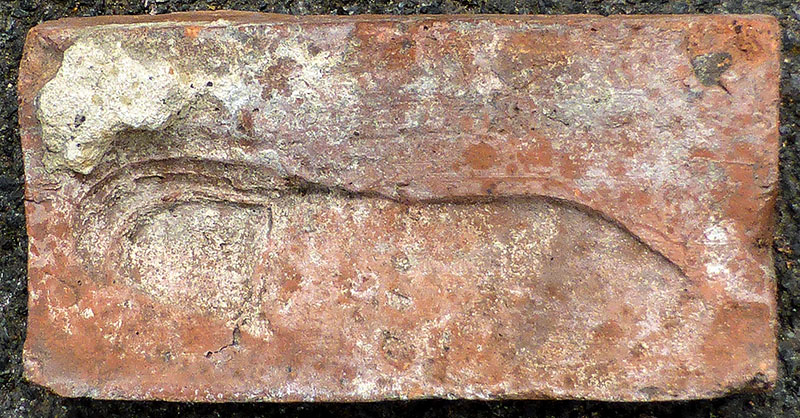 A child's footprint photographed at Erewash Museum by Martyn Fretwell.
---
Initials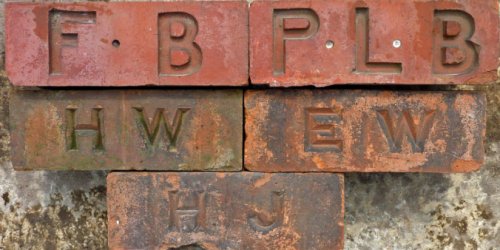 Martyn Fretwell writes: I think these are people's initials from a church rather than brick makers. Photographed at Macclesfield Reclamation yard.

---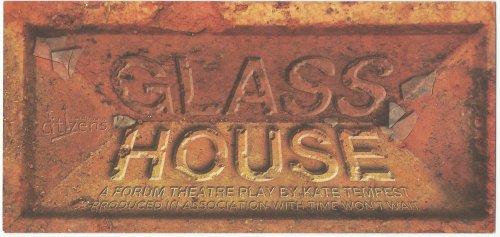 Not a brick at all but but a promotional card for a theatre company. Photo by Richard Paterson.

---
Scoria Brick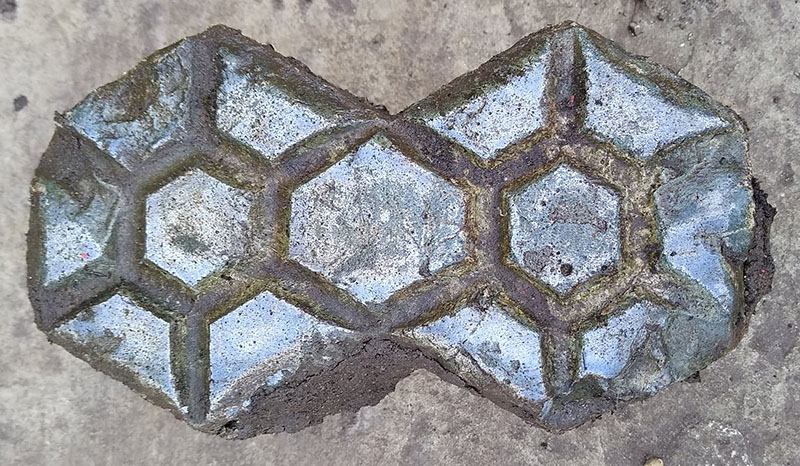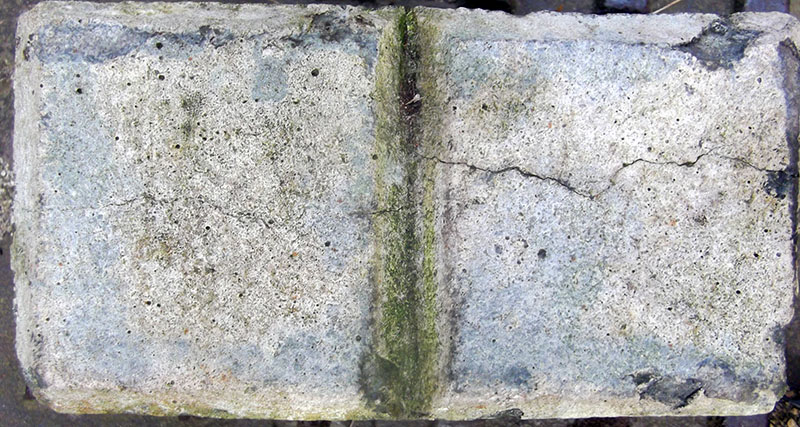 Don Boldison supplied the photos and says: a very common sight as the back alleys around York are paved with these bricks, slightly larger than a brick and about 5 inches thick. Ordinary rectangle bricks, made of the same material, was used for the gulleys at the side of roads.
From the Northern Echo;-
Joseph Woodward's idea was much better. In November 1872, the Darlington man formed the Tees Scoriae Brick Company to turn slag from the Clay Lane Blast Furnace, in Eston, Middlesbrough, into the shiney-blue bricks
that now line our lanes.
---
Signed brick

W Bancroft. In 1901 William Bancroft was a 16 year old brickyard labourer in Hazel Grove, Stockport. Photo by Lauren Curtis.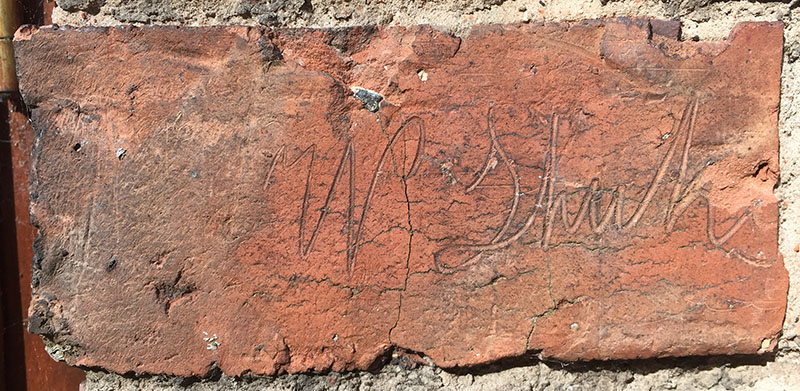 Found in Shrewsbury. Photo by Stephen Mulloy.

John Clark, Blaby. Photo by Martyn Fretwell.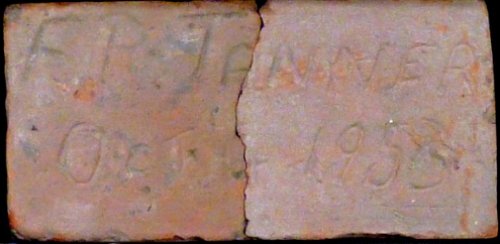 F R Tanner, Oct 4th 1958. Photo taken at Bursledon Brick Museum by Martyn Fretwell.
---